Florida Gators:

Vanderbilt Commodores
May, 28, 2013
5/28/13
11:00
AM ET
LSU coach Les Miles doesn't have a problem playing eight SEC opponents every season.
Miles also realizes the Tigers could play nine SEC games in the very near future.
Miles just doesn't think it's fair that LSU has to play Florida every season, while other teams in the SEC West don't.
[+] Enlarge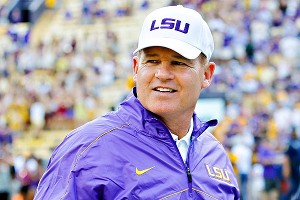 Derick E. Hingle/US PresswireUnder the current SEC scheduling format, Les Miles and LSU play Florida every season.
As SEC presidents, athletics directors and coaches convene this week for the league's annual spring meetings in Destin, Fla., long-term scheduling has become the hot-button issue.
The league is expected to vote whether to change its current 6-1-1 format, in which teams play each opponent from their respective division, along with one rotating foe and one permanent opponent from the opposite division. SEC officials could vote this week to add a ninth conference game or at least eliminate permanent crossover opponents.
The SEC adopted its current scheduling format to ensure that longstanding rivalries like Alabama-Tennessee and Georgia-Auburn would survive expansion.
By drawing the Gators as a permanent crossover opponent, Miles believes the Tigers drew the short end of the stick.
Miles won't complain about the scheduling format publicly, but he knows LSU is at a disadvantage.
And Miles is probably right.
"When they give us our schedule, I'm looking forward to having a great competition," Miles said.
Since 2000, LSU has played Florida and Georgia -- two of the SEC East's best programs -- a total of 17 times. Auburn is the only SEC West team which has faced those teams more often, playing them 19 times. Arkansas, Mississippi State and Ole Miss have faced them a total of 10 times each, while Alabama has played them only eight times.
While it's not fair that LSU has faced the Bulldogs and Gators nearly twice as often as Alabama has played them since 2000, Miles' argument might fall on deaf ears. Auburn and Georgia aren't going to surrender the longtime series -- the Deep South's Oldest Rivalry has been played 116 times since 1892. Likewise, Alabama and Tennessee have played 95 times since 1901, a game so revered it's named for its traditional place on the calendar, the Third Saturday in October.
And Ole Miss would probably rather play Vanderbilt every season instead of Florida, Georgia or South Carolina, and Mississippi State isn't going pass up a chance to play Kentucky every year.
"There's never going to be a fair way," said Texas A&M coach Kevin Sumlin, whose Aggies drew Missouri as a permanent crossover opponent. "If you look back seven or eight years ago, you would have said the SEC East was the strongest division. You can't say what's fair, because things change in this league. You can't look at tradition. Ten years ago, you might have wanted to play South Carolina. Now you don't want anything to do with them. You don't know what Tennessee is going to do with a new coach. I know Butch Jones is going to do a great job."
Florida-LSU has become one of the league's most anticipated games every season. They've been two of the league's most dominant teams over the past decade. They've combined to appear in seven SEC championship games since 2003, and they've combined to play in nine BCS bowl games, including five BCS national championship games. In their past 10 meetings, LSU and Florida were both ranked in the top 25 of the coaches' poll nine times. Conversely, Alabama and Tennessee were both ranked only once in their past 10 meetings.
The loser of the Florida-LSU regular-season game has paid dearly over the past 10 seasons. LSU's 23-10 loss at Florida in 2006 knocked the Tigers out of the SEC championship game (the Gators defeated Arkansas 38-28 and then blasted Ohio State 41-14 to win the BCS title). Last year, LSU's 14-6 loss at Florida probably cost it a spot in the AT&T Cotton Bowl, if not another trip to a BCS bowl game.
Florida's losses to LSU in 2002, '05 and '07 kept them out of the SEC championship game and potentially BCS bowl games.
February, 7, 2013
2/07/13
12:09
PM ET
By
Mackenzie Kraemer
| ESPN.com
1
– Alabama's class rank. Every year that head coach Nick Saban has had a full season to recruit (since 2008), the
Crimson Tide
have had a top-three class. No other school has even had a top-10 class each of the past six years. Alabama received commitments from three of the top-10 running backs, plus
Derrick Henry
(No. 9 in ESPN 300, No. 1 Athlete), the leading rusher in high school football history.
3
– Number of Ole Miss's recruits ranked in the top 20 of the ESPN 300. Since ESPN recruiting rankings were introduced in 2006,
Ole Miss
had never had a single top-20 recruit. Head coach Hugh Freeze received letters of intent from two of the top five recruits, including the top ranked player in the ESPN 300, DE
Robert Nkemdiche
.
7
– Number of players since November who have decommitted from
USC
, and all were in the ESPN 300. USC's class was ranked No. 1 for more than three months between July and November, but now it's ranked 14th. Two of those decommits,
Eldridge Massington
(No. 172 in ESPN 300, No. 21 WR) and
Kylie Fitts
(No. 86 in ESPN 300, No. 8 DE) flipped their commitments to rival UCLA. The Bruins finished the day with the 12th-ranked class, the first time since 2006 they finished ahead of their crosstown rival.
7
– The number of top-10 recruiting classes Urban Meyer has had since 2006, and not one of those classes ranked lower than sixth. The only other coach with seven top-10 classes is Mack Brown. This year, Meyer and
Ohio State
scored the No. 3 recruiting class, headlined by CB
Eli Apple
(No. 11 in ESPN 300, No. 3 CB).
7
– The number of top-five recruiting classes
Florida
has had since 2006, most among all schools. Entering National Signing Day, the Gators had the top-ranked class before finishing the day second. Florida is one of three schools with multiple five-star recruits this year (Ole Miss and Notre Dame).
12
– The number of four-star recruits
Vanderbilt
has received letters of intent from. The past two seasons, James Franklin has recruited 15 players with a grade of 80 or better. In the previous four seasons, Vanderbilt didn't recruit a single such player.
14
- The number of SEC schools with top-40 recruiting classes. All 14 schools have top-40 classes, with none lower than 36th (Kentucky). Six of those schools are ranked in the top 10, the most any conference has had since 2006.
August, 16, 2012
8/16/12
11:52
PM ET
By
Chris Fallica, Stats & Information Group
| ESPN.com

It's only year two of the Will Muschamp era at Florida, but Gator fans have to be feeling uneasy about its stagnant offense while winning just five regular-season games against FBS opponents in 2011.
Even more troubling, none of the five wins came against teams that finished the year with a winning record (1-11 FAU, 3-9 UAB, 5-7 Tennessee, 5-7 Kentucky and 6-7 Vanderbilt).
Expanding the scope and looking at the Gators against all automatic qualifiers, you can see just how much they scuffled in 2011.
Florida ranked 65th of 67 AQ schools in both third-down percentage (29.0) and total yards per game (284.0). Its offense also finished 64th in red-zone touchdown percentage (41.7).
Florida's struggles really started with the departures of Tim Tebow and Percy Harvin to the NFL.
Led by Tebow and Harvin in 2007 and 2008, the Florida offense completed 38 touchdown passes and threw eight interceptions in SEC contests.
With Tebow alone in 2009, the Gators managed only nine touchdown passes and five picks in SEC play, illustrating Harvin's importance to the team.
The last two years have been even worse for Florida -- a combined 12 touchdown passes and 14 interceptions against conference opponents.
Quarterback John Brantley never looked comfortable, while
Jacoby Brissett
and
Jeff Driskel
went through predictable freshman growing pains. Not surprisingly, the Gators went 7-9 in the SEC over the last two seasons.
July, 28, 2012
7/28/12
6:33
PM ET
[+] Enlarge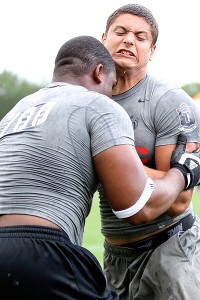 Tom Hauck for ESPN.comDefensive end Jordan Sherit is a four-star prospect ranked No. 254 in the ESPN 300.
GAINESVILLE, Fla. -- The Gators continued their recruiting hot streak, as ESPN 300 defensive end
Jordan Sherit
(Tampa, Fla./Hillsborough) verbally committed to Florida on Saturday after visiting for UF's Friday Night Lights camp. The 6-foot-4, 238-pound athlete chose the Gators over offers from Florida State, Notre Dame, Stanford and many more.
Sherit, ranked a four-star player, said it was a difficult decision, but in the end, he chose the school that made him feel the most comfortable.
"First of all I want to say this was a very tough decision for me," Sherit said. "The hardest thing for me is when you build relationships with schools like USF and Miami in the beginning and now you have to go away from that. I liked the academics at Stanford, Notre Dame and Vanderbilt. But when it came down to it, it was the family environment I felt at the University of Florida. I felt 100 percent comfortable with Coach [Will] Muschamp and the whole coaching staff.
"The fact it's in the SEC conference, it's close to home and not to mention the networking at the University of Florida in the state is bar-none. It's the biggest and the greatest in the state. You can be anywhere in a Gators shirt and someone will just walk up to you and give you the Gator chomp. Really, as far as networking goes, it's Gator Nation -- it's not just fans, it's a nation. Just getting to know the other commits and the players, it's become second nature to me. It was a no-brainer."
June, 1, 2012
6/01/12
12:52
PM ET
The SEC/Big East Challenge may not quite have the longstanding cachet of its ACC/Big Ten brethren, nor should it. The ACC/Big Ten Challenge is
13 going on 14
, and as the years piled up and the Atlantic Coasters just kept winning -- the ACC won the first 10 challenges, which seems almost impossible, before the Big Ten rebounded with three straight wins -- the dominance created a weird sort of intrigue all its own.


The SEC/Big East Challenge is just five years old, and probably less well-known than its counterpart, but it's getting there -- and the 2012 matchups should only help.
Said matchups were released by the fine folks over at ESPN programming today, and they are as follows:
Thursday, Nov. 29
Marquette at Florida
Seton Hall at LSU
Kentucky at Notre Dame
South Carolina at St. John's
March, 17, 2012
3/17/12
7:18
PM ET
GAINESVILLE, Fla. -- Four-star wide receiver
Richard Benjamin
(Tampa, Fla./Tampa Tech) visited Florida on Saturday to watch the Gators go through their third practice of the spring.
[+] Enlarge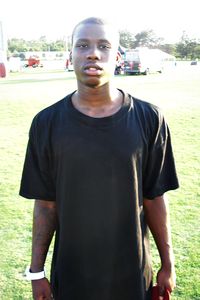 Corey LongESPNU 150 Watch List wide receiver Richard Benjamin visited Florida on March 17.
Benjamin said he enjoyed his time in Gainesville so much he considered committing to the Gators.
"I had a great visit, a nice time," Benjamin said. "I really enjoyed watching the practice. I thought about committing, but I'm going to wait until further notice."
March, 2, 2012
3/02/12
11:19
AM ET
GAINESVILLE, Fla. -- The state of Florida is loaded with wide receivers for the 2013 recruiting class, but the Gators have turned their attention to a California receiver because of his ties to the Florida football staff.
Westlake Village (Calif.) Oaks Christian receiver
Francis Owusu
is the younger brother of former Stanford standout Chris Owusu. The older Owusu, a receiver and kick returner, set the Pac-10 record for kickoff returns for a touchdown with three, and more recently tied for the fastest 40-yard dash time (4.36) at the NFL Scouting Combine in Indianapolis.
Florida's linebackers and special teams coach D.J. Durkin and director of player personnel Jon Haskins both have ties to the Owusu family.
To continue reading this article you must be an Insider
February, 26, 2012
2/26/12
9:20
PM ET
WINTER GARDEN, Fla. -- ESPNU Watch List wide receiver
Richard Benjamin
(Tampa, Fla./Tampa Bay Tech) boasts several scholarship offers, including new ones from Oklahoma and Alabama. Benjamin said on Sunday that some schools are starting to stand out for him.
"Florida, Miami, USF and USC are starting to standing out to me right now," Benjamin said from the Nike SPARQ combine in Winter Garden (Fla.). "I really like the coaches at atmosphere at all of those schools."
Benjamin declined to name a leader, but did say there are several out of state schools he will likely visit over spring.
To continue reading this article you must be an Insider
February, 4, 2012
2/04/12
5:07
PM ET
GAINESVILLE, Fla. -- Early in the season, after a particularly troubling stretch of performances at the free-throw line, Florida coach Billy Donovan told his team to invest some practice time at the line.
The problem disappeared to the point that last Thursday night's free-throw performance (23-0f-32 or 71.9 percent) in a 74-66 win against South Carolina was considered a regression.
"Forty-eight hours ago against South Carolina we were 5-for-11 or 5-for-12, and then we end up in the second half making 17 straight shots," he recalled. "I think even earlier in the year we were shooting like 53, 54 percent from the free-throw line, and I know we're better [than that]."
To continue reading this article you must be an Insider
December, 3, 2011
12/03/11
9:19
PM ET
SEFFNER, Fla. -- The Florida High School Athletic Association class 6A third-round playoff game between nationally ranked Seffner Armwood (13-0) and Gainesville (10-3) turned out to be a lot closer than some expected.
Armwood won the game 17-14 on Friday night, but with a closer look, it's easy to see why Gainesville was able to keep it close. Like Armwood, Gainesville has several Division I prospects. Here is a look at some of the top performers of the game:
Eric Striker, LB, (6-foot-1/195 pounds, Armwood
): The Oklahoma commit registered two sacks and pressured the quarterback for most of the evening. Striker said after the game he is firmly committed to the Sooners and will enroll next fall.
To continue reading this article you must be an Insider
November, 17, 2011
11/17/11
4:15
PM ET
GAINESVILLE, Fla. -- Florida's bowl trip won't be a long one.
If the Gators (5-5) beat Furman on Saturday to become bowl eligible, they are pretty much a lock for the Gator Bowl in Jacks0nville, which will be played at EverBank Field on Jan. 2. It would be the Gators' first appearance in the bowl since 1992, when they beat N.C. State 27-10.
ESPN experts are torn on some of the potential
SEC schools' final destinations
. Here are some possible SEC bowl matchups I'm looking for:
BCS National Championship Game: LSU vs. Oklahoma State
LSU has to get by Arkansas and OSU has to get by Oklahoma. Great matchup in WR
Justin Blackmon
and QB
Brandon Weeden
vs. LSU's secondary.
Sugar Bowl: Alabama vs. Houston

How will QB
Case Keenum
and the Cougars' high-flying offense fare against an elite SEC defense?
Capital One Bowl: Arkansas vs. Nebraska

Pro-style offense vs. spread-option offense.
Outback Bowl: South Carolina vs. Michigan

South Carolina's defense will have its hands full with QB
Denard Robinson
.
Cotton Bowl: Georgia vs. Kansas State

Cotton gets a team from the Eastern Division for a change.
Chick-fil-A Bowl: Auburn vs. Virginia Tech

If the Tigers somehow beat Alabama, this could change.
Gator Bowl: Florida vs. Ohio State

Officials would love a rematch of the 2006 national title game.
Music City: Tennessee vs. Miami

QB
Tyler Bray
's return makes this an intriguing matchup.
Liberty Bowl: Vanderbilt vs. Southern Miss

Commodores make just second bowl game since 1982.
BBVA Compass: Mississippi State vs. Louisville

Bulldogs cap disappointing season in Birmingham, Ala.
McElwain discusses new Florida football
SEC SCOREBOARD
Thursday, 9/3
Saturday, 9/5