Florida Gators:

Trevon Young
March, 5, 2014
3/05/14
10:30
AM ET
GAINESVILLE, Fla. -- Spring has sprung in the state of Florida, which means a much-needed football fix is almost here.
We're getting you ready for the Gators' spring practice with a look at five key position battles to watch when practice gets started on March 19.
Our
weeklong series
moves to the offensive line, a group of players who are critically important to Florida's plans for a rebirth on that side of the ball.
[+] Enlarge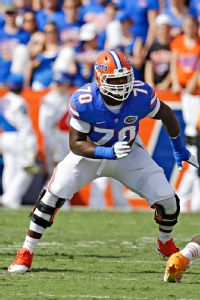 AP Photo/John RaouxD.J. Humphries is back and healthy for the Gators.
Returning starters:
Left tackle
D.J. Humphries
, who will be a junior this fall, started six games in 2013 and missed the last five due to a sprained knee. He's one of Florida's top talents and is looking to bounce back after a sub-par season. Rising senior
Max Garcia
emerged as a leader last fall and started all 12 games, mostly at left guard and left tackle. Rising junior
Tyler Moore
made six starts at tackle last season before missing the final four games with a broken elbow. Mammoth juco transfer
Trenton Brown
played in every game last season as a junior and started the final five games at right tackle.
Chaz Green
was the Gators' starter at right tackle before he tore his ACL and missed all of last season.
Departures:
Florida lost three seniors in center
Jonotthan Harrison
(12 starts), right guard
Jon Halapio
(10 starts) and guard/tackle
Kyle Koehne
(six starts). They were the heart and core leadership of the line. The Gators also saw key reserve
Ian Silberman
, who started the final four games at guard last year, transfer to Boston College after graduating in December. Two other transfers,
Quinteze Williams
and
Trevon Young
, never saw action for Florida.
Returning reserves:
Rising junior
Trip Thurman
played in all 12 games as a backup. While he's not expected to unseat any of Florida's incumbent starters, Thurman will have an important role as the Gators' only returning reserve. The former three-star prospect has good size at 6-foot-5, 315 pounds and can play guard or tackle.
Newcomers:
Last season, Florida redshirted tackle
Roderick Johnson
, center
Cameron Dillard
and guard
Octavius Jackson
, whose playing career is over because of a chronic shoulder injury. The Gators have three midseason enrollees who will participate in spring practice -- juco transfer
Drew Sarvary
and true freshmen
Nolan Kelleher
and
Kavaris Harkless
. This summer will see the arrival of three more linemen from UF's Class of 2014 -- tackles
David Sharpe
and
Andrew Mike
and guard
Travaris Dorsey
.
What to watch:
No unit could use a clean slate more than Florida's offensive line. It struggled with injuries in 2013, but that wasn't the only major problem. The Gators have had trouble with pass protection for several years now, and it's proven to be one of the most crippling issues for an offense that hasn't been able to get out of its own way. Improving the pass blocking and developing depth are the two most important tasks this spring, and Florida will look to new line coach Mike Summers to lead the way. Summers comes to UF with 34 years of experience and a reputation as a fine teacher. Those skills will be put to the test, as the Gators have just five linemen with starting experience and only two others who have ever played in a college game. It's not necessary to settle on five starters this spring, but Summers needs to quickly figure out his players' strengths and best positions. Finding a replacement for Harrison, a three-year starter at center, is key. It's expected that a veteran like Moore or Garcia will make the shift to center, but Florida must continue to develop Dillard as a quality reserve who can eventually push for the starting job. Last year, Florida was unable to play a true spring game because of injuries to its offensive linemen, so staying healthy is another modest goal this spring. There are holes all over the two-deep roster and plenty of opportunities to win jobs. Fresh faces like Sarvary, Johnson and Kelleher will have their chances to carve out roles and perhaps even make it a competition with one of the five veterans. With a new OL coach and that much-needed clean slate, anything is possible.
December, 12, 2013
12/12/13
1:15
PM ET
GAINESVILLE, Fla. -- With a strong desire for early playing time, new Florida offensive tackle commit
David Sharpe
(Jacksonville, Fla./Providence School) couldn't help but see plenty of opportunity with the Gators.
Florida's offensive line has been a sore spot for the past two seasons. It's been beaten up by marauding defensive linemen, battered by injuries and called soft by head coach Will Muschamp. The O-line became an easy scapegoat on an offense that has struggled not only to throw forward passes but to keep quarterbacks healthy and clean.
[+] Enlarge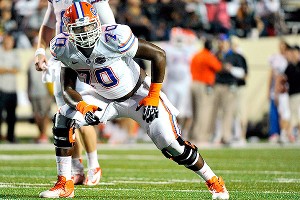 Frederick Breedon/Getty ImagesD.J. Humphries is all that's left on the offensive line from Florida's 2012 recruiting class.
Getting a commitment from the nation's No. 2 offensive tackle prospect comes at just the right time for a UF program desperate to discover an offensive identity.
Muschamp is fond of calling the SEC a line-of-scrimmage league, but his Gators have missed on a few high-profile offensive linemen in recent years.
Last year it was
Laremy Tunsil
, the No. 1 offensive tackle prospect in the nation, who lived 45 miles up the road from Gainesville in Lake City. He had significant interest in Florida during his junior year of high school, but it waned throughout his senior year before he signed with Ole Miss. Tunsil lived up to his billing this fall, starting all but four games at left tackle for the Rebels as a freshman.
The Class of 2012 was a strong year for offensive linemen in the state of Florida. But Jacksonville's
John Theus
signed with Georgia and Palm Beach Gardens'
Avery Young
chose Auburn. Both are solid starters in the SEC.
UF wound up signing just one of the 2012 Floridian offensive linemen in Jessamen Dunker, who redshirted and was expected to compete for a starting job last spring. But he was arrested, suspended and transferred not long after his first year was complete.
Dunker's departure reduced Florida's already-tiny 2012 OL class to just
D.J. Humphries
, who started seven games at left tackle this season before a knee injury sidelined him for the final five games.
To bolster depth and stabilize the line, the Gators dipped into the transfer pool. They signed former Maryland left tackle
Max Garcia
, who stared all 12 games this past season; former Nebraska tackle
Tyler Moore
, who made eight starts before breaking his elbow; and juco transfer
Trenton Brown
(five starts).
The roster numbers are dwindling. UF loses three seniors in
Jon Halapio
,
Jonotthan Harrison
and
Kyle Koehne
. The school also
announced Thursday
that junior guard
Ian Silberman
is departing, and freshmen
Quinteze Williams
and
Trevon Young
will transfer.
That means the Gators will have just two seniors next season in Garcia and Brown among nine returning offensive linemen. Starting right tackle
Chaz Green
would have been a part of that senior class, but he was injured in preseason camp and missed the 2013 season. With a medical hardship waiver, he can return as a fifth-year junior.
With six linemen leaving, the pressure is on Florida to sign at least the four pledges it currently has in Sharpe,
Travaris Dorsey
,
Nolan Kelleher
and
Dontae Angus
.
Another key to balancing the classes will be the progress of Florida's redshirt freshmen. While the Gators missed on some touted high school prospects, they instead stocked up on projects and players with projectable frames in their Class of 2013.
Florida was able to redshirt the three true freshman offensive linemen it signed. Guard
Octavius Jackson
drew the most praise in practice and came the closest to playing.
Cam Dillard
is being groomed to be UF's center of the future.
Roderick Johnson
has the size (6-foot-5, 315 pounds) to compete for playing time in the spring.
Of course, they'll all have to contend with Sharpe, who plans to see the field in 2014 as well.
August, 16, 2013
8/16/13
9:30
AM ET
GAINESVILLE, Fla. -- Florida fans better get a good look at senior wide receiver
Solomon Patton
this season because guys like him are going to be hard to find around here from now on.
Small guys.
The 5-foot-9, 171-pound Patton doesn't really fit into coach Will Muschamp's philosophy that bigger is better. Not just on the line of scrimmage, either. Big receivers. Big defensive backs. Big linebackers.
[+] Enlarge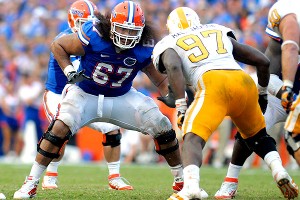 AP Photo/Phelan M. EbenhackGuard Jon Halapio, at 6 feet 3 and 321 pounds, meets Will Muschamp's size criteria to compete in the SEC.
Size does matter at Florida now. Muschamp believes it's the best way to have success in the Southeastern Conference.
"This is a big man's league," he said. "When you go pay to watch a boxing match, you don't go watch the featherweights fight. You go watch heavyweights fight. This is a heavyweight league.
"So we need have a big, physical team. You can still be really fast, but you better be big and physical if you want to win in this league right now."
Muschamp is in his third season and working on his fourth signing class, and he has certainly made the Gators a bigger, more physical team in that short period of time. To see the difference, look at UF's roster from 2009. The Gators had five starters or key contributors who were 5-9 or shorter: Jeff Demps, Chris Rainey, Ahmad Black, Markihe Anderson and Brandon James.
This year's team has only one starter that small: 5-9 safety
Cody Riggs
. Patton is a role player (he's the jet sweep guy) and the shortest player on scholarship is 5-7 freshman running back Adam Lane -- who weighs 222 pounds.
Muschamp's philosophy goes further than just the size of the players. He wants the bulk of his 85-man roster to be comprised of what he calls big-skill positions: offensive and defensive linemen, linebackers and tight ends. He wants 50. Right now he has 42 (see breakdown below).
Muschamp wants 15-17 offensive linemen, and the Gators are close to that number. They have five scholarship tight ends, too. The defensive line is where the problem is. The Gators are short on ends, especially speed rushers. There are eight scholarship defensive tackles, but only three have played in a game (
Dominique Easley
,
Leon Orr
and
Damien Jacobs
), and just two bucks (hybrid defensive end/linebacker).
It'll take at least a couple more signing classes for the Gators to be as stocked along the defensive line as Muschamp would like. Muschamp believes long-term success at Florida -- and therefore the SEC -- depends on beefing up those defensive numbers.
And not just to compete with Alabama and Nick Saban, either.
"When big guys run out of gas, they're done," Muschamp said. "We don't ever want our big guys up front to play more than six or eight snaps in a row and have the intensity you've got to play with to be successful in this league. So you can't ever have enough defensive linemen or pass rushers, especially the way the game's going.
"You look in our league at Missouri and Kentucky and Tennessee, a lot of schools are going to a little bit of a Big 12 model, like Texas A&M, where they're spreading the field, and you can't ever have enough guys that can play in space and rush the passer. The most exerting thing in football is rushing the passer. Those guys are battling against a 315-pound guy and trying to push the pocket, so you can't ever have enough of those guys."
Here's the breakdown of what Muschamp calls the big-skill players:
Offensive line
Ideal number:
15-17
Number on the roster:
14.
Tyler Moore
,
Quinteze Williams
, Rod Johnson, Octavius Jackson, Cameron Dillard,
Trip Thurman
,
Jon Halapio
,
D.J. Humphries
,
Jonotthan Harrison
,
Chaz Green
,
Max Garcia
,
Trenton Brown
,
Ian Silberman
,
Kyle Koehne
.
Comment:
The Gators will lose four players to graduation but have four offensive line commits for 2014, three of whom weigh more than 300 pounds. The line has gotten bigger, stronger and more physical since Muschamp called them soft at the end of his first season.
Defensive tackle
Ideal number:
8-10
Number on the roster:
8. Damien Jacobs,
Joey Ivie
, Leon Orr,
Darious Cummings
, Jay-nard Bostwick, Caleb Brantley, Antonio Riles, Dominique Easley.
Comment:
Not a lot of experience here, but the four freshmen (Ivie, Bostwick, Brantley and Riles) will gain valuable experience as part of the rotation this season.
Defensive ends
Ideal number:
6-8
Number on roster:
4.
Alex McCalister
,
Jonathan Bullard
, Jordan Sherit, Bryan Cox.
Comment:
Easley also can play end. This is perhaps the most flexible position, with several players having the ability to play inside on passing downs to get the best pass rushers on the field.
Bucks
Ideal number:
4-6
Number on roster:
2.
Dante Fowler
,
Ronald Powell
.
Comment:
This position also needs to be beefed up quickly, with Powell likely leaving after this year if he has a good season. Some flexibility here, too, because Cox and McCalister could spend time here.
Linebackers
Ideal number:
9-12
Number on roster:
9.
Michael Taylor
,
Matt Rolin
,
Jeremi Powell
, Jarrad Davis,
Neiron Ball
,
Darrin Kitchens
,
Daniel McMillian
,
Alex Anzalone
,
Antonio Morrison
.
Comment:
UF has one bona fide stud (Morrison) and a mix of veteran role players and freshmen. McMillian is a player to watch. He could become a starter by midseason. This is an important position group because it produces a lot of special teams players.
Tight ends
Ideal number:
3-5
Number on roster:
5.
Clay Burton
,
Tevin Westbrook
,
Kent Taylor
,
Colin Thompson
, Trevon Young.
Comment:
A lot of players, but little production so far. Burton, Westbrook and Thompson are mainly blockers, but there's optimism that Thompson can develop into someone who can work the middle of the field.
April, 5, 2013
4/05/13
8:30
AM ET
GAINESVILLE, Fla. -- The Florida Gators picked up three commitments,
Ahmad Fulwood
,
Tre Bell
and
Josh Outlaw
, in last year's spring game. Two of the three, Outlaw and Bell, eventually signed elsewhere, but it catapulted the Gators in to the top of the recruiting rankings and paved the way for a very successful class.
This year, many big-time prospects are expected to be in attendance and Florida fans can only hope it brings similar success.
February, 8, 2013
2/08/13
9:11
AM ET
GAINESVILLE, Fla. -- Now that signing day is complete, it's time to dive in to the GatorNation recruiting mailbag and answer the questions you want to know. Because of the amount of questions we've received, we won't be able to get to all of them today, but we encourage you to ask your questions on our Insider fan forum,
The Chompions Club
.
To continue reading this article you must be an Insider
February, 7, 2013
2/07/13
4:02
PM ET
The Gators have added yet another player to their 2013 class.
To continue reading this article you must be an Insider
February, 7, 2013
2/07/13
2:44
PM ET
GAINESVILLE, Fla. -- Signing day will extend into the weekend for Florida, as the Gators expect to receive a letter of intent Friday morning from a three-star offensive tackle/tight end.
To continue reading this article you must be an Insider
Freshman Quarterbacks A Growing Trend?
SEC SCOREBOARD
Thursday, 9/3
Saturday, 9/5