Florida Gators:

Timmy Jernigan
January, 28, 2014
1/28/14
11:00
AM ET
GAINESVILLE, Fla. -- There's no consolation prize when you lose a recruiting battle, just an empty feeling and an empty space on the big board.
It hurts even more to lose a player on signing day, when there is no tomorrow and no other players on the big board to turn to.
Under coach Will Muschamp, Florida has had its share of
wins on the recruiting trail
. It's also had some impactful losses.
Here's a look at some of the top players the Gators missed on in recent years.
2011
ESPN class rank: No. 12
[+] Enlarge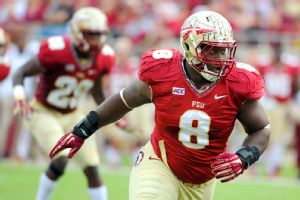 Melina Vastola/USA TODAY SportsThe Gators were once a frontrunner for Timmy Jernigan, but he ended up at FSU where he became one of the nation's top defensive tackles.
It would hardly be fair to pin most of the Gators' head-to-head recruiting losses in this class on Muschamp, who was hired in mid-December 2010. He inherited a recruiting class ranked in the top 10 from then-retired coach Urban Meyer, and Muschamp was commended for keeping the bulk of the class together. For example, Muschamp had less than a week to make an impression on
Nick Waisome
before the nation's No. 2-ranked cornerback decommitted from Florida and flipped to FSU. Not Muschamp's fault.
But the head coach and his staff did have several weeks to take the recruiting baton and try to close with a couple of uncommitted gems from the state of Florida. The Gators were considered frontrunners at one time for DT
Timmy Jernigan
and LB
Curt Maggitt
, who ended up at Florida State and Tennessee, respectively. In both cases, Muschamp was unable to capitalize on his reputation for defense and lost the two prospects to offensive-minded head coaches.
2012
ESPN class rank: No. 4
The Gators suffered a painful loss in January when DE/LB
Jordan Jenkins
picked Georgia. He was a top priority and the UF coaching staff had put a lot of time and effort into his recruitment. The bad news foreshadowed what can only be described as a signing day nightmare, as Florida struck out with eight uncommitted recruits and another who made his decision shortly thereafter.
Desperate for help at receiver, Florida was spurned by two of the top prospects in the nation,
Nelson Agholor
(USC) and
Stefon Diggs
(Maryland), who have already shown flashes of brilliance on the field. The Trojans were also the beneficiary of defensive tackle
Leonard Williams
, who said he made up his mind on the morning of signing day. Florida was a painfully close second, and Williams made an instant impact as a freshman starter.
Muschamp also felt good about keeping offensive lineman
Avery Young
in his home state, but he ended up at Auburn, where he started on last season's national runner-up. Another Floridian, the nation's No. 1 cornerback,
Tracy Howard
, was considered a lock for the Gators until he took a visit to Miami on the last weekend before signing day and changed his mind.
And who could forget the gripping saga of No. 1 outside linebacker prospect
Josh Harvey-Clemons
? He announced his decision to go to Georgia in the morning on ESPNU's signing day show. His family was shocked. They wanted him close to home in Valdosta, Ga., and thought he would choose UF. The situation turned surreal when his grandfather and legal guardian refused to sign the letter of intent. It took a full day to sort out, but Harvey-Clemons faxed his letter of intent to attend Georgia the morning after signing day.
2013
ESPN class rank: No. 2
The headline in the local newspaper was "Muschamp set up for stress-free signing day". Indeed, most of the drama took place in January when Florida signed eight early enrollees, including three top-rated players who flipped to Florida late in the process. It was a strong rebound for a coach who took some criticism with the way he closed out his class the year before.
But there were some misses, recruits who could have played a big role for the Gators in what turned out to be a woeful 2013.
Cornerback
Jalen Ramsey
and defensive lineman
DeMarcus Walker
, both top-40 prospects in the ESPN 300, picked FSU over Florida. Walker, from Jacksonville, Fla., originally committed to Alabama over UF. When he wavered many thought the Gators would be the beneficiary. Instead he flipped to the Seminoles just before enrolling in January. Ramsey, who had been committed to USC for months, changed his mind when Trojans coach Lane Kiffin came under fire. Instead of choosing the Gators, where his high school teammate QB
Max Staver
was committed, Ramsey ended up at FSU and made a huge impact as a starter on the Noles' national championship team last season.
Offensive tackle
Laremy Tunsil
, ranked No. 1 at his position and No. 5 overall, was another tough loss. Like Jernigan two years before, Florida was a frontrunner at one time. Both prospects went to the same high school in Lake City, Fla, just 45 minutes north of Gainesville. Tunsil ended up at Ole Miss, where he started all but four games as a true freshman.
November, 30, 2013
11/30/13
7:00
AM ET
GAINESVILLE, Fla. -- Here are five things to watch as the
Florida Gators
(4-7, 3-5 in the Southeastern Conference) play host to the
Florida State Seminoles
(11-0, 8-0 in the Atlantic Coast Conference) on Saturday at noon ET (ESPN) in the final game of the regular season.


1. Stopping Jameis:
Florida's defense has gradually gotten worse with almost every passing week during a six-game losing streak. The Gators gave up 429 yards to FCS Georgia Southern last week, and while those yards were all on the ground, simply getting stops has become an issue. Injuries have continued to pile up, and the timing couldn't be worse with Heisman Trophy candidate
Jameis Winston
in town. The Seminoles are a juggernaut on offense, having already scored a school- and ACC-record 607 points this season. Winston leads the nation in passing efficiency, has thrown the third-most TD passes (32) and is second in the nation in yards per attempt (11.1). "He can make all the throws and he does make all the throws," UF defensive coordinator D.J. Durkin said. "He's got great confidence in his arm and you can understand why. It'll be our biggest challenge of the year."
2. Stopping the FSU running game:
The Gators know Winston will be a handful, but it would be wise not to overlook the Seminoles' ground game. FSU actually runs (399 attempts) more than it passes (344). The Noles will look to challenge that suddenly suspect Florida run defense. FSU junior tailback
Devonta Freeman
has 808 yards (6.2 yards per carry) this season and appears on his way to being the Seminoles' first 1,000-yard rusher since Warrick Dunn in 1996.
James Wilder Jr.
also has been coming on strong after missing FSU's game against NC State with a concussion. Wilder has run for six touchdowns and 285 yards on 22 carries (13.0 YPC) in his last four games.
3. Florida's quarterback:
For the third week in a row, the Gators are preparing redshirt freshman QB
Skyler Mornhinweg
to play. Junior
Tyler Murphy
, who is listed as questionable, has thrown some passes in practice the last couple of weeks, but is clearly still feeling the effects of a sprained AC joint in his right shoulder. The problem for Florida is the limitations Mornhinweg presents to an already foundering offense. If he makes his third career start, there might not be much that can be expected in the way of sudden improvement in Mornhinweg's arm strength or decision-making. He did, however, direct a pass-heavy two-minute offense in the fourth quarter of last week's loss to GSU. Perhaps with nothing to lose in the season finale, the UF coaching staff will allow the Gators quarterback -- whoever it is -- to take some shots down the field.
4. Can the Gators score any points?
With Mornhinweg likely at the helm and the Gators' kicking game a season-long sore spot, there is a real possibility Florida could be held off the scoreboard. Factor in a Seminoles defense that is hungry for revenge after being gutted in last season's 37-26 home loss to Florida, and this game could be a feeding frenzy. FSU has the nation's No. 2 pass defense and leads the nation in interceptions with 23. As it did last year, Florida State has one of the nation's best run defenses, allowing just four rushing TDs in 11 games this season. Florida's beleaguered offensive line expects to have its hands full up the middle against defensive tackle
Timmy Jernigan
, who has 43 tackles, 10.5 tackles for loss and 4.5 sacks.
5. Familiar faces:
One of the reasons this series, which UF leads 34-21-2, is so special is the familiarity of most of the players. There are 36 players on both sidelines who were once high school teammates. FSU has 93 players from the state of Florida on its roster. Florida has 83. Many of these players knocked helmets in high school grudge matches, so the old adage that familiarity breeds contempt is certainly fitting. For the head coaches, however, it's done nothing of the sort. Florida's Will Muschamp and his FSU counterpart, Jimbo Fisher, remain close friends after first working together under Auburn coach Terry Bowden in the mid-90s and again under LSU coach Nick Saban. They even share a beach house in Panama City, Fla. Bragging rights are on the line on Saturday, as their head-to-head record is 1-1.
July, 19, 2013
7/19/13
9:00
AM ET
GAINESVILLE, Fla. -- It's never too early to talk Florida-Florida State, even if the game is still more than four months away.
[+] Enlarge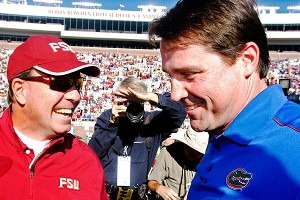 AP Photo/Phil SearsBoth Jimbo Fisher (right) and Will Muschamp have faced struggles against their rivals.
GatorNation's Michael DiRocco and NoleNation's David Hale discuss the Nov. 30 meeting at Florida Field. They posed three questions to the other:
Florida State questions
Q:
What does QB
Jameis Winston
bring to the Seminoles' offense that EJ Manuel did not?
Hale:
I think there are two distinctly opposite emotions in play here. On one side, Manuel always took a few more lumps from fans than were probably deserved. He finished his career 25-6, winner of four bowl games and the school's all-time record holder for completion percentage. That's a sturdy resume. On the other side, Winston is already getting so much hype that anything short of a Heisman and a national title during his tenure would probably be a disappointment. The truth on both guys is probably somewhere in between, which likely means Winston is going to have a hard time eclipsing Manuel's production this season.
Still, looking back at last year's Florida game, the bar is low -- and 12 games into the season, Winston should be clicking on all cylinders by then. Manuel was dreadful in that game (four turnovers) and I think it's his ugly mistakes in big moments that angered fans the most. Winston has a flair for the dramatic and a love of the spotlight, and that confidence might be his best weapon -- which is saying something, because the guy's got a ton of weapons.
May, 15, 2013
5/15/13
1:00
PM ET
It's Rankings Week at GatorNation. Every day we'll rank some aspect of the Florida football program heading into the 2013 season. Today we're ranking the top 10 defensive players the Gators will face this season. On Thursday we'll rank the top 10 UF freshmen that have the chance of making the biggest impact in the fall.
Ranking the defensive players
1. DE Jadeveon Clowney (South Carolina):
Clowney (6-feet-6, 256 pounds) is arguably the best player in the country and is even mentioned as a Heisman Trophy favorite as a defender. He had a mammoth sophomore season in which he was second in the SEC in sacks in 2012 (13.0). Clowney can't be handled one-on-one because he's so athletic and quick, but even with help he's nearly impossible to stop.
To continue reading this article you must be an Insider
November, 26, 2012
11/26/12
8:00
AM ET
GAINESVILLE, Fla. -- Here's an analysis of three key plays in Florida's 37-26 victory over Florida State on Saturday.
Manuel to O'Leary
FSU cuts into UF's lead
To continue reading this article you must be an Insider
November, 20, 2012
11/20/12
8:33
AM ET
Florida State
Timmy Jernigan:
Growing up, there was never a question where Jernigan would play his college football. And there wasn't a question if he would make it to the next level. He was elite, even from a young age. And Jernigan loved the
Florida Gators
.
Defensive tackles coach Odell Haggins didn't waver, though. He continued working hard to get Jerngian on campus, coached him up on camps and eventually made headway. Finally, FSU got a stranglehold on Jernigan. And by the time national signing day rolled around, Florida didn't even send a letter of intent and Tallahassee was his destination.
James Wilder Jr.:
A legend in the prep ranks from early on in his career, this powerful running back was considered to be a UF lean for a while. Florida State and Georgia entered the picture, too. All three programs battled it out intensely.
To continue reading this article you must be an Insider
November, 26, 2011
11/26/11
8:39
PM ET
Turning point: Florida State cornerback Mike Harris picked off John Brantley inside the FSU 5-yard line and returned the ball 89 yards to the Florida 4. Three plays later, FSU's Devonta Freeman scored on a 1-yard run to give the Seminoles a 14-0 lead. Brantley was trying to hit Chris Rainey out of the backfield but he threw across the field where four FSU defensive backs had a chance to intercept the ball.

Stat of the half: Florida has out-gained Florida State by 101 yards (140-39) yet trails by 14 points because of three Brantley interceptions. The Seminoles have minus-1 yards rushing on 20 carries.

Best player in the half: Freeman ran for only 38 yards on 13 carries, but he did score both Florida State touchdowns. He also was the only Seminoles ball carrier with positive yardage. E.J. Manuel was at minus-27 and Rashad Greene was at minus-12.

Best call: Florida used a fake punt to gain a first down inside the Florida State 30 in the second quarter. The Gators faced a fourth-and-1 at the FSU 27 and lined up for a field goal. Trey Burton lined up at holder instead of John Crofoot, and the Gators quickly snapped the ball before the Seminoles noticed. Burton gained 3 yards. The Gators would end up turning the ball over on downs four plays later when Burton went for minus-14 yards on fourth-and-1.

What Florida needs to do: With Brantley's status uncertain for the second half -- he got sandwiched between Timmy Jernigan and Brandon Jenkins and Jenkins' helmet smacked into Brantley's facemask -- the Gators are going to have to come up with something offensively that backup Jacoby Brissett feels comfortable with. The Gators have to throw the ball or FSU will continue to put nine in the box, and the game's over.
McElwain discusses new Florida football
SEC SCOREBOARD
Thursday, 9/3
Saturday, 9/5