Florida Gators:

Tim Davis
December, 2, 2013
12/02/13
3:00
PM ET
GAINESVILLE, Fla. -- Now that offensive coordinator Brent Pease and offensive line coach Tim Davis have been sacrificed as a way to wash away the sins of Florida's 2013 offense, the spotlight shifts to head coach Will Muschamp.
For such a strong-willed leader, for such a defensive-minded coach, the obvious question in regards to his offensive philosophy is, "Can Muschamp change?"
[+] Enlarge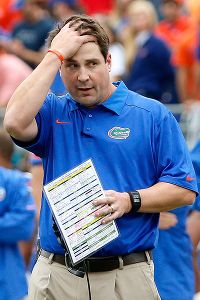 Sam Greenwood/Getty ImagesThe Gators' inability to score points became a weekly post-game complaint from Will Muschamp.
After his team was drubbed one last time last Saturday in a 37-7 loss to Florida State that saw his Gators generate just one score, eight first downs and 193 yards, Muschamp was quick to answer that question.
"Perception is not always reality," he said and then repeated himself for emphasis. "Perception is not always reality. So, I'm willing to do what we need to do to score points and win games."
It's doubtful that portends a complete shift to another style of offense, however. Since Muschamp arrived in December 2010, he has recruited for the pro-style offense. He installed it on the heels of Urban Meyer's spread-option, and it has taken years to usher in the personnel required for such a drastic change. It's extremely unlikely a head coach on a hot seat would scrap the base offense and start over.
What is more likely to change is the heavy emphasis on a downhill running game that was designed to shorten games by hogging time of possession.
That approach worked to perfection with Florida's stout defense and strong special teams in 2012. Even with one of the nation's worst passing games that averaged 146.31 yards and ranked 114th out of 123 FBS schools, the Gators won 11 games and defeated four top-1o teams on their way to a BCS bowl.
This year, injuries on defense and new faces on special teams conspired to spotlight the shortcomings of Muschamp's offensive philosophy. The Gators' margin of error had always been small, but without a reliable defense and kicking game, it shrunk to a level of absurdity.
By the end of the dismal 2013 season, one interception, one sack-fumble, one drive that ended in a missed field goal was enough to torpedo the entire team's fragile psyche. Muschamp started calling out his "inept" offense, saying it had "infected" the rest of the team.
The need to change was obvious to Muschamp, the players, the fans and most importantly to Muschamp's boss, athletic director Jeremy Foley.
"Will is going to figure those things out," Foley said to reporters in giving his embattled coach one more vote of confidence before the FSU game. "I do think in this league playing good defense is important, and that's why I hired Will. I think he's done that. But we do have to fix that side of the ball.
"No disrespect to anybody. That's just reality. You look at the stats and some of the scores that have caused us problems. We'll get that fixed. We're going to have to get that fixed, and I think we can."
An offense that was built to do more than run could have pivoted this season, taken on more of the burden to win games and help salvage a passable season instead of the 4-8 quagmire that resulted.
The final outcome -- 112th in the nation and last in the SEC in total offense, 107th in the nation in passing offense, last in the SEC in scoring -- forced Muschamp's hand.
"We need to take a look at ourselves schematically with what we're doing," Muschamp said. "There have been some things that have happened that are very difficult to overcome, but schematically, there's no question we need to take a look at ourselves."
Yes, the injuries were difficult to overcome. Any team that loses its top two quarterbacks, top running back and top three offensive tackles is in for a turbulent season. But this is Florida, where quality depth is more than just expected -- it's practically a birthright at a school surrounded by such fertile recruiting turf.
The offensive line was unable to pass-block in 2012 or before it suffered all those injuries this season. And when those injuries struck, there were no sophomores or redshirt freshmen ready to compete for starting jobs. It's no surprise Davis was fired.
The offense's inability to generate points became a weekly complaint from Muschamp in his recent post-game assessments. So much so that it was no surprise Pease was fired.
In replacing him, Florida will need an offensive mind that can devise multiple ways of attacking a defense, employ varying tempos and do a better job of developing skill-position talent.
It starts with Muschamp, who will hire his third offensive coordinator heading into his fourth season.
"I think obviously the first person you look at is yourself," he said. "That's what you've got to be able to do and see where we are. I think as a coach, you've got to do what your players can do. That's something I'm looking at."
No doubt the players will welcome a change. Even Muschamp's defensive players say they want the same thing.
"Right now, whatever they do hopefully is changed for the best," sophomore defensive end
Jonathan Bullard
said once the season was over. "Give us 21 [points] a game. If they can do that, then I would put the blame on us if they score 21 points or over. Hopefully change for the better, because what we're doing right now just ain't working."
December, 2, 2013
12/02/13
9:00
AM ET
We have a new No. 1 in our Power Rankings, and there's a chance that either of the top two teams on this list could back its way into the BCS title game:

1. Auburn (11-1, 7-1 SEC; last week: 3):
Call it luck, but don't forget to call the Tigers good. Auburn won the Iron Bowl 34-28 over No. 1 Alabama on a last-second field goal return for a touchdown by
Chris Davis
. It was another improbable win for the Cardiac Cats, but Auburn also ran for 296 yards on the SEC's best rush defense. Back-to-back thrillers have Auburn No. 3 in the BCS standings and SEC Western Division champions.
2. Missouri (11-1, 7-1 SEC; LW: 2):
These Tigers will meet those Tigers in the SEC championship game on Saturday. After beating Texas A&M 28-21 at home, Mizzou completed its own improbable season in its second year in the league. Missouri now has five wins over opponents that were ranked when it played them. Like Auburn, Mizzou is very much in the national championship picture. The Tigers need help, but a win over Auburn would push a team that was left for dead last season a step closer to Pasadena, Calif.
3. Alabama (11-1, 7-1 SEC; LW: 1):
The three-peat is likely over after Alabama was bested by its archrival. Why Nick Saban would attempt a 57-yard field goal with a second left without any speedy athletes on the field is mind-blowing. Saban rarely makes mistakes, but this one will sting for a very long time. Alabama is still very much in the hunt for a BCS bowl game, but a return to the title game is a long shot.
4. South Carolina (10-2, 6-2 SEC; LW: 4):
Another year, another win over Clemson. That makes five in a row for Steve Spurrier and his Gamecocks after his guys walked over the Tigers 31-17. South Carolina forced six turnovers, and quarterback
Connor Shaw
impressed yet again with 246 yards of offense and two touchdowns. The BCS is out of reach for the Gamecocks, but they have a shot at three straight 11-win seasons.
5. LSU (9-3, 5-3 SEC; LW: 5):
This is easily the most confusing team to follow in 2013. The Tigers started hot, hit some bumps and then finished strong with an exciting 31-27 win over Arkansas. LSU was without starting quarterback
Zach Mettenberger
(knee) late, but it didn't matter, as freshman
Anthony Jennings
drove the Tigers 99 yards, with a 49-yard go-ahead touchdown pass with 1:15 left. This could be another double-digit-win season for the Tigers.
6. Texas A&M (8-4, 4-4 SEC; LW: 6):
Johnny Manziel
went from carving up defenses to being smothered in his last two outings. In Saturday's loss to Mizzou, Manziel was held to a season-low 216 total yards and a touchdown. The defense was gutted -- again -- allowing 225 rushing yards, including a 57-yard
Henry Josey
touchdown run with 3:34 remaining. It's been a long November in College Station, but at least Kevin Sumlin is locked up for the long haul.
7. Vanderbilt (8-4, 4-4 SEC; LW: 8):
Coach James Franklin might be near the top of USC's coaching list, but for now, he's doing a heck of a job as Vandy's coach. There's no wonder he's on the Trojans' radar. Vandy has won four straight, will make its third straight bowl game and is in line to win nine in back-to-back seasons. The Commodores didn't make it look easy against Wake Forest, but a
Carey Spear
field goal with 39 seconds left kept the Dores' winning streak alive.
8. Georgia (8-4, 5-3 SEC; LW: 9):
Another team that didn't want things to be easy over the weekend, Georgia needed double overtime to beat rival Georgia Tech. The Bulldogs' defense was pushed around for 495 yards, but the offense was there to bring the Dawgs back from deficits of 20-0 and 27-17. When you have a guy like
Todd Gurley
(158 total yards and four touchdowns), it doesn't matter who you have at quarterback.
9. Mississippi State (6-6, 3-5 SEC; LW: 10):
After being on the outside of the bowl picture just a couple of weeks ago, the Bulldogs rallied to win their last two, including an overtime victory against bitter rival Ole Miss on Thanksgiving. It wasn't the prettiest of games, but injured quarterback
Dak Prescott
came into the fourth quarter and threw for 115 yards, while running for 29, including the eventual winning 3-yard score. Dan Mullen has Mississippi State in the postseason for the fourth straight season.
10. Ole Miss (7-5, 3-5 SEC; LW: 7):
Oh, what could have been for this team. Not only have the Rebels lost two straight, but they allowed their archrivals to make it to the postseason. For a season that started 3-0, some poor play in the red zone -- especially near the goal line -- against Missouri and turnovers against Mississippi State cost Ole Miss in its final two games.
11. Tennessee (5-7, 2-6 SEC; LW: 11):
A long first year for Butch Jones ended with a nice 27-14 win over Kentucky. The Vols aren't going bowling, but now is the time when Jones has to ramp up the development phase and keep an already stellar recruiting class together. Remember, this team was a fake Vandy jump pass from a bowl berth.
12. Florida (4-8, 3-5 SEC; LW: 12):
The Gators' nightmare of a season ended with a 37-7 rout by rival Florida State inside the Swamp. Florida then fired embattled offensive coordinator Brent Pease and offensive line coach Tim Davis. Florida lost seven straight to end the season without scoring more than 20 points. And it isn't going bowling for the first time in 22 years and has its first losing season since 1979.
13. Arkansas (3-9, 0-8 SEC; LW: 13):
With that heartbreaking loss to LSU, the Razorbacks have dropped a school-record nine straight and went 0-8 in conference play for the first time. This team fought hard in its final act, but it's clear that development and recruiting need to amp up during the offseason if Bret Bielema is going to have a chance at really competing in this league.
14. Kentucky (2-10, 0-8 SEC; LW: 14):
The Wildcats have now gone 0-8 in SEC play in back-to-back seasons for the first time since 1941-42 and have lost 16 straight SEC games. Mark Stoops is building a pretty impressive recruiting class right now, but we all know it takes more than recruiting. The Wildcats need more than talent, as they took steps back on both sides of the ball late in the season.
December, 1, 2013
12/01/13
3:30
PM ET
This is where we find out how good of a coach Will Muschamp is and how much pride and heart Florida's players have.
The
firing of offensive coordinator Brent Pease and offensive line coach Tim Davis
means that the Gators will move in a different direction with their offense in order to attempt to rebound from a disappointing 4-8 (3-5 SEC) season.
[+] Enlarge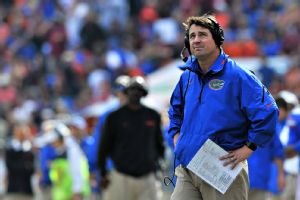 Steve Mitchell/USA TODAY SportsFlorida coach Will Muschamp won't be fired after going 4-8 this season. But he needs to have a great season in 2014 to stick around.
"I think we need to take a look at ourselves schematically,'' Muschamp said after Saturday's
37-7 home loss
to in-state rival Florida State. "There have been some things that have happened that are very difficult to overcome. But schematically there's no question we need to take a look at ourselves."
It's not like this should come as a surprise. Florida lost its last seven games of the season without scoring more than 20 points in any of those contests and finished the regular season with the SEC's worst offense, averaging just 316.7 yards per game and a league-low 4.8 yards per play. Florida also ranks 112th nationally in total offense.
The Gators suffered their first losing season since 1979 and will miss a bowl game for the first time since 1990.
Injuries on both sides of the football ravaged this team, especially on offense, but with Muschamp stating loud and clear that many things on offense have to change, this is where we will find out just how good he is, because there are no more excuses going forward.
While many in Gator Nation will say that Muschamp should have been a casualty as well today, athletic director Jeremy Foley made the right decision to stick with Muschamp. This season was a disaster, but Florida came off an 11-win season and a BCS appearance. Last season, Muschamp was the SEC Coach of the Year, and you'd be hard-pressed to find another staff that coached better in the second half of games. Also, most of 2013 was taken out of the hands of this staff at times because of devastating injuries.
Florida's injury count went into double digits, and lost four key offensive starters in
Jeff Driskel
,
Matt Jones
,
Chaz Green
and
Andre Debose
. Eventually, No. 2 quarterback
Tyler Murphy
, who never quite showed the potential and upside that Driskel possessed, was lost for the season with a shoulder injury, meaning Florida was down to third-stringer
Skyler Mornhinweg
, who was on the practice squad last year.
The offense certainly went through the wringer, but if Muschamp is going to right the ship in Gainesville, he had to make changes. He had to make changes to an offense that regressed each week and was even near the bottom of the SEC barrel last season (334 yards per game). He had to make changes to an offensive line that gave up 27 sacks on the season, injuries aside. He had to make changes to a staff that didn't develop players well enough.
But by making these moves, Muschamp now has to win big in 2014. Year 3 was unacceptable in Gainesville, so Year 4 likely means that it truly is Atlanta or bust for Muschamp. Foley stood by Muschamp this time, but another fall or stagnation in 2014 will force Foley to have to look in another direction.
It's time for Florida to get over the fact that Urban Meyer left this team with a nearly empty cupboard of talent. It's time to get a more functional offense on the field that can move the ball through the air and on the ground and can actually score points. And it's time to develop the guys on both sides of the ball.
The good thing about Florida's injuries is that they will heal. Driskel, Jones, Green and Debose will be back, but they have to be better, as well. Florida needs legitimate competition at every position, and that's where coaching and recruiting comes in.
There's no question that Florida had some offensive misses in its last couple of recruiting classes. That can't happen in the 2014 class, which also has to keep its ESPN 300 prospects, running back
Dalvin Cook
, quarterback
Will Grier
and receiver
Ermon Lane
, who could all make immediate impacts next season. Finding replacement coaches is the crucial first step; keeping this 2014 class together is the second.
The honeymoon with Muschamp faded this year, but there's still time to turn things around, even if it's going to be a toxic time in Gainesville until Florida wins again. At the first sign of failure, this fan base is going to spit fire at its fervent coach, and players could lose trust.
Muschamp has to guard himself and his team against that. He has to instill some pride back into this program and has to make sure that his players don't lose faith, even if the fans have.
It's not going to be easy for a team that will likely take another hit to its defense with the upcoming NFL draft and now has a trip to Alabama on next season's schedule. It won't be easy for a team that went all "woe is me" late in the year. It won't be easy with Florida State, Georgia, LSU, South Carolina and Tennessee still on the schedule, but improvements have to be made.
This team has to compete, and we're about to find out if Muschamp really is the right man for the job.
August, 21, 2013
8/21/13
3:00
PM ET
GAINESVILLE, Fla. -- Unhappiness has turned out to be a good thing for Florida's offensive line in 2013.
It's the reason
Tyler Moore
and
Max Garcia
left their respective schools a year ago and transferred to Florida. The addition of those two versatile players gives the Gators their toughest, most physical and best offensive line in coach Will Muschamp's three seasons.
Now everybody's happy.
"Oh, man, it's the greatest decision of my life," Garcia said.
Garcia was one of several Maryland players who transferred after the 2011 season, which was coach Randy Edsall's first in College Park. Though he started all 12 games at left tackle as a sophomore, Garcia said he had personal, academic and athletic issues during his freshman season.
When it was over, he decided he needed a change.
"I think you come to college just to be happy personally and athletically and academically, just find the right fit for you," Garcia said. "It's all about being happy. As a player you don't really get much more than being happy."
[+] Enlarge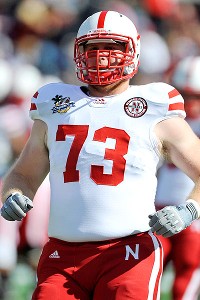 Brad Barr/US PresswireTyler Moore set a Nebraska record with four starts on the offensive line as a true freshman before transferring to Florida.
After looking at several schools, Garcia said he believed he could be happy at Florida. It didn't take him long to realize he was correct.
"I met Coach Muschamp and [offensive line] Coach [Tim] Davis and I met the offensive line here and I just felt at home coming down here to Florida," said Garcia, who is a 6-foot-4, 307-pound redshirt junior. "Aside from football, this is where I found Christ. He came into my life here so since I've been here last August my life has just changed forever and it's for the better."
Moore's situation was a bit different. He started the first four games and played in nine as a freshman tackle at Nebraska in 2011, but he was unhappy with the amount of playing time he got and he also believed he wasn't being treated fairly.
He was so disgruntled that when he left school just before practice began in August 2012 he thought he was done with football.
"Little things that I had to deal with at Nebraska made me slowly hate the game after so much time being there," said Moore, whose father, great uncle and cousin played at Nebraska. "Of course everyone wants more playing time, but I believe I should have gotten more playing time throughout the year. I was busting my butt all year practicing and trying to get some playing time and still only got a few plays here and there. It's just what the coaches want to do."
The 6-5, 315-pound Moore returned to St. Petersburg, Fla., and spent the 2012 academic year at St. Petersburg College. But as time passed, he realized he missed playing football and he considered Florida State before choosing UF.
They took different paths, but Moore and Garcia have one thing in common: Both can play multiple spots on the line. That makes them among the Gators' most valued players.
Moore, a redshirt sophomore, was expected to battle with redshirt senior
Chaz Green
for the starting right tackle spot but instead has spent the entire camp working at right guard in place of injured starter
Jon Halapio
(torn pec). He can play all five positions, although he hasn't snapped at UF yet.
"He's very intelligent. He gets it," Muschamp said. "We've been able to plug him in across the board. He could play center if he had to. You can't ever not emphasize enough the intelligence, and [he's] a guy that can go in and play different spots, different angles, different assignments and different techniques from playing inside as opposed to playing outside.
"He can do a lot of things for us. He's going to be a huge member of our football team."
Garcia is the starter at left guard and pairs with left tackle
D.J. Humphries
to instantly upgrade the left side. The staff moved him to left tackle for a practice and Muschamp said he performed well despite not having taken a snap there since he arrived in Gainesville.
"We got rave reviews from some of the assistant coaches there at Maryland about the type young man he was," Muschamp said. "So he was highly endorsed as a football player but more than anything as a person."
Moore and Garcia aren't the only offensive linemen who can play multiple spots on the roster. Redshirt senior
Kyle Koehne
, Green and redshirt sophomore
Trip Thurman
can as well, and Muschamp said that will be a staple of his linemen going forward.
"We always try to recruit guys who can play multiple positions," Muschamp said. "That means they're smart and they can do some different things for us. You'd like to be two-deep at every position and two guys that can rotate other than that. You better have a bunch [of versatile offensive linemen] and you've got to prepare for injuries."
May, 18, 2013
5/18/13
8:30
AM ET
GAINESVILLE, Fla. -- A quick look back at the week that was at GatorNation:
Last week was Rankings Week, and GatorNation ranked UF's 2013
schedule
, the top
offensive
and
defensive
players the Gators will face in 2013, the top 10
freshman contributors
, and the top
recruiting needs

for 2014.
NFL draft analyst Mel Kiper Jr. put Gators QB
Jeff Driskel
on his
list of quarterbacks
he's watching in terms of the 2014 draft.
SEC blogger Edward Aschoff writes that RB
Matt Jones
is
ready for the spotlight
.
Big 12 blogger David Ubben gave us the Big 12-SEC
matchups
he'd like to see.
Alabama coach Nick Saban said being called the devil by Florida offensive line coach Tim Davis during a booster club speaking engagement was "
terribly disappointing
."
On the recruiting trail ...
The biggest news of the week was the
decommitment
of ESPN 150 OLB
Christian Miller
(Columbia, S.C./Spring Valley).

GatorNation's Derek Tyson answered your questions in his weekly
mailbag
.

Tyson also wrote some tidbits, updates and news about the Gators' recruiting in the weekly
Tales from the Road
and met up with signee
Jordan Sherit
for a
Q&A
.

Safety
Trey Marshall
(Lake City, Fla./Columbia) grew up a Florida fan but there's
another school
on top of his list right now.

The Florida basketball team picked up a
commitment
from PG
Chris Chiozza
(Memphis, Tenn./White Station).

February, 26, 2013
2/26/13
11:26
AM ET
GAINESVILLE, Fla. -- Florida has announced coach Will Muschamp's spring speaking schedule at various Gator Clubs throughout the state and in Atlanta. The school also announced that assistant coaches Joker Phillips, D.J. Durkin, Tim Davis and Bryant Young will speak at three clubs.

Here's the schedule:

Will Muschamp

April 2: Gainesville Quarterback Club

May 1: Titletown Gator Club, Gainesville

May 2: Tampa Gator Club/Pinellas County Gator Club

May 7: Polk County Gator Club, Lakeland

May 8: Central Florida Gator Club, Orlando

May 14: Gator Club of Jacksonville

May 15: Atlanta Gator Club

May 20: Jacksonville Quarterback Club

May 23: Fighting Gator Touchdown Club, Gainesville

TBA: Daytona Quarterback Club

D.J. Durkin

May 6: Southwest Florida Gator Club, Fort Myers

Bryant Young

May 7: Panhandle Gator Club, Panama City

Joker Phillips

May 7: Palm Beach County Gator Club, Palm Beach

Tim Davis

May 14: Space Coast Gator Club, Melbourne
October, 9, 2012
10/09/12
3:35
PM ET
GAINESVILLE, Fla. -- Florida's jumbo package on offense has a name, but you can't get it out of offensive coordinator Brent Pease.
[+] Enlarge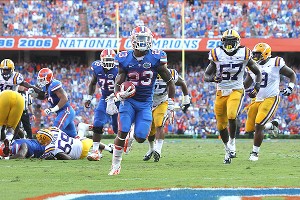 Kim Klement/US PresswireBoth of Mike Gillislee's touchdowns against LSU came out of "jumbo" formations.
Despite several attempts to get it out of him on Tuesday afternoon, Pease wouldn't budge. It's not called sumo or chiefs, which are two names UF coach Will Muschamp offered after the Gators' 14-6 victory over LSU on Saturday.
"Chiefs is a personnel package," Pease said.
It's really irrelevant what the formation -- which features two tight ends, a fullback, a running back and a receiver -- is called. What matters is that it works. The Gators have used it effectively, especially against the Tigers. UF scored both of its touchdowns out of the formation.
On
Mike Gillislee
's first touchdown run, the Gators used offensive tackle
D.J. Humphries
and guard
Ian Silberman
as the two tight ends. The play called for left guard
James Wilson
and left tackle
Xavier Nixon
to pull to the right side between guard
Jon Halapio
and tackle
Chaz Green
. They opened a big hole and Gillislee went into the end zone untouched.
"When you look at that one time, there's seven guys there that are probably 300-plus," Pease said. "What's your math on that? Seven times three is, what, 2,100 pounds coming at you. I don't know that I would want that falling on me."
There are other personnel packages the Gators use with the jumbo formation. Tight ends
Clay Burton
and
Tevin Westbrook
can be on the field instead of Silberman and Humphries, for example. But using the extra offensive linemen makes it tough for defenses to match that bulk.
"A lot of that is [offensive line] coach [Tim] Davis," Pease said. "He just likes getting big guys out there. You know what they say: Mass kicks a--. So that's our theory behind it."
Though it was noticeable because it resulted in a touchdown, the Gators have used the formation several times this season, both with and without Humphries and Silberman.
"We've used that in every game," UF coach Will Muschamp said. "That's been something we've been using for a while. Both guys [Humphries and Silberman] have done a nice job. I'm very pleased to be able to get those guys involved more because they both deserve to play and the opportunity."
August, 23, 2012
8/23/12
8:28
PM ET
GAINESVILLE, Fla. -- Florida might not have end/linebacker
Ronald Powell
for another month or so as he continues his rehab from a torn left ACL, but defensive coordinator Dan Quinn is still encouraged that the Gators' pass rush will improve.
It's mainly a result of just having more bodies, which allows for more rotation and fresher players. And fresher players make better pass rushers, especially in the fourth quarter with the game on the line. The addition of freshmen
Jonathan Bullard
and
Dante Fowler Jr.
, plus the return of linebacker
Neiron Ball
from injury, bolsters a group that didn't get consistent pressure on the quarterback until the final two games of the season.
"Even with Ronald not being available to us yet, with the addition of Ball, with the addition of
[Lerentee] McCray
moving down [to end from linebacker], with the addition of Bullard, with the addition of Fowler, and the existing guys, it seems like the lines [for pass-rush drills in practice] are longer," Quinn said Thursday night. "That's a good thing."
July, 5, 2012
7/05/12
8:00
AM ET
ESPN's GatorNation brings you the 30 things you need to know about Florida's upcoming 2012 season. For 30 weekdays we'll preview games, talk about trends, spotlight players and positions, and give you pretty much everything you need to know to be ready for the season before the Sept. 1 opener against Bowling Green.
GAINESVILLE, Fla. -- Whether the 2012 season goes any better than the 2011 season will depend mainly on the play of the quarterback -- whether it's
Jeff Driskel
or
Jacoby Brissett
.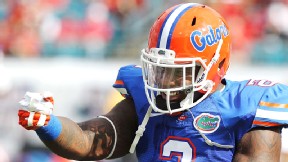 Kim Klement/US PresswireFlorida hopes to get a big boost this fall from the return of defensive tackle Dominique Easley from a torn ACL.
That's a lot of pressure on a couple of players who didn't fare so well in limited playing time last season. It's not fair or unfair. It's just the way it is now. If your team doesn't have a good quarterback, it's not going to be any good. Gone are the days in college football where teams can ride a big-time running back to a national championship.
That's why we skipped the quarterbacks when we came up with our list of the top five UF players who are under the most pressure to perform in 2012. QBs are always in that situation. Here is the list, in alphabetical order:
DT Dominique Easley
-- Easley is coming off a torn ACL but should be ready by the season opener. It's a big year for him. He has to prove he has become more disciplined and cut down on his offside penalties. UF needs some pass-rush because of the absence of Ronald Powell (torn ACL), and Easley is good enough to provide it both inside and at defensive end.
May, 18, 2012
5/18/12
11:38
AM ET
GAINESVILLE, Fla. -- ESPN.com's Mark Schlabach sees brighter days ahead for the Florida football team, which is why he has the Gators ranked No. 20 in his latest top 25 that was released today.
In his explanation on why UF is No. 20, Schlabach says the Gators "might not be too far away from contending for another SEC East championship" because of the improved offensive line, the work new offensive coordinator Brent Pease has done with the quarterbacks, and the projected emergence of running back
Mike Gillislee
and receiver Latroy Pittman.
There are still a lot of questions about UF heading into the 2012 season, specifically about quarterbacks
Jeff Driskel
and
Jacoby Brissett
and whether the receivers will finally become a productive unit. The addition of new offensive line coach Tim Davis and new strength and conditioning coordinator Jeff Dillman has already made a difference with the offensive line.
You can see
Schlabach's top 25 here
, but below is a quick breakdown:
April, 19, 2012
4/19/12
9:45
PM ET
GAINESVILLE, Fla. -- The quarterbacks have a combined two career starts.

The projected starting running back, a senior, has never started a game.

The receivers have been MIA for the last two seasons.

Yet despite all that, Florida coach Will Muschamp believes his team, which just had its spring game on April 7, tops last year's team -- right now.

"I mean this: I think we're better right now than we were at any point last year," Muschamp said Thursday night just before he spoke to the Titletown Gator Club in Gainesville.


March, 14, 2012
3/14/12
3:30
PM ET
Schedule:
Florida opens spring practice Wednesday afternoon and concludes on April 7 with the Orange & Blue Debut, presented by Sunniland, at 1 p.m. ET in Ben Hill Griffin Stadium. In conjunction with Florida Football's Annual Coaches Clinic, practice will open to the public twice -- March 16 and March 17.
What's new:
Florida welcomes in new offensive coordinator Brent Pease, who left Boise State, as its new offensive coordinator after Charlie Weis left to become the head coach at Kansas. Florida also hired former Utah offensive line coach Tim Davis to replace Frank Verducci, while Jeff Dillman replaces Mickey Marrotti as the Gators' strength and conditioning coach.

On the mend:
Florida will be down a few players this spring. Defensive tackle
Dominique Easley
is out while he recovers from an ACL injury he suffered at the end of the regular season. Cornerback
Jeremy Brown
is out with a knee injury that kept him out all of the 2011 season. Offensive linemen
Ian Silberman
,
Tommy Jordan
,
Kyle Koehne
and
Cole Gilliam
, along with linebacker
Lerentee McCray
and defensive end
Kedric Johnson
, are all out with shoulder injuries. Cornerback
Marcus Roberson
(neck) was cleared for non-contact drills. Linebacker Neiron Ball, who was diagnosed with arteriovenous malformation after a blood vessel burst in his head before the 2011 season, has been cleared to resume physical activity, but not for practice.
On the move:
Redshirt senior
Omarius Hines
is moving from wide receiver to cross train at running back and tight end. Hines has always been some sort of a hybrid player, recording 41 career receptions for 559 yards and two touchdowns and carrying the ball 13 times for 164 rushing yards and two more scores.
Nick Alajajian
is moving from offensive tackle to defensive tackle to provide depth with Easley out.
February, 13, 2012
2/13/12
4:47
PM ET
GAINESVILLE, Fla. – Florida coach Will Muschamp doesn't have to worry whether new offensive line coach Tim Davis will be a good fit with the rest of the coaching staff.

Davis, who spent the 2011 season at Utah, has already worked with nearly all of them.

Davis was hired on Monday to replacing Frank Verducci, whom Muschamp said left the program over the weekend to pursue other interests. Davis has spent nine years working alongside four UF coaches, including Muschamp.

"Tim is a perfect fit for our program," Muschamp said. "He has a history of coaching in a pro-style offense and shares the same program philosophies.

"He understands the values that we put on the line of scrimmage and he will help us get where we want to be at that position."


McElwain discusses new Florida football
SEC SCOREBOARD
Thursday, 9/3
Saturday, 9/5