Florida Gators:

Thomas Holley
November, 27, 2013
Nov 27
9:00
AM ET
The annual Florida-Florida State game is usually one of the top games in the country. This year, with Florida's disappointing season, the game seems to have lost some luster. Florida State, however, is fighting for a chance to make it to the BCS National Championship game in January. The Gators would like nothing more to ruin their archrival's season, especially in front of several top recruits. Here's a closer look at which recruits will be watching this weekend.
To continue reading this article you must be an Insider
September, 3, 2013
Sep 3
8:00
AM ET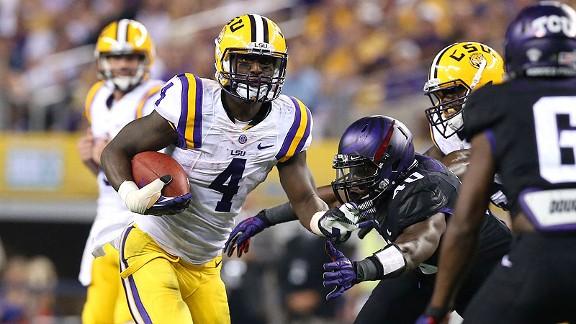 Each year college coaches prioritize their recruiting needs. Whether it's offensive or defensive linemen or skilled positions, there always seems to be an area that needs more attention than others. Here's a closer look at the most important position for each SEC team in recruiting this year.
To continue reading this article you must be an Insider
July, 1, 2013
Jul 1
4:54
PM ET
BEAVERTON, Ore. -- One of the first things that stands out at an event such as The Opening is how guys pass the eye test. While we have seen most of the prospects in attendance, some on multiple occasions, there are a few we haven't seen yet. The ability to confirm or assess, in person, a prospect's height, weight, flexibility and body composition is an important factor in the evaluation process.
Monday morning's SPARQ session gave us the opportunity to do just that, and here are a few players who caught our eye.
To continue reading this article you must be an Insider
June, 22, 2013
Jun 22
6:49
PM ET
The Opening, presented by Nike, will feature 162 of the best high school football players in the country. The event, which will include linemen, 7-on-7 and SPARQ testing competitions, is set to run from June 30 to July 3 at the Nike headquarters in Beaverton, Ore.
The following events from The Opening will be televised on ESPNU:
July 1: SPARQ Rating National Championship, 7 p.m.-8:30 p.m. ET
July 2: 7-on-7 Pool Play, 9 p.m.-11:30 p.m. ET
July 3: Linemen Challenge Finals and 7-on-7 semifinal and championship games, 9 p.m.-midnight ET
The players will be divided in to six teams -- Alpha Pro, Apocalypse, Field Generals, Land Sharks, Super Bad and Vapor Carbon. Here is a closer look at how the teams match up.
Team:
Alpha Pro
Coaches:
Offensive coordinator Jordan Palmer, defensive coordinator Hardy Nickerson
The Alpha Pro team will have plenty of targets to spread the ball around.
Ermon Lane
and
Tyler Luatua
, the No. 1-ranked receiver and tight end in the country respectively, bring size and playmaking ability to the passing game. ESPN 300 athletes
Corey Holmes
,
Jalen Hurd
,
John "JuJu" Smith
,
Ja'Von Harrison
, and
Derrell Scott
are all explosive offensive weapons.
Defensively Alpha Pro is led by
Andrew Brown
, the No. 1-ranked defensive tackle in the country, ESPN 150 cornerback
Damon Webb
, defensive end
Andrew Williams
, Ohio State linebacker commit
Dante Booker
and LSU cornerback commit
Chris Hardeman
.
Complete Alpha Pro
roster
.
Team:
Apocalypse
Coaches:
Offensive coordinator Adam Tafralis, defensive coordinator Donovin Darius
The first thing that jumps out about team Apocalypse is the talent in the defensive front seven. Team Apocalypse will be led by five-star defensive end
Da'Shawn Hand
and inside linebacker
Raekwon McMillan
. Hand, from Woodbridge, Va., is the No. 4-ranked player in the country, while McMillan was recently bumped up to a five-star linebacker. Joining Hand and McMillan along the front seven are ESPN 300 defensive linemen
Anthony Moten
and
Ainuu Taua
, and linebackers
D.J. Calhoun
and
Rashaan Evans
.
Offensively, team Apocalypse has no shortage of playmakers. ESPN 300 wide receivers
Artavis Scott
,
K.D. Cannon
and
Michiah Quick
will provide explosiveness in the passing game, while athletic running backs
Joe Mixon
and
Royce Freeman
will provide athletic and reliable targets out of the backfield.
Complete Apocalypse
roster
.
Team:
Field Generals
Coaches:
Offensive coordinator Charlie Frye, defensive coordinator Michael Fletcher
Seven-on-seven events are always geared towards the offense, but with five-star defensive back
Adoree' Jackson
, No. 3-ranked safety
Jamal Adams
, and ESPN 300 cornerback
Adarius Pickett
in the secondary, the Field Generals should more than hold their own. New Ohio State defensive end commit
Jalyn Holmes
and the No. 6-ranked defensive end in the country,
Solomon Thomas
, will be two to watch along the defensive line.
Offensively, the Field Generals are led by ESPN 300 offensive guard
Damien Mama
, ESPN 300 wide receivers
Austin Roberts
and
Thaddeus Snodgrass
and explosive Notre Dame running back commit
Elijah Hood
.
Complete Field Generals
roster
.
Team:
Landsharks
Coaches:
Offensive coordinator Craig Nall, defensive coordinator Keith Bulluck
The Landsharks have some big-time talent along each line of scrimmage. Led by five-star offensive tackle
Cameron Robinson
, the Landsharks also feature ESPN 300 offensive guard
Corey Martinez
. ESPN 300 defensive linemen
Gerald Willis III
and
Thomas Holley
, as well as ESPN 300 defensive end
Chad Thomas
, will form a very physical and athletic defensive line.
In the secondary, the Landsharks will have three defensive backs --
Arrion Springs
,
Chris Lammons
and
Tony Brown
-- that are ranked among the top 85 players in the country. The defense also features ESPN 150 linebacker
Nyles Morgan
.
Offensively, explosive running backs
Dalvin Cook
, a Florida commit, and
Racean Thomas
form a dangerous tandem out of the backfield, and wide receivers
Travis Rudolph
and
Jalen Harvey
are solid receiving threats.
Complete Landsharks
roster
.
Team:
Superbad
Coaches:
Offensive coordinator Dennis Gile, defensive coordinator Harold Nash Jr.
The Superbad defense line is led by five-star defensive end
Lorenzo Carter
and ESPN 150 defensive tackle
Bijhon Jackson
. The linebacking corp is stacked with three ESPN 300 members, including
Clifton Garrett
,
Christian Miller
and
Edwin Freeman
. Cornerback
Jalen Tabor
is the No. 19-ranked player in the country.
Offensively, Superbad has a huge advantage with the No. 1-ranked prospect in the country, running back
Leonard Fournette
. This team is loaded on offense, with wide receivers
Drake Harris
,
Josh Malone
and
Speedy Noil
all in the mix.
Complete Superbad
roster
.
Team:
Vapor Carbon
Coaches:
Offensive coordinator George Whitfield, defensive coordinator Chris Gizzi.
Vapor Carbon will be tough to throw against with defensive backs
Quin Blanding
,
Naijiel Hale
and
Ed Paris
roaming the field. The linebacker group is just as impressive, with Ohio State commit
Kyle Berger
,
Kain Daub
and
Dillon Bates
all leading the way.
The offense for Vapor Carbon could be lethal with running back
Joseph Yearby
and
Nick Chubb
in the backfield. Spreading out wide receivers
T.V. Williams
,
Justin Brent
and tight end
Ian Bunting
on the outside could prove to be an awesome combination for this squad.
Team Vapor Carbon has a lot of pieces to make a long run in the 7-on-7 tournament, but then again, every team is stacked in this competition.
Complete Vapor Carbon
roster
.
June, 21, 2013
Jun 21
9:00
AM ET
GAINESVILLE, Fla. -- Spring evaluations are over, summer camp has finally concluded, and the Gators have to consider the past two months a recruiting success.

The Gators have landed four commitments over the last month and have positioned themselves nicely for a host of other top prospects. Here's a closer look at how the Gators recruiting efforts are taking shape.
Commits
Three-star TE C'yontai Lewis (Tuscaloosa, Ala./Northridge)
Committed: May 23
To continue reading this article you must be an Insider
June, 17, 2013
Jun 17
8:00
AM ET
GAINESVILLE, Fla. -- Gators fans grumbled through a disappointing month of May, suffering through a couple of decommitments as Florida's 2014 class dropped in ESPN's rankings from No. 2 to No. 10.
But after a week-long summer camp loaded with talent and chocked with big-name visits, UF has firmly regained recruiting momentum and the faith of those frustrated fans.

The first day of the camp set the tone as the Gators got
a commitment from ESPN 150 athlete J.C. Jackson
(Immokalee, Fla./Immokalee) less than a week after he decommitted from FSU. Three days later, Florida landed
a pledge from DE Taven Bryan
(Casper, Wyo./Natrona County).
To continue reading this article you must be an Insider
June, 13, 2013
Jun 13
9:14
PM ET
GAINESVILLE, Fla. -- Like many a northerner,
Thomas Holley
is soaking up some sun on a summer visit to the state of Florida.
But there aren't any beaches on Holley's itinerary. No, this is a fact-finding mission for the ESPN 150 prospect from Brooklyn (N.Y.) Lincoln.
Holley visited Florida State on Wednesday, Florida on Thursday and plans to be on Miami's campus on Friday.
The 6-foot-4, 300-pound defensive tackle, rated No. 8 in the nation at his position, found the first two stops to be a lot alike.
To continue reading this article you must be an Insider
June, 7, 2013
Jun 7
9:00
AM ET
GAINESVILLE, Fla. -- Florida head coach Will Muschamp has made it clear that he prefers to have players camp at Florida before allowing them to join the Gators' recruiting class. That's not always the case, but for the most part Muschamp wants the opportunity to see a prospect's athleticsim, skill, work ethic and mental makeup before extending a true scholarship offer.
This year the Gators are planning to bring in a host of top talent from all over the country for their summer camp. Some prospects have already earned offers, while others are hoping to impress the Florida staff enough to earn one.
To continue reading this article you must be an Insider
June, 6, 2013
Jun 6
9:00
AM ET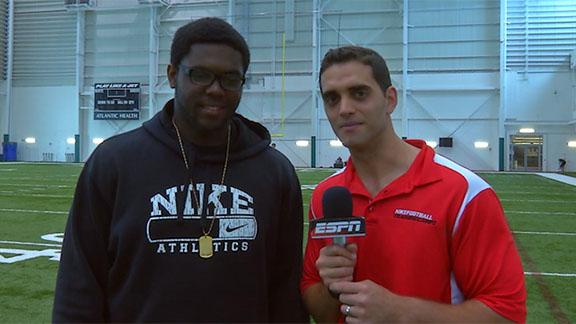 The evaluation period might have ended a few days ago, but that doesn't mean ESPN 150 DT
Thomas Holley
(Brooklyn, N.Y./Lincoln) has been able to get a break from recruiting.
He missed a call Wednesday night from a reporter but called back a few minutes later. Turns out he was on the other line -- picking up an offer from N.C. State, his 25th.
To continue reading this article you must be an Insider
June, 5, 2013
Jun 5
10:00
AM ET
Each week, Tales From The Road will provide news and updates about where Florida's coaches are recruiting and which prospects are making headlines.
To continue reading this article you must be an Insider
April, 12, 2013
Apr 12
8:38
AM ET
GAINESVILLE, Fla. -- It's time to dip into the GatorNation recruiting mailbag and answer your questions. Because of the amount of questions we've received, we won't be able to get to all of them today -- but we encourage you to post your questions on our Insider fan forum,
The Chompions Club
.
Sean CareyLove:
I know
Sony Michel
is committing soon and he states he has known where he wants to go. What are UF's chances?
To continue reading this article you must be an Insider
March, 14, 2013
Mar 14
11:00
AM ET
Thomas Holley
(Brooklyn, N.Y./Abraham Lincoln) grew tired of the questions after every basketball game.
[+] Enlarge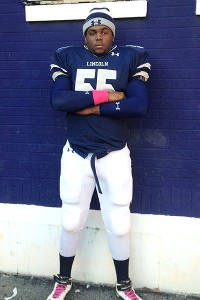 Courtesy of Thomas HolleyBrooklyn (N.Y.) Lincoln DT Thomas Holley has an impressive list of offers, even though he has only played eight varsity football games.
Inevitably, someone would stroll up to him on the hardwood and ask if he played football. Underclassmen weren't supposed to be so big, they'd say. And at about 250 pounds, they sure weren't supposed to move that fast.
"I kept saying no, that I didn't play football, and they'd just look at me funny," Holley said with a laugh. "They're like, 'Stop playing with me.' That's always how it's been for me, everywhere I go. So when I started thinking about it, people were all like, 'You should play football.' "
Football was always a lingering curiosity for the ESPN Watch List prospect, who took up the sport less than a year ago. The defensive tackle played basketball since third grade, and he always wondered about the sport. But his mother wasn't a fan of him playing such a rough-and-tumble game.
Holley didn't press the issue because he was over the league's weight limit in middle school anyway. He couldn't play football if he was over 185 pounds -- and he towered over most of his classmates at 6-foot, 230. But when fan after fan kept approaching him after those high school games, Holley couldn't resist.
He had to try it out. He wasn't even sure if he'd like it -- but what did he have to lose? He recruited his uncle to help persuade his mother into allowing him to play toward the end of his sophomore year. Scholarship offers weren't on his mind at that point, so he just focused on maintaining his weight by shedding fat and adding muscle.
To continue reading this article you must be an Insider
February, 27, 2013
Feb 27
12:42
PM ET
Sometimes it takes a few years for high school prospects to be discovered by major college football programs, but for Brooklyn (N.Y.) Lincoln junior defensive tackle
Thomas Holley
, it took only eight games.
Holley began his high school career playing basketball at national powerhouse Christ the King in Middle Village, N.Y., but when he began to fill in to his 6-foot-4 frame, he realized his future might be in another sport.
To continue reading this article you must be an Insider
Final Verdict: Hired And Fired