Florida Gators:

Texas A&M Aggies
May, 21, 2013
May 21
10:00
AM ET
Get ESPN 150 safety
Jamal Adams
(Lewisville, Texas/Hebron) in any competitive environment and you'll begin to understand very quickly why he's so coveted.
Take for example the Dallas Nike Football Training Camp in Allen, Texas, on April 7 when he set the tone in 1-on-1 drills by
shoving a wide receiver three yards behind the line of scrimmage
at the snap of the ball.
Adams, the No. 23 player overall and No. 3 safety, isn't naming any favorites. But we caught up with him to get a sense for where he stands with a few of the programs generally thought to be in the mix.
To continue reading this article you must be an Insider
February, 22, 2013
Feb 22
10:15
AM ET
Several of RecruitingNation's SEC sites took a look this week at the players headed to the NFL combine, which begins today in Indianapolis, and other predraft camps. Click here to read
the entire predraft series
.
Today: Defensive backs and special teams.
The Gators might have another first-round pick in today's group and two other players who might not get drafted. S Matt Elam has been projected to go late in the first round -- most often to New England with the 29th pick -- after a junior season in which he was named an All-American. S Josh Evans and K Caleb Sturgis might very well not get drafted in April. Sturgis is one of the nation's top kickers, but some teams are reluctant to draft kickers even in the later rounds if they have other needs. Then again, there are the
Jacksonville Jaguars
, who drafted a punter in the third round.
January, 11, 2013
Jan 11
2:09
PM ET
MILWAUKEE -- Sophomore center
Diamond Stone
(Milwaukee/Dominican), the No. 1-ranked prospect in the
ESPN 25
, and his father, Bob, sat down Thursday evening to discuss how Stone's game is progressing and where they are in the recruiting process.
Not surprisingly for the top player nationally in his class, Stone has an elite offer list a mile long but has a plan and is executing it to perfection.
To continue reading this article you must be an Insider
October, 7, 2012
10/07/12
2:44
PM ET
GAINESVILLE, Fla. --
Garrett Brumfield
(Baton Rouge, La./University Laboratory School) will likely be one of the top interior linemen in the Southeast next season. The 6-foot-3, 270-pound 2014 guard/center prospect visited Florida for its game against LSU on Saturday and came away impressed with what he saw from the Gators.
"I enjoyed it," Brumfield said. "It was my second time getting out to Gainesville. I had a pretty good time. It was a good opportunity and a good experience. Both teams played pretty well and both teams' defenses played awesome.
"Florida was able to capitalize on some mistakes by LSU and it turned out great for them. Florida's offensive line really stepped up in the fourth quarter and was able to get some good blocks and make some big holes."
To continue reading this article you must be an Insider
September, 8, 2012
9/08/12
7:31
PM ET
Texas A&M didn't get a win, but it certainly didn't disappoint in its first outing as an SEC member. The Aggies gave No. 24 Florida all it could handle but ultimately succumbed in a
20-17 loss
. Here's how it played out Saturday from Kyle Field.


It was over when:
Clinging to a 20-17 lead with 1:30 remaining, Florida quarterback
Jeff Driskel
raced for 21 yards on a bootleg to ensure the Gators would not have to give the ball back to the Aggies. Florida took over at its own 14 with 3:12 remaining and managed to grind down the clock on a seven-play drive consisting of all run plays.
Game ball goes to:
Driskel. He was far from spectacular, but the quarterback was mistake-free in his first start for the Gators. Driskel was absolutely drilled to the tune of eight -- repeat, eight -- sacks. But he hung in to complete 13 of 16 passes for 162 yards, and while the Florida offense was far from fun to watch, Driskel took care of the ball and made clutch plays when he had to. In addition to the game-sealing run, Driskel connected with tight end
Omarius Hines
on a beautiful 39-yard throw to set up the go-ahead touchdown.
Game ball, Part 2:
That go-ahead touchdown came thanks to some inspired running from Florida running back
Mike Gillislee
. Racing around the right corner in the A&M red zone, Gillislee shook off a tackler and danced along the sideline into the end zone to put the Gators ahead. He was the only consistent part of the Florida offense for the second straight week, totaling 83 yards and two touchdowns on 14 carries.
Rising star:
He didn't come out on top, but Texas A&M freshman quarterback
Johnny Manziel
had a heck of a debut in a raucous, SEC-worthy environment. Manziel completed 23 of 30 passes for 173 yards, and he led the Aggies in rushing with 60 yards and a touchdown on 17 carries. What's more impressive, the freshman didn't have a turnover against a speedy, hard-hitting SEC defense.
What it means:
A lot of people will point to the 17-7 lead Texas A&M held in the first half of this game and laugh. But this Aggies team looked far more impressive than the one that surrendered 17- and 18-point leads in 2011. Texas A&M went punch for punch with a good -- not great -- SEC squad and barely lost out in the end. Florida might not be on the same level as Alabama or LSU, but the Gators didn't appear to hold any advantages over the Aggies, and Texas A&M gave as good as it got.
For Will Muschamp and the Gators, it has to be encouraging to see Driskel play so effectively, if not spectacularly, against an SEC foe. Florida has a lot of work to do, but its young quarterback showed flashes in his first start. Unfortunately for Florida, the true takeaway from Saturday might be the injury report. The Gators saw four players go down, including star linebacker
Jelani Jenkins
.
September, 7, 2012
9/07/12
11:04
AM ET
COLLEGE STATION, Texas --
Johnny Manziel
doesn't run from the big moments. He craves them.
Those expecting the redshirt freshman to be overcome by the gravity of the moment when he steps on the field for the first time as Texas A&M's starting quarterback as the Aggies host No. 24 Florida in their first Southeastern Conference game might be surprised.
Confidence, swagger -- whatever you call it -- Manziel has it, according to those around him.
[+] Enlarge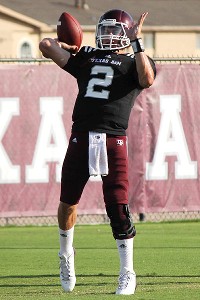 Sam Khan Jr./ESPN.comRedshirt freshman quarterback Johnny Manziel had a total of 75 touchdowns -- passing and rushing -- his senior year of high school.
"He has the feel of a kid that has always expected this moment," offensive coordinator Kliff Kingsbury said. "I think he's just one of those kids that has that type of vibe about him that nothing's too big for him."
As the Aggies prepare to make their SEC debut at 2:30 p.m. CT on Saturday at Kyle Field, there will be a lot of new: a new head coach (Kevin Sumlin) and coaching staff, a new offense, a new defense and even new uniforms. Add Manziel to that list; the Kerrville (Texas) Tivy product is the new starting quarterback for Texas A&M, winning a competition in fall training camp.
Listen to teammates, coaches and former coaches talk about Manziel, and the same words continue to pop up: competitor, confident, leader, winner.
"Probably one of the greatest competitors I've ever been around," said Mark Smith, his coach at Tivy who is now coaching at Converse (Texas) Judson. "I mean the boy wants to compete and he wants to excel and do well. And he made everybody else around him better. Those things have always stood out to me."
Manziel's leadership already has been seen during practices after Sumlin and Kingsbury named him the starting quarterback in August. Whether it's correcting mistakes or ensuring that everyone is on the same page, Manziel is getting it done.
"He's doing a real good job of stepping up and being real vocal," said Texas A&M senior center
Patrick Lewis
, one of the team's four captains. "Quarterbacks are normally in charge of the offense and he tells us what he wants and what he expects. For him to be so young and to demand that attention from us so early, it's really impressive to me.
"He'll come out there and give his little speech to the offense before we start practice and he demands perfection already. I'm proud of him; I'm happy for him. I can't wait to see what he can do once we start playing games."
At Tivy, Manziel -- sometimes called by his nickname, "Johnny Football" -- was a bona fide superstar. He was a Parade All-American and was named the Texas Class 4A Offensive Player of the Year by The Associated Press as a senior. He broke the San Antonio area's single-season record with 3,609 passing yards and tied an area record with 45 touchdown passes. Not only that, he ran for 1,674 yards and 30 touchdowns while leading the Antlers to a 10-2 record. As a junior, Manziel carried his team to the Class 4A Division II state semifinals.
Throughout his high school career, in which he threw for more than 12,000 yards, Manziel would cause jaws to drop by making plays with either his arm or his feet.
"I don't know if I can count them all," Smith said. "He found ways to do stuff. ... He made some throws sometimes that you just don't know how he made them. And he did it. Or he made a run that made you go 'Holy cow.'"
"



I'd take him in a heartbeat. I wouldn't even blink. I think he has all the tools that are necessary for him to be successful and to lead a football team.



"


-- Mark Smith, who coached Manziel at Kerrville (Texas) Tivy.
He originally committed to Oregon the summer before his senior season. The distance from home was a concern for Manziel, who wanted his family and friends to be able to see him play. When Texas A&M extended him an offer and he had an opportunity to see what the Aggies had to offer, he switched his commitment.
"When he sat down and made the decision to go to A&M, he came into my office on a Sunday night ... we came in and just sat down and talked and put down what's important," Smith said. "And family is important to him. Being close to his family so that his mom and dad are able to see him [was important], and when you got down to it, that was the underlying factor to him going to A&M."
Manziel isn't perfect. Kingsbury said that in the spring the 6-foot-1, 200-pound quarterback was "reckless with the football." Manziel operates with the confidence that he can make any throw or any play at any time. Kingsbury and Sumlin's high-powered, up-tempo offense, which is rooted in Air Raid principles, functions effectively only if the quarterback is taking care of the ball and distributing it to the playmakers around him.
When Manziel arrived for fall camp in August, the coaches could see significant improvement from him, particularly in that area.
"With Johnny, it's probably that he thinks he's the best player out there every time he steps out," Kingsbury said. "So he wants the ball in his hands and wants to do everything with it. He has a great cast around him, he's got to get it to those guys and let them make plays. Like I said, just reeling him back in from the spring, he showed up and was making the routine play and that's what we want from him."
Off the field, Manziel had a hiccup in the summer. He was arrested in the Northgate bar district and charged with disorderly conduct, failure to identify and possessing a false identification card, all misdemeanors.
Sumlin set forth parameters that Manziel had to meet to have a chance to remain part of the team. Sumlin said Manziel met all of them and got back in good graces. Not only that, he won the staff over enough that they felt comfortable tabbing him as the quarterback who will lead the Aggies in their first SEC season.
"No doubt, like everybody else, I was disappointed, because you expect more of him," Smith said. "And I think once you understand the whole story and get down to it, really he probably got caught at the wrong time, doing the wrong things. And he's just like any other 19-year-old kid on a college campus. We'd like these guys to be model citizens and do all the right things and they don't always do [that]. He made a decision, but he owned up and that's the first thing he said, 'I was wrong.' And I think that's the first mark of a man, to be able to hold yourself accountable and say 'I made a mistake.'
"For him to come back out and overcome the adversity he's had, shows his perseverance and his willingness to be committed to Texas A&M and make them a better program and make himself a better player."
Texas A&M senior receiver
Ryan Swope
took it upon himself to speak with Manziel over the summer to help him adapt to the college game and learn the ins and outs of what it takes to play at this level. They didn't just talk about football. They talked about life as well.
Swope said the team believes in Manziel.
"I've got trust in him," Swope said. "I feel like our whole team does, and that's important. As a senior coming back, I've talked to all the receivers, and a guy like Johnny, we have full trust in. We're very excited for him and we just can't get complacent, and that's what we tell him. He's got to work every day because we've got three guys [
Jameill Showers
,
Matt Joeckel
and
Matt Davis
] right behind him that are wanting that spot, so it's important that he goes out and works hard every single day."
Sumlin said he's relying on the veteran offensive players around Manziel to help ease the transition as he gains game experience.
"Until you're in a game with game speed and the intensity level, that's where your experience comes from," Sumlin said. "He's an inexperienced player and because of that, our surrounding cast of our offensive line or our running backs or our skill people on the perimeter who have experience, have to play well and create a quarterback-friendly atmosphere for him. Fortunately we've got experienced players in those positions."
Smith, who was one of the first people Manziel called when he was officially named the starter in August, has no doubt that "Johnny Football" will succeed.
"I'd take him in a heartbeat," Smith said. "I wouldn't even blink. I think he has all the tools that are necessary for him to be successful and to lead a football team."
September, 6, 2012
9/06/12
9:00
AM ET
Texas A&M hosts no. 24 Florida on Saturday at Kyle Field in the Aggies' first Southeastern Conference game. Let's take a look at five storylines for each team as they head into their SEC tilt:
1. The Kevin Sumlin era begins
There's a lot of "new" around Texas A&M football and that includes a new coaching staff, led by Sumlin, the new head coach who spent the last four years at Houston. It also includes new coordinators and assistants and new offensive and defensive schemes. All of those things will be unveiled for the first time on Saturday.
To continue reading this article you must be an Insider
September, 4, 2012
9/04/12
7:36
PM ET
COLLEGE STATION, Texas -- There has already been plenty of anticipation for this season at Texas A&M, with the Aggies entering their first year of Southeastern Conference play and all the newness surrounding the program, from the new coaching staff, offensive and defensive schemes, logos, uniforms and more. The payoff for all the waiting was delayed for the Aggies after their originally scheduled season opener against Louisiana Tech was postponed because of Hurricane Isaac.
Players and coaches alike have been asked time and again about playing in the SEC: what they expect, what they think about what others expect, what it means to play in college football's premier conference and so on. For many of the Aggies, they're simply ready to get on the field with Florida and play instead of talking about what's ahead, and at least one said as much when players and coaches met with the media on Tuesday in advance of the Aggies' showdown vs. Florida on Saturday.
"I'm actually glad that all that talk and stuff is over and it's time for us to get on the field with some SEC players and be a part of this league," senior linebacker
Sean Porter
said. "I'm glad that we can stop talking about it. It's time to play on Saturday, so I guess we'll see what happens on the field."
September, 2, 2012
9/02/12
1:02
PM ET
What was already expected to be an electric atmosphere will be dialed up another notch when Florida and Texas A&M meet in the Aggies' first game as a Southeastern Conference member on Saturday, as ESPN's
College GameDay
will originate from College Station, Texas.

It will be the second consecutive week the show will be in Texas after spending the first week in Arlington for the Alabama-Michigan game at Cowboys Stadium. The show, now in its 26th season, is making its third stop in Aggieland, with the last visit coming in 2006 and the first one coming in 2000, both games in which the Aggies faced Oklahoma.
No. 23 Florida is coming off a season-opening 27-14 home win over Bowling Green, while Texas A&M's season opener against Louisiana Tech was postponed until Oct. 13 because of Hurricane Isaac. The Aggies will not only make their SEC debut, but it will be the debut of a new coaching staff led by head coach Kevin Sumlin.
Here's
more info on GameDay's upcoming visit
.
August, 31, 2012
8/31/12
7:06
PM ET
COLLEGE STATION, Texas -- There have been a few things to balance for Texas A&M in the last couple of days.

Emotions are among them -- balancing the disappointment of missing the chance to open their season Thursday against Louisiana Tech with the surge of emotion that will build as the Aggies approach their new season opener and first Southeastern Conference game in program history against Florida on Sept. 8.

There was the transition of putting the Louisiana Tech game plan to bed and beginning to plan for the Gators, and the challenge of not overdoing it when it comes to the players' physical preparation with nine days available to focus on Florida.


August, 30, 2012
8/30/12
2:43
PM ET
Texas A&M coach Kevin Sumlin addressed several topics on Wednesday during the SEC coaches' teleconference.
• Among them were the suspensions of linebacker
Steven Jenkins
and safety
Howard Matthews
. Both were suspended for one game, as announced over the summer by Sumlin, for a violation of team rules. Early in fall training camp, Sumlin said the pair would be suspended for the first game. With the Aggies' season opener against Louisiana Tech, originally scheduled for Aug. 30, having been postponed to Oct. 13, Sumlin said both players will still serve their suspensions against Louisiana Tech.
[+] Enlarge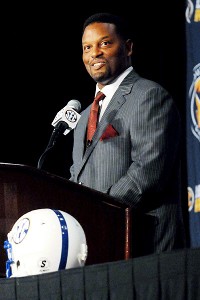 Kelly Lambert/US PresswireKevin Sumlin will now face Florida in his first SEC game.
"Steven Jenkins and Howard Matthews were suspended for the first game. As a matter of fact, last week, neither guy was involved in our preparation for Louisiana Tech and that'll remain the situation," Sumlin said. "As a matter of fact, Howard Matthews played scout team wide receiver last week. A lot of things have changed because of that since the storm and they will still be suspended for the Louisiana Tech game. That won't change."
• With the Aggies getting a tad more preparation time for their new season-opening opponent, Florida, Sumlin said he is managing how much the coaches work the players to guard against burning them out.
"I don't know that we do anything different," Sumlin said. "We'll have our basic schedule next week. The key to this deal is to prepare but not burn your guys out. We've had a discussion on that and how we're going to practice between now and game week next week. I think that's the challenge. The challenge was really (Tuesday) really kind of a letdown experience for our guys and getting them built back up today. Just like our coaching staff, when we turn on that Florida film, if you can't get excited in your preparation for that ... I'm sure when ... we turn that video on, they'll be excited."
• In regards to the news that the Aggies' series against Arkansas is returning to Cowboys Stadium in Arlington, beginning in 2014, for an 11-year stretch, Sumlin said there are some benefits for the Aggies.
"To play in a venue like the one in Dallas, I think is very, very exciting to our players," Sumlin said. "To have the game in the state of Texas, I know being away from Kyle Field is disappointing to some of our fans, but if you're going to be away, it's hard to say that you can find a better place to play then the venue we're going to play in. And it guarantees us another venue in-state. And again, I think playing Arkansas in that type of venue and that type of atmosphere is only going to add more excitement to our schedule."
• Sumlin also talked about the fact that redshirt freshman
Johnny Manziel
will get his first collegiate snap against Florida next week. With Manziel's inexperience, he said mistakes are to be expected.
"As a first-year quarterback, there's going to be mistakes," Sumlin said. "Even as a third- or fourth-year quarterback you're going to make mistakes. I think that we try to simulate as many things as we can during practice. We try to keep the tempo high and the pressure on a little bit more ... . Whether it's next Saturday, when it's going to be or whether it was Thursday on national television on the road, both of those are different situations but both of them are difficult because it's the first start. So when you have an inexperienced player the only way for him to get experience is to play."
August, 30, 2012
8/30/12
12:34
PM ET
After spending two weeks preparing for a game that has now been postponed, Texas A&M has turned the page and its attention to Florida.

With the Aggies' new season opener scheduled for Sept. 8 at Kyle Field after the original opener against Louisiana Tech, scheduled for Thursday, was postponed to Oct. 13 because of Hurricane Isaac, they closed the book on the Bulldogs and began preparing on Wednesday for the Gators.

"Today we moved on, we moved on to Florida," Texas A&M coach Kevin Sumlin said Wednesday during the SEC coaches' weekly teleconference. "And I think that obviously, our preparation has changed with the postponement of the game and the move of the game back to Oct. 13. So for our guys, it was kind of a bittersweet kind of situation. Guys were ready to play somebody else, they were down a little bit (Tuesday), but as we talked to them about where we are right now, finishing up our preparation for Louisiana Tech yesterday and really moving on to Florida. That's where our focus is right now."


August, 2, 2012
8/02/12
8:02
PM ET
The impact that Texas A&M's membership in the SEC has had on recruiting is noticeable. The Aggies currently have a whopping 27 commitments in their 2013 recruiting class even though fall practice hasn't even started for Texas high schools. Many of the Aggies' commitments have said that the SEC membership is among the top reasons they chose Texas A&M.
Coach Kevin Sumlin has acknowledged that impact, noting that Texas A&M has "probably gotten a few more visits" and his coaches have had a few more "return phone calls" from recruits who might not otherwise have considered the Aggies if they weren't in what's widely considered to be the nation's premier football conference.
In its home state, it can be a selling point, since Texas A&M is the only school within the state that can allow a Texas high school football product to stay close to his home and still play in the SEC. And Sumlin has acknowledged that while the Aggies can and will recruit nationally, Texas will continue to be their primary emphasis.
To continue reading this article you must be an Insider
March, 17, 2012
3/17/12
7:24
PM ET
GAINESVILLE, Fla. -- ESPNU 150 Watch List defensive back
Mackensie Alexander
(Immokalee, Fla./Immokalee) was scheduled to watch Florida practice on Saturday with his family. Alexander was running late, however, and missed the practice. That didn't stop the talented corner from spending time with the Florida coaches.
Alexander, who was accompanied by his parents and his younger brother, said his visit to Florida was "awesome."
"It was a great visit," Alexander said. "My parents came with me and they really liked it. It was awesome, just looking at the place and having fun with my brother and then being with the coaching staff and seeing how they do things."
To continue reading this article you must be an Insider