Florida Gators:

Stephen Alli
January, 24, 2013
1/24/13
8:00
AM ET
GAINESVILLE, Fla. -- There is very little middle ground when it comes to evaluating Florida's 2009 17-member signing class.

Eight became starters, seven turned into busts and two others are role players -- including one who has driven two separate coaching staffs crazy. Seven of those starters have done so for multiple seasons.

That's not a bad ratio. Most coaches would be ecstatic if 50 percent of every signing class developed into starters, even if it also meant half weren't going to make much impact, if any, on the program.
January, 18, 2013
1/18/13
2:23
PM ET
GAINESVILLE, Fla. -- Florida coach Will Muschamp announced the following during today's afternoon news conference:
The Gators have cleared additional space on the roster with the impending spring graduations of DE
Kedric Johnson
and WR
Stephen Alli
and a potential medical exemption for OL
Tommy Jordan
.
Muschamp said Alli is going to attend graduate school and could remain with the program in the operations or with the strength program. Muschamp said Johnson, a redshirt junior with one season of eligibility remaining, might transfer to another school and try to play another season under the NCAA's graduate transfer rule.
Jordan, who would have been a redshirt sophomore in 2013, has chronic shoulder problems. He would remain on scholarship but would not be eligible to play at Florida if his hardship is granted, as expected.
Those three moves leave the Gators able to sign 33 players next month. Eight players already have enrolled and would count toward last season.
In addition, four players had minor surgeries this month: OL
Jon Halapio
(knee), OL
Chaz Green
(ankle), LB
Neiron Ball
(ankle) and P
Kyle Christy
(shoulder).
"All those guys will be able to take part in spring [practice]," Muschamp said. "I just don't know how much at this point."
Muschamp also said WR
Solomon Patton
is progressing well in his recovery from a broken arm. He said he didn't believe Patton would be cleared for contact in the spring.
December, 3, 2012
12/03/12
4:52
PM ET
GAINESVILLE, Fla. -- Joker Phillips is expected to start his new job as Florida's receivers coach/recruiting coordinator later this week.
He'll find out pretty quickly that he's got plenty of work ahead of him in trying to fix a position that has been a disappointment over the past three seasons.
[+] Enlarge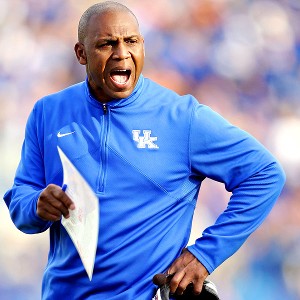 Andy Lyons/Getty ImagesJoker Phillips, ousted from Kentucky, is now up for the challenge of replenishing Florida's WR corps.
UF's receivers -- not including tight ends -- have largely been M.I.A. since
Riley Cooper
and
David Nelson
graduated after the 2009 season. Gators receivers combined to catch 116 passes that season, led by Cooper's 51 receptions for 961 yards and nine touchdowns, but production has steadily declined since then.
Gators receivers combined to catch 118 passes in 2010, but
Deonte Thompson
led the group with only 38 catches for 570 yards and one touchdown. They combined for 69 catches last season and Thompson again led the group -- but this time had just 21 catches for 264 yards and one touchdown. UF's receiver have combined for 58 catches this season, led by
Quinton Dunbar's
31 catches for 306 yards and four TDs.
The biggest element missing from the position, aside from the ability to consistently separate and get open, is the lack of a downfield threat.
Frankie Hammond
had TD catches of 55 and 75 yards, but those came after he caught a short pass and broke a tackle. No other receiver has a reception of longer than 23 yards.
September, 2, 2012
9/02/12
4:56
PM ET
GAINESVILLE, Fla. -- Florida coach Will Muschamp knows that 21 passes aren't going to get it done against Texas A&M on Saturday.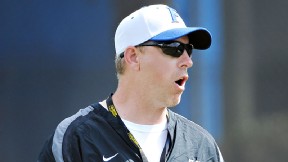 UF CommunicationsFlorida offensive coordinator Brent Pease was told to run the ball in the opener, and the Gators stuck with it against Bowling Green.
The Gators will need to be a little more equitable than they were against the Aggies, running the ball on 67 percent of their offensive snaps. They will have to throw the ball, and not just wide receiver screens, either. They'll have to take shots down the field.
Muschamp says that will happen, that he won't handcuff offensive coordinator Brent Pease the way he did against Bowling Green.
"As our competition heats up a little bit we've got to be able to open up our offense more," Muschamp said moments after the Gators' 27-14 victory. "We will. It's a long season and you've got to understand that it's not just about emptying your bullets [from your gun] here in Game 1. We've got to win the game, do what we need to do to win the game, and that's what we did.
"As we move to Week 2, we need to be able to open ourselves up a little bit more."
That means throwing the ball more than 10 yards down the field, which the Gators rarely did against Bowling Green.
Jacoby Brissett
overthrew
Andre Debose
on a post pattern but did hook up with
Quinton Dunbar
on an 18-yard throw. Frankie Hammond's 50-yard touchdown came after he broke a tackle on a 10-yard pass, and
Jordan Reed's
16-yard catch-and-run came off a 10-yard pass.
Other than those three plays, the Gators had just one other pass play gain more than 10 yards.
The game plan was conservative by design. Muschamp said he wanted the Gators to establish their identity as a power-run team and the only way to do that was to run, run and run some more. He told Pease to pound the football.
"Brent's a lot more imaginative, I can assure you of that, but I told him we're going to run the football," Muschamp said. "We need to establish what we are. You can't talk about it. You've got to be about it and you've got to do it. And we made the decision going into the game that's what we were going to do in this football game.
"… I think that you can preach a certain sermon over and over and over again but until you're willing to go do it out there in front of the Gator Nation and fans, it's not what you're actually about. We're going to be a physical organization and you've got to do it. You can't talk about it."
So the Gators played power football, which at times turned out to be difficult because Bowling Green put extra players near the line of scrimmage. But Muschamp said he was stubborn about sticking with it.
The cost was a chance to really get a look at the two young quarterbacks who have been competing for the starting job since the spring, which is what Muschamp said he wanted to do by rotating Brissett and Driskel. Driskel ended up playing the bulk of the game and threw 16 passes -- all conservative throws. Brissett was on the field for 11 snaps and threw five passes. But even though Driskel got significantly more work, Muschamp said he wasn't ready to name a starter for the game in College Station yet.
Regardless of which quarterback starts or if they rotate, Muschamp has to give Pease more freedom to call the offense he brought with him from Boise State. That means going full bore with the motions and shifts, which weren't used heavily against Bowling Green, and using the passing game as a weapon and not a change of pace.
"It makes the game easier," Hammond said. "It makes defenses back up off you and makes the run game easier because it will open things up for us vertically."
Three observations
Three things of note in Saturday's game:
CB Loucheiz Purifoy lined up at receiver several times, which seems a bit odd. Unless there were suspensions we didn't know about, the Gators had six healthy receivers available: Hammond, Quinton Dunbar, Debose, Solomon Patton, Stephen Alli and Latroy Pittman. Plus, Raphael Andrades was dressed (though he didn't play, according to the game book) and TE Kent Taylor is essentially being used as a slot receiver. It would seem to indicate that the coaching staff has little confidence in the group -- unless it was a move designed to get a better blocker on the field. Purifoy is 6-foot-1, 189 pounds and bigger than Patton, Hammond and Debose.
CB Jaylen Watkins might have won a starting job. He replaced Purifoy opposite Marcus Roberson in the first half after Purifoy missed two tackles in the same drive, including one that set the Falcons up with a first-and-goal. On Bowling Green's next possession, Watkins broke up two passes to help force a three-and-out. He finished with three pass breakups.
To continue reading this article you must be an Insider
August, 24, 2012
8/24/12
10:00
AM ET
ESPN's GatorNation is previewing each position leading up to the start of the season with a short video. Each Friday until the season kicks off, Michael DiRocco and Jeff Barlis will analyze a position group, tell you who is starting and why, and provide a breakdown of the depth at the position. This week it's receivers/tight ends.
The starters:
WR
Andre Debose
(RJr.), WR
Frankie Hammond, Jr.
(RSr.), WR
Quinton Dunbar
(RSo.), TE
Jordan Reed
(RJr.)
The backups:
WR
Latroy Pittman
(Fr.), WR
Solomon Patton
(Jr.), WR
Stephen Alli
(RJr.), WR
Raphael Andrades
(Fr.), TE
Clay Burton
(RFr.), TE
Kent Taylor
(Fr.), TE
Colin Thompson
(Fr.), TE
Tevin Westbrook
(RFr.)
Comment:
Hammond is UF's most experienced receiver (41 catches). Debose has proven big-play ability (27.0 yards per catch and 4 TDs of at least 60 yards in 2011). But neither has been very consistent. Dunbar had a solid spring. The star of the spring, though, was Pittman, an early enrollee who was easily the most impressive receiver. He'll get the start on opening day if he continues to progress. A.C. Leonard was Florida's most talented tight end but transferred after an arrest and suspension. Reed is still working through the transition from quarterback. Taylor is intriguing because he's not an inline tight end and could be used as a wide receiver if needed.
August, 10, 2012
8/10/12
1:17
PM ET
GAINESVILLE, Fla. -- Florida has lost a pair of reserve defensive linemen to knee injuries this week, and at least one is definitely out for the season.
UF coach Will Muschamp said Friday that senior defensive tackle
Nick Alajajian
suffered a fractured right knee and will miss the 2012 season and redshirt junior defensive end
Kedric Johnson
suffered a dislocated left knee and will miss a significant period of time. Both players were involved in special teams and haven't made any impact on defense, but losing those two does hurt the Gators in terms of veteran depth.
Alajajian (6-foot-4, 285 pounds) was a reserve offensive lineman for his first three seasons but was moved to defensive tackle in the spring. Johnson has just nine tackles and one sack in 25 career games.
August, 2, 2012
8/02/12
8:47
PM ET
GAINESVILLE, Fla. -- It's no surprise that Florida's
Andre Debose
is not a fan of the rule changes the NCAA made on kickoffs.
Debose is one of the nation's top kick returners, but his impact on the game will be minimized by kickoffs moving up to the 35-yard line from the 30-yard line. Those extra five yards likely mean more touchbacks, which means Debose won't have as many opportunities to make a play.
[+] Enlarge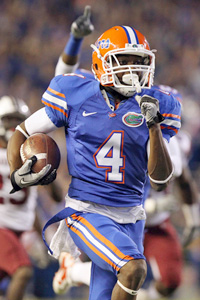 Kim Klement/US PresswireFlorida redshirt junior Andre Debose has a school-record three career kickoff returns for touchdowns.
"I do not like the new kickoff rule," Debose said Thursday during UF's annual media day at Ben Hill Griffin Stadium. "I had thoughts in my head about (a reduced role), but I feel like I still will get a couple opportunities. Maybe not as many as previous years."
Debose averaged 26.1 yards on 19 kickoff returns last season and took one back for a touchdown against Ohio State in the Gator Bowl. The 5-foot-11, 186-pound redshirt junior already has a school-record three career kickoff returns for touchdowns.
UF coach Will Muschamp is also not a fan of the new rule -- which also states that touchbacks on kickoffs will come out to the 25-yard line -- and said he and special teams coordinator D.J. Durkin have already begun adjusting their plans for kickoff returns.
"We need to get on the field and rep through it and see how it works," Muschamp said. "He (Debose) is a guy that's certainly been a game-changer for us and needs to continue to be, so we need to continue to find ways for that to happen.
"D.J. and I have talked about that, and we are going to look in camp early to figure out how we can get the ball in his hands and gain some returns."
Uneventful offseason
No news was good news this summer for the football program. The Gators didn't have a single player arrested or get into trouble since defensive tackle
Leon Orr
was cited on May 14 for knowingly driving with a suspended license.
July, 18, 2012
7/18/12
12:06
PM ET
HOOVER, Ala. -- Florida coach Will Muschamp maintains his belief that buck linebacker
Ronald Powell
will get on the field in 2012 despite suffering a torn ACL during the Gators' spring game.
"He'll play for us this year," Muschamp said Wednesday at SEC Media Days. "When that will be, I don't know yet. There's nobody that's worked harder or handled the situation better or more mature than Ronald has."
[+] Enlarge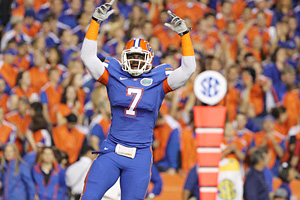 Kim Klement/US PresswireFlorida DE/LB Ronald Powell tore his ACL after a standout spring.
Muschamp said Powell, who had surgery on April 23, has been cleared for weight-room activities.
"He's squatting, doing everything," Muschamp said. "(He has) been cleared for straight-ahead running."
Other injury updates:
Cornerback
Jeremy Brown
just can't seem to catch a break. The redshirt junior, who has missed three seasons because of back and shoulder injuries, underwent surgery on Wednesday to repair a fractured wrist. Muschamp said Brown, who started 10 games in 2011, should be cleared for full contact by Sept. 1.
Receiver
Stephen Alli
is still recovering from spring surgery to repair a stress fracture in his leg. Muschamp said Alli should be cleared by the middle of August.
Freshman safety
Marcus Maye
is still recovering from surgery to repair a torn meniscus in his knee. Muschamp said Maye should be cleared by the first part of camp.
March, 23, 2012
3/23/12
3:49
PM ET
GAINESVILLE, Fla. -- Florida's first scrimmage will be business as usual for the defense, but things are going to be a lot different for the offense.
UF's defensive staff will handle the scrimmage as if it's game day, with most of the staff up in the Florida Field press box. The offensive staff, however, will be on the field because of injuries and unfamiliarity with the new offense and new coaches Brent Pease and Tim Davis.
"Offensively we're still working through some things, so obviously they'll be involved as far as getting some guys aligned in some situations, make sure the huddle procedure is right, the quarterbacks are managing the huddle and managing our football team," Muschamp said. "I told Brent this morning, if you gotta get out there and get 'em lined up, let's just get a functional play off, let's not be uncertain about where we are, where we're lining up and what we're doing."
The Gators will be without three receivers because of injury --
Stephen Alli
(groin),
Solomon Patton
(groin) and
Ja'Juan Story
(ankle) -- and the players have had only six practices in Pease's offense. Muschamp said the plan is to have most of the offensive staff in the press box for next Saturday's scrimmage.
March, 19, 2012
3/19/12
3:05
PM ET
GAINESVILLE, Fla. -- Florida cornerback
Marcus Roberson
was on the field for all three of the Gators' spring practices last week -- which is something coach Will Muschamp wasn't sure would be possible last November.
In fact, Muschamp wondered if Roberson's career was over.
The 6-foot, 180-pound sophomore missed the final three games of the 2011 season after suffering a neck injury in UF's loss at South Carolina on Nov. 12. Muschamp said Monday he didn't remember the exact medical terminology, just that Roberson suffered a "displacement in the neck area." There was some concern that Roberson's career might be finished after just 10 games.
To continue reading this article you must be an Insider
McElwain discusses new Florida football
SEC SCOREBOARD
Thursday, 9/3
Saturday, 9/5