Florida Gators:

Ryan Swope
February, 19, 2013
2/19/13
9:01
AM ET
Several of RecruitingNation's SEC sites will look this week at the players headed to the NFL combine, which begins Friday in Indianapolis. Today: Quarterbacks, running backs and wide receivers.
Perhaps it says something about LSU's offense in 2012 that among a record 13 players invited to the NFL combine from the Tigers, only two are offensive skill players who are generally considered, at this point, marginal talents. Running backs Spencer Ware and Michael Ford are the only skill players invited to Indianapolis, which is understandable when one considers LSU was 10th in the SEC in total offense. It's also a sign of youth. Quarterback
Zach Mettenberger
, fullback
J.C. Copeland
, running back
Jeremy Hill
and all of LSU's primary threats at wide receiver will return in 2013.
October, 8, 2012
10/08/12
9:16
PM ET
There's movement all over as we check out the SEC power rankings for Week 7:
1. Alabama (5-0; LW: 1):
The Tide was off last week, so it didn't have a chance to widen its lead on the SEC and the rest of the country. The last thing Alabama's upcoming opponents want is a rested Tide team. I can only imagine the extra work Nick Saban put his team through in order to clean up all those little things.
2. South Carolina (6-0; LW: 4):
The Gamecocks completely dominated Georgia over the weekend. South Carolina's offense is extremely balanced and looks like it can just jump on
Marcus Lattimore
's shoulders at this point. He's just getting stronger and stronger. The defense is smothering up front and stopping that defensive line has been a nightmare for teams. But road games at LSU and Florida will be tough.
3. Florida (5-0; LW: 5):
The Gators might not have the most exciting offense, but that defense is tremendous. Florida put a load of pressure on LSU quarterback
Zach Mettenberger
over the weekend and clobbered the Tigers' running game. Behind
Mike Gillislee
, the Gators pounded LSU with their running game, but the passing game is still a concern. If Florida can get more through the air, this offense could start to really give defenses fits.
4. LSU (5-1; LW: 2):
It's obvious that the Tigers can't put everything on their defense. Even with how talented LSU is on the defensive side of the ball, the offense needs major work, especially in the passing game. Mettenberger hasn't come close to living up to the hype and just doesn't look comfortable standing in LSU's pocket. The running game was one of the SEC's best, but was quieted against Florida because there just wasn't the threat to pass. No offensive balance could doom this team.
5. Georgia (5-1; LW: 3):
The concern about the defense continues to grow after the Bulldogs' 28-point loss to the Gamecocks. USC was intent on running and Georgia couldn't do anything to stop it, allowing 232 rushing yards.
Jarvis Jones
has been a non-factor for the past two weeks and
Aaron Murray
's big-game struggles came right back in Columbia, S.C. The good news is the Bulldogs have the SEC East's easiest schedule from here on out.
September, 8, 2012
9/08/12
8:03
PM ET
COLLEGE STATION, Texas -- One of the biggest on-field changes for this year's Texas A&M squad is the installation of head coach Kevin Sumlin's and offensive coordinator Kliff Kingsbury's up-tempo, wide-open, high-powered offense.
In the first half of the Aggies' season-opening loss to no. 24 Florida before 87,114 on Saturday at Kyle Field, the transition appeared smooth. The offense ran efficiently, redshirt freshman quarterback
Johnny Manziel
appeared confident and fearless, the pace was accelerated and the Gators had issues trying to stop the Aggies, who displayed a good mix of run and pass.
But in the final two quarters, things changed. Three-and-outs became the norm, rather than the exception, the running game became unproductive and Manziel -- who made several plays with his legs in the first half -- was bottled up. The final result looked like many the Aggies had last year, when they surrendered six games that they led by double-digits, even if it was arrived at in a different fashion.
September, 7, 2012
9/07/12
11:04
AM ET
COLLEGE STATION, Texas --
Johnny Manziel
doesn't run from the big moments. He craves them.
Those expecting the redshirt freshman to be overcome by the gravity of the moment when he steps on the field for the first time as Texas A&M's starting quarterback as the Aggies host No. 24 Florida in their first Southeastern Conference game might be surprised.
Confidence, swagger -- whatever you call it -- Manziel has it, according to those around him.
[+] Enlarge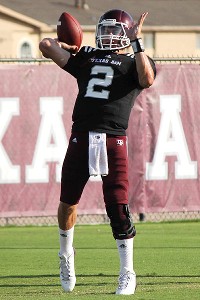 Sam Khan Jr./ESPN.comRedshirt freshman quarterback Johnny Manziel had a total of 75 touchdowns -- passing and rushing -- his senior year of high school.
"He has the feel of a kid that has always expected this moment," offensive coordinator Kliff Kingsbury said. "I think he's just one of those kids that has that type of vibe about him that nothing's too big for him."
As the Aggies prepare to make their SEC debut at 2:30 p.m. CT on Saturday at Kyle Field, there will be a lot of new: a new head coach (Kevin Sumlin) and coaching staff, a new offense, a new defense and even new uniforms. Add Manziel to that list; the Kerrville (Texas) Tivy product is the new starting quarterback for Texas A&M, winning a competition in fall training camp.
Listen to teammates, coaches and former coaches talk about Manziel, and the same words continue to pop up: competitor, confident, leader, winner.
"Probably one of the greatest competitors I've ever been around," said Mark Smith, his coach at Tivy who is now coaching at Converse (Texas) Judson. "I mean the boy wants to compete and he wants to excel and do well. And he made everybody else around him better. Those things have always stood out to me."
Manziel's leadership already has been seen during practices after Sumlin and Kingsbury named him the starting quarterback in August. Whether it's correcting mistakes or ensuring that everyone is on the same page, Manziel is getting it done.
"He's doing a real good job of stepping up and being real vocal," said Texas A&M senior center
Patrick Lewis
, one of the team's four captains. "Quarterbacks are normally in charge of the offense and he tells us what he wants and what he expects. For him to be so young and to demand that attention from us so early, it's really impressive to me.
"He'll come out there and give his little speech to the offense before we start practice and he demands perfection already. I'm proud of him; I'm happy for him. I can't wait to see what he can do once we start playing games."
At Tivy, Manziel -- sometimes called by his nickname, "Johnny Football" -- was a bona fide superstar. He was a Parade All-American and was named the Texas Class 4A Offensive Player of the Year by The Associated Press as a senior. He broke the San Antonio area's single-season record with 3,609 passing yards and tied an area record with 45 touchdown passes. Not only that, he ran for 1,674 yards and 30 touchdowns while leading the Antlers to a 10-2 record. As a junior, Manziel carried his team to the Class 4A Division II state semifinals.
Throughout his high school career, in which he threw for more than 12,000 yards, Manziel would cause jaws to drop by making plays with either his arm or his feet.
"I don't know if I can count them all," Smith said. "He found ways to do stuff. ... He made some throws sometimes that you just don't know how he made them. And he did it. Or he made a run that made you go 'Holy cow.'"
"



I'd take him in a heartbeat. I wouldn't even blink. I think he has all the tools that are necessary for him to be successful and to lead a football team.



"


-- Mark Smith, who coached Manziel at Kerrville (Texas) Tivy.
He originally committed to Oregon the summer before his senior season. The distance from home was a concern for Manziel, who wanted his family and friends to be able to see him play. When Texas A&M extended him an offer and he had an opportunity to see what the Aggies had to offer, he switched his commitment.
"When he sat down and made the decision to go to A&M, he came into my office on a Sunday night ... we came in and just sat down and talked and put down what's important," Smith said. "And family is important to him. Being close to his family so that his mom and dad are able to see him [was important], and when you got down to it, that was the underlying factor to him going to A&M."
Manziel isn't perfect. Kingsbury said that in the spring the 6-foot-1, 200-pound quarterback was "reckless with the football." Manziel operates with the confidence that he can make any throw or any play at any time. Kingsbury and Sumlin's high-powered, up-tempo offense, which is rooted in Air Raid principles, functions effectively only if the quarterback is taking care of the ball and distributing it to the playmakers around him.
When Manziel arrived for fall camp in August, the coaches could see significant improvement from him, particularly in that area.
"With Johnny, it's probably that he thinks he's the best player out there every time he steps out," Kingsbury said. "So he wants the ball in his hands and wants to do everything with it. He has a great cast around him, he's got to get it to those guys and let them make plays. Like I said, just reeling him back in from the spring, he showed up and was making the routine play and that's what we want from him."
Off the field, Manziel had a hiccup in the summer. He was arrested in the Northgate bar district and charged with disorderly conduct, failure to identify and possessing a false identification card, all misdemeanors.
Sumlin set forth parameters that Manziel had to meet to have a chance to remain part of the team. Sumlin said Manziel met all of them and got back in good graces. Not only that, he won the staff over enough that they felt comfortable tabbing him as the quarterback who will lead the Aggies in their first SEC season.
"No doubt, like everybody else, I was disappointed, because you expect more of him," Smith said. "And I think once you understand the whole story and get down to it, really he probably got caught at the wrong time, doing the wrong things. And he's just like any other 19-year-old kid on a college campus. We'd like these guys to be model citizens and do all the right things and they don't always do [that]. He made a decision, but he owned up and that's the first thing he said, 'I was wrong.' And I think that's the first mark of a man, to be able to hold yourself accountable and say 'I made a mistake.'
"For him to come back out and overcome the adversity he's had, shows his perseverance and his willingness to be committed to Texas A&M and make them a better program and make himself a better player."
Texas A&M senior receiver
Ryan Swope
took it upon himself to speak with Manziel over the summer to help him adapt to the college game and learn the ins and outs of what it takes to play at this level. They didn't just talk about football. They talked about life as well.
Swope said the team believes in Manziel.
"I've got trust in him," Swope said. "I feel like our whole team does, and that's important. As a senior coming back, I've talked to all the receivers, and a guy like Johnny, we have full trust in. We're very excited for him and we just can't get complacent, and that's what we tell him. He's got to work every day because we've got three guys [
Jameill Showers
,
Matt Joeckel
and
Matt Davis
] right behind him that are wanting that spot, so it's important that he goes out and works hard every single day."
Sumlin said he's relying on the veteran offensive players around Manziel to help ease the transition as he gains game experience.
"Until you're in a game with game speed and the intensity level, that's where your experience comes from," Sumlin said. "He's an inexperienced player and because of that, our surrounding cast of our offensive line or our running backs or our skill people on the perimeter who have experience, have to play well and create a quarterback-friendly atmosphere for him. Fortunately we've got experienced players in those positions."
Smith, who was one of the first people Manziel called when he was officially named the starter in August, has no doubt that "Johnny Football" will succeed.
"I'd take him in a heartbeat," Smith said. "I wouldn't even blink. I think he has all the tools that are necessary for him to be successful and to lead a football team."
September, 3, 2012
9/03/12
9:00
AM ET
GAINESVILLE, Fla. -- Florida plays its first road game of the season Saturday at Texas A&M. Here's a look at the Aggies:
TEXAS A&M


2011 record:
7-6 (4-5 Big 12), beat Northwestern 33-22 in Meineke Car Care Bowl.
Coach:
Kevin Sumlin, first season; fifth season overall (35-17).
Series record:
Tied 1-1.
Top returners:
WR
Ryan Swope
(89 catches for 1,207 yards and 11 TDs); OL
Luke Joeckel
; LB
Sean Porter
(9.5 sacks); DE
Damontre Moore
(17.5 tackles for loss).
Scouting the offense:
Sumlin and offensive coordinator Kliff Kingsbury don't have an experienced QB to run the offense, but they do have an offensive line that some are saying is the best in school history. QB
Johnny Manziel
won the starting job as a freshman, so there are sure to be growing pains in Sumlin's wide-open offense. Swope is one of the country's top receivers, but the unit will be balanced because the running game is pretty good behind RB
Christine Michael
and the offensive line.
August, 27, 2012
8/27/12
11:00
AM ET
»
Power Rankings
:
ACC
|
Big 12
|
Big East
|
Big Ten
|
Pac-10
|
SEC
|
Non-AQ
We are just days away from the college football season, so it's time to unveil our first batch of power rankings for the regular season.
A lot goes into our power rankings. It isn't just about how strong teams are right now. We look into our crystal ball as well to get a good read on how each team will finish the season -- before it has even started.
For each school, we look at talent coming back, coaching, roster changes, how teams have looked in practice now compared to the spring and uniform style. Well, maybe not that last part, but you get the point.

Here are our season-opening SEC power rankings for 2012:
1. LSU:
The gap between the Tigers and Alabama got a lot smaller after Tyrann Mathieu's dismissal, so this could be viewed as 1A and 1B. Mathieu is a big loss for LSU on defense and special teams, but there is just way too much talent for this team not to make another title run. LSU's offense still has one of the best/deepest running games around and gets an upgrade with quarterback
Zach Mettenberger
. LSU also might have the best offensive line/defensive line combo in the nation.
2. Alabama:
The defending champs lost a lot of star power on defense, but that unit should still be pretty darn good this fall. There could be some growing pains at times, but the Tide should still have one of the league's best defensive units this fall. The offense might be better and more balanced this fall, even without Trent Richardson. There is a good stable of backs, the nation's top offensive line and quarterback
AJ McCarron
has a little more explosiveness and athleticism to work with at receiver.
July, 20, 2012
7/20/12
11:05
AM ET
HOOVER, Ala. -- Now that another year of SEC media days are through, it's time to take a look back at the best moments from this year's three days in the Wynfrey Hotel:
Coming out of his shell:
Florida outside linebacker/defensive end
Lerentee McCray
is pretty soft-spoken and can be shy around the media, but not in Hoover. He was talkative and showed a little confidence when he said his favorite part of football is hitting the quarterback so he can "wipe the smiles off their faces."
Most confident:
We're naming our top four here:
Moe: He's sick of hearing about transitioning over to the SEC and he let everyone know about it.
Davis: No hesitation in claiming he's the SEC's best running back.
Tennessee quarterback Tyler Bray: He doesn't talk much, but he made the statement that Tennessee will win the SEC this season. That's pretty gutsy.
Florida running back Mike Gillislee: His goal for the season: 1,500 rushing yards and 24 touchdowns. Florida hasn't had a 1,000-yard rusher since Ciatrick Fason in 2004 and 24 rushing touchdowns would break Tim Tebow's record of 23.
June, 19, 2012
6/19/12
1:13
PM ET
ESPN's GatorNation brings you the 30 things you need to know about Florida's upcoming 2012 season. For 30 weekdays we'll preview games, talk about trends, spotlight players and positions, and give you pretty much everything you need to know to be ready for the season before the Sept. 1 opener against Bowling Green.
GAINESVILLE, Fla. -- GatorNation is previewing each of Florida's 2012 opponents. Today is Texas A&M (Sept. 8 in Gainesville).
[+] Enlarge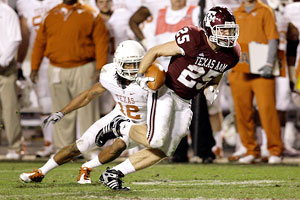 Brett Davis/US PresswireWide receiver Ryan Swope is the Aggies' top target.
TEXAS A&M
2011 record:
7-6 (4-5 Big 12), beat Northwestern 33-22 in Meineke Car Care Bowl.
Coach:
Kevin Sumlin, first season; fifth season overall (35-17).
Series record:
Tied 1-1.
Top returners:
WR
Ryan Swope
(89 catches for 1,207 yards and 11 TDs); OL
Luke Joeckel
; LB
Sean Porter
(9.5 sacks); DE
Damontre Moore
(17.5 tackles for loss).
Did you know?
The Aggies' schedule includes the last six national champions (Florida twice, Alabama twice, LSU and Auburn).
May, 18, 2012
5/18/12
11:31
AM ET
We're putting spring behind us and looking toward the fall with our post-spring power rankings:
1. LSU:
The Tigers had one of the best springs around. Things were quiet off the field, and the offense rallied behind quarterback
Zach Mettenberger
. Coach Les Miles was very impressed with Mettenberger's play and maturity, and expects LSU's offense to be more balanced with him under center. LSU can still use four or five running backs, as well. Defensively, the Tigers are stacked once again, especially up front with two potential first-rounders in ends
Sam Montgomery
and
Barkevious Mingo
. Questions surround the inexperienced linebackers, but
Kevin Minter
had a tremendous spring in the middle. On paper, LSU is equipped with the talent to make another title run, and gets Alabama at home this year.

2. Alabama:
While the defending national champs saw a lot of "new" faces on defense this spring, coach Nick Saban left happy with where his players were -- but not satisfied. There is still work to be done, especially in the secondary, where the Tide must replace three starters. Dont'a Hightower and Courtney Upshaw are gone at linebacker, but the coaches were impressed with how
Nico Johnson
,
C.J. Mosley
and
Adrian Hubbard
played this spring. Some think Hubbard, a redshirt sophomore, could be Bama's top pass-rusher. Offensively, quarterback
AJ McCarron
is back, more mature and surrounded by a very veteran line. He has a group of younger receivers to throw to, but has at least four quality running backs. Alabama's road to repeating is tougher, with games at Arkansas and LSU.
3. South Carolina:
A healthy
Marcus Lattimore
(knee) at RB makes South Carolina an even better contender for the SEC East crown. His status is uncertain, but the pieces around him are pretty impressive. Quarterback
Connor Shaw
had an impressive spring, and looks ready to be the passer coach Steve Spurrier wants him to be. The defense is once again stacked, especially up front with ends
Jadeveon Clowney
and
Devin Taylor
. There are questions in the secondary, with two new, young starters in
Victor Hampton
(cornerback) and
Brison Williams
(safety), while senior
Akeem Auguste
returns after missing last season with a foot injury. Still, Spurrier is chirping about his SEC counterparts, so you know he thinks he's got a good team this year.
McElwain discusses new Florida football
SEC SCOREBOARD
Thursday, 9/3
Saturday, 9/5