Florida Gators:

Preston Tucker
June, 19, 2012
6/19/12
11:40
AM ET
By
GatorNation staff
| ESPN.com
Florida senior outfielder Preston Tucker talks about the disappointment of an early exit at the College World Series as well as his perspective on the state of the Gators.
June, 8, 2012
6/08/12
12:10
PM ET
GAINESVILLE, Fla. -- Florida catcher Mike Zunino wasn't quite sure how to pronounce N.C. State pitcher Carlos Rodon's last name.
Row-dun or Roe-don?
[+] Enlarge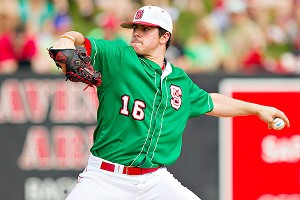 AP Photo/Brian WesterholtFlorida is preparing to face N.C. State and ACC freshman/pitcher of the year Carlos Rodon.
Doesn't really matter. That's actually pretty far down on the list of things about Rodon that Zunino and the Gators have to worry about when the teams meet this weekend at McKethan Stadium for a best-of-three Super Regional -- well below Rodon's 99-mph fastball, the other four pitches he throws for strikes, and the fact that teams are hitting less than .200 against the 6-foot-3, 234-pound lefty.
"He's a great presence on the mound," Zunino said. "Obviously his numbers are great. He's got a great arm so we're going to have to come out here and battle and have good at-bats and see what happens."
Rodon -- who is scheduled to start Game 2 of the Super Regional -- is 9-0 with a 1.61 ERA and 132 strikeouts and 111.2 innings pitched this season. He was named the ACC's Pitcher of the Year, a first-team All-American by Collegiate Baseball, and a finalist for the Golden Spikes Award, which is given annually to the nation's top player.
And he's only a freshman.
June, 7, 2012
6/07/12
9:00
AM ET
GAINESVILLE, Fla. -- There seems to be one definite when it comes to the Florida baseball team and the NCAA tournament: Preston Tucker is going to show up.
Big time.
[+] Enlarge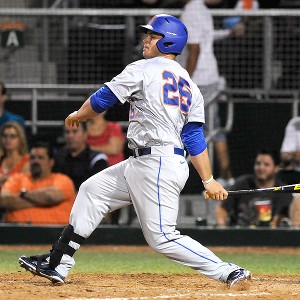 Cal Sport Media/AP ImagesPreston Tucker has hit 10 postseason home runs, the most in UF history.
As good as he has been during the regular season in his career, Tucker has been even better in the postseason -- and that's a big reason the Gators (45-18) have made back-to-back trips to the College World Series and are just two victories over N.C. State in this weekend's Super Regional from a third in a row.
The senior outfielder has a .371 batting average in 26 NCAA tournament games and holds school postseason records for hits (40), at-bats (107), doubles (10), home runs (10) and RBIs (40).
"I think it's focus, rising to the occasion," UF coach Kevin O'Sullivan said of Tucker. "It's good makeup. It's just a year's worth of work showing up at the end of the year and he's worked extremely hard and good things usually happen to good people when they work hard.
"Hopefully he'll do it again this weekend because we're certainly going to need him."
June, 5, 2012
6/05/12
8:03
PM ET
GAINESVILLE, Fla. – More proof of why the Florida baseball team is the favorite to win the College World series: The Gators had six more players drafted on Tuesday.

Shortstop Nolan Fontana and pitcher Steven Rodriguez were taken in the second round. Pitcher Austin Maddox was taken in the third round, and outfielder Preston Tucker and pitcher Hudson Randall were taken in the seventh round. Outfielder Daniel Pigott was taken in the ninth round.

Including the selections of catcher Mike Zunino (No. 3 overall) and pitcher Brian Johnson (No. 31 overall), the Gators have seen eight players drafted during the first 15 rounds. Rounds 16-40 will take place Wednesday.


June, 5, 2012
6/05/12
12:48
AM ET
GAINESVILLE, Fla. -- Florida's Brian Johnson obviously has the potential to become a Major League player. It just isn't clear at which position.
The Boston Red Sox selected the left-handed pitcher with the 31
st
and final pick in the first round of the MLB draft on Monday night. Johnson's pitching skills got him drafted that high, but his offensive skills make him an intriguing prospect as a position player.

ESPN MLB draft expert Kiley McDaniel said scouts like the fact that Johnson throws four pitches (fastball, curveball, slider and changeup) and has good control. His ability to hit could also earn him time at first base, too.
"He's a pitchability lefty with above-average stuff and command along the lines of Mark Buehrle and also has average raw power from the left side as a solid 1B prospect," McDaniel wrote in analyzing the selection. "Johnson isn't the greatest athlete and is a little stiff, but he makes his delivery work for him and could help the Red Sox as a quick-moving savvy lefty."
June, 4, 2012
6/04/12
11:17
AM ET

GAINESVILLE, Fla. -- Today, and only today, Florida catcher
Mike Zunino
is allowing himself to finally think about the Major League Baseball draft.
Otherwise, Zunino -- who is projected to be among the top five selections -- has pretty much ignored any thoughts of where he might be selected, by which team, and whether he will sign a professional contract or return to Florida for his senior season, because he's more focused on helping the Gators return to the College World Series.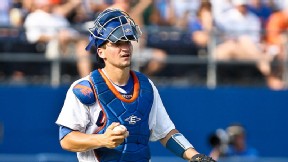 Rob Foldy/Icon SMIFlorida catcher Mike Zunino is projected as a high pick in Monday night's MLB draft.
"Honestly, it was an afterthought this whole weekend," Zunino said after the Gators' 15-3 victory over Georgia Tech on Sunday night sent them to this weekend's Super Regional against either Vanderbilt or N.C. State. "We came out with one goal and that's to try to make it to the College World Series, and I've got 34 other teammates that are trying to do the same goal, and I'm just trying to play for one cause. It was really an afterthought. Once the game starts you really don't think about it."
The 6-foot-2, 220-pound Zunino will be the highest drafted UF player in Monday night's first round (7 p.m. ET), but there will be numerous Gators and signees selected in the three-day draft. Zunino (fourth), pitcher/DH
Brian Johnson
(28
th
), shortstop
Nolan Fontana
(44
th
) and reliever Steven Rodriguez (71
st
) are all ranked among the top 100 players in
ESPN Insider Keith Law's pre-draft rankings
. Law also has two UF signees -- pitcher
Lance McCullers Jr.
(Tampa, Fla./Jesuit) and outfielder Lewis Brinson (Tamarac, Fla./Coral Springs) -- among his top 100. McCullers is 25
th
and Brinson is 55
th
.
June, 2, 2012
6/02/12
11:17
PM ET
GAINESVILLE, Fla. -- The Florida Gators got mad, and that got Georgia Tech beat.
[+] Enlarge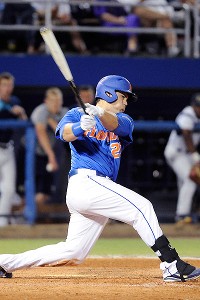 AP Photo/Phil SandlinPreston Tucker's two-run home run against Georgia Tech in the ninth inning on Saturday was his 10th career postseason homer, the most in UF history.
The Gators scored three runs in the fourth inning -- including one on Mike Zunino's solo home run to left center field -- after a controversial end to the third inning to beat the Yellow Jackets 6-2 in a winners' bracket game in the Gainesville Regional on Saturday night at McKethan Stadium. The top-seeded Gators will play on Sunday evening against the winner of Sunday's afternoon's Georgia Tech-College of Charleston elimination game.
What sparked UF's offense in the top of the fourth was a debate of how the third inning actually ended. Georgia Tech had runners on first and second with two out, and starting pitcher Hudson Randall appeared to strike out first baseman Jake Davies after Zunino caught a foul tip. As the Gators left the field, however, Davies argued that the ball had actually hit the ground before Zunino caught it.
The umpires gathered in front of home plate to discuss the play while the grounds crew dragged the infield and Georgia Tech took the field. After a huddle that lasted for nearly five minutes, home plate umpire Mike Morris ruled that the ball had hit the ground before Zunino caught it and sent the Yellow Jackets back to the dugout and called the Gators back onto the field.
May, 29, 2012
5/29/12
1:07
PM ET
GAINESVILLE, Fla. -- Five Florida baseball players were named to the All-Southeastern Conference teams released Tuesday, including four who were named to the first team.

Outfielder Preston Tucker, catcher Mike Zunino, pitcher/DH Brian Johnson and reliever Steven Rodriguez made the first team in a vote by the league's 12 coaches. Shortstop Nolan Fontana was a second-team selection. It is the third time Tucker and Fontana have earned All-SEC honors. Only four others players in school history -- Josh Adams, Mike Stanley, Brad Wilkerson and Marc Valdes -- have accomplished that feat.

Zunino leads the Gators (42-18) with a .323 average, 27 doubles, 16 home runs, and 55 RBIs. Tucker (.312) is second with 14 home runs and 44 RBIs. Johnson has started a team-high 15 games as a left-handed pitcher and is 7-4 with a 3.67 ERA. He's hitting .318 with five home runs and 39 RBI. Rodriguez is 3-2 with a 2.04 ERA and three saves.

Fontana is hitting .290 with nine home runs and 28 RBI. He and Zunino also were named to the SEC's All-Defensive team.

In addition, third baseman Josh Tobias (.245, 7 RBI) was named to the All-Freshman team.
March, 15, 2012
3/15/12
7:00
AM ET
GAINESVILLE, Fla. -- Florida coach Kevin O'Sullivan is doing a lot of nitpicking these days.

When you're the No. 1 team in the nation with a 16-1 record and have just tied a school record for consecutive victories, there's really not much going wrong. So it's all about fixing the little things as the Gators prepare to begin Southeastern Conference play this weekend at home against Vanderbilt.

"We've still got some things to work on," O'Sullivan said after the Gators' 9-2 victory over sixth-ranked Florida State on Tuesday night in Gainesville. "We missed a couple signs [against FSU], a couple of hit-and-run signs, made the error there that scored the two runs. But overall, how disappointed can you be?"

Not very, because UF is playing pretty well in every aspect of the game. The Gators came out of the FSU game leading the nation in home runs (27) and are hitting .312 with 62 extra-base hits. Of the seven players with at least 50 at-bats, six are hitting .300 or better -- including catcher Mike Zunino (.417) and right fielder Preston Tucker (.313). Those two have a combined 13 home runs and 39 RBIs.

"The bottom half of our lineup is really swinging the bats well," said Tucker, who has six homers and 16 RBIs. "When the bats come alive there, and there's guys on base for guys at the top of the lineup, it's really tough to pitch to a lot of these hitters."


March, 13, 2012
3/13/12
11:10
PM ET
GAINESVILLE, Fla. -- All Florida coach Kevin O'Sullivan wanted was just one run.

Trailing 2-0 with two runners on with one out in the bottom of the third inning against rival Florida State, getting one run was the goal to stop the Seminoles' momentum. Preston Tucker gave O'Sullivan what he wanted -- plus two more. The senior right fielder hit a three-run homer over the right-field wall to spark the Gators to a 9-2 victory in front of a McKethan Stadium-record crowd of 6,005 Tuesday night.

"We were down two runs at the time," said Tucker, who is second on the team with 16 RBIs and six home runs. "We were trying to at least get one across. He left it up a little bit and I put a good swing on it."

The victory snapped a two-game losing streak to Florida State. It also was UF's 14th win in a row, which tied a school record set in 2001 and 2004.

Tucker's homer loosened up UF's offense. Nolan Fontana drove in a run in the fourth on a groundout and another in the sixth on a solo home run. Mike Zunino drove in runs in the seventh on a sacrifice fly and in the eighth on a single. Daniel Pigott also drove in a pair of runs in the eighth on a single.

While the top-ranked Gators (16-1) were rolling offensively, the sixth-ranked Seminoles (14-2) couldn't solve UF's bullpen. UF relievers Greg Larson, Steven Rodriguez, Daniel Gibson and Austin Maddox limited FSU to just two hits in 6.1 innings and at one point retired 12 consecutive batters until Sherman Johnson's one-out single in the eighth.


March, 1, 2012
3/01/12
10:33
AM ET
A rivalry is always better when there's heartbreak involved, and there's no better example of that than the Florida-Miami baseball series.
[+] Enlarge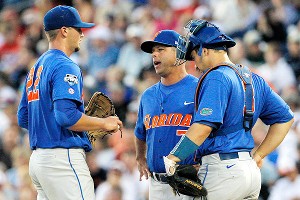 Bruce Thorson/US PresswireKevin O'Sullivan's Florida squad has had the upper hand over Miami in recent years.
The two teams -- which will meet in Coral Gables, Fla., for a three-game series that begins Friday -- have spent the last 27 years bouncing each other out of the postseason. For a while, the Hurricanes controlled the series, ending the Gators' playoff run eight times from 1984 to 2004. Florida, however, has sent Miami home short of the College World Series in each of the last three seasons.
No. 2 Florida (7-1) has won six games in a row against No. 8 Miami (7-0) in the postseason, outscoring the Hurricanes 51-20 in the process. The Gators beat the Canes in the Gainesville Regional in 2009 and 2011, and in a 2010 Super Regional. Florida has won 11 of its last 12 meetings with Miami dating back to an early-season series in 2009, when the Canes out-scored the Gators 26-8 in a three-game sweep in Coral Gables.
"We've had some recent success against Miami, but this is a year-to-year thing," UF coach Kevin O'Sullivan said after the Gators eliminated Miami in the 2011 postseason. "We just have played well against Miami [lately]. We've been at home for three years in a row [in the postseason], and that's a big difference. ... But by no means do we have this thing figured out."
February, 16, 2012
2/16/12
10:00
AM ET
[+] Enlarge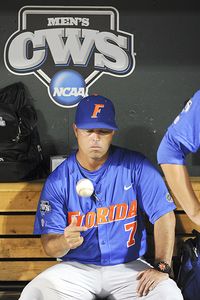 AP Photo/Eric FrancisKevin O'Sullivan's Florida Gators aim to find their way back to the championship series ... and win it.
GAINESVILLE, Fla. -- Florida has the best team in college baseball. Nearly everyone says so.
The Gators sit atop the Collegiate Baseball, Baseball America and USA Today/ESPN Coaches preseasons polls and had an NCAA-record seven players named preseason All-Americans by Louisville Slugger and Baseball America. Perfect Game tabbed five UF players preseason All-Americans, and the National Collegiate Baseball Writers Association had five on its list.
UF returns seven position starters and nine pitchers from last year's team that finished runner-up to national champion South Carolina in the College World Series. The Gators also have 14 players who are projected to be drafted in June -- including seven who could go in the first three rounds.
With all that talent and experience, expectations for the Gators are pretty high in 2012. Just making the College World Series -- something UF has done only seven times in school history -- isn't even enough. It's almost national title or bust.
"This isn't the first time they've had expectations. They've been through this before, especially last year," UF coach Kevin O'Sullivan said. "Hopefully they'll draw from their experiences last year and be well prepared for it this year. We've talked about it. It's Florida. There's expectations. We want to be in Omaha every year and compete for a national championships."
January, 26, 2012
1/26/12
11:27
PM ET
GAINESVILLE, Fla. -- The Florida baseball team stands atop
the USA Today/ESPN Coaches Poll
, which debuted Thursday. The Gators, got 17 first-place votes to rank ahead of No. 2 South Carolina with 12 first-place votes. Florida and South Carolina met in last season's College World Series final, in which the Gamecocks won their second consecutive national championship.
The Gators, who are also ranked No. 1 in Baseball America's and Collegiate Baseball's first polls of the season, went 53-19 last year. They open this season on Feb. 17 to begin a home series against No. 25 Cal State-Fullerton.
Head coach Kevin O'Sullivan returns a strong nucleus, including Southeastern Conference Player of the Year C Mike Zunino, senior OF Preston Tucker, slugger Austin Maddox and the entire weekend rotation (Hudson Randall, Brian Johnson and Karsten Whitson).
McElwain discusses new Florida football
SEC SCOREBOARD
Thursday, 9/3
Saturday, 9/5