Florida Gators:

Percy Harvin
July, 18, 2013
Jul 18
8:19
AM ET
TALLAHASSEE, Fla. -- It's rivalry week. And what in-state college football rivalry wouldn't have it's fair share of recruiting battles and spurns?
RecruitingNation takes a quick glance at some players at Florida and Florida State who turned down one school or the other during the recruiting process to sign with a rival.
WR Percy Harvin (2006):
Harvin would go on to be one of the most electric college football players during his time in Gainesville. But, at one point, he was leaning to Florida State. Growing up, he liked the Seminoles mainly for their tradition and success. But coach Urban Meyer came in and did a great job recruiting him to the Gators and got a couple of national titles out of the deal.
To continue reading this article you must be an Insider
May, 8, 2013
May 8
9:17
AM ET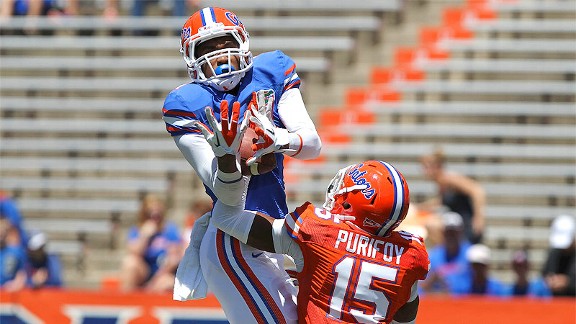 Kim Klement/USA TODAY SportsDemarcus Robinson, who got a jump on the competition by participating in spring practice, has a steep hill to climb to make an impact as a freshman receiver at Florida.
GAINESVILLE, Fla. -- One of the main reasons Florida's passing offense has struggled since 2009 is the lack of production -- or a playmaker -- at receiver.
If the Gators' 2013 passing offense is going to be better than the unit that ranked 114
th
nationally last season, the receivers must be significantly better. Redshirt junior
Quinton Dunbar
, redshirt senior
Andre Debose
, and senior
Trey Burton
are the most experienced receivers and should be UF's go-to playmakers, but each have limitations.
Dunbar has 50 career catches, but he hasn't developed into the downfield threat the Gators have needed. Debose (29 career catches) has been that at times, but his career has been marred by inconsistency and work-ethic issues. Burton (69 career catches) has so many roles that it's hard for him to excel at one, and he's more of a short-yardage, possession receiver.
Sophomores
Latroy Pittman
and
Raphael Andrades
each caught two passes last season and were used more as blockers than receivers.
That means UF will be depending on two or more of the five signees to make a substantial impact.
Demarcus Robinson
is the most likely, as he enrolled in January and participated in spring practice. But either
Ahmad Fulwood
,
Alvin Bailey
,
Marqui Hawkins
or
Chris Thompson
will have to produce, too.
But even having only one of those freshmen become a reliable and productive part of the offense might be asking too much. It's hard for true freshman receivers to make an impact -- as the past 23 years have shown.
Florida hasn't had much luck with freshman receivers, especially when it comes to being anything more than someone who gets mop-up work.
The Gators have signed 61 receivers from 1990-2012, but only 20 played as true freshmen -- and only 19 caught passes. Of those 19, only four caught more than seven passes: Reidel Anthony, Ike Hilliard, Andre Caldwell and Percy Harvin. Anthony, Hilliard and Harvin all became first-round NFL draft picks and Caldwell was a third-round pick.
Here's more proof that it takes an especially gifted player to make an impact as a freshman: Twelve the 16 receivers who played as true freshmen from 1990-2009 went on to become draft picks.
Is there an incoming receiver who can make an impact in 2013? There's no way to know right now until September, but based on the last two-plus decades, it's unlikely.
February, 6, 2013
Feb 6
6:43
PM ET
GAINESVILLE, Fla. -- Florida coach Will Muschamp left little doubt about what he believes is his team's biggest problem heading into the 2013 season.
Signing five receivers was a pretty clear message.
To continue reading this article you must be an Insider
January, 21, 2013
Jan 21
8:00
AM ET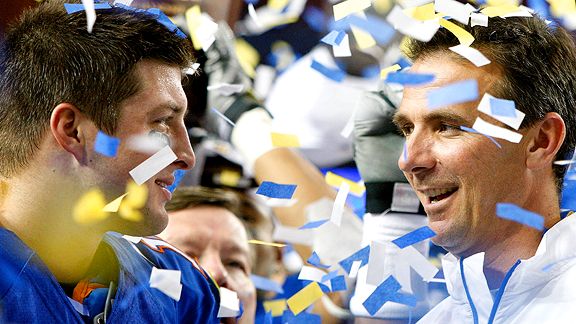 Kevin C. Cox/Getty ImagesStar QB Tim Tebow helped Urban Meyer win two national championships at Florida.
GAINESVILLE, Fla. -- The headliner of Florida's 2006 signing class was QB
Tim Tebow
.
He was arguably one of the most hyped recruits in prep football history -- he was the subject of an ESPN documentary entitled "The Chosen One" -- and getting Tebow's signature on a letter of intent was Urban Meyer's biggest victory in his 18 first months as UF's coach.
To continue reading this article you must be an Insider
October, 15, 2012
10/15/12
1:24
PM ET
Halfway through the 2012 season, the comparisons are already coming: Is this Florida team destined to repeat what it accomplished in 2006?
It sounds crazy, it really does, but the similarities are there. The offense isn't exactly pretty, but the defense is stellar. Both running games have bulls in the backfield (2006 had a young Tim Tebow and power back DeShawn Wynn). Urban Meyer used more of a pounding spread, while Will Muschamp (also in his second year, like Meyer) has his team grinding along and outplaying everyone in the second half.
[+] Enlarge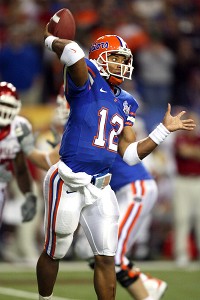 Bob Leverone/Sporting News via Getty ImagesChris Leak was a legitimate threat throwing the ball for the 2006 Florida team, something that lacks in this season's version.
The 2006 team didn't really feel like a true national championship contender halfway through the season because it never blew anyone away with the offense dragging along.
But somehow, the wins kept piling up, as toughness, not flash, got it done ... just like this year's team.
But can these Gators make a run to the national championship, or even the SEC championship? Can a team that has averaged 69 passing yards in its past two games really make it through the rest of its SEC schedule and beyond?
So far a mediocre passing game has been enough with that tremendous defense and rugged running game. But for this team to get on the 2006 team's level, some things have to change, especially with No. 7 South Carolina venturing into the Swamp on Saturday.
For starters, the Gators have to be a threat to throw. In 2006, Chris Leak, who eventually became Florida's all-time leading passer, was very much a passing threat. He didn't throw for a lot of yards, averaging just 210 yards a game, but defenses had to account for a balanced Gators offensive attack.
This year's team doesn't really have that in
Jeff Driskel
. He's a tremendous athlete and can throw a good ball, but he's averaging just 139 yards a game and has four touchdown passes.
Now, Driskel doesn't have the receiving threats Leak had.
Frankie Hammond Jr.
,
Quinton Dunbar
,
Jordan Reed
and
Andre Debose
just don't generate the same excitement as Percy Harvin, Andre Caldwell, Dallas Baker and Cornelius Ingram.
Sure, the Gators haven't exactly needed to throw the ball with their running game and defense, but when Driskel
has
to pass against good defenses, will he be able to? It's still a mystery, and that has to be concerning.
When you compare the defenses, the pass rushes are very different. The 2006 team had Jarvis Moss and Derrick Harvey, who combined for 18.5 sacks. That team had 34 sacks. This one has just 12. Quick passing teams hurt Florida's pass rush to start the year, but it has to be more consistent in SEC play.
This year's team does win the kicking battle with All-American hopeful
Caleb Sturgis
, and you could argue that the running game is stronger with
Mike Gillislee
.
Even with Tebow and Harvin helping out Wynn, those Gators averaged 160 rushing yards a game. Having more of a passing game cut into the rushing numbers, but Wynn wasn't Gillislee, who leads all SEC running backs with 615 rushing yards and is one of only two backs to average 100 or more yards a game (102.5). Wynn finished the 2006 season with just 699 yards.
[+] Enlarge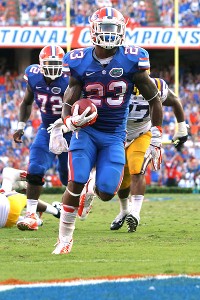 Kim Klement/US PresswireMike Gillislee is averaging 5.1 yards per carry this season.
Add Driskel,
Omarius Hines
,
Solomon Patton
and
Trey Burton
, and these Gators are second in the SEC in rushing, averaging 233.3 yards per game and 236 in conference play.
When it comes to points, both teams are pretty even. The 2006 team averaged 29 points and gave up 9.5 through the first six games (all wins as well), while this year's team is scoring 27.8 and allowing 12.3. This year's team is also averaging around 20 yards fewer (378.3) and giving up 40 more yards (297.2).
So the similarities are obvious, but this team doesn't have the experience the 2006 team had, and you have to wonder if that will eventually catch up to it.
I have to admit I was very surprised to see Florida at No. 2 in the first BCS standings. Don't get me wrong, the Gators have been impressive with those back-to-back SEC road wins, the second-half pushes, the win over LSU, and that defense and running game.
But No. 2?
In the right light, is this Florida team really a 2 or is it more like a 4, or even a 5? We'll find out with South Carolina and Georgia next.
Florida might be a tough team to truly figure out, but the 6-0 start is a pleasant surprise. A team that was expected to be nothing more than a distant third in the East could be playing in Atlanta in early December.
That's something the 2006 team would be very proud of.
September, 13, 2012
9/13/12
11:20
AM ET
GAINESVILLE, Fla. -- Florida's
Solomon Patton
might be the Gators' smallest scholarship receiver, but he's being given some chances to make big plays.
The 5-foot-9, 169-pound Patton has carried the ball four times -- all on jet sweeps -- this season for 37 yards, including a 12-yard gain on UF's final drive of their 20-17 victory over Texas A&M. Patton's run on second-and-7 gave the Gators a first down and helped kill the final 3:13 off the clock.
"It just felt amazing," Patton said. "I just feel real great about being able to get the ball in that position and stay in bounds and make that play."
It shows the coaching staff has growing confidence in Patton. He has already touched the ball on offense more times this season than he did in 2011, and the junior receiver is already more than halfway to surpassing his career total, too.
Patton had just three catches for 35 yards last season and four catches for 27 yards as a freshman in 2010. He still doesn't have a catch in 2012, but he's not complaining.
"I'm hoping it'll get better," Patton said. "I've been working pretty hard, and the coach is telling me I've got a lot of stuff coming my way, so I'm pretty excited about that."
August, 16, 2012
8/16/12
11:52
PM ET
By
Chris Fallica, Stats & Information Group
| ESPN.com

It's only year two of the Will Muschamp era at Florida, but Gator fans have to be feeling uneasy about its stagnant offense while winning just five regular-season games against FBS opponents in 2011.
Even more troubling, none of the five wins came against teams that finished the year with a winning record (1-11 FAU, 3-9 UAB, 5-7 Tennessee, 5-7 Kentucky and 6-7 Vanderbilt).
Expanding the scope and looking at the Gators against all automatic qualifiers, you can see just how much they scuffled in 2011.
Florida ranked 65th of 67 AQ schools in both third-down percentage (29.0) and total yards per game (284.0). Its offense also finished 64th in red-zone touchdown percentage (41.7).
Florida's struggles really started with the departures of Tim Tebow and Percy Harvin to the NFL.
Led by Tebow and Harvin in 2007 and 2008, the Florida offense completed 38 touchdown passes and threw eight interceptions in SEC contests.
With Tebow alone in 2009, the Gators managed only nine touchdown passes and five picks in SEC play, illustrating Harvin's importance to the team.
The last two years have been even worse for Florida -- a combined 12 touchdown passes and 14 interceptions against conference opponents.
Quarterback John Brantley never looked comfortable, while
Jacoby Brissett
and
Jeff Driskel
went through predictable freshman growing pains. Not surprisingly, the Gators went 7-9 in the SEC over the last two seasons.
April, 10, 2012
4/10/12
10:52
AM ET
Matt Hayes of The Sporting News has an
extensive piece on Urban Meyer
leaving what Meyer himself once described as a "broken" program at Florida.
Quoting sources and former players, Hayes paints a picture of a program that had a serious drug problem and one that had a different set of rules for star players.
Former Florida safety
Bryan Thomas
told Hayes, "The program was out of control."
[+] Enlarge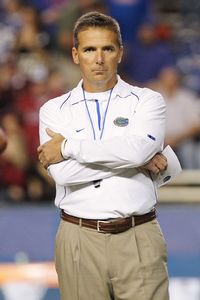 Kim Klement/US PresswireAccording to a new report, Urban Meyer gave preferential treatment to his star players during his tenure in Gainesville.
Meyer, now the Ohio State coach, reportedly told top receiver prospect Stefon Diggs during the recent recruiting cycle that Meyer wouldn't allow his son to go to Florida because of significant character issues in the locker room. Diggs was considering Florida, Maryland and Ohio State at the time and wound up choosing Maryland.
Meyer denies that he ever painted Florida in a bad light to Diggs or his family.
Either way, it's not a pretty picture that Hayes paints in his piece, which was the culmination of a three-month Sporting News investigation.
One former player told Hayes, "Over the last two years (Meyer) was there, the players had taken complete control of the team."
Hayes' investigation uncovered what was called a "Circle of Trust," where select players were said to be given preferential treatment and not punished the same as others, which rocked team chemistry.
For instance, Hayes writes that former receiver Percy Harvin physically attacked then receivers coach Billy Gonzales during the 2008 season and threw him to the ground and had to be pulled off of Gonzales by other coaches. Sources told Hayes that Harvin was never disciplined. Meyer said he'd never heard of a "Circle of Trust."
March, 13, 2012
3/13/12
4:38
PM ET
GAINESVILLE, Fla. -- It's definitely not a good sign about Florida's NFL Draft prospects when there's significantly more talent watching the pro scout day workouts than participating in them.
Quarterback John Brantley, running back
Chris Rainey
, defensive tackle
Jaye Howard
, and receiver Deonte Thompson worked out in front of NFL scouts from 24 teams and one head coach -- Jacksonville's Mike Mularkey -- on Tuesday morning at Florida Field. None of those players are projected any higher than mid- to late-round selections, which would snap the school's five-year streak of having at least one player taken in the first round.
Contrast that with the talented group of former UF players who watched the workouts. There were four first-round picks -- Maurkice and Mike Pouncey, Travis Taylor, and Percy Harvin -- and four others who were taken in the seventh round or higher: Terry Jackson (fifth), Riley Cooper (fifth) and Kerwin Bell (seventh). Mularkey was a ninth-round pick.
"We need more guys out there in position to be drafted," UF coach Will Muschamp said. "That's pretty evident as you go through our last two pro days.
"We need to do a better job recruiting. We need to do a better job evaluating. We need to do a better job of developing our players and coaching. Bottom line."
Rainey ran a 4.38 in the 40 0n Tuesday. His biggest goal was to prove to the scouts that he can catch the ball out of the backfield. As to where the 5-foot-9, 180-pound athlete fits on the next level, he said he's basically a smaller Harvin clone. He can play receiver or running back, return kicks and punts, and play on kick or punt block units.
"My goal is to confuse the scouts and they do the rest [in figuring out where he should play]," said Rainey, who finished his career with 3,948 all-purpose yards and 21 touchdowns. "If you're going to be a playmaker on the field, that's all that matters."
January, 14, 2012
1/14/12
8:32
PM ET
GAINESVILLE, Fla. -- Florida quarterback
John Brantley
has begun his post-college career by signing with agent Joel Segal.
John Brantley Sr., said his son signed the contract on Friday. Florida running back
Chris Rainey
also signed with Segal last week. Segal has a history of signing former Florida players, including Percy Harvin, Mike Pouncey, Maurkice Pouncey and Ahmad Black. Some of Segal's other clients are Philadelphia Eagles quarterback Michael Vick, Tennessee running back Chris Johnson, and Miami running back Reggie Bush.
Brantley, who finished his career with 4,750 yards and 30 touchdowns passing, has been working out at the Coach Tom Shaw Training Program at ESPN's Wide World of Sports in Orlando. Brantley will play in the East-West Shrine Game at Tropicana Field in St. Petersburg, Fla., on Jan. 21.
"I've never seen him this excited," Brantley, Sr., said of his son. "He's excited about the [draft] process and the East-West Shrine Game. It's all good. He's finally healthy and ready to roll."
Final Verdict: Hired And Fired