Florida Gators:

Nick Alajajian
January, 24, 2013
1/24/13
8:00
AM ET
GAINESVILLE, Fla. -- There is very little middle ground when it comes to evaluating Florida's 2009 17-member signing class.

Eight became starters, seven turned into busts and two others are role players -- including one who has driven two separate coaching staffs crazy. Seven of those starters have done so for multiple seasons.

That's not a bad ratio. Most coaches would be ecstatic if 50 percent of every signing class developed into starters, even if it also meant half weren't going to make much impact, if any, on the program.
August, 27, 2012
8/27/12
2:15
PM ET
GAINESVILLE, Fla. -- Florida quarterback
Jeff Driskel
has been cleared medically to play in Saturday's season opener against Bowling Green, but it's still unclear when the sophomore will get on the field.
[+] Enlarge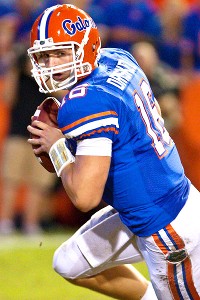 Rob Foldy/Icon SMIIt has not been decided if Jeff Driskel (above) or Jacoby Brissett will start against Bowling Green on Saturday.
Coach Will Muschamp has come up with at least the beginning of a plan for rotating Driskel and
Jacoby Brissett
. He said Monday that each sophomore quarterback would play a quarter before the staff determines the plan for the second half.
Muschamp said he and offensive coordinator Brent Pease have not yet decided which quarterback would start and whether one or both would play in the second half.
"We'll evaluate it at halftime," Muschamp said.
Muschamp said Friday morning that neither player was able to distance himself from the other throughout preseason practices and both would play against the Falcons.
Muschamp said he knew following the Gators' second scrimmage (Aug. 17) that he would likely play both quarterbacks in the season opener. Both sophomores handled themselves well in the situational work, such as one-minute drill, third-down conversions, and goal line work, Muschamp said, and picking one as the starter wouldn't be fair.
Both players struggled last season in place of injured starter John Brantley. Driskel completed 47.1 percent of his passes for 148 yards and two interceptions. Brissett completed 46.2 percent of his passes for 206 yards and two touchdowns with four interceptions.
August, 10, 2012
8/10/12
1:17
PM ET
GAINESVILLE, Fla. -- Florida has lost a pair of reserve defensive linemen to knee injuries this week, and at least one is definitely out for the season.
UF coach Will Muschamp said Friday that senior defensive tackle
Nick Alajajian
suffered a fractured right knee and will miss the 2012 season and redshirt junior defensive end
Kedric Johnson
suffered a dislocated left knee and will miss a significant period of time. Both players were involved in special teams and haven't made any impact on defense, but losing those two does hurt the Gators in terms of veteran depth.
Alajajian (6-foot-4, 285 pounds) was a reserve offensive lineman for his first three seasons but was moved to defensive tackle in the spring. Johnson has just nine tackles and one sack in 25 career games.
August, 2, 2012
8/02/12
8:47
PM ET
GAINESVILLE, Fla. -- It's no surprise that Florida's
Andre Debose
is not a fan of the rule changes the NCAA made on kickoffs.
Debose is one of the nation's top kick returners, but his impact on the game will be minimized by kickoffs moving up to the 35-yard line from the 30-yard line. Those extra five yards likely mean more touchbacks, which means Debose won't have as many opportunities to make a play.
[+] Enlarge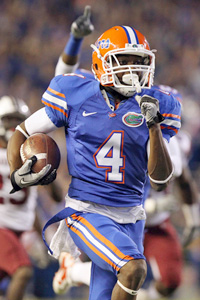 Kim Klement/US PresswireFlorida redshirt junior Andre Debose has a school-record three career kickoff returns for touchdowns.
"I do not like the new kickoff rule," Debose said Thursday during UF's annual media day at Ben Hill Griffin Stadium. "I had thoughts in my head about (a reduced role), but I feel like I still will get a couple opportunities. Maybe not as many as previous years."
Debose averaged 26.1 yards on 19 kickoff returns last season and took one back for a touchdown against Ohio State in the Gator Bowl. The 5-foot-11, 186-pound redshirt junior already has a school-record three career kickoff returns for touchdowns.
UF coach Will Muschamp is also not a fan of the new rule -- which also states that touchbacks on kickoffs will come out to the 25-yard line -- and said he and special teams coordinator D.J. Durkin have already begun adjusting their plans for kickoff returns.
"We need to get on the field and rep through it and see how it works," Muschamp said. "He (Debose) is a guy that's certainly been a game-changer for us and needs to continue to be, so we need to continue to find ways for that to happen.
"D.J. and I have talked about that, and we are going to look in camp early to figure out how we can get the ball in his hands and gain some returns."
Uneventful offseason
No news was good news this summer for the football program. The Gators didn't have a single player arrested or get into trouble since defensive tackle
Leon Orr
was cited on May 14 for knowingly driving with a suspended license.
July, 6, 2012
7/06/12
10:30
AM ET
ESPN's GatorNation is previewing each position leading up to the start of the season. Every Friday until the season kicks off, Michael DiRocco and Jeff Barlis will analyze the players, tell you who is starting and why, and provide a breakdown of the depth at the position. This week it's the defensive line.
The starters:
DE/LB
Lerentee McCray
(RSr.), DT
Dominique Easley
(Jr.), DT
Omar Hunter
(RSr.), DE
Sharrif Floyd
(Jr.)
The backups:
DE/LB
Dante Fowler, Jr.
(Fr.), DE/LB
Gideon Ajagbe
(RSo.), DE/LB
Kedric Johnson
(RJr.), DE/LB
Alex McCalister
(Fr.), DE/LB
Bryan Cox, Jr.
(Fr.), DT
Leon Orr
(RSo.), DT
Damien Jacobs
(Jr.), DT
Dante Phillips
(Fr.), NT
Nick Alajajian
(Sr.), DT
Quinteze Williams
(Fr.), DT
Jafar Mann
(Fr.), DE
Jonathan Bullard
(Fr.)
Comment:
The line would be much better with DE/LB
Ronald Powell
, who is out for at least part of the season with a torn ACL. There is a lot of depth, which is in contrast to last season. Easley and Floyd have All-SEC potential, and the hope is some of the freshmen will develop enough to allow the Gators to slide Floyd inside to tackle, which is his more natural position. McCray was having a solid season last year until a shoulder injury caused him to miss four of the final five games. Fowler and Cox could see a lot of time at DE/LB (which UF calls the buck) early in practice to see if they can handle the spot.
July, 4, 2012
7/04/12
8:00
AM ET
ESPN's GatorNation brings you the 30 things you need to know about Florida's upcoming 2012 season. For 30 weekdays we'll preview games, talk about trends, spotlight players and positions, and give you pretty much everything you need to know to be ready for the season before the Sept. 1 opener against Bowling Green.
GAINESVILLE, Fla. -- Florida is one of only five SEC programs to make the top 25 in ESPN's team recruiting rankings in each of the past five seasons.
In fact, the Gators finished in the top five in four of those five years. But somehow that hasn't translated to consistent on-field success.
Florida lost just two games combined in 2008 and 2009, but very few of the members of those signing classes contributed significantly -- which shows how good UF's roster was in those two seasons. Since then, however, the Gators are a combined 15-11, and while some of those highly touted signees have turned into very good players, UF has slipped from its spot among the national elite.
But things are looking brighter entering 2012. The core of this year's team is comprised of members of the 2009 and 2010 classes, and several members of the 2011 class appear to be ready to become significant contributors or are on the verge of being elite players.
Here's a look at those signing classes (see chart below):
April, 11, 2012
4/11/12
3:52
PM ET
GAINESVILLE, Fla. -- Senior defensive tackle
Nick Alajajian
underwent surgery on his right wrist on Tuesday but is expected to recover in time for fall practice, Florida announced Wednesday.
Alajajian is expected to be in a cast for six weeks, the school said.
The 6-foot-4, 285-pound Alajajian spent his first three seasons as an offensive lineman before moving to defensive tackle in the spring.
March, 14, 2012
3/14/12
3:30
PM ET
Schedule:
Florida opens spring practice Wednesday afternoon and concludes on April 7 with the Orange & Blue Debut, presented by Sunniland, at 1 p.m. ET in Ben Hill Griffin Stadium. In conjunction with Florida Football's Annual Coaches Clinic, practice will open to the public twice -- March 16 and March 17.
What's new:
Florida welcomes in new offensive coordinator Brent Pease, who left Boise State, as its new offensive coordinator after Charlie Weis left to become the head coach at Kansas. Florida also hired former Utah offensive line coach Tim Davis to replace Frank Verducci, while Jeff Dillman replaces Mickey Marrotti as the Gators' strength and conditioning coach.

On the mend:
Florida will be down a few players this spring. Defensive tackle
Dominique Easley
is out while he recovers from an ACL injury he suffered at the end of the regular season. Cornerback
Jeremy Brown
is out with a knee injury that kept him out all of the 2011 season. Offensive linemen
Ian Silberman
,
Tommy Jordan
,
Kyle Koehne
and
Cole Gilliam
, along with linebacker
Lerentee McCray
and defensive end
Kedric Johnson
, are all out with shoulder injuries. Cornerback
Marcus Roberson
(neck) was cleared for non-contact drills. Linebacker Neiron Ball, who was diagnosed with arteriovenous malformation after a blood vessel burst in his head before the 2011 season, has been cleared to resume physical activity, but not for practice.
On the move:
Redshirt senior
Omarius Hines
is moving from wide receiver to cross train at running back and tight end. Hines has always been some sort of a hybrid player, recording 41 career receptions for 559 yards and two touchdowns and carrying the ball 13 times for 164 rushing yards and two more scores.
Nick Alajajian
is moving from offensive tackle to defensive tackle to provide depth with Easley out.
March, 13, 2012
3/13/12
8:00
PM ET
GAINESVILLE, Fla. -- Florida offensive coordinator Brent Pease doesn't have a magic formula to fix an offense that struggled in 2011 and finished 105th nationally.
But he does have five criteria that he believes are keys to any successful offense, and if the Gators master these five things they'll be better in 2012 -- a pounding running game, an explosive passing game, creativity, eliminate turnovers and great quarterback play.
"We want to get more physical up front, we want to develop a little bit better tempo, we want to eliminate some turnovers, a lot of turnovers, and put ourselves in better situations," Pease said Tuesday. "We're not going to run anything different. People run power, we're going to run power; they run zone, we're going to run zone. No one is reinventing that part of it."
Pease comes to UF after spending the past six seasons at Boise State. The first five were as receivers coach, but Pease was the offensive coordinator in 2011 and helped the Broncos finish tied for 10th nationally in total offense (481.3 yards per game). He's being charged with fixing a UF offense that averaged 328.7 yards of total offense per game and just 185.7 yards per game passing. The Gators haven't averaged that few yards of total offense since 1988 (316.0). UF averaged 184.3 yards per game passing in 2010, but that's the fewest since 1989 (148.0).
His first task is to find a quarterback.
Jacoby Brissett
and
Jeff Driskel
will share reps this spring, but UF coach Will Muschamp said there is no timetable to naming a starter. They both could play in the fall, Muschamp said, which is not what he would prefer but is willing to do if neither separates himself in the competition.
"Not particularly in favor of that," Pease said. " I'd rather see one kid step forward and take charge and be productive and let it be his team. But if that's not the way it works out, then as coaches you've got to do what's best for your football team."
McElwain discusses new Florida football
SEC SCOREBOARD
Thursday, 9/3
Saturday, 9/5