Florida Gators:

Maurkice Pouncey
July, 11, 2013
Jul 11
9:00
AM ET
GAINESVILLE, Fla. -- This week, GatorNation writer Mike DiRocco, SEC blogger Edward Aschoff and former Florida and NFL offensive tackle
Mike Pearson
drafted their
all-time Florida Gators football team
. There were several players chosen in the draft who were unheralded players coming out of high school. Here's a closer look at a few of those players, who weren't five-star prospects, but went on to have stellar careers at Florida.
G/C Maurkice Pouncey (Lakeland, Fla./Lakeland)
Coming out of high school, Maurkice went by his first name, LaShawn. Though he and his identical twin brother, Mike, helped lead Lakeland to a state championship, Maurkice was not very highly ranked as a high school senior. Maurkice was the ninth-rated guard in the 2007 class and was not ranked as one of the top 50 players in the state that year. He went on to have a stellar career at center for Florida and was drafted with the 18th overall pick in the 2010 NFL draft by the
Pittsburgh Steelers
.
He might not have been highly ranked, but one ESPN scout saw his potential.
"LaShawn has ability and upside," the scout said. "At times he looks like a good prospect with ability and at other times he looks outstanding."
Pouncey has made the Pro Bowl in each of his first three seasons.
G/C Mike Pouncey (Lakeland, Fla./Lakeland)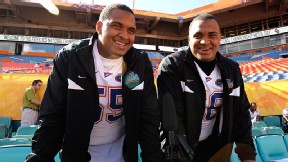 AP Photo/Lynne SladkyMike and Maurkice Pouncey were not highly-ranked prospects, but both became standouts at Florida and first-round NFL draft picks.
Mike was even more unheralded than his brother as a recruit. He was the 18th-ranked guard and was not listed among the state's top 100 players. Mike Pouncey was moved to the defensive line his freshman season to help with depth issues. He was moved back to the offensive line, to play guard, his sophomore year.
Mike had the option to turn pro after a solid junior season, but he chose to return for his senior season and moved to center. He became the 15th overall selection by Miami in the 2011 NFL draft and started every game as an NFL rookie.
S Louis Oliver (Bell Glades, Fla./Glades Central)
Oliver was about as unheralded as it gets. The 6-foot-2, 224-pound safety was relatively unknown in the recruiting world and had to walk-on at Florida in 1985.
Oliver not only earned a scholarship, but also became a team captain and an All-American in 1987 and 1988. He went on to get drafted with the 25th overall selection in the first round of the 1989 draft by the
Miami Dolphins
.
In his eight-year NFL career, Oliver totaled 544 tackles and 27 interceptions. He was inducted in the University of Florida's Athletic Hall of Fame in 2000.
Ahmad Black (Lakeland, Fla./Lakeland)
Black was one of seven Lakeland High School players that signed with Florida in 2007 and was a teammate of the Pouncey brothers. Though he recorded 84 tackles and four interceptions as a senior, Black was still ranked as the 49th-best safety in the country. As a sophomore, Black help lead Florida to a national championship and totaled 59 tackles and seven interceptions that season. Following his senior season, Black was named as a second-team All-American by the Associated Press.
At only 5-9 and 185 pounds, the lack of ideal size has always been the knock on Black. An ESPN scout said that Black lacked size, but had the mentality to be a good player on the college level.
"Black is an aggressive safety who plays much bigger than his size indicates," the scout said. "He is built like a corner but has the mentality of a strong safety. He is very active in coverage, keys quarterback's eyes very well and gets a good jump on the ball."
Black was drafted in the fifth round of the 2011 NFL draft by the
Tampa Bay Buccaneers
.
July, 27, 2012
7/27/12
10:00
AM ET
Steelers center Maurkice Pouncey and Dolphins center Mike Pouncey, the famous former Gator twins, went on The Herd with Colin Cowherd recently to talk about Pittsburgh's offseason, Ben Roethlisberger, Miami's quarterback situation, their excitement about the upcoming season and their belief in Will Muschamp.
Listen here

July, 8, 2012
7/08/12
11:53
PM ET
By
GatorNation staff
| ESPN.com
Former Florida offensive linemen Maurkice and Mike Pouncey were among the eight first-round NFL draft picks at The Opening this weekend to lend their perspective to the top prospects in the nation.
Mike Pouncey, a former All-American at Florida and first-round pick in 2011 who started every game of his rookie year at center for the Dolphins, said he recognizes the importance of the past few days to the high school players.

"When I was in high school and the NFL guys came out, I just wanted to be around those guys," Pouncey said. "It was a dream come true, because those guys were living the dream."

Mike and twin brother Maurkice Pouncey, the Steelers' All-Pro center and 2010 first-rounder from Florida, worked with the offensive linemen throughout The Opening.

"We're not here to change anything their coaches have given them," Maurkice Pouncey said. "We're here to give them extra stuff to put in the toolbox."
Read the complete story here
.
April, 28, 2012
4/28/12
3:58
PM ET
GAINESVILLE, Fla. --
Chris Rainey
's speed and versatility made him someone the Pittsburgh Steelers just couldn't pass up.
The Steelers selected the former Florida running back in the fifth round (159
th
overall pick) of the NFL draft on Saturday, and coach Mike Tomlin is already thinking about the different ways he can use Rainey on offense and special teams.
"We, of course, are excited about his skill set," Tomlin said on ESPN shortly after the selection. "We think that this guy is capable of helping us in a lot of ways: in the backfield, outside the backfield, in the return game."
The 5-foot-8, 180-pound Rainey did all of that at Florida. He finished his career with 3,948 all-purpose yards (fourth in school history) and his 2,464 yards rushing is ninth on the school's all-time list. He also holds the Southeastern Conference record with six blocked punts.
March, 13, 2012
3/13/12
4:38
PM ET
GAINESVILLE, Fla. -- It's definitely not a good sign about Florida's NFL Draft prospects when there's significantly more talent watching the pro scout day workouts than participating in them.
Quarterback John Brantley, running back
Chris Rainey
, defensive tackle
Jaye Howard
, and receiver Deonte Thompson worked out in front of NFL scouts from 24 teams and one head coach -- Jacksonville's Mike Mularkey -- on Tuesday morning at Florida Field. None of those players are projected any higher than mid- to late-round selections, which would snap the school's five-year streak of having at least one player taken in the first round.
Contrast that with the talented group of former UF players who watched the workouts. There were four first-round picks -- Maurkice and Mike Pouncey, Travis Taylor, and Percy Harvin -- and four others who were taken in the seventh round or higher: Terry Jackson (fifth), Riley Cooper (fifth) and Kerwin Bell (seventh). Mularkey was a ninth-round pick.
"We need more guys out there in position to be drafted," UF coach Will Muschamp said. "That's pretty evident as you go through our last two pro days.
"We need to do a better job recruiting. We need to do a better job evaluating. We need to do a better job of developing our players and coaching. Bottom line."
Rainey ran a 4.38 in the 40 0n Tuesday. His biggest goal was to prove to the scouts that he can catch the ball out of the backfield. As to where the 5-foot-9, 180-pound athlete fits on the next level, he said he's basically a smaller Harvin clone. He can play receiver or running back, return kicks and punts, and play on kick or punt block units.
"My goal is to confuse the scouts and they do the rest [in figuring out where he should play]," said Rainey, who finished his career with 3,948 all-purpose yards and 21 touchdowns. "If you're going to be a playmaker on the field, that's all that matters."
January, 14, 2012
1/14/12
8:32
PM ET
GAINESVILLE, Fla. -- Florida quarterback
John Brantley
has begun his post-college career by signing with agent Joel Segal.
John Brantley Sr., said his son signed the contract on Friday. Florida running back
Chris Rainey
also signed with Segal last week. Segal has a history of signing former Florida players, including Percy Harvin, Mike Pouncey, Maurkice Pouncey and Ahmad Black. Some of Segal's other clients are Philadelphia Eagles quarterback Michael Vick, Tennessee running back Chris Johnson, and Miami running back Reggie Bush.
Brantley, who finished his career with 4,750 yards and 30 touchdowns passing, has been working out at the Coach Tom Shaw Training Program at ESPN's Wide World of Sports in Orlando. Brantley will play in the East-West Shrine Game at Tropicana Field in St. Petersburg, Fla., on Jan. 21.
"I've never seen him this excited," Brantley, Sr., said of his son. "He's excited about the [draft] process and the East-West Shrine Game. It's all good. He's finally healthy and ready to roll."
Final Verdict: Hired And Fired