Florida Gators:

Mark Herndon
April, 8, 2014
4/08/14
11:00
AM ET
GAINESVILLE, Fla. --
Kelvin Taylor
arrived at Florida last year with all the fanfare one would expect of an elite recruit who also happened to be the son of a school legend.
He didn't really factor into Florida's running game, however, until an injury ended the season of starter
Matt Jones
in Week 6.
[+] Enlarge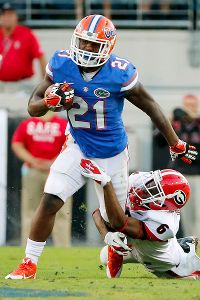 Sam Greenwood/Getty ImagesKelvin Taylor finished the 2013 season with 508 yards on 111 carries for the Gators.
It must have felt like an eternity for Taylor, who had been his team's focal point since he was an eighth-grader.
"I wasn't really discouraged," he said. "I was just like, 'Wow,
Mack Brown
and Matt Jones are out there.' I was just cheering those guys on and learning, trying to get better every day in practice, just trying to do something to impress the coach to put me out there. ...
"I just sat back and watched film, did things like that, took coaching and tried to get better every day."
When he got his chance, Taylor lived up to the hype. He showed that he was ready and was indeed as talented as his famous father, Fred Taylor.
Kelvin Taylor started four of the last five games, finished the season with 508 yards on 111 carries (4.6 yards per carry), and was named to the SEC's All-Freshman Team.
Florida coach Will Muschamp knew he had a special talent in Taylor, but the freshman's behavior when he wasn't playing made an ever bigger impression.
"Very humble, just a hard-working guy," Muschamp said. "He never said a whole lot. Kelvin's a team guy. He's been raised right. He's a really good young man. He's all about the team. He's all about the University of Florida. He knew there were some things in protection he needed to clean up moving forward. There was nothing that he wasn't willing to work at and didn't recognize.
"With good players, that's normally the deal. They realize there's things they need to work on, there's things they need to improve on and that's why he is a good player. He's talented, but he realizes the things he needs to do."
With Jones still recovering from a torn meniscus, Taylor has been the lead dog in a stable of running backs.
"We've got a lot of great running backs in there," he said. "Me, Mack Brown,
Mark [Herndon]
, Matt Jones,
[Adam] Lane
, all those guys,
Brandon Powell
, the freshman that just came in. I think all those guys will help us."
Taylor has worked hard to take the starting job and hold off his competition. A year after enrolling early and participating in his first spring practices, he has the look of a confident sophomore poised to take the next step.
"I feel like I got stronger and a whole lot faster working with Coach [Jeff] Dillman," he said. "All those guys pushing me everyday, working me harder. My lower body got a lot more powerful. ... Now I got a year underneath my belt, so I'm practicing well, playing faster, more used to the speed of the game."
Taylor's teammates, especially his backfield mates, say they can tell. They're expecting big things this fall.
"He's not really worrying or thinking too much," senior fullback
Hunter Joyer
said. "He's just going out, playing full speed."
It's helped that the entire offense has made a smooth transition to a new no-huddle, spread scheme that operates almost exclusively out of the shotgun formation.
"This offense is a little different for these guys in how they're getting the ball," Muschamp said. "We still run the counter. We still run the power. We still run the inside run. We still run the stretch. But their angles to the line of scrimmage are a little different, and I think they've all adjusted very well."
Even with just a couple of weeks of hands-on experience, Taylor and the rest of Florida's playmakers are loving the new offense. They're getting used to a much faster tempo and are thrilled to get the ball in open space.
That kind of success has bred confidence and even led to a bold prediction or two.
"This year we're going to bounce back," Taylor said. "We're going to have a great season. We're just ready. We can't wait till the first game of the season just to show the nation what we're working with this year."
October, 2, 2013
10/02/13
3:00
PM ET
Talk to Florida running back
Mack Brown
about the Gators' stagnant offense, and he can't help but snicker.
It might sound silly for him to laugh off a word used to describe an offense ranking 12th or worse in the SEC in scoring (23.8 points per game), passing (191.8) and total offense (403), but Brown sees more than just stats and believes the best is coming for Florida's offense.
[+] Enlarge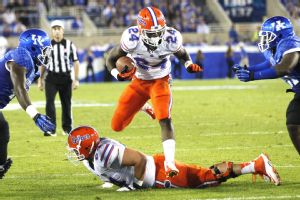 Mark Cornelison/Lexington Herald-Leader via Getty ImagesMatt Jones thinks Florida's run game is overlooked, but he expects that to change soon.
"If the running game is successful, then the passing game will be successful," said Brown, who is second for the the Gators with 245 rushing yards. "I feel like the passing game is going to be open for the next couple of games.
"I feel like if the running game is successful every game and we can control the clock, we can do what we planned for before the season: Be in Atlanta [for the SEC Championship Game] and then end the season in Cali. [for the BCS National Championship]."
Added starting running back
Matt Jones
: "We know as running backs that we have to contribute because without us, our offense kind of goes sideways."
For all the talk about the loss of starting quarterback
Jeff Driskel
and what
Tyler Murphy
has to do in his place, if Florida is going to play for an SEC title, it's going to have to strap onto the back of its running game just like last season.
This wasn't much of a passing team in 2012, and the first four games of the season have shown that 2013 won't be much different. Fans want to see more passing and more explosion, but the bottom line is that this offense is built to be a hard-nosed, physical running team first and will throw second … or even third.
Just look at Florida's ugly loss to Miami. People piled on Driskel for his three turnovers and indecision, but check out the running game. The Gators averaged just 2.8 yards per carry, the lowest average since gaining just 1.9 yards per carry in last season's 17-9 loss to Georgia.
"For us to be successful, we need a guy -- or guys -- to be able to make some big plays in the running [game] and hit some bug runs for us," coach Will Muschamp said.
Heading into Saturday's game against Arkansas, Muschamp might finally see the return of his feature back in Jones. Hampered by a viral infection during preseason camp, Jones said he didn't feel close to 100 percent until last week's Kentucky game, where he rushed for a career-high 176 yards and a touchdown on a career-high 28 carries.
"It felt good being the workhorse of the team," said Jones, who leads Florida with 272 rushing yards.
"I have a good feeling about it."
But he won't have to shoulder all of the responsibility. He has a solid sidekick in Brown and feels confident in walk-on surprise
Mark Herndon
and freshmen
Kelvin Taylor
and
Adam Lane
. While we've seen a majority of Brown and Jones (combing for 123 carries), Brown expects to see all five backs get more time.
"That's real dangerous," Brown said.
Even with Driskel under center last season, the Gators ranked third in the SEC in rushing, averaging 187.7 yards per game. With or without him this season, the running game was going to be the focus of this offense, as the Gators look for more consistency in the passing game.
In three games, Florida has rolled with its running game, but defenses are going to get better from here on out.
"When [defenses] aren't worried about playing the run, you have some issues offensively," Muschamp said. "Especially with how we're built at this point, we need to have teams respect our rushing game."
Florida has rushed for more than 200 yards in every game except the loss to Miami, but Jones still thinks this running game isn't getting its due. But he expects that will change. Couple his health with the depth in the backfield, and Jones expects to see the running game drain opponents as the season continues.
"We're kind of overlooked right now," he said. "We're kind of in the shadows, but we do wear a lot of teams down. They get really tired of tackling [the running backs].
"We wear people out when we need to."
August, 22, 2013
8/22/13
8:00
AM ET
GAINESVILLE, Fla. -- Florida's current situation at running back is nothing that anyone -- not even coach Will Muschamp -- would have ever imagined.
As the Gators begin preparations today for the Aug. 31 season opener against Toledo, the depth chart looks like this:
Projected starter
Matt Jones
has yet to practice because of a viral infection.
[+] Enlarge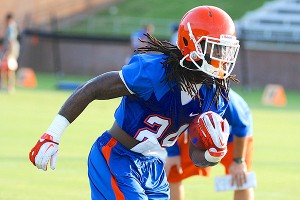 UF CommunicationsMatt Jones had an outstanding spring, but has yet to practice this fall.
The player who has been working with the first team is redshirt junior
Mack Brown
, who has just 40 career carries after signing with UF in 2010 as the nation's No. 4 running back.
The next player in line is sophomore
Mark Herndon
, a former walk-on special teams player who was awarded a scholarship on Tuesday.
Behind Herndon is redshirt sophomore
Valdez Showers
, who was a safety until last week.
Then you finally find
Kelvin Taylor
, the nation's No. 1 running back recruit and the son of former UF standout Fred Taylor, and fellow freshman
Adam Lane
.
It's that last part that's the most surprising considering there was some thought that Taylor, who enrolled in January, was going to beat out Jones for the starting job during the spring. Instead, he and Lane will get just scraps of playing time because they have yet to prove their reliability.
"No. 1 is ball security," Muschamp said. "You've got to take care of the football. That's the number one thing. They're very talented runners [but] so much more goes into it other than just running the football. … We like to make sure the quarterback is protected.
"They've got to take a step. Very pleased with both guys. They're going to help us this year. How much, their role, will depend on how they continue to develop. It's a long season."
Obviously the Gators want the 6-foot-2, 226-pound Jones back as soon as possible. He underwent blood work on Monday and was out on the practice field for 10-15 minutes on Tuesday but still has not been cleared to practice. Muschamp said UF is preparing to play the Rockets without Jones, who had a fantastic spring and was named a preseason All-SEC third-team selection.
"All I know is he is progressing very well," said Muschamp, who is scheduled to meet with the media on Friday and provide another update. "I get a daily update. He feels good. He's doing more and more every day from a workout standpoint, and that's all I know. We're playing it by ear and every day we have a staff meeting, we have an injury report and he [the trainer] gives me an update."
Brown has been a disappointment since he signed, mainly because he was hobbled by a hamstring injury and a broken ankle. His biggest contribution came in last season's game against Texas A&M when he carried the ball four times for 11 yards to help the Gators run out the final 3:13 and preserve a 20-17 victory.
Herndon is the surprise considering he has played in just six games (all last season) on special teams. He ran for 1,600 yards and 19 touchdowns as a high school senior and Muschamp mentioned him as a standout in the spring, but to be the No. 2 back heading into the season opener is not something for which Muschamp would have hoped.
"Coach Muschamp always talks about 'man down, man up' and I just felt like it was an opportunity," Herndon said. "It (Jones' viral infection) was really unfortunate. Me and Matt are teammates, so we talk and hang out. I was sad, but if he's down, I've got to step up because the team needs me.
"That's what I did. I tried to push Mack Brown. He's the No. 1, so I tried to push him and keep him on his toes. I didn't want anybody slacking."
Showers fell behind junior
Jabari Gorman
and redshirt freshman
Marcus Maye
in the battle for playing time at safety and was moved to running back last week. It's not unfamiliar territory because he was a running back and cornerback at Detroit Madison, where he rushed for 3,596 yards and 49 touchdowns in his final two seasons.
Showers was heavily involved with the first-team offense, especially in the passing game, during UF's open practices and Muschamp said the move is permanent.
"He's got great top-end speed. He's got really good ball skills," Muschamp said. "He can do a lot of different things for us as far as lining up at receiver, lining up in the backfield. A tough guy to account for a defensive coordinator. Been very pleased with what he's added for us offensively."
Muschamp will be more pleased when Jones returns. If that doesn't happen within the next day or so, it might be too late for Jones to be prepared to play against Toledo. His season debut might then have to come against Miami on Sept. 7.
"Any time you have something like this and you're in uncharted waters and you're uncertain of it, you always plan without the player," Muschamp said. "If the player's there, it's great. That's gravy for everybody."
August, 5, 2013
8/05/13
9:00
AM ET
GAINESVILLE, Fla. -- Florida coach Will Muschamp doesn't know when running back
Matt Jones
will return from a viral infection, but he's not too worried.
Not after the way
Mack Brown
performed in the spring and during the offseason. He might not be able to replace Jones, but he's certainly capable of being the Gators' top back -- even if Jones' absence were to bleed into the regular season.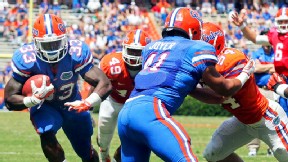 Phil Sears/USA TODAY SportsMack Brown, shown on a carry during the 2012 spring game, is No. 1 on the UF depth chart while Matt Jones recovers from a viral infection.
"I think Mack Brown's ready for the job, ready for his number to be called, and I'm looking forward to him having that opportunity," Muschamp said.
It's an opportunity that many people -- including Brown -- thought would have come much sooner.
He signed with Florida in 2010 as one of the nation's most talented players -- the No. 34 overall player in the ESPN rankings and the No. 4 running back -- but never quite lived up to that hype. Injuries (a broken ankle and a strained hamstring), a poor attitude and a less-than-intense work ethic limited the 5-foot-11, 213-pound redshirt junior to a combined 40 carries for 167 yards from 2010 to 2012.
The arrival of
Kelvin Taylor
, the nation's top-ranked running back and the son of former UF standout Fred Taylor, sparked Brown's turnaround in the spring. He beat out Taylor for the No. 2 spot behind the 6-2, 226-pound Jones, who had the coaches excited about his potential after a fantastic spring. But now Brown is the No. 1 back for the foreseeable future.
"I just want to show everybody [and] really prove to myself that I still can do what I know I can do," said Brown, who had 25 carries for 102 yards last season. "As far as talent-wise, last couple years I felt like I really couldn't run like I wanted to [because of injuries], so this whole offseason I just tried to get better and improve in every aspect of the game."
Behind Brown are Taylor, freshman
Adam Lane
, and walk-on
Mark Herndon
. None of them has carried the ball in a game.
That makes the timetable for Jones' return pretty significant, but Muschamp said there's no way to know when Jones will be able to practice. Jones had to be hospitalized and, according to teammates, has lost weight. Muschamp said Jones is recovering.
"We're in a little bit of uncharted waters here exactly about him coming back and when that's going to happen and how good of health he's going to be in," Muschamp said. "I don't know any of that right now. It's very uncertain. It's very frustrating, for him first of all, and for us a little bit.
"Matt's going to be fine. I do know that."
Regardless of which player is the Gators' top tailback, the goal is still the same: 1,000 yards. Mike Gillislee did it last season, making him just the eighth player in school history to rush for at least 1,000 yards. That has been a rare accomplishment in the program's 106-year history, but one that Muschamp said should become pretty standard from now on.
"That's not going to be the exception any more at Florida," Muschamp said. "That's going to be the norm.
"I'm excited moving forward with our style."
If Jones or Brown or Taylor or any of the other backs reach 1,000 yards, it will mark the first time in school history the Gators have had players rush for 1,000 yards in back-to-back seasons. Emmitt Smith and Errict Rhett each had two 1,000-yard seasons at Florida, but they each had a season with less than 1,000 yards in between.
SEC players featured on Kiper's Big Board
SEC SCOREBOARD
Thursday, 9/3
Saturday, 9/5