Florida Gators:

Jesse Palmer
March, 15, 2012
3/15/12
5:14
PM ET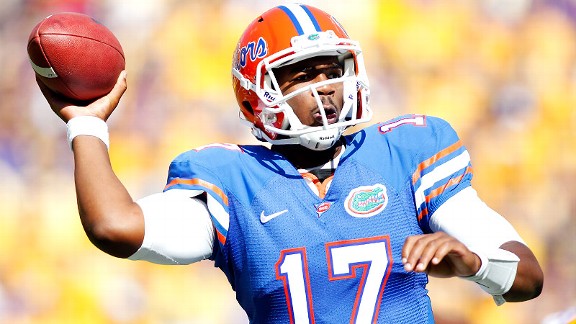 Tyler Kaufman/Icon SMIFlorida quarterback Jacoby Brissett made a light-hearted joke about his friendship with fellow QB Jeff Driskel after practice Thursday, but he was adamant that nothing this season would undermine the solid relationship.
GAINESVILLE, Fla. -- The relationship between Florida quarterbacks Jeff Driskel and Jacoby Brissett really wasn't tested last season when they were competing to be the backup to starter John Brantley.
It will be this spring, though, when the two are battling to succeed Brantley in the Gators' first quarterback competition since the 2003 season.
QB Driskel will make Gator nation proud
Muschamp knows criticism is part of being the QB at Florida but feels that Driskel will make the gator nation proud.
QB Driskel will make Gator nation proud
VIDEO PLAYLIST
FLORIDA FB RECRUITING SCORECARD
GCMorningDrive

Morning Drive


Best. Show. Photo. EVER. @BillyHo_Golf took the 'Gator Chomp' to the next level this morning! http://t.co/kj9uEN99Zy
about an hour ago

GatorZoneChris

Chris Harry


ICYM: A look back at the rivalry that really blossomed when Steve Spurrier returned to #Gators scene. Blog: http://t.co/iRqtKAkibb
about an hour ago

GatorZoneFB

GatorZone Football


#GatorMade RT @GatorZoneScott: #Gators secondary last visit to Knoxville: Roberson, Purifoy, Elam, Evans -- all 4 currently in NFL.
about 3 hours ago

GatorsNow

Florida Gators Now


Hecklers Beware: Humphries Pumped for Return to Lineup -- and Knoxville: http://t.co/tDmrncsJCn
about 4 hours ago

GatorZoneFB

GatorZone Football


From @GatorZoneScott -- Hecklers Beware: Humphries Pumped for Return to Lineup -- and Knoxville http://t.co/rmiieHWyJr
about 4 hours ago

GatorZoneFB

GatorZone Football


Coming up tonight on the @SECNetwork, check out a new episode of The Better Half: SEC Wives at 10:30 pm. #Gators
about 4 hours ago

onlygators

OnlyGators.com


Story: With coaches' full support, #Gators QB Jeff Driskel focused on improvement not criticism http://t.co/dZNzwqF2Ne
about 4 hours ago

GatorZoneScott

Scott Carter


#Gators starting secondary last visit to Knoxville: Roberson, Purifoy, Elam, Evans -- all four currently in NFL. Not too shabby.
about 5 hours ago

APMarkLong

Mark Long


Jaguars still have no expectations RT @WBTV_Sports: Jaguars: Suspended Blackmon 'doing very well': http://t.co/tPLaPBTaz4
about 5 hours ago

GatorZoneFB

GatorZone Football


.@GatorVisionTV with another cool feature, this time on the #GatorWalk tradition.http://t.co/PbNUQuiJhS
about 5 hours ago

onlygators

OnlyGators.com


@osgators @GoaskBK Too early for that, yes -- and he's really an NFL guy -- will have NFL opportunities once again this offseason.
about 5 hours ago

GatorZoneScott

Scott Carter


All the broadcast info you'll need for #Gators-#Vols: http://t.co/GooLLy4FSn
about 5 hours ago

GatorZoneFB

GatorZone Football


#Gator @jelanijenkins3 on http://t.co/JYExA1Ibe7's Top 10 Surprises thus far of the @NFL season. #GatorMadehttp://t.co/seVGuOdpcP
about 6 hours ago

ScoutFlorida

Fightin' Gators


#Gators Questions for the enemy; Florida - Tennessee - After over 7 years of service as sports editor of th... http://t.co/OBkUFhc31g
about 6 hours ago

TreasureYou

Pat Smith


Congrats to @sydliyah on the release of her new book!! Pick up your copy of "Hope for Her" today!! http://t.co/b7anxT7vye
about 6 hours ago

GatorZoneFB

GatorZone Football


Good feature from @GatorVisionTV on offensive coord. @CoachKurtRoper, who spent time at Tennessee as an assistant.http://t.co/OFkfV7tQU9
about 7 hours ago

onlygators

OnlyGators.com


WATCH: #Gators golfers Horschel (holds an alligator) & DiMarco (Gator Chomps) on TV this AM http://t.co/ojjQHys9KB | http://t.co/W0siey9tNi
about 7 hours ago

onlygators

OnlyGators.com


Florida #Gators bball will face the VCU #Rams in a closed "secret" scrimmage, per Shaka Smart - http://t.co/ojjQHys9KB
about 7 hours ago

GatorZoneChris

Chris Harry


#Gators-#Vols rivalry took on new meaning w/arrival of certain 'Ball Coach.' History lesson time. Blog: http://t.co/iRqtKAkibb
about 7 hours ago

GatorZoneScott

Scott Carter


RT @GCMorningDrive: .@BillyHo_Golf and family in studio AP today! http://t.co/yD1uPZpRbG
about 7 hours ago

onlygators

OnlyGators.com


ICYMI: Today's TSL on our 5th Anniversary, #Gators QB Treon Harris not ready for prime time, Trader Joe's & Seinfeld: http://t.co/0E6b69Nnaf
about 7 hours ago

ScoutFlorida

Fightin' Gators


#Gators Jones sees room to run in UT defense - Florida running back Matt Jones returns to an important stad... http://t.co/rntkA1K8DQ
about 7 hours ago

kkm999

Kinsley Momberger


Billy Horschel Gets a Gator Surprise on Morning Drive | Golf Channel http://t.co/4mWLTn8WxS#gatornation #itsgreatuf
about 7 hours ago

onlygators

OnlyGators.com


RT @Mark_Schlabach: Trevor Matich says Jeff Driskel is one of the best players in the country -- at tight end
about 7 hours ago

GatorZoneScott

Scott Carter


Good headline in Orlando Sentinel after '96 #Gators-#Vols game at Neyland... http://t.co/mgp1VXeFHp
about 7 hours ago

GatorZoneNews

Florida Gators


@Emily_4797 Our @UFJSchool is second to none. Glad you enjoyed your visit! #ItsGreatUF
about 7 hours ago

EmmittSmith22

Emmitt Smith


THIS WEEKEND!! Come meet me in #LasVegas @TristarVegas, @FODVenetian & @FODCaesars! Info: http://t.co/dXKagjbeQy http://t.co/XzMDZDDn4O
about 7 hours ago

SidStrausburg

Sidney Strausburg


@BigPatYoung4 in the back doing the Shmoney dance. I laughed so hard for at least 5 minutes. @PelicansNBA http://t.co/mgTww9wTqz
about 7 hours ago

GatorZoneFB

GatorZone Football


Broadcast Info: Florida at Tennessee - #UFvsTN http://t.co/DodeUbwdB5
about 7 hours ago

GatorZoneScott

Scott Carter


I do remember this SI cover from peak of #Gators-#Vols rivalry... http://t.co/Rom5RYs7Mh
about 7 hours ago

GatorZoneScott

Scott Carter


Had forgotten about that Spurrier-Majors match being broken up by Ray Goff. Funny.
about 7 hours ago

GatorZoneScott

Scott Carter


#Gators-Tennessee rivalry took on new meaning with arrival of a certain 'ball coach' writes @GatorZoneChris: http://t.co/IsRVxVbJR3
about 8 hours ago

GatorZoneVB

Gator Volleyball


No. 9 #Gators Ready for SEC Road Swing at LSU, Mississippi State http://t.co/Jfto1spnpq
about 8 hours ago

GatorZoneChris

Chris Harry


Some new hardware in #Gators bball trophy case. http://t.co/tVpm79B7Eo
about 8 hours ago

GatorVisionTV

GatorVision


VIDEO: Some @GatorZoneFB players (Garcia, Davis & Humphries) preview the #UFvsTN matchup & more http://t.co/26XGmWlNqN
about 8 hours ago

GatorsNow

Florida Gators Now


No. 9 Gators Ready for SEC Road Swing at LSU, Mississippi State: After kicking off the 2014 SEC schedule an un... http://t.co/bBjHr07emy
about 8 hours ago

Gator_sports

Gatorsports.com


UF secondary's simple plan http://t.co/eV6TSYs61z
about 8 hours ago

JeffBarlisESPN

Jeff Barlis


Okayyyy! RT @LilJon #ThirdDownForWhat @Vol_Football #BEATFLORIDA #YEAHHHH
about 9 hours ago

ScoutFlorida

Fightin' Gators


#Gators Durkin simplifying the secondary - The Florida coaches thought the inexperienced secondary could ha... http://t.co/XHvTiQUu20
about 9 hours ago

OS_Recruiting

Sentinel Recruiting


Orlando CB Shelton Lewis of East River commits to #Purdue #Boilermakers http://t.co/xXU50XODHm
about 10 hours ago

ScoutFlorida

Fightin' Gators


#Gators Gators injury report for Vols game - While the Gators try to shake off some bad play from last Satu... http://t.co/ykS22NmiRZ
about 10 hours ago

GatorVisionTV

GatorVision


VIDEO: @GatorZoneFB defensive coordinator @CoachDurkin previews the #UFvsTN game & more http://t.co/7Za3bzEDJI
about 10 hours ago

APMarkLong

Mark Long


Jaguars say CB Gratz, WR Lee, WR Shorts and TE Shuler won't practice today
about 10 hours ago

onlygators

OnlyGators.com


NEW The Silver Lining on our 5th anniversary(!), #Gators QB Treon Harris, Trader Joe's & Seinfeld http://t.co/vmKtfzi2MC
about 10 hours ago

APMarkLong

Mark Long


Jaguars OC Jedd Fisch on QB Blake Bortles: "It's uncanny how calm and confident he is on the sideline and during the game."
about 10 hours ago

EmmittSmith22

Emmitt Smith


Good friend @sydliyah's new book, "Hope for Her," came out today. Check it out & see what all the buzz is about: http://t.co/K9a9Eceo91
about 11 hours ago

Gator_sports

Gatorsports.com


UF's Powell out for Vols game http://t.co/3gBezevXpo
about 11 hours ago

APMarkLong

Mark Long


Jaguars have ruled out WR Marqise Lee vs Steelers
about 11 hours ago

GatorZoneScott

Scott Carter


Carter's Corner: #Gators RB Powell out vs. Tennessee, Muschamp on #Vols, more tidbits from SEC media teleconference: http://t.co/fNLUhfFa2G
about 11 hours ago

APMarkLong

Mark Long


Jaguars QB Blake Bortles on what a good performance will look like: "you'll know because there won't be any incompletions."
about 11 hours ago

EmmittSmith22

Emmitt Smith


Good friend @SydneyAaliyah's new book, "Hope for Her," came out today. Check it out & see what all the buzz is about http://t.co/i1lCZszN33
about 11 hours ago

GatorZoneScott

Scott Carter


"I believe they have two of the best players in the country at their respective positions in Hargreaves and Fowler." Accurate Jones quote
about 11 hours ago

onlygators

OnlyGators.com


RT @LandonWatnick: Butch Jones called Hargreaves and Fowler the best players at their respective positions in the country.
about 11 hours ago

GatorZoneScott

Scott Carter


"They're as talented as any team we faced.'' -- Jones on #Gators, says he considers Fowler and Hargreaves elite talents
about 11 hours ago

GatorZoneScott

Scott Carter


"Our football team is going through the process of learning how to win ... how do you close games out?" -- Vols coach Butch Jones
about 12 hours ago

onlygators

OnlyGators.com


41st total O (462.3), 23rd scoring O (40.7 ppg), 49th pass O (261.3), 40th rush O (201.0) RT @Gator_Chompz: what are the stats on offense?
about 12 hours ago

onlygators

OnlyGators.com


Florida is 83rd nationally in total D (415.7 ypg), 110th in passing D (287.7 ypg), 70th in ypc (11.7), 45th in rushing D (128.0 ypg).
about 12 hours ago

JeffBarlisESPN

Jeff Barlis


Muschamp: #Gators will be without starting DT Leon Orr (knee) & backup RB Brandon Powell (hamstring) vs. #Vols. LB Mike Taylor questionable.
about 12 hours ago

onlygators

OnlyGators.com


Muschamp says "total yards" is not reflective of how teams play defense but rather yards per pass, yards per rush. #Gators
about 12 hours ago

GatorZoneScott

Scott Carter


"I think we're confident. We've had good prep in the open week ... through your preparation builds confidence." -- Muschamp
about 12 hours ago

onlygators

OnlyGators.com


"Well, I think we're confident. We've had good prep. ... Preparation builds confidence in what you do." - Muschamp on #Gators mindset
about 12 hours ago

GatorZoneScott

Scott Carter


"We are looking at different combinations of guys.'' -- Muschamp on potential changes in secondary.
about 12 hours ago

GatorZoneScott

Scott Carter


"Secondary. We haven't played very well.'' -- Muschamp when asked why defense's numbers not as strong as in past.
about 12 hours ago

onlygators

OnlyGators.com


Muschamp said the #Gators have played well up front on defense, need more pressure but secondary has simply "not played well enough."
about 12 hours ago

onlygators

OnlyGators.com


This moment (watch: http://t.co/fFWj88rzMw) stands out to Muschamp when remembering the Florida-Tennessee rivalry.
about 12 hours ago

GatorZoneScott

Scott Carter


"It was good for college football and good for both universities.'' -- Muschamp on UF-Tenn. rivalry in '90s
about 12 hours ago

GatorZoneScott

Scott Carter


"As a defensive back you always like seeing something like that.'' -- Muschamp on former #Gators DB Lawrence Wright's Tennessee hit
about 12 hours ago

RobbieAndreu

Robbie Andreu


Muschamp said Brandon Powell is out Saturday. Michael Taylor practiced some yesterday. D.J. Humphries "looked great yesterday."
about 12 hours ago

GatorZoneScott

Scott Carter


"We've got to do a better job as an entire offense excecuting." -- Muschamp, who says he expects Driskel's numbers to improve
about 12 hours ago

onlygators

OnlyGators.com


On Driskel's struggles: "He's forced some balls. ... He's had a bunch of drops. We've had 10+ drops at WR position. ... We've had opps."
about 12 hours ago

GatorZoneScott

Scott Carter


He adds that LB Michael Taylor (knee) practiced Tuesday and remains questionable.
about 12 hours ago

onlygators

OnlyGators.com


Muschamp on SEC teleconference: Powell (hamstring) now OUT Saturday, Taylor (knee) remains Questionable. Humphries "looked great yesterday."
about 12 hours ago

GatorZoneScott

Scott Carter


Muschamp says RB Brandon Powell (hamstring) will be out Saturday at Tennessee.
about 12 hours ago

GatorZoneScott

Scott Carter


#Gators coach Will Muschamp coming up shortly on SEC Media Teleconference.
about 12 hours ago

GatorsNow

Florida Gators Now


Broadcast Info: Florida at Tennessee - #UFvsTN: The Florida Football team is back in action this week, traveli... http://t.co/vJEBcgFhpq
about 12 hours ago

Percy_Harvin

Percy Harvin


Enter to win an autographed football jersey! Visit my website for details http://t.co/CrRPg9RKMC #nomercypercy
about 12 hours ago

Percy_Harvin

Percy Harvin


Only three days left in the Percy Harvin Gear Contest! Will you be our winner? http://t.co/CrRPg9RKMC #nomercypercy
about 12 hours ago

GatorZoneFB

GatorZone Football


Broadcast Info: Florida at Tennessee - #UFvsTN http://t.co/DodeUbwdB5
about 12 hours ago

onlygators

OnlyGators.com


Here's Erik Murphy in #Celtics green (his favorite team). "It was a cool feeling coming back home." http://t.co/IOsgNrFPsf
about 12 hours ago

onlygators

OnlyGators.com


A note on Florida within. RT @JonSolomonCBS: How college football is trying to keep its next generation of fans. http://t.co/w9oJM6HVfb
about 13 hours ago

ufalumni

UF Alumni


Who's ready for Saturday? #BeatTheVols #UFvsTN #ItsGreatUF http://t.co/St5K2TOFd3
about 13 hours ago

GatorZoneScott

Scott Carter


VIDEO: #Gators DB Jabari Gorman, RB Matt Jones, DL Dante Fowler Jr. and CB Vernon Hargreaves III: http://t.co/ucfUFNhOKP
about 13 hours ago

onlygators

OnlyGators.com


Roper: "We have 100% confidence in Jeff."Muschamp: "He'll make the Gator Nation proud he's their QB."http://t.co/aDMS7GS6MP
about 13 hours ago

GatorZoneFB

GatorZone Football


.@SECNetwork to air 3-part series on nine coaches' wives in the SEC, beginning tonight at 10:30 p.m.http://t.co/DhJ6JKLNal
about 13 hours ago

GatorZoneScott

Scott Carter


thanks @tonyagolini
about 14 hours ago

onlygators

OnlyGators.com


Story: With coaches' support, Florida #Gators QB Jeff Driskel focused on improvement not criticism http://t.co/aDMS7GS6MP
about 14 hours ago

GatorZoneScott

Scott Carter


A Gator in Vol Nation...any suggestions? MT @BlueandOrangeKT: @GatorZoneScott any good internet or Satellite station for Gator talk?!?
about 14 hours ago

GatorsNow

Florida Gators Now


SEC Network to Air Three-Part Series on Nine Coaches' Wives in the SEC: On Saturday, Sept. 27, College GameDay... http://t.co/bPodhjf6jg
about 14 hours ago

GatorZoneScott

Scott Carter


Waldo to disband its police department...does this mean I get a refund on that ticket from 1995? http://t.co/WueBXxiIsS
about 14 hours ago

ZachAbolverdi

Zach Abolverdi


Former #Gators WR Louis Murphy making most of opportunity with #Bucs | http://t.co/p8sQn2peIv via @Gator_sports http://t.co/VX8GKlZS4q
about 14 hours ago

GatorZoneScott

Scott Carter


#Gators swim coach Gregg Troy and former #UF standout Martin Zubero to be inducted Sunday into Florida Swimming HOF: http://t.co/JmTfcCJjUz
about 14 hours ago

GatorZoneScott

Scott Carter


If you just like to read great stories, here is one — Who Killed Bugsy Siegel? — http://t.co/nBzyjFHrov
about 18 hours ago

ScoutFlorida

Fightin' Gators


#Gators Franz Beard's Thoughts of the Day Oct. 1 - A few thoughts to jump start your Wednesday morning... http://t.co/YOsZxln3tO
about 21 hours ago

ScoutFlorida

Fightin' Gators


#Gators Video: Gators getting things straight - Florida head coach Will Muschamp said there will be changes... http://t.co/G5aI2LQKWk
about 22 hours ago

Gator_sports

Gatorsports.com


SEC West features three top-25 matchups http://t.co/kNbwxKzQws
1 day ago

GatorZoneSwimDv

Gator Swimming


Don't forget to tune into @CBSSportsNet to watch @WeNeedToTalk at 10 pm with #GatorGreat @DaraTorres
1 day ago

TimTebow

Tim Tebow


Thx 2 my boys @RobbyTebow @KRalbers @brad_judah @bradbutler24 4 work 2day & Happy Bday BButler! #fortheloveofthegame http://t.co/7gvSvBHNe1
1 day ago

GatorZoneScott

Scott Carter


#Gators OC Kurt Roper focused on boosting production in passing game: http://t.co/1YBiE0oRcf
1 day ago

GatorsNow

Florida Gators Now


Troy and Zubero to be inducted into the Florida Swimming Hall of Fame: University of Florida Head Coach Gregg ... http://t.co/KEbIEdI8fR
1 day ago

GatorZoneFB

GatorZone Football


From @GatorZoneScott -- Roper Focused on Boosting Production in Passing Game http://t.co/Ah7jQAeMdD
1 day ago
BLOG ARCHIVE:
CATEGORIES: