Florida Gators:

Jeremy Brown
June, 4, 2013
6/04/13
1:00
PM ET
During the summer, GatorNation will analyze each of the scholarship players on the Florida roster -- excluding the Gators' 2013 recruiting class -- in our Gator Breakdown series. Starting with No. 1 Quinton Dunbar, we will go through the roster numerically, finishing with No. 97 Brad Phillips.
No. 8 Jeremy Brown
January, 1, 2013
1/01/13
8:00
AM ET
Editor's note: Every Tuesday and Thursday through Jan. 31, 2013, GatorNation will break down each position. We'll look at 2013, of course, but also try and give you a peek beyond next season, too. Today is cornerback. We will profile safeties on Jan. 3.
CORNERBACK
Two-deep:
The Gators have a three-man rotation of sophomore
Marcus Roberson
, junior
Jaylen Watkins
and sophomore
Loucheiz Purifoy
. Freshman
Brian Poole
has gotten more playing time as the season has progressed. That likely wouldn't have happened, however, had junior
Cody Riggs
not missed the final 10 games of the season with a broken bone in his foot. Roberson leads the team with 12 pass breakups and had two interceptions. Watkins has three interceptions and eight pass breakups, while Purifoy has five pass breakups and three forced fumbles.
To continue reading this article you must be an Insider
September, 9, 2012
9/09/12
2:54
PM ET
COLLEGE STATION, Texas -- All the ingredients for a disaster were certainly in place.
A quarterback making his first start, on the road, in a charged atmosphere, in a nationally televised game. It could have been a debacle, the type of performance that can damage a young player's psyche and fill him full of doubt. Only nobody told
Jeff Driskel
.
Florida's sophomore quarterback stared all of those things down and turned in a rock-solid performance in the Gators' 20-17 victory over Texas A&M in front of 87,114 at Kyle Field on Saturday afternoon. Driskel not only beat the Aggies in their first Southeastern Conference game, he also validated Will Muschamp's decision to make him the Gators' starter over
Jacoby Brissett
-- which certainly should be comforting since UF has another tough road game next weekend at Tennessee.
Driskel completed 13 of 16 passes for 162 yards and ran 14 times for 8 yards -- including a big gain in the fourth quarter during the Gators' game-sealing drive -- to lead Florida to its first victory over an SEC Western Division opponent since Oct. 24, 2009. One of his three incompletions was a drop of what should have been a touchdown pass. He was sacked eight times, but he did not turn the ball over.
"They asked me after the game, 'What'd you learn about Jeff Driskel?' I said, 'Nothing. I knew it going in the game,' " Muschamp said. "I didn't learn anything that I didn't already know. I mean that as a very big compliment to him. I didn't learn anything today. I knew it."
What Muschamp knew is that the 6-foot-3, 237-pound Driskel gives the 18th-ranked Gators (2-0, 1-0 SEC) the best chance to win games. UF's offensive line is not yet the dominant unit that Muschamp wants and the Gators' receivers have been woeful underachievers for two-plus seasons. Driskel's mobility, both as a scrambler and a runner, adds an extra element to an offense that has little big-play capability.
He showed how dangerous he can be late in the third and fourth quarters. Driskel ran for 14 yards on a third-and-5 play and helped extend a Gators drive four more plays. Though UF eventually punted, the Gators were able to pin the Aggies inside their own 10-yard line. Late in the fourth quarter Driskel broke free for a 21-yard run to the Texas A&M 34-yard line, a play that sealed UF's victory with about 1:30 remaining.
"So proud of him," left guard
James Wilson
said. "He did a great job. ... (Driskel was) cool, calm and collected. He told the O-line to keep blocking and make it happen."
Driskel's performance certainly wasn't perfect. He held on to the ball too long several times, which played a role in the eight sacks, and should have thrown it away in several instances instead of taking a sack. But that's part of the growing process of a young quarterback. His next challenge comes Saturday at Tennessee. Neyland Stadium holds more than 100,000 people and it can be an intimidating place to play, but Driskel has already proved he can handle hostile environments.
Plus, his confidence continues to grow the more he plays.
"Any game experience is going to get you more comfortable," Driskel said.
It looks like he's starting to settle into a pretty good groove.
Three observations
The Gators obviously don't want to lose any starters, but if there's an area where they can weather it more than any other it's in the secondary. S Josh Evans suffered a right shoulder injury against the Aggies and his status for the UT game is unclear. But the Gators are deep in the secondary, especially with the return of CB Jeremy Brown. Valdez Showers and Jabari Gorman filled in ably for Evans after he went down and UF also can move CB Cody Riggs to safety.
WR Solomon Patton has finally found a role on the team: He's the jet sweep guy. Percy Harvin ran it to perfection during his career and while Patton is not at that level, he's had success with the play. He ran it three times for 31 yards against Texas A&M and has run it four times for 37 yards this season.
To continue reading this article you must be an Insider
September, 5, 2012
9/05/12
11:58
AM ET
GAINESVILLE, Fla. -- Florida cornerback
Jeremy Brown
, who has missed three seasons because of back and knee injuries, will be on the field Saturday for the Gators at Texas A&M, UF coach Will Muschamp said Wednesday.
[+] Enlarge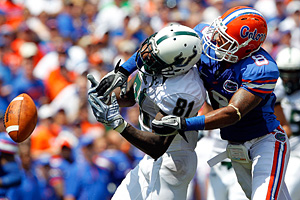 Sam Greenwood/Getty ImagesRedshirt junior Jeremy Brown started 10 games at corner in 2010.
The 5-foot-10, 181-pound Brown missed the 2011 season with a knee injury but was expected to be healthy for the 2012 season. However, he suffered a wrist injury during an offseason workout and needed surgery. He was limited throughout August and sat out the season opener against Bowling Green.
"Jeremy is ready to go," Muschamp said. "[He] was actually really good [Tuesday] moving around. He will play in the game."
Brown, a redshirt junior, missed the 2008 and 2009 seasons with back problems but started 10 games in 2010. He missed the final two games of the regular season because of a hamstring injury but played in the Outback Bowl against Penn State. He had 15 tackles and three interceptions that season.
August, 28, 2012
8/28/12
1:35
PM ET
Depth charts for all 14 SEC teams are out, so let's take a look at them.
I'll handle the Eastern Division, while Chris takes a look at the West later today.
I've added some notes of my own for each team:

FLORIDA
Depth chart
The first thing you notice is that "Or" comes up a few times. The quarterback spot is still up for grabs, as sophomores Jacoby Brissett and Jeff Driskel will play by quarters against Bowling Green Saturday. The "X" receiver spot has three names by it with Frankie Hammond, Latroy Pittman and Andre Debose competing for that spot. Everyone is still waiting for Debose to be more of a complete player.
Both corner spots might appear to be up for grabs, but it would be a shocker if sophomores Marcus Roberson and Loucheiz Purifoy didn't start. Roberson has the talent to be an All-SEC player at some point, while the staff thinks Purifoy is an extremely athletic player. Also, seeing Antonio Morrison behind Jelani Jenkins is impressive. He's been solid since arriving this spring.
You don't see De'Ante Saunders on there at free safety. Will Muschamp said he's battling a hamstring injury and will be out two weeks. Corner Jeremy Brown is also battling a wrist injury and isn't on the two-deep, either.
August, 27, 2012
8/27/12
2:15
PM ET
GAINESVILLE, Fla. -- Florida quarterback
Jeff Driskel
has been cleared medically to play in Saturday's season opener against Bowling Green, but it's still unclear when the sophomore will get on the field.
[+] Enlarge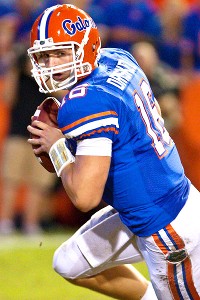 Rob Foldy/Icon SMIIt has not been decided if Jeff Driskel (above) or Jacoby Brissett will start against Bowling Green on Saturday.
Coach Will Muschamp has come up with at least the beginning of a plan for rotating Driskel and
Jacoby Brissett
. He said Monday that each sophomore quarterback would play a quarter before the staff determines the plan for the second half.
Muschamp said he and offensive coordinator Brent Pease have not yet decided which quarterback would start and whether one or both would play in the second half.
"We'll evaluate it at halftime," Muschamp said.
Muschamp said Friday morning that neither player was able to distance himself from the other throughout preseason practices and both would play against the Falcons.
Muschamp said he knew following the Gators' second scrimmage (Aug. 17) that he would likely play both quarterbacks in the season opener. Both sophomores handled themselves well in the situational work, such as one-minute drill, third-down conversions, and goal line work, Muschamp said, and picking one as the starter wouldn't be fair.
Both players struggled last season in place of injured starter John Brantley. Driskel completed 47.1 percent of his passes for 148 yards and two interceptions. Brissett completed 46.2 percent of his passes for 206 yards and two touchdowns with four interceptions.
August, 10, 2012
8/10/12
1:17
PM ET
GAINESVILLE, Fla. -- Florida has lost a pair of reserve defensive linemen to knee injuries this week, and at least one is definitely out for the season.
UF coach Will Muschamp said Friday that senior defensive tackle
Nick Alajajian
suffered a fractured right knee and will miss the 2012 season and redshirt junior defensive end
Kedric Johnson
suffered a dislocated left knee and will miss a significant period of time. Both players were involved in special teams and haven't made any impact on defense, but losing those two does hurt the Gators in terms of veteran depth.
Alajajian (6-foot-4, 285 pounds) was a reserve offensive lineman for his first three seasons but was moved to defensive tackle in the spring. Johnson has just nine tackles and one sack in 25 career games.
July, 20, 2012
7/20/12
8:00
AM ET
ESPN's GatorNation is previewing each position leading up to the start of the season with a short video. Each Friday until the season kicks off, Michael DiRocco and Jeff Barlis will analyze a position group, tell you who is starting and why, and provide a breakdown of the depth at the position. This week it's the secondary.
The starters:
CB
Marcus Roberson
(So.), S
Matt Elam
(Jr.), S
Josh Evans
(Sr.), CB
Loucheiz Purifoy
(So.)
The backups:
CB
Jaylen Watkins
(Jr.), CB
Jeremy Brown
(RJr.), S
Cody Riggs
(Jr.), S
Jabari Gorman
(So.), S
De'Ante Saunders
(So.), S
Valdez Showers
(RFr.), DB
Willie Bailey
(Fr.), CB
Brian Poole
(Fr.), S
Rhaheim Ledbetter
(Fr.), S
Marcus Maye
(Fr.)
Comment:
The secondary is loaded with a good mix of young and veteran talent. Elam is a potential first-round NFL draft pick. Roberson started 10 games last season before going down with a neck injury. Purifoy had a great spring and pairs with Roberson to give the Gators a pair of big corners. Watkins, Saunders and Riggs all started games last season. Gorman had a good spring and led all tacklers in the spring game. Plenty of opportunities on special teams for the other freshmen.
July, 18, 2012
7/18/12
12:06
PM ET
HOOVER, Ala. -- Florida coach Will Muschamp maintains his belief that buck linebacker
Ronald Powell
will get on the field in 2012 despite suffering a torn ACL during the Gators' spring game.
"He'll play for us this year," Muschamp said Wednesday at SEC Media Days. "When that will be, I don't know yet. There's nobody that's worked harder or handled the situation better or more mature than Ronald has."
[+] Enlarge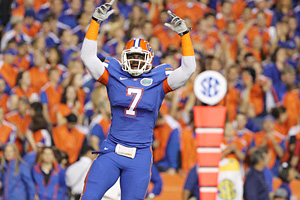 Kim Klement/US PresswireFlorida DE/LB Ronald Powell tore his ACL after a standout spring.
Muschamp said Powell, who had surgery on April 23, has been cleared for weight-room activities.
"He's squatting, doing everything," Muschamp said. "(He has) been cleared for straight-ahead running."
Other injury updates:
Cornerback
Jeremy Brown
just can't seem to catch a break. The redshirt junior, who has missed three seasons because of back and shoulder injuries, underwent surgery on Wednesday to repair a fractured wrist. Muschamp said Brown, who started 10 games in 2011, should be cleared for full contact by Sept. 1.
Receiver
Stephen Alli
is still recovering from spring surgery to repair a stress fracture in his leg. Muschamp said Alli should be cleared by the middle of August.
Freshman safety
Marcus Maye
is still recovering from surgery to repair a torn meniscus in his knee. Muschamp said Maye should be cleared by the first part of camp.
July, 4, 2012
7/04/12
8:00
AM ET
ESPN's GatorNation brings you the 30 things you need to know about Florida's upcoming 2012 season. For 30 weekdays we'll preview games, talk about trends, spotlight players and positions, and give you pretty much everything you need to know to be ready for the season before the Sept. 1 opener against Bowling Green.
GAINESVILLE, Fla. -- Florida is one of only five SEC programs to make the top 25 in ESPN's team recruiting rankings in each of the past five seasons.
In fact, the Gators finished in the top five in four of those five years. But somehow that hasn't translated to consistent on-field success.
Florida lost just two games combined in 2008 and 2009, but very few of the members of those signing classes contributed significantly -- which shows how good UF's roster was in those two seasons. Since then, however, the Gators are a combined 15-11, and while some of those highly touted signees have turned into very good players, UF has slipped from its spot among the national elite.
But things are looking brighter entering 2012. The core of this year's team is comprised of members of the 2009 and 2010 classes, and several members of the 2011 class appear to be ready to become significant contributors or are on the verge of being elite players.
Here's a look at those signing classes (see chart below):
April, 19, 2012
4/19/12
3:08
PM ET
GAINESVILLE, Fla. -- Some extra thoughts and notes on my time in Gainesville from last weekend:
I'll start things off by talking about defensive end/Buck Ronald Powell, who will be out four to six months after tearing his ACL in the Orange and Blue Debut. Before the injury, most around Florida's program felt Powell was having the best spring of any of the defenders. After two seasons in which people expected more from Powell, he really turned it up this spring. He was more aggressive, tougher and caused more headaches for Florida's offense than he had during any other time. Coach Will Muschamp might have found that dangerous pass rushers he needs in his defense. Now, Muschamp must turn elsewhere and things will start with OLB Lerentee McCray. He was out with an injury this spring, but played the Buck in place of Powell at times last fall. He made his biggest jump as a player last season and is one player Muschamp and defensive coordinator Dan Quinn are especially excited about.
True freshmen Dante Fowler Jr. and Jonathan Bullard will get chances to play at the Buck, too, but keep an eye on Neiron Ball. He didn't play last season because of the arteriovenous malformation found in his brain in February of 2011. There has been no word yet if Ball could resume playing for the Gators, but if he remains healthy and the SEC clears him, Ball could get a shot at play at the Buck.
March, 14, 2012
3/14/12
3:30
PM ET
Schedule:
Florida opens spring practice Wednesday afternoon and concludes on April 7 with the Orange & Blue Debut, presented by Sunniland, at 1 p.m. ET in Ben Hill Griffin Stadium. In conjunction with Florida Football's Annual Coaches Clinic, practice will open to the public twice -- March 16 and March 17.
What's new:
Florida welcomes in new offensive coordinator Brent Pease, who left Boise State, as its new offensive coordinator after Charlie Weis left to become the head coach at Kansas. Florida also hired former Utah offensive line coach Tim Davis to replace Frank Verducci, while Jeff Dillman replaces Mickey Marrotti as the Gators' strength and conditioning coach.

On the mend:
Florida will be down a few players this spring. Defensive tackle
Dominique Easley
is out while he recovers from an ACL injury he suffered at the end of the regular season. Cornerback
Jeremy Brown
is out with a knee injury that kept him out all of the 2011 season. Offensive linemen
Ian Silberman
,
Tommy Jordan
,
Kyle Koehne
and
Cole Gilliam
, along with linebacker
Lerentee McCray
and defensive end
Kedric Johnson
, are all out with shoulder injuries. Cornerback
Marcus Roberson
(neck) was cleared for non-contact drills. Linebacker Neiron Ball, who was diagnosed with arteriovenous malformation after a blood vessel burst in his head before the 2011 season, has been cleared to resume physical activity, but not for practice.
On the move:
Redshirt senior
Omarius Hines
is moving from wide receiver to cross train at running back and tight end. Hines has always been some sort of a hybrid player, recording 41 career receptions for 559 yards and two touchdowns and carrying the ball 13 times for 164 rushing yards and two more scores.
Nick Alajajian
is moving from offensive tackle to defensive tackle to provide depth with Easley out.
March, 13, 2012
3/13/12
8:00
PM ET
GAINESVILLE, Fla. -- Florida offensive coordinator Brent Pease doesn't have a magic formula to fix an offense that struggled in 2011 and finished 105th nationally.
But he does have five criteria that he believes are keys to any successful offense, and if the Gators master these five things they'll be better in 2012 -- a pounding running game, an explosive passing game, creativity, eliminate turnovers and great quarterback play.
"We want to get more physical up front, we want to develop a little bit better tempo, we want to eliminate some turnovers, a lot of turnovers, and put ourselves in better situations," Pease said Tuesday. "We're not going to run anything different. People run power, we're going to run power; they run zone, we're going to run zone. No one is reinventing that part of it."
Pease comes to UF after spending the past six seasons at Boise State. The first five were as receivers coach, but Pease was the offensive coordinator in 2011 and helped the Broncos finish tied for 10th nationally in total offense (481.3 yards per game). He's being charged with fixing a UF offense that averaged 328.7 yards of total offense per game and just 185.7 yards per game passing. The Gators haven't averaged that few yards of total offense since 1988 (316.0). UF averaged 184.3 yards per game passing in 2010, but that's the fewest since 1989 (148.0).
His first task is to find a quarterback.
Jacoby Brissett
and
Jeff Driskel
will share reps this spring, but UF coach Will Muschamp said there is no timetable to naming a starter. They both could play in the fall, Muschamp said, which is not what he would prefer but is willing to do if neither separates himself in the competition.
"Not particularly in favor of that," Pease said. " I'd rather see one kid step forward and take charge and be productive and let it be his team. But if that's not the way it works out, then as coaches you've got to do what's best for your football team."
McElwain discusses new Florida football
SEC SCOREBOARD
Thursday, 9/3
Saturday, 9/5