Florida Gators:

Janoris Jenkins
November, 1, 2013
11/01/13
7:30
AM ET
Here are five matchups to watch when Georgia has the ball in Saturday's game in Jacksonville:
Todd Gurley's impact
[+] Enlarge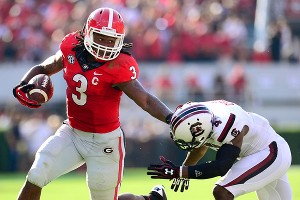 Dale Zanine/USA TODAY SportsDespite an injury-plagued season, Todd Gurley still rushed for nearly 1,000 yards and 10 TDs. He also improved as a receiver and had six TD receptions.
How important is All-SEC tailback Gurley to Georgia's offense? He hasn't played in nearly 15 quarters -- since spraining his ankle in the Sept. 28 win against LSU -- and he's still Georgia's leading rusher by more than 100 yards. Gurley (71-450) will return to the backfield against Florida's stout defense, but will he be the same player he was before the injury? He was averaging 112.5 rushing yards per game but has missed three-and-a-half games, and it's only reasonable to expect some rust on Saturday, particularly when the Gators are allowing just 3.7 yards per carry and 100.7 rushing yards per game (second in the SEC).
Thanks in part to injuries up front, they weren't as dominant in their last two games, both losses, allowing 175 rushing yards to LSU and 205 to Missouri. But with a few key faces returning up front -- including defensive tackle
Damien Jacobs
and possibly outside linebacker
Ronald Powell
-- Florida should pose a major test to Gurley and Georgia's rushing attack.
Georgia's depleted receiving corps vs. Florida secondary
By this point, anybody who follows Georgia football with even a passing interest knows about the debilitating injuries that struck the Bulldogs' offense over the last month. They have been especially debilitating for a once-explosive receiving corps, which lost
Malcolm Mitchell
and
Justin Scott-Wesley
to season-ending knee injuries and
Michael Bennett
and
Chris Conley
to shorter-term ailments.
Conley is still out, but Bennett should be back from a two-game absence on Saturday, possibly bringing some productivity to a group that has struggled mightily in recent weeks. The Bulldogs passed for just 114 yards in a loss to Vanderbilt, with senior quarterback
Aaron Murray
failing to complete a pass of at least 20 yards for the first time in his career.
Facing Florida's aggressive secondary is no treat for the Bulldogs' passing game. The Gators surrendered an uncharacteristic 295 passing yards to Missouri in their last game, but with ball hawks like
Loucheiz Purifoy
,
Jaylen Watkins
and freshman
Vernon Hargreaves III
leading the charge, Florida leads the SEC and ranks fifth nationally in pass defense at 172.4 ypg.
Murray's composure vs. Gators
Murray largely put to rest questions about whether he was a big-game player in nearly flawless performances against South Carolina and LSU earlier this season. A composed performance against Florida on Saturday would place an additional nail in that particular coffin. The Florida native has never gotten off to a great start against the Gators, starting with his very first play as a freshman in 2010 -- when he threw an interception to Florida's Janoris Jenkins. Murray led a comeback to force overtime in that game but threw a back-breaking interception that helped Florida win 34-31 in the extra session. Georgia won each of the last two meetings against the Gators, but Murray was fairly shaky in both, going a combined 27-for-58 for 319 yards with three touchdowns and four interceptions. Georgia has a chance to build its first three-game winning streak against Florida since 1987-89, but it likely will need Murray to play his best game yet against the Gators for the streak to remain intact.
Will Mike Bobo "let it rip?"
[+] Enlarge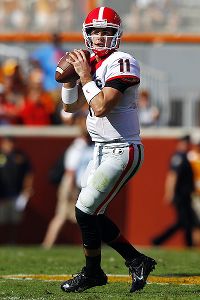 AP Photo/Wade PayneWith a few more weapons to work with, perhaps Aaron Murray and Georgia can open up their offense.
Georgia offensive coordinator Mike Bobo said Tuesday that Georgia needs to "let it rip" against Florida's impressive defense. After calling perhaps the most conservative game of his career in the Bulldogs' loss against Vanderbilt, that philosophy might apply to Bobo more than anyone else. The Bulldogs attempted only two passes of 15 yards or more in the loss to the Commodores and played it as close to the vest as possible -- a strategy that blew up in their face when turnovers and a bogus targeting call helped Vandy rally for a late victory.
With Gurley and Bennett back in the lineup, Georgia's offense should have some more punch on Saturday, and that will be necessary against Florida's tough defense. Bobo likely must break out of the conservatism that set in with multiple offensive weapons sidelined and show some aggressiveness if Georgia is to break through against the Gators.
Florida's pass rushers vs. Georgia offensive line
If Powell is able to play on Saturday, that would provide a huge shot in the arm for Florida's pass rush. Powell has Jarvis Jones-like ability, but injuries have been a regular problem for the junior. Even if he doesn't play, Georgia's offensive line -- which has dealt with consistency issues for much of the season -- will have its hands full with buck
Dante Fowler Jr.
, who almost single-handedly kept the Gators afloat against Missouri even when the offense was performing pitifully.
Fowler leads the team with three sacks, eight tackles for a loss and three forced fumbles. He hasn't gotten a ton of help from his comrades up front -- Florida is tied for 10th in the league with 11 sacks -- but getting some line depth back should help. Georgia's line has struggled against speedy edge rushers, particularly in the Clemson and Missouri losses, so keep an eye on the edges Saturday.
June, 4, 2013
6/04/13
1:00
PM ET
During the summer, GatorNation will analyze each of the scholarship players on the Florida roster -- excluding the Gators' 2013 recruiting class -- in our Gator Breakdown series. Starting with No. 1 Quinton Dunbar, we will go through the roster numerically, finishing with No. 97 Brad Phillips.
No. 8 Jeremy Brown
To continue reading this article you must be an Insider
July, 4, 2012
7/04/12
8:00
AM ET
ESPN's GatorNation brings you the 30 things you need to know about Florida's upcoming 2012 season. For 30 weekdays we'll preview games, talk about trends, spotlight players and positions, and give you pretty much everything you need to know to be ready for the season before the Sept. 1 opener against Bowling Green.
GAINESVILLE, Fla. -- Florida is one of only five SEC programs to make the top 25 in ESPN's team recruiting rankings in each of the past five seasons.
In fact, the Gators finished in the top five in four of those five years. But somehow that hasn't translated to consistent on-field success.
Florida lost just two games combined in 2008 and 2009, but very few of the members of those signing classes contributed significantly -- which shows how good UF's roster was in those two seasons. Since then, however, the Gators are a combined 15-11, and while some of those highly touted signees have turned into very good players, UF has slipped from its spot among the national elite.
But things are looking brighter entering 2012. The core of this year's team is comprised of members of the 2009 and 2010 classes, and several members of the 2011 class appear to be ready to become significant contributors or are on the verge of being elite players.
Here's a look at those signing classes (see chart below):
May, 17, 2012
5/17/12
3:59
PM ET
ALPHARETTA, Ga. -- When Florida defensive tackle
Leon Orr
violated the terms of his deferred prosecution agreement for his misdemeanor marijuana possession charge by
being cited
for knowingly driving with a suspended license on Monday, he became the ninth Florida player arrested and the 11th overall arrest during Will Muschamp's short coaching tenure.
Though Orr wasn't taken into custody, his citation did count as an official arrest.
With that, there's a growing perception that Florida has an off-field discipline problem. The numbers are hard to ignore, but Muschamp isn't convinced there's a problem. He acknowledges the run-ins that have taken place since he officially took over for Urban Meyer in January of 2011, but insists that perception isn't his reality.
While he wouldn't comment on Orr's situation, he did say that increased media outlets have placed the microscope closer to college athletes.
[+] Enlarge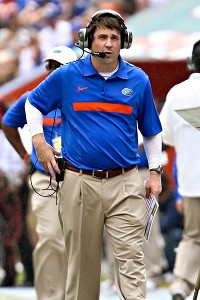 Rob Foldy/Icon SMIWill Muschamp insists discipline in his program is better now than it was when he first arrived.
"When you're dealing with young people, it's an ongoing educational process, especially in this day and age," Muschamp told ESPN.com shortly before he greeted the Atlanta Gator Club at The Metropolitan Club in Alpharetta Wednesday. "I'm not taking a shot at anyone in the media. It's your job to report and more things are being reported now than 15, 12, eight, five years ago. There's more social media outlets now where there's more information. There's a lot of misinformation out there, too."
Of the 11 arrests, only three have occurred during this calendar year, while five occurred during Muschamp's first spring.
You can read
a summary of the arrests here
.
The overall number is high for less than two years, but it's obvious the off-field incidents have steadily decreased and Muschamp said there's "no question" the discipline is better now than it was when he first arrived ... and he's right.
It hasn't been an overnight transformation, but the improvement is there. Muschamp took over a team that experienced 32 arrests during Meyer's six-year tenure and feels things are turning around. He especially sees it in the fact that during his first five months on the job he had five arrests on his hands. Since September, he's had three.
April, 27, 2012
4/27/12
11:36
PM ET
GAINESVILLE, Fla. -- Today should have been the day Janoris Jenkins arrived in a new city and was introduced to the media there as a first-round draft pick.
Instead, the former Florida cornerback was sitting on a couch staring into a television camera as he waited to hear his name called.
It finally happened, as the St. Louis Rams selected Jenkins with the seventh pick in the second round, 39th overall. It probably came about 24 hours later than he should have been drafted, but Jenkins' baggage and character issues cost him a spot in the first round.
To continue reading this article you must be an Insider
April, 19, 2012
4/19/12
3:08
PM ET
GAINESVILLE, Fla. -- Some extra thoughts and notes on my time in Gainesville from last weekend:
I'll start things off by talking about defensive end/Buck Ronald Powell, who will be out four to six months after tearing his ACL in the Orange and Blue Debut. Before the injury, most around Florida's program felt Powell was having the best spring of any of the defenders. After two seasons in which people expected more from Powell, he really turned it up this spring. He was more aggressive, tougher and caused more headaches for Florida's offense than he had during any other time. Coach Will Muschamp might have found that dangerous pass rushers he needs in his defense. Now, Muschamp must turn elsewhere and things will start with OLB Lerentee McCray. He was out with an injury this spring, but played the Buck in place of Powell at times last fall. He made his biggest jump as a player last season and is one player Muschamp and defensive coordinator Dan Quinn are especially excited about.
True freshmen Dante Fowler Jr. and Jonathan Bullard will get chances to play at the Buck, too, but keep an eye on Neiron Ball. He didn't play last season because of the arteriovenous malformation found in his brain in February of 2011. There has been no word yet if Ball could resume playing for the Gators, but if he remains healthy and the SEC clears him, Ball could get a shot at play at the Buck.
March, 1, 2012
3/01/12
5:59
PM ET
Janoris Jenkins spent a year away from SEC ball, but it apparently didn't affect his physical abilities.
The North Alabama cornerback had what ESPN NFL draft analyst Todd McShay said was "the best workout among the corners" during the final day of the NFL combine Tuesday. The former Florida standout, who was dismissed by new Florida coach Will Muschamp days after his second drug-related arrest in three months last spring, ran the sixth-best 40-time (4.46) out of all of the defensive backs and McShay said Jenkins "seemed the most confident, agile, quick-moving corner in drills."
McShay
broke down some of the top defensive backs
from the final day of the combine and he was very high on Jenkins:
"His feet got up and down quickly in his backpedal, and he stayed compact while pedaling and showed the ability to smoothly flips his hips and run with receivers. He did mistime one jump after turning and running to a ball thrown down the sideline, but, other than that, Jenkins did a nice job locating and playing the ball."
February, 16, 2012
2/16/12
4:16
PM ET
GAINESVILLE, Fla. -- It's that restless time of year for so many Florida fans. You know, the ones who don't really care so much about basketball or baseball as they do football and recruiting. Well, we here at ye olde Worldwide Leader have sympathy and plenty of football stories to sink your teeth into -- like spring football and the NFL draft, and did you hear the one about the British sports book that listed Florida's odds to win the 2012 BCS National Championship ...
Best (and worst) early BCS bets (Insider)
ESPN Insider Will Harris looks at the contenders and pretenders based on a top oddsmakers' favorites. Florida is on the radar, but Harris isn't buying it.
Schlabach: Time for spring football again
The weather might not agree, but it's springtime for college football. And there are plenty of questions to be answered, like how much will new offensive coordinator Brent Pease help Florida's offense?
Rainey a late-round steal? (Insider)
Steve Muench looks at five running back prospects who could offer good value and become solid contributors in the NFL. He says Florida's Chris Rainey could help the Buccaneers.
February, 16, 2012
2/16/12
2:58
PM ET
GAINESVILLE, Fla. -- A.C. Leonard is the ninth Florida player arrested since coach Will Muschamp took over for Urban Meyer in January 2011. It is by far the most serious of the transgressions committed. Here's a look at the list of arrests:
Janoris Jenkins:
Arrested twice for possession of marijuana (Jan. 22, 2011 and April 23, 2011). He was dismissed from the team.
Kedric Johnson:
Arrested for possession of marijuana Jan. 27, 2011. Still on the team. Team punishment not announced.
January, 31, 2012
1/31/12
4:33
PM ET
GAINESVILLE, Fla. -- The Worldwide Leader in Sports has a phenomenal staff of writers and analysts, churning out high-quality content. In the calm before the storm of signing day, we strongly recommend you check out these links. You'll be informed and entertained.
OTL: Top football talent shifts to the South
Paula Lavigne has an incredibly thorough report on the various factors that have led to a preponderance of high-caliber players in the South, as this Outside The Lines analysis finds.
Mag: In the year 2015 ... (Insider)
In ESPN The Magazine's Recruiting Issue, RecruitingNation's experts predict which stars from this year's recruiting class will take home awards in 2015 -- including an Outland Award winner from the Florida Gators.
Mag: Recruiting Confidential (Insider)
ESPN The Magazine's annual Recruiting Confidential provides cover for 45 of tomorrow's college football stars to dish on recruiting. We'll hold on to their identities -- but the truth is yours.
January, 26, 2012
1/26/12
6:00
AM ET
GAINESVILLE, Fla. -- One way to confirm success in college football is to see your team's players in the discussion for the NFL draft. For Gator fans, that's apparently going to be a short conversation this spring if you go by NFL draft guru Mel Kiper's
top five players by position (Insider)
or his
big board (Insider)
. Ex-Gator Janoris Jenkins doesn't count.

Janoris Jenkins
But next year could be more of the same, as Mel has just one Florida player -- kicker Caleb Sturgis -- on his list of
top five returning seniors by position (Insider)
. That doesn't auger well for UF's chances at gridiron success in 2012.
Re-drafting the 2006 NFL draft class (Insider)
Mel doesn't have a Gator in the first round, but he lists Jaguars DE Jeremy Mincey as a "close call." Quite an accomplishment for a sixth-round pick.
Switching gears (sort of) to the NFL scouting-fest known as the Senior Bowl ...
McShay on Senior Bowl players to watch: Janoris Jenkins
Scouts Inc., analyst Todd McShay says former Florida cornerback Janoris Jenkins will have to do well in interviews and explain his off-the-field issues if he is to be a first- or second-day NFL draft pick.
December, 27, 2011
12/27/11
1:27
PM ET
GAINESVILLE, Fla. -- You know that feeling after you've eaten way too much food during the holidays? This is The AggreGator's equivalent with links to so much content from ESPN.com, you may need to take a nap afterward.
Boynton on the NBA radar? (Insider)
ESPN's Chad Ford, our NBA draft expert, says Kenny Boynton is emerging as a sleeper in the swampland. His hot-shooting could make him regarded as an Eddie House-type scorer by NBA scouts.
Bilas Index: Vandy lacks heart, drops (Insider)
In Week 2 of the Bilas Index, Jay's top team stays put atop the rankings, but the Vanderbilt Commodores take a nosedive. Mississippi State is the biggest riser, while Florida is holding steady at No. 13. Jay has some suggestions for Florida to improve, which is something he thinks will happen as the season progresses.
December, 15, 2011
12/15/11
12:45
PM ET
Today's AggreGator comes to you with a mixed bag o' goodies. We'll call this the Potpourri edition in honor of a certain former Florida football player. In fact, let's lead off with an update on him ...
Kiper: Big Board (Insider)
Former Gator Janoris Jenkins is Kiper's No. 3 cornerback, so it appears his off-the-field antics may not cost him in the wallet after all. ESPN no longer has a player page for him, so here's his
bio page from the University of North Alabama
.
Some quality chats today on the dot-com ...
1 p.m. --
Talk Gator football with SEC blogger Chris Low
2 p.m. --
See where Bracketologist Joe Lunardi has the UF men's hoopsters
2 p.m. --
Chat with Tebologist/AFC West blogger Bill Williamson
4 p.m. --
Talk NCAA football with Andrea Adelson
More coaching carousel ...
Huard: Ranking the top coaching hires
Brock Huard ranks the nine major coaching hires so far this offseason, with Urban Meyer-to-Ohio State earning the top spot.
Shall we play a game?
Can you name the new football coaches at 10 FBS schools? You have two minutes, and I'll bet you know at least one answer.
No Florida angle here, I just like the idea of the BCS being replaced ...
Rage against the machine (Insider)
In his column in ESPN The Magazine, Peter Keating writes that the BCS computer rankings aren't working -- and not just because Oklahoma State was cheated. The good news is that there is a better way, the aptly named Simple Rating System.
To the NBA we go ...
Brewer trade: Only so many minutes
Dallas Mavericks coach Rick Carlisle commented on the recent trade of former Gator Corey Brewer to the Denver Nuggets.
YOUR DAILY TEBOW

And now, let us praise the lord and pass the football!
Tim Tebow and matters of faith
Roy S. Johnson contributes this piece that says Tebow's religious expressions make sense in a football context. If you scroll down and read through that story, you'll also see a podcast of former NFL star Kurt Warner discussing Tebow and faith and leadership on The Herd with Colin Cowherd.
Take your pick
Rick Reilly compares and contrasts Tebow and Tom Brady.
TebowMania: Afflicted or impervious?
Several espnW chime in on Tebow fever. Some have recently caught it, while others are well-insulated Tebow deniers.
ESPNBoston is understandably obsessed with Tebow this week. Here's a story and a few ESPNBoston videos to get you ready for Sunday's big Pats-Broncos game ...
How to stop Tebow's scrambling legs
Mike Reiss has a peek into Bill Belichick's game-plan possibilities to limit Tebow and Denver's running game. Remember that Belichick got to see plenty of Tebow on his many visits to Gainesville through the years.
VIDEO
• ESPN NFL analyst Mark Schlereth
gives his prediction
for the Patriots-Broncos matchup.
• Josina Anderson reports from Denver on
the Broncos preparations for Sunday's game
against the Patriots.
• Mark Schlereth runs the factors through
the Predictor for Patriots-Broncos
.
And finally, I know it's Thursday, but you've got to read this week's Tuesday Morning Quarterback from ESPN's Page 2 as well as another very entertaining offering from Page 2 from last week (there's too much Tebowmania to keep up with!) ...
Tebow, Broncos wearing teams down
Gregg Easterbrook says Tebow is entertaining but football tactics are at the heart of Denver's success.
Tebow evokes "Tortoise and the Hare"
Kurt Snibbe proudly puts its own spin on the classic children's fable (with drawings!).
November, 29, 2011
11/29/11
4:33
PM ET
GAINESVILLE, Fla. -- Safety Josh Shaw and defensive end Lynden Trail are leaving the Florida program, which brings the total number of players to leave the program since coach Will Muschamp was hired to 11.

Shaw is a redshirt freshman who has played in 11 games in his career. He missed the Furman game earlier this month because he went home to Palmdale, Calif., to be with his ailing grandfather.

"I enjoyed my time at Florida but I feel like I need to be closer to my family right now," Shaw said in a statement. "This is not a football decision, this is a family decision. I need to be with my family."

Trail is a redshirt freshman from Miami who has yet to play in a game.

"We wish Lynden and Josh the best of luck in the future and we certainly appreciate their contributions to the football program," UF coach Will Muschamp said in a statement.

Florida now has 70 players on scholarship, which includes the four walk-ons awarded scholarships before the season began. The Gators will lose nine scholarship seniors and redshirt junior offensive lineman David Young, who decided to forgo his senior season, which means the Gators will go into the off-season with 60 players on scholarship -- well below the NCAA maximum of 85.

Of the 11 players who have left the program since Muschamp's hiring, only cornerback Janoris Jenkins was anything more than a little-used reserve. Muschamp dismissed Jenkins, who is a potential first-round NFL Draft pick, after his third arrest in 23 months (two for marijuana). He is now at North Alabama.

In addition to Trail and Shaw, three other players have left the program this season: redshirt sophomore linebacker Dee Finley, sophomore receiver Robert Clark and sophomore tight end Gerald Christian.

The other five players who left the program did so between January and the start of the 2011 season: running back Mike Blakely, receiver Chris Dunkley, tight end Michael McFarland, defensive end Chris Martin and receiver Javares McRoy.
The Early Offer: March 12
SEC SCOREBOARD
Saturday, 12/21
Monday, 12/23
Tuesday, 12/24
Thursday, 12/26
Friday, 12/27
Saturday, 12/28
Monday, 12/30
Tuesday, 12/31
Wednesday, 1/1
Thursday, 1/2
Friday, 1/3
Saturday, 1/4
Sunday, 1/5
Monday, 1/6