Florida Gators:

Florida spring predictions
March, 14, 2014
3/14/14
9:30
AM ET
Editor's note: This is Part 5 of our weeklong series predicting what's ahead for Florida this spring.
GAINESVILLE, Fla. -- With so much perfect weather in Florida, fans are expected to flock to the Gators' eight open practices, starting on Wednesday.
[+] Enlarge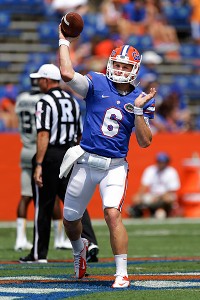 AP Photo/John RaouxJeff Driskel's ability to adapt to new offensive coordinator Jeff Roper's simplified passing game will be key this spring.
Leading up to the start of camp, we've looked at the
top position groups with room to improve
,
five players to watch
as well as
the most important position battles
this spring. We wrap it all up with one final prediction blog -- who will be the stars of Florida's spring practice session.
Jeff Driskel and Will Grier:
Quarterbacks get all the attention, and Florida's QBs will be no different. Driskel has inspired some love/hate feelings among Florida fans in his up-and-down career. This spring is his chance to reinvent himself as a take-charge veteran leader. More than any other player, Driskel can be the key to a successful spring if he commands Kurt Roper's offense, makes it look cohesive and helps his teammates do the same. Grier is that shiny, new toy that every kid wants to immediately take out of the box and play with. No one expects Grier to even challenge Driskel for the No. 1 job, but fans can't wait to see Grier's arm and how well he operates as Driskel's understudy.
Predictions:
Roper's offense, with its simplified passing game, will suit Driskel and Grier perfectly. By the end of spring, fans will be treated to something they haven't seen much of in recent years -- well-timed passes on intermediate routes. Driskel, still recovering from a broken leg, won't run much at all, but Grier will show off his legs and athleticism whenever the pocket collapses.
Kelvin Taylor and Adam Lane:
You could say that Taylor is already a standout after starting several games in the second half of the 2013 season, but this spring is a chance for him to solidify his claim as the alpha dog of the backfield (especially with his top competition, junior
Matt Jones
, out for the spring due to a knee injury). Lane, a redshirt freshman with speed and a bowling ball-shaped body, reminds people of
Maurice Jones-Drew
. With Jones out and senior
Mack Brown
set as a backup, Lane will have an opportunity to burst onto the scene.
Predictions:
Taylor will excite Gators fans by looking more like his father, UF great
Fred Taylor
. He'll improve his decision-making and blocking, show off his hands and become a weapon on swing passes. Lane will be effective as a change-of-pace back and have great success hiding behind Florida's big offensive linemen. He'll prove to be hard to tackle as well.
Alvin Bailey:
Another spring, another reason for hope when it comes to the Gators' beleaguered wide receivers. Florida knows what it has in senior starter
Quinton Dunbar
, and the highest expectations are for the development of talented sophomores
Ahmad Fulwood
,
Chris Thompson
and
Demarcus Robinson
. But Florida's Class of 2013 featured five WR recruits, and even though he redshirted, Bailey has the talent to explode in Roper's uptempo spread offense.
Prediction:
Bailey's high school experience playing multiple positions will allow him to grasp Roper's offense better than most. He'll make headlines with his hands and shiftiness after the catch.
[+] Enlarge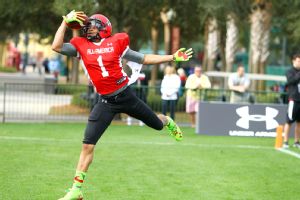 Miller Safrit/ESPNJalen Tabor could find an immediate role in Florida's secondary.
The secondary:
There's a lot of pressure on true freshman early enrollee
Jalen Tabor
, who has been touted as an elite recruit who can play immediately, much like
Vernon Hargreaves III
in 2013. The Gators have lost a lot of reliable players in the defensive backfield in the last two years, so young players will have to step up. Junior
Brian Poole
could battle with Tabor for the starting spot opposite Hargreaves, remain at nickel, or shift to safety. There's a lot of work to do here, as several players have to settle into their best position.
Predictions:
Tabor will be effective with his quickness and long reach, but Poole's experience will give him the edge to take over as a starting cornerback. Spring will be just the beginning, as the battle will continue in the fall. Redshirt freshman
Nick Washington
will be a fit at nickel cornerback, and sophomore
Marcus Maye
will stand out as a ballhawking free safety.
The big fellas:
A lot of time is spent in the spring with skill-position players working on reading blocks, running routes and refining coverages. It's hard for linemen to stand out, but more than most programs, Florida likes to put on the pads and run its first-team offense against its first-team defense. When that happens -- and fans should get to see it in the spring game on April 12 -- the best battle will be left tackle
D.J. Humphries
against buck linebacker
Dante Fowler Jr
. Fans can also look for one of Florida's redshirt freshmen defensive tackles,
Caleb Brantley
and
Jay-nard Bostwick
, to emerge. It will be fascinating to see how they perform against 6-foot-8, 361-pound offensive tackle
Trenton Brown
, who will also spend some time this spring at guard. If Brown can improve his knee-bend and pad level, he could become a people-mover on the Gators offensive line.
Predictions:
After some struggles in 2013, Humphries will resurface this spring. He'll show off solid technique in pass protection as well as good punch in the running game. He and the rest of the O-line will spend a lot of time with new coach Mike Summers teaching his approach. Fowler will take the next step in his development as a pocket disruptor and start finishing more plays. With senior starting DT
Leon Orr
out for the spring, Bostwick will emerge as gap-penetrator.
March, 13, 2014
3/13/14
10:30
AM ET
Editor's note: This is Part 4 of our weeklong series predicting what's ahead for Florida this spring.
GAINESVILLE, Fla. -- The post-Tim Tebow era wasn't supposed to be such a rocky road, but that's exactly what has happened with the quarterback position at Florida.
The Gators recruited Cam Newton, John Brantley and
Jeff Driskel
-- all among the top prospects in the nation. But since Tebow's last hurrah in 2009, UF has a 30-21 record (17-15 in the SEC).
Kurt Roper intends to right the ship.
[+] Enlarge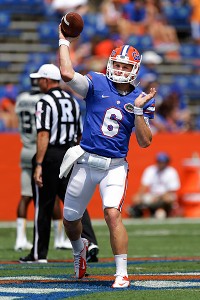 AP Photo/John RaouxThe Gators hope to get QB Jeff Driskel back on track this season.
The new offensive coordinator had great success at Duke with his uptempo spread offense and will begin installing a version of it at Florida this spring. Roper said he'll customize the offense to suit the strengths of his quarterbacks.
"I think it's all about learning your offense is what it gets down to," Roper said. "I'll repeat this a bunch. Our whole philosophy will be based on what the quarterback position is able to do."
It starts with Driskel, a fourth-year junior coming off a broken leg that cost him most of the 2013 season. He led Florida to an 11-win season the previous year and had a lot of success with zone-read options and shotgun formation.
Head coach Will Muschamp, who called Roper's plans for the offense a "drastic change schematically," said he recently reviewed the Gators' performance under Driskel the last two seasons.
"You look at all runs from 2012," he said. "We averaged right at 5.8, close to six yards a carry, which is outstanding -- the best I've ever been around. But then you look at runs from the gun, you're looking at close to seven yards a carry, 6.8. Runs from under center you're looking at a little over four. So obviously the quarterback's legs have a lot to do with the run game being so efficient in what we're doing. Then you look at the passing game. From the gun, over 60 percent for completion percentage, under 50 percent from under center. …
"So that's why you hire Kurt Roper to come in here, his development at the quarterback position, attention to detail and very positive with the kids and has had a very good, positive response from our players. They're excited about where we are right now."
Muschamp would love a return to Florida's offensive success in 2012 when the running game averaged more than 188 yards a game to rank 39th in the nation. Driskel operated the zone-read very well with tailback Mike Gillislee, who became the Gators' first 1,000-yard rusher since 2004. Driskel wasn't asked to pass a whole lot and finished second on the team in rushing with 413 yards.
This spring is all about getting Driskel back on track.
Florida pushed back the start of practice to March 19 to give him another week to rehab and strengthen his leg. Good health will bring confidence, and once he develops some chemistry this spring with sophomore running back
Kelvin Taylor
, Driskel's confidence should be fully rehabilitated.
But the Gators cannot repeat the mistakes of last season by neglecting to fully prepare a backup. So many of Florida's plans for the offense were scrapped when Driskel was injured, and he has missed at least one game in each of his first three seasons.
That's why true freshman
Will Grier
is so important. Not only is he a top prospect and UF's quarterback of the future, but his participation in spring practice as an early enrollee will give the Gators some piece of mind at their most important position.
Grier's skill set is a lot like Driskel's, so the offense won't change.
"I think he has a great mindset," said Roper, who worked with Grier a couple of years ago at Duke's summer camp. "I think he has a great quarterback demeanor, and then I tell you what, he was accurate. He can throw it. He has a fast arm."
Florida will open eight practice sessions to fans this spring, and all eyes will be on Driskel and Grier. As Roper finds their strengths and installs his offense, Gator fans ought to be treated to something they've seen precious little of in recent years -- dynamic, effective quarterbacks.
March, 12, 2014
3/12/14
9:30
AM ET
Editor's note: This is Part 3 of our weeklong series predicting what's ahead for Florida this spring.
GAINESVILLE, Fla. -- It's no coincidence that Florida's vaunted defense slipped last season after the departure of several 2012 mainstays. Upperclassmen such as middle linebacker
Jon Bostic
, tackle
Sharrif Floyd
and safety
Matt Elam
were that team's best leaders.
Florida coaches expected to ride out the leadership void because the team's heart and soul -- defensive tackle
Dominique Easley
-- returned with his unique and magnetic blend of intensity, silliness and determination.
Then Easley tore his ACL after the third game, and suddenly there was deafening silence.
[+] Enlarge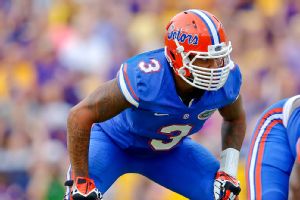 Derick E. Hingle/USA TODAY SportsFlorida hopes Antonio Morrison is over his sophomore troubles and is ready to become a leader.
The end of Bostic's college career was also an underrated factor in terms of Florida's lack of vocal leadership. The Gators had cultivated a pipeline of highly successful middle linebackers dating back from
Channing Crowder
in 2003 to
Brandon Siler
,
Brandon Spikes
and then Bostic.
The torch was supposed to be passed in 2013 to sophomore
Antonio Morrison
, who had already signaled his arrival with a big splash late in his freshman season. But Morrison's follow-up was full of turmoil. He was arrested twice last offseason and suspended before his on-field performance took a surprising turn for the worse. His season ended, like so many others, with a serious injury -- torn cartilage in his knee.
Instead of having a rising star at a crucial position in Morrison, the Gators were left with questions for the future. Can Morrison regain the trust of his coaches and teammates? Will he return to being a reliable tackler and playmaker?
That's what it will take for Morrison to become a leader on what is expected to be one of the SEC's best defenses.
It's easy to predict that he will, because Muschamp has witnessed Morrison's work ethic so far this offseason. The coach was quick to praise Morrison and has also seen fellow linebackers
Michael Taylor
and
Jarrad Davis
emerge as leaders.
"I think Antonio speaks more with his work habits and how he works in the weight room and how he works in practice," Muschamp said. "He's an intense player. I think he speaks volumes, like Jarrad Davis does, like Mike Taylor does. Those guys work hard. Those guys have a good work ethic.
"Those guys realize we need to be more productive at the position than we were a year ago. But [with Morrison] I've seen a guy that's, again, you get humbled, you get knocked down like we were last season, you just shut up and go to work."
In defensive ends
Dante Fowler Jr
. and
Jonathan Bullard
, Muschamp recognized an opportunity to challenge two of his best linemen to embrace leadership.
"[They] have taken a little step forward as far those things are concerned and understanding it's time to step into their role," Muschamp said. "I sat both of those guys down when they came in [at the start of this offseason] and talked to them about Sharrif and Dominique: 'Listen, those guys kind of groomed you when you came in. Now it's your job to do that.' That's kind of what we need to start doing now, understanding what it takes."
In the secondary,
Vernon Hargreaves III
certainly understands what it takes. Muschamp calls him "a great leader," and it's easy to see why. Hargreaves not only excelled on the field as a true freshman in 2013, but off the field he's charismatic, well-spoken and popular.
March, 11, 2014
3/11/14
9:30
AM ET
Editor's note: This is Part 2 of our week-long series predicting what's ahead for Florida this spring.
GAINESVILLE, Fla. -- Let's face it: Winning football games at Duke commands attention.
So when Will Muschamp went looking for someone undaunted by the challenge of resuscitating Florida's offense, Duke coordinator Kurt Roper and his long résumé of success in the South made a lot of sense.
The hire was met with instant approval from none other than Gators icon Steve Spurrier, the Blue Devils' coach from 1987-89 who left Durham, N.C. to take the reins at his alma mater.
"They finally figured it out," Spurrier said last December. "You have to go to Duke to get football coaches."
Yes, Florida created some buzz when it hired Roper, but few players knew who he was. The timing of his last game calling plays for the Blue Devils worked out perfectly, as Gators players and fans tuned in to see Duke's explosive offense give an SEC defense fits (albeit against Texas A&M's secondary, which had been a season-long sore spot).
[+] Enlarge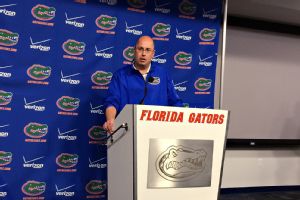 Jeff Barlis/ESPNThe intensity of Kurt Roper's style and his pace of offense will cause a period of adjustment for the Gators.
After another season of malfunctioning offense at UF, Roper's exhibition was an air show by comparison. It bought the new coach a ton of credibility, and he needs every ounce of it to help his new players believe that a return to respectability in 2014 isn't an impossible mission.
Florida has ranked among the worst offenses in the 123-team FBS for all three of Muschamp's seasons. To pull off such a dramatic makeover, the Gators need a something of a guru to put their faith in.
Roper can be that guide who leads the offense out of the wilderness, but he's not a miracle worker, and the 180-degree change won't be apparent in a matter of three short weeks of spring football.
What Roper will do this spring is lay a foundation. He'll identify his best players and put them in the right positions to succeed. He'll simplify things for the rest of his role players, and he'll oversee some reclamation projects, as several overlooked players will get new chances to contribute.
Like Spurrier, Roper's mentor David Cutcliffe, the head coach at Duke, had plenty of praise for the Gators' new coordinator. He specifically lauded Roper's experience with building and organizing an offense and running a fast-paced practice.
"The attention to detail in training quarterbacks, the attention to detail in preparing an offensive team to play a game, practice habits, it's the total package," he said right after Roper was hired. "I think you have the systematic approach, and everything's covered. You try to take the players offensively when your job is the offensive coordinator, you put them in every circumstance they can possibly be in in a game, in practice, and build confidence through great execution. That will be one of [Florida's] great strengths; that they will be extremely well-prepared coming out of practice.
"His style would be intensity, tempo and quality of repetition. From the minute they hit the field it's gonna be intense. I wouldn't call him a laid-back football coach by any stretch of the imagination. So it's gonna be what we call 'treat the ground like a hot stove.' If you hit the ground you'd better get up running. And you know by the time they get on the field until they get off they're gonna be moving and getting a bunch of quality reps. So I would call it very intense."
To call this spring a success, Florida's passing game needs to only show gradual improvement and a grasp on the fundamentals of the new schemes Roper is installing.
No one should expect the Gators to suddenly operate as quickly as some of the nation's most established up-tempo offenses. At Duke, Roper said he wanted plays called "as fast as possible," somewhere between 10 and 22 seconds into the 40-second play clock.
That might not be realistic right away at UF. But Florida can certainly get a lot faster than its 2013 pace, which resulted in
an average of 68.9 offensive snaps per game
.
Auburn showed last season that a lot can be accomplished in one year with a new offense, as the Tigers went from an SEC-low of 60.5 plays a game in 2012 to 73.8 last season.
If Roper's offense can achieve even half of that improvement in pace, the Gators could very well have a legitimate offense this fall. Even a modest return to middle-of-the-pack status among FBS offenses would be something to brag about.
The stakes will be extremely high in 2014, with Muschamp under scrutiny. But the rewards for success will be even higher for an offensive coordinator whose star is clearly on the rise.
March, 10, 2014
3/10/14
9:30
AM ET
Editor's note: This is Part 1 of our weeklong series predicting what's ahead for Florida this spring.
GAINESVILLE, Fla. -- Spring is the season of growth, renewal and rebirth. Sounds like a good wish list for the
Florida Gators
, who are just days away from starting spring practice.
Coming off a surprising 4-8 season that ended with three coaches and a couple dozen players departing, UF is turning the page and looking forward to the clean slate that comes with a new season.
[+] Enlarge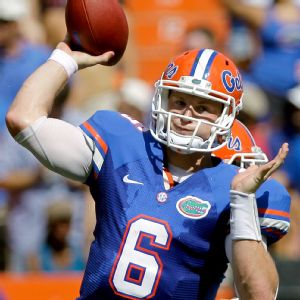 AP Photo/John RaouxAfter a 4-8 record in 2013, Florida desperately needs quarterback Jeff Driskel to return strong from injury and set the tone this spring.
But that page won't turn itself.
This is a program that has been thoroughly humbled, and it needs a completely new approach in 2014.
The Gators have had some lows over the past four seasons with a 30-21 combined record, but they reached new levels of misery last year. The injuries piled up and the losses followed suit. It got so bad late in the season that it appeared some players were mailing in the season.
On more than one occasion last year, head coach Will Muschamp said, "If we keep doing the same things, we'll get the same results." He's expecting the results to be different in 2014, with the biggest change being a new offense led by former Duke offensive coordinator Kurt Roper that features a faster tempo and some spread elements.
Roper and some new schemes ought to breathe life into a moribund offense and bring out the best in several talented players who were underutilized in recent years. But the problems at Florida run deeper.
Muschamp complained openly about his team's "woe-is-me mentality" and how it would snowball when things went wrong in games. That was a leadership problem.
A lot of players addressed the media with slumped shoulders and looks of resignation and confusion. There were few answers for how a team with the talent to win 11 games in 2012 could fall so far in one year.
But some players spoke defiantly, insisting Florida will bounce back in 2014. They made mental notes of all the embarrassments suffered last season and are coming back with something to prove.
These are Florida's leaders now -- upperclassmen like
Max Garcia
,
Jonathan Bullard
,
Quinton Dunbar
and
Dante Fowler Jr.
Along with the coaching staff, they have to push their teammates and use the painful memories of last season to forge something stronger.
It starts with belief.
This will be one of the most important spring practice sessions at Florida in the last decade, and fans can expect to see a level of urgency unlike anything they can remember.
The Gators will have a very young roster again, so it's critical to find new leaders this spring. There are just 16 seniors and 13 juniors on scholarship, tiny numbers considering the 53 underclassmen who are expected to be on the final roster this fall.
It happens every year. Whenever one senior class leaves, there is a void that must be filled. But this spring is different. This is a team that desperately needs strong, respected voices.
Florida appears to be in good shape on defense with vocal leaders like Fowler and
Vernon Hargreaves III
playing at a high level. It would also be a big help if middle linebacker
Antonio Morrison
returns to the level of play he showed as a true freshman starter. Morrison wanted badly to be a leader last season, and the team needed his voice, but two offseason arrests and a decline in play hurt him in that department. If Morrison cannot deliver this year, senior
Michael Taylor
will be waiting to take over at middle linebacker and will be needed as that vocal leader the defense can rely upon.
Offense, as always, revolves around the quarterback. Sure, it would really help the Gators if Dunbar takes the young receiving corps under his wing and holds his teammates accountable. And Florida could use a leader in a crowded backfield that features sophomore
Kelvin Taylor
.
But really, it's all about the quarterback.
Muschamp has a lot of faith in starter
Jeff Driskel
and has seen the fourth-year junior grow as a leader. But the challenge facing these Gators is greater than what these players have seen before.
Driskel has to set the tone this spring. More than any other player, he needs to show an understanding of Roper's offense and be responsible for the progress his teammates make in these 15 critical practice sessions. He must speak up and show everyone that this is his team.
One voice from one primary leader can work wonders, especially on a young team. The prediction here is that Driskel will not shy away from that spotlight.
SEC players featured on Kiper's Big Board
SEC SCOREBOARD
Thursday, 9/3
Saturday, 9/5