Florida Gators:

Everett Dawkins
November, 24, 2012
11/24/12
10:39
PM ET
TALLAHASSEE, Fla. -- It was only last week that Florida State coach Jimbo Fisher lamented the use of computers to help determine the BCS standings and argued his squad's case as one of the best one-loss teams in the country.
With five turnovers in a wild
37-26 loss
to rival Florida on Saturday, the Seminoles' case against the computers was officially deleted.
It's not that No. 10 Florida State (10-2, 7-1 ACC) shouldn't be ranked -- it absolutely should -- but the Seminoles proved Saturday that the fourth-ranked Gators (11-1, 7-1 SEC) deserve their spot ahead of FSU, and the program is still not consistent enough to be considered a true national title contender. Florida State's mistake-laden four quarters were a microcosm of the Seminoles' entire regular season: an opportunity at something bigger fumbled away.
"There were ample opportunities -- ample opportunities," Fisher said. "We just didn't capitalize on them."
He was talking about the game -- not the season.
[+] Enlarge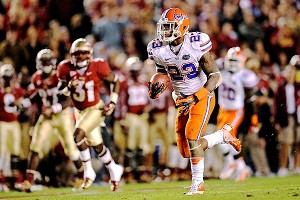 Kevin Liles/US PresswireMike Gillislee's 140 yards (including this 37-yard TD) led Florida's 244-yard assault on the Noles.
Those within Florida State's locker room after the loss emphasized the team's "24-hour rule," reminding each other there is still plenty to play for, as the Atlantic Division champs are heading to Charlotte, N.C., to play Georgia Tech in the Dec. 1 Dr Pepper ACC championship game. The Seminoles still have a chance to win the Discover Orange Bowl. The possibility of a 12-2 season is still within reach. It's going to be hard, though, for some of the players -- and most all of the Noles' fans -- not to wonder what could have been this season had FSU not lost on the road to NC State and found a way to beat its rivals at home. The Noles were so close to finally meeting preseason expectations, yet so far away.
"That's just something that's going to be in the back of your head forever," defensive tackle
Everett Dawkins
said. "But we can't worry about that right now. We just have to keep on moving."
Just like Florida's running game.
The Gators controlled the line of scrimmage and ran the ball with ease, racking up 244 yards on the ground. Florida's success on the ground made quarterback
Jeff Driskel
look better than usual, as it opened up the play-action and allowed him not to have to execute a true drop-back game. By the fourth quarter, the Gators had scored 24 points in a span of less than nine minutes and Florida State's usually staunch defense looked gassed.
"We weren't able to execute," said Noles receiver
Rashad Greene
. "That basically sums it all up on one piece right there."
In what was only its second game of the season against a ranked opponent, Florida State's mistakes were too much to overcome. It wasn't the first time this season turnovers plagued the Noles (two against Miami, two against Virginia Tech), but against better competition, FSU couldn't get away with it.
"We've got to have them better prepared and we have to take care of the ball better," Fisher said. "It was rare -- it wasn't fumbles, it was interceptions. Something we haven't done very much."
It was also an emotional and difficult game for Florida State quarterback
EJ Manuel
, who threw three interceptions and fumbled the ball, leading to a Florida touchdown.
"It was not one of his most stellar performances," Fisher said.
Manuel agreed.
"I've got to get better these next two games," he said. "It was tough. This is hard right now."
While Florida State tries to refocus on the ACC championship game, the Gators left Doak Campbell Stadium believing they should be playing for the national title.
The Seminoles did their part to help the Gators build their résumé.
"We didn't finish," Fisher said, "we didn't finish."
It was only the second time this season that happened to FSU, but that's two times too many for a team playing for more.
November, 27, 2011
11/27/11
12:57
AM ET
GAINESVILLE, Fla. -- Players and coaches react to Florida State's 21-7 victory over Florida on Saturday night. Here are a few key quotes from post-game interviews:

Florida head coach Will Muschamp
"We are a soft football team. That's the bottom line. I told our guys we are not a physically tough football team and a mentally tough team. Self-evaluation is hard sometimes, but that's the fact. I've been called a lot of things in my life but soft is not one of them."

Florida State head coach Jimbo Fisher
"We come in here to win and it hasn't happened very often. We have won the state championship two years in a row, and that feels very good. I thought our defense played well. It was probably one of the best defensive performances we have had all year."

Muschamp on his team lacking physical toughness
"That's not the first time they've heard it all season. It starts with me, falls on my shoulders -- and and I'm the one that is responsible. At the end of the day you are what you are."

Fisher on FSU's play-calling
"I didn't call that game as an offensive coordinator. You had to call it the way the game was flowing. We were controlling it and they were having a hard time scoring."

Muschamp on Florida's offense
"We're doing all we can do. We have to find some better answers. We've gone wildcat, we've gone to Trey Burton's package, we've gotten in the 'I', we've gotten in the pistol. A lot of different stuff. We're trying. Obviously, it falls on my shoulders and it's not getting done."

Florida defensive tackle Omar Hunter on the defense
"I felt like we played really well on defense. A lot of guys stepped up. They had to step up and make plays, and those guys that did, did a really good job. On defense we just go out there and do our thing. We don't worry about offense, special teams -- we just do our job."

FSU defensive back Greg Reid on the win
"I came here my freshman year and it was kind of rough. Just to come here and win period means a lot. We just kept fighting and that's what it takes to win."

FSU defensive lineman Everett Dawkins on allowing Florida to score a touchdown
"We were just trying to make history and shut Florida out. But, you know, we still got the win, so it's all good."
McElwain discusses new Florida football
SEC SCOREBOARD
Thursday, 9/3
Saturday, 9/5