Florida Gators:

Duke Johnson
September, 7, 2013
9/07/13
7:22
PM ET
MIAMI GARDENS, Fla. -- The statement was made, and well, Miami simply could not contain its raw emotions, perhaps because this was all so new.


Al Golden sprinted across the field with 4.4 40 speed to shake Will Muschamp's hand. His players gathered en mass in one corner of the end zone to celebrate with fans then sprinted across the field to the end zone on the other end of the field to celebrate some more.
In between it all, an inflatable alligator float lay deflating on the field, its snout taped shut.
"We've been through so much," Golden said after
his team's 21-16 win over No. 12 Florida
on Saturday afternoon. "It was almost cathartic, to be honest with you. It was just 26 months unleashed there."
Miami, trying to take baby steps back to the top, had not been able to win a big game like this under Golden. The spotlight shined on the Canes last season in games against nationally ranked Kansas State, then unbeaten Notre Dame, then eventual ACC champ Florida State. Each time, Miami wilted or failed to show up, its defense exposed as a major liability, its toughness questioned.
Everybody inside the program knew it needed this win. But the Hurricanes were not the only ones who needed it badly. So did the ACC.
The league made a statement in Week 1 with
Clemson beating Georgia
, vaulting the Tigers to No. 4 in the rankings. Another win against a marquee team would send ACC officials dancing from press box tables. Especially a win from Miami -- a program that has underwhelmed despite the expectation it would enhance the league's reputation when it joined in 2004.
The Gators went in favored and seemingly had the edge up front. Miami players heard all the talk and got more motivated, developing the proverbial and cliché chip on their shoulders. They didn't need coaches preaching all week that they needed to be the more physical team. They knew.
They also knew this game meant more than suiting up against Florida Atlantic.
As linebacker
Tyriq McCord
said afterward, he came to Miami to play against a team like the Gators, to have the national stage, the national spotlight, a chance to begin Miami on its road back to a championship.
With a fired-up crowd filling Sun Life Stadium, the two rivals battled gamely in the final scheduled regular-season matchup between them.
Miami matched Florida hit for hit. For once, this team could believe in its defense. Florida racked up yards and first downs and owned time of possession but could not put points on the board. Because Miami was there to make the crucial play, time and again.
Florida turned the ball over four times inside Miami territory -- three times inside the red zone. The Canes had a crucial stand on fourth-and-inches from the Miami 16 in the second quarter. Florida kept driving, and Miami kept caving just a little bit. But the Canes refused to be broken.
Meanwhile, the Miami offense struggled for most of the game against the ferocious Florida front, a group quarterback
Stephen Morris
called "the best defensive line I've ever seen."
[+] Enlarge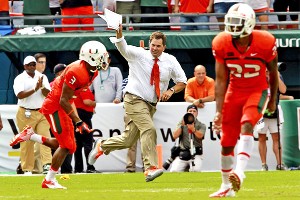 Charles Trainor Jr./Miami Herald via Getty ImagesMiami coach Al Golden and the Hurricanes beat Florida 21-16 on Saturday in their final scheduled regular-season matchup.
Morris and running back
Duke Johnson
are the two best players on the Miami roster. But improbably, it was the much maligned Miami defense that won the game for the Hurricanes.
"Without trust, you don't have anything," Miami cornerback
Tracy Howard
said. "If you make plays, you can talk. Trust is a big thing. The offense trusts the defense. The defense trusts the offense."
Perhaps as improbably, the ACC went 2-2 against the SEC to open the season. North Carolina and Virginia Tech, the two teams that lost to SEC competition last week, rebounded with wins Saturday the way everybody expected against far inferior competition.
Virginia did not have the same success against No. 2 Oregon
on Saturday.
But the focus for the first two weeks was on the big headliners against the SEC, a conference that has owned the ACC on the field and the recruiting trail. Every single ACC team went in as the underdog, including the Tigers and Canes at home.
Many believed Clemson and Miami had the best shot at pulling the upsets. In the end, what stood out in both victories was the way they won -- with an aggressiveness and physicality that most folks associate with the SEC.
The ACC essentially out-SEC'd its conference rival in both wins. Some 755 miles to the north in Clemson, coach Dabo Swinney noticed. He ended his postgame comments after Clemson's 52-13 win over South Carolina State by saying, "How about that ACC? Spunky little old league."
He flashed "The U" sign and walked out of the room.
Swinney has reason to brag. The ACC won only two games over ranked nonconference teams in each of the past three seasons. In just two weeks, the ACC has matched that win total. Miami linebacker Denzel Perryman put it bluntly when asked what the league's 2-2 mark over the SEC meant:
"We ain't no cupcake league," Perryman said.
Two big wins in two weeks does not completely change perception, but it's a start. The ACC should have three teams ranked in the Top 25 come Sunday. Miami has a shot to start 4-0 before a tough ACC game against Georgia Tech on Oct. 5. Florida State and Clemson also have a shot at being undefeated when they play each other Oct. 19.
As much as Golden wanted to sound a word of caution, saying this was only one game and only one win, a giddy McCord could not hold back.
"We're back," McCord said. "That's all I can say. We're back."
It appears the ACC is too.
September, 6, 2013
9/06/13
9:00
AM ET
Dante Fowler Jr.
didn't know how important this weekend's matchup with Miami was. But people around him have made sure he's been properly educated this week.
Florida's sophomore defensive end said he's been bombarded about the importance of a win by fans on social media and around Gainesville with sentiments such as "Beat the Canes!" or "We hate them!" raining down.
After No. 12 Florida (1-0) travels to muggy South Beach to face Miami (1-0) inside Sun Life Stadium on Saturday, it could be a long time before we see these two teams together in the regular season again. In the future, two of the biggest programs in the state of Florida might have to hope for bowl matchups to meet.
Gators coach Will Muschamp, who grew up in Gainesville in the '80s, has done a good job of educating his players on the rivalry's significance. He soaked himself in the game, which kicked off each season from 1981 to 1987 and had been played 49 times in 50 years before going by the wayside in the late '80s.
The memory that sticks out to Muschamp in this rivalry is seeing fullback James Jones' one-handed touchdown catch in the north end zone at Florida Field in the Gators' dramatic 17-14 win against the Canes in 1982.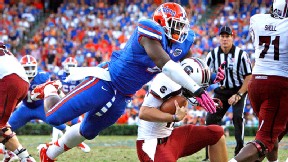 Gerry Melendez/Getty ImagesDante Fowler Jr. is one of the Gator defenders tasked with stopping a potent Miami offense on Saturday.
Consider this: Muschamp was 11 when he saw Jones' touchdown live. Fowler was in ninth grade the last time these two teams played (2008).
"It's a fantastic series," Muschamp said, "and we'll see where it goes after Saturday."
Where it likely will go is on the shelf, but not this weekend. Saturday, it'll be in everyone's face. Players know each other. Coaches have tried stirring up those old bitter rivalry feelings.
Nationally, this game hasn't received a ton of attention, but in-state, it means something.
"It's going to be really cool. I know the atmosphere is going to be huge," Fowler said. "It's going to be sold out and everything. I can't wait for it."
So both teams might as well go out with a bang, right? That shouldn't be a problem, as both enter Saturday's affair in almost must-win situations.
For the Gators, this has an early BCS play-in vibe. As with Georgia's opener against Clemson, the end result won't affect Florida's chances of making it to Atlanta for the SEC championship game in the win-loss column, but mentally, this could tip the Gators one way or the other.
"It's really, really big," Fowler said. "This could be one of those momentum games. If you win, you can get a lot of momentum going into the season because Miami is a good team."
A loss, and the Gators could fall a little flat. Atlanta is the main goal, but this team was so close to a national championship last year that the thirst is still very real, and an early loss could derail Florida's BCS train.
Even with Miami slowly rising back up the college football ranks, this loss likely would hurt more in the BCS realm than one to a conference foe such as South Carolina, LSU or Georgia. An undefeated run through the nation's toughest conference would help get the Gators back in the running, but is this team equipped for a run similar to last year's?
For Miami, it's a chance to really pop back into the national spotlight. This is a program that has seen much brighter days and is looking to become more relevant nationally once again.
"

It's going to be really cool. I know the atmosphere is going to be huge. It's going to be sold out and everything. I can't wait for it.

"

-- Florida Gators sophomore defensive end Dante Fowler Jr. on playing Miami
Right now, Miami is teetering on that line. A win could thrust the Hurricanes over to the right side.
"That would be a big boost for the program and my teammates, just because it's something we've worked so hard for," said Miami running back
Duke Johnson
, who leads the FBS with 186 rushing yards. "Coach [Al] Golden has done a great job of getting us focused the past couple of years and getting us on track to where Miami used to be. ... This game would be a way of showing what we have and how far we've come."
Johnson and Fowler agreed that this game feels like a matchup with Florida State, which has become a bigger rival for both schools since they stopped playing each other annually after 1987.
A lot of emotions will be swirling in that blistering South Florida heat, and Muschamp knows his confident pack of players will have to control those emotions when they meet the Canes. After all, the Gators have struggled with on-field discipline during Muschamp's tenure.
"You've gotta keep your composure," he said. "It's going to be a very emotional game."
The Gators and Canes have been champing at the bit for this one. Despite the future of the series, this one means a lot to those who will be suiting up Saturday. Come game time, things should be electric on South Beach.
"When it's time for the kickoff, we'll let everything out," Fowler said.
September, 5, 2013
9/05/13
1:00
PM ET
Miami has one clear advantage over No. 12 Florida in their matchup Saturday: a proven star-caliber running back.
Duke Johnson
gives the Hurricanes a marquee name at the position, continuing a tradition that dates back to the 1980s. Florida, on the other hand, has not had a national standout at running back since Fred Taylor in 1998.


Although it is true Mike Gillislee had a 1,000-yard season for the Gators last year -- the school's first since 2004 -- you would be hard pressed to find anybody outside the state who could name him.
For Florida, it has been a constant battle to find a consistent running back. There have been a few since Taylor left: Earnest Graham, Ciatrick Fason, DeShawn Wynn.
But in the years after Wynn, quarterback Tim Tebow and receiver Percy Harvin made the running game go. Backs such as Kestahn Moore and Emmanuel Moody merely served as window dressing.
Jeff Demps and Chris Rainey were not big backs, but coach Will Muschamp and former coach Urban Meyer tried to get a lot out of them. They were simply never big enough to truly carry the load.
The Gators, however, do have hope that they have a guy in
Matt Jones
who can reverse the recent trend and become a heralded standout. Jones makes his debut this weekend for the Gators, after missing last week with a viral infection. He could end up doing what Johnson has done for Miami.
The Hurricanes have a proud running back tradition, with eight backs drafted in the first four rounds since 1990. But they did not have much in the way of a marquee national player before Johnson, either. Between 2003 and 2012, Miami had only one 1,000-yard back: Lamar Miller in 2011.
Johnson came close to 1,000 yards last year, splitting time with Mike James while earning acclaim as one of the top freshmen in the country. He opened the season against FAU last week with 186 yards -- the highest rushing total in the entire nation in Week 1. He even picked up a vote in the
ESPN.com Heisman Watch
.
Florida recruited Johnson out of high school. Muschamp calls him a complete back.
"You have to be disciplined in your gaps. He's a guy who can take the ball anywhere," Muschamp said.
Indeed, the most intriguing matchup in this game is between Johnson and the Gators' defense, a formidable group against the run.
Consider this stat from ESPN Stats & Information: The Gators have given up just two rushes of 50-plus yards in the past 10 seasons, three fewer than any other team in FBS. Johnson, meanwhile, has six runs of 50 or more yards. None of those runs, however, came against a top rush defense. Against the top two defenses Miami played last year -- Florida State and Notre Dame -- Johnson went for a long of 7 yards.
"It's going to be a great challenge. They're big, physical up front," Miami coach Al Golden said. "It's a great defense. It's a very talented defense, and they play a lot of guys. It's a great challenge for our offense -- our offensive line, our tight ends, our fullback. But it's a great opportunity."
Here is a look at the leading rushers for Miami and Florida since 2002:
Miami
2012 Duke Johnson
2011 Lamar Miller
2010 Damien Berry
2007-09 Graig Cooper
2006 Javarris James
2005 Tyrone Moss
2004 Frank Gore
2003 Jarrett Payton
2002 Willis McGahee
Florida
2012 Mike Gillislee
2011 Chris Rainey
2010 Jeff Demps
2007-09 Tim Tebow
2005-06 DeShawn Wynn
2004 Ciatrick Fason
2003 Ran Carthon
2002 Earnest Graham
September, 5, 2013
9/05/13
8:00
AM ET
No. 12 Florida went bare bones against Toledo in the season opener this past weekend, and not just because of its handful of players suspended for the game. The Gators knew they'd win easily, so why show their hand with an important trip to Miami the following week? If the Hurricanes were looking for something to game-plan for, it wasn't going to be found in the tape against Toledo. UF coach Will Muschamp didn't give anything away, going vanilla on offense and a flavor closer to cardboard on defense.


The 24-6 win over the Rockets lacked the panache many fans were hoping for, but that was by design. All in all, the game was a victory for the coaching staff:
Jeff Driskel
was decisive under center, completing 17 of 22 passes with no interceptions; the running game was effective in spite of
Matt Jones
' absence;
quality depth emerged
on both sides of the football; and the defense did its job against a high-paced Toledo offense, limiting the Rockets to 3.8 yards per play and no touchdowns.
Against the Hurricanes, the Gators will have to do more. Playing vanilla worked in Week 1, but it won't in Week 2. Miami might be unranked in the AP poll, but coach Al Golden has his team knocking at the door.
"Certainly they know it's an important game for the University of Florida," Muschamp said on Wednesday, speaking to the rivalry between the two in-state schools. "We talk about it all the time. Our players understand the importance of the game. ... Any time they play against guys they know and are familiar with, it's obviously very important."
Miami will test Florida's ability to stop the run on Saturday with its stout, veteran offensive line and a tailback many consider to be among the best sophomores at his position.
Duke Johnson
, a first-team All-ACC choice this preseason, was third in the conference in rushing last year with 947 yards on the ground. He'll have a slew of talented linemen blocking ahead of him with
Brandon Linder
,
Malcolm Bunche
and
Seantrel Henderson
clearing the way.
"You have to be disciplined in your gaps," Muschamp explained. "He is a guy that can take the ball anywhere. They do a nice job of showing the stretch look and him cutting the ball back and heading north and south.
"He is an extremely tough and competitive guy. We recruited him. ... He catches the ball well, he protects. He's a complete back."
Florida should feel confident on defense, though, with as talented and deep a group of athletes as any in the SEC. Getting middle linebacker
Antonio Morrison
back from suspension should help slow Johnson. And cornerback
Loucheiz Purifoy
will return from his one-game suspension to give the Gators an anchor in the secondary against Miami quarterback
Stephen Morris
, whose 160 passing yards against FAU in the season opener put him over the 5,000-yard mark for his career.
Rather, what the Gators do on offense could determine the outcome of this game. All offseason we've heard how offensive coordinator Brent Pease would open up the playbook and bring more production to Florida's attack. Against Miami, we'll get to see if those words can be put into action.
Florida has the skill and depth at running back to control the tempo with Jones healthy once again and
Mack Brown
helping shoulder the load. But Driskel, who is now into his second year starting in the system, must make smart decisions with the football. He fumbled the ball twice against Toledo and has a history of poor pocket awareness. He can a Miami defense that had five sacks in its opener to come at him ready to knock the ball loose on Saturday.
"We're going to miss a block here and there," Driskel told reporters in Gainesville this week, "but I have to take care of the ball."
In a rivalry games like this, turnovers are everything. Limiting takeaways and sustaining momentum will be vital for Florida to walk away with a win. If the Gators try to do too much and give the ball away, the results could be disastrous.
May, 14, 2013
5/14/13
8:30
AM ET
It's Rankings Week at GatorNation. Every day we'll rank some aspect of the Florida football program heading into the 2013 season. Today we're ranking the top 10 offensive players the Gators will face this season. On Wednesday we'll rank the top 10 defensive players Florida will face in the fall.
Ranking the offensive players
1. QB Aaron Murray (Georgia):
Murray led the SEC in passing yards (3,893) and touchdown passes (36) and guided the Bulldogs to a school-record 529 points. He's got plenty of weapons around him, so similar numbers in 2013 wouldn't be out of the question. The 6-foot-1, 210-pounder hasn't always played well against Florida, but he has won back-to-back games against the Gators. The last time Georgia beat Florida in consecutive seasons was 1987-89.
[+] Enlarge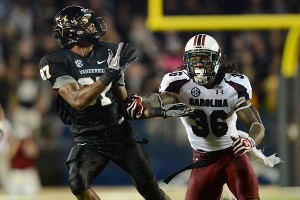 Don McPeak/US PresswireCovering Jordan Matthews (left) has been a chore for Gators defensive backs the past two seasons.
2. WR Jordan Matthews (Vanderbilt):
Matthews led the SEC in receptions (94) and finished second in receiving yards (1,323) last season. He had Jordan Rodgers throwing to him last season -- which won't happen in 2013 -- but he is still one of the league's most dangerous players. The 6-3, 205-pound Matthews is so high on this list because he has absolutely owned Florida in the past two meetings, catching eight passes for 131 yards and one touchdown last season and nine passes for 170 yards and one touchdown in 2011.
3. RB Todd Gurley (Georgia):
Gurley finished second in the SEC in rushing (1,385 yards) and rushing touchdowns (17) last season as a freshman. The 6-1, 218-pound Gurley has the power to run inside and breakaway speed. The combination of him and fellow sophomore back
Keith Marshall
(759 yards last season) -- Bulldogs fans have nicknamed the combo Gurshall -- gives Georgia perhaps the best backfield tandem in the SEC.
4. QB Stephen Morris (Miami):
Morris threw for 3345 yards and 21 touchdowns with only seven interceptions last season. He should be even better in 2013 with the addition of new offensive coordinator James Coley. Morris threw for 256 yards and four touchdowns in the Hurricanes' spring game and the offense hummed along better than it did much of last season.
5. RB Duke Johnson (Miami):
Johnson ran for 947 yards and 10 touchdowns last season and picked up right where he left off by gaining 120 yards on only 10 carries in Miami's spring game. The 5-9, 183-pound Johnson never carried the ball more than 16 times a game last season but he's going to get more work in 2013.
6. RB Henry Josey (Missouri):
He was one of the Big 12's best players in 2011 before a devastating knee injury forced him to miss the last year-and-a-half. The 5-10, 190-pound Josey ran for 1,168 yards and nine touchdowns before his injury and is capable of putting up similar numbers now that he's completely healthy.
7. WR Rashad Greene (FSU):
Greene caught 57 passes for 741 yards and six touchdowns as a sophomore. He also flashed some big-play ability, too. Having a dependable target that can turn a short pass into a long gain or get deep and make a big play will be a huge help to new quarterback Jameis Winston.
8. WR Odell Beckham (LSU):
Beckham was LSU's between-the-20s big-play receiver in 2012, averaging 16.6 yards per catch. He caught 43 passes for 713 yards but only two touchdowns (
Jarvis Landry
led the Tigers with five TD catches). New offensive coordinator Cam Cameron likes to throw the ball down the field, which should mean bigger numbers for the 5-11, 183-pound Beckham.
9. WR Bruce Ellington (South Carolina):
Ellington wasn't the dual-threat that many thought he'd be, but he did lead the Gamecocks with 600 yards receiving last season -- 69 more than Ace Sanders, a fourth-round draft pick. He averaged 15.0 yards per catch and should be the Gamecocks' top weapon in the passing game.
10. WR Dorial Green-Beckham (Missouri):
Green-Beckham was the nation's top recruit in 2012 and finished his freshman season with 28 catches for 395 yards. He did catch five touchdown passes though, meaning that roughly one out of every six catches went for a TD. He's got the size (6-6, 220 pounds), speed, and athleticism to be one of the country's top receivers.
May, 13, 2013
5/13/13
7:33
AM ET
It's Rankings Week at GatorNation. Every day we'll rank some aspect of the Florida football program heading into the 2013 season. Today we're ranking the Football Bowl Subdivision teams on the Gators' schedule. On Tuesday we'll rank the top 10 offensive players Florida will face in the fall.
Ranking the schedule

1. Georgia (Nov. 2 in Jacksonville, Fla.):
Sure, the Bulldogs lost nine starters on defense, but
Aaron Murray
,
Keith Marshall
and
Todd Gurley
are coming back, and that makes them one of the SEC's best teams. Georgia scored a school-record 529 points last season behind those three, and the offense figures to be explosive again in 2013. It'll need to be to carry a rebuilt defense.
McElwain discusses new Florida football
SEC SCOREBOARD
Thursday, 9/3
Saturday, 9/5