Florida Gators:

Cyontai Lewis
June, 12, 2014
6/12/14
10:00
AM ET
Editor's note: We're breaking down the Gators' two-deep depth chart every day for the next two weeks. We'll cover every position as well as offer a glimpse into the future. You can read the whole series here.
B-POSITION
The starter:
Senior tight end
Jake McGee
The backup:
Senior tight end
Tevin Westbrook
The rest:
Senior tight end
Clay Burton
, senior fullback
Hunter Joyer
, senior fullback
Gideon Ajagbe
, true freshmen tight ends
DeAndre Goolsby
and
C'yontai Lewis
, and true freshman h-back
Moral Stephens
[+] Enlarge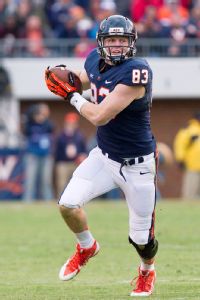 Lee Coleman/Icon SMITransfer Jake McGee led Virginia last season with 43 receptions for 395 yards.
The lowdown:
First, an explanation that in Kurt Roper's spread offense the B-position is a combination of the tight end, h-back and fullback positions. You'll see them on the line, in the backfield, in the slot, split out wide and often in motion. Considering the definite lack of involvement in the passing game from those positions in the previous offense, the Gators were expecting a rough transition for the B-position in 2014. That was until they found a perfect fit in transfer Jake McGee, a 6-foot-6, 255-pound tight end who led Virginia in receiving last season. McGee, now on campus and rooming with
Jeff Driskel
, looks to be the quarterback's best friend. Driskel hasn't had one of those since 2012, when tight end
Jordan Reed
led Florida in receiving. If he can adapt quickly, McGee could be a major x-factor in reviving Florida's offense this fall. He hasn't played in Roper's scheme before, but the offensive coordinator recruited him in high school so there is familiarity. With McGee, the Gators won't have to force the ball to any of their other seniors who were rarely asked to do more than block in years past. Florida fullbacks Joyer and Ajagbe, however, showed in spring that they have some potential to contribute in the passing game.
The future:
The Gators have had some bad luck in recruiting tight ends. Will Muschamp's second class in 2012 featured two of the nation's top four TE prospects in
Colin Thompson
and
Kent Taylor
. But Thompson's career appears over due to a foot injury, and Taylor did little before transferring to Kansas. Muschamp began to restock in the last recruiting cycle with Goolsby, Lewis and Stephens, and Roper believes they are good fits for his scheme. Goolsby is the most advanced after enrolling in January. He has had more time to add bulk and strength to his 6-4, 230-pound frame and got the benefit of a lot of reps in spring practice. Thanks to the presence of McGee, Florida likely will have the luxury of redshirting Lewis and Stephens to allow them time to learn and grow. Roper has said his offense affords a lot of opportunities for tweeners, which is why UF doesn't necessarily have to sign a prototypical tight end moving forward. The 2015 class already has a commit from
Camrin Knight
, a 6-4, 213-pound prospect with loads of athletic ability, potential to grow and willingness to learn.
May, 16, 2014
5/16/14
11:00
AM ET
GAINESVILLE, Fla. -- For a team that was desperate for playmakers on offense last season, the
Florida Gators
have growing hopes for 2014.
Enthusiasm has been building since spring football ended, and it's not just because starting quarterback
Jeff Driskel
is healthy or the young receivers and running backs have another year of experience and maturity.
[+] Enlarge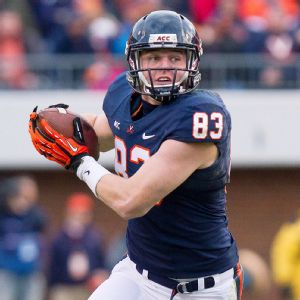 Lee Coleman/Icon SMIJake McGee's 45 catches last season at Virginia were 41 more than Florida's entire tight end corps had.
It's the tight end position, and one player in particular.
Fifth-year senior
Jake McGee
, the former Virginia standout who
announced his transfer to Florida
last week, gives the Gators a dynamic threat that defenses will have to account for.
"I'm very excited," head coach Will Muschamp said to a gathering of media on Tuesday in Orlando, Fla. "He's a guy that has tremendous ball skills, very good athlete at 6-5, 245 pounds and runs extremely well. I think he's a good addition to our team, and he'll certainly compete well."
The Gators haven't had a pass-catching tight end since 2012, when
Jordan Reed
led the team with 45 catches for 559 yards and three touchdowns. He was Driskel's safety net and go-to target. Not coincidentally, the Gators had their best season under Muschamp, winning 11 games.
"I think it was a very offensive position when Jordan Reed was here," Muschamp said.
Last year, it was just plain offensive.
It won't be hard for Florida to improve on the production it got out of the tight end position last season -- a
total
of four catches.
Florida returns seniors
Tevin Westbrook
(three catches in 2013) and
Clay Burton
(one catch), who have been used primarily as blockers. The Gators also are building depth at the position with three true freshmen.
DeAndre Goolsby
enrolled in January and made a good first impression in the spring, while
C'yontai Lewis
and
Moral Stephens
are due to arrive in June.
With McGee on board, however, the freshmen won't need to be rushed into early playing time.
The focus throughout the spring was for the tight ends to learn the no-huddle spread offense brought from Duke by new coordinator Kurt Roper. His B position uses the tight ends and fullbacks in a variety of roles and disguises -- from motioning and blocking out of the backfield to inline blocking, lining up in the slot, or splitting out wide.
In every one of those wrinkles, Roper expects his players to be pass-catching threats.
"It's going to be an important position," he said during spring, "and it's going to be a playmaking position for us, so we're counting on them. ...
"I think I've seen growth. Those guys haven't done a whole lot of [receiving]. I think they enjoy doing it. I think they enjoy being part of the pass game. Because of that they go out and work hard and get better at it."
It's a work very much in progress. Now with McGee, suddenly the Gators have a more polished, vastly more experienced puzzle piece. He comes to UF with plenty of accolades.
McGee was Virginia's leading receiver last season with 43 catches for 395 yards and two touchdowns despite a lingering shoulder injury. With his speed and athleticism, the Florida coaching staff is also excited about what he brings on special teams.
McGee was drawn to Florida by Muschamp who recruited him in high school, and Roper, who led Duke's offense against Virginia while McGee took note.
"Their offense, being on the other side, was sort of fun to watch," McGee said to Scott Carter of Gatorzone.com, Florida's official athletics website. "They did a lot of cool things and really did a lot with the tight end position that excites me as a player. There's a lot of versatility with the position to create mismatches and be allowed to do all sorts of different things."
Those feelings of eagerness and optimism are very much mutual, as both parties anticipate a sudden impact. UF coaches know they very well might have recruited a game-changer in McGee, whose graduation from UVA last month enabled him to transfer without having to sit out a year.
"To be able to have a guy that defenses know they have to account for in terms of is he a receiver, is he a tight end, can he create a three-man blocking surface?" Muschamp gushed. "That changes things in the run game. It changes things in protection and how people will attack you. ...
"We feel like he's a very talented player and a great addition for our team."
April, 1, 2014
4/01/14
2:00
PM ET
GAINESVILLE, Fla. -- Thanks to a new offense, the
Florida Gators
are expecting some serious improvement this fall. Every player has hopes and dreams of better statistics.
The most realistic chances to double or even triple their production? That's easy.
Tight ends and fullbacks were an afterthought in 2013, used almost exclusively as blockers in UF's pro-style offense. Two tight ends combined for four catches. Two fullbacks had a total of six receptions and three carries.
[+] Enlarge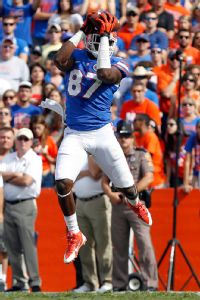 Kim Klement/USA TODAY SportsTevin Westbrook hopes to be a bigger part of Florida's offense this season.
But rather than file a class-action lawsuit for neglect, the four rising seniors are thrilled to learn an offense that promises much more involvement.
"It's really exciting," tight end
Tevin Westbrook
said. "It's more of a competition. Every day when you go out you know that you've to play to be able to catch the ball and block, to move from off the ball to a bigger role. It's exciting. We're catching balls and blocking from the backfield, blocking for the quarterback."
With so little to see of the tight ends and fullbacks on last year's game tape, offensive coordinator Kurt Roper has had to use the first part of spring practice to evaluate what he's got.
"The thing we're trying to figure out first and foremost is the tight end/H-back in our offense, who we call the 'B,' is who is that?" he said. "Who's the guy that's going to be the best in that situation? So it's a fun battle to watch between all those guys that we're repping at that position.
"I think that that B position, because it's so different from what they were doing in the past is probably the thing that we've got to watch the closest."
The change has been apparent.
Those four returning players -- Westbrook, tight end
Clay Burton
and fullbacks
Hunter Joyer
and
Gideon Ajagbe
-- have probably seen more targets this spring than all of their previous years combined. And true freshman tight end
DeAndre Goolsby
has seen as much action as any of the seniors.
Joyer, who has even gotten to show off his hands on intermediate routes, can't hide his smile when talking about the new opportunities available.
"Yeah, everybody's being used and used a lot," he said. "Everyone has a role in it and everyone determines our own roles. So as long as you're doing well, you'll have one."
It's all by design, says Roper. Last year at the reins of a Duke offense that averaged more than 409 yards a game, Roper gave significant roles to two quarterbacks, four running backs and six receivers.
"I think the biggest thing when you put together an offense is you want a defense to have to defend the field and defend all your skill players," Roper said. "Those guys [at the B position] are a big part of our offense. I think they're going to be put in position to make some plays.
"It's been fun to evaluate and we've had some big plays made by those guys. [Last Wednesday], we had two great catches by Gideon and Goolsby. So I think they're starting to get a feel for what we're asking them to do, and I think they're going to be capable of making some of those plays."
That's a huge development for an offense that got almost nothing there last year. Now there's potential and the promise of more to come.
Goolsby, a three-star prospect out of Derby, Kan., committed last November as Florida was in the midst of a seven-game losing streak. He chose the Gators over Ohio State, Oklahoma Arkansas and Kansas State and is now seeing the benefits of UF's new offense.
At 6-foot-4, 230 pounds, Goolsby still needs work in the weight room, but the education he is getting in spring practice should work wonders in getting on the field this fall.
"He's a really good athlete," head coach Will Muschamp said. "He's a guy that can do some things as far as what we're looking for at that position. He fits it extremely well. … I think he's done a really good job. I'm very pleased where he is. I think it's a little early right now to tell where he will contribute."
Florida also signed two more players in its 2014 class who profile as part of the 'B' team -- tight ends
C'yontai Lewis
and
Moral Stephens
, who arrive this summer.
It should make for a robust competition that carries over from spring practice into the fall and maybe even turns into some long-awaited offense.
For the previously invisible tight ends and fullbacks, the new offense means they can dare to dream.
"If we make plays and we come out and block and we catch the ball, they're going to have to put the tight end into the plays," Westbrook said. "As a unit, it's a chip on our shoulder. We need to step up and make more plays in practice and then there will be more action from the tight end."
February, 27, 2014
2/27/14
10:00
AM ET
GAINESVILLE, Fla. -- With the Class of 2014 recruiting cycle in the rearview mirror, the long college football offseason is well underway. But fear not. Spring football is just around the corner.
We're here to get you ready with a look at the top five Gators to watch when practice gets started on March 19.
This
weeklong series
continues with a look at a fresh face at an important position that got lost in the 2013 offense's epic struggles.
[+] Enlarge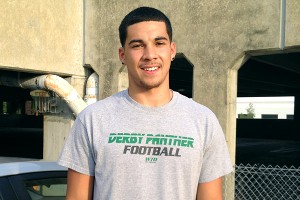 Jeff Barlis/ESPNWith underwhelming talent returning at tight end, DeAndre Goolsby will have a chance to play right away as a true freshman.
TE DeAndre Goolsby
Freshman
6-foot-4, 240 pounds
Credentials:
Goolsby is already on campus as an early enrollee. He was rated a three-star prospect coming out of high school and was the No. 9 tight end/H-back prospect in the nation. On signing day, Florida coach Will Muschamp called Goolsby "a really good athlete at the tight end position" and noted that he's already put on about 15 pounds.
How he fits:
He's not an elite talent, but Goolsby has enough burst and athleticism to be a playmaker. He has good hands, can set up defenders in coverage and has enough speed and wiggle to make them miss. "DeAndre Goolsby is a guy we targeted early on," Muschamp said on signing day. "[Tight ends coach] Derek Lewis went out and evaluated him in the last spring evaluation, really liked his movement skills, his growth potential, his toughness, his point of attack and those things. Excited to have him on campus, and [as] a guy [who] can do some different things for you." The biggest reason Goolsby made this list is because he enrolled in January, which gives him much-needed extra time to learn the playbook and work with offensive coordinator Kurt Roper. If Goolsby proves to be a quick study who's coachable, he'll earn loads of opportunity.
Who he's competing with:
After a couple of transfers in recent years, the Gators don't have a lot of talent at the tight end position. In some regards, Goolsby won't have much competition this spring. Florida's three incumbent tight ends --
Clay Burton
,
Tevin Westbrook
and
Colin Thompson
-- just aren't natural pass-catchers. Westbrook had three catches last season to lead all Gators tight ends, Burton had one catch, and Thompson was injured for the second straight season. Goolsby will need a lot of work on his in-line blocking technique, but Florida won't bring in any additional receiving tight ends until signees
Moral Stephens
and
C'yontai Lewis
arrive this summer.
What needs to happen this spring:
It's not easy for true freshmen to make an immediate impact at offensive skill positions, but Muschamp said it best -- "We need some help at the tight end position. [Goolsby] is a guy that's going to come in here and certainly get his opportunities." To take advantage of the chance to play early, Goolsby needs to keep it simple and worry about learning the plays, running precise routes and catching everything he can. If he can just distinguish himself as the top pass-catcher among UF tight ends this spring, the Gators would call that a success and move forward with plans to involve Goolsby in the offense this fall.
February, 13, 2014
2/13/14
10:00
AM ET
GAINESVILLE, Fla. -- Four catches.
It doesn't get much worse than the nearly complete absence of production from Florida's tight ends last season. Four catches is practically invisible, although some of the blame can be shared with a passing offense that ranked No. 107 out of 123 FBS teams in 2013.
Just one year prior, the Gators got a fine season from tight end Jordan Reed, who led the team in receiving with 45 catches for 559 yards and three touchdowns. Then the bottom fell out.
"It was a very offensive position when Jordan Reed was here," head coach Will Muschamp said recently. "It was an offensive position last year."
This fall, position coach Derek Lewis goes back to the drawing board to develop the players he has. There is also hope that new coordinator Kurt Roper will devise an offense that will better utilize UF's big targets over the middle of the field.
As we've gone through this week's series of the
Gators' top positions with room to improve
, it's not difficult to notice the focus has been on every offensive group except for running back. Here then is a look at Florida's tight ends.
[+] Enlarge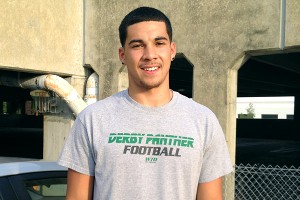 Jeff Barlis/ESPNWith very little production returning from Florida's tight ends, incoming freshman DeAndre Goolsby could make an immediate impact.
Battling for No. 1:
Just how much emphasis was there on tight ends blocking in 2013? Well,
Clay Burton
started nine of 12 games and had just one catch in the final game of the season. He's started 15 of his 25 games in an Gator uniform, but with questionable hands and just three career catches, Burton leaves a lot to be desired. The same can be said for
Tevin Westbrook
, a converted defensive lineman who "led" Florida tight ends in receiving last season with three catches for 30 yards. Burton and Westbrook have good size and can block, but it's possible they've already reached their ceilings in terms of skill. If Roper opens up the offense and involves the tight ends, the best bets for receiving options are likely to come in the form of true freshmen.
Strength in numbers:
Part of the problem with tight ends at Florida has been numbers. The Gators had just three on scholarship when
Kent Taylor
transferred after a lost 2013 season. That third tight end was
Colin Thompson
, who has hardly seen the field due to nagging foot injuries. Like Taylor, Thompson was one of the top tight end prospects in the nation in the Class of 2012. But even when healthy -- if he
can
get healthy -- Thompson profiles more as a blocker than a pass-catcher.
New on the scene:
The Gators acted decisively in signing three skilled tight ends in their 2014 recruiting class.
DeAndre Goolsby
, an athletic 6-foot-4 and 230 pounds, is already on campus as an early enrollee. That's critical because he needs to gain more weight and upper-body strength, and having Goolsby compete in spring practice could give him the best chance of any tight end on the roster at becoming the pass-catcher Florida has lacked at the position. Like Goolsby,
C'yontai Lewis
has been working to gain weight and is up to 6-4, 230. Lewis caught the coaching staff's eye in camp last summer when he showed good ball skills and athleticism. The third tight end in the class,
Moral Stephens
, was a big wide receiver in high school who was offered a scholarship at UF when Taylor's transfer opened a spot on the roster. Stephens, is 6-3, 200, so he will need to add some bulk, but the coaches like his playmaking ability and see him as a tight end and H-back.
February, 7, 2014
2/07/14
11:30
AM ET
GAINESVILLE, Fla. -- Florida coach Will Muschamp was all smiles on signing day, officially announcing his fourth recruiting class.
The Gators signed all 13 of their commits with no drama and added two more for a total of 24. UF moved up one spot to finish at
No. 6 in ESPN's class rankings
, just missing a third consecutive top five class.
We've already looked at Florida's
nine early enrollees
in this class. Here's a breakdown of the 15 who were added on Wednesday.
David Sharpe
|
Scouting report

Jacksonville, Fla./Providence School
Height/Weight:
6-foot-6, 288 pounds
Ranking:
No. 20 overall, No. 2 offensive tackle
How he fits:
After splitting time between football and basketball in high school, Sharpe will focus solely on offensive tackle, where he has tremendous potential. "He's got great feet," Muschamp said. "You can't coach that." Sharpe is a terrific athlete who will play a position of great need at Florida, but there's a good chance he'll redshirt considering how much he still has to learn and grow.
Gerald Willis III
|
Scouting report

New Orleans/Edna Karr
Height/Weight:
6-3, 275
Ranking:
No. 42 overall, No. 2 defensive tackle
How he fits:
One of UF's recruiting prizes, Willis will have a chance to play right away because of his mature game and versatility. Like Sharrif Floyd and Dominique Easley, Willis can play inside or at strong-side end. "He really uses his hands very well," Muschamp said, "better than most high school defensive linemen."
Thomas Holley
|
Scouting report

Brooklyn, N.Y./Lincoln
Height/Weight:
6-4, 303
Ranking:
No. 51 overall, No. 3 defensive tackle
How he fits:
A basketball player for much of his high school career, Holley is a raw talent but one with perfect measurables to be a dominant presence inside. The Florida coaching staff loves the idea of developing an explosive athlete with Holley's size.
J.C. Jackson
|
Scouting report

Immokalee, Fla./Immokalee
Height/Weight:
6-0, 185
Ranking:
No. 79 overall, No. 11 athlete
How he fits:
With four upperclassmen gone, there is a lot of opportunity at cornerback. Jackson stuck with the Gators in order to take advantage of it. An explosive athlete with good size, Jackson also has a chance to contribute as a special teams return man.
Treon Harris
|
Scouting report

Miami/Booker T. Washington
Height/Weight:
5-11, 186
Ranking:
No. 163 overall, No. 7 dual-threat quarterback
How he fits:
With Kurt Roper bringing the spread and option back into UF's offense, it was imperative that Florida add to its QB depth with an athlete. Harris is that and more. Not the most-polished passer, he sometimes looks like a scatback when plays break down. But his instincts and ability to improvise could put him in the mix to compete for backup minutes this fall.
Moral Stephens
|
Scouting report

Perry, Fla./Taylor County
Height/Weight:
6-3, 200
Ranking:
No. 201 overall, No. 27 wide receiver
How he fits:
Much like Jordan Reed and Aaron Hernandez, Stephens has the look of a playmaker at tight end and H-back once he fills out a bit. The coaches were quick to add him to the class after a spot opened up when
Kent Taylor
transferred.
Khairi Clark
|
Scouting report

Hollywood, Fla./Chaminade
Height/Weight:
6-2, 329
Ranking:
No. 211 overall, No. 16 defensive tackle
How he fits:
A bull in the middle, Clark moves very well for his size. He might need a redshirt year to develop his technique, but there's no doubting his potential as a run-stuffing, lane-clogging tackle.
Justus Reed
|
Scouting report

Clearwater, Fla./Central Catholic
Height/Weight:
6-3, 215
Ranking:
No. 285 overall, No. 25 defensive end
How he fits:
Muschamp called Reed "a very explosive guy" and a hybrid outside linebacker/defensive end who probably needs to redshirt to add about 20 pounds.
Quincy Wilson
|
Scouting report

Fort Lauderdale, Fla./University School
Height/Weight:
6-1, 197
Ranking:
No. 292 overall, No. 15 safety
How he fits:
With a good blend of size and speed, Wilson could play some cornerback. But Florida typically fields elite athletes there, so Wilson could bring his skills to the safety position, where the Gators have good depth.
Ryan Sousa
|
Scouting report

Orlando, Fla./Lake Nona
Height/Weight:
6-0, 177
Ranking:
No. 47 wide receiver
How he fits:
Another prospect who benefited from the Roper hire, Sousa flipped from FSU as soon as the Gators offered. He's smart, plays fast and was ultra-productive in the slot and outside. If he can do the same in Roper's offense, he'll get on the field quickly.
Travaris Dorsey
|
Scouting report

Jacksonville, Fla./Raines
Height/Weight:
6-3, 314
Ranking:
No. 26 offensive guard
How he fits:
He has the size to play in the trenches right away but could use some time to refine his technique. There's no doubt the physical attributes are there, as Muschamp cited Dorsey's "really good lower body, punch and power" as well as his long reach.
Andrew Mike
|
Scouting report

Tucson, Ariz./Sabino
Height/Weight:
6-6, 278
Ranking:
No. 32 offensive tackle
How he fits:
Muschamp admitted Mike was "a guy that we kind of lucked into" after Florida jumped into his recruitment very late and got a commitment the night before signing day. Still, the size, reach and athleticism scream SEC lineman after a redshirt year.
C.J. Worton
|
Scouting report

Homestead, Fla./South Dade
Height/Weight:
6-1, 171
Ranking:
No. 77 wide receiver
How he fits:
He's another signee in whom Florida's interest shot up after Roper took the reins of the offense. The coaching staff loves his competitiveness, and as usual, Florida has a tremendous need for playmakers at receiver. Like Sousa, he'll get a chance to work in the slot.
C'yontai Lewis
|
Scouting report

Tuscaloosa, Ala./Northridge
Height/Weight:
6-4, 230
Ranking:
No. 15 tight end/H-back
How he fits:
Lewis earned his scholarship last summer when he came to UF's camp and showed off great hands and athleticism. The coaching staff is excited about his potential to grow into the position, as he's already put on at least 20 pounds since then.
Deiondre Porter
|
Scouting report

Tampa, Fla./Thomas Jefferson
Height/Weight:
6-1, 167
Ranking:
No. 50 pocket-passing quarterback
How he fits:
Porter will get his first look in the defensive backfield. The coaching staff loves his speed and smarts, so he could stick as a corner or safety. He could also find a home at receiver or even play some quarterback in a pinch.
February, 6, 2014
2/06/14
3:00
PM ET
GAINESVILLE, Fla. -- Signing day is one of those rare times in which every college coach celebrates a win.
And for a Florida program that suffered through seven straight losses to finish a miserable 2013 season, a win is somehow more than a win. It's validation. It's hope.
The Gators put a bow on their fine 2014 recruiting class on Wednesday, and the feeling on campus was like a return to happier times.
Here's a position-by-position breakdown of the Gators' class with a grade for each.
Quarterback
Florida needed to replace two transfers after junior backup
Tyler Murphy
and freshman
Max Staver
left, and the Gators did so with aplomb.
Will Grier
, one of the centerpieces of the class, is a gifted passer with plenty of athleticism to run. Adding
Treon Harris
gives the Gators a talented athlete who is a proven winner with two state titles as evidence. Harris flipped on signing day from Florida State because he felt Kurt Roper's offense at UF would be a better fit. Now Roper has to get both QBs ready for action.
Running back
Losing one of the top tailbacks in the country,
Dalvin Cook
, was a big blow. Losing him to Florida State hurts even more. Cook would have been a perfect complement to UF's already-strong backfield. But Florida recovered quickly and flipped ESPN 300 athlete
Brandon Powell
from Miami. Like Cook, Powell is an early enrollee, which helps. He does a lot of the same things as Cook and likewise see early playing time.
Wide receiver
Again, Florida lost one of the best prospects in the country,
Ermon Lane
, to FSU, which will sting when the schools square off in their annual grudge match. And again, the Gators recovered with a flip of their own.
Ryan Sousa
, a four-star prospect, switched from FSU to Florida. The Gators also got a signing-day boost from former FSU commit
C.J. Worton
. Both project as slot receivers and are good fits for an offense that will feature more spread elements.
Tight end
It's been a rough ride at this position since Jordan Reed's departure. There's really nowhere to go but up. The Gators are excited about all three signees.
DeAndre Goolsby
is already on campus as an early enrollee.
Moral Stephens
is a playmaker who profiles more as an H-back. And despite being less well-known,
C'yontai Lewis
caught the coaches' eyes during summer camp as a big target (6-foot-4, 230 pounds) with good hands.
Offensive line
Florida desperately needed help here and got it in the form of six signees. The big prize is Jacksonville, Fla., offensive tackle
David Sharpe
, the nation's No. 2 offensive tackle prospect. But this group offers plenty more in the way of immediate impact and depth. Guards
Drew Sarvary
and
Nolan Kelleher
have the size to contribute this fall and are already on campus. Offensive tackle
Kavaris Harkless
will also benefit from being an early enrollee.
Travaris Dorsey
gives UF a rock-solid prospect on the interior line. Big, rangy offensive tackle
Andrew Mike
was a late addition, flipping from Vanderbilt to UF the night before signing day.
Defensive line
This might be the strength of the class, a group that Florida recruiters might someday pound their chests over. It started with three prospects on whom the coaching staff is extremely high -- DE
Taven Bryan
, who is on campus now, burly DT
Khairi Clark
and DE
Justus Reed
, a quick and explosive athlete. Then Florida added two huge pieces in pulling DL
Gerald Willis III
out of New Orleans and flipping DT
Thomas Holley
from Penn State. Both are among the finest D-line talents in this class.
Linebacker
Florida didn't have a serious need after signing a fine class of four linebackers last season. They went after some big names, like
Christian Miller
(a one-time commit),
Raekwon McMillan
,
Jacob Pugh
and
Nyles Morgan
but didn't settle for lesser talents just to fill space. We'll give this position and incomplete grade.
Defensive back
This could have been a home run had Florida signed
Adoree' Jackson
. Instead, it was a stand-up triple. The Gators have lost four starters in a backend that typically starts five in the oft-used nickel formation, but Florida has recruited well here for years. The 2014 class was no exception. UF desperately needed a signee who can compete right away as a starting cornerback and got its man in five-star
Jalen Tabor
. Keeping
J.C. Jackson
in the class and signing fellow ESPN 300 talents
Duke Dawson
and
Quincy Wilson
was huge.
Deiondre Porter
, a late flip from South Florida, is an intriguing project who played quarterback in high school.
Overall
The Gators met every one of their biggest needs -- a corner who can start, talented depth for the offensive line, a future starting quarterback (or two), fresh blood at tight end, and some explosive playmakers in the slot on offense. Not enough can be said of the job this coaching staff did to finish with the No. 6-ranked class in the nation after a 4-8 season. It speaks volumes about the resilience of the Florida brand name as well as the recruiting ability of Will Muschamp and his coaches.
November, 8, 2013
11/08/13
2:52
PM ET
Help is on the way for Florida's struggling passing attack. The Gators landed a commitment from athletic tight end
DeAndre Goolsby
(Derby, Kan./Derby) on Friday afternoon in a ceremony at his school.
Goolsby chose Florida over offers from Kansas State, Oklahoma, Arkansas and Ohio State. The three-star tight end took official visits to all five of his finalists before announcing his decision.
[+] Enlarge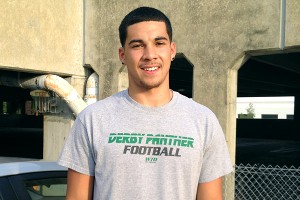 Jeff Barlis/ESPNTight end DeAndre Goolsby committed to Florida, adding to a position of great need for the Gators.
Florida has had essentially no production from tight ends this season. In fact, Florida's tight ends have combined for two catches for only 13 yards. As a junior, the 6-foot-4, 235-pound athlete made 42 receptions for 605 yards and 11 touchdowns.
Goolsby, with added bulk and proper coaching, has a chance to develop into a productive target for the Florida offense.
"Goolsby is a good prospect who can eventually offer some versatility in how [he's] utilized and be a productive receiving target," his Recruiting Nation scouting report reads. "[He] should also be a good special-teams contributor. We don't see an immediate contributor as he needs to develop further physically and his ability to contribute will be limited until he strengthens his game as a blocker, but he has good ability and displays upside to be a good player at the next level."
The Gators have 15 commitments, including nine ranked in the ESPN 300. Florida has offensive skilled position commitments from No. 2 dual-threat quarterback
Will Grier
(Davidson, N.C./Davidson), No. 4 running back
Dalvin Cook
(Miami/Central) and No. 2 wide receiver
Ermon Lane
(Homestead, Fla./Homestead). Goolsby could become another weapon the Gators can utilize beginning in 2014.
Goolsby joins three-star prospect
C'yontai Lewis
(Tuscaloosa, Ala./Northridge) as Florida tight end commits. Current Florida tight end
Colin Thompson
has a chronic foot injury, second-year tight end
Kent Taylor
has not played a down this season and the Gators' two other tight ends --
Tevin Westbrook
and
Clay Burton
-- are converted defensive players.
Both Lewis and Goolsby will have a chance to work their way into Florida's tight end rotation.
July, 26, 2013
7/26/13
8:50
AM ET


GAINESVILLE, Fla. -- Friday Night Lights at Florida is arguably the premier one-night camp in the country. Former Florida coach Urban Meyer started the event with great success and Will Muschamp has continued to make it a top destination for high school recruits. This year, as in years past, the Gators will bring in some top prospects from across the country. Here's a closer look at what to expect on Friday evening.

Several top prospects expected


June, 17, 2013
6/17/13
8:00
AM ET
GAINESVILLE, Fla. -- Gators fans grumbled through a disappointing month of May, suffering through a couple of decommitments as Florida's 2014 class dropped in ESPN's rankings from No. 2 to No. 10.
But after a week-long summer camp loaded with talent and chocked with big-name visits, UF has firmly regained recruiting momentum and the faith of those frustrated fans.

The first day of the camp set the tone as the Gators got
a commitment from ESPN 150 athlete J.C. Jackson
(Immokalee, Fla./Immokalee) less than a week after he decommitted from FSU. Three days later, Florida landed
a pledge from DE Taven Bryan
(Casper, Wyo./Natrona County).
To continue reading this article you must be an Insider
June, 14, 2013
6/14/13
9:24
AM ET
GAINESVILLE, Fla. -- Tight end
DeAndre Goolsby
(Derby, Kan./Derby) admits he's nowhere near ready to pick his college destination.
"I'm just kind of out there, looking," he says. "There's still a lot to see, so I'll wait that out."
With cautious curiosity, Goolsby visited Ohio State and Florida this week -- two big steps in his plan to narrow a sizable offer list to a handful of top teams before his senior season and make a decision by the end of the fall.
The 6-foot-4, 225-pound tight end was in Columbus, Ohio, on Monday.
To continue reading this article you must be an Insider
May, 23, 2013
5/23/13
11:14
PM ET
Looking ahead to the 2013 season, the University of Florida appears to lack any proven depth at tight end. On the roster now are junior converted defensive end
Clay Burton
, junior converted defensive end
Tevin Westbrook
, sophomore
Kent Taylor
and redshirt freshman
Colin Thompson
, who is coming off an injury. Florida hopes to have filled its tight end need for the 2014 recruiting cycle Thursday with an emerging talent who just happens to be teammates with one of the elite talents in the country.
Coming into this week,
Cyontai Lewis
(Tuscaloosa, Ala./Northridge) was off the recruiting map and without any offers. On Wednesday, Mississippi State extended a scholarship, and a day later Florida came through with an offer. Just a few hours later, Lewis decided he did not want to wait and secured his spot, calling coach Will Muschamp to give him the news.
"He was pumped up," Lewis said. "He said he was going to make a commitment to me to not recruit any more tight ends as long as I commit to him that I'm going there."
The 6-foot-5, 215-pound prospect likely had more offers headed his way soon, but he pounced on the chance to play for the Gators.
"I committed to Florida because I just feel like Florida is the place to be right now," Lewis said. "Coach D-Lew [Derek Lewis] seems like he knows what he's doing with tight ends and I'm trying to go to the league after college and he says he knows how to get me there. And I'll be playing for a winning team, so I might as well go on and commit."
With his size and receiving ability, the Gators' coaching staff plan to flex Lewis outside on occasion to create mismatches against linebackers and cornerbacks.
"They want me as a hybrid tight end, where I can play on the line of scrimmage and then move out to the slot because I have good hands and good ball skills," Lewis said.
Lewis, who had 20 catches for 249 yards and three touchdowns as a junior, becomes commitment No. 8 for Florida. One of his teammates is
Bo Scarbrough
, an Alabama pledge who is No. 17 in the ESPN 150.
Lewis' addition reverses a string of bad news earlier in the week, when ESPN 150 linebacker
Christian Miller
(Spring Valley, S.C./Spring Valley) and four-star receiver
Ryeshene Bronson
(Fort Myers, Fla./Dunbar) both decommitted, dropping the Gators to No. 8 in the
ESPN class rankings
.
McElwain discusses new Florida football
SEC SCOREBOARD
Thursday, 9/3
Saturday, 9/5