Florida Gators:

Casey Prather
February, 12, 2013
2/12/13
11:47
PM ET
GAINESVILLE, Fla. --
Casey Prather
left the Florida locker room after the Gators'
69-52 victory
over Kentucky with a small red bump on his lower lip near the corner of his mouth.
That wasn't a lot of damage for the 6-foot-6 swingman despite an evening of playing inside against the nation's top shot-blocker and a 7-footer. The Gators hope he can hold up that well throughout the rest of the regular season.
That's pretty much the only way UF can weather the loss of
Will Yeguete
and put itself in position to make another deep NCAA tournament run.
[+] Enlarge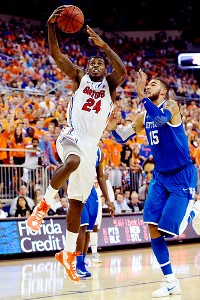 AP Photo/Phil SandlinCasey Prather scored 12 points and took three charges for the Gators.
"It [stepping in for Yeguete] wasn't really in the back of my mind," Prather said after scoring 12 points, grabbing three rebounds, blocking two shots, and dishing out two assists. "I would just say I was trying to give the team a big boost, big energy boost, and so I was just glad to help the team out any way I could."
The 6-7 Yeguete -- the Gators' second-leading rebounder, best post defender, and the key to UF's full-court press -- underwent surgery last Friday to clean out loose bodies in his right knee. Replacing part of Yeguete's production fell to Prather, and he has embraced the challenge. He had 12 points and five rebounds in the Gators' rout of Mississippi State last Saturday, but the Bulldogs sit in the SEC's cellar and have won just seven games. It was going to be a much bigger task to do it against Kentucky and 6-10
Nerlens Noel
, the nation's leading shot-blocker (4.5 per game), and 7-foot center
Willie Cauley-Stein
.
Prather not only held his own, he drew three charges and had a big first half to help the Gators rally from a slow start. With
Erik Murphy
on the bench for much of the first half with two fouls, Prather scored eight points -- two of which came on a dunk in front of Cauley-Stein.
"It's just a matter of confidence with that guy," UF center
Patric Young
said. "Because, I know he can do that day in and day out. He's just really athletic with really active hands. It was a night where he could show what he can do."
March, 23, 2012
3/23/12
9:15
PM ET


GAINESVILLE, Fla. -- Here are five things to watch for in
Saturday's Florida-Louisville matchup
in the Elite 8 (4:30 p.m. ET on CBS) in Phoenix, Ariz.
Man in the middle:
Louisville center
Gorgui Dieng
presents the same kind of trouble for the Gators as Kentucky's
Anthony Davis
. He's a shot-blocking machine who should make smaller guards
Erving Walker
(5-foot-8) and
Kenny Boynton
(6-1) think twice about driving the lane. The 6-11 Dieng already has Louisville's single-season blocks record (123 and counting) and is averaging 9.2 points and 9.1 rebounds per game. Against Michigan State on Thursday, Dieng tied his career high with seven blocks and added nine rebounds, five points and three steals. He's had at least five blocks in a game 11 times this season. Florida can't allow him to control the paint the way he did against the Spartans. It'll be up to 6-9 center
Patric Young
to make Dieng guard him and try to get him in foul trouble.
Defense, defense, defense:
Louisville isn't particularly big, but the Cardinals are long and athletic, and those are the kind of teams the Gators have struggled with the past few seasons. Louisville has been thriving because of its defense. The Cardinals are third nationally in field goal percentage defense (37.7 percent) and have been fantastic in the NCAA tournament, limiting Davidson to 35 percent from the field and holding New Mexico to 56 points, which was its fourth-lowest point total of the season. Michigan State managed just 44 points, including 18 in the first half. Florida's defense has held its three NCAA tournament opponents to an average of 51.0 points and Virginia, Norfolk State and Marquette shot a combined 20.6 percent from 3-point range (13-for-63) and 31.5 percent from the field. The Gators are also averaging 43.0 rebounds per game in the NCAA tournament, which has limited opponents' second shot opportunities.
March, 22, 2012
3/22/12
7:24
AM ET


GAINESVILLE, Fla. -- Here are five things to watch for in tonight's Florida-Marquette matchup in the Sweet 16 (10:17 p.m. ET on TBS) in Phoenix, Ariz.
Who wins the 3-point line?
Florida was terrible from long range in its victory over Virginia (4-for-23) but rebounded with a 10-f0r-28 performance against Norfolk State. The Gators, who average a nation-leading 10 3-pointers per game, have been streaky from long range all season. Marquette's 3-point defense in the NCAA tournament has been pretty good. BYU and Murray State combined to go just 11-for-40 (27.5 percent) from 3-point range. Teams are shooting just 31.8 percent from 3-point range against the Golden Eagles this season.
Stopping Crowder:
Marquette forward Jae Crowder was the Big East Player of the Year, and the 6-foot-6 senior has been nearly unstoppable in his last 10 games. Crowder is averaging 21.4 points and 10.7 rebounds and has posted seven double-doubles in that span. He also is averaging 3.1 steals and 2.5 assists and is shooting 51.7 percent from the field in those 10 games. This is a game where not having 6-7 forward Will Yeguete will hurt the Gators, but 6-6 sophomore Casey Prather did a good job against Virginia's Mike Scott. He'll be called upon again to help stop Crowder.
A small advantage:
Florida doesn't have a size advantage over many teams, but the Gators are a bit bigger than the Golden Eagles in the frontcourt. Center Patric Young (6-9) and forward Erik Murphy (6-10) have a 2-4 inch height advantage over Crowder and 6-7 forward Jamil Wilson. Will that make a difference, though? Marquette is a solid rebounding team, but the difference could be Bradley Beal. The 6-3 freshman guard is UF's leading rebounder (6.7 per game) and is averaging 8.4 rebounds per game in March.
March, 21, 2012
3/21/12
9:05
AM ET
GAINESVILLE, Fla. -- When Florida lost
Will Yeguete
to a broken foot in late February, Billy Donovan knew his team was going to have to undergo a makeover.
[+] Enlarge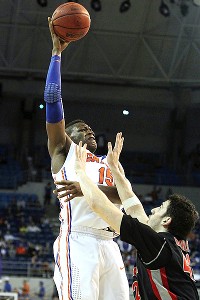 Kim Klement/US PresswireFlorida forward Will Yeguete broke his foot against Auburn on Feb. 21.
Guards
Bradley Beal
,
Casey Prather
and
Scottie Wilbekin
would have to spend time at power forward to make up for the loss of the Gators' best rebounder and post defender. UF wouldn't be as big inside or rebound as well as when the 6-foot-7 Yeguete was on the floor, but using a four-guard lineup would put more 3-point shooters on the floor and allow the Gators to play more in transition.
But reshaping his team's identity wasn't going to be that simple. There was so much else for Donovan to consider:
" How would center
Patric Young
handle playing without his best friend and roommate?
" How do you defend while using the four-guard lineup, especially against a team that has a powerful front court, like Kentucky with
Anthony Davis
and
Terrence Jones
?
" How do you avoid becoming predictable offensively when there are four guards and forward
Erik Murphy
– who at 6-10 is UF's best 3-point shooter (43.1 percent) – on the floor?
" And, perhaps most importantly, how do the players respond mentally to the challenge of having to do it all during the final weeks of the regular season and into the post-season?
March, 16, 2012
3/16/12
4:44
PM ET
OMAHA -- Quick thoughts from Florida's
71-45 victory over Virginia
Friday at the CenturyLink Center.
Overview:
Florida advanced to the round of 32 of the NCAA tournament, but the Gators probably didn't throw much of a scare into their future opponent. At least not in the first half.


With the
Missouri Tigers
watching from the crowd, the Gators missed their first 15 3-point attempts before finding their groove in a 26-point dismantling of Virginia. As lackluster as Billy Donovan's squad was in the first half, Florida caught fire in the second. The Gators shot 69.6 percent after intermission in what turned out to be one of the more lopsided games in the NCAA tournament thus far.
Florida's performance was good enough to get past an injury-riddled, overmatched Cavaliers squad that hadn't defeated a high-quality team since beating Michigan on Nov. 29. But Donovan knows it will take a much better effort to get past No. 2 seed Missouri if the Tigers advance as expected by beating No. 15 Norfolk State.
Casey Prather
and
Bradley Beal
had 14 points each for No. 7 Florida while
Patric Young
added 13. Virginia senior forward
Mike Scott
, an All-ACC performer, had 15 points in his final game as a collegian.
Turning point:
Virginia opened the game on 10-2 scoring run, but not much went right for Cavaliers after that. Florida went on a 28-12 tear that resulted in a 30-22 halftime lead. It was never close in the second half.
Key player:
Beal chipped in 11 rebounds to go along with his 14 points -- an impressive total for a guard.
Key stat:
Florida and Virginia combined to miss their first 20 3-point attempts before Gators guard
Scottie Wilbekin
finally connected from beyond the arc late in the opening half. The teams were a collective 1-for-22 on 3-pointers before intermission.
Miscellaneous:
Virginia was making its first NCAA tournament appearance since 2007. ... Tony Bennett's father, Dick Bennett -- the former Wisconsin head coach -- was in the stands Friday to support his son. ... Florida is now 26-9 in NCAA tournament games under Billy Donovan. ... The Gators advanced to the Elite Eight last season. ... Florida had lost four of its past five games before Friday.
What's next:
Florida improves to 24-10 and advances to play either Missouri or Norfolk State on Sunday. Virginia ends its season 22-9.
February, 24, 2012
2/24/12
4:24
PM ET
GAINESVILLE, Fla. -- Replacing Florida forward
Will Yeguete
, who is out for the rest of the season with a broken bone in his left foot, will have to be a concerted group effort, coach Billy Donovan said Friday.
Some of the burden will fall to
Casey Prather
,
Bradley Beal
and
Scottie Wilbekin
, but the 11th-ranked Gators (22-6, 10-3 SEC) are also going to need a significant contribution from
Cody Larson
. Based on what the 6-foot-9 redshirt freshman forward/center has done over the past few weeks, Donovan is confident Larson will be able to help on defense.
"He gave us some good quality minutes at Alabama," Donovan said. "I played him on the road at Arkansas when Erik [Murphy] and Patric [Young] were in foul trouble. One thing I have total trust and confidence in is he knows what he's doing defensively, and he's pretty good, and he'll physically battle and he'll do some things inside."
February, 21, 2012
2/21/12
10:57
PM ET
GAINESVILLE, Fla. -- Florida's
Will Yeguete
limped off the court, sat down on the bench, and took the sneaker off his left foot.
He pointed to a spot below his ankle on the outside of his foot for Florida trainer Duke Werner to examine. Moments later, he hobbled off into the locker room -- for what may be the last time this season.
The 6-foot-7, 222-pound reserve forward suffered a broken bone in his foot and is out indefinitely, according to team spokesperson Denver Parlor. It's a sobering development that dulled the 11th-ranked Gators' 63-47 victory over Auburn in front of 10,150 at the O'Connell Center Tuesday night. Yeguete had just returned from missing one game (Alabama) because of a concussion he suffered against Tennessee on Feb. 11.
February, 13, 2012
2/13/12
3:52
PM ET
[+] Enlarge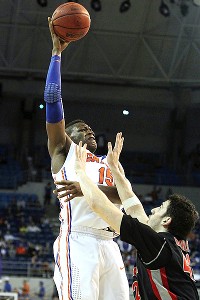 Kim Klement/US PresswireThe absence of sophomore Will Yeguete has become a major issue for Florida.
GAINESVILLE, Fla. -- Florida coach Billy Donovan said Saturday night that the Gators were not a hardened team because they haven't gone through much adversity.
Looks like the Gators are packing a season's worth in the next week.
Florida will be without forward
Will Yeguete
(concussion) and guard
Mike Rosario
(hip) and forward
Cody Larson
(illness) will be limited for Tuesday's game at Alabama, and Donovan said Yeguete also will be out for Saturday's game at Arkansas and he is unsure when Yeguete will be able to return.
That leaves the Gators severely shorthanded in the frontcourt, and it will force Donovan to use smaller lineups and play guard/forward
Casey Prather
and guards
Bradley Beal
and
Scottie Wilbekin
at power forward. Donovan will only have two days to get those three to understand the different defensive responsibilities in the press and zone, figure out where they're supposed to provide help defense, and get them to understand their roles on offense.
"Dire is probably a pretty good word," Donovan. "I'm not saying our team is not impacted by Will not being able to play, but that's the hand we're dealt. How do we play? How do we compete? What kind of presence and disposition do we carry? How unified and connected? All those things are much, much more important because you can play really, really hard and really, really well and be undermanned and still fall short."
February, 11, 2012
2/11/12
7:04
PM ET
GAINESVILLE, Fla. -- Florida coach Billy Donovan said earlier this week he wasn't concerned that his team would have trouble bouncing back from Tuesday's 20-point loss at Kentucky.

He probably is now.

The eighth-ranked Gators (19-6, 7-3 Southeastern Conference) struggled on Saturday against Tennessee (13-12, 5-5). Florida had trouble defensively at the 3-point line and inside, turned the ball over way too much and looked listless throughout much of the first half.

The Gators also struggled from long range for the second consecutive game. UF went 11-for-30 against the Vols after going 6-for-27 against Kentucky.

The result was the Gators' first back-to-back losses in nearly two years.


January, 5, 2012
1/05/12
4:34
PM ET
GAINESVILLE, Fla. -- The Florida basketball team is not exactly a picture of health right now heading into Southeastern Conference play.
Casey Prather
is still recovering from flu-like symptoms,
Erik Murphy
is getting stitches and
Mike Rosario
is out indefinitely.
UF coach Billy Donovan said Prather, who has missed the last three games, practiced on Thursday and should play in the 14th-ranked Gators' game at Tennessee on Saturday. Murphy had to get stitches after he was elbowed above the right eye in practice on Thursday but should be able to play against the Vols provided he doesn't develop concussion-like symptoms.
Rosario's situation is a bit different. He missed Tuesday's UAB game because of a sprained ankle, an injury he sustained during the Yale game on Dec. 31. Donovan said the reserve guard, who is averaging 9.0 points and 2.3 rebounds per game, will undergo further tests to make sure the injury isn't more serious.
"I'm not sure when we'll get him back, what kind of availability he has for practice [on Friday]," Donovan said. "Obviously if he doesn't practice tomorrow he's not going to play. We're trying to maybe get him looked at by a doctor, take an x-ray, MRI to see if there's anything more to it than what we think it is.
"Until he feels like he can go and move and put pressure on it, we're just kind of moving forward without him."
December, 31, 2011
12/31/11
5:29
PM ET
GAINESVILLE, Fla. -- They finally fed the beast.
Florida made a concerted effort to get the ball to
Patric Young
in the low post, and the sophomore center rewarded the Gators with a dominating 19-point performance in the No. 10
Gators' 90-70 victory against Yale
Saturday afternoon in the Stephen C. O'Connell Center.
"I probably got 15-plus touches, and it all equated out to really good things for our team," Young said. "The ball has to go inside-out for our team. That's just how it works. That's Florida Gator basketball, going inside-out and the ball jumping around, and everyone getting a hand on it before the shot goes up.
"I'm not saying I have to take every shot when I get it, because you see I had five assists [a career-high], but it opens up other things when everyone is getting the ball because they don't know who they're going to cover."
Florida coach Billy Donovan was pleased with the way his offense responded to a lackluster effort at Rutgers, calling it "one of the best games we played this year.
"I was really, really pleased with the way we moved and shared the ball. I think I said after the game against Rutgers that we didn't play the right way. I thought we really played the right way today."
December, 17, 2011
12/17/11
5:35
PM ET
SUNRISE, Fla. -- Looks like Florida made pretty good use of its week off.
The 13th-ranked Gators (8-2) rolled out to an 18-2 lead behind a stingy defense and hot shooting and cruised to an easy victory over 22nd-ranked Texas A&M Saturday in the MetroPCS Orange Bowl Classic in front of 11,262 at the BankAtlantic Center. UF (8-2) hadn't played since a Dec. 9 victory over Rider in Jacksonville, Fla.
Player of the game:
UF guard
Kenny Boynton
scored 22 points, the sixth time this season he has surpassed 20 points. Boynton made 7-of-15 shots, including 6-of-11 from 3-point range. Boynton has now scored 48 in his last two games, including a season-high 26 against Rider.
Stat of the game:
Texas A&M entered the game allowing 51.4 points per game. The Gators lead 50-25 at halftime. The Aggies had held opponents to less than 50 points four times this season.
What did we learn?
Florida was able to handle Texas A&M's length pretty well despite center
Patric Young
being in foul trouble much of the game. Young scored just five points and grabbed four rebounds, but
Will Yeguete
,
Casey Prather
and
Erik Murphy
pitched in on the boards. They combined for 13 rebounds.
Noteworthy:
During halftime, a fan made a promotional half-court shot for $25,000. ... Murphy was back in the starting lineup for the first time since the wright State game one Nov. 21. He had 13 points, including 10 in the first half on 4-for-4 shooting. Murphy missed three games with a right knee injury. ... The Gators committed just three turnovers in the first half. Texas A&M had 10 in the first half.
November, 26, 2011
11/26/11
4:05
PM ET
GAINESVILLE, Fla. -- Florida junior forward Erik Murphy is out indefinitely with a torn meniscus in his right knee, Gators coach Billy Donovan said Saturday afternoon.

Donovan said doctors are still evaluating the injury, and he isn't sure if Murphy will require surgery. He expects to know more on Monday but said Murphy is definitely out for at least the next week.

"It does appear he has some form of a meniscus tear. How severe, how long he's going to be out, we'll probably find out a lot more on Monday," Donovan said. "What the procedures would be in terms of getting him back, if he requires surgery or rest, we're going to probably have a better feel for that on Monday."

Murphy (6-foot-10, 230 pounds) suffered the injury to his right knee during Thursday's practice. Donovan said Murphy complained of pain and swelling on Thursday evening and had trouble putting much weight on the leg. Murphy, who is averaging 10.0 points and 4.0 rebounds per game and is shooting 57.1 percent from 3-point range, did not play in Florida's 107-62 rout of Jacksonville on Friday night.

Sophomore Will Yeguete started in Murphy's place and played well, scoring eight points, grabbing nine rebounds, and going 4 for 7 from the field. Donovan said Yeguete (6-7, 222) will continue to start for Murphy.

Donovan, though, had more encouraging news on sophomore forward Casey Prather, who aggravated a groin injury during the Jacksonville game. Donovan said Prather would be limited in practice on Saturday and his status for Monday's game against Stetson in Orlando is in question, but the injury does not appear to be serious.

"We don't feel like it's a bad groin injury, but it is a strain," Donovan said. "We'll probably find out a little bit more the next day or two with him."

Prather (6-6, 212 pounds) had his best game of the season against Jacksonville, scoring six points and grabbing three rebounds and two steals in 12 minutes. He aggravated the groin injury, which he originally suffered last Wednesday, in the second half.
November, 25, 2011
11/25/11
9:03
PM ET
GAINESVILLE, Fla. -- What Florida coach Billy Donovan saw on Friday night against Jacksonville was exactly the way he pictured his team playing this season.
An up-tempo offense, a group-rebounding effort, tenacious in the press and a solid percentage from the 3-point line. Donovan got all of that in the ninth-ranked
Gators' 45-point victory over the Dolphins
.
"I felt like this game was the best game we've played in terms of how I envision our team playing offensively and defensively," Donovan said after picking up his 399th career victory.
Florida (4-1) scored its most points since beating Jackson State 112-69 in the first round of the 2007 NCAA Tournament. It's the most points the Gators have scored in the regular season since they beat Savannah State 113-62 on Jan. 18, 2006.
UF out-rebounded Jacksonville 46-35. Will Yeguete, Patric Young and Bradley Beal each had nine rebounds. The Gators used the press extensively and forced the Dolphins (2-3) into 15 turnovers and 38.7 percent shooting from the field.
"We definitely feel like they gave up tonight, and that's our goal," said guard Kenny Boynton, who led all scorers with 22 points. "Once we get a team [down] we want to keep pushing, try to kill them."
Florida went 11 for 25 from 3-point range and has hit at least 10 3-pointers in every game this season. The Gators made double-digit 3-pointers only twice last season.
Florida won easily despite missing forward Erik Murphy because of a knee injury and losing forward Casey Prather during the second half with a groin injury. Donovan said Murphy complained of pain and swelling in his right knee after Thursday's practice but he doesn't yet know the severity of the injury. Murphy will be re-examined Saturday.
"I think our trainer has ruled out that it's an ACL," Donovan said. "We don't think it's a season-ending injury. What actually is the problem inside his knee we'll hopefully find out tomorrow."
Murphy is averaging 10.0 points per game and 5.3 rebounds per game. He also is shooting 57.1 percent (8 of 14) from 3-point range.
Prather had tweaked his groin during Thursday's practice but was able to get it loose during the pregame shootaround. He played 11 minutes in the first half and scored six points, grabbed three rebounds and had two steals. He aggravated the injury in the second half. Donovan said Prather will be examined further Saturday.
"How long [Prather will be out] or how severe [the injury is], I don't know," Donovan said. "I don't think it's too bad, but it was enough that it kept him out of the second half."
Player of the game:
Boynton scored 22 points
, the third consecutive game in which he has topped 20. Boynton went 6 for 12 from the field, including 4 for 7 from 3-point range.
Stat of the game:
The Gators scored 29 second-chance points.
What did we learn:
Yeguete and Prather can be counted on if needed for extended periods on the floor. Yeguete started for the injured Murphy and scored eight points and grabbed nine rebounds, although he did pick up two fouls in the first half. Prather gave the Gators good minutes off the bench before leaving the game. Jacksonville is certainly not a team with a big, physical frontcourt, but those two at least proved they can provide quality minutes.
Noteworthy:
This is the 31st time the Gators have scored 100 or more points in Donovan's 15-plus seasons. ... Donovan recorded his 399th career victory. He has 364 at Florida. ... Florida is 29-5 against Jacksonville, including 10-1 under Donovan. ... Every Florida player scored, the first time that has happened this season.
Drive Through: Defensive All-Americans
SEC SCOREBOARD
Thursday, 8/28
Saturday, 8/30
Sunday, 8/31