Florida Gators:

Bryant Young
February, 26, 2013
2/26/13
11:26
AM ET
GAINESVILLE, Fla. -- Florida has announced coach Will Muschamp's spring speaking schedule at various Gator Clubs throughout the state and in Atlanta. The school also announced that assistant coaches Joker Phillips, D.J. Durkin, Tim Davis and Bryant Young will speak at three clubs.

Here's the schedule:

Will Muschamp

April 2: Gainesville Quarterback Club

May 1: Titletown Gator Club, Gainesville

May 2: Tampa Gator Club/Pinellas County Gator Club

May 7: Polk County Gator Club, Lakeland

May 8: Central Florida Gator Club, Orlando

May 14: Gator Club of Jacksonville

May 15: Atlanta Gator Club

May 20: Jacksonville Quarterback Club

May 23: Fighting Gator Touchdown Club, Gainesville

TBA: Daytona Quarterback Club

D.J. Durkin

May 6: Southwest Florida Gator Club, Fort Myers

Bryant Young

May 7: Panhandle Gator Club, Panama City

Joker Phillips

May 7: Palm Beach County Gator Club, Palm Beach

Tim Davis

May 14: Space Coast Gator Club, Melbourne
January, 20, 2013
1/20/13
9:13
PM ET
GAINESVILLE, Fla. -- Florida has officially announced the hiring of Brad Lawing to coach the Gators' defensive line and serve as the assistant head coach. The move was reported by various outlets on Sunday evening and freshman LB
Matt Rolin
tweeted that Lawing was joining the staff as well.
"We are excited to have Brad Lawing join our coaching staff," UF coach Will Muschamp said in a statement. "His track record speaks for itself. His nearly three decades of experience coaching defensive linemen, his familiarity with the SEC, and our shared philosophical beliefs make him a perfect fit for our program."
Lawing will work with current defensive line coach Bryant Young. Lawing has spent 17 years at South Carolina in two different stints, from 1989-98 and 2006-2012, and is regarded as a good recruiter.
"I'm excited to have the opportunity to work with Coach Muschamp and the entire Gator coaching staff," Lawing said. "Coach Muschamp and I share the same philosophical beliefs defensively. I've enjoyed the many years I've had in South Carolina and I'm grateful for the opportunities coach [Steve] Spurrier provided to me."
Lawing is filling the spot made vacant when defensive coordinator Dan Quinn left to become the defensive coordinator with the Seattle Seahawks. Muschamp promoted linebackers coach/special teams coordinator D.J. Durkin to defensive coordinator.
December, 22, 2012
12/22/12
9:00
AM ET
Editor's note: Each day between now and Florida's Allstate Sugar Bowl date with Louisville, GatorNation will review the season for a key Gators player and attempt to project what's next. Today we'll look at DE Jonathan Bullard.
DE Jonathan Bullard
Freshman
26 tackles, 1.5 sacks, 7 QB hurries
Role in 2012:
Bullard earned playing time as a reserve defensive end and improved throughout the season. By November, he was one of Florida's most consistent pass rushers.
The good:
It's hard for a freshman to play on the defensive line in the SEC, but Bullard was on the field right away. He naturally started slowly but gradually improved and ended up leading the team in QB hurries. The 6-foot-3, 271-pound Bullard has good quickness and power and gave experienced SEC offensive tackles some trouble. He had seven tackles against Vanderbilt and recorded three tackles and 1.5 sacks against Missouri. Bullard also was solid against the run.
The bad:
He's pretty raw as a pass rusher and relied on his strength and athleticism to get to the quarterback. Sometimes that resulted in him being out of position or unable to make a play. It's the normal problems that all freshmen face as they try and adjust to the higher level of competition. Bullard needs to refine his technique and get stronger and in better shape.
Crystal ball:
He enrolled in the fall so this will be his first experience with the offseason conditioning program. That should take care of his strength and conditioning. Working in the spring with defensive line coach Bryant Young should take care of the technique issue. That sets Bullard up to be the starter at end in 2013 -- and potentially become the big-time pass rusher the Gators have lacked since 2009.
December, 20, 2012
12/20/12
8:00
AM ET
Editor's note: Each day between now and Florida's Allstate Sugar Bowl date with Louisville, GatorNation will review the season for a key Gators player and attempt to project what's next. Today we'll look at NT Omar Hunter.
NT Omar Hunter
Redshirt senior
39 tackles, 4 pass breakups
[+] Enlarge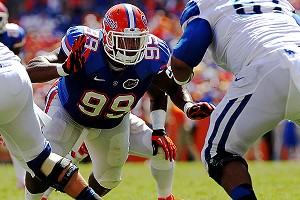 Kim Klement/US PresswireOmar Hunter has had a significant impact on Florida's resurgence this season.
Role in 2012:
Hunter started every game this season in the middle of UF's defensive line and anchored a rush defense that gave up just 97 yards per game.
The good:
Hunter flourished under defensive line coach Bryant Young and played his best football this season. He attributed that in part to being in the best shape of his career but it was also because he stayed healthy, which is something he didn't do in his first several seasons. The 6-foot, 313-pound Hunter plugged the middle and occupied double-teams, and he also used his hands well to get off blocks and set a career-high in tackles. He showed a knack for knocking down passes, too.
The bad:
The staff would have liked to have seen a bit more of a pass-rush presence out of Hunter. Not necessarily recording sacks, but pushing the middle of the pocket back into the quarterback's face. But he was in the game as a run-plugger and he did his job well and allowed the linebackers to make plays. He's not especially quick and although he has made strides in the weight room, he can still get stronger.
Crystal ball:
Spending two seasons under Young and defensive coordinator
Dan Quinn
, who spent 10 years as an NFL coach before coming to Florida, has been a huge benefit for Hunter in terms of getting ready to play at the next level -- especially Young, who was recently nominated for the Pro Football Hall of Fame. Hunter has a history of back issues, which is a concern and part of the reason why he projects as a late-round pick.
July, 28, 2012
7/28/12
10:00
AM ET
GAINESVILLE, Fla. -- Defensive end
Chad Thomas
(Miami, Fla./Booker T. Washington) said he enjoyed himself at Florida's Friday Night Lights and got good feedback from the coaching staff, but that's nowhere near enough get him to move the Gators up on his list.
Florida State and Miami remain the front-runners for the 6-foot-5, 223-pound 2014 defensive end, but he said he's got plenty of time to make his decision. And he did admit that the Gators still have a chance.
"I always like (Florida) a little bit," Thomas said. "But I've got my top two schools. I'm not even close to picking."
November, 25, 2011
11/25/11
11:00
AM ET
For Florida senior defensive tackle Jaye Howard, he wouldn't change much about his time in Gainesville.
While his final year hasn't been great, considering the Gators' 6-5 record heading into Saturday's game with Florida State, he says he's grown more as a person and a player in this one year than any of the years prior.
[+] Enlarge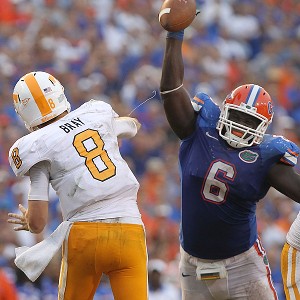 Kim Klement/US PresswireGators defensive tackle Jaye Howard, 6, is third on the team with 55 tackles, including 6.5 for loss and three sacks.
Howard has been one of Florida's most consistent defensive linemen and is third on the team with 55 tackles, including 6.5 for loss and three sacks. He was also considered to be a top defensive tackle draft prospect for next year's NFL draft before the season.
ESPN.com spoke to Howard to discuss is final year, the Gators' struggles and his career at Florida.
Edward Aschoff:
How many emotions will be running through you this weekend in the Swamp with this being your last game and it coming against a rival like Florida State?
Jaye Howard:
It's huge. At this point, I can say that I don't like them. But it really hasn't hit me. Honestly, it won't hit me until I hear my name called on senior day. It's going to be very emotional, man. I just want to get a win for this program and for my senior class.
How important has this game been for you every year since you've been at Florida?
Very important. It's always been a big one for me personally. Now, I have to go out there and play well in order to solidify myself for the next level.
Speaking of solidifying yourself for the next level, earlier in the season you said you were playing the best football of your career. Now that the season is almost over, where do you think you are?
This has been the best year of me being a Gator. The coaches have taught me a lot. Right now, I feel like when I'm out on the field I can play with anyone.
Stats are something that a lot of people harp on, but what do you think is the most impressive part of your game?
I still have a motor. I play hard every play that I'm out there. I play hard and I cause havoc. I haven't put up big numbers as far as having sacks, or TFLs, but I've been causing havoc for offenses.
You said you've learned so much this year. What specifically have you learned from your new coaches?
The technique, man. The technique has been awesome to learn. Both coach Dan Quinn (defensive coordinator) and Bryant Young (defensive line coach) have taught me exactly what it takes to be effective.
Considering what this season has been like, how tough has this year been for you as a senior?
It's been tough, but I try not to think about that. I try to go out there and win every week. Things haven't gone as planned, but I know it's a rebuilding year and these guys are going to be great for years to come.
Even with the struggles, do you still feel like this is one of the closest teams you've been on during your time at Florida?
Yeah, no question. When teams go through tough times, teams get divided, and we haven't been divided. We've stuck together and we've been through the fire. My teammates have the utmost respect from me. A lot of teams would have already broken down.
Going back to your last game in the Swamp, what were some of your favorite memories there?
My first memory was my freshman year, coming out of the tunnel; I got trampled coming out. I can't even remember who trampled me, it happened so fast, but I managed to get up before anyone saw me fall. My favorite memory is probably the 2009 Tennessee game. I made a bet with (former defensive end) Carlos Dunlap that if I made a big play I'd do the Daunte Culpepper (celebration), the "Roll on." I made a big play against Tennessee and "rolled" for about 15 yards and got a penalty and got pulled out of the game.
Was it worth it?
Yeah.
So how would you sum up your career at Florida? You started off as a defensive end, now you're a defensive tackle. You have some good times and down ones. It sounds like it's been a wild ride.
Yeah, it has been. I came in as a defensive end, undersized, and blossomed and turned into a defensive tackle. It's been good, man. I have no regrets about coming to the University of Florida and everything works out for the best.
McElwain discusses new Florida football
SEC SCOREBOARD
Thursday, 9/3
Saturday, 9/5