Florida Gators:

Brian White
May, 16, 2013
5/16/13
11:05
AM ET
GAINESVILLE, Fla. -- Early in the 2012 season, Florida coaches discovered something puzzling about running back
Matt Jones
.
The 6-foot-2, 225-pound freshman, who was built more like a linebacker, wasn't playing to his size. Instead of barreling through the middle of the field, Jones tried to either dance or run around his opponents.
It was ineffective and frustrating. Jones had throw out his old high school tactics and learn to put his foot in the ground and go north and south. So head coach Will Muschamp and running backs coach Brian White sat Jones down midway through the season for a meeting about change.
[+] Enlarge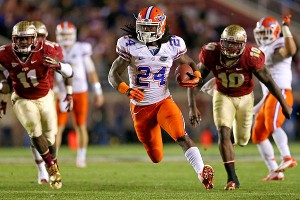 Mike Ehrmann/Getty ImagesRunning back Matt Jones expects to be a workhorse for the Gators in the fall.
He had to pay more attention to his coaches, be more alert in meetings, and most of all he had to play to his strength: being a power runner.
"You don't make your fastball pitcher throw changeups," Muschamp said. "Let's throw the fastball, and let's make them tackle the fastball."
Jones, who played backup to Mike Gillislee, didn't have spectacular stats last season, but there was a definite change to how he prepared in the second half of the season. To him, his meeting with the coaches changed his entire perspective on his play, and things really started to click during the Jacksonville State game.
Jones ran for 65 yards on eight carries that game, staying in the middle of the field as much as possible. He then turned around with 81 yards and a touchdown on eight carries in the Gators' 37-26 win at Florida State.
For Jones, his mentality and work ethic transformed. While he understood his role as Gillislee's backup, he aimed to prove that he wanted carries. He wanted his coaches to think twice about taking him off the field.
"I was so hungry that I was going to show the coaches that I really wanted to play," Jones said. "I knew I wasn't going to start, but it was expected that if [Gillislee] went down I was going to be ready at any time."
Jones' hunger comes from very humble beginnings. The youngest of three football-playing brothers, Jones grew up in a small, pink, single-family home in Tampa, Fla., never knowing his father. His mother, Barbara Singleton, was diagnosed with thyroid cancer when Jones was 16. She's now cancer-free.
Jones was so embarrassed by his small, crowded house that he would only do in-home visits with coaches at his girlfriend's house. Florida coaches went by for a traditional Sunday meal -- complete with chicken, pork chops and rice -- before Jones enrolled, but he never showed them his real home.
Leaving that home behind stands as a major motivator for Jones.
"Coming from that, man, it just made me hungry," Jones said. "I just wanted to get my mom out [of] that situation, and it definitely makes me humble.
"[His mom] wants one of her boys to make it (to the NFL)."
First, Jones had to get through spring practice as the Gators' new starting running back. With the 1,000-yard shoes of Gillislee to fill, there was a bit of pressure on Jones, who rushed for just 275 yards and three touchdowns last season.
But he entered spring with the mentality of, well, running away with the starting spot. After spending his high school days running a similar offense, Jones said he felt very comfortable with Brent Pease's playbook. He absorbed it quickly last fall, then locked himself in the film room this spring, studying everything from his movements to defensive sets, safety rotation, blitzes and defensive line tendencies.
He even helped fellow backs
Mack Brown
and
Kelvin Taylor
with their film work and wanted to make sure Muschamp wasn't uncomfortable with the makeup of the running back position.
"He has attacked the offseason, and I use the word 'attacked' in bold letters," Muschamp said. "He's has gone after the offseason, and he had an outstanding spring. He'll carry it a bunch this fall."
Ask quarterback
Jeff Driskel
about Jones and he interrupts with one word: freak.
"He's tough, and that's what you need at running back," Driskel said. "He's not scared to pick up the extra few yards and put his head down, rather than try to bounce it outside."
Jones is using his fastball, and he's ready to put this team on his shoulders. He understands that this offense revolves heavily around the running game, and that he's now the face of the position.
Jones embraces that and oozes confidence, as he wants 1,500 yards and more than 12 touchdowns.
That attitude has Jones' teammates thrilled about working with him.
"You definitely get excited as an O-Lineman when you have a running back that's running the ball like that with so much heart and passion," guard
Max Garcia
said. "He's going to be a problem (for defenses) this fall."
May, 10, 2013
5/10/13
9:00
AM ET
GAINESVILLE, Fla. – It started innocently enough with a hashtag and an illustration tweeted by Florida wide receivers coach Joker Phillips. There was the Joker, the Batman villain portrayed by Heath Ledger, wearing a blue Gators blazer including the hashtag #ComePlayWRFortheJoker.
Others followed. An astronaut planting a Gators flag and a newspaper featuring the hashtag and
Jeff Driskel
watching the Kentucky Derby among them.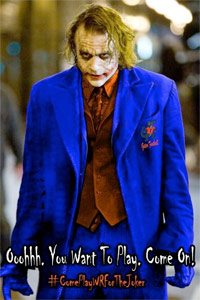 TwitterHaving a little fun with Twitter is helping Florida impress recruits.
Not to be outdone, offensive coordinator Brent Pease posted his own masterpiece of Harry Potter flying over The Swamp with his three quarterbacks, Driskel,
Tyler Murphy
and
Skyler Mornhinweg
looking up at Potter on a broom stick. It was captioned with Chasing #TheStandard.
Assistants Brian White, Derek Lewis and Tim Davis have all joined in on the social media onslaught with photos of their own.
While funny, the campaign is also helping Florida go on the offensive in social media. Instead of just private messages to recruits, the Gators are proactively using Twitter as well as Facebook and Instagram as a new outlet for reaching prospects.
Head coach Will Muschamp has refrained from posting comical photos but has used Twitter to promote the success of his program, including several Tweets about the eight Florida players that were selected in the 2013 NFL draft.
Muschamp hasn't said much about his assistants' forays into memes, but he has made it clear that he will do what is necessary to help Florida recruit the top players in the country -- even if that includes getting creative with the recruiting process.
"I'm not very good at that stuff," Muschamp said at a recent Gator Club gathering. "We have some coaches that have good imaginations."
But does this unique recruiting pitch have any effect on high school players and coaches?
Jacksonville (Fla.) Providence head coach Bobby Raulerson, who's star left tackle,
David Sharpe
, is the No. 12-ranked player in the country, said this tactic is certainly helping the Gators get noticed.
"We all know college football is one of the most competitive businesses on the planet," Raulerson said. "And, with everyone relying on social media to aid in the recruiting process, success or failure boils down to one question. How do you distinguish yourself from the competition? While I don't think it will affect any recruits decision to attend UF, it does create the all important 'buzz' that coaches are always searching for. Without a doubt, I think it is a creative way for the Gators to stay in the news during the heart of spring recruiting."
Offensive tackle
Denzel Ward
(Bradenton, Fla./IMG Academy), one of Florida's top offensive line targets, agrees with Raulerson's assessment.
"I think it's funny," Ward said. "It's very catchy. It caught my eye and it gets you to look at Florida in a different light because they are being creative which a lot of other schools aren't. I know a lot of coaches use social media to message kids and talk to them and things like that, but Florida is using it to promote their program in a positive way and for their own benefit. It's eye-catching and just draws more attention to the program even more."
Tallahassee (Fla.) Lincoln head coach Yusuf Shakir, who coached Florida wide receiver
Raphael Andrades
at Lincoln, sees it bridging the age gap.
"To be honest with you, that's how kids interact now," Shakir said. "They are always on Twitter. Facebook is kind of out of the picture now, but they are on Twitter and Instagram. It's really how they do their whole interaction with everybody. I think it's a phenomenal idea. There's a saying that if you want to get in touch with people then you have to know how to communicate. The more you interact with the kids on their level then the more they are comfortable with you as a coach."
Whether or not recruits think the posts are cheesy is irrelevant, Shakir said. It allows players to see a more personal side of a coach -- a side with a sense of humor to which high school students better relate.
"It opens dialogue. It opens communication and it's intriguing," the Lincoln coach said. "When you start a conversation with someone it's an icebreaker. That's where it helps -- especially with kids.
"Anytime you can get someone to laugh at something, not only that, but then the kid always enjoy when adults can laugh at themselves so it doesn't appear that the adults are uptight. I think coaches at big-time schools, especially at like the University of Florida, can be intimidating to the kids when they come in, but if that coach has a way to break the ice, then maybe that kid will open up a little bit more and connect with the coach and feel a little bit closer with the coach."
Ward, the three-star tackle with offers from Pac-12, Big 12, SEC and Big Ten programs, admits social media efforts won't persuade his decision, but he added he is learning more about the history of the program because of the recent photos and tweets.
"It just keeps Florida fresh in my mind," Ward said. "They are thinking outside of the box and being creative. It just catches my eye. I follow both pages on Instagram, Coach Joker and Coach Davis. They put up some funny pictures but they also put up some good photos about the history of the program and where the program is headed. It's good to know."
Opinions might differ on this new and innovative recruiting philosophy, but one thing is certain, recruits will never look at the Batman and Harry Potter movies the same.
March, 16, 2013
3/16/13
3:56
PM ET
GAINESVILLE, Fla. -- Florida's new approach on special teams was on display during the Gators' final open practice of the spring.
[+] Enlarge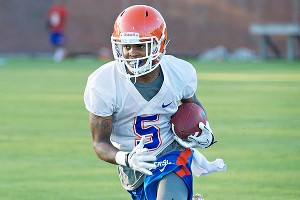 Courtesy of UF CommunicationsMarcus Roberson was one of four Florida punt returners that struggled with the sun while catching punts Saturday.
D.J. Durkin has been UF's special teams coordinator since he was hired by former coach Urban Meyer in 2010, but Will Muschamp promoted him to defensive coordinator in January after Dan Quinn left to become the defensive coordinator for the Seattle Seahawks. Being in charge of the defense and special teams is too much, so the Gators have split things up.
Running backs coach Brian White will coach the punt team. Defensive backs coach Travaris Robinson will coach the kickoff team, punt block and punt return teams. Receivers coach Joker Phillips will coach the kickoff return team. Durkin and Muschamp will assist as needed.
"
Really, all of us worked in those sections last year when D.J. kind of headed it up," Muschamp said. "We will all contribute as far as that's concerned with special teams."
Robinson appears to have a lot of work ahead of him in regards to the punt return team. He was working with
Trey Burton
,
Marcus Roberson
,
Demarcus Robinson
, and
Andre Debose
on fielding punts on Saturday. All three were having trouble dealing with the bright sun. Several times the players had balls bounce off their helmets. Robinson, in particular, had trouble getting into position to catch the ball and had several go over his head.
Bright sunshine is obviously something the players are going to have to deal with, and the players that had the most trouble with it (Burton and Robinson) are ones who haven't had much work as a returner. Roberson and Burton are the top two returners on the depth chart.
February, 13, 2012
2/13/12
4:47
PM ET
GAINESVILLE, Fla. – Florida coach Will Muschamp doesn't have to worry whether new offensive line coach Tim Davis will be a good fit with the rest of the coaching staff.

Davis, who spent the 2011 season at Utah, has already worked with nearly all of them.

Davis was hired on Monday to replacing Frank Verducci, whom Muschamp said left the program over the weekend to pursue other interests. Davis has spent nine years working alongside four UF coaches, including Muschamp.

"Tim is a perfect fit for our program," Muschamp said. "He has a history of coaching in a pro-style offense and shares the same program philosophies.

"He understands the values that we put on the line of scrimmage and he will help us get where we want to be at that position."


January, 1, 2012
1/01/12
4:19
PM ET
Here are three keys for Florida heading into the Taxslayer.com Gator Bowl against Ohio State Monday:


Let loose on offense:
Florida's offense struggled yet again this season, so it's time to open things up. Charlie Weis has left for Kansas, so running backs coach Brian White should use his audition for the offensive coordinator job to throw the conservative play calling out. Florida's offense really has nothing to lose. The offense needs some confidence and Florida needs to start by stretching the field.
Contain Braxton Miller:
Miller has run for at least 100 yards in three of his past five games, and is averaging 13.3 yards per rush on draw plays. The Buckeyes' offense hasn't been very explosive all season, but Miller can extend plays and can be that much more deadly because of his ability to run. Florida's rush defense had some bend to it this year and a scrambler like Miller could keep the Buckeyes on the field longer.
Protect Brantley:
The Gator's thin offensive line must keep
John Brantley
upright and out of trouble if Florida intends to move the ball against the Buckeyes. Florida only gave up 23 sacks on the season, but Brantley isn't much of a runner, so when he has to try and escape pressure, plays usually breakdown. With his lack of mobility, Brantley needs much more time in the pocket.
December, 26, 2011
12/26/11
11:44
PM ET
Later this week, the bowl season kicks off for the SEC with three games.
On Friday, Mississippi State faces Wake Forest in the Franklin American Mortgage Music City Bowl. And on Saturday, Vanderbilt takes on Cincinnati in the AutoZone Liberty Bowl, while Auburn meets Virginia in the Chick-fil-A Bowl.
Who in the SEC has the most to prove this season in the bowl games? And we're talking head coaches, assistant coaches, players, teams and particular units on teams.
[+] Enlarge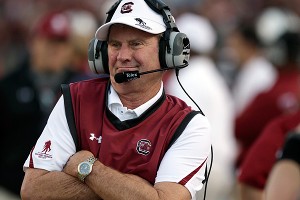 AP Photo/Brett FlashnickCan coach Steve Spurrier get the Gamecocks their fifth overall bowl win in school history?
Here's a look:
Florida's offense:
Charlie Weis has taken off for Kansas, meaning Brian White moves in as the Gators' interim offensive coordinator. He could be auditioning for the full-time job. The thing he has going for him is that it can't get much worse than the regular season. Not counting the Furman game, the Gators scored more than one offensive touchdown in a game only once in their last seven contests. The other bit of good news is that
Jeff Demps
and
Chris Rainey
should both be as healthy as they've been.
December, 8, 2011
12/08/11
10:51
PM ET
JACKSONVILLE, Fla. -- Florida coach Will Muschamp said he's not using the TaxSlayer.com Gator Bowl matchup against Ohio State as an audition for the 2012 season.
The Gators (6-6) are not going to bench some of the older players against the Buckeyes (6-6) in order to get some of the younger players more playing time. That wouldn't be fair to the older players, Muschamp said. If the opportunity presents itself for the young players to get into the game, they will.
"We're going to win the game," Muschamp said. "We're coaching to win the game. I don't believe in all that."
Muschamp was asked whether
John Brantley
would start at quarterback or if freshmen
Jeff Driskel
and
Jacoby Brissett
would get the bulk of the playing time.
"If they offer us the best opportunity to win, yes [they will play], but again, Johnny Brantley is our starting quarterback at this time," Muschamp said.
Other tidbits from Muschamp's news conference at Thursday night's Gator Bowl Meet the Coaches reception:
• In addition to taking over play-calling duties for departing offensive coordinator Charlie Weis, running backs coach Brian White also will cover Weis' recruiting duties. That includes picking up the Northeast Florida area. Among the players the Gators are targeting there is 2013 receiver Ahmad Fulwood (Jacksonville, Fla./Bishop Kenny).
• Muschamp said he does not anticipate any other staff changes. Weis and strength and conditioning coordinator Mickey Marotti, who left to join Urban Meyer at Ohio State, are the only staffers to leave.
November, 29, 2011
11/29/11
11:10
AM ET
GAINESVILLE, Fla. -- Mickey Marotti, Florida's strength and conditioning coordinator, is weighing a job offer to join Urban Meyer at Ohio State and is expected to make a decision today, a source close to the team told GatorNation Tuesday morning.

The source, which requested anonymity, also said that running backs coach Brian White will not leave Florida for Ohio State.

The source said Marotti feels a loyalty to Meyer, who helped him get a job at Notre Dame and brought him to Florida in 2005, but his family is happy in Gainesville. He and his wife Susie have a daughter who is a senior in high school and a college-age son.

"It's a big decision for him," the source said. "He and Urban are pretty close, but he likes Gainesville."

Marotti and Meyer have a relationship that dates back to their days as graduate assistants at Ohio State in the late 1980s. When Meyer was the receivers coach at Notre Dame in the late 1990s, he put in a good word for Marotti when Notre Dame was looking for a strength and conditioning coordinator. Marotti was hired there in 1998 and was there until Meyer hired him at Florida in January 2005.

Marotti has helped develop 22 All-Americans and eight first-round NFL draft choices in his tenure in Gainesville. He played an integral part in the two national championships Florida won under Meyer and also helped the Gators land quarterback Tim Tebow, who said Marotti was one of the reasons he came to Florida.

Marotti played a big role in UF's 2008 national title. After the Gators beat Alabama in the SEC Championship Game with two clock-killing fourth-quarter drives, Crimson Tide coach Nick Saban had this to say: "We ran out of gas in the fourth quarter. We didn't finish and they did."

Florida went on to play Oklahoma in the BCS National Championship Game. The Sooners used a fast-paced, no-huddle offense that scored an NCAA-record 702 points. UF's defense was in such good shape the Gators never tired and held the Sooners to just 14 points.

Marotti also was the person who helped convince Meyer to return to Florida after he resigned on Dec. 26, 2009. The following morning, Marotti told Meyer to look around and see what he had accomplished and that a new staff wouldn't run the program the same way. That fiery conversation led Meyer to realize how many people were being affected by his decision, and he eventually decided to take a leave of absence instead.

Meyer hired White after the 2008 season to coach tight ends. He helped tutor Aaron Hernandez, who was an Associated Press first-team All-American in 2009 and went on to be a fourth-round draft pick of the New England Patriots. UF coach Will Muschamp moved White to running backs coach. He had spent 12 seasons at Wisconsin coaching running backs -- where he worked with first-round NFL Draft picks Michael Bennett and Ron Dayne, the 1999 Heisman Trophy winner -- and also served as offensive coordinator from 1999-2006.
McElwain discusses new Florida football
SEC SCOREBOARD
Thursday, 9/3
Saturday, 9/5