Florida Gators:

Bear Bryant
September, 11, 2013
9/11/13
12:20
PM ET
March, 28, 2013
3/28/13
4:54
PM ET
In honor of Florida Gulf Coast's stunning run in the NCAA basketball tournament, I started thinking back to some of the biggest SEC football upsets of my lifetime.
The mid- to late-1970s is about as far back as I go, but I've gone back and picked out some of the more memorable ones over the past 30 or 35 years.
These are all SEC vs. SEC matchups, and I'll rank the top 5 as well as five more that just missed the cut. I'll come back later Thursday with a few more, including some upsets in non-conference and bowl games.
Here goes:
1. Mississippi State 6, Alabama 3 (1980):
The No. 1-ranked Crimson Tide had won 28 straight (and an SEC-record 27 straight conference games) and were heavily favored against the unranked Bulldogs. But Mississippi State played suffocating defense that day in Jackson, Miss., and snuffed out a late Alabama drive. The Crimson Tide had moved to the Bulldogs' 4, but were out of timeouts. Alabama quarterback Don Jacobs took the snap and started down the line of scrimmage to the right side. Mississippi State's Tyrone Keys shot through and tackled Jacobs, forcing a fumble that Billy Jackson recovered to seal one of the greatest wins in Mississippi State history. Alabama's wishbone attack, which had been averaging more than 300 yards per game, mustered just 116 rushing yards against the Mississippi State defense. The Crimson Tide lost four fumbles in the game. And in a classy gesture afterward, Alabama coach Paul "Bear" Bryant visited the Mississippi State locker room to congratulate the Bulldogs on the win.
2. LSU 17, Alabama 13 (1993):
The No. 5 Crimson Tide had gone 31 straight games without a loss and were coming off an unbeaten national championship season. Inexplicably, they lost at home to an unranked LSU team that had lost five of its first seven games that season and finished 5-6. The Tigers were a 24-point underdog that day and in the midst of their fifth straight losing season. Alabama starting quarterback Jay Barker was out with an injured shoulder, and the Tide -- using three different quarterbacks -- threw four second-half interceptions. Coach Gene Stallings finally went to David Palmer at quarterback late in the third quarter, and "The Deuce" directed the Tide on a pair of scoring drives. But LSU held on for the win, and Stallings said afterward that he waited too long to go to Palmer, who was normally a receiver.
[+] Enlarge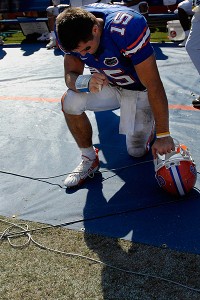 AP Photo/Phil SandlinTim Tebow bows his head in dejection after his No. 4 Gators lost 31-30 at home against Mississippi on Sept. 27, 2008.
3. Ole Miss 31, Florida 30 (2008):
The Rebels would go on to have a very good season, but ventured into the Swamp that day as a 22-point underdog with losses to Wake Forest and Vanderbilt during the first month of the season. Nobody gave them a chance. The Gators were ranked No. 4 and riding high with Tim Tebow running the show. But the Rebels stuffed him on fourth-and-short late to pull off an improbable road win. The game is best remembered for Tebow's emotional speech afterward, when he promised that nobody would work harder than him and his teammates the rest of the season. The Gators would go on to win their next 22 games in a row, including the 2008 national championship.
4. Auburn 23, Georgia 23 (1994):
Even though it wasn't a loss, it sure felt like one for No. 3 Auburn, which had its 20-game winning streak under Terry Bowden stopped. The Bulldogs were unranked and had lost at home to Vanderbilt a few weeks earlier. But they rallied from 14 points down on the road thanks to a couple of Eric Zeier touchdown passes and survived a missed 44-yard field goal attempt by Auburn's Matt Hawkins with 13 seconds to play. That was Ray Goff's next-to-last season at Georgia, which finished 6-4-1 and didn't play in a bowl game. It didn't get any better the next week for Auburn. The Tigers, who were on NCAA probation, lost to Alabama.
October, 18, 2012
10/18/12
11:00
AM ET
For those who watched Steve Spurrier take Florida football to unprecedented heights in the 1990s and, in the process, change the way football is played in the SEC, it's still surreal to see him on the visitor's sideline in the Swamp.
Yes, this will be his fourth trip to Gainesville as South Carolina's coach, and the novelty isn't nearly what it once was.
But this is the Head Ball Coach. He is as much a part of Gator lore as the Gator chomp. He won a Heisman Trophy as Florida's quarterback in 1966 and brought the Gators their first SEC championship (six of them before he was finished) and their first national championship in 12 memorable seasons as coach of his alma mater from 1990-2001.
The Swamp was born under Spurrier, literally and figuratively. He coined the nickname for Ben Hill Griffin Stadium after his second season at Florida.
Spurrier's explanation was simple: "Only Gators get out alive."
But Spurrier didn't just name the Swamp. He's the one who put the magic into it with a 68-5 home record as the Gators' coach.
[+] Enlarge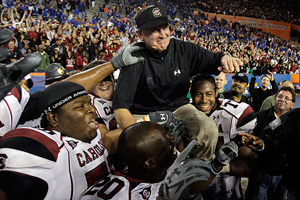 AP Photo/John RaouxOn Steve Spurrier's last visit to the Swamp, the Gamecocks clinched their first-ever trip to the SEC championship game.
He is trying to bring that same magic to South Carolina, and even though he won't say it, you know winning this game Saturday against the No. 2 Gators would rank up there among his favorites.
A win would put South Carolina in the driver's seat in the East Division, and it would further validate the No. 7 Gamecocks as one of the elite teams in this league.
Spurrier won the last time he was in the Swamp, clinching the Gamecocks' first-ever trip to the SEC championship game in 2010. He was given a victory ride on his players' shoulders.
It was the kind of scene that made you rub your eyes and wonder if it was all real.
Spurrier, in his vintage oh-gosh style, insists that going back to the Swamp as the opposing coach isn't that big of a deal.
"I don't think it's much of a storyline now that it's eight years that we've played each other, the fourth time I've been down there coaching," Spurrier said. "I guess it is a little unusual to be on the other team when you come into the ballpark and your name's on the wall up there, but I think everybody handles it very well. It's our team against their team.
"This is a game between the players. As coaches, we try to direct them a little bit, but these players are going to pretty much decide who's going to win this thing."
The reality is that most of Florida's current players were too young to remember seeing Spurrier's Gators pitch it around the ballpark in the Fun 'n' Gun days and win four straight SEC championships from 1993-96, a dizzying run that culminated with a national championship.
As Florida quarterback
Jeff Driskel
noted this week, he was more worried about watching cartoons at the time.
What Driskel does know is that Spurrier remains an icon.
"I drive by his statue every day," said Driskel, referring to Spurrier's statue that sits just outside the Swamp alongside the statues of the Gators' other two Heisman Trophy winners, Danny Wuerffel and Tim Tebow. "He's definitely a Gator great, but it's not really anything that's going to bother us. Our players here didn't play for him or weren't here when he was around. So it's definitely bigger for the media and the fans."
Maybe so, but the guy who'll be on the Florida sideline Saturday doesn't need any refresher on the impact Spurrier has had on Florida, the SEC and college football.
Will Muschamp was a player at Georgia in the early 1990s when Spurrier was just starting his championship run at Florida.
"Being an SEC guy and growing up in this part of the country and being a huge fan of the Southeastern Conference, there are really two coaches that come to the forefront of your mind as far as what they have done for this league, and that would be Bear Bryant and Steve Spurrier," said Muschamp, who owns a deep respect for Spurrier and what he has meant to Florida.
There's no question that Spurrier has already etched his rightful place on the Mount Rushmore of SEC coaches.
Bryant is up there too, and sculptors are quickly gathering up pictures of Alabama coach Nick Saban. They're the only two coaches in history to win SEC championships at two schools.
If Spurrier is going to have any chance of joining them in that exclusive club, this is probably a game he needs to win Saturday. He'll be 68 in April and isn't going to coach forever.
While Spurrier will always be a Gator at heart, he is rooting for Florida to finish second in the East this season.
It's only fitting that perhaps the climactic game in that race will be played at the Swamp, where only Gators -- and maybe Gamecocks -- get out alive.
July, 9, 2012
7/09/12
10:31
AM ET
Everybody can recite who's the all-time winningest coach in the SEC. Bear Bryant won 232 career games at Alabama and became one of the most iconic figures in college football along the way. To this day, Bryant's name is mentioned with reverence around the Capstone.
But even if you take his 232 career wins out of the equation, the Crimson Tide would still have 582 wins.
[+] Enlarge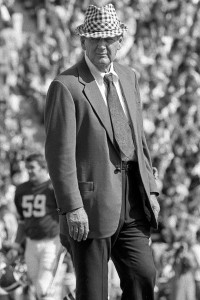 Bernard Troncale/US PresswireBear Bryant won 232 career games at Alabama.
So while the guy with the Houndstooth hat carved out a legendary career at Alabama, the Crimson Tide's success on the football field hasn't been defined solely by the Bryant years.
Frank Thomas won 115 games. Gene Stallings won 62 games. Wallace Wade won 61 games. Nick Saban -- in just five seasons -- has already won 55 games.
All five men, including Bryant, have also won national championships at Alabama.
In surveying the winningest coaches at all 14 SEC schools, some of what you find, especially when you take away each school's all-time wins leader, is telling.
For instance, Bryant is actually the winningest coach at two different SEC schools. He was 60-23-5 at Kentucky from 1946-53, and led the Wildcats to eight consecutive winning seasons.
Since Bryant's departure from the Bluegrass following the 1953 season, the Wildcats have had 10 other head coaches, but only one of them compiled better than a .500 record, Blanton Collier, who succeeded Bryant, was 41-36-3 in eight seasons.
Steve Spurrier could join Bryant this coming season as the second coach to earn the distinction of being the winningest coach at two different SEC schools.
Spurrier owns that distinction at Florida. He won 122 games in 12 seasons in Gainesville from 1990-2001. He's 55-35 in seven seasons at South Carolina, and can pass Rex Enright as the Gamecocks' winningest all-time coach with 10 wins this season. Enright was 64-69-7 in two different stints at South Carolina from 1938-42 and 1946-55.
McElwain discusses new Florida football
SEC SCOREBOARD
Thursday, 9/3
Saturday, 9/5