Florida Gators:

Alfred Blue
October, 9, 2013
10/09/13
9:00
AM ET
It's easy to look at LSU's success offensively this season and believe that Cam Cameron has the Midas touch. The night-and-day difference has been that startling. The eye-popping numbers -- 488.7 yards per game, 45.5 points per game -- are leaps and bounds better than they've been in years past.
But truth be told, Cameron walked into the perfect situation when he was signed on as LSU's offensive coordinator in February. He didn't have to overhaul anything. He didn't arrive in Baton Rouge twirling a magic wand in one hand and a spellbook of plays in another. The parts were already in place. He just had to get them running efficiently.
[+] Enlarge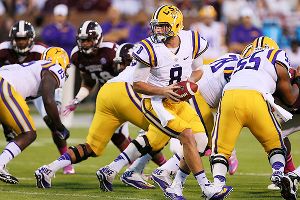 Spruce Derden/USA TODAY SportsQuarterback Zach Mettenberger is only one of several worries for defenses facing LSU.
Les Miles would have told you so if you'd only asked. LSU's often eccentric head coach would have you believe he envisioned this kind of turnaround when he hired Cameron.
"I felt like it was just exactly the right pieces or factors to come together," Miles told reporters on Monday. "You have a veteran quarterback that can really throw it. You have a veteran receiving corps that can really run routes and receive the ball. Yeah, I really did [see it coming]. I don't underestimate our offense, nor do I underestimate Cam."
Whether you believe Miles' premonition is one thing. But understanding the root of LSU's offensive turnaround is cut and dried. What it comes down to is simple: balance. Cameron didn't bring an innovative scheme or better personnel with him, he simply unpacked his bags and used what was already there more effectively than his predecessors. His deft touch was golden, but not glaringly so.
LSU's scheme, as best summed up by its leading receiver, is downright elementary. It's old school in that it operates mostly under center and uses two or more running backs 72 percent of the time.
"You know, you can't run without passing and you can't pass without running,"
Odell Beckham
Jr. said after LSU thumped Mississippi State 59-26 this past weekend. "We have great running backs in the backfield, and that's a threat. They have to respect that. If they load the box up we're going to throw the ball and then if they back off a little bit we're going to break big runs."
If Beckham's explanation seemed coy, it wasn't meant to be. Stopping LSU's offense isn't as simple as stopping the run or the pass. You can't blitz your way out of it or scheme against any one player in particular. As a defensive coordinator, you're basically left to hope for the best.
You can't double-team Beckham. If you do,
Jarvis Landry
will get you. The two receivers are first and second in receptions per game in the SEC. Beckham leads the country in all-purpose yards while Landry is tied for fourth in touchdown receptions. You can try playing off coverage and they'll burn you just the same. Mississippi State tried, playing 6 and 7 yards off of Beckham all night, and he still managed 179 yards and two touchdowns.
You can try playing two safeties back and shading them toward Beckham and Landry for help over the top, but that won't work either. If you leave only seven in the box, you're likely to regret it. With LSU's stable of running backs, they'll make you pay.
Jeremy Hill
, a 235-pound bowling ball of power and quickness, is second nationally with nine rushing touchdowns. When he leaves the game,
Alfred Blue
comes on, averaging 5 yards or more on 51.4 percent of his carries.
If you do everything right and somehow double-cover Beckham and Landry and stop the run, then you're still left with the matter of
Zach Mettenberger
. There might be no bigger turnaround in college football than LSU's senior quarterback. Mettenberger, thanks to the tutelage of Cameron, is first in the SEC and fifth nationally in raw QBR (86.7).
Mettenberger is fitting balls into windows that make scouts blush. The "oohs" from three pro scouts sitting next to me were audible even over the clanging of thousands of cowbells in Starkville, Miss., on Saturday night. You can do everything right and he'll still get you. The Bulldogs' defense played well and he still managed to complete a ridiculous 25 of 29 passes for 340 yards, defying blanket coverage and pass-rushers nipping at his heels.
"When you play LSU you have to prepare for the run," Mettenberger said matter-of-factly. "[Mississippi State] came out hyped and they did a really good job executing their run defense. But again that left holes in the secondary and we were able to execute and really soften them up for the run game."
Even LSU defensive tackle
Ego Ferguson
had to laugh.
"I told Coach Cam, 'What did you do that for?'" said Ferguson on LSU hanging 59 points and 563 yards of offense. "It was a great game, man. I've never seen an offense like that before. Zach Mettenberger is playing great. I call him old Drew Bledsoe."
And like those old Patriots teams, the theory on offense is balance. LSU doesn't run to set up the pass and it doesn't pass to set up the run. Cameron isn't using a gimmicky scheme. Instead, defenses make a choice: Would you like Hill and Blue to beat you, or Mettenberger, Beckham and Landry?
Pick your poison.
Florida will have to when it travels to Baton Rouge on Saturday. The 17th-ranked Gators have allowed the lowest Total QBR (13.0) of any defense and the second fewest rushing yards per game (65.0).
"They're going to get movement in the run game, they do a nice job in protection, but again, balance is the word you're looking for," Florida coach Will Muschamp said. "You have to try and make this a one-dimensional game as best you can and understand they're very effective at throwing the football, and that's where they've hurt some people."
October, 4, 2012
10/04/12
10:00
AM ET
GAINESVILLE, Fla. -- To get the most in-depth information on No. 4 LSU, which plays at No. 10 Florida on Saturday at 3:30 p.m., GatorNation turned to GeauxTigerNation's Gary Laney. We asked him five questions about the Tigers:
Q:
Wasn't
Zach Mettenberger
supposed to be a significant upgrade from Jarrett Lee/Jordan Jefferson? Why has he not been better?
[+] Enlarge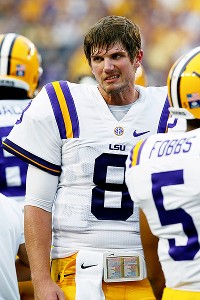 AP Photo/Bill HaberLSU quarterback Zach Mettenberger is 78-of-119 passing (65.5 percent) for 1,016 yards, six touchdowns and two interceptions. He's also taken 11 sacks in five starts.
Laney:
There's plenty of blame to go around and Mettenberger gets his share.
He's lost three fumbles in LSU's last two games and has five turnovers, all either killing drives or setting up the opponent for points. He's taken more sacks than he should by holding the ball too long or scrambling when he shouldn't.
He hasn't gotten help from an injury-riddled offensive line (11 sacks, the same number LSU's vaunted pass rush has produced) and the receivers have been prone to drops, bad patterns or blown assignments. It's added up to mediocre numbers, at best.
Q:
Why has the offensive line struggled so much in pass protection?
Laney:
The loss of
Chris Faulk
at left tackle has been huge. I'm not convinced that switching starting right tackle
Alex Hurst
to left tackle is the right answer for a position that requires the lateral movement Hurst does not seem to possess. LSU is hesitant to try sophomore left guard
La'el Collins
, formerly rated as one of the nation's top two prep tackles coming out high school, there because he has his hands full already trying to learn left guard. And
Josh Dworaczyk
, the former starter at left guard before he missed 2011 with a knee injury, might simply not be the dominant guy you need to block the other team's best pass rusher.
September, 10, 2012
9/10/12
12:11
PM ET
We all must learn from our history before moving forward, so let's take a look at what we learned about the SEC based on this past week.
In other words, who's hot and who's not?
GLOWING EMBERS
Georgia outside linebacker Jarvis Jones:
There is no substitute for a game-changer on defense like Jones. He single-handedly deflates opponents, whether it's a sack to kill a drive, a forced fumble to set up points for his own team or a blistering hit that causes the opposing quarterback to think about it the rest of the game. Most in this league felt like Jones was the SEC's premier defensive player coming into the season, and he's done nothing to dispel that. The truth is that he's the SEC's best player -- period. Nobody else can affect the game the way he can. In Georgia's 41-20 win over Missouri last Saturday, he set up two of the Bulldogs' four touchdowns in the second half with an interception and 21-yard return to the Missouri 1 and a sack and forced fumble at the Missouri 5.
September, 6, 2012
9/06/12
10:15
AM ET
With several key conference tilts on tap, we take a look at what to watch in the SEC in Week 2:
1. Hello Missouri, Hello Texas A&M:
Even though Missouri has already played a game as an SEC member, Missouri and Texas A&M "officially" become league members Saturday when the Tigers take on Georgia and the Aggies face Florida. It's fitting that the two newcomers would play traditional powers in their first league games, and it's also fitting that both would open SEC play at home. The eyes of the league will turn to College Station, Texas, at 3:30 p.m. ET and then to Columbia, Mo., at 7:45 p.m. ET. It is indeed a new day in the SEC.
2. Missouri's inexperience up front:
Blocking Georgia's defensive front with a veteran offensive line is no easy task, but the Tigers will try to do it a bit short-handed. Senior right guard
Jack Meiners
is questionable for the game with a knee injury. His size and strength inside would be invaluable against the Bulldogs. Former walk-on
Max Copeland
is scheduled to start in Meiners' place. And at left guard, true freshman
Evan Boehm
is the starter. Senior
Travis Ruth
was slated to be the starter at left guard, but tore his left triceps tendon in August and underwent surgery.
3. More touches for Gurley:
In his debut last week, Georgia freshman running back
Todd Gurley
carried the ball eight times for 100 yards and had touchdown runs of 55 and 10 yards. He also had a 100-yard kickoff return for a touchdown. Coach Mark Richt said he would "definitely" like to see Gurley touch the ball more Saturday against Missouri than he did last week. But the Bulldogs aren't going to forget about fellow freshman
Keith Marshall
and sophomore
Ken Malcome
. Richt said Gurley probably would have carried it a few more times last week but that he got a little light-headed after his 100-yard kickoff return.
4. Driskel takes the reins:
It's
Jeff Driskel
's job, and Florida coach Will Muschamp has told him that there's no need to be looking over his shoulder Saturday. It was important that the Gators settle on a starting quarterback prior to going to Texas A&M, and that's exactly what Muschamp did coming out of Florida's ho-hum 27-14 season-opening victory over Bowling Green. Driskel is a better runner than
Jacoby Brissett
and has a better chance of extending the play when things break down. More than anything, though, it's going to be imperative that the Gators play well around Driskel. The running game looks to be in good hands with
Mike Gillislee
, but the Gators are going to need more big plays like the one
Frankie Hammond
turned in against Bowling Green. He took a quick out, shook a tackle and turned it into a 50-yard touchdown. It's been a while since the Florida receivers have made those kind of plays consistently.
[+] Enlarge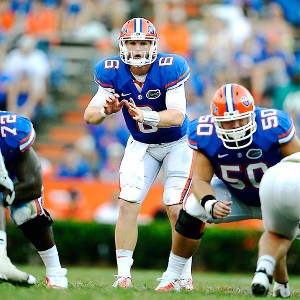 AP Photo/Phil SandlinJeff Driskel earned the nod as Florida's starting quarterback heading into the SEC opener at Texas A&M; can his receivers step up?
5. More first-timers:
In Week 1, Tennessee's
Cordarrelle Patterson
, Georgia's Gurley, Alabama's
T.J. Yeldon
and Ole Miss'
Bo Wallace
stole the show among the newcomers in the league. There are sure to be a few more that break out this week. Keep an eye on Missouri freshman receiver
Dorial Green-Beckham
. The Tigers will look to get him more involved in the offense. And at Texas A&M, redshirt freshman quarterback
Johnny Manziel
makes his debut along with true freshman cornerback
De'Vante Harris
, who earned his way into the starting lineup soon after preseason camp began. Two other true freshmen worth watching at Texas A&M are both known for their big-play skills -- receiver
Thomas Johnson
and running back
Trey Williams
.
6. Ascending to No. 1:
Alabama coach Nick Saban scolded the media this week for not giving Western Kentucky proper respect. That said, we'll change the subject a little bit from the impending blowout this Saturday at Bryant-Denny Stadium. The Crimson Tide moved to No. 1 in both polls after routing then-No. 8 Michigan 41-14 in the season opener. Since the preseason Associated Press poll began in 1950, only two teams have ascended to No. 1 in the poll after Week 1 and stayed there the rest of the season. Nebraska did it in 1971 after Notre Dame was the preseason No. 1 selection, and USC did it in 1972 after Nebraska was tabbed preseason No. 1.
7. Connor Shaw's status:
There's still no final word on whether South Carolina quarterback
Connor Shaw
will play Saturday against East Carolina, but he gave a thumbs-up to reporters as he left the practice field Wednesday. Coach Steve Spurrier said it could be a game-time decision. Spurrier said the key was Shaw being able to throw effectively Wednesday and Thursday in practice without considerable pain. Shaw's teammates said he looked like his old self Wednesday in practice. Shaw is dealing with a bruised right (throwing) shoulder after taking a knee to the shoulder area last Thursday against Vanderbilt. Wednesday was the first time he'd done anything in practice since the season-opening victory over the Commodores. Sophomore
Dylan Thompson
is Shaw's backup.
8. Breaking through in the SEC opener:
Dropping the SEC opener hasn't just been a problem for Mississippi State since Dan Mullen has been on the job. The Bulldogs haven't won their SEC opener since 1999, when they beat South Carolina 17-0. They started 8-0 that season. Under Mullen, they've lost their past three SEC openers to Auburn, including the past two by a combined 10 points. The Bulldogs get a chance to end that drought Saturday when Auburn visits Scott Field. It's also a chance for Mullen to break through in the West. His only three wins over Western Division foes since taking the job in 2009 have been over Ole Miss. He's 0-12 against everybody else in the West.
9. LSU's running back carousel:
As problems go in this league, it's a great one to have. LSU may have too many good running backs ... if that's possible.
Kenny Hilliard
and
Alfred Blue
each rushed for more than 100 yards in LSU's opener. Hilliard had 141, and Blue, who started the game, had 123. A year ago, it was
Michael Ford
and
Spencer Ware
carrying most of the load for the Tigers in the running game, although Hilliard's role grew later in the season. Ford led the team with 756 yards in 2011, and Ware had 707 yards. Ford had eight carries for 50 yards in the opener. His eligibility had been in question until he won an appeal the week before the game. Ware didn't play in the opener after he was slowed by a thigh injury. Can you play four running backs and keep them all happy? Something says the Tigers are going to find out. Either way, it's a sweet luxury to have.
10. Hamilton does Little Rock:
Arkansas senior receiver
Cobi Hamilton
left the Hogs' opener last week in the first quarter after catching two passes for 13 yards. Arkansas didn't specify his injury other than to say it was above his shoulders. Coach John L. Smith said Hamilton should be fine for this week, which goes without saying. The game is in Little Rock, and Hamilton has been at his best in War Memorial Stadium. He's played in six games there for the Hogs and has 22 catches for 644 yards and seven touchdowns. Three of his five 100-yard receiving games have come in Little Rock. In other words, if you have Hamilton on your fantasy team, you might want to be sure he's in your lineup this week.
September, 4, 2012
9/04/12
9:00
AM ET
The first weekend of the college football season brought some changes to our power rankings. As we enter Week 2, some teams are trending down, while others are on the up. And some look pretty much like we thought they'd look in their first games.
It's still early, but this weekend could help to better shape the conference race, especially in the SEC East where Florida travels to Texas A&M and Georgia heads to Missouri. Also, keep an eye on Mississippi State's home game with Auburn.
OK, time for the rankings:
1. Alabama (1-0):
The Crimson Tide made quite the statement by absolutely dominating No. 8 Michigan inside Cowboys Stadium. The defense, which lost a host of top talent from last year's national championship team, took
Denard Robinson
out of the game from the start. The offense should be fun to watch this fall with freshman
T.J. Yeldon
and
Eddie Lacy
carrying the ball and
AJ McCarron
throwing to those young, explosive receivers.
SEC players featured on Kiper's Big Board
SEC SCOREBOARD
Thursday, 9/3
Saturday, 9/5