Florida Gators:

Aaron Hernandez
February, 20, 2014
2/20/14
11:00
AM ET
GAINESVILLE, Fla. -- Florida's Class of 2007 only won one national championship, but it stands alone as the single most talent-rich recruiting class in school history.
The list of NFL players is mind-boggling, but as part of our
week-long series
looking at Florida's five most impactful recruiting classes of the last decade, the focus is on college football.
With the 2006 national title under his belt, coach Urban Meyer was cooking with gas at Florida. His recruiting prowess was becoming the stuff of legends, and 2007 is a big piece of evidence to support that contention.
[+] Enlarge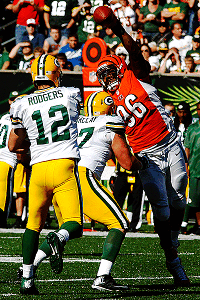 AP Photo/David KohlCarlos Dunlap (96) was one of the many members of Florida's 2007 recruiting class to find great success in the NFL.
ESPN ranked Florida's 2007 class
No. 2 in the nation
. It turned out to be an epic group that kept an already-elite program on top for a few more seasons.
The stars:
Where to begin?
Joe Haden
began his decorated college career with a bang, becoming the first true freshman in UF history to start a game at cornerback on opening day. The Pouncey twins,
Maurkice
and
Mike
, were stalwarts on the offensive line. Six-foot-6, 280-pound
Carlos Dunlap
was a monstrous presence at defensive end. Safety
Major Wright
started 33 of 41 games at free safety and wreaked havoc all over the field. And
Aaron Hernandez
was an exceptional playmaker at tight end and H-back. All six of these standouts played as true freshmen, and only Mike Pouncey stayed for his senior year, as the others jumped to the NFL.
The contributors:
Ball-hawking safety
Ahmad Black
had 13 career interceptions and was a leader on and off the field for Florida. Chaz Henry was UF's punter for four seasons and won the Ray Guy Award in 2010. Defensive linemen
Jaye Howard
,
Justin Trattou
and Duke Lemmens all made their marks as well. Running back
Chris Rainey
and wideout
Deonte Thompson
had their ups and downs at UF but were starters. Still, just seven of the 27 recruits in this class transferred away. So the majority of the class contributed to Florida's success.
The letdowns:
John Brown and Torrey Davis were among the top-ranked defensive tackles in the class -- Nos. 3 and 9, respectively -- but neither did much at Florida, and both transferred. John Brantley was the No. 4-rated quarterback in the Class of 2007 but had a largely undistinguished career at UF. Bo Williams, the No. 11 running back prospect, enrolled early but transferred after one year at UF. Two other highly rated prospects who struggled were guard James Wilson (injuries) and linebacker Lorenzo Edwards (ineffectiveness). Of the six Gators in this category, all but Edwards were among the top 106 recruits in the nation in 2007.
The results:
Florida went 26-2 from 2008-09, winning SEC and national titles in 2008 and recording the second unblemished regular season in school history in 2009. It was an incredible run of success fueled by some terrific talents. Florida had a nation's best nine players selected in the NFL draft in 2010, including three in the first round and a school-record six players in the first two rounds. Haden, Wright, Dunlap, Hernandez and both Pounceys have had great success in the NFL. Black, Howard and Rainey were also drafted. And Trattou, Henry and Thompson have spent time in the league.
The asterisk:
One more player deserves mention. The biggest star in Florida's recruiting class -- heck, the biggest star to emerge from the entire Class of 2007 -- was quarterback
Cam Newton
. He could qualify for all of the categories listed here. He contributed to UF as a backup to Tim Tebow. He was
reportedly caught cheating
and then
arrested and charged
with felony burglary, larceny and obstruction of justice. Newton was suspended by UF before transferring to junior college and ending up at Auburn, where he became a college football legend as a Heisman Trophy winner and a national champion. He's now an NFL superstar for the Carolina Panthers.
The other asterisk:
It wouldn't be a complete story to include Hernandez's accomplishments here without mentioning his long list of legal troubles. In 2013 he was
indicted by a grand jury
on a first-degree murder charge. Hernandez pled not guilty and faces life in prison without parole if convicted. The charges and other investigations he faces prompted the New England Patriots to release Hernandez. Back in Gainesville, the Gators
removed images of Hernandez
from their football facilities and a brick outside the stadium honoring his selection as a first-team All-American in 2009.
December, 9, 2012
12/09/12
8:00
AM ET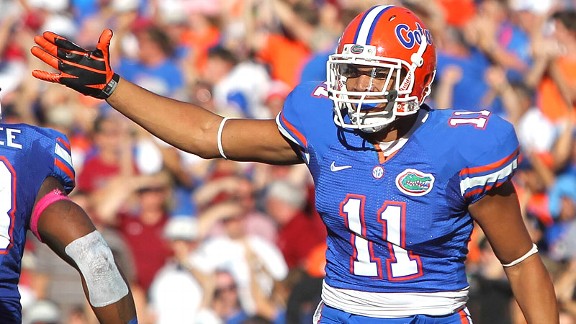 Kim Klement/US Presswire
Editor's note: Each day between now and Florida's Allstate Sugar Bowl date with Louisville, GatorNation will review the season for a key Gators player and attempt to project what's next. Today we'll look at TE Jordan Reed.
TE Jordan Reed
Redshirt junior
44 catches, 552 yards, 3 TDs
Role in 2012:
Reed was Florida's only consistent playmaker in the passing game. He led the Gators in receptions and receiving yards in just his second full season as a tight end.
The good:
Reed's size (6-foot-3, 239 pounds), speed and athleticism made him a matchup nightmare for defenses: too big for a defensive back to handle and too fast for a linebacker to cover. He was a first-down machine, too. Half of his catches went for first downs, by far the most of any player. He has gotten better as a blocker, which was the thing he struggled with the most during his transition from quarterback.
The bad:
It got better toward the end of the season, but Reed has a tendency to jump whenever he makes a catch -- regardless of where the ball is thrown. Several times he jumped too early and either missed the ball or was forced to make a tougher catch because of his body position. He also needs to be more physical as a runner instead of always trying to leap over tacklers. He's still learning the position.
Crystal ball:
Reed is roughly the same size as Aaron Hernandez and could end up having a similar career in the NFL. It'd be interesting to see the kind of numbers he could put up at Florida if the Gators were able to find any kind of outside threat. Hernandez caught 68 passes his final season at Florida, and Reed could have similar success. He really needs another year to continue to develop, but it wouldn't be a surprise if he left early for the NFL.
December, 13, 2011
12/13/11
1:43
PM ET
GAINESVILLE, Fla. -- We've had the Tebow edition and the Coaching Carousel edition and now we've got a little bit of both. Let's see what ESPN.com has to offer Gator fans today.
The perfect coach ...
Gene Wojciechowski says it must be hiring season in college football because athletic directors are acting over the top in their coaching hires. Gator fans will recognize the fawning over Urban Meyer and Charlie Weis, and perhaps notice the absence of any love for Will Muschamp. A 6-6 record in your first season can have a tendency to rip some of the luster off a shiny, new hire.
Weigh in on Weis
We've got an outlet for Florida fans wanting to vent some frustration over this season's offense -- a SportsNation poll. Check out some of the comments already posted and throw in your own two cents.
College hoops No. 1s
Can you name all 14 schools that were ranked No. 1 in men's college basketball at some point in the past five seasons? You get two minutes and no hints about Florida.
DAILY TEBOW
Not sure how I missed this one on Saturday, but it's strong enough to lead the list of your daily reading on Tim Tebow ...
Noah supports fellow Gator Tebow
Joakim Noah certainly can relate to being hated for a variety of reasons, one of which has got to be because of success.
The improbability of Tebow's streak
Stats & Info: Tebow's effect on Denver's six-game win streak is debatable and incalculable, but the sheer improbability of the Broncos' tear with Tebow is not.
Here are a few videos from our city sites, ESPNBoston, ESPNChicago and ESPNDallas ...
Hernandez Weighs In On Argument
Aaron Hernandez joins the Patriots.com Postgame Show to discuss Tom Brady's sideline argument with Bill O'Brien and to praise former teammate Tim Tebow.
Brady-Tebow Matchup Looms
Tom Brady and Tim Tebow are set to meet Sunday afternoon when the Denver Broncos host the New England Patriots.
Bears Trying to Keep Heads Up
Brian Urlacher, Julius Peppers, and Lance Briggs say the loss to the Broncos hurts.
Griffin III Following Tebow's Footsteps
Robert Griffin III goes on The Herd to talk about the Tim Tebow comparisons, winning the Heisman, and his NFL Draft prospects.
RECRUITING
Five-star DE Spence stays humble (Insider story)
Dave Hooker brings you tremendous insight on one of Florida's top targets, a pass-rushing specialist from Pennsylvania. Will Muschamp can't be happy that Urban Meyer has joined the fray.
New baseball draft rules could impact prep prospects
Jason A. Churchill drops some knowledge on how the MLB's new rules could mean more prospects going the college route. That's good news for Florida coach Kevin O'Sullivan, an excellent recruiter.
McElwain discusses new Florida football
SEC SCOREBOARD
Thursday, 9/3
Saturday, 9/5