Florida Gators:

A.C. Leonard
February, 17, 2014
2/17/14
2:00
PM ET
GAINESVILLE, Fla. -- In the last decade, more than any other time in its history, Florida's status as a recruiting juggernaut has been proven.
Once head coach Steve Spurrier established his alma mater among college football's elite, blue-chip talent started flocking to UF. The Gators also recruited well under Spurrier's replacement, Ron Zook. Then Florida won two national championships with coach Urban Meyer.
The fact that Florida has thrived on the recruiting trail despite Meyer's soap-opera departure and some sub-par seasons on the field is a testament to the strength of the brand.
This week we count down the
five most impactful UF recruiting classes in the last decade
, not including Florida's most recent class, which isn't even fully assembled on campus yet.
No. 5 on our list in order of impact is the Class of 2011, head coach Will Muschamp's first class, which was
ranked No. 12 by ESPN
.
[+] Enlarge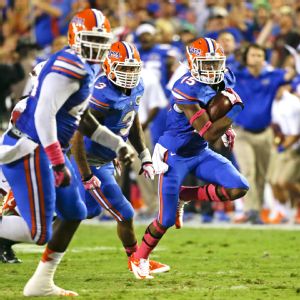 AP Photo/John RaouxLoucheiz Purifoy's big-play ability at cornerback allowed him to stand out in three seasons at Florida and should get him selected high in this year's NFL draft.
The stars:
This is easy.
Marcus Roberson
and
Loucheiz Purifoy
became lockdown cornerbacks and were the only three-and-done players from this 19-man class. Roberson made an instant impact, starting his first 10 games as a true freshman, and Purifoy first emerged as a special-teams terror. By the end of their college careers, the two clearly established NFL pedigree -- Roberson for his advanced technique, Purifoy for his supreme athleticism. They are expected to be picked no lower than the second round this May.
The contributors:
Several players stand out in this class, including a few starters. Among them, starting quarterback
Jeff Driskel
is the one who could still push his way into the star category if he improves during his final two seasons of eligibility. Other starters have carved out significant roles for themselves, including fullback
Hunter Joyer
, safety
Jabari Gorman
and tight ends
Clay Burton
and
Tevin Westbrook
.
Valdez Showers
successfully converted from safety to running back last season. And
Kyle Christy
was a record-setting punter who stumbled in 2013 and will fight to take his job back this year.
The letdowns:
Some of the top talents in this class never panned out at UF, as eight of the 19 players transferred and one quit football after injuries derailed his career. The biggest name to transfer was QB
Jacoby Brissett
, who started four games at Florida but left for NC State after losing the competition for the starting job to Driskel. WR
Ja'Juan Story
, TE
A.C. Leonard
, RB Mike Blakely and S
De'Ante Saunders
were four of the Gators' five highest-rated recruits in the class. Transfers Story, Blakely and WR
Javares McRoy
were recruited by Meyer for his spread-option offense and never quite fit Muschamp's pro-style scheme. Leonard and Saunders made strong impressions on the field, but both ran afoul of the law and transferred to Tennessee State.
The results:
There have been high points, such as an 11-win season in 2012 in which Florida was just one Notre Dame loss away from playing for the national championship. But there have been more low points, such as a 7-6 season in 2011 and a numbing 4-8 season in 2013. The results on the field have been uneven, but there's still time for this class to distinguish itself.
August, 24, 2012
8/24/12
10:00
AM ET
ESPN's GatorNation is previewing each position leading up to the start of the season with a short video. Each Friday until the season kicks off, Michael DiRocco and Jeff Barlis will analyze a position group, tell you who is starting and why, and provide a breakdown of the depth at the position. This week it's receivers/tight ends.
The starters:
WR
Andre Debose
(RJr.), WR
Frankie Hammond, Jr.
(RSr.), WR
Quinton Dunbar
(RSo.), TE
Jordan Reed
(RJr.)
The backups:
WR
Latroy Pittman
(Fr.), WR
Solomon Patton
(Jr.), WR
Stephen Alli
(RJr.), WR
Raphael Andrades
(Fr.), TE
Clay Burton
(RFr.), TE
Kent Taylor
(Fr.), TE
Colin Thompson
(Fr.), TE
Tevin Westbrook
(RFr.)
Comment:
Hammond is UF's most experienced receiver (41 catches). Debose has proven big-play ability (27.0 yards per catch and 4 TDs of at least 60 yards in 2011). But neither has been very consistent. Dunbar had a solid spring. The star of the spring, though, was Pittman, an early enrollee who was easily the most impressive receiver. He'll get the start on opening day if he continues to progress. A.C. Leonard was Florida's most talented tight end but transferred after an arrest and suspension. Reed is still working through the transition from quarterback. Taylor is intriguing because he's not an inline tight end and could be used as a wide receiver if needed.
July, 26, 2012
7/26/12
5:15
PM ET
GAINESVILLE, Fla. -- Neither
Jeff Driskel
nor
Jacoby Brissett
was able to separate himself from the other during spring practice and summer workouts so Florida's quarterback situation is still unsettled heading into the first day of practice on Aug. 4.
As a primer, GatorNation is taking a look at each player's resume. What they did in high school doesn't matter. Neither does what they did in the spring game, either, because it was under controlled conditions and against watered-down defenses. The only evidence is what they did last season in limited playing time.
Neither put up decent numbers, but they were thrown into tough situations because of injuries to starter John Brantley.
[+] Enlarge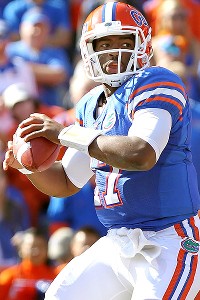 Kim Klement/US PresswireJacoby Brissett was first to earn a college start. Only problem was that it was against LSU on the road.
Today we'll take a detailed look at Brissett's play in 2011.
We looked at Driskel on Wednesday
.
Brissett played in eight games -- five as a situational player -- and completed 18-of-39 passes for 206 yards with two touchdowns and four interceptions. Brissett spent extensive time at quarterback in three games (LSU, Auburn and Florida State) and only played situationally in five others (Georgia, Vanderbilt, South Carolina and Furman). We broke down the stats from the 23 drives in which he either threw a pass or carried the ball in the LSU, Auburn and FSU games.
In those 23 drives, the Gators managed 17 first downs and scored 24 points.
Here's a look at his game-by-game stats in those 23 drives:
LSU
Opening possession of the game.
Gators begin drive on their own 19.
3-11 (UF18): Brissett pass complete to Chris Rainey for minus-7 yards.
Drive summary: 3 plays, minus-8 yards, 0 first downs, 0 points
Passing stats: 1-1-0, minus-7 yards
July, 18, 2012
7/18/12
11:01
AM ET
HOOVER, Ala. -- Florida tight end
A.C. Leonard
caught only eight passes for 99 yards last season, so on the surface, his decision to transfer doesn't seem as if it would have much of an impact on the Gators in 2012.
But losing Leonard will hurt.
The 6-foot-4, 245-pound sophomore was Florida's most talented tight end. He's got good hands and runs with the ball well after the catch. An early-season injury hurt his development, but he came on toward the end of the season, making all receptions in the final five games.
Redshirt junior
Jordan Reed
is the only tight end remaining on the roster who has caught a pass in college. He has 34 career catches for 386 yards and three touchdowns, but has been exclusively a tight end for only one season. He began his career at UF as a quarterback and he is still adapting to the position switch.
The other tight ends on the roster are redshirt freshman
Clay Burton
, sophomore
Tevin Westbrook,
and freshmen
Kent Taylor
and
Colin Thompson
. Westbrook was moved to tight end after spring practice. Taylor is more of a flex tight end and could be used at receiver if the Gators struggle there. Thompson is more of a blocking tight end.
July, 4, 2012
7/04/12
8:00
AM ET
ESPN's GatorNation brings you the 30 things you need to know about Florida's upcoming 2012 season. For 30 weekdays we'll preview games, talk about trends, spotlight players and positions, and give you pretty much everything you need to know to be ready for the season before the Sept. 1 opener against Bowling Green.
GAINESVILLE, Fla. -- Florida is one of only five SEC programs to make the top 25 in ESPN's team recruiting rankings in each of the past five seasons.
In fact, the Gators finished in the top five in four of those five years. But somehow that hasn't translated to consistent on-field success.
Florida lost just two games combined in 2008 and 2009, but very few of the members of those signing classes contributed significantly -- which shows how good UF's roster was in those two seasons. Since then, however, the Gators are a combined 15-11, and while some of those highly touted signees have turned into very good players, UF has slipped from its spot among the national elite.
But things are looking brighter entering 2012. The core of this year's team is comprised of members of the 2009 and 2010 classes, and several members of the 2011 class appear to be ready to become significant contributors or are on the verge of being elite players.
Here's a look at those signing classes (see chart below):
May, 17, 2012
5/17/12
3:59
PM ET
ALPHARETTA, Ga. -- When Florida defensive tackle
Leon Orr
violated the terms of his deferred prosecution agreement for his misdemeanor marijuana possession charge by
being cited
for knowingly driving with a suspended license on Monday, he became the ninth Florida player arrested and the 11th overall arrest during Will Muschamp's short coaching tenure.
Though Orr wasn't taken into custody, his citation did count as an official arrest.
With that, there's a growing perception that Florida has an off-field discipline problem. The numbers are hard to ignore, but Muschamp isn't convinced there's a problem. He acknowledges the run-ins that have taken place since he officially took over for Urban Meyer in January of 2011, but insists that perception isn't his reality.
While he wouldn't comment on Orr's situation, he did say that increased media outlets have placed the microscope closer to college athletes.
[+] Enlarge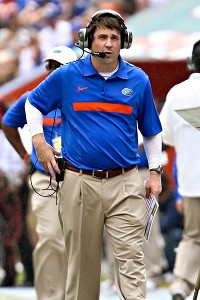 Rob Foldy/Icon SMIWill Muschamp insists discipline in his program is better now than it was when he first arrived.
"When you're dealing with young people, it's an ongoing educational process, especially in this day and age," Muschamp told ESPN.com shortly before he greeted the Atlanta Gator Club at The Metropolitan Club in Alpharetta Wednesday. "I'm not taking a shot at anyone in the media. It's your job to report and more things are being reported now than 15, 12, eight, five years ago. There's more social media outlets now where there's more information. There's a lot of misinformation out there, too."
Of the 11 arrests, only three have occurred during this calendar year, while five occurred during Muschamp's first spring.
You can read
a summary of the arrests here
.
The overall number is high for less than two years, but it's obvious the off-field incidents have steadily decreased and Muschamp said there's "no question" the discipline is better now than it was when he first arrived ... and he's right.
It hasn't been an overnight transformation, but the improvement is there. Muschamp took over a team that experienced 32 arrests during Meyer's six-year tenure and feels things are turning around. He especially sees it in the fact that during his first five months on the job he had five arrests on his hands. Since September, he's had three.
March, 30, 2012
3/30/12
1:59
PM ET
GAINESVILLE, Fla. -- Tight end
A.C. Leonard
has rejoined the football team but his status for the spring game is still in question, Florida head coach Will Muschamp said as he addressed the media Friday.
Leonard, who practiced with the team on Monday, had been suspended since his Feb. 15 arrest on misdemeanor battery charges stemming from an altercation with his girlfriend at their Gainesville apartment.
"After six weeks of being suspended from our football team, I felt like he's done the things I've asked him to do from a standpoint of the measure that I took with him to this point," Muschamp said. "I've allowed him to practice only --
only
. No decision on the fall has been made, no decision on playing has been made. He still has an awful lot of things to do in order to play for our football team.
"He's very remorseful about what happened. He made a mistake. But all he has been cleared to do is practice. I have not determined what I'm going to do with him for the spring game yet."
As a freshman Leonard totaled 99 yards on nine receptions in 2011.
March, 29, 2012
3/29/12
11:30
AM ET
GAINESVILLE, Fla. -- Florida tight end
A.C. Leonard
has rejoined the team, but whether he will be able to play in the fall has not yet been determined.
Leonard, who practiced with the team on Wednesday, has been suspended since his Feb. 15 arrest on misdemeanor battery charges stemming from an altercation with his girlfriend at their Gainesville apartment.
Read the full story here
.
March, 13, 2012
3/13/12
8:00
PM ET
GAINESVILLE, Fla. -- Florida offensive coordinator Brent Pease doesn't have a magic formula to fix an offense that struggled in 2011 and finished 105th nationally.
But he does have five criteria that he believes are keys to any successful offense, and if the Gators master these five things they'll be better in 2012 -- a pounding running game, an explosive passing game, creativity, eliminate turnovers and great quarterback play.
"We want to get more physical up front, we want to develop a little bit better tempo, we want to eliminate some turnovers, a lot of turnovers, and put ourselves in better situations," Pease said Tuesday. "We're not going to run anything different. People run power, we're going to run power; they run zone, we're going to run zone. No one is reinventing that part of it."
Pease comes to UF after spending the past six seasons at Boise State. The first five were as receivers coach, but Pease was the offensive coordinator in 2011 and helped the Broncos finish tied for 10th nationally in total offense (481.3 yards per game). He's being charged with fixing a UF offense that averaged 328.7 yards of total offense per game and just 185.7 yards per game passing. The Gators haven't averaged that few yards of total offense since 1988 (316.0). UF averaged 184.3 yards per game passing in 2010, but that's the fewest since 1989 (148.0).
His first task is to find a quarterback.
Jacoby Brissett
and
Jeff Driskel
will share reps this spring, but UF coach Will Muschamp said there is no timetable to naming a starter. They both could play in the fall, Muschamp said, which is not what he would prefer but is willing to do if neither separates himself in the competition.
"Not particularly in favor of that," Pease said. " I'd rather see one kid step forward and take charge and be productive and let it be his team. But if that's not the way it works out, then as coaches you've got to do what's best for your football team."
February, 16, 2012
2/16/12
2:58
PM ET
GAINESVILLE, Fla. -- A.C. Leonard is the ninth Florida player arrested since coach Will Muschamp took over for Urban Meyer in January 2011. It is by far the most serious of the transgressions committed. Here's a look at the list of arrests:
Janoris Jenkins:
Arrested twice for possession of marijuana (Jan. 22, 2011 and April 23, 2011). He was dismissed from the team.
Kedric Johnson:
Arrested for possession of marijuana Jan. 27, 2011. Still on the team. Team punishment not announced.
February, 1, 2012
2/01/12
8:20
PM ET
[+] Enlarge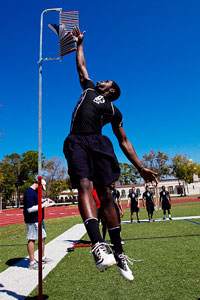 Davide De Pas for ESPN.comRaphael Andrades had offers from Notre Dame, Arkansas, Illinois and Stanford.
GAINESVILLE, Fla. --
Raphael Andrades
wanted to play at Florida so much, he would have turned down scholarship offers to other schools so he could walk on in Gainesville.
Thankfully for him, he doesn't have to.
Florida signed the 6-foot, 190-pound three-star receiver out of Tallahassee, Fla./Lincoln High School on Wednesday. He's not a name Gators fans might recognize, but he was someone UF coach Will Muschamp had been keeping his eye on.
"We've recruited him all along," Muschamps said. "He's a guy that we liked. He did a great job in camp. That's why you have a deep board."
Andrades caught 41 passes for more than 800 yards and a single-season school-record 13 touchdowns last season. His offensive coordinator at Lincoln is former UF standout receiver Jacquez Green, who told GatorNation earlier Wednesday that Andrades wanted to play at UF so badly that he would have walked on.
UF desperately needs playmakers at receiver, and Andrades may have been some insurance in case the Gators don't land four-star receiver
Stefon Diggs
(Olney, Md./Our Lady of Good Counsel), who is scheduled to announce his choice on Feb. 10. The Gators also signed
Latroy Pittman
, a four-star player out of Citra, Fla./North Marion who enrolled early, but Muschamp said Pittman may play some safety, too.
November, 27, 2011
11/27/11
12:26
AM ET
GAINESVILLE, Fla. -- It was Senior Day for the Florida Gators on Saturday, but a few underclassmen played key roles in Florida State's 21-7 victory over Florida.

CB Greg Reid
The junior from Valdosta (Ga.) had two momentum-changing interceptions. The two interceptions were his first and second of the year. In addition to his play on defense, Reid had a 39-yard punt return in the third quarter that helped flip the field position for FSU.

S Matt Elam
Florida safety Matt Elam led a defense that surrendered 95 yards of total offense. Elam totaled eight tackles, a tackle for a loss, a forced fumble and two pass breakups. FSU's two touchdown drives totaled 24 yards.

RB Devonta Freeman
With 44 yards rushing, the true freshman running back didn't necessarily light up the stat sheet, but Freeman had two tough touchdown runs that Florida could never recover from. They were Freeman's seventh and eighth rushing touchdowns of the year.

TE A.C. Leonard
If there was a bright spot for the Florida offense, it was the true freshman tight end. The 6-foot-4, 245-pounder matched career highs with three receptions for 65 yards. Leonard received a majority of the work at tight end because starter Jordan Reed was out with an ankle injury.

Florida State secondary
The FSU secondary limited Florida to 12-of-26 passing for 121 yards and four interceptions. Reid accounted for two picks, Mike Harris intercepted an underthrown John Brantley pass and returned it 89 yards to set up FSU's second touchdown, and Terrance Parks intercepted Jacoby Brissett and returned the ball 29 yards for the game-clinching touchdown with 12:48 to go in the fourth quarter.
College Teams Most Needing A Big Spring
SEC SCOREBOARD
Thursday, 9/3
Saturday, 9/5