Alvin Bailey interview
May, 2, 2012
5/02/12
10:55
AM ET
By
GatorNation staff
| ESPN.com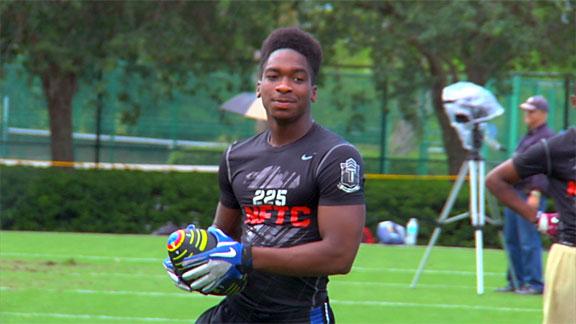 Alvin Bailey (Seffner, Fla./Armwood), the fifth-rated athlete in the ESPN 150, talks with GatorNation's Derek Tyson at the Orlando Nike Football Training Camp.
Gators Lose Two ESPN 300 Commits
National recruiting analyst Craig Haubert discusses where Florida goes from here now that its recruiting class has shrunk to eight. Haubert says, however, there's reason for optimism in Gainesville.
Gators Lose Two ESPN 300 Commits
VIDEO PLAYLIST
FLORIDA FB RECRUITING SCORECARD
Rawlings Florida Gators Tailgater Junior-Size Football Shop »
Gator_sports

Gatorsports.com


McCloud to pick a college Monday http://t.co/aUrXTVK1qw
about 2 hours ago

Gator_sports

Gatorsports.com


Florida players share knowledge at Brantley camp http://t.co/JV0rCWMxve
about 2 hours ago

GatorZoneFB

GatorZone Football


#GatorMade RT @VikingsPR: .@sharriffloyd sits down with @MyFOX9 live at 10:30 pm. http://t.co/gOEburYxLy
about 3 hours ago

DerekTysonESPN

Derek Tyson


RT @_SimplyThatGuy5 Just had a great convo with Coach Saban. Really is the best in the business #RollTide #RTR 🐘🐘🐘
about 6 hours ago

AyeyoKEJO

Kerryon Johnson


I can't explain my excitement for this class AU has put together....it's gonna be AUsome!!!!
about 6 hours ago

TBBuccaneers

Tampa Bay Buccaneers


Please excuse the blurry screen-shot...this is a Jeff Demps video: http://t.co/ot891WdpCT#BucsTrainingCamp http://t.co/z5J8MtSIYZ
about 7 hours ago

TBBuccaneers

Tampa Bay Buccaneers


Just in case you needed proof...Jeff Demps is REALLY fast. #BucsTrainingCamp https://t.co/ioS6FQuvnT
about 7 hours ago

GatorZoneFB

GatorZone Football


.@AlexAnzalone34 looks to be a factor in the LB corps after an injury-plagued freshman season. #GatorCountdown http://t.co/YyHXBBcPmY
about 9 hours ago

onlygators

OnlyGators.com


Here's the 2014 Florida #Gators Nike sideline coaches polo. BUY HERE: http://t.co/pPPM1wNo5e | http://t.co/VusIHeqcgj
about 9 hours ago

DerekTysonESPN

Derek Tyson


RT "@HunterD_1: Visiting Tennessee Thursday 😈!!#VolNation🔶⚪️"
about 9 hours ago

Gator_sports

Gatorsports.com


Julius decommits from Gators' 2015 class http://t.co/2CXSCLHBrB
about 10 hours ago

GatorZoneFB

GatorZone Football


#GatorMade RT @TBBuccaneers: Just in case you needed proof...Jeff Demps is REALLY fast. #BucsTrainingCamp https://t.co/55kQwGQ48s
about 10 hours ago

DerekTysonESPN

Derek Tyson


The LEGAL Dwarf Caiman RT "@MADDAWG_G: This Is My Guy Right Here It Wouldn't Be Possible Without Him 🐊🐊🐊🐊 http://t.co/13VxXLXDUV"
about 10 hours ago

DerekTysonESPN

Derek Tyson


#Longhorn fans will really like John Burt. Smooth reciever and excellent return man. Great kid too.
about 11 hours ago

DerekTysonESPN

Derek Tyson


The decommitment of Jalen Julius from Florida was expected. UF wanted him to work out at their camps but never happened. #Gators
about 11 hours ago

onlygators

OnlyGators.com


Story: A look at Florida #Gators recruiting in month of July (commits, decommits) + updated list http://t.co/2dJ952HfIs
about 11 hours ago

onlygators

OnlyGators.com


Three-star ATH Jalen Julius has decommitted from the Florida #Gators. Third recruit to do so in the last nine days.
about 12 hours ago

APMarkLong

Mark Long


So @vitostellino is getting Scobee and Ke$ha mixed up now?
about 14 hours ago

onlygators

OnlyGators.com


Noah is also trying to stop gun violence and promote peace in Chicago. Watch his PSA - http://t.co/Bs8k8KehUg
about 14 hours ago

onlygators

OnlyGators.com


#Colts coach Chuck Pagano (at UNC) recruited Chris Rainey on advice of "He Hate Me," Rainey to get legit opportunity http://t.co/P8dHQ68xN6
about 14 hours ago

onlygators

OnlyGators.com


Noah is also trying to stop fun violence and promote peace in Chicago. Watch his PSA - http://t.co/P8dHQ68xN6
about 14 hours ago

onlygators

OnlyGators.com


#Bulls C Joakim Noah still poking LeBron James, wants to "kick his *****" next year - http://t.co/vPVWwADhiw
about 14 hours ago

onlygators

OnlyGators.com


#Dolphins, #Gators RT @ArmandoSalguero: Mike Gillislee has left practice under his own power, towel over his head.
about 15 hours ago

APMarkLong

Mark Long


Jaguars PK @JoshScobee10 makes up for botched penalty kick last night with a 64-yard FG today
about 15 hours ago

APMarkLong

Mark Long


First fight of Jaguars camp involves DE Tyson Alualu & TE Clay Harbor. That would have been UGLY for Harbor
about 15 hours ago

HamiltonESPN

Gerry Hamilton


Commitment: #ESPN300 receiver @burticus21 will announce his decision between #Texas #Auburn & #FSU at 3pm today.
about 16 hours ago

GatorZoneFB

GatorZone Football


.@AlexAnzalone34 looks to be a factor in the LB corps after an injury-plagued freshman season. #GatorCountdown http://t.co/YyHXBBcPmY
about 16 hours ago

Gator_sports

Gatorsports.com


Florida position breakdown: Wide receivers http://t.co/ROTXR9BC8a
about 19 hours ago

GatorZoneFB

GatorZone Football


Ladies end the Women's Football Clinic with a #Gator chomp. #ItsGreatUF http://t.co/FG6Knsciks
1 day ago

TreasureYou

Pat Smith


Something so special about a daddy/daughter relationship!!! #grateful @emmittsmith22 http://t.co/AcvuMZMDD2
1 day ago

ScoutFlorida

Scout Gators


Muschamp offers McBride http://t.co/C15dLpuLI2 #Gators
1 day ago

APMarkLong

Mark Long


Carrie Underwood: "Of course, the downside is I get to see what a bad dancer I am. ... And my sweaty hair."
1 day ago

APMarkLong

Mark Long


Carrie Underwood: "How 'bout these ginormous screens you guys got here." #Jaguars
1 day ago

GatorZoneFB

GatorZone Football


Going to look great for Florida-Georgia RT @APMarkLong: Jaguars unveil new scoreboards. Impressive http://t.co/XKQYvCKzpM
1 day ago

APMarkLong

Mark Long


At least the Jaguars spelled Underwood correctly on Carrie's No. 12 jersey
1 day ago

APMarkLong

Mark Long


Carrie Underwood says it's close to the 10-year anniversary of her trying out for American Idol
1 day ago

APMarkLong

Mark Long


Well, we now know who to blame for the misspelling "@GeneFrenette: #Jaguars owner Shad Kahn on watching video board unveiling: "Awesome."
1 day ago

RaysBaseball

Tampa Bay Rays


Lots of excitement (and some Orange and Blue). It's Chomp at the Trop, and we're live against the @RedSox.
1 day ago

GatorVisionTV

GatorVision


We are here at @GatorZoneFB's Women's Clinic! Stay tuned for behind the scenes pictures! #Gators http://t.co/1jQeLCOFMp
1 day ago

GatorZoneFB

GatorZone Football


#Gators Tripp Thurman and @MGarcia_76 stopped by to hang with the Women's Clinic participants #ItsGreatUF http://t.co/*****
1 day ago

GatorZoneFB

GatorZone Football


One of the ladies at the UF Women's Football Clinic gears up like the players do. http://t.co/3s6oj7IecY
1 day ago

APMarkLong

Mark Long


Jaguars unveil new scoreboards. Impressive http://t.co/SkaSrbWEOO
1 day ago

APMarkLong

Mark Long


You in the pool? "@rmikehill: Here's the new board in full force in Jacksonville. http://t.co/1bysZrjolC"
1 day ago

APMarkLong

Mark Long


Yikes! Jaguars misspelled Shad Khan's last name on the new scoreboard. Had it "Kahn"
1 day ago

DerekTysonESPN

Derek Tyson


2016 Ath Kyle Davis RT "@KDSZN: Officially committed to THE University of South Carolina #Cocky 🐓 http://t.co/k8DaThodaM"
1 day ago

APMarkLong

Mark Long


Jaguars coach Gus Bradley gets to introduce Carrie Underwood tonight. He has no idea what to say, but sure he'll do fine
1 day ago

APMarkLong

Mark Long


Carrie Underwood wearing a No. 12 Jaguars jersey tonight. Take that, Titans!!
1 day ago

GatorVisionTV

GatorVision


We have @CoachHutzler mic'd up at the @GatorZoneFB Women's Clinic! Check out our video recap on Monday! #Gators http://t.co/klD0wE0wbr
1 day ago

GatorZoneFB

GatorZone Football


After taking questions, @CoachWMuschamp introduces the ladies at the Women's Football Clinic to his coaching staff. http://t.co/5GJfswU7yz
1 day ago

GatorZoneChris

Chris Harry


From 'Chomp at the Trop:' #Gators legend Brad Culpepper's ceremonial 1st pitch (it was a ball) st Rays vs Red Sox. http://t.co/1siFlRarx4
1 day ago

DerekTysonESPN

Derek Tyson


ICYMI: Notebook: Florida's Friday Night Lights http://t.co/s3LUqxHmy4 #Gators
1 day ago

BigCatCountry

Big Cat Country


@DerekTysonESPN Check out this comparison of the boards vs. Mount Rushmore: https://t.co/gPrAiRHip9
1 day ago

APMarkLong

Mark Long


That was an embarrassment, @JoshScobee10!!!!!!!
1 day ago

GatorZoneFB

GatorZone Football


Ladies love the #Gators. Florida fans at tonight's Women's Football Clinic get a photo op. with @CoachWMuschamp http://t.co/2CwkAjvFIl
1 day ago

DerekTysonESPN

Derek Tyson


Just an idea of how big these new #Jags video boards are.. Thats a man standing on top, directly below the B http://t.co/HGAa3PsByc
1 day ago

DerekTysonESPN

Derek Tyson


Holy video boards. http://t.co/3SmRPA2vGU
1 day ago

ScoutFlorida

Scout Gators


Video: Roquan enjoys Friday NIght Lights http://t.co/Q6fNjV26Pv #Gators
1 day ago

lambo2126

Jim Lambert


Great to see the Irvington Gator Josh Evans @JAY_E_9 doing his thing at Jags camp today. Thanks for a great day Josh! http://t.co/BNiEe95jvf
1 day ago

onlygators

OnlyGators.com


Spoke to new #Gators commit George Brown, Jr. (@MADDAWG_G) who explains his decision, reaction to live gator prop http://t.co/d1fLRW82dc
1 day ago

GregO_ESPN

Greg Ostendorf


Scout's take on Auburn's newest commitment, ESPN 300 LB Richard McBryde: "A physical and aggressive defender..." http://t.co/TBGOSVZm6U
1 day ago

ScoutFlorida

Scout Gators


Total Friday Night Lights Story Central http://t.co/YGPFt7rdWK #Gators
1 day ago

JeffBarlisESPN

Jeff Barlis


RT @sgw94: You gotta really be waaaaaay too much into twitter to give a damn *how* someone retweets you.
1 day ago

APMarkLong

Mark Long


Annual breakdown of Jaguars/EverBank naming-rights dealRead: http://t.co/IB3J16RD6T
1 day ago

Seahawks

Seattle Seahawks


LIVE @Earl_Thomas press conference following Day 2 of #BingHawks camp. http://t.co/6z00g7Msf8
1 day ago

APMarkLong

Mark Long


Bradley on Shorts: "We trust Cecil so much as far as being ready mentally, knows what to do. We'll have enough time, so we'll be OK."
1 day ago

onlygators

OnlyGators.com


RT @AdamHBeasley: Attorney Jeff Ostrow said that the Pounceys plan to counter sue the accusers for "malicious prosecution and defamation."
1 day ago

APMarkLong

Mark Long


Shorts on Packers WR Jordy Nelson signing a 4-year, $39M deal: "One less receiver off the market."
1 day ago

APMarkLong

Mark Long


Jaguars WR Cecil Shorts III (hamstring): "My frustration level might be at an all-time high."
1 day ago

APMarkLong

Mark Long


Jaguars WR Cecil Shorts III (hamstring) will be out a couple weeks
1 day ago

GatorZoneScott

Scott Carter


Have you seen some of the contracts former #Gators have signed lately? The UAA has: http://t.co/TAkHNv4xyj
1 day ago

APMarkLong

Mark Long


Jaguars WR Cecil Shorts III arrives at practice, not working. Gave every fellow WR a welcome handshake
1 day ago

DerekTysonESPN

Derek Tyson


Notebook: Florida's Friday Night Lights http://t.co/PiLxNWtiAE
1 day ago

onlygators

OnlyGators.com


Many of the other PFs have pulled out for various reasons. RT @ESPNSteinLine: Chandler Parsons chances of making Team USA roster have spiked
1 day ago

APMarkLong

Mark Long


Yes, rookie LB Telvin Smith with starters in place of Geno Hayes @Stiggymayneee: @APMarkLong telvin working with the 1's?"
1 day ago

APMarkLong

Mark Long


Mighty Joe Young working as 2nd-team safety alongside Josh Evans. Chris Prosinski with 3s -- some might say finally. #Jaguars
1 day ago

APMarkLong

Mark Long


Jaguars LB Geno Hayes (knee) getting day off as executed. He's going to work every other day in camp
1 day ago

30for30

ESPN Films 30 for 30


Former @Dodgers OF Glenn Burke is credited w/ the 1st high five. But his story is so much more than that. Watch here: http://t.co/6UJSyw6BO4
1 day ago

APMarkLong

Mark Long


Jaguars WR Cecil Shorts III not at practice, apparently working inside because of hamstring tweak
1 day ago

GatorZoneScott

Scott Carter


If you check at Chris' blog, take a look at Culpepper in photo. Hard to believe that's a former NFL defensive lineman. Got all weight off.
1 day ago

GatorZoneScott

Scott Carter


Brad Culpepper, #Gators fans ready for #Rays' "Chomp at Trop" tonight vs. Red Sox writes @GatorZoneChris: http://t.co/g6yF7kEG8d
1 day ago

DerekTysonESPN

Derek Tyson


Yeah it was nice to meet you RT "@RHenrilus7: @DerekTysonESPN Hey whats up coach its Ricky we meet at UF Yesterday"
1 day ago

GatorZoneFB

GatorZone Football


One of the all-time plays in #Gator history. @ahmadblack35 in the BCS National Championship. #GatorCountdown http://t.co/fod3VFAxlO
1 day ago

HamiltonESPN

Gerry Hamilton


With No. 48 @R_Mcbryde15 in the fold, #Auburn now has 9 #ESPN300 commits. Adds to Auburn's No. 5 ranked recruiting class.
1 day ago

DerekTysonESPN

Derek Tyson


Burrell was impressive last night RT "@HeaftyLefty: Slight from the camp... http://t.co/jTXv7Phuj1"
1 day ago

HamiltonESPN

Gerry Hamilton


With #ESPN300 No. 48 @R_Mcbryde15, there are now 5 #Auburn commits scheduled to play in the 2015 Under Armour @AllAmericaGame.
1 day ago

GatorsNow

Florida Gators Now


Dollars and Sense: UAA Takes Proactive Approach with Student-Athlete Financial Symposium: http://t.co/2bwT7a8JYk
1 day ago

GatorZoneScott

Scott Carter


Have you seen some of the contracts former #Gators have signed lately? The UAA has: http://t.co/TAkHNv4xyj
1 day ago

GatorZoneNews

Florida Gators


From @GatorZoneScott -- Dollars and Sense: UAA Takes Proactive Approach with Student-Athlete Financial Symposium http://t.co/AMHsVkP1UI
1 day ago

Gator_sports

Gatorsports.com


Study suggests college athletes aware of drug, alcohol risks http://t.co/dHAgJ4nTLh
1 day ago

Gator_sports

Gatorsports.com


High-profile recruits put on a show at Friday Night Lights http://t.co/Rji00ASxCa
2 days ago

Vikings

Minnesota Vikings


What have you learned about Mike Zimmer so far?Sharrif Floyd's answer: http://t.co/k51KB33ltv http://t.co/viGYpoNreS
2 days ago

DerekTysonESPN

Derek Tyson


Miami RT commit Dexter Williams says he thinks Ray Ray McCloud will commit to UF on Monday. #Gators
2 days ago

JeffBarlisESPN

Jeff Barlis


Well that sure is something. RT @RedditCFB: I know what I am cooking for the Florida game #GeauxTigers http://t.co/LP4haoJ9wr
2 days ago

DerekTysonESPN

Derek Tyson


Miami RT commit Dexter Williams says he thinks Ray Ray McCloud will commit to UF on Monday. #Gators
2 days ago

DerekTysonESPN

Derek Tyson


ESPN300 LB Jeff Holland says #UCLA #Auburn and #Gators are all neck-and-neck.
2 days ago

DerekTysonESPN

Derek Tyson


RT "@prince_zayy: Great day at #UF #Gators #ChompChomp‼️‼️💯🐊🐊🐊🐊 http://t.co/ozBssVx72R"
2 days ago

DerekTysonESPN

Derek Tyson


#FNL is under way. http://t.co/r5Lvy3XAjo
2 days ago

Gator_sports

Gatorsports.com


Redemption for Scottish swimmer after Florida arrest http://t.co/wXMVDECMZ1
2 days ago

DerekTysonESPN

Derek Tyson


Nice meeting you RT "@Ayers2404: @DerekTysonESPN is here tonight #fnl http://t.co/WdTPmARIYe"
2 days ago

APMarkLong

Mark Long


Hall of Famer RT @Pkav3: Not even Fulham manager Felix Magath is safe from the grilling of @vitostellino http://t.co/ZCZev760CA
2 days ago
SEC SCOREBOARD
Thursday, 8/28
Saturday, 8/30
Sunday, 8/31
BLOG ARCHIVE:
CATEGORIES: