Four-star QB Jones pledges to Florida
June, 8, 2014
Jun 8
3:00
PM ET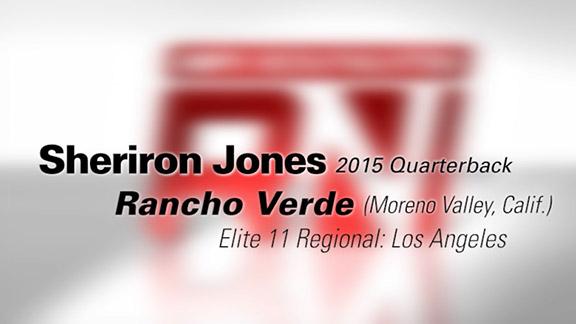 GAINESVILLE, Fla. -- It didn't take long for
Sheriron Jones
to make up his mind. In fact, it took just a few hours on his first visit to the University of Florida.
The four-star dual-threat quarterback from Moreno Valley, Calif., committed to the Gators on Sunday just before heading home.
To continue reading this article you must be an Insider
Insider
QB Driskel will make Gator nation proud
Muschamp knows criticism is part of being the QB at Florida but feels that Driskel will make the gator nation proud.
QB Driskel will make Gator nation proud
VIDEO PLAYLIST
FLORIDA FB RECRUITING SCORECARD
GatorsNow

Florida Gators Now


Troy and Zubero to be inducted into the Florida Swimming Hall of Fame: University of Florida Head Coach Gregg ... http://t.co/KEbIEdI8fR
less than a minute ago

GatorZoneFB

GatorZone Football


From @GatorZoneScott -- Roper Focused on Boosting Production in Passing Game http://t.co/Ah7jQAeMdD
17 minutes ago

onlygators

OnlyGators.com


Will post a Driskel / Harris / Muschamp / Roper story at some point this evening. Wanted to get everything else out of the way first.
34 minutes ago

onlygators

OnlyGators.com


#Gators OC Kurt Roper looking to keep Florida calm, focused entering tough road contest at Tenn. http://t.co/kM5Q56zqxd
46 minutes ago

JeffBarlisESPN

Jeff Barlis


Will Muschamp binds his fate at Florida to Jeff Driskel - http://t.co/LXlSPciEZV
52 minutes ago

DerekTysonESPN

Derek Tyson


. @ATT service in Jacksonville is absolutely awful. Wouldnt recommend to anyone. Need service for this job. Making the switch to @Verizon
about an hour ago

TreasureYou

Pat Smith


Ed Jones really is "too tall" for me and @EmmittSmith22!! Thank you for your support of @SmithCharities today!! #PESC http://t.co/JGMulnpTjN
about an hour ago

ScoutFlorida

Fightin' Gators


#Gators Roper confident in Driskel as Gators' QB - Jeff Driskel's issues against Alabama haven'... http://t.co/bRBmHrOHUv
about an hour ago

APMarkLong

Mark Long


FWIW: After several postgame updates to Alabama-Florida boxscore, Gators actually ended up giving up 672 yards (not 645) in the 42-21 loss
about 2 hours ago

GatorZoneFB

GatorZone Football


RT @GZStudents: Win front row tickets to the Missouri game! #GatorRace http://t.co/ZPccH3GDvw http://t.co/raUpRUP3rs
about 2 hours ago

Gator_sports

Gatorsports.com


Notebook: Gators staying course http://t.co/8sbc7jYJZb
about 2 hours ago

Gator_sports

Gatorsports.com


UF's Roper shoulders some blame http://t.co/RsdrbuMr2M
about 2 hours ago

GatorZoneScott

Scott Carter


VIDEO: #Gators offensive coordinator Kurt Roper on Tennessee, Jeff Driskel, Treon Harris, and more: http://t.co/32WmkYxTMH
about 3 hours ago

GatorVisionTV

GatorVision


VIDEO: Some @GatorZoneFB players (Gorman, Jones, Fowler, Hargreaves) look ahead to the #UFvsTENN matchup this weekend http://t.co/6vaLWq8XMi
about 4 hours ago

Gator_sports

Gatorsports.com


UF's Jordan, Pole honored by SEC http://t.co/p75kow4UHR
about 4 hours ago

APMarkLong

Mark Long


Cam back in league RT @vxmcclure23: Falcons also signed tackle Cameron Bradfield who was originally with the Jacksonville Jaguars
about 4 hours ago

GatorVisionTV

GatorVision


VIDEO: @GatorZoneFB offensive coordinator @CoachKurtRoper discusses the #UFvsTENN matchup & more http://t.co/tN3vAhklQz
about 4 hours ago

GatorZoneNews

Florida Gators


Today's Twitter Tuesday from @GatorVisionTV features images from @GatorZoneVB, @GatorZoneSoccer, & @MBKRowdiesPrez!https://t.co/G6VG9CuS8O
about 4 hours ago

DerekTysonESPN

Derek Tyson


Whoever developed Adware needs to be punched.
about 4 hours ago

Percy_Harvin

Percy Harvin


The Percy Harvin Gear Contest has begun! Check out the details on my website and you could win! http://t.co/YPRICyfHBy #nomercypercy
about 5 hours ago

JeffBarlisESPN

Jeff Barlis


Bumped into #Gators left tackle D.J. Humphries. Had his left ankle taped low but was walking without a limp. Said he's "very, very healthy."
about 5 hours ago

onlygators

OnlyGators.com


ICYMI: Weekly breakdown of Florida #Gators in the NFL incl. stats, news, video highlights & more http://t.co/AH3YkXKUFA
about 5 hours ago

Gator_sports

Gatorsports.com


Dooley Noted Podcast: September 30, 2014 http://t.co/UZuAgOZ5Nk
about 5 hours ago

ScoutFlorida

Fightin' Gators


The Tennessee offense has Florida's attention before their upcoming matchup #Gators #Volshttp://t.co/uuhwSppACH http://t.co/hKvIzYBHqx
about 5 hours ago

Gator_sports

Gatorsports.com


Dooley's SEC Power Rankings http://t.co/9u72mQRQy7
about 5 hours ago

APMarkLong

Mark Long


well RT @Aaron_Brenner: Brent Venables: "Haven't seen too much of the Florida QB but I can't imagine he's better than Jacoby Brissett."
about 6 hours ago

Phil_Sports

Phil Murphy


Thought so. MT "@SportsCenter: NFL says Chiefs S Husain Abdullah ... should not have been penalized ... http://t.co/rtVykPvgPO"
about 6 hours ago

JeffBarlisESPN

Jeff Barlis


Roper talked about playing 2 QBs at Duke. Was a clear separation of roles. Said here at UF, Driskel is best choice for all roles.
about 6 hours ago

GatorZoneScott

Scott Carter


#Gators OC Kurt Roper talking to press ... http://t.co/cM0WrjEB9E
about 6 hours ago

APMarkLong

Mark Long


Gators OC Kurt Roper on decision run out clock in 1st half at Alabama: "It wasn't like we were being productive at that point."
about 6 hours ago

onlygators

OnlyGators.com


RT @RobbieAndreu: "We have 100 percent confidence in Jeff right now," Roper said.
about 6 hours ago

GatorZoneScott

Scott Carter


"On a day like that, it's not just him.'' — Roper on Driskel, offense's struggles at Bama
about 6 hours ago

UF

Univ of Florida


This year, Gator Growl will not only be home to a wide variety of music, but also a wide variety of food trucks! https://t.co/e0yV7jZDtf
about 6 hours ago

RobbieAndreu

Robbie Andreu


"We have 100 percent confidence in Jeff right now," Roper said.
about 6 hours ago

GatorZoneScott

Scott Carter


Roper said coaches reviewed 37 third downs this year for Driskel. Only 8 were critical of Driskel, other 29 he was solid on.
about 6 hours ago

onlygators

OnlyGators.com


RT @osgators: "I think Jeff is a talented football player," Roper said. On 37 third downs this yr, he questions only eight of them.
about 6 hours ago

JeffBarlisESPN

Jeff Barlis


Roper hasn't been a head coach: "The head coach makes all of those (QB) decisions."
about 6 hours ago

onlygators

OnlyGators.com


RT @DanielM_ITG: Roper on Treon: "His understanding is not where it needs to be." Says that it's due to a lack of repetitions and age.
about 6 hours ago

APMarkLong

Mark Long


Gators OC Kurt Roper backs up what coach Will Muschamp said Monday, saying QB Jeff Driskel gives team best chance to win right now
about 6 hours ago

JeffBarlisESPN

Jeff Barlis


Kurt Roper on not playing Harris: It's a matter of age. His understanding is not where it needs to be.
about 6 hours ago

GatorZoneScott

Scott Carter


"We've got to get more productive in the passing game.'' — Roper on top of offense's to-do list.
about 6 hours ago

APMarkLong

Mark Long


Gators OC Kurt Roper says biggest issue is "we've got to be more productive in the passing game."
about 6 hours ago

GatorZoneScott

Scott Carter


"I made so many aggressive calls on third-and-longs. It's not just him.'' — Roper on struggles at Bama on offense, Driskel
about 6 hours ago

GatorZoneScott

Scott Carter


Roper said there were too many bad down-and-distances at Alabama. Struggled significantly on third downs.
about 6 hours ago

GatorZoneScott

Scott Carter


"You learn in this profession, where you are is home." — Roper
about 6 hours ago

GatorZoneScott

Scott Carter


"It is a special place to me, to my family.'' — Roper on going back to Knoxville. Has lived there, coached there, met his wife there.
about 6 hours ago

GatorZoneScott

Scott Carter


#Gators-Vols: Muschamp backs Driskel, UF's secondary a work in progress, UT hopes to checker Neyland, more links: http://t.co/O9njYukJlP
about 7 hours ago

onlygators

OnlyGators.com


Plus, #Hawks F/C Al Horford makes a big announcement while continuing his recovery from a torn pec http://t.co/HHjyCU5Vgk
about 7 hours ago

onlygators

OnlyGators.com


A look at 15 Florida #Gators - incl Casey Prather & Vernon Macklin - starting NBA training camp: http://t.co/HHjyCU5Vgk
about 7 hours ago

ChronoSphereFL

Manuel Perez


@GatorZoneNews me taking my 1-yo son on his first trip to the Swamp the day after Eastern Michigan game #Gators http://t.co/x3myEFH7B2
about 7 hours ago

UF

Univ of Florida


--> @Ludacris + @fosterthepeople + @brookswheelan = @UFGrowlHC #UFLimitless2014 https://t.co/1XqSxYPDiS
about 7 hours ago

DerekTysonESPN

Derek Tyson


#Vols, #Dawgs have huge weekends. SEC weekend wrap: http://t.co/7gyII4DPT8
about 8 hours ago

DerekTysonESPN

Derek Tyson


Weekend recruiting wrap: http://t.co/a3uMSmugef
about 8 hours ago

DerekTysonESPN

Derek Tyson


Started from the bottom, now...... http://t.co/7FAFwj6Hmp
about 9 hours ago

onlygators

OnlyGators.com


Florida #Gators in the NFL: Week 4 stats, highlights and news nuggets - http://t.co/AH3YkXKUFA
about 9 hours ago

GatorZoneFB

GatorZone Football


Week 4 of the @NFL season is in the books. See how all the #GatorMade players performed: http://t.co/6Ow7fwui9u
about 9 hours ago

GatorZoneFB

GatorZone Football


ICYMI, CBS chose the six-day option for Florida-LSU game time. We won't know kick time until after this week's games.http://t.co/2pb93tDOGr
about 9 hours ago

GatorZoneFB

GatorZone Football


.@CoachWMuschamp met with the media on Monday to preview #UFvsTNhttp://t.co/vRHZfHpVRE
about 10 hours ago

GatorZoneFB

GatorZone Football


.@GatorZoneChris writes: Gators Tuning Out Criticism, Tuning Into Tennessee #UFvsTNhttp://t.co/uSq94NzOSZ
about 10 hours ago

GatorZoneFB

GatorZone Football


In The (Gator) Zone with @GatorZoneScott: Palmer Returns to Rocky Top and Reality TV, More Gator-Themed Tidbitshttp://t.co/FQnM5y23Ce
about 10 hours ago

A_B_Williams34

Antonio Williams


Top 6 in order, could change. http://t.co/h7ibioJ3QL
about 10 hours ago

GatorZoneScott

Scott Carter


Former #Gators QB Jesse Palmer back to Rocky Top and reality TV, Ross has Jeter moment and ESPN gig, more tidbits: http://t.co/iBZ090emNC
about 10 hours ago

GatorZoneScott

Scott Carter


#Gators senior libero Holly Pole named #SEC defensive player of week: http://t.co/SfUqiJ0TPS
about 10 hours ago

GatorZoneScott

Scott Carter


VIDEO: #Gators head coach Will Muschamp's Tennessee-week press conference: http://t.co/hzT5FQ45i8
about 10 hours ago

GatorZoneScott

Scott Carter


#Gators tuning out criticism, tuning into Tennessee writes @GatorZoneChris: http://t.co/muy39e8a5o
about 10 hours ago

Percy_Harvin

Percy Harvin


Want to win an autographed jersey? Check out the Percy Harvin Gear Contest and find out how http://t.co/YPRICyfHBy #nomercypercy
about 12 hours ago

Percy_Harvin

Percy Harvin


We're raising funds to help today's youth. Come join the effort and enter for prize http://t.co/YPRICyfHBy #nomercypercy
about 12 hours ago

Percy_Harvin

Percy Harvin


We're kicking off the week with a Contest. Check out the details on my website and you could win! http://t.co/YPRICyfHBy #nomercypercy
about 12 hours ago

ScoutFlorida

Fightin' Gators


#Gators Franz Beard's Thoughts of the Day Sept. 30 - A few thoughts to jump start your Tuesday morning... http://t.co/Hw7zIrgVJZ
about 17 hours ago

DerekTysonESPN

Derek Tyson


Bill Belichick looks like he wants to punch every member of the media in that press conference in the face.
about 19 hours ago

DerekTysonESPN

Derek Tyson


Ridiculous RT "@Phil_Sports: Did Abdullah just get a personal foul for praying?!#NEvsKC #MNF"
about 19 hours ago

GatorZoneScott

Scott Carter


In The (Gator) Zone: Palmer returns to Rocky Top and reality TV, Ross has Jeter moment and ESPN gig, more tidbits: http://t.co/zGGzbrJsOa
about 23 hours ago

GatorZoneScott

Scott Carter


#Gators tuning out criticism, tuning into Tennessee writes @GatorZoneChris: http://t.co/muy39e8a5o
about 23 hours ago

GatorsNow

Florida Gators Now


In The (Gator) Zone: Palmer Returns to Rocky Top and Reality TV, More Gator-Themed Tidbits: http://t.co/oDK0lrykVB
1 day ago

onlygators

OnlyGators.com


Carol Muschamp will be one of nine SEC Coaches' Wives to be featured in a 3-part series on SEC Network each of next 3 Wednesdays. #Gators
1 day ago

onlygators

OnlyGators.com


#Gators bball's participation in ESPN's Midnight Madness? Pre-taped footage from that week per UF (@GatorZoneMBK) - http://t.co/6oZx8cNlKE
1 day ago

GatorZoneFB

GatorZone Football


Great idea! RT @The_JordanC: With Tennessee hoping to checkerboard Neyland Stadium Saturday, we should urge all Florida fans to wear blue!
1 day ago

onlygators

OnlyGators.com


#Gators-#Vols gets top SEC Network announce team for Saturday's game (Brent Musburger, Jesse Palmer, Maria Taylor). Noon kick.
1 day ago

onlygators

OnlyGators.com


RT @BigPatYoung4: Go Pels!!! RT @DruProductions: @BigPatYoung4 http://t.co/4tTGUfvoGd
1 day ago

onlygators

OnlyGators.com


Story: Florida #Gators basketball to be involved in ESPNU's Midnight Madness, per network - http://t.co/6oZx8cNlKE
1 day ago

GatorZoneFB

GatorZone Football


#Gators Tuning Out Criticism, Tuning Into Tennessee http://t.co/LzDQy9aNcA
1 day ago

APMarkLong

Mark Long


Jaguars have waived safety Winston Guy Jr
1 day ago

nytimes

The New York Times


Breaking News: Intruder Got Deep Into White House, Official Sayshttp://t.co/sADBJPk4H1
1 day ago

EmmittSmith22

Emmitt Smith


How bout them @dallascowboys! What was your favorite part of that decisive win against the @Saints? http://t.co/lJqAm57ofP
1 day ago

onlygators

OnlyGators.com


Florida #Gators basketball will be involved in ESPNU's Midnight Madness this year, per the network.
1 day ago

onlygators

OnlyGators.com


Will Muschamp talks #Gators injuries, potential secondary changes, support & special teams - http://t.co/OJhW9xVkKC
1 day ago

ScoutFlorida

Fightin' Gators


Has something changed with the 3-star OT George Brown's(@MADDAWG_G) commitment to #Florida? http://t.co/E6LbqpY9MZ http://t.co/arqyszGYDg
1 day ago

GatorsNow

Florida Gators Now


Gators Tuning Out Criticism, Tuning Into Tennessee: Up next for UF (2-1, 1-1) is Saturday's high-noon road... http://t.co/GJKYf0STUc
1 day ago

Gator_sports

Gatorsports.com


UF's Orr to miss Vols game http://t.co/v7Yynnod69
1 day ago

GatorZoneFB

GatorZone Football


#Gators Tuning Out Criticism, Tuning Into Tennessee http://t.co/LzDQy9aNcA
1 day ago

ScoutFlorida

Fightin' Gators


#Gators Gators D-Line recruiting hits snag - Recruiting isn't easy for Florida in the current climate, ... http://t.co/dOTca38foI
1 day ago

GatorZoneFB

GatorZone Football


Muschamp's Monday Press Conference Video and Transcription http://t.co/kwwAMz85IH
1 day ago

GatorZoneScott

Scott Carter


Muschamp said he will play...RT @champton85: @GatorZoneScott Any word on DJ Humphries for the Tennessee game?
1 day ago

APMarkLong

Mark Long


Bradley on new TE Nic Jacobs, who had TD rec & blocked well: "He had a couple mental errors, too. We're not going to make a statue of him."
1 day ago

APMarkLong

Mark Long


Jaguars coach Gus Bradley on injured WR Cecil Shorts: "In his mind, he can't catch a break."
1 day ago

APMarkLong

Mark Long


Jaguars hope to get RT Austin Pasztor (broken right hand) back vs Steelers
1 day ago

onlygators

OnlyGators.com


Per @*****, #Browns CB Joe Haden has the third-best-selling jersey for a NFL defensive player thru first 3 weeks of season.
1 day ago

APMarkLong

Mark Long


RT @stevemegargee: Vols expect Worley at 100 pct for #Gators. Status of Pearson, Smith still unclear. http://t.co/kAQr3bK5kk #tennessee
1 day ago

GatorVisionTV

GatorVision


VIDEO: @GatorZoneFB @CoachWMuschamp previews the #UFvsTENN matchup & more http://t.co/mUi4nDA6y0
1 day ago

onlygators

OnlyGators.com


RT @APMarkLong: RT @CharlyArnolt: Da'Rick Rogers arrested last night for DUI on the IUPUI campus. Loucheiz Purifoy was riding passenger.
1 day ago
BLOG ARCHIVE:
CATEGORIES: