Rivalry Week: UF, FSU future stars, part 1
July, 16, 2013
7/16/13
9:00
AM ET
The heroes and villains of the Florida-Florida State rivalry are well documented, and in the battle for state supremacy, there's no bigger stage to cement a legend.
But rather than look back at the players who have defined the rivalry over the years, we're taking a look ahead to the next three meetings and projecting which Gators and Seminoles could possibly land on that list.
[+] Enlarge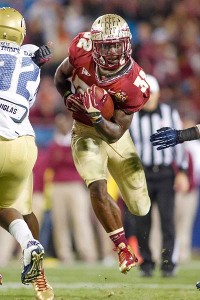 Jeremy Brevard/US PresswireJames Wilder Jr. could exploit some of Florida's defensive weaknesses in the 2013 matchup.
On Tuesday, we'll highlight the FSU offensive players and the UF defensive players. On Wednesday, we'll flip it.
To continue reading this article you must be an Insider
Insider
College Football Minute: Sept. 15
We've got three big questions heading into Week 4, Florida survives at home and doesn't head-to-head mean anything? It's all ahead in your College Football Minute.
College Football Minute: Sept. 15
VIDEO PLAYLIST
FLORIDA FB RECRUITING SCORECARD
Gator_sports

Gatorsports.com


Jordan scores two goals as Gators blank New Mexico http://t.co/V0CmpkEBWA
34 minutes ago

GatorZoneMTN

Gator Men\'s Tennis


Pair of Gators Walk Away Winners at Bedford Cup http://t.co/MIcMuZeV6A http://t.co/8bDXUmjLJc
40 minutes ago

JeffBarlisESPN

Jeff Barlis


Downright distraught about my #Bucs Just can't lose home games to terrible backup QBs. Old Bucs would feed on those. Not a promising start.
about an hour ago

KevinW_ESPN

Kevin Weidl


Driskel has ideal physical tools. Big, mobile, easy thrower of the football. Has to eliminate poor decisions though especially this week.
about an hour ago

KevinW_ESPN

Kevin Weidl


Florida WR Demarcus Robinson has a chance to be a good one. Could be the difference maker they've been missing for years on the perimeter.
about an hour ago

KevinW_ESPN

Kevin Weidl


Studying UF on O. 1st thing that stands out is at WR. They have some drops but more size/athleticism then they've had in awhile down there.
about an hour ago

ScoutFlorida

Scout Gators


#Gators Video: Jordan talks Gators vs. Wildcats - Kailey Mizelle gets a prospect's thoughts on the Gators g... http://t.co/Acxqz6Tsg6
about an hour ago

GatorsNow

Florida Gators Now


Two Gators Earn Singles Titles on Final Day of Fab Four: Gator freshman Brooke Austin (Indianapolis, Ind.) ear... http://t.co/Nha3SzpyJV
about an hour ago

Gator_sports

Gatorsports.com


SEC on UK-UF OT play: Officials applied proper mechanics and guidelines to determine when a flag should be thrown for delay of game.
about 2 hours ago

GatorZoneFB

GatorZone Football


Miss the action yesterday? Secure your tickets for the remaining home games now!http://t.co/RMarmx1hP3 http://t.co/39U34GAfrO
about 3 hours ago

GatorVisionTV

GatorVision


VIDEO: Former Gator Billy Horschel (@BillyHo_Golf) wins the Tour Championship - http://t.co/1NysR8cJAI
about 3 hours ago

onlygators

OnlyGators.com


A bit behind on SNF. #49ers DL Ray McDonald's intro for the year... " *The* University of Florida " #Gators
about 3 hours ago

Gator_sports

Gatorsports.com


Gators' secondary causing some concern http://t.co/741E0MaS1z
about 4 hours ago

EmmittSmith22

Emmitt Smith


There's a gator outside my room! http://t.co/iI6t9vZitd
about 4 hours ago

DerekTysonESPN

Derek Tyson


I know they've had some injuries but how does Tampa's defense look so bad against a backup QB last week and 3rd stringer this week??
about 4 hours ago

DerekTysonESPN

Derek Tyson


Janoris Jenkins just got absolutely blown up on that FG block. Wow.
about 5 hours ago

DerekTysonESPN

Derek Tyson


I wonder if Jonathan Banks knows his job as a defensive back is to stop the WR from catching the ball.
about 5 hours ago

GolfCentral

Golf Central


Billy Horschel gave the Atlanta crowd (full of UGA fans) a big Florida Gator chomp before exiting the 18th green. http://t.co/yuBdo1GQgK
about 5 hours ago

JeffBarlisESPN

Jeff Barlis


Bobby Rainey has been a revelation for the #Bucs today. Can't remember the last time Doug Martin was effective anyway.
about 5 hours ago

JeffBarlisESPN

Jeff Barlis


According to the SEC if the snap is in progress when the play clock hits zero, there is no delay of game. Rulebook says #Gators got it off.
about 5 hours ago

onlygators

OnlyGators.com


Full official statement from the SEC regarding Florida-Kentucky overtime play clock situation http://t.co/BTKIudNFjM
about 5 hours ago

JeffBarlisESPN

Jeff Barlis


I shudder to think what a real starting QB will do to the #Bucs.
about 6 hours ago

EH_taught_me

Elijah Holyfield


Michigan State just offered!!#Spartans
about 6 hours ago

JeffBarlisESPN

Jeff Barlis


Satisfied? RT @schadjoe: SEC statement says proper mechanics were used by refs in not calling delay of game on UF on 4th down OT TD pass
about 6 hours ago

GatorsNow

Florida Gators Now


Gators Notebook: Robinson Breaks Out, Jones in Clutch, Muschamp on Resolve, More Tidbits: GAINESVILLE, Fla. --... http://t.co/qwU20KI9kg
about 6 hours ago

onlygators

OnlyGators.com


RT @schadjoe: SEC statement says proper mechanics were used by refs in not calling delay of game on UF on 4th down OT TD pass play
about 6 hours ago

GatorZoneFB

GatorZone Football


From @GatorZoneScott -- #Gators Notebook: Robinson Breaks Out, Jones in Clutch, Muschamp on Resolve, More Tidbits http://t.co/K1c26m3yb6
about 6 hours ago

JeffBarlisESPN

Jeff Barlis


The #Bucs' best play today has been #Rams penalties.
about 6 hours ago

JeffBarlisESPN

Jeff Barlis


McCown will "operate" the two-minute offense. Shield your eyes.
about 6 hours ago

JeffBarlisESPN

Jeff Barlis


Please suit up! RT @SportsTalkFLA: @DBrooks55 about to be inducted into the Buccaneer Ring of Honor. http://t.co/8woDz0dQPi
about 6 hours ago

JeffBarlisESPN

Jeff Barlis


Jeff Fisher is so great at icing the kicker.
about 6 hours ago

JeffBarlisESPN

Jeff Barlis


Hot fantasy advice: Start anyone who is facing the #Bucs.
about 6 hours ago

ScoutFlorida

Scout Gators


#Gators Video: Cronkrite following the UF-UK game - Cronkrite joined http://t.co/fiCjTDwX1i for a quick intervi... http://t.co/hP1W3Wwb0F
about 6 hours ago

JeffBarlisESPN

Jeff Barlis


I thought Derek Anderson was the worst QB the #Bucs would face this season. Was wrong. Same result today?
about 6 hours ago

onlygators

OnlyGators.com


Thanks to a couple of you for sending in videos. Will upload a second video shortly. No more needed. :)
about 6 hours ago

JeffBarlisESPN

Jeff Barlis


So the news is either great or terrible. RT @SuzyStark: McCoy could miss anywhere from no time to eight weeks, per @rotoworld_fb
about 6 hours ago

JeffBarlisESPN

Jeff Barlis


I'm beginning to wonder how any football player stays healthy for an entire season.
about 6 hours ago

WyndhamGolfGuy

Kevin Rinker


You go Gator! Billy Horschel doing the Gator chomp after he wins the PGA TOUR TOUR Championship https://t.co/swjorqX0wu
about 6 hours ago

JeffBarlisESPN

Jeff Barlis


Murray missed 2 games. No sympathy! RT @RadiNabulsi: @Bucs_Nation UGA last year too.
about 6 hours ago

onlygators

OnlyGators.com


VIDEO: Here's an $11.44 million-winning Gator Chomp from 2014 FedExCup champion @BillyHo_Golf - http://t.co/Rb9ubo1tRx
about 6 hours ago

JeffBarlisESPN

Jeff Barlis


That's what I call a serious scratch golfer. RT @darrenrovell: Billy Horschel wins Tour Championship & Fedex Cup, $13.48 million in 3 weeks
about 6 hours ago

JeffBarlisESPN

Jeff Barlis


Sounds like #Gators 2013. RT @Bucs_Nation: The Bucs are now missing six starters including their best and most important player.
about 6 hours ago

JeffBarlisESPN

Jeff Barlis


Drew some boos from the Ga. crowd, too! RT @ClayCntyGators: Doing the chomp after winning the FedEx Cup @BillyHo_Golf http://t.co/7aybHL34wz
about 6 hours ago

Chip_Howard

Chip Howard


Congratulations Billy Horschel, FedEx Champion. @BillyHo_Golf #ItsGreatUF #plaidboy http://t.co/obI0Stbt46
about 6 hours ago

onlygators

OnlyGators.com


(If anyone watching can rewind and get that for me, I'll tweet and post it on the site ASAP.)
about 6 hours ago

ESPNRobertSmith

robert smith


Quite a week for you @BillyHo_Golf .Your Gators with in triple OT, a baby on the way and a little diaper money-congrats to you and Brittney!
about 6 hours ago

KellyTilghmanGC

Kelly Tilghman


Billy Horschel wins last 2 events to secure #FedExCup. He delivers right before his wife due with couple's 1st child #banneryear
about 6 hours ago

GatorZoneGolf

Gator Golf


Congrats to former #Gator @BillyHo_Golf for winning the @playofffinale and Fed Ex Cup! #ItsGreatUF
about 6 hours ago

Gator_sports

Gatorsports.com


Former UF golf standout Billy Horschel wins 2014 Tour Championship and $11.4 million.
about 6 hours ago

onlygators

OnlyGators.com


I'd get you Horschel's Gator Chomp he just did...but NBC cut to a severe weather alert and then commercial after his win. So...
about 6 hours ago

TimTebow

Tim Tebow


Congrats @BillyHo_Golf #FedExCup Champ! I may give u chance to even up our match @GlenKernanGolf when u get home!#FinishStrong #GatorNation
about 6 hours ago

onlygators

OnlyGators.com


#Gators golfer Billy Horschel has won the 2014 Tour Championship & FedExCup, pocketing $11.44M - http://t.co/Rb9ubo1tRx
about 6 hours ago

JeffBarlisESPN

Jeff Barlis


Get this man a grant. RT @JArnholz: @JwKauffman that or develop some new lightning repellent
about 6 hours ago

JeffBarlisESPN

Jeff Barlis


Honorable mention. You haven't suffered nearly as long. RT @Alex_R_Schmidt: what about Gators/Jags?
about 6 hours ago

BlakeBarnett_8

B\u00B2


Headed back to T-Town next week for the Bama-Florida game. 😎 #RTR
about 6 hours ago

onlygators

OnlyGators.com


Horschel has pared 17 and has a two-stroke lead entering the 18th hole. Turn on NBC. #Gators
about 6 hours ago

JeffBarlisESPN

Jeff Barlis


I truly feel for all the #Gators/#Bucs fans out there, like @JwKauffman. Y'all are heroes.
about 6 hours ago

DerekTysonESPN

Derek Tyson


Some big visits around the #SEC: http://t.co/PgQTGFvHuy
about 7 hours ago

JeffBarlisESPN

Jeff Barlis


I quit all football. Fantasy AND reality.
about 7 hours ago

onlygators

OnlyGators.com


Billy Horschel's 30-foot putt to save par and his one-stroke lead on 16. #Gators - https://t.co/z14wR5md8H
about 7 hours ago

onlygators

OnlyGators.com


Billy Horschel just saved par on 16 with a 30-FOOT PUTT. Still the leader at -11. Wow. #Gators
about 7 hours ago

Gator_sports

Gatorsports.com


Muschamp focuses on positives from Kentucky win http://t.co/CVNcSMGpaE
about 7 hours ago

onlygators

OnlyGators.com


Horschel birdies 15, regains his one-stroke lead at -11, three holes to go. #Gators
about 7 hours ago

ScoutFlorida

Scout Gators


#Gators Video: Westbrook and Gorman talk Kentucky win - Senior tight end Tevin Westbrook put the ball in th... http://t.co/UaU2PjSvVA
about 7 hours ago

onlygators

OnlyGators.com


Earlier, #Seahawks WR Percy Harvin scored a 51-yard rushing touchdown on his first and only carry of the game thus far. #Gators
about 7 hours ago

onlygators

OnlyGators.com


#Gators golfer Billy Horschel has a one-stroke lead thru 14 in the Tour Championship. Share of $8M purse + $10M FedExCup prize on line.
about 7 hours ago

DerekTysonESPN

Derek Tyson


Awful red zone INT by McClown. Taught not to throw back across your body in little league.
about 7 hours ago

DerekTysonESPN

Derek Tyson


Awful red zone INT by McClown. Taught not to throw back back against your body in little league.
about 7 hours ago

onlygators

OnlyGators.com


RT @JasonLaCanfora: Sick 50-yd TD by Percy Harvin on a little pitch play. Ran past everyone on the football team blazing down the sideline
about 7 hours ago

GatorZoneFB

GatorZone Football


Yes!!! RT @NewsCarolyn: @GatorZoneFB And now Percy Harvin with a touchdown for the @Seahawks.
about 7 hours ago

APMarkLong

Mark Long


Looks like Chiefs will be playing the role of Jaguars on my TV for the 4 pm game. Fun
about 7 hours ago

APMarkLong

Mark Long


Ouch "@AmauryCarrasco: Take away the lucky play by #89 and it was worse than being the new guy at Starke State Penitentiary #Jaguars"
about 8 hours ago

GatorZoneFB

GatorZone Football


Just saw Jaye Howard starting on the d-line for the @KCChiefs and making plays. #GatorMade players everywhere on Sundays.
about 8 hours ago

APMarkLong

Mark Long


That Jaguars loss was worse than Seattle and San Fran, right? Not in terms of score, but just overall feel and ineptitude
about 8 hours ago

APMarkLong

Mark Long


Doesn't look good. Left knee "@HaysCarlyon: Hurns gets hurt with #Jaguars going for it on 4th and 16."
about 8 hours ago

ScoutFlorida

Scout Gators


#Gators The SEC Roundup - Things aren't always what they seem. We learned that this week while watching SEC... http://t.co/T8d6WmIpL8
about 8 hours ago

GZTrackField

Gator T & F and XC


SEC Ind Runner of Yr @CoryMcGeeRuns/Out Nat'l Champ @DeLoma_Fawn helped UF accept @CapitalOne_Cup @GatorZoneFB vs UK! http://t.co/GnUpIukzcD
about 8 hours ago

GatorZoneSoccer

Gator Soccer


No. 6 Florida Soccer Wins 4-0 at New Mexico http://t.co/5ULoG6IcZO http://t.co/DNXaoDsgEm
about 8 hours ago

JeffBarlisESPN

Jeff Barlis


The infamous Chucky doll ... from Easley to Dante to CeCe? RT @cecejeferson7 No caption needed... http://t.co/YlFsqgmgdQ
about 8 hours ago

GatorZoneFB

GatorZone Football


Just saw @DominiqueEasley with a pick for the @Patriots! Good work Ease!! #GatorMade
about 8 hours ago

onlygators

OnlyGators.com


First career interception for #Gators DT Dominique Easley with the #Patriots.
about 8 hours ago

JeffBarlisESPN

Jeff Barlis


#Canes RB commit Dexter Williams was at the Swamp last night --> RT @DexterW_22 Can't lie UF was live !!!
about 8 hours ago

JeffBarlisESPN

Jeff Barlis


#Gators' crowd impresses #UM commit Dexter Williams, 5-star DE CeCe Jefferson hangs out in UF locker w Chucky doll - http://t.co/jf9wY786hT
about 8 hours ago

GatorsNow

Florida Gators Now


No. 6 Florida Soccer Wins 4-0 at New Mexico: The University of Florida soccer team finished non-conference pla... http://t.co/6hHUW5PLde
about 8 hours ago

JeffBarlisESPN

Jeff Barlis


#Gators drop 2 spots to No. 10 in our Week 3 SEC Power Rankings: http://t.co/cQB3zDamuU
about 8 hours ago

JeffBarlisESPN

Jeff Barlis


#Gators WR Demarcus Robinson an obvious choice for an SEC helmet sticker after huge game. #UK's Towles & Johnson, too http://t.co/DAtjo5Pzlk
about 8 hours ago

JeffBarlisESPN

Jeff Barlis


ICYMI late last night, here are the 3 plays that changed the UF-UK game in overtime (videos + breakdowns + quotes): http://t.co/iinEdq0WPT
about 8 hours ago

onlygators

OnlyGators.com


#Gators golfer Billy Horschel (-11) has a two-stroke lead through six holes of the Tour Championship. Looking to win FedExCup also.
about 9 hours ago

EmmittSmith22

Emmitt Smith


See what happens when you run the football.
about 9 hours ago

JeffBarlisESPN

Jeff Barlis


-@KendrickPrevatt @Spencer_Duhm Can't wait to see Hargreaves vs. Cooper. That's a heavyweight bout.
about 9 hours ago

JeffBarlisESPN

Jeff Barlis


-@MorganSmith15 I think the second half showed that Roper did adjust. Driskel played better.
about 9 hours ago

Gator_sports

Gatorsports.com


UF soccer goes 1-1 on trip to West after defeating New Mexico 4-0.
about 9 hours ago

JeffBarlisESPN

Jeff Barlis


Valid concerns RT @Spencer_Duhm: I worry about what Amari Cooper will do to that secondary almost as much as I'm concerned for Jeff's health
about 9 hours ago

onlygators

OnlyGators.com


New feature - Twitter Chatter: Check out what former (some current) #Gators had to say during/after last night's W http://t.co/d84C23Nz4k
about 9 hours ago

onlygators

OnlyGators.com


#Dolphins K Caleb Sturgis converts a 34-yard field goal. He's 5-for-5 on the young season. #Gators
about 9 hours ago

TimCaseyPhoto

Tim Casey


ICYMI: Photos from @GatorZoneFB 3OT win last night http://t.co/QMLcsCCYTj #ItsGreatUF #UFvsUK http://t.co/Q9lgCBnnuD
about 9 hours ago

onlygators

OnlyGators.com


@alexbrown96 You've been quoted in my #Storify story "Twitter Chatter: Florida beats Kentucky 36-30 in 3OT" http://t.co/ym1msNuC9o
about 9 hours ago

TimTebow

Tim Tebow


Excited to join @GMA for #MotivateMeMonday tomm. This first story of courage and perseverance is a real inspiration!
about 9 hours ago

GatorZoneNews

Florida Gators


Here's your #UFvsUK play of the game - @jeffdriskel connects with @honeythunder11 in the end zone! cc @GatorZoneFBhttps://t.co/7S07cotjTk
about 10 hours ago
BLOG ARCHIVE:
CATEGORIES: