Film study: Gators vs. Missouri Tigers
November, 5, 2012
11/05/12
8:00
AM ET
GAINESVILLE, Fla. -- Here's an analysis of three key plays in Florida's 14-7 victory over Georgia on Saturday.
Wildcat TD run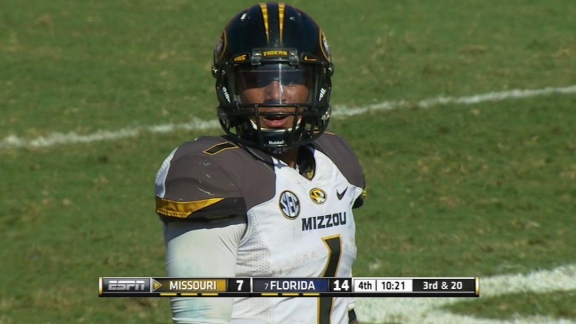 The score:
7-0, Missouri leading early in the third quarter.
The situation:
Second-and-6 at the Missouri 36-yard line.
To continue reading this article you must be an Insider
Insider
Alabama Pulls Away From Florida
Alabama used big days from Blake Sims and Amari Cooper to pull away from Florida in the second half for a 42-21 win.
Alabama Pulls Away From Florida
VIDEO PLAYLIST
FLORIDA FB RECRUITING SCORECARD
JeffBarlisESPN

Jeff Barlis


RT @Harveyrolltide Just got word from lee county that I can start going to college games again in 2017! it seems far away but I cannot wait!
17 minutes ago

JeffBarlisESPN

Jeff Barlis


Comments section for my story on Emmitt Smith calling for Jeff Driskel to be benched is about what you would expect - http://t.co/fkorHctcCD
22 minutes ago

onlygators

OnlyGators.com


Former #Gators SNF intros:#Steelers C Ma. Pouncey - "Lakeland Senior High"OT Marcus Gilbert - "University of Florida"
53 minutes ago

Gator_sports

Gatorsports.com


Roundup: Gator volleyball holds off UCF http://t.co/NFa7nYVkNM
about an hour ago

HamiltonESPN

Gerry Hamilton


#ESPN300 No. 1 Josh Sweat is out of the hospital and home. MRI later this week after swelling subsides. #SceneandHeard
about 2 hours ago

GatorsNow

Florida Gators Now


No. 7 Gator Volleyball Wraps Up Non-Conference Slate With 3-1 Victory Over UCF: Florida sophomore right side A... http://t.co/H66jYh2dVQ
about 2 hours ago

DerekTysonESPN

Derek Tyson


Best of the visits: SEC http://t.co/xnufvgrcee
about 2 hours ago

APMarkLong

Mark Long


Any chance this is the worst combined weekend for Bucs (56-14 losers), Jags (44-17 losers) and Fins (34-15 losers)? Outscored by 88!
about 3 hours ago

onlygators

OnlyGators.com


47-yard punt return from Frankie Hammond Jr. sets up a touchdown for the #Chiefs. #Gators
about 3 hours ago

onlygators

OnlyGators.com


JJ seriously impressing. #Gators RT @ArmandoSalguero: Safety. Jelani Jenkins and Randy Starks.
about 3 hours ago

GatorsNow

Florida Gators Now


Florida Men's Golf Collects Second-Place Finish at Wolf Run Intercollegiate: Conditions at the Wolf Run Golf C... http://t.co/LN7B55jIDQ
about 4 hours ago

onlygators

OnlyGators.com


51-yard field goal for #Dolphins kicker Caleb Sturgis. Back to form. #Gators
about 4 hours ago

Gator_sports

Gatorsports.com


Defense alllows most yards in UF history http://t.co/RIjD5bF76i
about 4 hours ago

onlygators

OnlyGators.com


RT @ErinAndrews: Unreal game in Philly. Eagles fan didn't disappoint screaming "Roll Tide" to me all day..loved it
about 4 hours ago

APMarkLong

Mark Long


Per @ESPNdirocco's report, classy move by Jaguars coach Gus Bradley to let captain Chad Henne announce QB switch in locker room at halftime
about 4 hours ago

APMarkLong

Mark Long


vs man or zone?? RT @HaysCarlyon: #Jaguars have allowed TEs to catch 110 passes for 1,247 yards and 13 TDs over last 17 games
about 4 hours ago

Gator_sports

Gatorsports.com


UF volleyball beats UCF, improves to 6-3.
about 4 hours ago

onlygators

OnlyGators.com


Short field goal for #Dolphins kicker Caleb Sturgis. #Gators
about 4 hours ago

JeffBarlisESPN

Jeff Barlis


#Gators drop another spot to 11th in our Week 4 SEC Power Rankings: http://t.co/MHxphM7aaR
about 4 hours ago

onlygators

OnlyGators.com


Jelani Jenkins picked up a sack earlier for the #Dolphins. Looking good in his second season. #Gators
about 5 hours ago

GatorZoneMTN

Gator Men\'s Tennis


Jordan Belga is your SEC Fall Classic consolation singles champion! Go Gators! #ItsGreatUF http://t.co/KYUyUyPuNB
about 5 hours ago

GatorZoneMTN

Gator Men\'s Tennis


Your SEC Fall Classic doubles champions! Gordon Watson and @diegohidalgoc #ItsGreatUF http://t.co/PgUVqzXOPl
about 5 hours ago

GatorZoneVB

Gator Volleyball


#Gators win! 25-17 fourth set, defeat #Knights 3-1 and improve to 6-3 to wrap up non-conference play! #PointFL
about 5 hours ago

onlygators

OnlyGators.com


Missed 48-yard field goal (wide left) for #Dolphins kicker Caleb Sturgis. #Gators
about 5 hours ago

EmmittSmith22

Emmitt Smith


Great job by @dallascowboys today,they showed heart and toughness to come from behind and pull off the victory. 👏👏👏
about 5 hours ago

EmmittSmith22

Emmitt Smith


Great job by @dallascowboys today,they showed heart and toughness to come from behind and pull off the victory. 👏👏
about 5 hours ago

onlygators

OnlyGators.com


Jelani Jenkins just crushed Frankie Hammond Jr. on a punt return. #Gators
about 5 hours ago

EmmittSmith22

Emmitt Smith


Great win by my Cowboy's today, they show heart and toughness to come from behind and pull off a victory. Great job👏👏👏
about 5 hours ago

APMarkLong

Mark Long


Jaguars coach Gus Bradley told Chad Henne during the week that the QB change was imminent
about 6 hours ago

APMarkLong

Mark Long


Jaguars owner Shad Khan sitting in on coach Gus Bradley's postgame news conference. That's not normal
about 6 hours ago

APMarkLong

Mark Long


No surprise, Jaguars are sticking with QB Blake Bortles as starter
about 6 hours ago

AdamSchefter

Adam Schefter


Jaguars HC Gus Bradley announced QB Blake Bortles will start next week.
about 6 hours ago

APMarkLong

Mark Long


Garbage TD from Bortles to Shorts. Colts gonna beat Jaguars 44-17
about 6 hours ago

APMarkLong

Mark Long


Bortles throws a pick 6. Colts now lead Jaguars 44-10
about 6 hours ago

APMarkLong

Mark Long


Andrew Luck done for the day vs Jaguars. He finishes 31 of 39 for 370 yards and 4 TDs
about 6 hours ago

EmmittSmith22

Emmitt Smith


The one & only @DarylJohnston is now a finalist for the 2015 @NFL #HOF. Show your support & vote him in. http://t.co/hQSoJJUU0i
about 6 hours ago

APMarkLong

Mark Long


Jaguars give up a TD despite having 12 men on the field vs Colts, who now lead 37-3
about 6 hours ago

APMarkLong

Mark Long


Bortles must be living right
about 7 hours ago

JeffBarlisESPN

Jeff Barlis


ICYMI yesterday, #Gators great Emmitt Smith tweeted that he's "seen enough" of QB Jeff Driskel - http://t.co/dNyqvv5eIx
about 7 hours ago

APMarkLong

Mark Long


Colts WR T.Y. Hilton (ankle) and LB Andy Studebaker (hamstring) won't return
about 7 hours ago

APMarkLong

Mark Long


Jaguars have crossed midfield!!!!!!
about 7 hours ago

APMarkLong

Mark Long


Jaguars S Winston Guy is questionable to return with muscle cramps
about 7 hours ago

APMarkLong

Mark Long


Jaguars starting QB Blake Bortles in second half vs Colts, who lead 30-0
about 7 hours ago

APMarkLong

Mark Long


Looks like Jaguars are finally making the move and switching to rookie QB Blake Bortles
about 7 hours ago

APMarkLong

Mark Long


Jaguars QB Blake Bortles runs out of locker room and grabs helmet
about 7 hours ago

onlygators

OnlyGators.com


Halftime Reads: Post-game report w/ Muschamp's comments - http://t.co/rAcNYFQGFO | former #Gators sound off - http://t.co/8dAEJ4th4p
about 7 hours ago

JeffBarlisESPN

Jeff Barlis


Random thought: How much better would Florida's secondary be with any one of the three juniors who left — Purifoy, Roberson or Riggs?
about 7 hours ago

JeffBarlisESPN

Jeff Barlis


Yup, that's the real honeythunder. RT @RedditCFB: Gators WR briefly RTs support for backup QB: "@JArnholz: Oh boy. http://t.co/UVsPb56nuj"
about 8 hours ago

DerekTysonESPN

Derek Tyson


Best catch ever?? https://t.co/oJ2zUs0Q6A
about 8 hours ago

APMarkLong

Mark Long


Jaguars have been outscored 105-10 since leading Eagles 17-0 at haltime in opener
about 8 hours ago

APMarkLong

Mark Long


Colts now up 30-0 after Luck to Fleener 7-yard TD. And it could be worse for the Jaguars
about 8 hours ago

JeffBarlisESPN

Jeff Barlis


Tough road. RT @finebaum: Consensus of Florida fans at Birmingham airport: They love Will Muschamp. And very few believe he will survive.
about 8 hours ago

APMarkLong

Mark Long


So Jaguars tried to do something with a minute left and no timeouts, and Mike Brown fumbled. Colts in FG range, up 23-0
about 8 hours ago

onlygators

OnlyGators.com


End zone interception for #Bengals safety Reggie Nelson. Two on the day for former #Gators.
about 8 hours ago

APMarkLong

Mark Long


Colts now up 23-0 with 1:10 to go in 1st half at Jaguars. It could be much worse for the home team
about 8 hours ago

onlygators

OnlyGators.com


"We feel like we're as talented a football team as anybody in the [SEC] East." - Will Muschamp #Gators
about 8 hours ago

wingoz

trey wingo


Rams Janoris Jenkins now has 5 defensive TD's since 2012..most of anyone in NFL since then
about 8 hours ago

APMarkLong

Mark Long


And Poz hurt for the Jaguars
about 8 hours ago

APMarkLong

Mark Long


Colts RG Hugh Thornton walks off field with injury, former Gators C Jonotthan Harrison replaces him
about 8 hours ago

onlygators

OnlyGators.com


"We feel like we're as talented a football team as anybody in the [SEC] East." - Will Muschamp #Gators
about 8 hours ago

onlygators

OnlyGators.com


Muschamp said on his Sunday show #Gators will have three "training camp-like practices" this week. Reviewing Bama today, recruiting Monday.
about 8 hours ago

onlygators

OnlyGators.com


That's the fourth defensive touchdown of #Rams CB Janoris Jenkins's career, first since 2012. A great pick for STL. #Gators
about 8 hours ago

APMarkLong

Mark Long


Colts have 228 yards & have held ball for 16-plus minutes. Jaguars have 14 yards & 4:09 TOP
about 8 hours ago

JeffBarlisESPN

Jeff Barlis


Lost badly. RT @TomahawkNation: Florida last left the state for a nonconference game exactly 23 years ago today! (Lost at Syracuse, 1991).
about 8 hours ago

onlygators

OnlyGators.com


Pick six for former #Gators CB Janoris Jenkins of the #Rams against the #Cowboys.
about 8 hours ago

APMarkLong

Mark Long


Colts now up 20-0 at Jaguars, who have no run game, no big-play receivers, no QB, no pass rush -- but awesome pools & scoreboards
about 8 hours ago

DerekTysonESPN

Derek Tyson


#Jags obviously aren't a good team. Don't see why they wouldn't play for the future and let Bortles play.
about 8 hours ago

APMarkLong

Mark Long


Colts' Andrew Luck completed 13 straight passes and then Coby Fleener dropped a sure TD pass in end zone
about 8 hours ago

APMarkLong

Mark Long


Jaguars coach Gus Bradley looked lost when asked about his team's inability to cover TEs for last 2 years this week
about 8 hours ago

APMarkLong

Mark Long


Colts TEs already have caught 8 passes for 70 yards and a TD today vs Jaguars. ...
about 8 hours ago

APMarkLong

Mark Long


Colts make it 17-0 on Luck to Allen 1-yard TD
about 8 hours ago

APMarkLong

Mark Long


And here come the boos as Jaguars go 3-and-out for second time in two drives. Henne being Henne, too
about 9 hours ago

APMarkLong

Mark Long


Jaguars have been outscored 85-10 since leading Eagles 17-0 at halftime in season opener
about 9 hours ago

APMarkLong

Mark Long


Andrew Luck 10 of 13 passing for 77 yards. Colts have 21 plays to Jaguars' 3 so far
about 9 hours ago

APMarkLong

Mark Long


Andrew Luck picking apart Jaguars D as Colts go up 10-0 on 6-yard TD pass to Ahmad Bradshaw
about 9 hours ago

APMarkLong

Mark Long


Jaguars D steadies after getting roughed up on opening drive, holds Colts to 48-yard FG
about 9 hours ago

APMarkLong

Mark Long


Jaguars have one thing figured out: the correct use of these pools
about 9 hours ago

APMarkLong

Mark Long


Making up for screwing him? RT @ESPNdirocco: The was Kerry Taylor leading your Jaguars out onto the field. That's right. Kerry Taylor
about 9 hours ago

DerekTysonESPN

Derek Tyson


For the record, I do not think Nick Saban is Satan, that was autocorrect. I think he's the best coach in college football.
about 9 hours ago

DerekTysonESPN

Derek Tyson


Id like to thank all the fans that supported me during this difficult time of trying to send that last tweet. Couldnt have done it w/out you
about 10 hours ago

DerekTysonESPN

Derek Tyson


5-star #Bama QB commit Blake Barnett, his father Lance, and Nick Saban. http://t.co/Ge6HgltRGM
about 10 hours ago

DerekTysonESPN

Derek Tyson


Last try coming up here then I just give up.......
about 10 hours ago

DerekTysonESPN

Derek Tyson


I'm really struggling with this tweet. I'll need to go back and re-evaluate my tweeting technique this week.
about 10 hours ago

DerekTysonESPN

Derek Tyson


5-star #Bama QB commit Blake Barnett with his father, Lance, and Nick Saban yesterday. http://t.co/kFeohdvGtS
about 10 hours ago

DerekTysonESPN

Derek Tyson


sorry stupid autocorrect....
about 10 hours ago

DerekTysonESPN

Derek Tyson


5-star #Bama QB commit Blake Barnett with his father, Lance, and Nick Satan yesterday. http://t.co/kFeohdvGtS
about 10 hours ago

JeffBarlisESPN

Jeff Barlis


True. RT @DrMattBorer: if he said this then, gator fans may have been more understanding & would have been great for mental health community
about 10 hours ago

JeffBarlisESPN

Jeff Barlis


ICYMI yesterday: Urban Meyer says he was "broken," "depressed" and "thought [he] was dying" as #Gators coach in 2009: http://t.co/ol01MGA6f8
about 10 hours ago

ESPNdirocco

Michael DiRocco


Colts are without three listed starters: LB Jerrell Freeman, DT Arthur Jones, C Khaled Holmes.
about 10 hours ago

JeffBarlisESPN

Jeff Barlis


Florida's average drive Saturday gained 15 yards, its third lowest in a game in the last 10 seasons. #LeftoverTidbit
about 11 hours ago

EmmittSmith22

Emmitt Smith


The great @DarylJohnston will always be an unsung hero in my book. @GrahamBensinger and I discuss more on #InDepth: http://t.co/IqgeWhAV4z
about 11 hours ago

ScoutFlorida

Scout Gators


#Gators Davis picking up the pieces for Florida - TUSCALOOSA, Ala. -- The disappointment in the Florida loc... http://t.co/RHlO9F2von
about 12 hours ago

JeffBarlisESPN

Jeff Barlis


Recap: Mistakes can't keep #Gators in the game, as Blake Sims, Amari Cooper lead No. 3 Alabama past Florida 42-21 — http://t.co/kF9GvjEVN4
about 20 hours ago

JeffBarlisESPN

Jeff Barlis


Does that Urban Meyer story change how any #Gators fans feel about him? Somehow I doubt it will make a difference. Minds already made up.
about 20 hours ago

JeffBarlisESPN

Jeff Barlis


Urban Meyer says he was "broken," "depressed" and "thought [he] was dying" as #Gators coach in 2009 - http://t.co/ol01MGA6f8
about 20 hours ago

ScoutFlorida

Scout Gators


#Gators Playing catch up isn't fun - The talk is starting again around Gainesville and beyond. Not that... http://t.co/dKHCePOraR
about 20 hours ago

onlygators

OnlyGators.com


Also, Muschamp on sticking with Driskel & #Gators not trying to make a play before the half - http://t.co/rAcNYFQGFO
about 21 hours ago

onlygators

OnlyGators.com


Florida - ineffecitve offense, gassed defense and all - did not call a single timeout on Sat: http://t.co/rAcNYFQGFO
about 21 hours ago

onlygators

OnlyGators.com


Here's your just-posted Florida #Gators at Alabama post-game report w/ everything Muschamp had to say - http://t.co/rAcNYFQGFO
about 21 hours ago

JeffBarlisESPN

Jeff Barlis


-@JrGuengerich In theory and in words that sounds good, but actual results would make #Gators fans irate. Freshmen just make more mistakes.
about 21 hours ago
SEC SCOREBOARD
Thursday, 9/18
Saturday, 9/20
BLOG ARCHIVE:
CATEGORIES: