Film study: What loss shows about UF
October, 29, 2012
10/29/12
8:00
AM ET
GAINESVILLE, Fla. -- Here's an analysis of three key plays in Florida's 17-9 loss to Georgia on Saturday.
Costly interception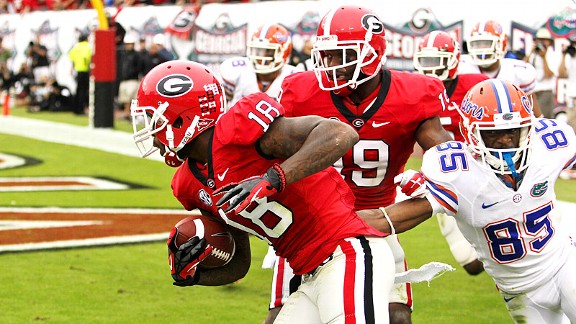 Rob Foldy/US Presswire
To continue reading this article you must be an Insider
Insider
College Football Minute: Sept. 15
We've got three big questions heading into Week 4, Florida survives at home and doesn't head-to-head mean anything? It's all ahead in your College Football Minute.
College Football Minute: Sept. 15
VIDEO PLAYLIST
FLORIDA FB RECRUITING SCORECARD
Gator_sports

Gatorsports.com


Jordan scores two goals as Gators blank New Mexico http://t.co/V0CmpkEBWA
8 minutes ago

GatorZoneMTN

Gator Men\'s Tennis


Pair of Gators Walk Away Winners at Bedford Cup http://t.co/MIcMuZeV6A http://t.co/8bDXUmjLJc
15 minutes ago

JeffBarlisESPN

Jeff Barlis


Downright distraught about my #Bucs Just can't lose home games to terrible backup QBs. Old Bucs would feed on those. Not a promising start.
43 minutes ago

KevinW_ESPN

Kevin Weidl


Driskel has ideal physical tools. Big, mobile, easy thrower of the football. Has to eliminate poor decisions though especially this week.
47 minutes ago

KevinW_ESPN

Kevin Weidl


Florida WR Demarcus Robinson has a chance to be a good one. Could be the difference maker they've been missing for years on the perimeter.
47 minutes ago

KevinW_ESPN

Kevin Weidl


Studying UF on O. 1st thing that stands out is at WR. They have some drops but more size/athleticism then they've had in awhile down there.
47 minutes ago

ScoutFlorida

Scout Gators


#Gators Video: Jordan talks Gators vs. Wildcats - Kailey Mizelle gets a prospect's thoughts on the Gators g... http://t.co/Acxqz6Tsg6
about an hour ago

GatorsNow

Florida Gators Now


Two Gators Earn Singles Titles on Final Day of Fab Four: Gator freshman Brooke Austin (Indianapolis, Ind.) ear... http://t.co/Nha3SzpyJV
about an hour ago

Gator_sports

Gatorsports.com


SEC on UK-UF OT play: Officials applied proper mechanics and guidelines to determine when a flag should be thrown for delay of game.
about 2 hours ago

GatorZoneFB

GatorZone Football


Miss the action yesterday? Secure your tickets for the remaining home games now!http://t.co/RMarmx1hP3 http://t.co/39U34GAfrO
about 2 hours ago

GatorVisionTV

GatorVision


VIDEO: Former Gator Billy Horschel (@BillyHo_Golf) wins the Tour Championship - http://t.co/1NysR8cJAI
about 2 hours ago

onlygators

OnlyGators.com


A bit behind on SNF. #49ers DL Ray McDonald's intro for the year... " *The* University of Florida " #Gators
about 2 hours ago

Gator_sports

Gatorsports.com


Gators' secondary causing some concern http://t.co/741E0MaS1z
about 3 hours ago

EmmittSmith22

Emmitt Smith


There's a gator outside my room! http://t.co/iI6t9vZitd
about 4 hours ago

DerekTysonESPN

Derek Tyson


I know they've had some injuries but how does Tampa's defense look so bad against a backup QB last week and 3rd stringer this week??
about 4 hours ago

DerekTysonESPN

Derek Tyson


Janoris Jenkins just got absolutely blown up on that FG block. Wow.
about 5 hours ago

DerekTysonESPN

Derek Tyson


I wonder if Jonathan Banks knows his job as a defensive back is to stop the WR from catching the ball.
about 5 hours ago

GolfCentral

Golf Central


Billy Horschel gave the Atlanta crowd (full of UGA fans) a big Florida Gator chomp before exiting the 18th green. http://t.co/yuBdo1GQgK
about 5 hours ago

JeffBarlisESPN

Jeff Barlis


Bobby Rainey has been a revelation for the #Bucs today. Can't remember the last time Doug Martin was effective anyway.
about 5 hours ago

JeffBarlisESPN

Jeff Barlis


According to the SEC if the snap is in progress when the play clock hits zero, there is no delay of game. Rulebook says #Gators got it off.
about 5 hours ago

onlygators

OnlyGators.com


Full official statement from the SEC regarding Florida-Kentucky overtime play clock situation http://t.co/BTKIudNFjM
about 5 hours ago

JeffBarlisESPN

Jeff Barlis


I shudder to think what a real starting QB will do to the #Bucs.
about 5 hours ago

EH_taught_me

Elijah Holyfield


Michigan State just offered!!#Spartans
about 5 hours ago

JeffBarlisESPN

Jeff Barlis


Satisfied? RT @schadjoe: SEC statement says proper mechanics were used by refs in not calling delay of game on UF on 4th down OT TD pass
about 5 hours ago

GatorsNow

Florida Gators Now


Gators Notebook: Robinson Breaks Out, Jones in Clutch, Muschamp on Resolve, More Tidbits: GAINESVILLE, Fla. --... http://t.co/qwU20KI9kg
about 5 hours ago

onlygators

OnlyGators.com


RT @schadjoe: SEC statement says proper mechanics were used by refs in not calling delay of game on UF on 4th down OT TD pass play
about 5 hours ago

GatorZoneFB

GatorZone Football


From @GatorZoneScott -- #Gators Notebook: Robinson Breaks Out, Jones in Clutch, Muschamp on Resolve, More Tidbits http://t.co/K1c26m3yb6
about 5 hours ago

JeffBarlisESPN

Jeff Barlis


The #Bucs' best play today has been #Rams penalties.
about 5 hours ago

JeffBarlisESPN

Jeff Barlis


McCown will "operate" the two-minute offense. Shield your eyes.
about 5 hours ago

JeffBarlisESPN

Jeff Barlis


Please suit up! RT @SportsTalkFLA: @DBrooks55 about to be inducted into the Buccaneer Ring of Honor. http://t.co/8woDz0dQPi
about 5 hours ago

JeffBarlisESPN

Jeff Barlis


Jeff Fisher is so great at icing the kicker.
about 5 hours ago

JeffBarlisESPN

Jeff Barlis


Hot fantasy advice: Start anyone who is facing the #Bucs.
about 6 hours ago

ScoutFlorida

Scout Gators


#Gators Video: Cronkrite following the UF-UK game - Cronkrite joined http://t.co/fiCjTDwX1i for a quick intervi... http://t.co/hP1W3Wwb0F
about 6 hours ago

JeffBarlisESPN

Jeff Barlis


I thought Derek Anderson was the worst QB the #Bucs would face this season. Was wrong. Same result today?
about 6 hours ago

onlygators

OnlyGators.com


Thanks to a couple of you for sending in videos. Will upload a second video shortly. No more needed. :)
about 6 hours ago

JeffBarlisESPN

Jeff Barlis


So the news is either great or terrible. RT @SuzyStark: McCoy could miss anywhere from no time to eight weeks, per @rotoworld_fb
about 6 hours ago

JeffBarlisESPN

Jeff Barlis


I'm beginning to wonder how any football player stays healthy for an entire season.
about 6 hours ago

WyndhamGolfGuy

Kevin Rinker


You go Gator! Billy Horschel doing the Gator chomp after he wins the PGA TOUR TOUR Championship https://t.co/swjorqX0wu
about 6 hours ago

JeffBarlisESPN

Jeff Barlis


Murray missed 2 games. No sympathy! RT @RadiNabulsi: @Bucs_Nation UGA last year too.
about 6 hours ago

onlygators

OnlyGators.com


VIDEO: Here's an $11.44 million-winning Gator Chomp from 2014 FedExCup champion @BillyHo_Golf - http://t.co/Rb9ubo1tRx
about 6 hours ago

JeffBarlisESPN

Jeff Barlis


That's what I call a serious scratch golfer. RT @darrenrovell: Billy Horschel wins Tour Championship & Fedex Cup, $13.48 million in 3 weeks
about 6 hours ago

JeffBarlisESPN

Jeff Barlis


Sounds like #Gators 2013. RT @Bucs_Nation: The Bucs are now missing six starters including their best and most important player.
about 6 hours ago

JeffBarlisESPN

Jeff Barlis


Drew some boos from the Ga. crowd, too! RT @ClayCntyGators: Doing the chomp after winning the FedEx Cup @BillyHo_Golf http://t.co/7aybHL34wz
about 6 hours ago

Chip_Howard

Chip Howard


Congratulations Billy Horschel, FedEx Champion. @BillyHo_Golf #ItsGreatUF #plaidboy http://t.co/obI0Stbt46
about 6 hours ago

onlygators

OnlyGators.com


(If anyone watching can rewind and get that for me, I'll tweet and post it on the site ASAP.)
about 6 hours ago

ESPNRobertSmith

robert smith


Quite a week for you @BillyHo_Golf .Your Gators with in triple OT, a baby on the way and a little diaper money-congrats to you and Brittney!
about 6 hours ago

KellyTilghmanGC

Kelly Tilghman


Billy Horschel wins last 2 events to secure #FedExCup. He delivers right before his wife due with couple's 1st child #banneryear
about 6 hours ago

GatorZoneGolf

Gator Golf


Congrats to former #Gator @BillyHo_Golf for winning the @playofffinale and Fed Ex Cup! #ItsGreatUF
about 6 hours ago

Gator_sports

Gatorsports.com


Former UF golf standout Billy Horschel wins 2014 Tour Championship and $11.4 million.
about 6 hours ago

onlygators

OnlyGators.com


I'd get you Horschel's Gator Chomp he just did...but NBC cut to a severe weather alert and then commercial after his win. So...
about 6 hours ago

TimTebow

Tim Tebow


Congrats @BillyHo_Golf #FedExCup Champ! I may give u chance to even up our match @GlenKernanGolf when u get home!#FinishStrong #GatorNation
about 6 hours ago

onlygators

OnlyGators.com


#Gators golfer Billy Horschel has won the 2014 Tour Championship & FedExCup, pocketing $11.44M - http://t.co/Rb9ubo1tRx
about 6 hours ago

JeffBarlisESPN

Jeff Barlis


Get this man a grant. RT @JArnholz: @JwKauffman that or develop some new lightning repellent
about 6 hours ago

JeffBarlisESPN

Jeff Barlis


Honorable mention. You haven't suffered nearly as long. RT @Alex_R_Schmidt: what about Gators/Jags?
about 6 hours ago

BlakeBarnett_8

B\u00B2


Headed back to T-Town next week for the Bama-Florida game. 😎 #RTR
about 6 hours ago

onlygators

OnlyGators.com


Horschel has pared 17 and has a two-stroke lead entering the 18th hole. Turn on NBC. #Gators
about 6 hours ago

JeffBarlisESPN

Jeff Barlis


I truly feel for all the #Gators/#Bucs fans out there, like @JwKauffman. Y'all are heroes.
about 6 hours ago

DerekTysonESPN

Derek Tyson


Some big visits around the #SEC: http://t.co/PgQTGFvHuy
about 6 hours ago

JeffBarlisESPN

Jeff Barlis


I quit all football. Fantasy AND reality.
about 6 hours ago

onlygators

OnlyGators.com


Billy Horschel's 30-foot putt to save par and his one-stroke lead on 16. #Gators - https://t.co/z14wR5md8H
about 6 hours ago

onlygators

OnlyGators.com


Billy Horschel just saved par on 16 with a 30-FOOT PUTT. Still the leader at -11. Wow. #Gators
about 6 hours ago

Gator_sports

Gatorsports.com


Muschamp focuses on positives from Kentucky win http://t.co/CVNcSMGpaE
about 6 hours ago

onlygators

OnlyGators.com


Horschel birdies 15, regains his one-stroke lead at -11, three holes to go. #Gators
about 6 hours ago

ScoutFlorida

Scout Gators


#Gators Video: Westbrook and Gorman talk Kentucky win - Senior tight end Tevin Westbrook put the ball in th... http://t.co/UaU2PjSvVA
about 7 hours ago

onlygators

OnlyGators.com


Earlier, #Seahawks WR Percy Harvin scored a 51-yard rushing touchdown on his first and only carry of the game thus far. #Gators
about 7 hours ago

onlygators

OnlyGators.com


#Gators golfer Billy Horschel has a one-stroke lead thru 14 in the Tour Championship. Share of $8M purse + $10M FedExCup prize on line.
about 7 hours ago

DerekTysonESPN

Derek Tyson


Awful red zone INT by McClown. Taught not to throw back across your body in little league.
about 7 hours ago

DerekTysonESPN

Derek Tyson


Awful red zone INT by McClown. Taught not to throw back back against your body in little league.
about 7 hours ago

onlygators

OnlyGators.com


RT @JasonLaCanfora: Sick 50-yd TD by Percy Harvin on a little pitch play. Ran past everyone on the football team blazing down the sideline
about 7 hours ago

GatorZoneFB

GatorZone Football


Yes!!! RT @NewsCarolyn: @GatorZoneFB And now Percy Harvin with a touchdown for the @Seahawks.
about 7 hours ago

APMarkLong

Mark Long


Looks like Chiefs will be playing the role of Jaguars on my TV for the 4 pm game. Fun
about 7 hours ago

APMarkLong

Mark Long


Ouch "@AmauryCarrasco: Take away the lucky play by #89 and it was worse than being the new guy at Starke State Penitentiary #Jaguars"
about 7 hours ago

GatorZoneFB

GatorZone Football


Just saw Jaye Howard starting on the d-line for the @KCChiefs and making plays. #GatorMade players everywhere on Sundays.
about 7 hours ago

APMarkLong

Mark Long


That Jaguars loss was worse than Seattle and San Fran, right? Not in terms of score, but just overall feel and ineptitude
about 7 hours ago

APMarkLong

Mark Long


Doesn't look good. Left knee "@HaysCarlyon: Hurns gets hurt with #Jaguars going for it on 4th and 16."
about 7 hours ago

ScoutFlorida

Scout Gators


#Gators The SEC Roundup - Things aren't always what they seem. We learned that this week while watching SEC... http://t.co/T8d6WmIpL8
about 8 hours ago

GZTrackField

Gator T & F and XC


SEC Ind Runner of Yr @CoryMcGeeRuns/Out Nat'l Champ @DeLoma_Fawn helped UF accept @CapitalOne_Cup @GatorZoneFB vs UK! http://t.co/GnUpIukzcD
about 8 hours ago

GatorZoneSoccer

Gator Soccer


No. 6 Florida Soccer Wins 4-0 at New Mexico http://t.co/5ULoG6IcZO http://t.co/DNXaoDsgEm
about 8 hours ago

JeffBarlisESPN

Jeff Barlis


The infamous Chucky doll ... from Easley to Dante to CeCe? RT @cecejeferson7 No caption needed... http://t.co/YlFsqgmgdQ
about 8 hours ago

GatorZoneFB

GatorZone Football


Just saw @DominiqueEasley with a pick for the @Patriots! Good work Ease!! #GatorMade
about 8 hours ago

onlygators

OnlyGators.com


First career interception for #Gators DT Dominique Easley with the #Patriots.
about 8 hours ago

JeffBarlisESPN

Jeff Barlis


#Canes RB commit Dexter Williams was at the Swamp last night --> RT @DexterW_22 Can't lie UF was live !!!
about 8 hours ago

JeffBarlisESPN

Jeff Barlis


#Gators' crowd impresses #UM commit Dexter Williams, 5-star DE CeCe Jefferson hangs out in UF locker w Chucky doll - http://t.co/jf9wY786hT
about 8 hours ago

GatorsNow

Florida Gators Now


No. 6 Florida Soccer Wins 4-0 at New Mexico: The University of Florida soccer team finished non-conference pla... http://t.co/6hHUW5PLde
about 8 hours ago

JeffBarlisESPN

Jeff Barlis


#Gators drop 2 spots to No. 10 in our Week 3 SEC Power Rankings: http://t.co/cQB3zDamuU
about 8 hours ago

JeffBarlisESPN

Jeff Barlis


#Gators WR Demarcus Robinson an obvious choice for an SEC helmet sticker after huge game. #UK's Towles & Johnson, too http://t.co/DAtjo5Pzlk
about 8 hours ago

JeffBarlisESPN

Jeff Barlis


ICYMI late last night, here are the 3 plays that changed the UF-UK game in overtime (videos + breakdowns + quotes): http://t.co/iinEdq0WPT
about 8 hours ago

onlygators

OnlyGators.com


#Gators golfer Billy Horschel (-11) has a two-stroke lead through six holes of the Tour Championship. Looking to win FedExCup also.
about 8 hours ago

EmmittSmith22

Emmitt Smith


See what happens when you run the football.
about 8 hours ago

JeffBarlisESPN

Jeff Barlis


-@KendrickPrevatt @Spencer_Duhm Can't wait to see Hargreaves vs. Cooper. That's a heavyweight bout.
about 9 hours ago

JeffBarlisESPN

Jeff Barlis


-@MorganSmith15 I think the second half showed that Roper did adjust. Driskel played better.
about 9 hours ago

Gator_sports

Gatorsports.com


UF soccer goes 1-1 on trip to West after defeating New Mexico 4-0.
about 9 hours ago

JeffBarlisESPN

Jeff Barlis


Valid concerns RT @Spencer_Duhm: I worry about what Amari Cooper will do to that secondary almost as much as I'm concerned for Jeff's health
about 9 hours ago

onlygators

OnlyGators.com


New feature - Twitter Chatter: Check out what former (some current) #Gators had to say during/after last night's W http://t.co/d84C23Nz4k
about 9 hours ago

onlygators

OnlyGators.com


#Dolphins K Caleb Sturgis converts a 34-yard field goal. He's 5-for-5 on the young season. #Gators
about 9 hours ago

TimCaseyPhoto

Tim Casey


ICYMI: Photos from @GatorZoneFB 3OT win last night http://t.co/QMLcsCCYTj #ItsGreatUF #UFvsUK http://t.co/Q9lgCBnnuD
about 9 hours ago

onlygators

OnlyGators.com


@alexbrown96 You've been quoted in my #Storify story "Twitter Chatter: Florida beats Kentucky 36-30 in 3OT" http://t.co/ym1msNuC9o
about 9 hours ago

TimTebow

Tim Tebow


Excited to join @GMA for #MotivateMeMonday tomm. This first story of courage and perseverance is a real inspiration!
about 9 hours ago

GatorZoneNews

Florida Gators


Here's your #UFvsUK play of the game - @jeffdriskel connects with @honeythunder11 in the end zone! cc @GatorZoneFBhttps://t.co/7S07cotjTk
about 9 hours ago
BLOG ARCHIVE:
CATEGORIES: