Dick Vitale's Preseason Top 40
October, 8, 2012
10/08/12
2:18
PM ET
By
RecruitingNation staff
| ESPN.com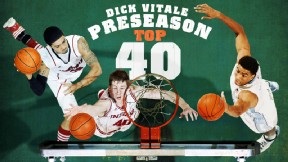 ESPN.com Illustration
Midnight Madness is just days away, so it's time to take at the college basketball landscape and identify the top teams in 2012-13, starting in Kentucky... Louisville, Kentucky that is.
There are a lot of quality contenders looking to cut down the nets in Atlanta.
Where are the Gators ranked?
Dick Vitale's Preseason Top 40
Gators Lose Two ESPN 300 Commits
National recruiting analyst Craig Haubert discusses where Florida goes from here now that its recruiting class has shrunk to eight. Haubert says, however, there's reason for optimism in Gainesville.
Gators Lose Two ESPN 300 Commits
VIDEO PLAYLIST
FLORIDA FB RECRUITING SCORECARD
Rawlings Florida Gators Tailgater Junior-Size Football Shop »
APMarkLong

Mark Long


Jaguars also closing general admission ticket sales in the pool/cabana area for Dolphins game and eating revenue loss
6 minutes ago

JrJournalism

JrJournalism


Go gators!!!!! @GatorZoneNews @GatorZoneAlbert http://t.co/GlBd6hq69F
7 minutes ago

JeffBarlisESPN

Jeff Barlis


Must-see video right here --> RT @ESPN_SEC: Recruit's surprise not a gator, but still great http://t.co/jRTOSk9wxE
8 minutes ago

APMarkLong

Mark Long


Jaguars made the call to facilitate Florida-Georgia game (Nov. 1). Six-day window was too tight to guarantee installation of 7k temp seats
9 minutes ago

DerekTysonESPN

Derek Tyson


Recruit's surprise not a gator, but still great http://t.co/CzNLFR6SFN
9 minutes ago

APMarkLong

Mark Long


Pools, downstairs cabanas won't be open for Dolphins-Jaguars game on Oct. 26
10 minutes ago

DerekTysonESPN

Derek Tyson


Headed to Friday Night Lights @ UF. #Gators hoping to try and match what #UGA was able to do last week. Won't be easy
14 minutes ago

Ravens

Baltimore Ravens


Play of the Day: Check out Matt Elam's (@ElamvsElo) INT and return off this tipped pass. #RavensCamp http://t.co/ZsDC8av2FL
17 minutes ago

HamiltonESPN

Gerry Hamilton


#ESPN300 No. 114 @James_Lockhart9 has committed to Texas A&M. He is the 10th #ESPN300 pledge for the #aggies in the 2015 class.
31 minutes ago

ScoutFlorida

Scout Gators


Video: Brown Announces for Gators http://t.co/GElcCr2Uh2 #Gators
51 minutes ago

ScoutFlorida

Scout Gators


Friday Night Lights: Live Updates http://t.co/9miWkC5srE #Gators
51 minutes ago

DerekTysonESPN

Derek Tyson


Headed to Friday Night Lights @ UF. #Gators hoping to try and match what #UGA was able to do last week. Won't be easy
about an hour ago

ESPNFlorida

ESPN Florida


Poll: SEC's most troubling offseason http://t.co/y33F5cLD9G
about an hour ago

darrenrovell

darren rovell


Per @DerekTysonESPN, the animal Florida commit pulled out was not a gator, it is a dorsal caiman http://t.co/KrIjmAtX8j
about an hour ago

APMarkLong

Mark Long


Jaguars announce 10-year, $43M stadium naming rights deal with EverBank
about an hour ago

APMarkLong

Mark Long


Jax mayor Alvin Brown: "Jerry Jones, eat your heart out: we have the largest scoreboards in the world!"
about an hour ago

GatorZoneChris

Chris Harry


'Chomp at Trop' Saturday in St. Pete. Rays-Red Sox, #Gators pre-game party, Brad Culpepper throws 1st pitch. Blog: http://t.co/Qi7zcCcX6U
about an hour ago

Gator_sports

Gatorsports.com


Shelley Meyer: Hatred by some UF fans toward Urban is mind-boggling http://t.co/lSDqmhIbpA
about 2 hours ago

GatorZoneScott

Scott Carter


Thx...RT @FGTCgators: #FF @GatorZoneScott @onlygators @gatormason @gatorhoops @gatorsfirst @The_Toller @AllThingsUF GBz @GatorBoogz
about 2 hours ago

onlygators

OnlyGators.com


#Rams announce former #Gators LB Mike Peterson will join training camp in a Minority Coaching Fellowship role. Should not affect role at UF.
about 2 hours ago

APMarkLong

Mark Long


Two former Jags RT @ccpearce: Rams announce 4 Minority Coaching Fellowship hires: John Simon, Tony Brown, Mike Peterson & Pierson Prioleau
about 2 hours ago

JeffBarlisESPN

Jeff Barlis


3-star OL (6-6, 255) w/ nice offer list. MT @DerekTysonESPN: #Gators get 2nd commit from Ohio as George Brown makes his pledge to UF today.
about 2 hours ago

APMarkLong

Mark Long


@Goldkamp247 he's the guy on the far right, correct?
about 2 hours ago

Gator_sports

Gatorsports.com


UF lands offensive lineman commit http://t.co/6jgHsGAtbQ
about 2 hours ago

onlygators

OnlyGators.com


Here's a clip of George Brown holding the baby gator while committing to Florida + story, highlights http://t.co/d1fLRW82dc
about 3 hours ago

DerekTysonESPN

Derek Tyson


#Gators pick up their second commit from Ohio as George Brown makes his pledge to UF today.
about 3 hours ago

onlygators

OnlyGators.com


Holding a live baby alligator, four-star OT George Brown, Jr. commits to the Florida #Gators. Story: http://t.co/OsfnOnE3o4
about 3 hours ago

onlygators

OnlyGators.com


Four-star OT George Brown, Jr. is set to make a commitment & #Gators are in it for his services. Watch Live Now: http://t.co/culjPRdKvR
about 3 hours ago

APMarkLong

Mark Long


"@GeneFrenette: The long & short of live @Espn television with #Jaguars QB Blake Bortles & Mike DiRocco. http://t.co/HWgyEHFovy"
about 4 hours ago

APMarkLong

Mark Long


Jaguars WR Cecil Shorts III pulled from practice because of hamstring tightness
about 4 hours ago

onlygators

OnlyGators.com


Friday Night Lights is tonight for the Florida #Gators in The Swamp. Here's the annual preview - http://t.co/Gimzom7Bar
about 4 hours ago

APMarkLong

Mark Long


No big surprise: Jaguars TE @MarcedesLewis89 absolutely killed conditioning test. GM: "He's in the best shape of his life."
about 5 hours ago

GatorZoneAlbert

Albert


I'm Albert the Gator? You stay classy, Gainesville #futureanchorman #anchorman http://t.co/Fyyrtl3MDs
about 5 hours ago

GatorZoneScott

Scott Carter


Cleaning photos off my computer...a favorite from 2013-14 calendar from @TimCaseyPhoto...@Will15Yeguete also a fave http://t.co/63nVkhdrwJ
about 5 hours ago

onlygators

OnlyGators.com


#Dolphins owner Stephen Ross. RT @AdamHBeasley: Ross: "I like Mike Pouncey. I have a lot of confidence in Mike Pouncey."
about 5 hours ago

APMarkLong

Mark Long


In addition to TE Marcel Jensen & WR Allen Hurns, here's a 3rd undrafted Jaguars rookie to watch: DT DeAndre Coleman from Cal.
about 6 hours ago

OakleafFootball

Oakleaf Football


2016 LBs Shaq Quarterman and DeAndre Steelman will be competing at Friday Night Lights tonight ! #FNL
about 6 hours ago

UFlorida

Univ of Florida


Good morning, Gator Nation! Make today great. #ItsGreatUF http://t.co/VjzCqF2Bam
about 6 hours ago

onlygators

OnlyGators.com


#Ravens have signed former #Gators safety Will Hill. He will be reinstated from suspension on Oct. 13 per @RavensInsider.
about 6 hours ago

GatorZoneFB

GatorZone Football


And we are reaffirming that it is not true. MT @SSTRadio: Have re-affirmed info that Florda & Texas have prelim disc abt a home/home in FB.
about 6 hours ago

GatorZoneScott

Scott Carter


ICYMI, #Gators volleyball's Chloe Mann up for a prestigious award -- #NCAA Woman of Year. The details: http://t.co/St6XTsGPri
about 6 hours ago

APMarkLong

Mark Long


Fulham FC watching Jaguars training camp practice http://t.co/HUgj7yQbZo
about 6 hours ago

GatorZoneFB

GatorZone Football


Who remembers this guy fromt he late 80s? #GatorCountdown http://t.co/IhPPKNvElB
about 7 hours ago

GatorZoneFB

GatorZone Football


Happy Birthday wishes @CoachKurtRoper #ItsGreatUF
about 7 hours ago

DerekTysonESPN

Derek Tyson


No data to prove this MT "@celebrityhottub: DID YOU KNOW: There are people who dont watch college football & they're totally fine & normal"
about 7 hours ago

cecejeferson7

Ivan Drago


On this road to #Lsu
about 8 hours ago

GatorZoneScott

Scott Carter


@Goldkamp247 I'm going with a commitment from first ambidextrous QB in school history (just joking). No idea. Will wait on your updates.
about 9 hours ago

GatorZoneScott

Scott Carter


For those who tweeted back about "Unbroken" — I got about four hours sleep…great read so far.
about 9 hours ago

UFHonors

UF Honors Program


Today is the last day to enter the @GatorZoneFB student ticket lottery. Get season tickets = join the #1 Honors Football Block! #ufhonors
about 18 hours ago

GatorZoneFB

GatorZone Football


Not true MT @SSTRadio: sources inside UF athletic dept. are telling us they are in talks with Texas for home-&-home football series
about 18 hours ago

GatorZoneScott

Scott Carter


Had this on my bookshelf for more than a year...getting ready to dig in...hope I don't stay up too late http://t.co/2ew1coFyEG
about 19 hours ago

DerekTysonESPN

Derek Tyson


RT "@Jalen_Merrick: On the bright side I'm headed to the swamp tommorow 🐊🏈"
about 19 hours ago

GatorZoneScott

Scott Carter


ICYMI, @GatorZoneFB refutes a report today #Gators in talks with Texas about a home-and-home series. Not true.
about 19 hours ago

DerekTysonESPN

Derek Tyson


Thank you RT "@aLivingLegend_8: @DerekTysonESPN sending an early congrats"
about 19 hours ago

DerekTysonESPN

Derek Tyson


First game of the year. Doesn't matter who's playing RT "@Carvell_AJC: @DerekTysonESPN congrats. So happy for you. But #GamecocksVsAggies ?"
about 19 hours ago

DerekTysonESPN

Derek Tyson


Getting married in 9 days, then honeymoon, shark week, SEC Network debut, #Gamecocks vs #Aggies, then NFL. Doesn't get any better.
about 19 hours ago

DerekTysonESPN

Derek Tyson


There it is. BIG breaking news RT "@GeorgeCampbell0: I just saved 15% by switching my car insurance to geico"
about 20 hours ago

GatorZoneScott

Scott Carter


ICYMI, a story on new #Gators diving coach Dale Schultz and road taken to UF: http://t.co/AAr9JrOLYQ
about 20 hours ago

CoachWMuschamp

Will Muschamp


Great to see Lamar Houston and Jon Bostic- 2 former players on The Bears Defense#2favorites
about 20 hours ago

GatorZoneScott

Scott Carter


Nice. I'm watching Naked Dating…MT @dapple0: Going to enjoy these last few days before #Gator football cranks up http://t.co/bfZh4RGgWm
about 20 hours ago

HamiltonESPN

Gerry Hamilton


With WR @King_Chig15 commit if to #UGA, #Georgia now has 11 4-star commitments in the 2015 class. http://t.co/ysuhfTDccU
about 20 hours ago

GatorZoneFB

GatorZone Football


Not true MT @SSTRadio: sources inside UF athletic dept. are telling us they are in talks with Texas for home-&-home football series
about 20 hours ago

DerekTysonESPN

Derek Tyson


Another big addition for Georgia RT"@King_Chig15: #Fam15 #Dawgs #DawgFam15 #CoachRichtIsMyDawg #WR #UGA http://t.co/RbX9NCZlSl"
about 20 hours ago

GatorZoneFB

GatorZone Football


Not true MT @SSTRadio: sources inside UF athletic dept. are telling us they are in talks with Texas for home-&-home football series
about 20 hours ago

onlygators

OnlyGators.com


A look at SEC Network availability in the state of Florida and the deal w/ Time Warner & Bright House - http://t.co/2DpWUiSqw6
about 21 hours ago

onlygators

OnlyGators.com


ICYMI: Four Florida #Gators news BITS from earlier on Walter Hodge, Maurice Hurt, Chandler Parsons & Shelley Meyer - http://t.co/Luii4IMdlh
about 22 hours ago

CoachWMuschamp

Will Muschamp


Great to see Lamar Houston and Jon Bostic- 2 former players on The Bears Defense#2favorites
about 23 hours ago

GatorZoneNews

Florida Gators


Can you imagine having your wedding at Ben Hill Griffin Stadium? Starting now, you can. http://t.co/mqaXUJqYjP #ItsGreatUF
about 23 hours ago

onlygators

OnlyGators.com


Time Warner and Bright House have both reached an agreement with ESPN to carry the SEC Network.
about 23 hours ago

GatorZoneScott

Scott Carter


#Gators diving coach Dale Schultz knew man he replaced well. He knows a man not far away who helped lead him here: http://t.co/AAr9JrOLYQ
1 day ago

GatorZoneAlbert

Albert


RUN to your computer before the @GZStudents lottery for @UFlorida tickets closes TODAY! http://t.co/KM6VQfVU5P http://t.co/UchVE8naos
1 day ago

GatorsNow

Florida Gators Now


Chloe Mann one of Two SEC Student-Athletes in Contention for 2014 NCAA Woman of the Year Award: Florida volley... http://t.co/gKntXFw9Mr
1 day ago

CJonesScout

Cody Jones


Florida State basketball announced its non-conference schedule today. #Gators play at FSU on December 30.
1 day ago

GatorZoneScott

Scott Carter


More big news for @SECNetwork -- Time Warner and Bright House reach agreement to carry network: http://t.co/74CVXzNDFo
1 day ago

GatorZoneNews

Florida Gators


More good news! Time Warner Cable & Bright House Networks to Carry @SECNetwork! http://t.co/QXpoIrrVCD
1 day ago

DerekTysonESPN

Derek Tyson


RT @SEC BREAKING - Time Warner Cable and Bright House Networks Reach Agreement to Carry SEC Network. Story: http://t.co/b6KBDM8345 … #SEC
1 day ago

GatorsNow

Florida Gators Now


Time Warner Cable and Bright House Networks to Carry SEC Network: ESPN, Time Warner Cable and Bright House Net... http://t.co/fUArTGjaVP
1 day ago

GatorZoneFB

GatorZone Football


Time Warner Cable and Bright House Networks to Carry @SECNetwork http://t.co/nuXsRQKXFo
1 day ago

GatorZoneNews

Florida Gators


Friendly rivals in the SEC? It helps to have things in common, like coaching @GatorZoneFB! http://t.co/4lCmqYz3Zh http://t.co/eOxhkUJrW8
1 day ago

itsLilstanley

Jayson Stanley


Want to thank all my coaches and Teammates W/O them None of this is possible #Blessed Love ya Tre Tre#⃣2⃣ http://t.co/QuMcBdomA8
1 day ago

JeffBarlisESPN

Jeff Barlis


@gregauman When is your AMA?
1 day ago

DerekTysonESPN

Derek Tyson


Hearing the home town #USF #Bulls might be a darkhorse team to watch for Ray Ray McCloud III when he announces on Monday.
1 day ago

APMarkLong

Mark Long


More on Soward: He was placed on reserve/suspended list & never cut. If he ever made comeback, he would have been under contract w/ jags
1 day ago

APMarkLong

Mark Long


So there's this regarding Justin Blackmon: Apparently, WR R. Jay Soward is still on the Jaguars roster. Seriously
1 day ago

DerekTysonESPN

Derek Tyson


RT "@OakleafFootball: 2015 DB Chris Westry has committed to Auburn #WarEagle
1 day ago

DerekTysonESPN

Derek Tyson


Hearing the home town #USF #Bulls might be a darkhorse team to watch for Ray Ray McCloud III when he announces on Monday.
1 day ago

GatorZoneScott

Scott Carter


Enjoyed this story on baseball writer Roger Angell by SI's Tom Verducci (didn't find either guy on Twitter): http://t.co/fEnKWxb233
1 day ago

APMarkLong

Mark Long


Khan says he has no plans to cut WR Justin Blackmon
1 day ago

APMarkLong

Mark Long


Khan on Blackmon: "we knew he needed help."
1 day ago

APMarkLong

Mark Long


Jaguars owner Shad Khan says he plans to get in one of the new pools, maybe during a game. "It depends on the score."
1 day ago

APMarkLong

Mark Long


Jaguars owner Shad Khan always has the coolest shoes http://t.co/wVCLKfSQBt
1 day ago

Gator_sports

Gatorsports.com


Talented group expected for Friday Night Lights http://t.co/9YwwE2Apem
1 day ago

onlygators

OnlyGators.com


#Washington OL Maurice Hurt shows up to training camp out of shape, roster spot in jeopardy - http://t.co/Luii4IMdlh
1 day ago

onlygators

OnlyGators.com


Shelley Meyer talks Urban Meyer's "dream jobs," #Gators fans & 2006 national title game - http://t.co/Luii4IMdlh
1 day ago

onlygators

OnlyGators.com


Former #Gators G Walter Hodge named MVP of the Puerto Rican BSN league - http://t.co/Luii4IMdlh
1 day ago

APMarkLong

Mark Long


World's largest video boards. Cabanas and pools ready, too. #Jaguars http://t.co/PMiIkTRkik
1 day ago

EmmittSmith22

Emmitt Smith


Looking forward to a Herradura margarita on #nationaltequiladay http://t.co/DqpMgBOXjn @HerraduraTeq
1 day ago

DerekTysonESPN

Derek Tyson


#Noles RT "@AhmadRJackson: Team Tampa on there way to FSU! @GeorgeCampbell0 @ByronHawkStar99 @thaRD5 http://t.co/9qkexxh4F9"
1 day ago

UFHonors

UF Honors Program


Today is the last day to enter the @GatorZoneFB student ticket lottery. Get season tickets = join the #1 Honors Football Block! #ufhonors
1 day ago

onlygators

OnlyGators.com


Four Florida #Gators news BITS on DeVon Walker, Mike Pouncey, SEC Network & Joakim Noah - http://t.co/VsRC7v32Z6
1 day ago
SEC SCOREBOARD
Thursday, 8/28
Saturday, 8/30
Sunday, 8/31
BLOG ARCHIVE:
CATEGORIES: