The Mag: The SEC according to Spurrier
August, 9, 2012
8/09/12
4:52
PM ET
By
GatorNation staff
| ESPN.com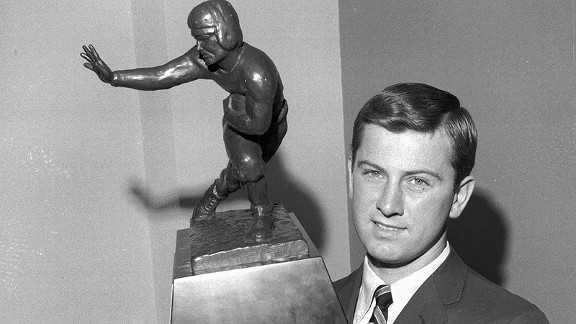 AP photoSteve Spurrier, University of Florida quarterback, holds the Heisman Trophy, which was presented to him at the Dec.1,1966 award dinner in New York.
Gator legend Steve Spurrier has seen the SEC from several vantage points -- as Florida's star quarterback, as a pioneering coach at his alma mater, and now again as a program-builder in South Carolina. He sits down
with Ryan McGee from ESPN The Magazine
to discuss them all.
The Early Offer: March 12
National recruiting reporter Jeremy Crabtree discusses the hottest storylines in football recruiting, including the pursuit of the nation's top linebacker and what could prove a pivotal commitment for Texas Tech.
Tags:
Jeffery Holland
,
Jarrett Stidham
,
Kliff Kingsbury
,
Art Briles
,
Texas Tech Red Raiders
,
Will Muschamp
,
Florida Gators
,
RecruitingNation
,
ESPN Junior 300
,
high school football recruiting
,
Jeremy Crabtree
The Early Offer: March 12
VIDEO PLAYLIST
The Early Offer: March 12

The Early Offer: March 12

National recruiting reporter Jeremy Crabtree discusses the hottest storylines in football recruiting, including the pursuit of the nation's top linebacker and what could prove a pivotal commitment for Texas Tech.

Tags: Jeffery Holland

,

Jarrett Stidham

,

Kliff Kingsbury

,

Art Briles

,

Texas Tech Red Raiders

,

Will Muschamp

,

Florida Gators

,

RecruitingNation

,

ESPN Junior 300

,

high school football recruiting

,

Jeremy Crabtree

Andy Katz's 3-Point Shot

Andy Katz's 3-Point Shot

Recruit Comparison: Manziel to Harris

Recruit Comparison: Manziel to Harris
FLORIDA FB RECRUITING SCORECARD
Nike Men's Florida Gators Coaches Performance White Polo Shop »
GatorZoneScott

Scott Carter


Billy D got Wilbekin off bench after that last Hill turnover. Hill a little out of control on last couple of possessions.
about a minute ago

GatorZoneNews

Florida Gators


Getting good looks RT @waaaters: scottie feelin it @GatorZoneNews
3 minutes ago

GatorZoneNews

Florida Gators


Gators with five threes puts them up five at 7:59 mark
9 minutes ago

GatorZoneScott

Scott Carter


#Gators have made 6 shots, 5 from 3-land…5-for-8 from beyond arc
9 minutes ago

onlygators

OnlyGators.com


Finney-Smith with a triple from Macon. #Gators now 4-for-7 from three and up two. Making up for problems inside the arc.
11 minutes ago

GatorZoneScott

Scott Carter


Earnest Ross answers for Missouri with a slash to basket. Finney-Smith with a 3, #Gators up 18-16.
11 minutes ago

onlygators

OnlyGators.com


Wilbekin: 3-for-3 from three, nine points. Rest of team: 1-for-8, six points. #Gators up 15-14 for a moment, then back down 16-15.
12 minutes ago

GatorZoneScott

Scott Carter


Wilbekin with his third 3 and #Gators take 15-14 lead.
12 minutes ago

onlygators

OnlyGators.com


Yeguete and D. Walker with two fouls each only 9:30 into the game. Young 0-for-3 from the field. Florida down two.
13 minutes ago

onlygators

OnlyGators.com


Good energy and effort early from Mizzou, a team coming off a three-hour, 2OT game yesterday afternoon. Florida not yet playing inspired.
13 minutes ago

JeffBarlisESPN

Jeff Barlis


Imagine Frank Martin chewing out Kasey Hill after he took that last 3.
17 minutes ago

GatorZoneNews

Florida Gators


Under 12 timeout Gators down by one, catch the action on ESPNU #Gators
18 minutes ago

GatorZoneScott

Scott Carter


Wilbekin with his second 3 and #Gators trail 11-10…Mizzou has been quicker and more aggressive team, but down by just 1 with 11:57 left.
19 minutes ago

onlygators

OnlyGators.com


Wilbekin - 6 points (two threes). Rest of #Gators - 4 points. About eight minutes in now.
19 minutes ago

JeffBarlisESPN

Jeff Barlis


When the #Gators look out of sync, they always get back on track with defense and hustle.
19 minutes ago

onlygators

OnlyGators.com


Five of Florida's first seven points are on second chances (two FTs). Team now 2-for-7 from the field.
20 minutes ago

onlygators

OnlyGators.com


Yeguete goes 1-for-3 from the line (lane violation - extra attempt), Frazier rebounds the last miss but gets it knocked away.
22 minutes ago

GatorZoneNews

Florida Gators


RT @GZStudents: Great work @MBKRowdies! We sold out of our lower student section and are now selling additionals in the 2nd level
25 minutes ago

GatorZoneScott

Scott Carter


RT @SEC: #BeSECMBB: Here's a look at Florida being presented with the #SEC regular-season trophy prior to today's game: http://t.co/t6jTHf7…
25 minutes ago

GatorZoneScott

Scott Carter


#Mizzou 7, #Gators 4 at U-16 media timeout. Wilbekin's 3 off an offensive rebound only highlight for UF so far.
26 minutes ago

onlygators

OnlyGators.com


Four turnovers for the #Gators in the first 4:30, one made field goal (Wilbekin three). Florida trails 7-4.
27 minutes ago

GatorZoneScott

Scott Carter


Kasey Hill in for Wilbekin…Mizzou up 7-4 early
28 minutes ago

onlygators

OnlyGators.com


#PatricYoungFTs - Now 32/45 since Feb. 1 (.711) after going 1-for-2 from the line. #Gators trail 3-1 early.
31 minutes ago

GatorZoneNews

Florida Gators


Underway RT @GatorZoneChris: Earnest Ross starts game by hitting one of those 3s Billy D talked about. Then offensive rebounds its first mis
33 minutes ago

onlygators

OnlyGators.com


Ross drains a three to open things up for Missouri vs. Florida in the quarters of the SEC Tournament.
34 minutes ago

GatorZoneScott

Scott Carter


http://t.co/tVZpXrP7tQ
35 minutes ago

onlygators

OnlyGators.com


RT @CecilHurt: Anthony Grant will remain as Alabama's basketball coach, sources confirm.
36 minutes ago

GatorZoneNews

Florida Gators


RT @GatorZoneChris: Keys for #Gators: Don't let Jabari Brown/Mizzou guards get hot from 3 (force tuff 2s); deny offensive rebounds; limit e…
36 minutes ago

GatorZoneNews

Florida Gators


RT @GatorZoneMBK: Future SEC Men's Basketball Tournament Early Rounds to Air Exclusively on SEC Network http://t.co/hIZurMMS9B
39 minutes ago

GatorZoneNews

Florida Gators


RT @GatorZoneMBK: The #Gators are presented with the regular season championship trophy. http://t.co/NjsRGXkro9
40 minutes ago

onlygators

OnlyGators.com


Florida-Missouri in the SEC Tournament quarters tips off in about 5 mins. Viewing info, preview.. http://t.co/BsTHVlXZGe
44 minutes ago

onlygators

OnlyGators.com


Every SEC bball team will play a min of 8 games on SEC Network starting in 2015, which is good for UF fans who missed many non-conf games.
52 minutes ago

onlygators

OnlyGators.com


ESPN announces that Florida #Gators basketball will be featured as part of a doubleheader on SEC Network on Nov. 14, 2015.
53 minutes ago

GatorZoneScott

Scott Carter


Internet speed in Georgia Dome rocks...as these guys talk, I can read lips and hear real-time on my live stream. http://t.co/reQ6Rhcd0h
about an hour ago

GatorZoneNews

Florida Gators


Gators vs. Missouri in 30 minutes in SEC Tournament here is broadcast information http://t.co/uYwkecKfR5
about an hour ago

DerekTysonESPN

Derek Tyson


RT @OakleafFootball: 2016 LB Shaq Quarterman has been offered by Ohio State #buckeyes
about an hour ago

onlygators

OnlyGators.com


Buffalo #Bills announce that #Gators LB Brandon Spikes is in for a visit with the team. Rumored to be very interested.
about an hour ago

Gator_sports

Gatorsports.com


Twitter: SEC Tournament - Florida vs Missouri http://t.co/F4EO3qhOGg
about an hour ago

GatorZoneScott

Scott Carter


#Mizzou out on floor to stretch. #Gators-Tigers tip off at 1. http://t.co/UMvWiD60Rg
about an hour ago

GatorZoneScott

Scott Carter


Last tweet was supposed to have this attached. Plenty of these for sale. http://t.co/FEJbgYS94L
about an hour ago

onlygators

OnlyGators.com


RT @MaxwellFootball: The 2013 National High School Player of the Year, #Gators freshman QB @willgrier_. #MFCgala http://t.co/S5HO9t1MPJ
about an hour ago

GatorZoneNews

Florida Gators


RT @GatorZoneBB: #Gators head coach Kevin O'Sullivan will be joining Steve Russell at 12:05 p.m. today on AM 850 to talk about SEC opening …
about an hour ago

GatorZoneScott

Scott Carter


Question for street vendors: any T-shirts in honor of first 18-0 team in #SEC history? #Gators
about an hour ago

GatorZoneFB

GatorZone Football


RT @MaxwellFootball: The 2013 National High School Player of the Year, #Gators freshman QB @willgrier_. #MFCgala http://t.co/zxyo3SnAkO
about an hour ago

GatorZoneFB

GatorZone Football


RT @MaxwellFootball: The #MFCgala Press Conference is underway, tune in now on @ESPN3! http://t.co/Hxyovt5691 http://t.co/jW2jOO6A5p
about an hour ago

GatorZoneFB

GatorZone Football


Will Grier catching up with Coach David Cutcliffe from Duke at the 2014 Maxwell Awards. http://t.co/nOCYLnHhsM
about 2 hours ago

GatorZoneNews

Florida Gators


RT @GatorZoneMBK: Great to see @UFCheer & @DazzlersUF ready to send off the team to the Georgia Dome! #ItsGreatUF http://t.co/MKYiA2bvLP
about 2 hours ago

GatorZoneNews

Florida Gators


RT @GatorBoosters: Team about to depart from hotel. Go #Gators! @GatorZoneMBK #ItsGreatUF http://t.co/cMxXPYU1u6
about 2 hours ago

GatorZoneScott

Scott Carter


#Gators pep band blasting away in hotel lobby here in Atlanta. Kentucky fans appear startled as elevator doors open. #SECTournament
about 2 hours ago

onlygators

OnlyGators.com


Get your morning started with a #Gators Gameday Preview of today's Florida-Mizzou game (1 p.m.) http://t.co/BsTHVlXZGe
about 3 hours ago

APMarkLong

Mark Long


Should I mention @soggyhood? RT @1010xlhacker: Talking Jags Free Agency with @APMarkLong today on XL Primetime @1010XL
about 3 hours ago

GatorZoneScott

Scott Carter


RT @ESPNU: 22-year-old Kentucky fan shows faith with national title tattoo http://t.co/FrMzqnJb9x http://t.co/jStvF5oSLc
about 3 hours ago

GatorZoneScott

Scott Carter


No. 1-ranked #Gators T&F teams in Albuquerque for #NCAA Indoor Championships: http://t.co/oFBUlNczcy Several potential titles for UF.
about 3 hours ago

GatorZoneScott

Scott Carter


#Gators women's golf team at home this weekend to host SunTrust Gator Invitational: http://t.co/pQNvS7TWwk
about 3 hours ago

GatorZoneScott

Scott Carter


Riding a five-game win streak, #Gators baseball team opens #SEC play vs. Arkansas: http://t.co/40umLlV1rm
about 4 hours ago

GatorZoneScott

Scott Carter


RT @NicoleAuerbach: New bracketology from @BracketWAG! No. 1 seeds: Wichita St, Arizona, Florida & ... Michigan: http://t.co/8Qh3OEAU3A
about 4 hours ago

GatorZoneNews

Florida Gators


Gator Gameday! http://t.co/KNrDOmeSRZ
about 4 hours ago

GatorZoneFB

GatorZone Football


Just 7 days until the UF Football Coaches Clinic. You can still sign up online! http://t.co/GSKullEkGC http://t.co/93aO75PzJD
about 4 hours ago

ESPNFlorida

ESPN Florida


UF spring predictions: Standouts emerge http://t.co/K7CURFPQyZ
about 4 hours ago

GatorZoneNews

Florida Gators


Travel safe MT @GoldboxATL: Next stop #ATL then off the the @GeorgiaDome to see my #Gators play! @GatorZoneNews #sec http://t.co/LbS2zTwA7i
about 4 hours ago

GatorZoneScott

Scott Carter


For the record, Grier is receiving Maxwell Award for National Player of Year tonight at official awards dinner. Also at a function Thursday.
about 4 hours ago

GatorZoneScott

Scott Carter


My days are mixed up. Last night was Thursday. Grier was in Atlantic City to receive Maxwell Award for National HS Player of Year. #Gators
about 4 hours ago

GatorZoneScott

Scott Carter


#Gators QB Will Grier at Maxwell Award dinner Friday in Atlantic City...RT @willgrier_: @10AJMcCarron @_KatherineWebb http://t.co/ynM5phm494
about 4 hours ago

GatorZoneFB

GatorZone Football


Go to http://t.co/8RbZfUq3OT & demand it RT @GatorZoneNews: @SECNetwork debuts 5 months from today. Will you have it? http://t.co/R77VH46gEU
about 4 hours ago

GatorZoneScott

Scott Carter


ICYMI — From the Director's Desk with #Gators AD Jeremy Foley: http://t.co/V3rFmTfqLd
about 4 hours ago

GatorZoneScott

Scott Carter


#Gators freshman PG Kasey Hill adjusts on fly writes @GatorZoneChris: http://t.co/V8l1xrHW3y #SECTournament
about 4 hours ago

GatorZoneScott

Scott Carter


Blog: #Mizzou playing for its NCAA Tournament life vs. No. 1-ranked #Gators: http://t.co/QESWGUd6Jv #SECTournament
about 4 hours ago

GatorZoneFB

GatorZone Football


Happy Pi Day from a couple of hard-hittin #Gators http://t.co/tuH7pwZhUy
about 4 hours ago

GatorZoneNews

Florida Gators


It's pie day at Gator Baseball vs Arkansas at 7 pm http://t.co/0tR2Y0XhGZ
about 5 hours ago

GatorZoneNews

Florida Gators


The SEC Network debuts five months from today. Will you have it? http://t.co/g4h9kJNtz5
about 5 hours ago

GatorZoneNews

Florida Gators


Broadcast informatoin for the Gators vs. Missouri in SEC Tournament http://t.co/wb9dUR1rZT
about 5 hours ago

GatorZoneNews

Florida Gators


As Gators begin post-season play @GatorZoneChris takes a look at Kasey Hill's role in his set up for Missouri game http://t.co/PL7FRJkdhN
about 5 hours ago

GatorZoneNews

Florida Gators


Florida begins SEC Hoop Tourney action vs. Missouri at 1 @GatorZoneScott takes a look at Missouri http://t.co/DVqHgBBlCQ
about 5 hours ago

GatorZoneNews

Florida Gators


Follow live scoring of the men's golf team today at the Chris Schenkel Invitational http://t.co/lGs0REErqS #ItsGreatUF
about 5 hours ago

GatorZoneNews

Florida Gators


Following live scoring for the women's golf program today as they host Sun Trust Invitational http://t.co/qxar6Ehy5s #ItsGreatUF
about 5 hours ago

GatorZoneNews

Florida Gators


The third ranked Gymnastics teams finishes regular season tonight at Missouri at 7:30 p.m. http://t.co/xNJsLBBWzk #ItsGreatUF
about 5 hours ago

GatorZoneNews

Florida Gators


Top-ranked softball hits the road for three game set with LSU, starting at 7 p.m. tonight http://t.co/kVgmGvwC4r #ItsGreatUF
about 5 hours ago

GatorZoneNews

Florida Gators


Gator golf set to compete in Chris Schenkel Invitational http://t.co/MdAAaW0J6W #ItsGreatUF
about 5 hours ago

GatorZoneNews

Florida Gators


Women's tennis is in middle of 5 match road swing - traveling to Tennessee tonight and Georgia on Sunday http://t.co/UzJZFnX3Jg #ItsGreatUF
about 5 hours ago

GatorZoneNews

Florida Gators


Men's tennis hosts a pair of top 20 conference foes this weekend - starting with Tennessee tonight at 5 http://t.co/gbOLy4WB3A #ItsGreatUF
about 5 hours ago

GatorZoneNews

Florida Gators


.@GatorZoneScott sat down with Jeremy Foley this week. Here is his Q&A http://t.co/lUFc9mUB4r #ItsGreatUF
about 5 hours ago

GatorZoneNews

Florida Gators


The UF Track program owns five of the last nine national championships - they begin quest for indoor title todayhttp://t.co/XHcgsiN03D
about 5 hours ago

GatorZoneNews

Florida Gators


Women's Golf hosts 42nd Annual Sun Trust Inviational. Tee times Fri. & Sat. at 9 a.m. Shotgun on Sunday http://t.co/yqwyY9WuS2 #ItsGreatUF
about 5 hours ago

GatorZoneNews

Florida Gators


Baseball begins SEC action by hosting Arkansas tonight at 7 p.m. A look at the weekend series http://t.co/vDNBpQNn6g #ItsGreatUF
about 5 hours ago

GatorZoneNews

Florida Gators


Busy day for the #Gators after no events yesterday, 10 teams will be competing today follow us all day for updates #ItsGreatUF
about 5 hours ago

Gator_sports

Gatorsports.com


Snead succeeds by slinging sneaky strikes http://t.co/4DtvFhyVUH
about 7 hours ago

onlygators

OnlyGators.com


Tip-off is only about 11 hours away, so check out the Gameday Preview for Florida-Mizzou in the SEC Tourney - http://t.co/BsTHVlXZGe
about 11 hours ago

ScoutFlorida

Scout Gators


Gators aiming to win SEC Tournament http://t.co/ZvY6AgFGjA #gators
about 12 hours ago

ScoutFlorida

Scout Gators


Muschamp sees leaders among linebackers http://t.co/SluzYjawzm #gators
about 12 hours ago

Gator_sports

Gatorsports.com


UF roundup: Florida track & field seeking indoor titles http://t.co/qpkPGGUy1Z
about 13 hours ago

JeffBarlisESPN

Jeff Barlis


RT @CassidyHubbarth: Yo.. RT @Rachel__Nichols: Ha - so good. RT @BallUpNBA Joakim Noah and Dwight Howard, 10 years ago: http://t.co/oaVSdHC…
about 14 hours ago

TimTebow

Tim Tebow


RT @KRalbers: Tbt@TimTebow @RobbyTebow @BrendanSchaub @brad_judah@jayschaub http://t.co/DzFZ6Y2dzm
about 14 hours ago

onlygators

OnlyGators.com


MT @Rachel__Nichols: Joakim Noah on Mike Dunleavy's clutch 2nd half after 10 stitches: "He's finally giving Duke some credibility"
about 15 hours ago

EmmittSmith22

Emmitt Smith


Getting ready for @ScandalABC baby.
about 15 hours ago

APMarkLong

Mark Long


Oh, you're working. Daytona 200? Fun, fun, fun. I am hanging out and watching TV
about 15 hours ago

Gator_sports

Gatorsports.com


Caquatto, Gators look to capitalize on final SEC meet http://t.co/hONaTIcpXD
about 15 hours ago

ScoutFlorida

Scout Gators


Terry Norvelle's Random Thoughts http://t.co/Sk9VhOeIop #gators
about 16 hours ago

ScoutFlorida

Scout Gators


Roundtable: Spring Angst? http://t.co/rmgEEbldhT #gators
about 16 hours ago

DerekTysonESPN

Derek Tyson


RT @TheFranchize__: Me and @CoachHughFreeze today #HottyToddy http://t.co/triQO7NXYQ
about 16 hours ago

Gator_sports

Gatorsports.com


Florida wary of SEC Tournament's upset potential http://t.co/ItSbVe64DW
about 16 hours ago
SEC SCOREBOARD
Saturday, 12/21
Monday, 12/23
Tuesday, 12/24
Thursday, 12/26
Friday, 12/27
Saturday, 12/28
Monday, 12/30
Tuesday, 12/31
Wednesday, 1/1
Thursday, 1/2
Friday, 1/3
Saturday, 1/4
Sunday, 1/5
Monday, 1/6
BLOG ARCHIVE:
CATEGORIES: