The Mag: Understanding Urban
August, 8, 2012
8/08/12
3:35
PM ET
By
GatorNation staff
| ESPN.com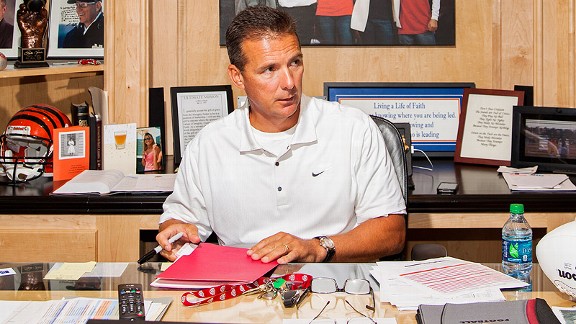 Andrew Hetherington/ESPN The MagazineArmed with a new approach, Urban Meyer still has a lot on his plate as head coach of Ohio State.
Balancing family life with a high-pressure job won't be easy. It didn't work at Florida, but Urban Meyer vows to make it work at Ohio State. What's the difference? The former Gator coach
tells ESPN the Magazine's Wright Thompson
that he is finally committed to living a life of balance.
Scene and Heard: Top 10 Predictions
In a conversation with ESPN's Antonietta Collins, national recruiting reporter Gerry Hamilton breaks down the recruiting momentum building at Auburn and offers predictions for where the top 10 recruits will commit.
Tags:
Trenton Thompson
,
Kerryon Johnson
,
Jeffery Holland
,
Martez Ivey
,
Torrance Gibson
,
Cece Jefferson
,
ESPN 300
,
RecruitingNation
,
high school football recruiting
,
Gerry Hamilton
Scene and Heard: Top 10 Predictions
VIDEO PLAYLIST
Scene and Heard: Top 10 Predictions

Scene and Heard: Top 10 Predictions

In a conversation with ESPN's Antonietta Collins, national recruiting reporter Gerry Hamilton breaks down the recruiting momentum building at Auburn and offers predictions for where the top 10 recruits will commit.

Tags: Trenton Thompson

,

Kerryon Johnson

,

Jeffery Holland

,

Martez Ivey

,

Torrance Gibson

,

Cece Jefferson

,

ESPN 300

,

RecruitingNation

,

high school football recruiting

,

Gerry Hamilton

ESPN 300 Ranking Motivates Byron Cowart

ESPN 300 Ranking Motivates Byron Cowart

Scene and Heard: Sunshine State Targets

Scene and Heard: Sunshine State Targets

In a conversation with ESPN's Cary Chow, national recruiting reporter Gerry Hamilton breaks down the recruiting momentum built by Florida State and the most important prospects from Florida.

Tags: George Campbell

,

Da'Vante Phillips

,

Martez Ivey

,

Jeffery Holland

,

Chuma Edoga

,

Florida State Seminoles

,

Jimbo Fisher

,

Florida Gators

,

Tennessee Volunteers

,

ESPN Junior 300

,

RecruitingNation

,

high school football recruiting

,

Gerry Hamilton
GATORNATION RECRUITING NEWS
FLORIDA FB RECRUITING SCORECARD
Franklin Florida Gators Kids' Deluxe Uniform Set Shop »
GatorZoneNews

Florida Gators


In case you missed it, @GatorZoneGym won a back-to-back national championship, because they're terrific! http://t.co/5pGHq0OJ3A #ItsGreatUF
9 minutes ago

Gator_sports

Gatorsports.com


Burning questions for Gators answered in spring http://t.co/M1J0m30yLE
about 2 hours ago

GatorZoneScott

Scott Carter


'Bridgey' Comes Through in Clutch, #Gators Repeat as National Champs: http://t.co/NrFGQsuXJS @GatorZoneGym
about 7 hours ago

Gator_sports

Gatorsports.com


PHOTOS: Gators tie for NCAA title with Sooners http://t.co/gEJaWtjHV4
about 7 hours ago

Gator_sports

Gatorsports.com


UF roundup: Gators rout Aggies in 5 innings http://t.co/IAXUsvB5Xv
about 7 hours ago

DerekTysonESPN

Derek Tyson


ORRR winning and playing in the NFL is enticing RT "@Mwolverine78: @DerekTysonESPN @ESPNRNFball money talks"
about 8 hours ago

DerekTysonESPN

Derek Tyson


.#Bama killing it again on the recruiting trail. Have they somehow figured out a way to have 15 starters on each side of the ball?
about 8 hours ago

DerekTysonESPN

Derek Tyson


RT @Phil_Sports: Man ... Alabama could stop now and have an argument for the No. 1 class. One of the bigger non-signing-day recruiting days…
about 8 hours ago

GatorsNow

Florida Gators Now


No. 18 Florida Sweeps Doubleheader, Clinches Series Over Georgia: A six-run fourth inning lifted No. 18 Florid... http://t.co/Po7lgZsRtH
about 8 hours ago

GatorZoneNews

Florida Gators


RT @GatorZoneBB: Come out tomorrow at noon as the #Gators go for the sweep of Georgia! http://t.co/ocedkAMlB3
about 8 hours ago

onlygators

OnlyGators.com


By @J_McPherson1126: Florida #Gators gymnastics wins 2nd-straight NCAA Championship, splitting title with Oklahoma http://t.co/5YeCToO0WM
about 9 hours ago

Gator_sports

Gatorsports.com


RT @pat_dooley: Pretty good day for UF sports. Gym NC, lacrosse conf title, men tennis reaches SEC final, base sweeps Ga, soft clobbers A&M.
about 9 hours ago

GatorZoneNews

Florida Gators


.@GatorZoneBB sweeps today's double header against UGA! #ItsGreatUF http://t.co/LNjJxPgFNb
about 9 hours ago

GatorZoneNews

Florida Gators


RT @GatorZoneBB: No. 18 #Gators (26-13, 11-6) take game 2 over UGA 8-1, sweep the double header, clinch the series and lead the SEC East by…
about 10 hours ago

Gator_sports

Gatorsports.com


UF baseball team sweeps a doubleheader from Georgia to take the weekend series. Gators go for series sweep starting at noon Sunday.
about 10 hours ago

GatorsNow

Florida Gators Now


BACK-TO-BACK: Gators Win Second Consecutive National Title; Co-Champs with Oklahoma: BIRMINGHAM, Ala. -- The U... http://t.co/a0JmpVz3u0
about 10 hours ago

Gator_sports

Gatorsports.com


Florida gymnastics ties Oklahoma to repeat as national champion http://t.co/HlhTs0OEWz
about 10 hours ago

GatorZoneNews

Florida Gators


RT @GatorZoneSBall: #Gators Run-Rule Texas A&M, 17-4, to Win Series #ItsGreatUF http://t.co/pmQ84uJOGa
about 10 hours ago

CoachWMuschamp

Will Muschamp


Congrats to UF teams that won titles today @GatorZoneLAX and @GatorZoneGym #ItsGreatUF
about 10 hours ago

GatorZoneNews

Florida Gators


RT @GatorZoneGym: #NCAAWGym championship selfie! Go #Gators! http://t.co/9VIEsxG1Z6
about 10 hours ago

GatorZoneNews

Florida Gators


.@GatorZoneGym becomes the seventh Gator team to win back to back titles #ItsGreatUF
about 10 hours ago

GatorZoneScott

Scott Carter


The final scores... http://t.co/AoRGzG5Kt6
about 10 hours ago

onlygators

OnlyGators.com


Second-straight year that Florida gymnastics has pulled something out in the last rotation. This #Gators team is clutch.
about 10 hours ago

GatorZoneNews

Florida Gators


With @GatorZoneGym sharing National title tonight, #Gators have now won a National Championship in each of the last five years #ItsGreatUF
about 10 hours ago

GatorZoneNews

Florida Gators


Congratulations to @GatorZoneGym - back-to-back national champions! #ItsGreatUF #GoGators http://t.co/HcZqmkIVLT
about 10 hours ago

GatorZoneScott

Scott Carter


Well, we are in Alabama, where drama plays out regularly (last year's Iron Bowl anyone)…Bama's 2 falls on beam dropped Tide to fourth.
about 10 hours ago

Gator_sports

Gatorsports.com


Then No. 2 UF defeated then No. 1 Oklahoma 197.875-197.225 at the O-Dome in January. The schools share title at a neutral site.
about 10 hours ago

GatorZoneScott

Scott Carter


#Gators are back-to-back gymnastics national champions. A pretty good program going for head coach Rhonda Faehn.
about 10 hours ago

Gator_sports

Gatorsports.com


Florida repeats as national champions in gymnastics, this time sharing title with Oklahoma.
about 10 hours ago

GatorZoneScott

Scott Carter


So, props to Bridgette Caquatto for a performance of her lifetime…think I have a decent story tonight.
about 10 hours ago

GatorZoneNews

Florida Gators


RT @GatorZoneGym: Final results - it's a tie for the title! Gators share win with Oklahoma http://t.co/9DMlc3qjvV
about 10 hours ago

GatorZoneScott

Scott Carter


"Ladies and gentlemen, we have co-national champions.— PA guy
about 10 hours ago

GatorZoneScott

Scott Carter


The head of the NCAA Gymnastics committee is currently checking to make sure there is no tiebreaker. Drama, drama...
about 10 hours ago

onlygators

OnlyGators.com


Florida #Gators split 2014 NCAA Championship in gymnastics with Oklahoma. Back-to-back titles for UF.
about 11 hours ago

onlygators

OnlyGators.com


Holy cow. Florida #Gators may have tied for NCAA title in gymnastics. Scores coming up.
about 11 hours ago

GatorZoneScott

Scott Carter


Gymnastics is crazy….#Gators seem to know what's going on…crowd here cheering pretty good in stands
about 11 hours ago

GatorZoneScott

Scott Carter


She did it…looks like a tie.
about 11 hours ago

GatorZoneScott

Scott Carter


Caquatto had a nice routine…let's see her score...
about 11 hours ago

GatorZoneScott

Scott Carter


Hunter got a 9.950…basically, Bridgette Caquatto needs a 9.950 on this floor to tie Oklahoma...
about 11 hours ago

GatorZoneScott

Scott Carter


One of biggest surprises was Alabama's Kim Jacob fell on beam…she was all-around champ last night. This sport packs some pressure at end.
about 11 hours ago

GatorZoneScott

Scott Carter


Kytra Hunter and Bridgette Caquatto need big scores on floor for #Gators to potentially tie Oklahoma…Bama just fell again on Beam
about 11 hours ago

GatorZoneScott

Scott Carter


Sloan a 9.925 on her floor...
about 11 hours ago

GatorZoneScott

Scott Carter


Alaina Johnson with a 9.900 on her floor…Bridget Sloan just finished...
about 11 hours ago

GatorZoneScott

Scott Carter


Oklahoma has finished on vault, team score of 198.175…that's a tough score to beat…Bama and Florida finishing up...
about 11 hours ago

GatorZoneScott

Scott Carter


Rachel Spicer hit a 9.900 on her floor routine.
about 11 hours ago

GatorZoneScott

Scott Carter


Oklahoma has a pair of 9.900s and pair of 9.850s on vault so far…lots of numbers right now
about 11 hours ago

GatorZoneScott

Scott Carter


Milliner, my bad...RT @GatorZoneScott: #Bama's Deandra Miller opens beam with a 9.300…#Gators get a 9.875 from Claire Boyce on floor.
about 11 hours ago

GatorZoneScott

Scott Carter


#Bama's Deandra Miller opens beam with a 9.300…#Gators get a 9.875 from Claire Boyce on floor.
about 11 hours ago

GatorZoneScott

Scott Carter


I'll be here a while, but well check…thanks man...RT @thejeffozer: @GatorZoneScott after party 5 point south ...
about 11 hours ago

GatorZoneScott

Scott Carter


#Bama's first gymnast on beam just fell.
about 11 hours ago

Gator_sports

Gatorsports.com


UF lacrosse holds off Northwestern to win ALC title http://t.co/vqLDJa5NWA
about 11 hours ago

GatorZoneScott

Scott Carter


RT @AlligatorArmy: Florida was nation's No. 2 floor team in regular season. Oklahoma was No. 2 on vault. Alabama was No. 3 on beam. Crazy f…
about 11 hours ago

GatorZoneNews

Florida Gators


RT @GZTrackField: Final #TomJones Memorial results: http://t.co/Njo3scprzF Recap to come! #GoGators
about 11 hours ago

GatorZoneScott

Scott Carter


Three-way race at top after 3 rotations: #Bama (148.700), Oklahoma (148.625), #Gators 148.550. UF will need to nail floor.
about 11 hours ago

GatorZoneScott

Scott Carter


Bama ends on beam, UF on floor…same setup as 2 years ago in Gwinnett Center...RT @jemoss9: @GatorZoneScott what event will Bama be on?
about 11 hours ago

GatorZoneScott

Scott Carter


If I broke it down for you I might be off :) … they're good in everything like UF...RT @js1336: @GatorZoneScott how is bama on beam?
about 11 hours ago

GatorZoneScott

Scott Carter


Bama at 148.700, #Gators at 148.550 entering final rotation…Oklahoma out finishing on floor and doing well, so a fluid situation as they say
about 11 hours ago

GatorZoneScott

Scott Carter


Sloan on beam tonight... http://t.co/ITGKp17N68
about 11 hours ago

GatorZoneScott

Scott Carter


RT @AlligatorArmy: "It was incredible. I really could not have asked for more. They're lights out." - @UFCoachRhonda on Florida's beam perf…
about 11 hours ago

GatorZoneScott

Scott Carter


Wouldn't hurt…going to be tight... @pgator0307: @GatorZoneScott does bama need to have a hiccup for us to take it?
about 11 hours ago

GatorZoneScott

Scott Carter


#Gators get a bye this rotation. Team score is 148.550 after 3 rotations…LSU (148.275), Georgia (147.525) and Nebraska (147.375) also thru 3
about 11 hours ago

GatorZoneScott

Scott Carter


#Gators finish beam with a score of 49.500 on beam, best score on beam in program history in Super Six. Putting up scores tonight.
about 11 hours ago

GatorZoneScott

Scott Carter


Lloimincia Hall out on floor…you may have seen her routine that went viral last week…always entertaining.
about 11 hours ago

GatorZoneScott

Scott Carter


One judge gave her a 10…she finished with a 9.950…Johnson had a 9.900 before her.
about 11 hours ago

GatorZoneScott

Scott Carter


Bridget Sloan flashed one of those "got this" smiles on that beam routine…nice comeback after last night's fall.
about 11 hours ago

GatorZoneScott

Scott Carter


Johnson should get a pretty good score on that one...
about 12 hours ago

GatorZoneScott

Scott Carter


Claire Boyce started #Gators off with a 9.875 on beam, followed by a 9.875 for Rachel Spicer…Alaina Johnson up now.
about 12 hours ago

GatorsNow

Florida Gators Now


Gators Win ALC Title Outright, Outlast Wildcats 13-12: http://t.co/uCrjz9v6Le
about 12 hours ago

GatorZoneScott

Scott Carter


#Gators up on beam next. Posted a 49.300 last night. Will be looking to better that in Super Six.
about 12 hours ago

GatorZoneScott

Scott Carter


Just met @sbarruf and a couple of his Gator buddies from Atlanta. Drove over today for gymnastics. Thanks guys for saying hello.
about 12 hours ago

GatorZoneScott

Scott Carter


#Gators on bars... http://t.co/l7NkZy1xbq
about 12 hours ago

GatorZoneScott

Scott Carter


#Gators and #Bama both have two routines down. Bama at 99.150 after vault and floor, #Gators at 99.050 after vault and bars.
about 12 hours ago

GatorZoneScott

Scott Carter


One other note on #Gators score of 49.600 on bars — third-highest ever in NCAA Super Six competition on bars.
about 12 hours ago

GatorZoneScott

Scott Carter


#Gators finish with a 49.600 on bars…best score in program history in Super Six.
about 12 hours ago

GatorZoneScott

Scott Carter


Mackenzie Caquatto matched her sister on bars with a 9.950…Bridget Sloan (9.900) and Kytra Hunter (9.875)
about 12 hours ago

GatorZoneScott

Scott Carter


Caquatto after landing bars routine...big crowd here tonight, lower bowl pretty much full and some in upper deck http://t.co/DTwOxgkocp
about 12 hours ago

GatorZoneScott

Scott Carter


Bridgette Caquatto nails a 9.950 on bars, best score of her college career (third time).
about 12 hours ago

GatorZoneScott

Scott Carter


#Gators out warming up on bars…scored a 49.550 in semifinals Friday, team's best score of night.
about 12 hours ago

GatorZoneScott

Scott Carter


Big road win for UF...RT @GatorZoneLAX: Gators Win ALC Title Outright, Outlast Wildcats 13-12 #FLax #ItsGreatUF http://t.co/AjdlscmwPb
about 12 hours ago

GatorZoneScott

Scott Carter


RT @GatorZoneGym: #NCAAWGym Super Six team final rotation II scores http://t.co/NleDJrIYSe
about 12 hours ago

GatorsNow

Florida Gators Now


Florida Takes Down Vanderbilt, Heads to 2014 SEC Tournament Championship Match: http://t.co/Wy9F1F9hVt
about 12 hours ago

GatorZoneNews

Florida Gators


RT @GatorZoneTennis: Florida Takes Down Vandy, Heads to #SECMT14 Championship Match #Gators #ItsGreatUF http://t.co/BJua746vqd
about 13 hours ago

GatorZoneNews

Florida Gators


RT @GZTrackField: Couple field events finishing at #TomJones ... women's pole vault and men's javelin. Just have 1500m & 4x4s to go today!
about 13 hours ago

GatorZoneScott

Scott Carter


#Gators on vault...they have bye next rotation... http://t.co/8JcOFW19dH
about 13 hours ago

GatorZoneScott

Scott Carter


Kytra Hunter after her vault...You can see Keanu Neal back there in #Gators fan club... http://t.co/uASgW2whgb
about 13 hours ago

GatorZoneScott

Scott Carter


Kytra Hunter also nailed a 9.950…Gators finish with a score of 49.450 on vault. For Hunter, highest vault score in a Super Six (3 straight)
about 13 hours ago

GatorZoneScott

Scott Carter


Bridget Sloan hit a 9.950 on her vault…good start to her night.
about 13 hours ago

GatorZoneNews

Florida Gators


RT @GatorVisionTV: WATCH NOW: @GatorZoneGym competes for the national championship in the NCAA Super Six - http://t.co/tOxpnte76O #GoGators
about 13 hours ago

GatorZoneScott

Scott Carter


#Gators open on vault…B. Caquatto gets them started with a 9.800, then sister Mackenzie scores 9.900
about 13 hours ago

GatorsNow

Florida Gators Now


Florida Takes Game One Over Georgia 3-2; Game Two Starts at 7 p.m.: Florida freshman third baseman John Sterna... http://t.co/PqDbKpUA8q
about 13 hours ago

GatorZoneNews

Florida Gators


RT @GatorZoneSBall: Grand slam Kathlyn Medina! The junior's first home run of the year (third career) makes it 13-0 #Gators. We're still in…
about 13 hours ago

GatorZoneScott

Scott Carter


Live stream on ESPN3: http://t.co/dNy8b74DiJ RT @ozarkgator: @GatorZoneScott is it televised?
about 13 hours ago

GatorZoneScott

Scott Carter


#SEC Commissioner Mike Slive in house tonight for #NCAA Gymnastics. His office just a couple of blocks away. About 20 minutes until start.
about 13 hours ago

GatorZoneNews

Florida Gators


Gator fans are amazing! Watch this terrific sendoff for @GatorZoneGym at their hotel for the #Super6. (video) http://t.co/aAzqxZ7k5E
about 13 hours ago

Gator_sports

Gatorsports.com


Sternagel homers to lead Gators over Bulldogs http://t.co/YAy3Qrzvak
about 14 hours ago

GatorZoneNews

Florida Gators


RT @GatorZoneTennis: #Gators are going to the finals! Alford clinches the match over Vandy, 4-2. UF will face TAMU tomorrow at 2pm ET in th…
about 14 hours ago

GatorZoneNews

Florida Gators


RT @GatorZoneBB: #Gators' Game 2 vs. Georgia - Live stats: http://t.co/eRuLKKZXOf Video: http://t.co/EmWGem5oxV Audio: http://t.co/Kc224u…
about 14 hours ago

GatorZoneNews

Florida Gators


Watch @GatorZoneGym as they attempt to repeat as national champs in the #Super6, tonight at 7pm. http://t.co/IH9tNnzVny #NCAAWGym Please RT!
about 14 hours ago

GatorZoneScott

Scott Carter


Saw #Gators DB Keanu Neal at hotel today w/group of guys here supporting their female friends on UF gymnastics team. Neal had good spring.
about 14 hours ago

GatorZoneNews

Florida Gators


.@GatorZoneBB starts Gm 2 vs Georgia @ 7pm.Live stats: http://t.co/cz2CdVaHrL Video: http://t.co/Cc9u3NyFQO Audio: http://t.co/nbBE6v8vNz
about 14 hours ago
SEC SCOREBOARD
Thursday, 8/28
Saturday, 8/30
Sunday, 8/31
BLOG ARCHIVE:
CATEGORIES: