The Mag: Understanding Urban
August, 8, 2012
8/08/12
3:35
PM ET
By
GatorNation staff
| ESPN.com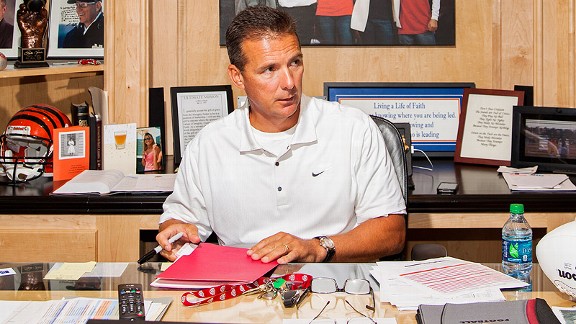 Andrew Hetherington/ESPN The MagazineArmed with a new approach, Urban Meyer still has a lot on his plate as head coach of Ohio State.
Balancing family life with a high-pressure job won't be easy. It didn't work at Florida, but Urban Meyer vows to make it work at Ohio State. What's the difference? The former Gator coach
tells ESPN the Magazine's Wright Thompson
that he is finally committed to living a life of balance.
Suspensions Over For Florida Players After Halted Opener
Jeff Barlis discusses Coach Will Muschamp announcing on Monday that Darious Cummings, Demarcus Robinson and Jay-nard Bostwick will play this Saturday against Eastern Michigan.
Suspensions Over For Florida Players After Halted Opener
VIDEO PLAYLIST
FLORIDA FB RECRUITING SCORECARD
JeffBarlisESPN

Jeff Barlis


-@LisaHorne @ugafan618 Sumlin also moved those suspensions to the rescheduled game. Florida might not reschedule Idaho. We'll see.
about 4 hours ago

DerekTysonESPN

Derek Tyson


Well then, Florida A&M's are awesome too RT "@miketag98: @DerekTysonESPN look like Florida A&M"
about 4 hours ago

DerekTysonESPN

Derek Tyson


Just getting a chance to see the #Canes new unis. Oh man those are sweet.
about 5 hours ago

JeffBarlisESPN

Jeff Barlis


Beats my story! RT @ToddThomson12: Waded through chest high water to get to the Gator Bowl for the '93 game.
about 5 hours ago

JeffBarlisESPN

Jeff Barlis


What did you think of my list of Gator rainouts, @GatorZoneScott?
about 5 hours ago

JeffBarlisESPN

Jeff Barlis


My top 5 rainouts in recent UF history. RT @ESPNFlorida: #Gators used to being swamped by rain http://t.co/DaOnlaSg5v
about 5 hours ago

JeffBarlisESPN

Jeff Barlis


There are myriad reasons why football games are once-a-week events, people. It's a massive production.
about 6 hours ago

JeffBarlisESPN

Jeff Barlis


Logistical nightmare + Who would have come? Reschedule or cancel. RT @ReneMSY: Why couldn't they have scheduled it for yesterday or today?
about 7 hours ago

JeffBarlisESPN

Jeff Barlis


Exactly. Game would be meaningless. Muschamp's fate won't be tied to Idaho. RT @derekwillis: only thing to gain in early December is injury.
about 7 hours ago

JeffBarlisESPN

Jeff Barlis


My guess is the #Gators and #Vandals think it over and just cancel.
about 7 hours ago

JeffBarlisESPN

Jeff Barlis


When you think about possibly rescheduling a game in December, eventually you start to ask yourself why bother?
about 7 hours ago

GatorZoneScott

Scott Carter


#Gators explore options in wake of suspended Idaho game — turn focus to Eastern Michigan by @GatorZoneChris: http://t.co/0UW1IVleIe
about 7 hours ago

GatorZoneScott

Scott Carter


If nothing else, #Gators junior Valdez Showers will always have 'The Play' — http://t.co/RkUO8x6vlS
about 7 hours ago

Gator_sports

Gatorsports.com


Scouting Eastern Michigan http://t.co/SechxJdkWh
about 8 hours ago

onlygators

OnlyGators.com


Idaho AD MT @JPBlanchette: RE $975K contract, Spear said Florida "has been up front and fair about not having financial impact be an issue"
about 8 hours ago

Gator_sports

Gatorsports.com


Notebook: Cummings, Bostwick, Robinson reinstated to play http://t.co/HQXBjW0dBw
about 8 hours ago

GatorsNow

Florida Gators Now


Gators Continue to Explore Options in Wake of Suspended Game vs. Idaho: GAINESVILLE, Fla. -- The Gators and Id... http://t.co/CPn4uoIOr4
about 8 hours ago

GatorZoneFB

GatorZone Football


From @GatorZoneChris -- #Gators Continue to Explore Options in Wake of Suspended Game vs. Idaho http://t.co/zcXY5zmDdk
about 9 hours ago

onlygators

OnlyGators.com


Tough loss for #Gators golfer Billy Horschel, who finishes an impressive -13 at Deutsche Bank but still two shots behind the leader.
about 9 hours ago

GatorsNow

Florida Gators Now


If Nothing Else, Showers Will Always Have 'The Play': GAINESVILLE, Fla. -- Valdez Showers made the one play ev... http://t.co/Va3fBy0hAf
about 9 hours ago

GatorZoneScott

Scott Carter


Tough finish for former #Gators golfer Billy Horschel...RT @EyeOnGolf: Chris Kirk wins the Deutsche Bank Championship.
about 9 hours ago

GZStudents

Gator Students


Ever want to go through #GatorWalk? Enter for a chance to win a VIP Gator Walk Experience before the Kentucky game. http://t.co/wSVOxsBBgN
about 9 hours ago

GatorZoneFB

GatorZone Football


From @GatorZoneScott -- If Nothing Else, Showers Will Always Have 'The Play' -- #Gators http://t.co/r5ukgLllLK
about 9 hours ago

GatorsNow

Florida Gators Now


Muschamp's Monday Press Conference Video and Transcription: Will Muschamp spoke with the media on Monday. http://t.co/rhgVkBdL9m
about 9 hours ago

Gator_sports

Gatorsports.com


Muschamp supports decision to suspend game http://t.co/sZTZJZFUW7
about 10 hours ago

GatorZoneFB

GatorZone Football


Muschamp's Monday Press Conference Video and Transcription http://t.co/9EJSqwo3Hq
about 10 hours ago

JeffBarlisESPN

Jeff Barlis


For 3 suspended #Gators, suspended game = time served. They'll play on Saturday. My story (with rescheduling update): http://t.co/iLvV7Q72uL
about 10 hours ago

GatorZoneFB

GatorZone Football


.@CoachWMuschamp has a message for you fans that endured #AllKindsofWeather on Saturday night. #ThankYou http://t.co/8WzzYgrzQT
about 10 hours ago

JeffBarlisESPN

Jeff Barlis


My top 5 rainouts in recent UF history. RT @ESPNFlorida: #Gators used to being swamped by rain http://t.co/DaOnlaSg5v
about 10 hours ago

APMarkLong

Mark Long


Best. Tweet. Ever. at least for those of us who get it RT @JohnOehser: #yikes
about 10 hours ago

ESPNFlorida

ESPN Florida


Gators used to being swamped by rain http://t.co/EUwaArxzhB
about 11 hours ago

onlygators

OnlyGators.com


Breaking down the options being considered by Florida & Idaho + why the game was not played Sunday: http://t.co/XoL0HLrHDE
about 11 hours ago

IDS_Southorn

Dave Southorn


Petrino said both have open dates Oct. 25, but that's week before Florida plays Georgia and he said his players need bye week.
about 11 hours ago

IDS_Southorn

Dave Southorn


In Sun Belt teleconference earlier today, Idaho's Paul Petrino said Florida game could be rescheduled for December.
about 11 hours ago

onlygators

OnlyGators.com


RT @IDS_Southorn: In Sun Belt teleconference earlier today, Idaho's Paul Petrino said Florida game could be rescheduled for December.
about 11 hours ago

APMarkLong

Mark Long


welp RT @IDS_Southorn: In Sun Belt teleconference earlier today, Idaho's Paul Petrino said Florida game could be rescheduled for December
about 12 hours ago

GatorVisionTV

GatorVision


VIDEO: @GatorZoneFB WR Valdez Showers was very appreciative of the @UF students & fans on Saturday.Hear more from #10 http://t.co/si5edMR7qD
about 12 hours ago

Percy_Harvin

Percy Harvin


Check out my new site for the latest photos, stats and info on the No Mercy Percy Foundation: http://t.co/YPRICyfHBy #nomercypercy
about 12 hours ago

Mullen_2era

Trayvon Mullen II


Florida Gators Offer Blessed 🐊🐊🐊🐊🐊🐊
about 12 hours ago

iman_marshall8

Biggie


I would like to announce that I'll be attending the 2015 UnderArmour All-American Game #IWILL http://t.co/N9rs1SERbh
about 13 hours ago

onlygators

OnlyGators.com


Muschamp explains starting Jones over Taylor, says Kyle Christy will be #Gators starting punter http://t.co/XNIRLUSkGS
about 13 hours ago

onlygators

OnlyGators.com


Foley, Muschamp comment on future of Idaho game, Saturday's weather, kickoff return, great #Gators fans - http://t.co/XNIRLUSkGS
about 13 hours ago

onlygators

OnlyGators.com


Three suspended Florida #Gators have been reinstated for Eastern Michigan game - http://t.co/XNIRLUSkGS
about 13 hours ago

GatorVisionTV

GatorVision


VIDEO: @GatorZoneFB @CoachWMuschamp looks ahead to Eastern Michigan this weekend & more http://t.co/MMkJvaB7hs
about 13 hours ago

GatorVisionTV

GatorVision


VIDEO: Hear what @GatorZoneNews Athletics Director Jeremy Foley had to say about the @GatorZoneFB game suspension http://t.co/tPFOi8FtCs
about 13 hours ago

GatorZoneScott

Scott Carter


VIDEO: #Gators head coach Will Muschamp's Monday press conference: http://t.co/ma7Iw66XMR
about 13 hours ago

UFGrowlHC

UF Gator Growl & HC


Happy Labor Day Gators! While you're taking a break, check out this video featuring our talent! #UFLimitless2014 http://t.co/7Z6Qjl5fDs
about 13 hours ago

JeffBarlisESPN

Jeff Barlis


Two days later, the Swamp is dry. http://t.co/IQQsCt2p9B
about 14 hours ago

GatorZoneScott

Scott Carter


Showers said if field had been in better condition, he would have cut back on kickoff return. Figured he would slip. #onlyplaytodiscuss
about 14 hours ago

onlygators

OnlyGators.com


"The wait was definitely killing us. We were very eager to get out there." - Showers. "[The fans] were the highlight of the night."
about 14 hours ago

GatorZoneScott

Scott Carter


"To me that was really the highlight of the night." — Showers on seeing so many fans there when game did kick off.
about 14 hours ago

GatorZoneScott

Scott Carter


"The wait was definitely killing us … we were eager to get out there.'' — Showers on mood inside locker room during delays
about 14 hours ago

onlygators

OnlyGators.com


Showers on the field: "It was pretty slippery, but I'm from up north, so I've played in all types of weather, a lot of snow."
about 14 hours ago

onlygators

OnlyGators.com


"I tell Coleman [Hutzler] all the time, 'I wouldn't kick to him.'" - Muschamp on Debose being back at KR for #Gators
about 14 hours ago

GatorZoneScott

Scott Carter


Muschamp says Kyle Christy will be starting punter. "We feel like Kyle was a little more consistent."
about 14 hours ago

APMarkLong

Mark Long


No doubt RT @osgators: Muschamp in extremely good humor, cracking jokes, going back & forth w/ media, calmest on a game week in 2 seasons
about 14 hours ago

onlygators

OnlyGators.com


Muschamp said Kyle Christy will be the #Gators starting punter and would have been on Saturday.
about 14 hours ago

onlygators

OnlyGators.com


"You'd like to be getting live bullets, there's no question that's important." - Muschamp on Roper's O getting a week less to work out kinks
about 14 hours ago

GatorZoneScott

Scott Carter


"Those guys are both going to play.'' — Muschamp on RBs Matt Jones and Kelvin Taylor. Jones was going to get carry if 1st play happened Sat.
about 14 hours ago

onlygators

OnlyGators.com


"Those guys are both going to play." - Muschamp saying there's nothing to Jones being out there as starting RB over Taylor #Gators
about 14 hours ago

APMarkLong

Mark Long


For anyone wondering, Gators were going to run a power play to Matt Jones after getting the ball on the 14-yard line
about 14 hours ago

GatorZoneChris

Chris Harry


Muschamp on UF students: "It was awesome. Looked like they were having fun, and we have to put a good product on field for them." #Gators
about 14 hours ago

GatorZoneScott

Scott Carter


"They looked like they were having fun. We need to go out and put a good product on the field for them.'' — Muschamp on fans Saturday,
about 14 hours ago

onlygators

OnlyGators.com


"They had a book that thick - | | - that they were reading through. I was just watching the radar." - Muschamp
about 14 hours ago

GatorZoneScott

Scott Carter


Muschamp says another lightning strike was recorded at 12:30 a.m. that would have delayed game. "What else were we going to do?"
about 14 hours ago

GatorZoneScott

Scott Carter


"It just wasn't a safe environment for our players." — Muschamp on conditions
about 14 hours ago

onlygators

OnlyGators.com


"The fans have always been great. We got to give them something to be great about." - Muschamp on #Gators
about 14 hours ago

GatorZoneChris

Chris Harry


Muschamp on new dress code for Gator Walk: 'We always say it's a business trip.' Dressed 'em up. Will stick with that. #Gators
about 14 hours ago

GatorZoneScott

Scott Carter


"I wouldn't classify this as adversity." — Muschamp on not playing Saturday. More challenges ahead in season.
about 14 hours ago

onlygators

OnlyGators.com


"It was electric. The guys were jacked." - Muschamp on #Gators locker room waiting to play on Saturday
about 14 hours ago

DaveJonesUFbeat

David Jones


Muschamp said in '03 while at LSU had about hour and half delay but finished game. Nothing remotely like this. #Gators
about 14 hours ago

GatorZoneScott

Scott Carter


"We're still in Game 1. We've been through pregame and all that other jazz. We're ready to go." — Muschamp
about 14 hours ago

JeffBarlisESPN

Jeff Barlis


Muschamp says safety/nickel Marcus Maye (hamstring) returned to practice this morning.
about 14 hours ago

onlygators

OnlyGators.com


Muschamp said Demarcus Robinson's sanction was different than what kept him out the final two games of 2013. All resolved now. #Gators
about 14 hours ago

onlygators

OnlyGators.com


Muschamp said Cummings & Bostwick will be playing Saturday vs. E. Michigan. Robinson's sanction has been resolved as well. #Gators
about 14 hours ago

APMarkLong

Mark Long


Gators coach Will Muschamp says WR Robinson and DTs Cummings, Bostwick are back from suspensions
about 14 hours ago

JeffBarlisESPN

Jeff Barlis


Muschamp says all three suspended players will return on Saturday.
about 14 hours ago

GatorZoneScott

Scott Carter


Muschamp says Bostwick, Robinson and Cummings will be back Saturday.
about 14 hours ago

onlygators

OnlyGators.com


Muschamp said 1,100 strikes of lightning between 5-11 p.m., 2.5 inches of rain. Last strike near stadium was 12:38 a.m.
about 14 hours ago

GatorZoneScott

Scott Carter


"I've never been a part of anything like it. It is what it is."
about 14 hours ago

GatorZoneScott

Scott Carter


Muschamp says between 5-11 p.m. Saturday, there were 1,100 recorded lightning strikes within 6-8 mile radius of Swamp.
about 14 hours ago

onlygators

OnlyGators.com


"We're extremely disappointed we didn't get to play as a team. As a fan base, there's no Q, we're all frustrated with that." - Muschamp
about 14 hours ago

APMarkLong

Mark Long


Foley says Gators don't pay guarantees until February 2015
about 14 hours ago

GatorZoneScott

Scott Carter


Muschamp thanks the fans again for their support on Saturday.
about 14 hours ago

JeffBarlisESPN

Jeff Barlis


Muschamp: #Gators watched all of their plays from Saturday night. "Took a long time." They even gave out a hard hat award on the KO return.
about 14 hours ago

onlygators

OnlyGators.com


Muschamp said #Gators practiced Monday since team had not done anything physical since Thursday.
about 14 hours ago

APMarkLong

Mark Long


Gators coach Will Muschamp jokes that they watched every play from Idaho game: "It took a long time."
about 14 hours ago

onlygators

OnlyGators.com


Foley said guarantees paid to opponents are due in February the next year. So Idaho has not been paid yet by Florida.
about 14 hours ago

GatorZoneScott

Scott Carter


Muschamp is here…says #Gators practiced this morning
about 14 hours ago

onlygators

OnlyGators.com


"We're dealing with something that's never happened before. There were a lot of people involved in conversation." - Foley on Sat. confusion
about 14 hours ago

onlygators

OnlyGators.com


"I get a lot of input from a lot of different people, and I make decisions." - Foley on Florida-Idaho sitaution
about 14 hours ago

DerekTysonESPN

Derek Tyson


#ESPN300 WR Christian Kirk tells me he is finalizing visit plans for #USC when the #Trojans take on Notre Dame Nov. 29. @EMcKinneyESPN
about 14 hours ago

JeffBarlisESPN

Jeff Barlis


#Gators AD Jeremy Foley: "We'll know something here on Wednesday or Thursday." Still working out the details.
about 14 hours ago

GatorZoneScott

Scott Carter


"We are working through those things as we speak.'' — Foley
about 14 hours ago

GatorZoneScott

Scott Carter


"We don't have those answers yet." — #Gators AD Jeremy Foley to reporters concerning status of Idaho game. "A lot of different moving parts"
about 14 hours ago

APMarkLong

Mark Long


Gators AD Jeremy Foley adressing the media right now about Idaho game
about 14 hours ago

onlygators

OnlyGators.com


#Gators golfer Billy Horschel one shot back at Deutsche Bank | Florida tennis players at U.S. Open - http://t.co/dPsxEUqkD1
about 14 hours ago

onlygators

OnlyGators.com


#Gators LB Brandon Spikes named #Bills team captain | QB Rex Grossman may be on way back to #Browns - http://t.co/dPsxEUqkD1
about 14 hours ago

GatorVisionTV

GatorVision


There are 2 ways you can see @CoachWMuschamp's presser at 12:30.YouTube: https://t.co/zJVCJLxk2ASEC Network+ : http://t.co/tlLg2tokx6
about 14 hours ago

JeffBarlisESPN

Jeff Barlis


You forgot Florida. RT @BarrettSallee: Four teams allowed less than 100 yards this week: Pitt, Baylor, Texas and ULM.
about 15 hours ago
SEC SCOREBOARD
Thursday, 8/28
Saturday, 8/30
Sunday, 8/31
BLOG ARCHIVE:
CATEGORIES: