Tre' Bell interview
May, 13, 2012
5/13/12
11:17
PM ET
By
GatorNation staff
| ESPN.com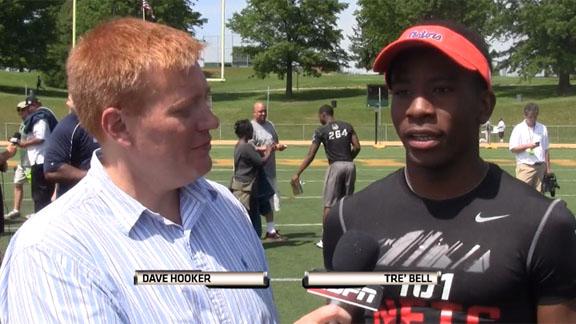 RecruitingNation's Dave Hooker talks with Florida defensive back commitment Tre' Bell (Jersey City, N.J./St. Peter's Prep) about why he picked the Gators, getting an invitation to The Opening at last weekend's Baltimore Nike Football Training Camp and what he says to the teams that are still recruiting him.
Raekwon McMillan discusses recruitment
Before his Dec. 16 announcement, Raekwon McMillan discusses his recruitment and his high school football season.
Raekwon McMillan discusses recruitment
VIDEO PLAYLIST
Raekwon McMillan discusses recruitment

Raekwon McMillan discusses recruitment

Before his Dec. 16 announcement, Raekwon McMillan discusses his recruitment and his high school football season.

Weekend Recruiting Wrap: SEC - Dec. 2

Weekend Recruiting Wrap: SEC - Dec. 2

Derek Tyson discusses the latest SEC recruiting news, including a junior college addition at Texas A&M, recruit reaction of Auburn's miraculous win and what Florida's quarterback commit thinks of the Gators firing their offensive coordinator.

Tags: Avery Gennesy

,

Rashaan Evans

,

Derrell Scott

,

Kerryon Johnson

,

Texas A&M Aggies

,

Auburn Tigers

,

Florida Gators

,

RecruitingNation

,

ESPN 300

,

ESPN Juco 100

,

high school football recruiting

Florida Fires OC Brent Pease

Florida Fires OC Brent Pease
GATORNATION RECRUITING NEWS
FLORIDA FB RECRUITING SCORECARD
GatorsNow

Florida Gators Now


2013 Florida Volleyball Campaign Comes to a Close in NCAA Tournament Second Round: The University of Florida v... http://t.co/8icN4nvMoL
about 5 hours ago

GatorZoneScott

Scott Carter


Blog: Chloe Mann's #Gators career worth a final salute: http://t.co/OjMNYaa9ab
about 6 hours ago

onlygators

OnlyGators.com


Former #Gators player RT @AP_Top25: High Point F Allan Chaney ends #hoops career, 2 wks after collapsing during game http://t.co/OhbpvJ54Ci
about 6 hours ago

Gator_sports

Gatorsports.com


Seminoles end Gators' season in five sets http://t.co/TG03KRoWHm
about 7 hours ago

DerekTysonESPN

Derek Tyson


RT "@adamgorney: #Florida assistant Travaris Robinson is at the Serra game tonight. Adoree and Dwight to be seen."
about 7 hours ago

DerekTysonESPN

Derek Tyson


Dont want to show favoritism but.....heck yeah!!!! RT "@FlaHSFootball: FINAL 3/OT: Armwood 35, Bartram Trail 28. Armwood will play Central"
about 7 hours ago

GatorZoneScott

Scott Carter


This was it: soccer, football, volleyball, cross country...RT @TejasGator: @GatorZoneScott can't wait until Fall 2013 Gator sports are over.
about 8 hours ago

onlygators

OnlyGators.com


Rough night for UF RT @jelanijenkins3: No Jelani no you didn't drive all the way to chipotle and back and forget the salad dressing..
about 8 hours ago

onlygators

OnlyGators.com


Florida #Gators volleyball fails to advance to Sweet 16 with 3-2 loss to Florida State. Semester of disappointment continues.
about 8 hours ago

GatorZoneScott

Scott Carter


Yes, only 15 points need in 5th RT @Jaxrednek: @GatorZoneNews @GatorZoneScott how come only 15 points??? is the 5th set different???
about 8 hours ago

GatorZoneScott

Scott Carter


First time #Gators have not advanced to Sweet 16 since 2004. Florida ends season 28-4. Best to seniors Chloe Mann and Taylor Brauneis.
about 9 hours ago

GatorZoneNews

Florida Gators


#inallkindsofweather RT @te_turner: @GatorZoneNews Good effort congrats Seniors. Go Gators!
about 9 hours ago

GatorZoneNews

Florida Gators


Tough ending ... Still a heck of a year RT @GatorZoneScott: #Gators season ends with 3-2 loss to #Noles. FSU takes fifth set 15-9.
about 9 hours ago

GatorZoneScott

Scott Carter


#Gators season ends with 3-2 loss to #Noles. FSU takes fifth set 15-9.
about 9 hours ago

GatorZoneNews

Florida Gators


RT @GatorZoneVB: Florida State has match point, up 14-8.
about 9 hours ago

GatorZoneScott

Scott Carter


#Gators trail 14-8, match point for #FSU.
about 9 hours ago

GatorZoneScott

Scott Carter


#Gators score, trail 11-8
about 9 hours ago

onlygators

OnlyGators.com


MT @Frank_Frangie: On UF OC search: UNC OC Blake Anderson now contacted. To gauge interest. Will listen, but will want to bring Kapilovic.
about 9 hours ago

GatorZoneNews

Florida Gators


RT @GatorZoneScott: #Gators call timeout…Coach Mary Wise really trying to urge her team as it left floor. #Noles lead 11-7.
about 9 hours ago

GatorZoneScott

Scott Carter


#Gators call timeout…Coach Mary Wise really trying to urge her team as it left floor. #Noles lead 11-7.
about 9 hours ago

GatorZoneScott

Scott Carter


#Gators trail 10-7, FSU serving
about 9 hours ago

GatorZoneScott

Scott Carter


#Noles lead 8-6, teams change sides in fifth set. Crunch time...
about 9 hours ago

GatorZoneScott

Scott Carter


#Gators serving, trail 7-6
about 9 hours ago

GatorZoneScott

Scott Carter


#Noles score three consecutive points to take 6-4 lead. #Gators call timeout.
about 9 hours ago

GatorZoneScott

Scott Carter


#Gators lead 4-3 early in fifth set.
about 9 hours ago

onlygators

OnlyGators.com


Florida-FSU going into a fifth and final set in volleyball. #Gators fighting for a Sweet 16 berth.
about 9 hours ago

GatorZoneNews

Florida Gators


Appropriately, @GatorZoneScott looked at that match in his set up for tonight http://t.co/mOIzE4dYOo
about 9 hours ago

GatorZoneNews

Florida Gators


Drama at the ODome as @GatorZoneVB and FSU headed to fifth set just like in 2010 tourney. #Gators won 17-15 in the fifth in that one.
about 9 hours ago

GatorZoneScott

Scott Carter


These two played a five-setter last time they met in NCAA Tourney in 2010. #Gators prevailed in that one.
about 9 hours ago

GatorZoneNews

Florida Gators


Going to 5 RT @GatorZoneVB: We're going to a fifth and final set here in Gainesville. #Gators and #Seminoles tied at 2-2.
about 9 hours ago

GatorZoneScott

Scott Carter


#FSU ties match 2-2 with 25-22 win in fourth set. #Gators must win fifth set to advance to Sweet 16.
about 9 hours ago

GatorZoneScott

Scott Carter


#Noles quickly answer, have set point (24-20).
about 9 hours ago

GatorZoneScott

Scott Carter


#Gators have reeled off three points in row, #Noles call timeout, still with 21-20 lead fourth set.
about 9 hours ago

GatorZoneScott

Scott Carter


Back and forth here, #Gators take another timeout trailing #Noles 21-17 in fourth set.
about 9 hours ago

GatorZoneScott

Scott Carter


#Gators call timeout, trail 19-15 in fourth set. Lead match 2-1.
about 9 hours ago

GatorZoneScott

Scott Carter


#Gators have trimmed #FSU's lead to 16-12 after #Noles went up by 6. FSU calls timeout. UF needs a little run here if going to avoid 5th set
about 9 hours ago

GatorZoneScott

Scott Carter


#FSU has maintained edge throughout third set so far, leads #Gators 14-10.
about 9 hours ago

GatorZoneScott

Scott Carter


Winner here advances to Sweet 16 and trip to Champaign, Ill. UNC vs. Cal, Milwaukee vs. Wisconsin are teams in opposite bracket.
about 9 hours ago

onlygators

OnlyGators.com


Five-seed Florida #Gators volleyball wins third set, now leads FSU 2-1. One set from advancing to Sweet 16.
about 9 hours ago

GatorZoneNews

Florida Gators


One more #GoGators RT @GatorZoneVB: #Gators take the third set 25-22 and now leads the match 2-1!
about 9 hours ago

GatorZoneScott

Scott Carter


#Gators take 2-1 lead over #Noles, win second set 25-22.
about 9 hours ago

GatorZoneScott

Scott Carter


FSU reeled off four consecutive points to tie second set, then #Gators answer with two in row, lead 22-20.
about 9 hours ago

GatorZoneScott

Scott Carter


Big block by #Gators freshman Alex Holston puts UF up 20-16 in second set, prompts a #Noles timeout.
about 9 hours ago

GatorZoneNews

Florida Gators


RT @GatorVisionTV: Are you watching @GatorZoneVB vs FSU right now in the NCAA 2nd Round? Tight match so far! Free to view here: http://t.co…
about 10 hours ago

GatorZoneScott

Scott Carter


#Gators up 11-8 in second set, FSU serving.
about 10 hours ago

GatorZoneNews

Florida Gators


Match even a set apiece #NCAAVB RT @GatorZoneVB: #Gators leading 5-2 now in the third set.
about 10 hours ago

onlygators

OnlyGators.com


Five-seed Florida #Gators volleyball knots up its match with FSU 1-1. Winner advances to Sweet 16.
about 10 hours ago

GatorZoneNews

Florida Gators


RT @GatorZoneVB: #Gators cap off the second set with an ACE! UF and FSU are tied at 1-1 heading into the third set!
about 10 hours ago

GatorZoneScott

Scott Carter


#Gators even match 1-1 with 25-20 win here in second set.
about 10 hours ago

GatorZoneScott

Scott Carter


#Gators take another timeout as #Noles cut lead to 23-20 in second set.
about 10 hours ago

GatorZoneNews

Florida Gators


RT @GatorZoneVB: Thanks Pat Young and Will Yeguete of @GatorZoneMBK for sitting front row tonight! UF up 19-12, set 2. TO-FSU http://t.co/m…
about 10 hours ago

GatorZoneScott

Scott Carter


Script has flipped here in second set. #Noles call their second timeout. #Gators up 19-12, trying to even match 1-1.
about 10 hours ago

onlygators

OnlyGators.com


Five-seed Florida #Gators volleyball drops first set to FSU 25-15 and now trails 1-0.
about 10 hours ago

GatorZoneScott

Scott Carter


#Gators up 15-9, #Noles call timeout. Simone Antwi with team-high 5 kills so far.
about 10 hours ago

GatorZoneScott

Scott Carter


RT @GatorZoneMBK: Patric Young & Will Yeguete supporting @GatorZoneVB front & center in the student section! #ItsGreatUF http://t.co/QVZpwX…
about 10 hours ago

GatorZoneScott

Scott Carter


#Gators lead 12-7 in second set, playing much more inspired than first set.
about 10 hours ago

GatorZoneNews

Florida Gators


RT @GatorZoneVB: #Gators have woken up the @OConnellCTR with some emphatic kills! Leading 11-6 in the second set.
about 10 hours ago

GatorZoneScott

Scott Carter


#Gators hoopster Patric Young out here leading cheers in student section.
about 10 hours ago

GatorZoneScott

Scott Carter


#Gators off to 6-4 lead in second set. First 2-point lead of match for UF.
about 10 hours ago

GatorZoneNews

Florida Gators


RT @GatorZoneVB: Florida State takes the first set 25-15.
about 10 hours ago

GatorZoneScott

Scott Carter


FSU wins first set, 25-15. #Gators hitting efficiency was .036 in first set. That's not good.
about 10 hours ago

GatorZoneNews

Florida Gators


RT @Dby_3: @GatorZoneNews .. Thanks for the link.. Following late night #GoGators from the UK http://t.co/zgPZwsayJi
about 10 hours ago

GatorZoneNews

Florida Gators


RT @GatorZoneVB: #Gators clawing back... Down 20-12, first set.
about 11 hours ago

GatorZoneScott

Scott Carter


FSU leads #Gators 20-11 in first set.
about 11 hours ago

GatorZoneScott

Scott Carter


#Gators take another timeout, trail FSU 14-7 here in first set. UF already with 5 hitting errors.
about 11 hours ago

GatorZoneScott

Scott Carter


#Noles lead 8-4 in first set; #Gators coach Mary Wise calls timeout.
about 11 hours ago

GatorZoneScott

Scott Carter


FSU leads early 4-3. #Gators have OH Gabby Mallette back in lineup. She was out last night for precautionary health reasons.
about 11 hours ago

GatorZoneNews

Florida Gators


For those looking for live stream of @GatorZoneVB vs FSU here you go (free) ... http://t.co/uCoBplI4n5
about 11 hours ago

GatorZoneNews

Florida Gators


About time to do this, #GoGators RT @GatorZoneVB: Your #Gator starters on the court! http://t.co/dapQ9ikQ2J
about 11 hours ago

GatorZoneNews

Florida Gators


#GoGators RT @GatorZoneScott: Back at O'Dome tonight for #Gators-#Noles match. A Sweet 16 berth is on line. http://t.co/v0x7UQFaTd
about 11 hours ago

GatorZoneScott

Scott Carter


Back at O'Dome tonight for #Gators-#Noles match. A Sweet 16 berth is on line. http://t.co/SlsF7FDl42
about 11 hours ago

Gator_sports

Gatorsports.com


Recruiting Mailbag 12/6 http://t.co/OphHPuN1ja
about 11 hours ago

ScoutFlorida

Scout Gators


FG Recruiting: The Big Board http://t.co/R1qHoycIqd #gators
about 12 hours ago

GatorZoneNews

Florida Gators


#GoGators RT @GatorZoneVB: Can't make #Gators vs. #Noles tonight? VIDEO: ... http://t.co/xJIOZXPSFG
about 13 hours ago

GatorZoneNews

Florida Gators


Had had a few folks ask for video link for @GatorZoneVB vs FSU in #NCAAVB tonight... Believe this is it: ... http://t.co/KPpprzuiCS
about 14 hours ago

ESPNdirocco

Michael DiRocco


Sanders bests Jones-Drew with TD pass: JACKSONVILLE, Fla. -- Jacksonville Jaguars running back Mauric... http://t.co/dXjOmadv4I #Jaguars
about 14 hours ago

ESPNdirocco

Michael DiRocco


Michael Bennett story reminds me of when @DavidNelson86 told us about being on a cruise and being mistaken for @CLQB12. Signed autographs.
about 14 hours ago

GatorZoneNews

Florida Gators


Very busy RT @GatorZoneVB: PARKING REMINDER: Busy, busy day at the O'Dome - parking info for all #NCAAVB fans here: http://t.co/HwESjykm0T
about 14 hours ago

ESPNdirocco

Michael DiRocco


Michael Bennett story reminds me of when @David Nelson86 told us about being on a cruise and being mistaken for @CLQB12. Signed autographs.
about 14 hours ago

DerekTysonESPN

Derek Tyson


Probably to check out Trinity in state championship game tomorrow RT @JSherit17 Orlando bound w/ @_VH3 @NickWashingtonn and @AhmadFulwood5
about 14 hours ago

GatorZoneNews

Florida Gators


If you're in the Gainesville area tonight, hope to see you at the ODome for @GatorZoneVB vs FSU (7 pm) http://t.co/bpYfcfOVzd
about 15 hours ago

GatorZoneNews

Florida Gators


RT @GatorZoneTix: ONLY 4 DAYS LEFT until the Gators take on Kansas on 12/10. Get your MBB tickets as ... http://t.co/6i9seFNQPC
about 15 hours ago

ESPNdirocco

Michael DiRocco


#Jaguars chat begins now. Joine me for the next hour as we talk about last night's victory, the draft, and more. http://t.co/ith2TILlUt
about 15 hours ago

onlygators

OnlyGators.com


RT @flasportsbuzz: Steelers C Maurkice Pouncey invited Fins entire o-line (inc bro Mike) to dinner at home with Capital Grille delivering.
about 15 hours ago

GatorZoneNews

Florida Gators


Some pre-match reading @GatorZoneScott takes a look back at a memorable 2010 #NCAAVB tilt between #Gators and FSU http://t.co/mOIzE4dYOo
about 16 hours ago

GatorZoneNews

Florida Gators


#NCAAVB at the ODome at 7 pm, #Gators vs FSU for a spot in Sweet 16. Follows for tonight - @GatorZoneVB and @GatorZoneScott #GoGators
about 16 hours ago

GatorZoneNews

Florida Gators


RT @GatorZoneTix: Catch @GatorzoneVB take on FSU tonight in the 2nd round of @NCAAVolleyball! Match starts at 7 PM at @OConnellCTR http://t…
about 16 hours ago

ESPNdirocco

Michael DiRocco


Don't forget, our #Jaguars chat returns today from 3-4 pm EST. http://t.co/ith2TILlUt
about 16 hours ago

ESPNdirocco

Michael DiRocco


Defensive snaps: Marks rarely left the field: JACKSONVILLE, Fla. -- A look at snaps played by Jackson... http://t.co/Avsrv1O38u #Jaguars
about 16 hours ago

APMarkLong

Mark Long


Media @ryanohalloran I know one guy who wants more secrecy!
about 17 hours ago

DerekTysonESPN

Derek Tyson


RT "@JimmyDetail: #LSU 2015 commitment Xavier Lewis receives an off from the #Florida Gators"
about 17 hours ago

ESPNdirocco

Michael DiRocco


RT @BarryVigoda: Bob McNair said losing to Jacksonville twice was last straw. "We've got much better talent than Jacksonville." #Texans
about 17 hours ago

GatorZoneNews

Florida Gators


RT @GatorZoneGym: More intrasquad video highlights:Beam & Floor Part 1http://t.co/7PxnXOOmCfBeam & Floor Part 2http://t.co/b1MbiRd7LY…
about 17 hours ago

GatorZoneNews

Florida Gators


RT @GatorZoneGym: See video highlight from #Gators 12/5/13 intrasquad:Vault & Bars: http://t.co/xGUQIBXrxz#itsgreatuf
about 17 hours ago

ESPNdirocco

Michael DiRocco


Offensive snaps: Sanders more involved: JACKSONVILLE, Fla. -- Offensive snaps for Jacksonville Jaguar... http://t.co/uAFTmSLd8V #Jaguars
about 17 hours ago

onlygators

OnlyGators.com


#Gators volleyball wins NCAA game, to face FSU on Friday | Tebow offered by Italian team | 2 w/ UF ties pass away http://t.co/rtRhiga34Z
about 17 hours ago

onlygators

OnlyGators.com


Erik Murphy's brother Alex plans to transfer from Duke. To Florida? | Delta displaces flight passengers for #Gators- http://t.co/rtRhiga34Z
about 17 hours ago

ScoutFlorida

Scout Gators


Does Murphy fit? http://t.co/LdAY4BqyC3 #gators
about 17 hours ago

ScoutFlorida

Scout Gators


Louisiana HS Standouts Land Offer from Gators http://t.co/h0VweJEJYE #gators
about 17 hours ago

ScoutFlorida

Scout Gators


Championship weekend http://t.co/qvS57dQoe0 #gators
about 17 hours ago
BLOG ARCHIVE:
CATEGORIES: