Video: WR prospect Reggie Davis
March, 5, 2012
3/05/12
11:17
AM ET
Lincoln (Tallahassee, Fla.) receiver Reggie Davis put on a strong showing at the Orlando NFSC, running a 4.55 in the 40-yard dash. He lists his top four schools as Florida, Florida State, South Florida and Georgia.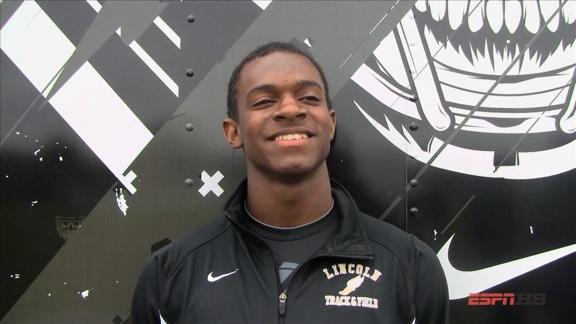 Scene and Heard: Top 10 Predictions
In a conversation with ESPN's Antonietta Collins, national recruiting reporter Gerry Hamilton breaks down the recruiting momentum building at Auburn and offers predictions for where the top 10 recruits will commit.
Tags:
Trenton Thompson
,
Kerryon Johnson
,
Jeffery Holland
,
Martez Ivey
,
Torrance Gibson
,
Cece Jefferson
,
ESPN 300
,
RecruitingNation
,
high school football recruiting
,
Gerry Hamilton
Scene and Heard: Top 10 Predictions
VIDEO PLAYLIST
Scene and Heard: Top 10 Predictions

Scene and Heard: Top 10 Predictions

In a conversation with ESPN's Antonietta Collins, national recruiting reporter Gerry Hamilton breaks down the recruiting momentum building at Auburn and offers predictions for where the top 10 recruits will commit.

Tags: Trenton Thompson

,

Kerryon Johnson

,

Jeffery Holland

,

Martez Ivey

,

Torrance Gibson

,

Cece Jefferson

,

ESPN 300

,

RecruitingNation

,

high school football recruiting

,

Gerry Hamilton

ESPN 300 Ranking Motivates Byron Cowart

ESPN 300 Ranking Motivates Byron Cowart

Scene and Heard: Sunshine State Targets

Scene and Heard: Sunshine State Targets

In a conversation with ESPN's Cary Chow, national recruiting reporter Gerry Hamilton breaks down the recruiting momentum built by Florida State and the most important prospects from Florida.

Tags: George Campbell

,

Da'Vante Phillips

,

Martez Ivey

,

Jeffery Holland

,

Chuma Edoga

,

Florida State Seminoles

,

Jimbo Fisher

,

Florida Gators

,

Tennessee Volunteers

,

ESPN Junior 300

,

RecruitingNation

,

high school football recruiting

,

Gerry Hamilton
GATORNATION RECRUITING NEWS
FLORIDA FB RECRUITING SCORECARD
Nike Men's Florida Gators Blue Coaches Performance Polo Shop »
GatorZoneNews

Florida Gators


Men's @GatorZoneTennis Blank LSU to Advance to the 2014 SEC Tournament Semifinals http://t.co/tQWdOOCEf4
3 minutes ago

GatorZoneNews

Florida Gators


No. 1/2 @GZTrackField Host Tom Jones Memorial Invitational Today At Home http://t.co/Kzih6WTGMj
18 minutes ago

GatorZoneNews

Florida Gators


Gator Softball Drops Texas A&M, 5-1, to Win Seventh Straight Game http://t.co/RYtCZv6NnT
33 minutes ago

GatorZoneNews

Florida Gators


Florida-Georgia @GatorZoneBB Series Opener Rained Out; Doubleheader On Saturday http://t.co/YkAg5wsI0A
48 minutes ago

GatorZoneNews

Florida Gators


Darkness Suspends Round One of 2014 SEC Championship; Women's @GatorZoneGolf Sit in Ninth http://t.co/mblJTcwY28
about an hour ago

Gator_sports

Gatorsports.com


Brewer reflects on breakout game, laments playoff absence http://t.co/LXc4aoLDSo
about 3 hours ago

GatorsNow

Florida Gators Now


Women's Tennis Knocked Out of SEC Tournament in Quarterfinal Round: Florida lost a hard-fought 4-3 decision to... http://t.co/9PjHlaN1To
about 6 hours ago

JeffBarlisESPN

Jeff Barlis


RT @Gator_sports: Sheriff Sadie Darnell questions handling of drug case involving Purifoy http://t.co/xVzgYesYbH #Gainesville #Gators
about 7 hours ago

JeffBarlisESPN

Jeff Barlis


RT @Gator_sports: Loucheiz Purifoy was allegedly caught in March with marijuana and synthetic drugs.
about 7 hours ago

GatorsNow

Florida Gators Now


Sloan Falls and Gets Back Up, Helps Gators Advance to Super Six: BIRMINGHAM, Ala. -- In her two seasons on the... http://t.co/xzinaOq4Js
about 8 hours ago

Gator_sports

Gatorsports.com


PHOTOS: UF at the NCAAs http://t.co/Q6ezGmdHGD
about 8 hours ago

GatorsNow

Florida Gators Now


Gator gymnasts head to Saturday's NCAA Super Six after sharing semifinal win: The Florida gymnastics team adva... http://t.co/nPn0cJFmOz
about 8 hours ago

GatorZoneNews

Florida Gators


RT @GatorZoneGym: #NCAAWGym semi II final rotation results. You are reading that correctly - #Gators & Alabama tie. UF wins tie-breaker htt…
about 10 hours ago

GatorZoneScott

Scott Carter


Winning tiebreaker for #Gators means they will go vault, bars, beam, floor on Saturday. They call that Olympic rotation, which teams prefer.
about 10 hours ago

GatorZoneScott

Scott Carter


#Gators final score and floor scores... http://t.co/oQTLuQ0sND
about 10 hours ago

GatorZoneScott

Scott Carter


Florida, Alabama and Nebraska advance to Super Six, where they join LSU, Georgia and Oklahoma to determine national champ Saturday.
about 10 hours ago

GatorZoneScott

Scott Carter


I"m told #Gators win tiebreaker. 236.35 to 236.10 final score when adding all six scores in all 4 events. UF will have same rotation Sat.
about 10 hours ago

GatorZoneScott

Scott Carter


Not sure what tiebreaker is here yet…I suggested arm wrestling, didn't go over well.
about 10 hours ago

GatorZoneScott

Scott Carter


This one is going to be between #Gators and Bama at top…both 197.650 after all events…waiting for official scores
about 10 hours ago

GatorZoneScott

Scott Carter


Twice as many were here at a Saban car wash today...RT @JJohnstonTBO: 26,079 at Tropicana Field tonight for #TBRays and Yankees.
about 10 hours ago

GatorZoneScott

Scott Carter


Alabama's Diandra Miller, defending vault champion, just fell on her landing…tough night for defending national champs.
about 10 hours ago

GatorZoneScott

Scott Carter


#Gators opened floor with a career-best 9.90 from Claire Boyce... http://t.co/Laag5MkUwD
about 10 hours ago

GatorZoneNews

Florida Gators


RT @GatorZoneSBall: Check out the final scoreboard totals from tonight's win: http://t.co/dbQYfxIFsw
about 10 hours ago

GatorZoneNews

Florida Gators


RT @GatorZoneSBall: 6-4-3 DP to end the game! #Gators win 5-1. Game 2 of the series is set for 6 p.m. ET tomorrow on @ESPNU.
about 10 hours ago

GatorZoneNews

Florida Gators


RT @GatorZoneTennis: And the #Gators advance to the semis with birthday boy @diegohidalgoc clinching the match on court 4! #ItsGreatUF #SEC…
about 10 hours ago

GatorZoneScott

Scott Carter


Scores of four teams in final rotation: Bama (148.300), #Gators (148.225), UCLA (147.750), Penn State (146.750).
about 10 hours ago

GatorZoneScott

Scott Carter


Nebraska (197.100) and Utah (197.025) have finished. #Gators (148.225) trail Alabama (148.300) entering final rotation w/Penn State, UCLA.
about 11 hours ago

GatorZoneScott

Scott Carter


#Gators have bye this rotation, will finish on floor. So far their scores are 49.375 (vault), 49.550 (bars) and 49.300 (beam).
about 11 hours ago

GatorZoneNews

Florida Gators


RT @GatorZoneTennis: Women's singles lineup vs TAMU #Secwt14. Gators trail 1-0 http://t.co/l129H8QgD2
about 11 hours ago

GatorZoneScott

Scott Carter


Pitbull and Ke$ha's "Timber" is very popular with gymnasts…At least I know White Stripes' "Seven Nation Army" is on way.
about 11 hours ago

GatorsNow

Florida Gators Now


Darkness Suspends Round One of 2014 SEC Championship; Gators Sit in Ninth: http://t.co/Swvbo9KfOa
about 11 hours ago

GatorZoneScott

Scott Carter


Semifinals (today) determine who qualifies for individual round Sunday…RT @slynhiggins: @GatorZoneScott Do their scores carry over?
about 11 hours ago

GatorZoneScott

Scott Carter


Sloan's fall cost her some potential personal accolades, but Caquatto (9.900) and Hunter (9.850) finished well for a 49.300 team score.
about 11 hours ago

GatorZoneScott

Scott Carter


Caquatto followed Sloan with a strong beam performance…Kytra Hunter up next.
about 11 hours ago

GatorZoneScott

Scott Carter


Bridget Sloan's beam score a 9.200. M. Caquatto up now.
about 11 hours ago

GatorZoneNews

Florida Gators


Yes! @GatorZoneGym RT @GatorZoneScott: That 49.550 score for #Gators on bars is fourth-best in NCAA Championship semifinal history.
about 11 hours ago

GatorZoneScott

Scott Carter


The @GatorZoneGym team has all the cool toys--a selfie photo stick...I never knew. http://t.co/lnZw1XfQqD
about 11 hours ago

GatorZoneScott

Scott Carter


That 49.550 score for #Gators on bars is fourth-best in NCAA Championship semifinal history.
about 11 hours ago

GatorZoneNews

Florida Gators


RT @GatorZoneGolf: Darkness Suspends Round One of 2014 #SEC Championship; #Gators Sit in Ninth http://t.co/5uWGhG6zqI
about 11 hours ago

GatorZoneScott

Scott Carter


The digits that prompted biggest UF cheers so far tonight... http://t.co/FqiyfVQFU8
about 12 hours ago

GatorZoneNews

Florida Gators


Go @GatorzoneGym! RT @GatorZoneScott: #Gators finish with a 49.550 score on bars — highest total in school history at NCAA Championships.
about 12 hours ago

GatorZoneScott

Scott Carter


#Gators were pumped after Sloan's big score on bars... http://t.co/TpGtFaeb4h
about 12 hours ago

GatorZoneScott

Scott Carter


#Gators finish with a 49.550 score on bars — highest total in school history at NCAA Championships.
about 12 hours ago

GatorZoneScott

Scott Carter


4 judges per apparatus (only sport I ever use that word)...RT @kzat82: @GatorZoneScott Are there two judges per apparatus?
about 12 hours ago

GatorZoneScott

Scott Carter


During regular season, two judges score and take average. At NCAAs, four judges score. High score and low score dropped, avg. of 2 in middle
about 12 hours ago

GatorZoneScott

Scott Carter


Bridget Sloan nailed her bars routine…one judge gave her a 10…official score: 9.950
about 12 hours ago

GatorZoneScott

Scott Carter


The #Gators have their own rooting section here in Bama... http://t.co/RkPvTBAyfb
about 12 hours ago

GatorZoneScott

Scott Carter


Penn State finished with a 49.175 on floor, so each team with an event in books, UF and Bama atop at 49.375. #Gators now on bars.
about 12 hours ago

GatorZoneScott

Scott Carter


Bama finished with a 49.375 on its opening rotation (bars), so tied with Florida top standings temporarily (Penn State still out on floor)
about 12 hours ago

GatorZoneScott

Scott Carter


Gotta admit, I kind of miss that video board at Jerry's World during Final Four...#Gators http://t.co/2lkRcAYlbm
about 12 hours ago

GatorZoneScott

Scott Carter


First rotation scores: #Gators 49.375 (vault), Nebraska 49.350 (floor), Utah 49.275 (bars), UCLA 49.075 (beam). Bama and Penn State byes
about 12 hours ago

GatorZoneNews

Florida Gators


Our own @GatorZoneScott is with @GatorZoneGym tonight. Follow him for updates and great behind-the-scenes info.
about 12 hours ago

GatorZoneNews

Florida Gators


RT @GatorZoneGym: Live scores: http://t.co/aUiNI30Drf Gators open on vault. Watch live video stream at: http://t.co/jrSzKqQ1d2
about 12 hours ago

GatorZoneScott

Scott Carter


Saw my first Danusia Francis (UCLA) beam performance in person. Understand now the fuss over her dismount. She has to be great at Twister.
about 12 hours ago

Gator_sports

Gatorsports.com


Report: Calathes suspended for banned substance http://t.co/l1ymD8c9kr
about 13 hours ago

GatorZoneScott

Scott Carter


#Gators have started on vault — Bridget Sloan's 9.925 was team's best score. Team score: 49.375
about 13 hours ago

GatorZoneScott

Scott Carter


For those interested in watching #Gators in NCAA Gymnastics Championships, a live stream here: http://t.co/Xo4HNKlf7i
about 13 hours ago

Gator_sports

Gatorsports.com


Another Horford at Florida? http://t.co/HMGWwlPuAk
about 13 hours ago

GatorZoneScott

Scott Carter


Scene here in Birmingham as #NCAA Gymnastics Championships about to begin (semifinal II)...#Gators open on vault http://t.co/x6yetfVu5i
about 13 hours ago

GatorZoneNews

Florida Gators


Good luck to @GatorzoneGym & @UFCoachRhonda! 5 minutes until #NCAA semis. Watch online: http://t.co/tqUZHUVu85
about 13 hours ago

DerekTysonESPN

Derek Tyson


RT @StrowKnows_55: Vanderbilt offer 🔱✔️
about 13 hours ago

GatorZoneScott

Scott Carter


Florida, Nebraska, Penn State, UCLA, Utah and Alabama in second session…top 3 teams advance to Super Six tomorrow for NCAA title.
about 13 hours ago

GatorZoneScott

Scott Carter


#Gators gymnastics team about 30 min. away from start of competition in NCAA Championships. Okla., Georgia, LSU advanced to Super 6 earlier
about 13 hours ago

GatorZoneNews

Florida Gators


RT @GatorZoneLAX: Pretty cool view of Lake Michigan and Chicago as we practice at Northwestern for tomorrow's game #FLax http://t.co/pT2EvU…
about 13 hours ago

GatorZoneNews

Florida Gators


Catch Gator Softball as travel to take on Texas A&M in their first of a 3-game series, tonight at 8p on @ESPNU. Go Gators!
about 14 hours ago

GatorZoneNews

Florida Gators


Our @GatorZoneGym won a national championship a year ago. Can they repeat? Watch online at 8p & cheer them on! http://t.co/tqUZHUVu85
about 14 hours ago

GatorZoneNews

Florida Gators


Men's @GatorZoneTennis will be starting their #SEC tournament bid in 5 min. Follow them online! http://t.co/Wsuk3tSSPv
about 14 hours ago

Gator_sports

Gatorsports.com


More on Purifoyhttp://t.co/bvA1FS7ZcC
about 14 hours ago

Gator_sports

Gatorsports.com


Loucheiz Purifoy was allegedly caught in March with marijuana and synthetic drugs.
about 14 hours ago

ScoutFlorida

Scout Gators


Unanswered questions: Defense http://t.co/HrCha9zhsl #gators
about 14 hours ago

Gator_sports

Gatorsports.com


Sheriff Sadie Darnell questions handling of drug case involving Purifoy http://t.co/xVzgYesYbH #Gainesville #Gators
about 15 hours ago

Gator_sports

Gatorsports.com


Purifoy arrest warrant quashed http://t.co/ds5GSv8uJ1
about 15 hours ago

GatorZoneNews

Florida Gators


Men's @GatorZoneTennis starts at 7p ET. They will be facing LSU in the #SEC Tournament Quarterfinals. #ItsGreatUF
about 15 hours ago

GatorZoneNews

Florida Gators


Go Women's @GatorZoneTennis! Their match against TAMU begins in 5 minutes. #GoGators http://t.co/X9FU9m50ea
about 15 hours ago

GatorZoneNews

Florida Gators


Men's @GatorZoneTennis will be starting their #SEC tournament bid in 5 minutes. Follow them online! http://t.co/Wsuk3tSSPv
about 15 hours ago

GatorZoneNews

Florida Gators


RT @GatorZoneChris: Nine #Gators in NBA playoffs tied for most of any college program. Congrats, Billy D and staff. Blog: http://t.co/dgHvp…
about 15 hours ago

onlygators

OnlyGators.com


Florida #Gators in the NBA. Wrap-up for 2013-14 season, look ahead to NBA Playoffs + VIDEOS http://t.co/YqDVEVI0vM
about 16 hours ago

GatorZoneNews

Florida Gators


Good luck to @GatorZoneTennis, competing in tonight's #SEC tournament. Women 6p, Men 7p. http://t.co/X9FU9m50ea http://t.co/Wsuk3tSSPv
about 16 hours ago

JeffBarlisESPN

Jeff Barlis


Can't remember the last time the SEC East was so wide open.
about 16 hours ago

JeffBarlisESPN

Jeff Barlis


Maty Mauk steps forward as #Mizzou's leader with words and actions in the wake of Dorial Green-Beckham's dismissal - http://t.co/Ipf3Ipeiju
about 16 hours ago

GatorZoneNews

Florida Gators


RT @GatorZoneTix: For Saturday's @GatorzoneBB double header each game will require a separate ticket. Friday's ticket gets you into the mak…
about 16 hours ago

GatorZoneScott

Scott Carter


#Gators gymnastics team opens #NCAA Championships here in Birmingham at 8 p.m. ET …here's scoop: http://t.co/EP1IRpoL0r
about 16 hours ago

GatorZoneScott

Scott Carter


RT @GatorZoneTix: Tonight's @GatorzoneBB game is rained out. Bring your ticket to tomorrow's makeup game at 3 PM
about 16 hours ago

GatorZoneScott

Scott Carter


Just checked into hotel as #Gators headed to arena…quite a scene in hotel lobby. Pretty much same as SEC media days.
about 16 hours ago

GatorZoneScott

Scott Carter


#Gators at same hotel used for #SEC Football Media Days...Only matter of time until branded hotel key for that event http://t.co/1cWWNNJkYK
about 16 hours ago

GatorZoneNews

Florida Gators


RT @GatorZoneBB: Florida-Georgia Baseball Series Opener Rained Out; Doubleheader On Saturday #Gators http://t.co/VZfKTrI3k8
about 16 hours ago

GatorZoneNews

Florida Gators


RT @GatorZoneBB: Tonight's series opener between the #Gators and Georgia has been rained out - the teams will play a doubleheader starting …
about 16 hours ago

Gator_sports

Gatorsports.com


Georgia-UF opener rained out http://t.co/RZ8oznqlP8
about 16 hours ago

JeffBarlisESPN

Jeff Barlis


RT @PaulBiancardi: #AskCoachB: Will Brandone Francis see early time with Florida #Gators? - ESPN http://t.co/4kwrBco8dw
about 17 hours ago

Gator_sports

Gatorsports.com


Tonight's baseball series opener between No. 9 UF and visiting Georgia is rained out. Games tomorrow at 3 and 7 p.m.
about 17 hours ago

JeffBarlisESPN

Jeff Barlis


Love it when readers comment on a story as if the subject of the story is reading the comments section. #Fans
about 17 hours ago

ESPNFlorida

ESPN Florida


Ball security in the SEC http://t.co/TDUyOFGYtJ
about 17 hours ago

JeffBarlisESPN

Jeff Barlis


No wonder #Gators fans love him so. RT @JQuittner: Joakim Noah trolls reporter wearing FSU hat in Bulls locker room http://t.co/FjVW2dbDua
about 17 hours ago

onlygators

OnlyGators.com


10 Florida #Gators news BITS on Easley, Halapio, Young, Demps, Grossman, Grier & more - http://t.co/NK4iFwKs1I
about 18 hours ago

onlygators

OnlyGators.com


The new face of Florida orange juice? @ErinAndrews. #Gators - http://t.co/NK4iFwKs1I
about 18 hours ago

ScoutFlorida

Scout Gators


Irvin talks timeline http://t.co/tk6s1M5290 #gators
about 18 hours ago

JeffBarlisESPN

Jeff Barlis


RT @SidelineFB: Weak core. out of stance w/ great explosion. Great feet in run game. 5th rnd zone OG RT @DarrellBratz @SidelineFB thoughts …
about 18 hours ago

GatorZoneNews

Florida Gators


RT @GatorZoneGolf: Play for the 2014 #SEC Championship will resume at 2:30pm ET and they will play as many holes as possible before dark. #…
about 19 hours ago

GatorZoneNews

Florida Gators


RT @SEC_Sean: Play at the #SEC Women's Golf Championship will resume at 1:30 pm CT today.
about 19 hours ago

onlygators

OnlyGators.com


A bunch of stuff on #Bulls and #Gators C Joakim Noah including a great video and GIFs - http://t.co/pIVODz5m13
about 19 hours ago
SEC SCOREBOARD
Thursday, 8/28
Saturday, 8/30
Sunday, 8/31
BLOG ARCHIVE:
CATEGORIES: