SEC football coaches' group photo day
February, 16, 2012
2/16/12
5:33
PM ET
By
GatorNation staff
| ESPN.com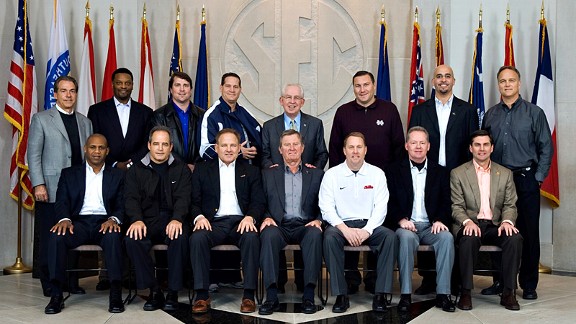 Southeastern Conference
All 14 Southeastern Conference football coaches gathered at conference headquarters Thursday and posed for this awesome photo with commissioner Mike Slive. Naturally,
this made Page 2 wonder what each coach was thinking
when the flash popped. Here's one example:
Will Muschamp, Florida:
"Leather casual for the win. You're looking good, Will. You're looking damn good."
Helping In Haiti
Rick Reilly tells how Jets wide receiver David Nelson's charitable work in Haiti after the devastating 2010 earthquake led to his caring for a number of orphans, who reside in a fully staffed home Nelson maintains on the island.
Helping In Haiti
VIDEO PLAYLIST
FLORIDA FB RECRUITING SCORECARD
JeffBarlisESPN

Jeff Barlis


Manti Te'o girlfriend jokes in 3 ... 2 ... 1 ... Zzzzzz
about 5 hours ago

onlygators

OnlyGators.com


All the stats & news from fmr Florida #Gators in the NFL - Week 3. Huge game for @jelanijenkins3- http://t.co/3dHlWjdl74
about 6 hours ago

ScoutFlorida

Scout Gators


#Gators Podcast: Gators & More w/ Hollywood Bob 9/22 - It wasn't a fun day to be a Gator Saturday, neverth... http://t.co/RUbs5wOSCR
about 6 hours ago

GatorsNow

Florida Gators Now


Max Garcia Named to 2014 SEC Community Service Team: Senior center Max Garcia was named to the 2014 Southeaste... http://t.co/TVmBRZPxE4
about 10 hours ago

GatorZoneFB

GatorZone Football


#Gators RT @RichCimini: Check out this feel-good piece on @DavidNelson86 by @ReillyRick. #nyj http://t.co/mr9vmp3qcV
about 10 hours ago

GatorZoneFB

GatorZone Football


Senior @MGarcia_76 named to the SEC Community Service Team. Well deserved.http://t.co/Ay413k7p4d
about 10 hours ago

onlygators

OnlyGators.com


As promised, my replies to 42 questions asked here during the Florida-Alabama game on Saturday - http://t.co/o6yh6Fq68q
about 12 hours ago

HamiltonESPN

Gerry Hamilton


#ESPN300 No. 7 CeCe Jefferson will officially visit #OleMiss Oct. 4 for the #Alabama game. #HottyToddy a legit contender. #SceneandHeard
about 12 hours ago

GatorsNow

Florida Gators Now


Elliott Orkin Sweeps Main Draw to Capture SEC Fall Classic Title: Elliott Orkin emerged from an All-Gator fina... http://t.co/eI4SWW8EKS
about 12 hours ago

GatorsNow

Florida Gators Now


Gators on Mission to Improve During Bye Week: http://t.co/bY78SQyvOw
about 13 hours ago

APMarkLong

Mark Long


Jaguars S Craig Loston cleared waivers and was re-signed to practice squad
about 13 hours ago

onlygators

OnlyGators.com


RT @bhofheimer_espn: .@ReillyRick has great story on WR @DavidNelson86's charitable work in Haiti tonite on @ESPNNFL Countdown -6p ET
about 13 hours ago

GatorZoneFB

GatorZone Football


From @GatorZoneScott -- #Gators on Mission to Improve During Bye Week http://t.co/c2IMUih5IA
about 13 hours ago

JeffBarlisESPN

Jeff Barlis


"Young lady ... " RT @SEC_Chuck: This Nick Saban - Regions Bank ad is pretty great: https://t.co/XVlqAXSKf6
about 13 hours ago

GatorZoneScott

Scott Carter


Former #Gators WR David Nelson to be featured on @ESPN's Monday NFL Countdown (6 p.m.) for charitable work in Haiti. http://t.co/2qwEadSiZp
about 14 hours ago

DerekTysonESPN

Derek Tyson


ICYMI: Best of the visits: SEC http://t.co/H4z8YwXFdw
about 14 hours ago

APMarkLong

Mark Long


Most interesting and not-at-all-surprising part: Jaguars game jumped from 16.1 to 18.6 share when rookie Blake Bortles took over in blowout
about 14 hours ago

APMarkLong

Mark Long


Florida-Alabama game (21 rating/37 share/142k homes) outdrew Jaguars home opener in Jacksonville (16.1 rating/32 share/109k homes)
about 15 hours ago

ScoutFlorida

Scout Gators


#Gators Baseball recruiting class ranked No. 3 - Collegiate Baseball ranked Florida's 2014 recruiting... http://t.co/w1nwLm9wQd
about 15 hours ago

JeffBarlisESPN

Jeff Barlis


Tale of the tape: Cooper vs. Hargreaves (complete breakdown by @GregO_ESPN) http://t.co/g1mwJ2JlVW
about 16 hours ago

GatorVisionTV

GatorVision


#Gator fans, were you cheering on @GatorZoneVB, @GatorZoneSoccer or @GatorZoneFB over the weekend? Let's see your pics for Twitter Tuesday!
about 16 hours ago

HamiltonESPN

Gerry Hamilton


#ESPN300 WR @NewBoi17 (Aledo, Tx) will officially visit #OleMiss next Oct. 4. #HottyToddy vs #Alabama. #SceneandHeard
about 17 hours ago

APMarkLong

Mark Long


No, Corky called RT @ryanohalloran: Gene Frenette was so fed up with this presser, he has left.
about 17 hours ago

APMarkLong

Mark Long


Jaguars coach Gus Bradley says defensive issues are "pretty evident on tape" and suggests changes coming
about 17 hours ago

APMarkLong

Mark Long


Jaguars coach Gus Bradley says D-line played pretty well vs Colts. "Behind that, we need to take a look."
about 17 hours ago

APMarkLong

Mark Long


Jaguars coach Gus Bradley: "Defensively, we didn't stop them in the first half."
about 17 hours ago

APMarkLong

Mark Long


#Prosimaki
about 17 hours ago

APMarkLong

Mark Long


Jaguars TE Clay Harbor expected to practice Wednesday
about 17 hours ago

APMarkLong

Mark Long


Jaguars S Chris Prosinski out 2-4 weeks with elbow injury
about 17 hours ago

GatorZoneMTN

Gator Men\'s Tennis


We've got the SEC Fall Classic final coming up in 10 minutes! Which #Gator walks away with the title? #GoGators http://t.co/puQ9FoCMro
about 18 hours ago

GatorZoneScott

Scott Carter


#Gators at Tennessee game to start at noon, Oct. 4: http://t.co/hAHzSlRhzG
about 18 hours ago

DerekTysonESPN

Derek Tyson


#Bucs continuing to start McCown, a career backup, is management saying "we missed bad on a free agent, but have too much pride to admit it"
about 18 hours ago

SEC

SEC Sports


#SEC Football Game Times and TV Selections for October 4 announced: http://t.co/SBeNIJr2c8
about 18 hours ago

onlygators

OnlyGators.com


Read the story. Should put my stance in context. RT @alxndrwst: Aren't we overreacting a little to the noon-status of the UT game?
about 18 hours ago

onlygators

OnlyGators.com


Florida-Tennessee has been a premier SEC game for nearly 20 yrs. Not anymore, networks say. Details: http://t.co/dKmM0ICoKp
about 18 hours ago

Gator_sports

Gatorsports.com


UF at Tennessee set for noon http://t.co/hfZphoHEJW
about 18 hours ago

GatorsNow

Florida Gators Now


Florida Football at Tennessee to Kickoff at 12:00 p.m. on October 4: The Florida football team will return to ... http://t.co/qaC0GiuGOq
about 19 hours ago

onlygators

OnlyGators.com


In other words, Florida-Tennessee has fallen so far that Georgia-Vanderbilt and So. Carolina-Kentucky got better slots.
about 19 hours ago

onlygators

OnlyGators.com


Florida-Tennessee in two weeks will air at noon on SEC Network.
about 19 hours ago

onlygators

OnlyGators.com


Florida-Tennessee in two weeks will air in at noon on SEC Network.
about 19 hours ago

GatorZoneFB

GatorZone Football


Florida Football at Tennessee to Kickoff at 12:00 p.m. on October 4 http://t.co/aL76Yg9En4
about 19 hours ago

GatorZoneScott

Scott Carter


This dude was pumped after game. Good stuff: http://t.co/PbrPtwpc2r
about 19 hours ago

NickdelaTorreGC

Nick de la Torre


Through 3 games @KyleChristy4 leads the nation with a 50.38 yards-per-punt average. #Gators
about 19 hours ago

GatorZoneScott

Scott Carter


ICYMI: No. 7-ranked #Gators volleyball team wrapped up nonconference schedule with 3-1 win over #UCF: http://t.co/j9c99RkwJ3
about 19 hours ago

onlygators

OnlyGators.com


With one #Gators football commit seemingly wavering, sharks are starting to circle, per ESPN http://t.co/j8LEMSuEa0
about 19 hours ago

onlygators

OnlyGators.com


With one #Gators football commit seemingly wavering, "sharks [are] beginning to circle" per ESPN http://t.co/j8LEMSuEa0
about 19 hours ago

onlygators

OnlyGators.com


How poorly did the Florida #Gators play Sat? Quite. Especially Gorman, Morrison, Green & Driskel - http://t.co/j8LEMSuEa0
about 19 hours ago

Phil_Sports

Phil Murphy


ICYMI: The @ESPNRNFball and I -- mostly them -- broke down upcoming (and postponed) college commitments on @ESPNU: http://t.co/jdazTjhahf
about 20 hours ago

GatorZoneNews

Florida Gators


Season tickets for the #Gators go on sale this Thursday, Sept. 25 #ItsGreatUF - http://t.co/vJiMp8YH96 http://t.co/Ta7ejGSHsn
about 21 hours ago

ScoutFlorida

Scout Gators


#Gators Franz Beard's Thoughts of the Day Sept. 22 - A few thoughts to jump start your Monday morning... http://t.co/5NPrKL32lh
1 day ago

JeffBarlisESPN

Jeff Barlis


You sure that was a good play? RT @ClutchLikeMJ: Kid was a boss in Hs too https://t.co/8F2Anpaipw #Treon
1 day ago

JeffBarlisESPN

Jeff Barlis


Oh, LeGarrette. Please go easy on the Bucs next week!
1 day ago

JeffBarlisESPN

Jeff Barlis


That was the one!! RT @BrennanChiBears: come on, man. In Bruges was pretty great.
1 day ago

JeffBarlisESPN

Jeff Barlis


Colin Farrell in True Detective Season 2? Not a fan. I have enjoyed exactly one of his movies ever.
1 day ago

JeffBarlisESPN

Jeff Barlis


RT @Harveyrolltide Just got word from lee county that I can start going to college games again in 2017! it seems far away but I cannot wait!
1 day ago

JeffBarlisESPN

Jeff Barlis


Comments section for my story on Emmitt Smith calling for Jeff Driskel to be benched is about what you would expect - http://t.co/fkorHctcCD
1 day ago

onlygators

OnlyGators.com


Former #Gators SNF intros:#Steelers C Ma. Pouncey - "Lakeland Senior High"OT Marcus Gilbert - "University of Florida"
1 day ago

Gator_sports

Gatorsports.com


Roundup: Gator volleyball holds off UCF http://t.co/NFa7nYVkNM
1 day ago

HamiltonESPN

Gerry Hamilton


#ESPN300 No. 1 Josh Sweat is out of the hospital and home. MRI later this week after swelling subsides. #SceneandHeard
1 day ago

GatorsNow

Florida Gators Now


No. 7 Gator Volleyball Wraps Up Non-Conference Slate With 3-1 Victory Over UCF: Florida sophomore right side A... http://t.co/H66jYh2dVQ
1 day ago

DerekTysonESPN

Derek Tyson


Best of the visits: SEC http://t.co/xnufvgrcee
1 day ago

APMarkLong

Mark Long


Any chance this is the worst combined weekend for Bucs (56-14 losers), Jags (44-17 losers) and Fins (34-15 losers)? Outscored by 88!
1 day ago

onlygators

OnlyGators.com


47-yard punt return from Frankie Hammond Jr. sets up a touchdown for the #Chiefs. #Gators
1 day ago

onlygators

OnlyGators.com


JJ seriously impressing. #Gators RT @ArmandoSalguero: Safety. Jelani Jenkins and Randy Starks.
1 day ago

GatorsNow

Florida Gators Now


Florida Men's Golf Collects Second-Place Finish at Wolf Run Intercollegiate: Conditions at the Wolf Run Golf C... http://t.co/LN7B55jIDQ
1 day ago

onlygators

OnlyGators.com


51-yard field goal for #Dolphins kicker Caleb Sturgis. Back to form. #Gators
1 day ago

Gator_sports

Gatorsports.com


Defense alllows most yards in UF history http://t.co/RIjD5bF76i
1 day ago

onlygators

OnlyGators.com


RT @ErinAndrews: Unreal game in Philly. Eagles fan didn't disappoint screaming "Roll Tide" to me all day..loved it
1 day ago

APMarkLong

Mark Long


Per @ESPNdirocco's report, classy move by Jaguars coach Gus Bradley to let captain Chad Henne announce QB switch in locker room at halftime
1 day ago

APMarkLong

Mark Long


vs man or zone?? RT @HaysCarlyon: #Jaguars have allowed TEs to catch 110 passes for 1,247 yards and 13 TDs over last 17 games
1 day ago

Gator_sports

Gatorsports.com


UF volleyball beats UCF, improves to 6-3.
1 day ago

onlygators

OnlyGators.com


Short field goal for #Dolphins kicker Caleb Sturgis. #Gators
1 day ago

JeffBarlisESPN

Jeff Barlis


#Gators drop another spot to 11th in our Week 4 SEC Power Rankings: http://t.co/MHxphM7aaR
1 day ago

onlygators

OnlyGators.com


Jelani Jenkins picked up a sack earlier for the #Dolphins. Looking good in his second season. #Gators
1 day ago

GatorZoneMTN

Gator Men\'s Tennis


Jordan Belga is your SEC Fall Classic consolation singles champion! Go Gators! #ItsGreatUF http://t.co/KYUyUyPuNB
1 day ago

GatorZoneMTN

Gator Men\'s Tennis


Your SEC Fall Classic doubles champions! Gordon Watson and @diegohidalgoc #ItsGreatUF http://t.co/PgUVqzXOPl
1 day ago

GatorZoneVB

Gator Volleyball


#Gators win! 25-17 fourth set, defeat #Knights 3-1 and improve to 6-3 to wrap up non-conference play! #PointFL
1 day ago

onlygators

OnlyGators.com


Missed 48-yard field goal (wide left) for #Dolphins kicker Caleb Sturgis. #Gators
1 day ago

EmmittSmith22

Emmitt Smith


Great job by @dallascowboys today,they showed heart and toughness to come from behind and pull off the victory. 👏👏👏
1 day ago

EmmittSmith22

Emmitt Smith


Great job by @dallascowboys today,they showed heart and toughness to come from behind and pull off the victory. 👏👏
1 day ago

onlygators

OnlyGators.com


Jelani Jenkins just crushed Frankie Hammond Jr. on a punt return. #Gators
1 day ago

EmmittSmith22

Emmitt Smith


Great win by my Cowboy's today, they show heart and toughness to come from behind and pull off a victory. Great job👏👏👏
1 day ago

APMarkLong

Mark Long


Jaguars coach Gus Bradley told Chad Henne during the week that the QB change was imminent
1 day ago

APMarkLong

Mark Long


Jaguars owner Shad Khan sitting in on coach Gus Bradley's postgame news conference. That's not normal
1 day ago

APMarkLong

Mark Long


No surprise, Jaguars are sticking with QB Blake Bortles as starter
1 day ago

AdamSchefter

Adam Schefter


Jaguars HC Gus Bradley announced QB Blake Bortles will start next week.
1 day ago

APMarkLong

Mark Long


Garbage TD from Bortles to Shorts. Colts gonna beat Jaguars 44-17
1 day ago

APMarkLong

Mark Long


Bortles throws a pick 6. Colts now lead Jaguars 44-10
1 day ago

APMarkLong

Mark Long


Andrew Luck done for the day vs Jaguars. He finishes 31 of 39 for 370 yards and 4 TDs
1 day ago

EmmittSmith22

Emmitt Smith


The one & only @DarylJohnston is now a finalist for the 2015 @NFL #HOF. Show your support & vote him in. http://t.co/hQSoJJUU0i
1 day ago

APMarkLong

Mark Long


Jaguars give up a TD despite having 12 men on the field vs Colts, who now lead 37-3
1 day ago

APMarkLong

Mark Long


Bortles must be living right
1 day ago

JeffBarlisESPN

Jeff Barlis


ICYMI yesterday, #Gators great Emmitt Smith tweeted that he's "seen enough" of QB Jeff Driskel - http://t.co/dNyqvv5eIx
1 day ago

APMarkLong

Mark Long


Colts WR T.Y. Hilton (ankle) and LB Andy Studebaker (hamstring) won't return
1 day ago

APMarkLong

Mark Long


Jaguars have crossed midfield!!!!!!
1 day ago

APMarkLong

Mark Long


Jaguars S Winston Guy is questionable to return with muscle cramps
1 day ago

APMarkLong

Mark Long


Jaguars starting QB Blake Bortles in second half vs Colts, who lead 30-0
1 day ago

APMarkLong

Mark Long


Looks like Jaguars are finally making the move and switching to rookie QB Blake Bortles
1 day ago

APMarkLong

Mark Long


Jaguars QB Blake Bortles runs out of locker room and grabs helmet
1 day ago

onlygators

OnlyGators.com


Halftime Reads: Post-game report w/ Muschamp's comments - http://t.co/rAcNYFQGFO | former #Gators sound off - http://t.co/8dAEJ4th4p
1 day ago
SEC SCOREBOARD
Thursday, 9/18
Saturday, 9/20
BLOG ARCHIVE:
CATEGORIES: