Most important targets: SEC
October, 22, 2013
10/22/13
8:00
AM ET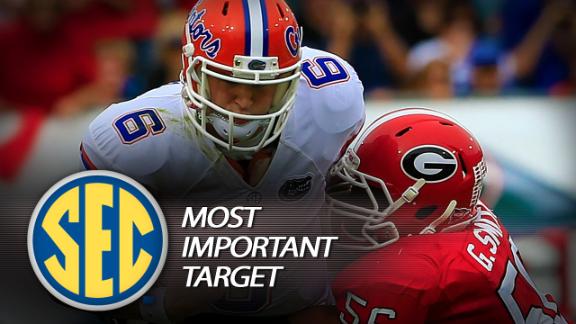 The Southeastern Conference already has two commitments from a top-10 player (
Cameron Robinson
to Alabama and
Myles Garrett
to Texas A&M), but the SEC has a real possibility of landing the final six uncommitted top-10 prospects in the country. Here is a closer look at the top remaining recruiting targets in the SEC.

Alabama
To continue reading this article you must be an Insider
Insider
Meyer Depressed At Florida
Adam Rittenberg discusses Urban Meyer's comments about being depressed while coaching at Florida in 2009.
Meyer Depressed At Florida
VIDEO PLAYLIST
FLORIDA FB RECRUITING SCORECARD
ScoutFlorida

Scout Gators


#Gators Execution to blame for defensive mistakes - In a game determined by big plays, it was Alabama that ... http://t.co/wwgey3Gch1
7 minutes ago

Gator_sports

Gatorsports.com


Crimson Tide drown Gators http://t.co/q8E8hGMyrI
8 minutes ago

Gator_sports

Gatorsports.com


Dooley: UF outcoached, outplayed http://t.co/PYzJLa1L3b
8 minutes ago

EmmittSmith22

Emmitt Smith


Sat down with @GrahamBensinger & @YahooSports to discuss learning #business from Roger Staubach. Watch here: http://t.co/euDqvFlMgd 
9 minutes ago

onlygators

OnlyGators.com


You guys sent in a ton of questions - some serious, others not. I'm going to try to answer a bunch of them in a post on Sunday.
25 minutes ago

GatorZoneScott

Scott Carter


VIDEO: #Gators coach Will Muschamp's press conference after loss at Alabama: http://t.co/zYmIH4eNVT
40 minutes ago

Gator_sports

Gatorsports.com


Dooley grades: Failure on road http://t.co/z0D82wtpHp
40 minutes ago

DerekTysonESPN

Derek Tyson


Dak Prescott... Just wow. #MSUvsLSU
44 minutes ago

JeffBarlisESPN

Jeff Barlis


He has the "it" that Driskel lacks. But you're gonna take your lumps with a true freshman QB. RT @aobrien7: Honest thoughts on Harris?
about an hour ago

Gator_sports

Gatorsports.com


UF's secondary a disaster http://t.co/3QxCiwm1Od
about an hour ago

JeffBarlisESPN

Jeff Barlis


Muschamp can't afford to let the season sink or swim in Driskel's hands alone.
about an hour ago

JeffBarlisESPN

Jeff Barlis


I think #Gators use the bye week to get Treon Harris ready for limited duty. But there's no way he completely replaces Driskel ... yet.
about an hour ago

_SimplyThatGuy5

Adonis Thomas


Can't even lie Bama looked real good
about an hour ago

JeffBarlisESPN

Jeff Barlis


Are there any #Gators fans left in Jeff Driskel's corner? Keep in mind he is a LOCK to start the Tennessee game.
about an hour ago

JeffBarlisESPN

Jeff Barlis


Don't assume rationale. RT @derekwillis: how would any UF fan come away from UK game thinkin "yeah, we've got a definite shot against Bama"?
about an hour ago

JeffBarlisESPN

Jeff Barlis


Don't think I've ever seen the #GatorNation this angry. And here I thought #Bama was expected to win. Guess that doesn't make it any easier.
about an hour ago

GatorZoneScott

Scott Carter


PHOTO GALLERY: Images from today's game from @TimCaseyPhoto : http://t.co/gaSOdiuMds #Gators
about an hour ago

EmmittSmith22

Emmitt Smith


Wonder what I've been up to since football & #DWTS? Watch my interview w/ @GrahamBensinger  to find out: http://t.co/BtDZm0J4pt
about an hour ago

onlygators

OnlyGators.com


Dozens of fmr #Gators were tweeting during the Florida-Alabama game. Here's what they had to say: http://t.co/8dAEJ4th4p
about an hour ago

GatorsNow

Florida Gators Now


The Quick Slant: Instant Analysis of Florida's 42-21 loss at Alabama: GAINESVILLE, Fla. -- The Gators lost 42-... http://t.co/D7Rt9y7IZ8
about an hour ago

GatorZoneFB

GatorZone Football


From @GatorZoneScott -- The Quick Slant: Instant Analysis of Florida's 42-21 loss at Alabama http://t.co/0djXA13qYr
about an hour ago

DerekTysonESPN

Derek Tyson


Les Miles is the only coach in the country that is thinking.... 'got 'em right where we want them'
about 2 hours ago

Gator_sports

Gatorsports.com


Sims-led Tide roll, 42-21 http://t.co/fTfaDjfGgM
about 2 hours ago

ScoutFlorida

Scout Gators


#Gators GALLERY: Gators kicked in the gut 42-21 - Will Muschamp will have to rally his troops for the Gator... http://t.co/L1tHcrrlc8
about 2 hours ago

EmmittSmith22

Emmitt Smith


Wonder what I've been up to since football & #DWTS? Watch #InDepth w/ @GrahamBensinger to find out http://t.co/5FDBFvuCFa
about 2 hours ago

GatorZoneScott

Scott Carter


"It was a game of turnovers and big plays. And they had more than us, as far as big plays." — Garcia
about 2 hours ago

GatorZoneScott

Scott Carter


"We had a lot of opportunities and we didn't capitalize that. We're frustrated with that." — Center Max Garcia
about 2 hours ago

DerekTysonESPN

Derek Tyson


Mississippi State looks great to start this game. #MSUvsLSU
about 2 hours ago

GatorZoneScott

Scott Carter


"It was never a matter of not playing hard. We just didn't make it happen." — Driskel
about 2 hours ago

GatorZoneScott

Scott Carter


"We just didn't get it done. It's a matter of execution." — Driskel on struggles today
about 2 hours ago

GatorZoneScott

Scott Carter


"We didn't make the plays when they were there. And they did. It was nothing we haven't seen. We just didn't make the plays." — Driskel
about 2 hours ago

GatorZoneScott

Scott Carter


At end of first half, Muschamp said if they had been out to 40, they would have been uptempo. Didn't want defense to have to come back out.
about 2 hours ago

GatorZoneScott

Scott Carter


"We've got a lot of football to play. Everything is sitting in our hands. We need to go and take care of it." — Muschamp on re-evaluations
about 2 hours ago

GatorZoneScott

Scott Carter


"They moved him around a little bit more than they had before.'' — Muschamp on Bama's use of Amari Cooper
about 2 hours ago

GatorZoneScott

Scott Carter


"It's a lot of things. The first one of a bad matchup on our part." — Muschamp on busts, said D will look to simplify things in secondary
about 2 hours ago

GatorZoneScott

Scott Carter


"The execution is not where it needed to be.'' — Muschamp on offense. Going back to evaluate some things on offense.
about 2 hours ago

GatorZoneScott

Scott Carter


"We couldn't stay on the field. We couldn't get off the field defensively." — Muschamp
about 2 hours ago

DerekTysonESPN

Derek Tyson


This #Indiana - #Mizzou game is crazy. Big 10 looks like it will get a nice win over good #SEC team.
about 2 hours ago

onlygators

OnlyGators.com


FINAL/Story: No. 3 Alabama Crimson Tide thrash Florida #Gators 42-21 in Tuscaloosa - http://t.co/JMTKD24IRT
about 2 hours ago

JeffBarlisESPN

Jeff Barlis


OK, I'm switching to the @ESPN_SEC account to live-tweet MissSt. at LSU.
about 2 hours ago

onlygators

OnlyGators.com


Florida #Gators coach Will Muschamp will fall to 4-13 against ranked opponents in his tenure at UF.
about 2 hours ago

onlygators

OnlyGators.com


...and counting. RT @osgators: Alabama has now gained more yards against #Gators than any school ever, 640 yards.
about 3 hours ago

onlygators

OnlyGators.com


#Gators now 2-of-12 on third down today. Florida goes on 4th and 10 at midfield and Driskel throws it OOB.
about 3 hours ago

onlygators

OnlyGators.com


Driskel got crushed getting a ball out to Burton for a first down and big gain. Unfortunately, Burton dropped it.
about 3 hours ago

JeffBarlisESPN

Jeff Barlis


Well, that decides it. RT @EmmittSmith22 Put Jeff Driskel on the bench please, I have seen enough.
about 3 hours ago

onlygators

OnlyGators.com


Florida's defense has not stopped Alabama once on third down in the second half. #Tide are 7-for-7 (6-for-6 in 3Q).
about 3 hours ago

DaveJonesUFbeat

David Jones


Alabama's 42 points the most the #Gators have given up in Will Muschamp's four years at Florida. LSU had 41 in 2011.
about 3 hours ago

GatorZoneScott

Scott Carter


Amari Cooper with another TD catch. #Gators now down 42-21.
about 3 hours ago

GatorZoneFB

GatorZone Football


Sims to Cooper, TD. #Bama 42, #Gators 21
about 3 hours ago

onlygators

OnlyGators.com


A much easier fade touchdown for Cooper over Poole this time. Alabama will lead 42-21 after the extra point.
about 3 hours ago

onlygators

OnlyGators.com


RT @EmmittSmith22: Put Jeff Driskel on the bench please, I have seen enough.
about 3 hours ago

onlygators

OnlyGators.com


Hargreaves down for the third time today. He's now limping off the field. left leg.
about 3 hours ago

onlygators

OnlyGators.com


Four more missed tackles as Bama throws a screen to the blitzing side. Kiffin is having his way with Florida's D today.
about 3 hours ago

EmmittSmith22

Emmitt Smith


Put Jeff Driskel on the bench please, I have seen enough.
about 3 hours ago

onlygators

OnlyGators.com


Muschamp, Roper and his teammates have 100% had Driskel's back all offseason. But there's an off week coming up and plenty of season left.
about 3 hours ago

JeffBarlisESPN

Jeff Barlis


Gotta think about the Tennessee game. RT @TravHaneyESPN: How much worse off would Florida be just going with Treon Harris at this point?
about 3 hours ago

onlygators

OnlyGators.com


Driskel threw into obvious double coverage. Dunbar didn't even have a chance. He's 6/20 for 70 yds, TD, 2 INT today.
about 3 hours ago

GatorZoneScott

Scott Carter


RT @GatorZoneChris: Interception. #Gators turn it over a third time.
about 3 hours ago

GatorZoneFB

GatorZone Football


Driskel intercepted on a deep pass to Dunbar. Bama ball at their own 40.
about 3 hours ago

onlygators

OnlyGators.com


Driskel intercepted for the second time, very athletic grab.
about 3 hours ago

JeffBarlisESPN

Jeff Barlis


Former Florida signee Jarran Reed with the sack.
about 3 hours ago

JeffBarlisESPN

Jeff Barlis


Driskel's patented 10-yard overthrow.
about 3 hours ago

onlygators

OnlyGators.com


Robinson draws a pass interference flag (actually, three) on a deep throw from Driskel. Looked like it was on-point, too.
about 3 hours ago

GatorZoneScott

Scott Carter


Pass interference on Bama on long pass to Robinson
about 3 hours ago

onlygators

OnlyGators.com


Bama outgained Florida 160-41 in 3rd quarter, out-possessed UF 12:02-2:58. #Tide converted all 7 of their third downs and scored 2 TDs.
about 3 hours ago

GatorZoneScott

Scott Carter


Dunbar extends his streak of consecutive games with a catch to 31 on final play of third quarter. First-and-10 for #Gators at their 34
about 3 hours ago

holland_jeffery

JEFF HOLLAND JR


#FSU im here
about 3 hours ago

GatorZoneFB

GatorZone Football


Driskel hits Dunbar for a first down, and that ends the third quarter. #Bama 35, #Gators 21
about 3 hours ago

onlygators

OnlyGators.com


Driskel hits Dunbar for a first down, that's 31-straight games with a reception for him, four away from an (updated) school record (35).
about 3 hours ago

GatorZoneNews

Florida Gators


It's time for "We Are The Boys". (audio) #ItsGreatUF #UFvsBAMA http://t.co/swXVy2IwKN
about 3 hours ago

JeffBarlisESPN

Jeff Barlis


The way #Bama's offense is going if the #Gators don't answer with a TD this game will pretty much be over.
about 3 hours ago

GatorZoneChris

Chris Harry


Think #Gators defense is tired? 2nd half: Alabama 28 plays, 181 yards; Florida 5 plays, 24 yards.
about 3 hours ago

GatorZoneScott

Scott Carter


SCORE: #Bama 35, #Gators 21 with 21 seconds left in third quarter.
about 3 hours ago

JeffBarlisESPN

Jeff Barlis


Cooper just flat-out beat Hargreaves for that jump ball. Great matchup.
about 3 hours ago

onlygators

OnlyGators.com


Alabama now 11-for-14 on third down...this time Amari Cooper catching a fade over Hargreaves for a touchdown. #Tide up 35-21 in 3rd.
about 3 hours ago

GatorZoneFB

GatorZone Football


Amari Cooper with a TD catch from Coker, #Bama 35, #Gators 21
about 3 hours ago

GatorZoneScott

Scott Carter


Hargreaves had him man-to-man, but Cooper's size going to win that one.
about 3 hours ago

GatorZoneScott

Scott Carter


Coker hits Cooper for a TD
about 3 hours ago

onlygators

OnlyGators.com


Florida's defense is absolutely exhausted. Doesn't help that #Gators offense has run just six plays the entire third quarter.
about 3 hours ago

GatorZoneChris

Chris Harry


Total yards: Alabama 522, #Gators 129
about 3 hours ago

DerekTysonESPN

Derek Tyson


Pretty shocking. Indiana and #Mizzou are tied right now in the 3rd.
about 3 hours ago

_DCReeves

D.C. Reeves


Sims heading to the locker room.
about 3 hours ago

onlygators

OnlyGators.com


Jarrad Davis now down on the field for Florida, which has seen Brown, Herndon, Green, Hargreaves & Fowler hurt in some way today.
about 3 hours ago

JeffBarlisESPN

Jeff Barlis


Now #Bama puts in a QB that they don't want passing and the #Gators can't stop the Derrick Henry train.
about 3 hours ago

GatorZoneScott

Scott Carter


#Gators LB Jarrad Davis down on field for #Gators. Henry a load to bring down.
about 3 hours ago

onlygators

OnlyGators.com


#Gators know #Tide is going to run and cannot do anything about it. 37 yards on two carries for Henry.
about 3 hours ago

GatorZoneScott

Scott Carter


Sims comes out, shaken up. Jake Croker comes in for #Bama
about 3 hours ago

onlygators

OnlyGators.com


Coker in the game for Alabama as Sims looks to have tweaked his shoulder.
about 3 hours ago

APMarkLong

Mark Long


Gators officially coaching scared -- not of Alabama's defense but of Jeff Driskel's decisions
about 3 hours ago

JeffBarlisESPN

Jeff Barlis


Agree with this. RT @Goldkamp247: Jarrad Davis should be a starter for the #Gators. One of the more confusing personnel decisions this year.
about 3 hours ago

GatorZoneFB

GatorZone Football


Offense goes three-and-out, Christy hits a 57-yarder and its a touchback. Bama ball at the 20.
about 3 hours ago

JeffBarlisESPN

Jeff Barlis


Roper's big halftime adjustment might have been adjusting to having a QB that is struggling too much to throw it.
about 3 hours ago

onlygators

OnlyGators.com


#Gators run thrice on ensuing series. Saban/Smart sniffed it out and Jones stopped on third down.
about 3 hours ago

GatorZoneScott

Scott Carter


That was a big-boy meeting between Jones and DePriest…third-and-2, Jones stopped.
about 3 hours ago

GatorZoneFB

GatorZone Football


Kickoff goes out of bounds, so #Gators will start at the 35 yard line.
about 3 hours ago

GatorZoneScott

Scott Carter


Kick goes out of bounds, so #Gators to start at 35.
about 3 hours ago

DerekTysonESPN

Derek Tyson


Alabama totally out-coaching Florida right now.
about 3 hours ago

GatorZoneScott

Scott Carter


SCORE: #Bama 28, #Gators 21 with 5:27 left in third quarter. That was a 16-play, 66 yards, 7:15.
about 3 hours ago

GatorZoneFB

GatorZone Football


Derrick Henry scores for the Tide after a 16-play, 7:15 drive. #Bama 28, #Gators 21
about 3 hours ago

onlygators

OnlyGators.com


Touchdown Derrick Henry. 44 yards for him on that drive including a 29 on the 3rd and 23 conversion. 16 plays, 66 yds, 7:15 off clock.
about 3 hours ago
SEC SCOREBOARD
Saturday, 9/20
Thursday, 9/18
BLOG ARCHIVE:
CATEGORIES: