DE Trent Harris closing in on decision
May, 24, 2013
5/24/13
12:42
PM ET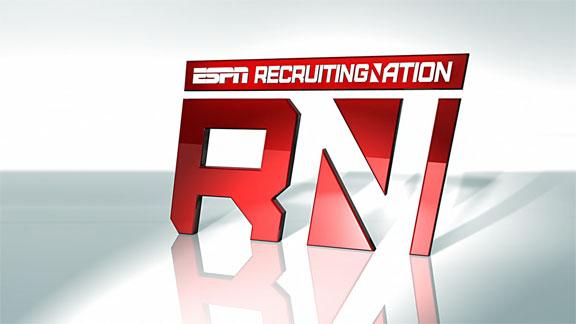 WINTER PARK, Fla. -- Defensive end
Trent Harris
(Winter Park, Fla./Winter Park) originally was set to announce his college destination before his spring game on Thursday night, but an offer from Ohio State caused the talented pass-rusher to delay his decision.
The 6-foot-2, 230-pound athlete said he just decided to enjoy the process and slow things down.
To continue reading this article you must be an Insider
Insider
Inside The Drive: Saban On Matchup Against Florida
Alabama coach Nick Saban discusses the key matchups as the Florida Gators visit the Crimson Tide.
Inside The Drive: Saban On Matchup Against Florida
VIDEO PLAYLIST
FLORIDA FB RECRUITING SCORECARD
JeffBarlisESPN

Jeff Barlis


#Bama's short passing game will give Hargreaves an opportunity to answer one of the few remaining questions about him -- tackling ability.
about a minute ago

onlygators

OnlyGators.com


Tremendous first-down saving tackle by Hargreaves on Cooper. However, Alabama converts 3rd and 1.
about a minute ago

GatorZoneScott

Scott Carter


Hargreaves closed fast to take down Cooper on that one.
about a minute ago

GatorZoneFB

GatorZone Football


That was the longest fumble return since 2003, when Kiewan Ratliff returned one 77 yards vs Florida State.
4 minutes ago

JeffBarlisESPN

Jeff Barlis


Correction: Keanu Neal appeared to punch that ball out of DeAndrew White's grasp AND scoop n score. What a play.
4 minutes ago

GatorZoneFB

GatorZone Football


@Ivan_Maisel should be @GatorZoneFB
5 minutes ago

GatorZoneScott

Scott Carter


All I know, a lot sure has happened in only 5:36 of game time off the clock in this one.
5 minutes ago

GatorZoneScott

Scott Carter


NOTABLE: #Gators have now outscored opponents 34-0 in points off turnovers this season (14-0 today)
7 minutes ago

onlygators

OnlyGators.com


Touchdown stands for #Gators. 14 points off two turnovers for Florida. That's winning football. #Gators up 14-7 with 9:24 left in 1Q.
7 minutes ago

GatorZoneFB

GatorZone Football


Ruling stands! Touchdown for Neal, his first score as a #Gator. Was a 49-yd fumble return.
7 minutes ago

GatorZoneScott

Scott Carter


Ruling on field stands, touchdown Florida
7 minutes ago

JeffBarlisESPN

Jeff Barlis


Inconclusive. Ruling on the field was a TD. Absolutely huge FF by Neiron Ball + scoop n score by Keanu Neal.
8 minutes ago

GatorZoneFB

GatorZone Football


Refs are taking a look at it now, might have stepped out.
9 minutes ago

JeffBarlisESPN

Jeff Barlis


Doesn't Tim Kimbrough play for Georgia???
9 minutes ago

onlygators

OnlyGators.com


Neiron Ball forces the fumble, Keanu Neal recovered. He may be out a yard or two shy of end zone. But still a great play for #Gators.
9 minutes ago

GatorZoneNews

Florida Gators


Touchdown, Gators! #UFvsBAMA #ItsGreatUF
10 minutes ago

onlygators

OnlyGators.com


Forced fumble recovered by Keanu Neal...who rumbles it in down the field for a touchdown. #Gators
10 minutes ago

GatorZoneFB

GatorZone Football


TOUCHDOWN!! Keanu Neal recovers the fumble and returns it to the house!
10 minutes ago

GatorZoneScott

Scott Carter


Touchdown Gators on Neal's fumble return.
10 minutes ago

JeffBarlisESPN

Jeff Barlis


VH3 missed his tackle on Cooper. Nation's leading pass-catcher is gonna get his. It's more a matter of the #Gators tackling today.
10 minutes ago

GatorZoneNews

Florida Gators


Gator students celebrating the TD at the #UFvsBAMA watch party. (You should stop by.) http://t.co/5JZAsjVSok
10 minutes ago

GatorZoneScott

Scott Carter


Amari Cooper sighting, a 26-yard catch to Florida's 47
11 minutes ago

onlygators

OnlyGators.com


Alabama out past midfield after Sims hits Cooper for 26 yards on 3rd-and-5.
11 minutes ago

JeffBarlisESPN

Jeff Barlis


Driskel gave Showers a chance to catch that TD by putting some air under it. Just needs to do that on his deeper throws. Gotta trust the WRs
13 minutes ago

GatorZoneScott

Scott Carter


Running back Mark Herndon is down on the field, being helped off by trainer s and headed to locker room.
14 minutes ago

onlygators

OnlyGators.com


#Gators RB Mark Herndon down on the field after the kickoff, but he's up with assistance and limping heavily off the field.
14 minutes ago

GatorZoneFB

GatorZone Football


Bama starts at the 22-yd line after the kickoff.
15 minutes ago

DerekTysonESPN

Derek Tyson


Harsh words from Auburn commit Kerryon Johnson RT "@AyeyoKEJO: I absolutely hate Florida but I wouldn't wish having Jeff Driskel on anyone"
18 minutes ago

GatorZoneScott

Scott Carter


SCORE: #Gators 7, #Bama 7 — Driskel's 28-yard pass to Showers caps 3-play, 31-yard drive. Time left: 11:26 in first quarter.
18 minutes ago

onlygators

OnlyGators.com


Nice patience from Driskel on a 28-yard touchdown to Showers. #Gators and #Tide all even at 7-7, 11:26 left in 1Q.
18 minutes ago

JeffBarlisESPN

Jeff Barlis


Kurt Roper's offense has been money so far with slot receivers against safeties.
18 minutes ago

GatorZoneFB

GatorZone Football


#Gators cash in on the Bama turnover, game is tied 7-7. 11:26 remaining in 1Q.
18 minutes ago

GatorZoneScott

Scott Carter


Very nice call there by Roper.
19 minutes ago

onlygators

OnlyGators.com


Driskel-to-Showers, touchdown - on third down. #Gators
19 minutes ago

GatorZoneNews

Florida Gators


TOUCHDOWN! #UFvsBAMA #ItsGreatUF
19 minutes ago

GatorZoneFB

GatorZone Football


Driskel to Showers!!!! Touchdown #Gators!
19 minutes ago

GatorZoneScott

Scott Carter


Touchdown for #Gators…Driskel to Showers
19 minutes ago

GatorZoneNews

Florida Gators


Want GREAT Gator play-by-play? Follow @GatorZoneChris, @GatorZoneScott, @GatorZoneFB. #UFvsBAMA #ItsGreatUF
19 minutes ago

JeffBarlisESPN

Jeff Barlis


#DriskelFace
20 minutes ago

JeffBarlisESPN

Jeff Barlis


Chaz Green back in the game at LT. Huge opportunity for the #Gators here.
20 minutes ago

GatorZoneScott

Scott Carter


#Gators will take over at Alabama's 31 after a much-needed turnover. Maye with strip, Hargreaves with recovery.
21 minutes ago

JeffBarlisESPN

Jeff Barlis


Marcus Maye with the forced fumble on Kenyan Drake. Vernon Hargreaves with the recovery. #Gators came into this game plus-7 in turnovers.
21 minutes ago

GatorZoneFB

GatorZone Football


Marcus Maye forces a fumble! Hargreaves recovers and #Gators are in business at the Bama 31-yd line.
21 minutes ago

onlygators

OnlyGators.com


Forced fumble (Maye) after a 9-yard run, recovered by Hargreaves. #Gators
21 minutes ago

GatorZoneScott

Scott Carter


Gators recover a fumble
22 minutes ago

JeffBarlisESPN

Jeff Barlis


Thought so, too. RT @theebigbossSS Why didn't Florida challenge that long catch. He clearly got a toe down....
22 minutes ago

JeffBarlisESPN

Jeff Barlis


Florida's offense really has changed, though. Never saw them pass this much under Muschamp. It's really on Driskel to make it work.
23 minutes ago

GatorZoneScott

Scott Carter


#Gators managed only 22 yards those first two drives…#Bama takes over at its 24 when play resumes.
23 minutes ago

GatorZoneFB

GatorZone Football


Christy in to punt again. 58-yd punt, 17 yard return. Bama starts at its 24-yd line.
24 minutes ago

JeffBarlisESPN

Jeff Barlis


Another big shortcoming for Driskel is spotting a cornerback blitz. Kentucky nailed him a couple of times last week with that.
25 minutes ago

GatorZoneScott

Scott Carter


Driskel's pass incomplete, fourth-and-16, lined up to punt.
25 minutes ago

onlygators

OnlyGators.com


Latroy Pittman makes a fantastic catch down the left sideline. Called out of bounds. Looks to me like he got his toe down.
26 minutes ago

JeffBarlisESPN

Jeff Barlis


Driskel continuing to struggle to simply give his WRs a chance. Demarcus Robinson had at least a step on Tony Brown there.
27 minutes ago

onlygators

OnlyGators.com


Driskel has Robinson open down the right sideline, a potential long touchdown. Overthrown.
28 minutes ago

GatorZoneScott

Scott Carter


Chaz Green back in for #Gators…long pass to Robinson incomplete
28 minutes ago

JeffBarlisESPN

Jeff Barlis


Bit of a nightmarish start for the #Gators losing one of the players they can't afford to lose and then blowing coverage on a long TD.
28 minutes ago

GatorZoneScott

Scott Carter


#Gators will start at their 23.
28 minutes ago

DerekTysonESPN

Derek Tyson


How do you get Valdeeeez out of Valdez?
28 minutes ago

GatorZoneScott

Scott Carter


That was Antonio Morrison on coverage at the line, Gorman providing safety help.
30 minutes ago

onlygators

OnlyGators.com


Gorman with yet another blown coverage, but #Gators having Morrison covering a wideout is not a good look either.
31 minutes ago

JeffBarlisESPN

Jeff Barlis


That's the play Lane Kiffin always dreamed of hitting against Florida when he was at Tennessee.
31 minutes ago

DerekTysonESPN

Derek Tyson


All about matchups. Kenyan Drake vs Antonio Morrison is a huge huge mismatch.
32 minutes ago

GatorZoneFB

GatorZone Football


Sims hits Kenyan Drake for an 87-yd TD pass on the first play. #Bama 7 - #UF 0
32 minutes ago

kanli

Kan Li


#GatorNation ARE YOU READY?!!! Jarrad Davis IS! @J_Davis_40 #CHOMP #UFvsBAMA #ItsGreatUF @UF @GatorZoneFB http://t.co/6Yyv0rSalT
32 minutes ago

GatorZoneScott

Scott Carter


Touchdown Bama…another busted coverage by #Gators.
32 minutes ago

onlygators

OnlyGators.com


Blown coverage. 87-yard touchdown for Alabama.
32 minutes ago

onlygators

OnlyGators.com


CBS showing that Green's right ankle is wrapped up. He's limping on the sideline but rejoining his teammates. Looks like he'll try to go.
33 minutes ago

JeffBarlisESPN

Jeff Barlis


If Chaz Green can't come back that leaves the #Gators with TWO freshmen at tackle. Could see 6-8, 344-pound senior Trenton Brown shift to RT
33 minutes ago

GatorZoneFB

GatorZone Football


Christy punts one deep, Bama will start at its own 13.
33 minutes ago

GatorZoneScott

Scott Carter


Good punt by Christy…Bama to start at its 13.
33 minutes ago

onlygators

OnlyGators.com


#Gators go three-and-out on first series and may have lost a starting OT in process. UF will now play true fresh Sharpe, rs. fresh Johnson.
34 minutes ago

GatorZoneFB

GatorZone Football


Offense goes 3-and-out on first drive, Christy in to punt. #UFvsBAMA
34 minutes ago

GatorZoneScott

Scott Carter


#Gators will punt after Driskel's incompletion
34 minutes ago

JeffBarlisESPN

Jeff Barlis


LT Chaz Green limping off the field. Looks like he got rolled up on. Bad news for the #Gators
34 minutes ago

GatorZoneScott

Scott Carter


David Sharpe in at LT for injured Chaz Green
35 minutes ago

GatorZoneChris

Chris Harry


Starting LT Chaz Green limps off the field after first play. He was the starting RT until Humphries got hurt, then flipped. #Gators
35 minutes ago

onlygators

OnlyGators.com


#Gators OT (current LT) Chaz Green being checked out o the field and now off to the sideline. Jones fell back onto his right knee/ankle.
35 minutes ago

GatorZoneScott

Scott Carter


#Gators sold allotment of 8,500 RT @AManchir: @GatorZoneScott are there gator fans there?! Go gators.
35 minutes ago

GatorZoneScott

Scott Carter


Robinson with his first catch
36 minutes ago

JeffBarlisESPN

Jeff Barlis


Watch the #Gators O-line. Key to the game.
36 minutes ago

GatorZoneNews

Florida Gators


Here we go! #BeatBAMA #UFvsBAMA
36 minutes ago

onlygators

OnlyGators.com


#Gators will start with the ball. No return for Debose.
37 minutes ago

GatorZoneFB

GatorZone Football


Touchback. #Gators will start at the 25.
37 minutes ago

JeffBarlisESPN

Jeff Barlis


Haha, that sounds nothing like the Saban I know. RT @ufluent I think because Nick Saban doesn't want to cost Muschamp his job
37 minutes ago

onlygators

OnlyGators.com


Muschamp to CBS pre-game: "Jeff [Driskel] will play well. We got a good plan." Also, "I'm worried about UF right now, not Nick [Saban]."
38 minutes ago

GatorZoneFB

GatorZone Football


Debose back to return the opening kick. #UFvsBAMA
38 minutes ago

JeffBarlisESPN

Jeff Barlis


Why a close game? Because I think both run defenses shut down the #Gators' and Tide's favorite plays on offense.
39 minutes ago

GatorZoneFB

GatorZone Football


#Bama wins the toss and defers. #Gators will receive to start the game. #UFvsBAMA
40 minutes ago

GatorZoneScott

Scott Carter


Alabama wins toss and defers. #Gators on offense first.
40 minutes ago

GatorZoneScott

Scott Carter


No. 6 earlier today by team bus in image via @TimCaseyPhoto http://t.co/QpZ24ObbzS
43 minutes ago

pkl923

Phillip Leviner


Look who's watching the game with me today!! @ESPNCFB @ClemsonTigers @GatorZoneScott GO GATORS!!? http://t.co/gjaVU2vIvl
44 minutes ago

MoveTheSticks

Daniel Jeremiah


Stoked to watch FL/Bama! Top WR vs Top CB.
44 minutes ago

GatorVisionTV

GatorVision


Listen to #UFvsBama on the Gator IMG Sports Network (http://t.co/KYMUTcd64V, GatorVision (http://t.co/Pze3aVSTAL) and @tunein.
44 minutes ago

pkl923

Phillip Leviner


Look who's watching the game with me today!! @ESPNCFB @ClemsonTigers @GatorZoneScott GO GATORS!!? http://t.co/gjaVU2vIvl
47 minutes ago

GatorVisionTV

GatorVision


WATCH NOW: @GatorZoneFB at Alabama, live on CBS and http://t.co/c7qXmbbUO7 - http://t.co/Gw22934jWi #UFvsBama
47 minutes ago

GatorZoneScott

Scott Carter


Broadway Joe in house today as part of 1964 national championship team.
47 minutes ago

JeffBarlisESPN

Jeff Barlis


Several people close to the #Gators program whom I trust have told me confidence is high. Minutes before kickoff take it for what it's worth
47 minutes ago

onlygators

OnlyGators.com


Had not been active the first two weeks. #Gators RT @jeffzrebiecsun: Ravens release WR Deonte Thompson.
50 minutes ago

CBSSports

CBS Sports


Today the Gators step into Tuscaloosa to try to knock off the Tide. #UFvsBAMA http://t.co/bUW0jr04CL
51 minutes ago

GatorZoneScott

Scott Carter


"Jeff is going to need to play well. He knows that. We have worked crowd noise as loud as we could this week. I've still got a head ache."WM
52 minutes ago
SEC SCOREBOARD
Saturday, 9/20
Thursday, 9/18
BLOG ARCHIVE:
CATEGORIES: