Jackson rethinking commitment to FSU
February, 16, 2013
2/16/13
6:52
PM ET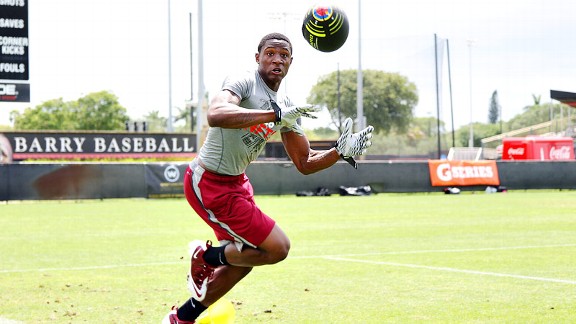 Tom Hauck/ESPNHSAthlete J.C. Jackson of Immokalee (Fla.) committed to Florida State in March 2012.
GAINESVILLE, Fla. -- Watch List athlete
J.C. Jackson
(Immokalee, Fla./Immokalee) has been committed to Florida State since March of last year, but visited Florida for its junior day on Saturday.
To continue reading this article you must be an Insider
Welcome
!
We see that you are not an ESPN Insider. Upgrade today and gain access to our exclusive coverage.
ESPN The Magazine subscribers

Need more information?
The Early Offer: March 12
National recruiting reporter Jeremy Crabtree discusses the hottest storylines in football recruiting, including the pursuit of the nation's top linebacker and what could prove a pivotal commitment for Texas Tech.
Tags:
Jeffery Holland
,
Jarrett Stidham
,
Kliff Kingsbury
,
Art Briles
,
Texas Tech Red Raiders
,
Will Muschamp
,
Florida Gators
,
RecruitingNation
,
ESPN Junior 300
,
high school football recruiting
,
Jeremy Crabtree
The Early Offer: March 12
VIDEO PLAYLIST
The Early Offer: March 12

The Early Offer: March 12

National recruiting reporter Jeremy Crabtree discusses the hottest storylines in football recruiting, including the pursuit of the nation's top linebacker and what could prove a pivotal commitment for Texas Tech.

Tags: Jeffery Holland

,

Jarrett Stidham

,

Kliff Kingsbury

,

Art Briles

,

Texas Tech Red Raiders

,

Will Muschamp

,

Florida Gators

,

RecruitingNation

,

ESPN Junior 300

,

high school football recruiting

,

Jeremy Crabtree

Andy Katz's 3-Point Shot

Andy Katz's 3-Point Shot

Recruit Comparison: Manziel to Harris

Recruit Comparison: Manziel to Harris
FLORIDA FB RECRUITING SCORECARD
Nike Florida Gators Replica Football Shop »
GatorZoneNews

Florida Gators


RT @JoakimNoah: Showed a lot of toughness today. Great defense. Great game gators!!! Very impressive.
2 minutes ago

GatorZoneNews

Florida Gators


RT @GatorZoneChris: Final: Florida 56, Tennessee 49. #Gators hold Vols to -- get this! -- 14 second-half points. UF vs Ken/Ga winner for SE…
3 minutes ago

onlygators

OnlyGators.com


FINAL: No. 1 Florida #Gators advance to SEC Tournament finals w/ 56-49 win over Tennessee. Young - 16 pts (4/4 FT).
7 minutes ago

GatorZoneScott

Scott Carter


#Gators going to advance...
7 minutes ago

onlygators

OnlyGators.com


Wilbekin at the FT line to ice the game, his first FTs of contest. He hits 1-of-2 putting #Gators up five, 10 left.
8 minutes ago

GatorZoneNews

Florida Gators


RT @GatorZoneChris: Scottie misses drive, Vols knocked ball out of bounds with 20 seconds to go. #Gators
11 minutes ago

onlygators

OnlyGators.com


Moore shorts a three, Yeguete grabs the rebound. Wilbekin misses floater but out of bounds on #Vols. #Gators up 4, w/ ball, 20.6 left.
12 minutes ago

GatorZoneScott

Scott Carter


Play has resumed…#Gators get a stop, under a minute left
13 minutes ago

onlygators

OnlyGators.com


Just an offensive foul. Tennessee ball down four with 1:19 to play.
13 minutes ago

onlygators

OnlyGators.com


Wilbekin definitely touches Barton, but Barton was all up in his grill. Nothing malicious. Did not try to use elbow.
14 minutes ago

GatorZoneScott

Scott Carter


All this game needs is Marshall Henderson to streak across the court or something.
14 minutes ago

GatorZoneScott

Scott Carter


Take on press row seems to e that Barton just won an Oscar on that Scottie foul...
16 minutes ago

onlygators

OnlyGators.com


Wilbekin called for an offensive foul for an elbow. He hit Barton, it seems, but major acting job right there.
16 minutes ago

GatorZoneScott

Scott Carter


FYI...RT @GatorZoneChris: Antonio Barton called for flagrant foul. Prather gets two FTs, #Gators get ball back: 1:21 to go. UF up 53-49.
18 minutes ago

onlygators

OnlyGators.com


Prather goes 2-for-2 from the line, increasing #Gators lead to 4 with 1:21 to play. Florida keeps possession due to flagrant.
18 minutes ago

onlygators

OnlyGators.com


Prather was not just grabbed around the waist...but in the man region, too. Called a Flagrant 1 foul. Prather 0/2 from line today so far.
19 minutes ago

GatorZoneScott

Scott Carter


#Gators have outscored #Vols 23-14 i second half after outscoring Missouri 43-20 yesterday. That's a 66-34 second-half advantage.
19 minutes ago

onlygators

OnlyGators.com


RT @johnclayiv: Looks like Wilbekin has a cramp. They are rubbing the back of his calf.
19 minutes ago

GatorZoneScott

Scott Carter


Don't really think Barton went for ball on that play. Anyway, Prather will shoot at least 2. Scottie rubbing his right calf during timeout.
21 minutes ago

onlygators

OnlyGators.com


Prather grabbed by waist on fastbreak potential dunk. It's short. He'll head to line with #Gators up 2, 1:21 left. 0/2 from stripe today.
22 minutes ago

onlygators

OnlyGators.com


Frazier picks the pocket again for another steal. His third of the game. Gets swatted on the other end, again.
22 minutes ago

onlygators

OnlyGators.com


Young answers with a hook. He now has 14. #Gators up two with two to play.
23 minutes ago

GatorZoneScott

Scott Carter


Jordan McRae's 3 ties game 49-49…a nail-biting final 2 minutes coming up…Young scores, #Gators up by 2
23 minutes ago

onlygators

OnlyGators.com


McRae hits a game-tying three to end Tennessee's field goal drought, which lasted 9+ minutes. 49 all, 2:30 left.
23 minutes ago

GatorZoneScott

Scott Carter


A rarity…I see both teams' fans on Twitter complaining about the refs almost simultaneous.
25 minutes ago

onlygators

OnlyGators.com


Donovan takes a timeout with Florida possessing the ball and leading 49-46 with 3:20 left to play.
25 minutes ago

GatorZoneScott

Scott Carter


Finney-Smith just fouled out. Yeguete in. #Gators up 49-46 with 4:02 left.
26 minutes ago

onlygators

OnlyGators.com


Finney-Smith fouls out for a push underneath. He did not score today but his length was a huge plus for #Gators. Yeguete in with four.
26 minutes ago

onlygators

OnlyGators.com


Yeah, this. Maymon had 10 points, nine boards. Big loss with 4 left. RT @zurbo1984: @onlygators not thrown out, fouled out
27 minutes ago

GatorZoneScott

Scott Carter


#Gators hit 4 FTs (Frazer 2, Young 2) when they really needed them. Up by 4, Tennessee at line, 4:27 left.
28 minutes ago

onlygators

OnlyGators.com


Young hits two FTs for the regular foul. Four points for #Gators, which lead 49-45. Florida now 5/11 from line vs. 8/9 for UT.
28 minutes ago

onlygators

OnlyGators.com


Frazier hits two FTs, putting #Gators up 47-45. Florida now 3/9 from the line. Tennessee is 8/9. Huge difference from stripe.
28 minutes ago

onlygators

OnlyGators.com


Maymon picks up a technical for arguing a foul call and will be thrown out.
29 minutes ago

onlygators

OnlyGators.com


Prather strips Stokes on his way to the hoop. Young is called for his second foul. Stokes makes both to tie it at 45, 4:57 left.
31 minutes ago

GatorZoneScott

Scott Carter


Test, test, test.
31 minutes ago

onlygators

OnlyGators.com


Tennessee has not scored in 6:56 minutes. But Florida hasn't scored in 3:38 and counting as Prather misses 2 FT. UF 1/7 from line.
32 minutes ago

onlygators

OnlyGators.com


Frazier with a beautiful strip. He then drives to the hoop for a lay-in...but picks up an offensive foul. Nearly great.
34 minutes ago

onlygators

OnlyGators.com


Two more offensive rebounds for #Vols, though Yeguete ties up Stokes to save a layup and flip the arrow for Florida. UF up 2, 7 left.
36 minutes ago

onlygators

OnlyGators.com


Lob for Prather coming out of time out does not work. Yeguete battles for the rebound and picks up his fourth foul. 7:39 left.
37 minutes ago

GatorZoneNews

Florida Gators


RT @GatorZoneChris: Under-8 TO (7:51): Florida 45, Tennessee 43. #Gators playing some D this half. UT 4-13 from floor, 8 TOs. Pat 6 pts, 4 …
37 minutes ago

GatorZoneScott

Scott Carter


Tennessee shooting 4-for-13 in second half (31 percent)
38 minutes ago

onlygators

OnlyGators.com


@Goldkamp247 Surprised Donovan kept Finney-Smith in after he picked up his third so quickly, but his length inside has been a key in 2nd.
40 minutes ago

onlygators

OnlyGators.com


Young with his layup became third #Gators player in double figures (Wilbekin, Prather). Rest of team has 12 points combined.
42 minutes ago

onlygators

OnlyGators.com


Frazier with a monster three from the elbow, his first of the game, giving #Gators a 45-43 lead with 8:55 to play.
43 minutes ago

GatorZoneScott

Scott Carter


Steal, Frazier 3…I think that is the first "Oh My" from Mick all day…#Gators lead 45-43
43 minutes ago

onlygators

OnlyGators.com


Great shot fake for DFS, who creates a wide open dunk for Young. Press then forces a steal. DFS hammered while going up for a layup.
46 minutes ago

GatorZoneScott

Scott Carter


DFS with good pass to Young for dunk. Now going to line after getting fouled.
46 minutes ago

GatorZoneScott

Scott Carter


Stokes picked up a couple of fouls on that play…but only called for one.
48 minutes ago

GatorZoneScott

Scott Carter


#Vols on 6-0 run after #Gators took a one-point lead. Tennessee up 43-38 at U-12 media timeout (11:39 left in game).
51 minutes ago

onlygators

OnlyGators.com


Stokes puts back #Vols sixth offensive rebound of the game. Tennessee on a 6-0 run. Then Hill throws a terrible lob. Forces it too much.
51 minutes ago

GatorZoneScott

Scott Carter


#Gators call timeout as #Vols respond with 4 consecutive points, regain lead 41-38 with 12:42 remaining.
54 minutes ago

GatorZoneNews

Florida Gators


RT @GatorZoneMBK: Hill is blocked and McRae finishes on other end for Tenn. 41-38 Vols with 12:42 remaining.
about an hour ago

onlygators

OnlyGators.com


#Gators now 3-for-7 from three as Frazier, Finney-Smith and Wilbekin each miss in succession. UT back up 41-38 with a fastbreak layin.
about an hour ago

onlygators

OnlyGators.com


Hill's increased confidence is apparent. #Gators re-take the lead 38-37 on a layup, 10-2 run in progress.
about an hour ago

GatorZoneScott

Scott Carter


Kasey Hill uses left hand on drive to basket to give #Gators 38-37 lead
about an hour ago

onlygators

OnlyGators.com


Defense --> fastbreak --> open threes for Frazier. If #Gators can keep up the intensity, could turn the tide.
about an hour ago

GatorZoneScott

Scott Carter


RT @gatorhoops: Florida has turned up intensity on defensive end. With this Gator team, it's all about defense fueling offense.
about an hour ago

GatorZoneNews

Florida Gators


RT @GatorZoneChris: #Gators have cut the lead to 1 after that Prather steal and reverse layup by Frazier (his first FG).
about an hour ago

GatorZoneScott

Scott Carter


#Gators bench came out to midcourt to greet lineup on floor going into that timeout…UF has outscored Vols 8-2 early in second half.
about an hour ago

onlygators

OnlyGators.com


#Gators open second half on an 8-2 run with three #Vols turnovers, cutting deficit to one with the ball.
about an hour ago

onlygators

OnlyGators.com


Frazier scores his first points on a fastbreak reverse layup. #Gators now down one with 15:30 left.
about an hour ago

GatorZoneScott

Scott Carter


Frazier's first bucket (a layup) cuts Vols' lead to 37-36
about an hour ago

onlygators

OnlyGators.com


Prather joins Wilbekin in double figures with a spinning drive. #Gators down three with 16 to play.
about an hour ago

GatorZoneScott

Scott Carter


#Gators ball, down 37-32 with clock approaching 16 minutes left.
about an hour ago

GatorZoneScott

Scott Carter


ABC...RT @godsavemyjags: @GatorZoneScott @go_duval what network is the game on, I'm almost home, listening to mick now
about an hour ago

onlygators

OnlyGators.com


Frazier / Finney-Smith - 0 points, 3 rebounds (Frazier), 3 fouls (DFS).
about an hour ago

GatorZoneNews

Florida Gators


RT @GatorZoneMBK: Prather and Young with baskets to cut Vol lead to three. 35-32.
about an hour ago

onlygators

OnlyGators.com


Finney-Smith picks up his third foul less than two minutes into the second half. Stupid foul, too, trying to push for space on a reb.
about an hour ago

onlygators

OnlyGators.com


Two quick inside baskets for #Gators - Prather, Young - Florida now within three just like that.
about an hour ago

APMarkLong

Mark Long


RT @osgators: Michael Frazier II 23 of 38 from 3-pt line past 4 games, has yet to attempt one vs Vols. No pts after scoring 75 in 4 games
about an hour ago

GatorZoneScott

Scott Carter


#Gators had just two assists, seven turnovers in first half. Tennessee with a 20-12 points-in-paint advantage.
about an hour ago

GatorZoneScott

Scott Carter


HALFTIME: #Vols 35, #Gators 28 — Scottie Wilbekin with 13 points, rest of team with 15. He's going to need help in this one.
about an hour ago

GatorZoneNews

Florida Gators


RT @GatorZoneChris: #Gators need stops. UF coaches wanted UT to take tough 2-pt shots. Vols are getting easy 2-pt shots - 13 of 20 inside a…
about an hour ago

GatorZoneNews

Florida Gators


RT @GZTrackField: We're under way in Albuquerque for day two! #Gators Brittany Harrell just completed first event of pent. Turns in 8.54 in…
about an hour ago

onlygators

OnlyGators.com


#Gators have nine fouls. Frontcourt; 8 (Yeguete 3, DFS 2, Prather 2, Young 1), Wilbekin: 1. Not a single 3 attempt for Frazier.
about an hour ago

onlygators

OnlyGators.com


Tennessee worked Florida in the paint, outscoring UF 20-12, outrebounding 15-10 and grabbing 5 Orebs to just 1 for #Gators.
about an hour ago

APMarkLong

Mark Long


RT @pnewberry1963: Worth noting: #Gators outscored #Vols 75-46 in 2nd half of their 2 regular-season games. #SEC
about an hour ago

GatorZoneNews

Florida Gators


RT @SEC: #BeSECMBB: HALFTIME - Tennessee 35, Florida 28. #SEC
about an hour ago

onlygators

OnlyGators.com


Florida's down 7, largest halftime deficit of season was 8 vs. Auburn. #Gators won by 5...but that was Auburn.
about an hour ago

GatorZoneNews

Florida Gators


RT @GatorZoneLAX: That's the game, Syracuse wins 17-12. #FLax
about an hour ago

onlygators

OnlyGators.com


HALF: Tennessee leads No. 1 Florida 35-28 in SEC Tourney semis. Wilbekin buzzer three helps UF avoid largest halftime deficit of season.
about an hour ago

onlygators

OnlyGators.com


Tennessee is absolutely dominating Florida right now. Better defensive effort, great energy, working UF inside.
about an hour ago

GatorZoneScott

Scott Carter


Kasey Hill's lay-up breaks scoring drought…Now 35-25 Vols after McRae answers.
about an hour ago

onlygators

OnlyGators.com


Frazier, Florida's best FT shooter, misses front end of a one-and-one. Not Florida's day so far.
about an hour ago

GatorZoneNews

Florida Gators


RT @GatorZoneChris: #Gators last FG was 6:19 (4-plus minutes). Now trail by double-digits for first time since Wisconsin (Game 2).
about an hour ago

onlygators

OnlyGators.com


Nov. 12, 2013 - second game of season. RT @pat_dooley: First time Florida has trailed by double digits since Wisconsin
about an hour ago

GatorZoneScott

Scott Carter


Yeguete is visibly frustrated. Picks up his third foul. #Gators need a bucket.
about an hour ago

onlygators

OnlyGators.com


Wilbekin's fastbreak thwarted by a great McRae block. Yeguete then picks up his third foul, giving UT 1-and-1, up 8.
about an hour ago

GatorZoneScott

Scott Carter


That was a heckuva block by McRae, but #Gators retain possession.
about an hour ago

onlygators

OnlyGators.com


Wilbekin has badly missed his last two three attempts, remains only #Gators player to even take one today. Yeguete, Prather, DFS 2 fouls ea.
about an hour ago

DerekTysonESPN

Derek Tyson


Martez Ivey again. https://t.co/KPsoQRFZKL
about an hour ago

DerekTysonESPN

Derek Tyson


Byron Cowart vs. Martez Ivey https://t.co/YT6fIWVsDW
about an hour ago

GatorZoneNews

Florida Gators


RT @GatorZoneMBK: Double techs called. #Gators trail by 8, 31-23 with 3:59 till half.
about an hour ago

GatorZoneScott

Scott Carter


That was a double technical on Prather and UT's Armani Moore…they got tangled up after that last UF turnover.
about an hour ago

GatorZoneScott

Scott Carter


Jordan McRae with back-to-back drives and #Vols lead 31-23. UT taking advantage of every Florida miscue.
about an hour ago

onlygators

OnlyGators.com


Prather stumbles trying to drive, turns it over. Tennessee gets an easy fastbreak lay-in. Refs call double Ts on Prather & Moore. UT up 8.
about an hour ago

onlygators

OnlyGators.com


Yikes. Stokes's pass was bad. Walker's shot was worse. #Vols ahead 29-23 after another inside basket.
about an hour ago

GatorZoneScott

Scott Carter


Stokes threw that pass to Macon after Young and Yeguete doubled him…#Gators with ball and trail 27-23
about an hour ago

APMarkLong

Mark Long


@Goldkamp247 looks like? definitely is
about an hour ago

DerekTysonESPN

Derek Tyson


Andrew ivie, brother of Joey Ivie https://t.co/8JLIYeKAYg
about an hour ago
SEC SCOREBOARD
Saturday, 12/21
Monday, 12/23
Tuesday, 12/24
Thursday, 12/26
Friday, 12/27
Saturday, 12/28
Monday, 12/30
Tuesday, 12/31
Wednesday, 1/1
Thursday, 1/2
Friday, 1/3
Saturday, 1/4
Sunday, 1/5
Monday, 1/6
BLOG ARCHIVE:
CATEGORIES: