GatorNation: Muschamp on signing day
February, 6, 2013
2/06/13
5:30
PM ET
By
RecruitingNation
| ESPN.com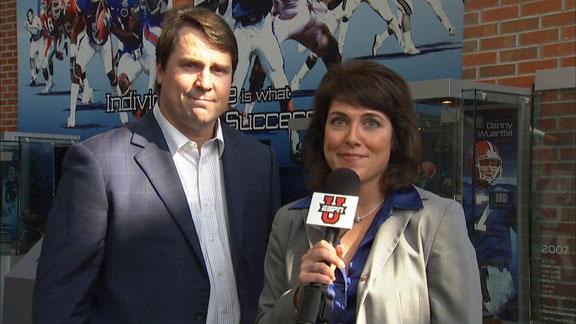 Cara Capuano interviews Florida coach Will Muschamp about the Gators' recruiting class. Muschamp says he is relieved the process is coming to a close, but he won't know until later in the year which players will be able to contribute as freshmen.
The team handled adversity well
Heading on the road this week, Muschamp feels the team will be conditioned to handle adversity.
The team handled adversity well
VIDEO PLAYLIST
FLORIDA FB RECRUITING SCORECARD
GatorZoneScott

Scott Carter


ICYMI, In The (Gator) Zone: Horschel's huge payday, Tebow's GMA debut, Easley's INT, more tidbits: http://t.co/H2P26GLgMn #Gators
about a minute ago

GatorVisionTV

GatorVision


ICYMI: Here's a look back at @GatorZoneFB's thrilling 36-30 triple overtime win over Kentucky in this Gator Rewind! https://t.co/f1yQmqxcoN
3 minutes ago

GatorVisionTV

GatorVision


ICYMI: Here's a closer look at @_DRob11's performance for @GatorZoneFB against UK in this week's Swamp Spotlight! https://t.co/FCkO9sOEnV
4 minutes ago

GatorZoneScott

Scott Carter


#Gators P Kyle Christy named #SEC Special Teams Player of Week: http://t.co/LB0LJ7f5K8
4 minutes ago

GatorZoneNews

Florida Gators


What makes us rise? Why do we raise our voices as one? #GatorsAlways http://t.co/QVBRCXcyyI http://t.co/4dTGaGkULE
6 minutes ago

onlygators

OnlyGators.com


ICYMI: Some updates from Florida #Gators head coach Will Muschamp on Monday - http://t.co/gWPEB9seUd
8 minutes ago

onlygators

OnlyGators.com


Our #Gators in the NFL post from Mon. nite. @jelanijenkins3 & @JAY_E_9 named Players of the Week: http://t.co/n3C1BSFKOx
10 minutes ago

GatorZoneFB

GatorZone Football


#Gators in the @NFL this weekend made some huge plays for their teams. Check out how they performed. #GatorMadehttp://t.co/YdNrmIwT0P
14 minutes ago

GatorZoneFB

GatorZone Football


.@KyleChristy4 was named the @SEC special teams' player of the week after averaging 48.7 yards per punt against UK.http://t.co/N8vkvyduly
15 minutes ago

GatorZoneFB

GatorZone Football


From @GatorZoneChris - Muschamp, Gators Look to Tidy Things Up for Tide #UFvsBama http://t.co/oqr9zqSWRW
16 minutes ago

GatorVisionTV

GatorVision


ICYMI: @GatorZoneFB's @_VH3 (Hargreaves) also spoke to the media and discussed the upcoming game at Alabama and more. http://t.co/KJWP2Gt6BT
17 minutes ago

GatorVisionTV

GatorVision


ICYMI: Yesterday @jeffdriskel answered questions about @GatorZoneFB's win over UK and upcoming trip to Alabama. http://t.co/KJWP2Gt6BT
20 minutes ago

GatorVisionTV

GatorVision


ICYMI: @CoachWMuschamp addressed the media yesterday about @GatorZoneFB's win over UK and upcoming game at Alabama. http://t.co/6g4acKps31
20 minutes ago

onlygators

OnlyGators.com


We're back up and running after our scheduled server upgrade earlier this hour. Thank you for your patience.
about an hour ago

onlygators

OnlyGators.com


There is a scheduled upgrade to our server that will commence at 8 a.m. ET and last for approx. 20-30 mins. We will be back online soon!
about 2 hours ago

onlygators

OnlyGators.com


So, yeah, the best 3+ weeks of Billy Horschel's life.
about 8 hours ago

onlygators

OnlyGators.com


RT @BillyHo_Golf: Got home at 930pm from ATL. @britt_horschel water broke 3 hours later at 1230am. At hospital now awaiting arrival of Baby
about 8 hours ago

JeffBarlisESPN

Jeff Barlis


A Floridian who Florida wants no part of. What's that say? RT @MarkEnnis: Shocking. And he'll visit UK soon no doubt https://t.co/bJkKT9gDlk
about 9 hours ago

onlygators

OnlyGators.com


29 fmr Florida #Gators were active in Week 2. Check out all the stats & notes + watch highlights: http://t.co/n3C1BSFKOx
about 10 hours ago

ScoutFlorida

Scout Gators


#Gators Podcast: Gators & More w/ Hollywood Bob 9/15 - Demarcus Robinson put on a show and that was a good ... http://t.co/vMOUsn16g9
about 11 hours ago

GatorZoneScott

Scott Carter


Still a fan (rare these days I guess) @Goldkamp247: They probably hacked that too.RT @GatorZoneScott: Why is this U2 commercial on my TV?
about 11 hours ago

GatorZoneScott

Scott Carter


Why is this U2 commercial on my TV?
about 11 hours ago

GatorZoneScott

Scott Carter


RT @StormTeam8WFLA: Jack Miller. Clearwater Beach. Saturday night. #stunning http://t.co/Mm5kgb1sWZ
about 11 hours ago

GatorZoneScott

Scott Carter


Yup, 3:30 game...RT @gator_mets: @GatorZoneScott will Saturdays game be on CBS?
about 11 hours ago

GatorZoneScott

Scott Carter


Amazing how much more physical and faster NFL is compared to college. From someone who doesn't watch a lot of NFL (a rare breed I know).
about 11 hours ago

GatorZoneFB

GatorZone Football


.@KyleChristy4 named SEC Special Teams Player of the Week http://t.co/N8vkvyduly http://t.co/GA6v4AshKL
about 12 hours ago

ClayBurton88

Clay Burton


Let's go Eagles @TreyBurton8 !! #FlyEaglesFly #MNF
about 12 hours ago

jackyboy5454

Jack Anderson5?3?


Just got off the phone with Coach Bielema and I have received an offer from Arkansas 🐗 #WPS #Blessed🙏
about 12 hours ago

NitroNate9

October 4


Mississippi State! #HAILSTATE http://t.co/KKKDJjVYLx
about 13 hours ago

GatorZoneScott

Scott Carter


In The (Gator) Zone: Horschel's Huge Payday, Tebow's GMA Debut, more tidbits: http://t.co/H2P26GLgMn #Gators
about 13 hours ago

GatorsNow

Florida Gators Now


In The (Gator) Zone: Horschel's Huge Payday, Tebow's GMA Debut, More Tidbits: http://t.co/3M3WCHTWgB
about 14 hours ago

Gator_sports

Gatorsports.com


Christy named SEC Special Teams Player of the Week http://t.co/x1p2zK9jQf
about 14 hours ago

GatorZoneFB

GatorZone Football


.@KyleChristy4 named SEC Special Teams Player of the Week http://t.co/N8vkvyduly http://t.co/GA6v4AshKL
about 14 hours ago

GatorZoneGolf

Gator Golf


"You can see being a Gator still runs in his blood" @realjcdeacon on Horschel's Gator chomps after winning FedExCup http://t.co/eL8AckKjyc
about 14 hours ago

GatorZoneGolf

Gator Golf


Florida Women's Golf Remains Consistent on Day Two of the Cougar Classic #Gators #ItsGreatUF http://t.co/imXvzt3xPb
about 14 hours ago

Gator_sports

Gatorsports.com


UF punter Kyle Christy is the SEC Special Teams Player of the Week. He averaged 48.7 yards per punt on six tries in win over UK.
about 14 hours ago

onlygators

OnlyGators.com


Florida #Gators punter Kyle Christy named SEC Special Teams Player of the Week.
about 14 hours ago

GatorZoneScott

Scott Carter


#Gators look to tidy things up for Tide writes @GatorZoneChris: http://t.co/ndbhAAIXCJ #UFvsUA
about 15 hours ago

Eagles

Philadelphia Eagles


@TreyBurton8 Welcome to primetime, rookie. #FlyEaglesFly http://t.co/hjhBqJTkfK
about 15 hours ago

GatorsNow

Florida Gators Now


Gators Move to No. 7 in AVCA DI Top-25 Poll, Wise Recaps California & Previews Upcoming Action: The Florida Ga... http://t.co/eF3N4YLpnp
about 15 hours ago

onlygators

OnlyGators.com


#Gators coach Will Muschamp updates injuries, hands out awards, reviews UK, previews Bama - http://t.co/gWPEB9seUd
about 15 hours ago

onlygators

OnlyGators.com


#Gators golfer Billy Horschel's last 12 rounds: 69, 66, 67, 69, 68, 66, 63, 69, 66, 66, 69, 68. Incredible.
about 16 hours ago

GatorZoneFB

GatorZone Football


Muschamp, #Gators Look to Tidy Things Up for Tide http://t.co/L2ESNQVrmt
about 16 hours ago

APMarkLong

Mark Long


Jaguars have signed DE Chris Smith to the practice squad
about 16 hours ago

GatorZoneScott

Scott Carter


VIDEO: Good look back at #Gators-Kentucky with #GatorRewind from @GatorVisionTV: http://t.co/8N7qmqjDxZ
about 16 hours ago

Gator_sports

Gatorsports.com


Notebook: UF's Driskel to fix accuracy http://t.co/OThiIOEgsA
about 17 hours ago

GatorZoneNews

Florida Gators


What makes us rise? Why do we raise our voices as one? #GatorsAlways http://t.co/gckJkuNtf2 http://t.co/4dTGaGkULE
about 17 hours ago

GatorZoneNews

Florida Gators


.@BillyHo_Golf RT @GatorVisionTV: VIDEO: The PGA Tour offices have a nice Orange & Blue feel to them today - http://t.co/g1infQ9xz0
about 17 hours ago

onlygators

OnlyGators.com


NEW Snell's Slant by @theebigbossSS: Florida-Kentucky was not for the faint of heart - http://t.co/vGobtd9DgQ
about 17 hours ago

JeffBarlisESPN

Jeff Barlis


Muschamp & his players insist this team is different, mentally tougher and has an offense with actual playmakers. http://t.co/iFYOQP47XO
about 17 hours ago

JeffBarlisESPN

Jeff Barlis


Shades of 2013, but this time #Gators win. "We certainly made it interesting," said a visibly disappointed Muschamp. http://t.co/iFYOQP47XO
about 17 hours ago

JeffBarlisESPN

Jeff Barlis


#Gators squeak past #UK in 3OT. Muschamp & Foley exit the field arm in arm. "Never a doubt," Foley joked. http://t.co/iFYOQP47XO
about 17 hours ago

Gator_sports

Gatorsports.com


UF fixing defensive back miscues http://t.co/XYX0HXHjgT
about 17 hours ago

JeffBarlisESPN

Jeff Barlis


There were shades of 2013 in the #Gators-#UK game, but one big difference was this time Florida won the game. Story: http://t.co/iFYOQP47XO
about 17 hours ago

ScoutFlorida

Scout Gators


#Gators Notebook: Cooper-Hargreaves matchup a key - All eyes in the scouting community will be locked on th... http://t.co/YMy54borwj
about 18 hours ago

GatorsNow

Florida Gators Now


Muschamp's Monday Press Conference Video and Transcription: Florida Gators head football coach Will Muschamp s... http://t.co/0g4Ra1t5sM
about 18 hours ago

JeffBarlisESPN

Jeff Barlis


Not all #FSU fans, of course, but some of you are obsessed with Florida.
about 18 hours ago

JeffBarlisESPN

Jeff Barlis


#FSU fans keeping up their 8-month streak of caring more about the #Gators than the #Noles.
about 18 hours ago

GatorZoneFB

GatorZone Football


Relive the excitement from The Swamp on Saturday night with The Gator Rewind: #UFvsUK http://t.co/G8QhLBrPxR
about 18 hours ago

iman_marshall8

Biggie


It's Official ™ http://t.co/f9e0tHlmeo
about 18 hours ago

JeffBarlisESPN

Jeff Barlis


Everybody talkin bout the $13.5M Billy Horschel won in last month. What about the $5.9M in his first 98 career tourneys? #ShouldaBeenAGolfer
about 18 hours ago

GZTrackField

Gator T & F and XC


WATCH: #Gators #SECTF Indoor Champions honored at #UFvsUK http://t.co/nCz3mOK8hL
about 18 hours ago

ScoutFlorida

Scout Gators


#Gators Gators focused on improving the secondary - The film was more encouraging about Florida's secon... http://t.co/TXvbCeCzEY
about 19 hours ago

GatorsNow

Florida Gators Now


Rhamat Alhassan Named SEC Offensive Player of the Week: Gator freshman middle blocker Rhamat Alhassan is the S... http://t.co/N3I69vDOXP
about 19 hours ago

APMarkLong

Mark Long


Jaguars RT @gregauman: 7 NFL teams opened 0-2 last year. Avg final wins? 5.7. Car went from 0-2 to 12-4, NYG went 7-9. Rest won 5 or less
about 19 hours ago

MrGobert

J. Gobert


The music industry has come full circle. From suing people for downloading music to not even being able to give it away for free. #U2
about 19 hours ago

GatorZoneVB

Gator Volleyball


READ: @ra_montie tabbed @sec Offensive Player of the Week http://t.co/5ncOhVg8M8 #Gators #PointFL
about 19 hours ago

GatorVisionTV

GatorVision


VIDEO: @GatorZoneFB CB Vernon Hargreaves (@_VH3) recaps the UK win and looks ahead to Alabama http://t.co/tQVrcQFCFY
about 19 hours ago

GatorVisionTV

GatorVision


VIDEO: @GatorZoneSoccer head coach Becky Burleigh (@UFGatorSoccer) discusses the west coast road trip & more http://t.co/fKpwjTEgWz
about 19 hours ago

GatorVisionTV

GatorVision


VIDEO: @GatorZoneGolf men's head coach @realjcdeacon is looking forward the Wolf Run Intercollegiate this weekend http://t.co/lgMlmIWz1r
about 19 hours ago

GatorVisionTV

GatorVision


VIDEO: @GatorZoneVB head coach @GatorMary earned her 800th win & discusses the successful road swing to California http://t.co/DsDQwiq6Ax
about 19 hours ago

GatorVisionTV

GatorVision


VIDEO: @GZTrackField coach Paul Spangler (@GatorXC) looks ahead to the Mountain Dew Invitational this weekend http://t.co/4XwBSTQ0Be
about 19 hours ago

TimCaseyPhoto

Tim Casey


ICYMI: Photos from @GatorZoneFB 3OT win vs Kentucky http://t.co/EIpfw44fwU #ItsGreatUF #UFvsUK http://t.co/tiDMLIJAa8
about 20 hours ago

GatorVisionTV

GatorVision


VIDEO: @GatorZoneFB quarterback @jeffdriskel recaps the UK win and looks ahead to Alabama http://t.co/KJWP2Gt6BT
about 20 hours ago

GatorVisionTV

GatorVision


VIDEO: @GatorZoneFB @CoachWMuschamp discusses the UK win and looks ahead to Alabama http://t.co/6g4acKps31
about 20 hours ago

GatorZoneFB

GatorZone Football


#Gators come in all sizes. RT @ADAMlane22: #Gatornation #hiiipower @_Powellbp4 http://t.co/C1Mmm8nF3y
about 20 hours ago

APMarkLong

Mark Long


Whoa, Jaguars TE Marcedes Lewis has a high-ankle sprain and is out 6-8 weeks
about 21 hours ago

DerekTysonESPN

Derek Tyson


If you are a football fan, you have to be thrilled to watch Vernon Hargreaves vs. Amari Cooper this weekend. Both future impact NFL players
about 21 hours ago

JeffBarlisESPN

Jeff Barlis


#Gators star corner VH3: "I would say this is a statement game. ... Everybody in the SEC wants to beat Bama."
about 21 hours ago

GatorZoneScott

Scott Carter


Hargreaves said the look in eyes of teammates in overtime Saturday was totally different than last year. Says they were confident in a W.
about 21 hours ago

GatorZoneScott

Scott Carter


"Obviously everyone wants to beat Bama. I guess you could say it's a statement game.'' — Hargreaves
about 21 hours ago

GatorZoneScott

Scott Carter


"We're not really looking at ourselves as underdogs. I don't think we ever have. It's Florida against Bama." — Hargreaves
about 21 hours ago

APMarkLong

Mark Long


Gators CB Vernon Hargreaves III: "We're not really looking at ourselves as underdogs. .. The results will be the results."
about 21 hours ago

GatorZoneScott

Scott Carter


"We both know the magnitude of the game. It's going to be exciting.'' Hargreaves on Cooper, whom he has talked to on Twitter
about 21 hours ago

onlygators

OnlyGators.com


RT @APMarkLong: Gators CB Vernon Hargreaves III on Amari Cooper: "Obviously, I'm going to be covering him. I'm excited for the matchup."
about 21 hours ago

APMarkLong

Mark Long


Gators CB Vernon Hargreaves III on Alabama's Amari Cooper: "Obviously, I'm going to be covering him. I'm excited for the matchup."
about 21 hours ago

JeffBarlisESPN

Jeff Barlis


Vernon Hargreaves: "Obviously I'm going to be covering him (Amari Cooper). I'm excited for the matchup."
about 21 hours ago

gatorhoops

Kevin Brockway


SEC releases statement on controversial Florida-Kentucky ending: http://t.co/is6ftsiR49
about 21 hours ago

GatorZoneScott

Scott Carter


"I bet some of the guys will be a little wide-eyed at first … but at end of day, it's just football." — Driskel on younger players at Bama
about 21 hours ago

APMarkLong

Mark Long


Gators QB Jeff Driskel: "I'd rather me miss the open receivers than not have the open receivers."
about 21 hours ago

onlygators

OnlyGators.com


"We're gonna get that corrected." RT @osgators: "I had some open guys, just have to give those guys a chance," Driskel on deep balls.
about 21 hours ago

JeffBarlisESPN

Jeff Barlis


Driskel says he "definitely wasn't prepared" first time he faced #Bama in 2011: "I'm going to let Treon know I could go down at any minute."
about 21 hours ago

CJonesScout

Cody Jones


Driskel on errant deep throws: "I had some open guys. I've got to give those guys a chance."
about 21 hours ago

GatorZoneScott

Scott Carter


"We have our hands full, and we're really looking forward to diving in and watching Alabama game film." — Driskel
about 21 hours ago

GatorZoneScott

Scott Carter


"Not all plays are called for me to be able to run, that's just you all assuming.'' — Driskel on lack of QB runs
about 21 hours ago

JeffBarlisESPN

Jeff Barlis


Jeff Driskel's memories of playing against #Bama as a true freshman: "They weren't good." It was his first playing experience.
about 21 hours ago

GatorZoneScott

Scott Carter


"There was no question that was a huge play for him.'' — Muschamp on Driskel's pass to Robinson in OT
about 21 hours ago

GatorZoneScott

Scott Carter


"Hurry up." — Muschamp on his thoughts prior to 4th-and-7 play that led to Robinson's TD in OT
about 21 hours ago

DK_Thompson

Daniel Thompson


The #Gators lead the nation in time of possession, by a whopping 4:38.
about 21 hours ago

JeffBarlisESPN

Jeff Barlis


I didn't do a great job of transcribing Muschamp's "totally in control" quote with context. Correctable issue. I'll get it fixed.
about 21 hours ago
SEC SCOREBOARD
Thursday, 9/18
Saturday, 9/20
BLOG ARCHIVE:
CATEGORIES: