RN asks: Item you'd bring on a visit
January, 27, 2013
1/27/13
5:07
PM ET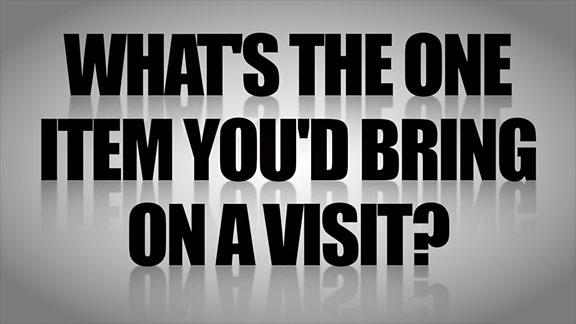 Top recruits Robert Nkemdiche, Kelvin Taylor, Keith Ford, Cooper Bateman and others talk about the one item they'd bring along on an official visit. They thought of everything from a toothbrush to a horse.
Florida AD Jeremy Foley joins Finebaum
Florida Athletics Director Jeremy Foley called into The Paul Finebaum Show to discuss the Florida football program, including their new coach.
Florida AD Jeremy Foley joins Finebaum
VIDEO PLAYLIST
FLORIDA FB RECRUITING SCORECARD
Gator_sports

Gatorsports.com


Notebook: Murphy makes impact in debut http://t.co/wkvlfDujUh
25 minutes ago

GatorsNow

Florida Gators Now


Gators Bloodied, But Fight Back to Fend Off Wake Forest: Dorian Finney-Smith scored 16 points, Michael Frazier... http://t.co/4jP2NqvJ4v
about 2 hours ago

APMarkLong

Mark Long


Cousin Eddie! "@CoachDanMullen: Merry Christmas from the staff party. http://t.co/2MPMegGnEt"
about 2 hours ago

GatorZoneMBK

Gator M-Basketball


Photo gallery from tonight¹s #OrangeBowlBasketball win, by @joeskipper:http://t.co/ctZ8s2yNad #ItsGreatUF http://t.co/EZGwVEONE4
about 2 hours ago

DerekTysonESPN

Derek Tyson


And blind RT "@GregRacaun: @DerekTysonESPN dude bro your wife is totally hott. **high fives"
about 3 hours ago

ScoutFlorida

Fightin' Gators


#Gators Gators pull away late against Wake Forest - The Demon Deacons wouldn't go away throughout the game ... http://t.co/UbVyJYQSri
about 3 hours ago

DerekTysonESPN

Derek Tyson


Think we rocked it at the tacky Christmas sweater party..... http://t.co/fLTIhlsOwc
about 4 hours ago

onlygators

OnlyGators.com


Fastbreak by @J_McPherson1126: Florida #Gators upend Wake Forest 63-50. 11 quick-hitters on the win http://t.co/rue85N1FXB
about 5 hours ago

onlygators

OnlyGators.com


Just noticed the Florida #Gators basketball Gameday did not post today as scheduled. Sorry about that.
about 5 hours ago

GatorZoneChris

Chris Harry


Instant 'At the Buzzer' analysis of #Gators 63-50 win over Wake Forest in the OB Classic at Sunrise. http://t.co/JKFCRvnKd6
about 5 hours ago

GatorZoneMBK

Gator M-Basketball


Final score from the Orange Bowl Classic. #Gators win! http://t.co/pqpaOzRMm6
about 5 hours ago

Gator_sports

Gatorsports.com


Finney-Smith, Gators outlast Demon Deacons, 63-50 http://t.co/paXE6deu8a
about 5 hours ago

GatorsNow

Florida Gators Now


Instant Analysis: Florida 63, Wake Forest 50: Dorian Finney-Smith led the Gators with 16 points, while junior ... http://t.co/D12LyEIt0d
about 5 hours ago

GatorZoneNews

Florida Gators


Morgan Freeman looks great in a #Gators hat, don't you think? He was here to see his granddaughter graduate. #UFGrad http://t.co/FOKm2qGWCU
about 5 hours ago

onlygators

OnlyGators.com


Fastbreak soon. RT @J_McPherson1126: Final: #Gators defeat Wake Forest 63-50. DFS finished with 16 points, Frazier with 12. Murphy scored 9
about 5 hours ago

GatorZoneMBK

Gator M-Basketball


Final http://t.co/cCTqYZY0nJ
about 5 hours ago

GatorZoneFB

GatorZone Football


Congrats to our student-athletes at @UF Commencement this afternoon! http://t.co/YTGzb5KTT4 #UFGrad #ItsGreatUF http://t.co/J9dGiv0utD
about 6 hours ago

GatorsNow

Florida Gators Now


Women's Hoops Hosts Gator Holiday Classic Sunday and Monday: Florida returns to the court after a seven-day br... http://t.co/bTRCkPVV19
about 6 hours ago

GatorZoneMBK

Gator M-Basketball


Michael Frazier will be back and start the 2nd half after getting 14 stitches for a forehead laceration.
about 6 hours ago

GatorZoneChris

Chris Harry


Michael Frazier out for 2nd half warmups, with giant bandage across his forehead. Took 14 stitches to close the gash, doctor said. #Gators
about 6 hours ago

onlygators

OnlyGators.com


MT @J_McPherson1126: #Gators lead Wake 28-19 at the half. Alex Murphy, Dorian Finney-Smith leading UF with 7 points each. 15-0 run (for) UF
about 6 hours ago

GatorZoneSBall

Gator Softball


Check out @stephanietofft at today's Commencement Ceremony! #UFGrad #ItsGreatUF http://t.co/LDIlFvy492
about 6 hours ago

GatorZoneMBK

Gator M-Basketball


HALF: UF 28, WF 19
about 6 hours ago

GatorZoneMBK

Gator M-Basketball


Kasey Hill hits 1/2 from the line to break a 7-minute scoring drought. 23-17 #Gators.
about 7 hours ago

GatorZoneChris

Chris Harry


Under-8 TO (6:51): Florida 22, Wake 15. Frazier out w/gash to head. #Gators 15-0 run, answered by 5 straight by Deacons. UF 9-0 pts off TO.
about 7 hours ago

GatorZoneScott

Scott Carter


Blog: McElwain eyes #Gators' backyard to return program to top: http://t.co/qxUbI7KI4U
about 7 hours ago

GatorZoneChris

Chris Harry


Frazier's return listed as 'questionable.' Getting stitched up now. #Gators
about 7 hours ago

DerekTysonESPN

Derek Tyson


Jim Haslett with the nice #SnotRocket https://t.co/vbx1VLPiHp
about 7 hours ago

GatorZoneSoccer

Gator Soccer


Graduation collage of @acspeese & @HavanaSolaun from this afternoon's ceremony. Congrats!#UFGrad #ItsGreatUF http://t.co/GgMg3xLZv2
about 7 hours ago

GatorZoneChris

Chris Harry


OK, cleared up. Yes, offensive foul on Frazier on the lean-in. #Gators
about 7 hours ago

GatorZoneMBK

Gator M-Basketball


Michael Frazier heads to the locker room after a collision. Will update his status when we can, but didn't look good initially.
about 7 hours ago

FOXSports1

FOX Sports 1


MORE HOOPS! @TieDyeNation vs. @GatorZoneMBK RIGHT NOW on FS1 in the #OrangeBowlClassic!
about 7 hours ago

GatorZoneMBK

Gator M-Basketball


If you're wondering how to watch or listen to today's game, here's all the info: http://t.co/5ptm5f8M1C
about 7 hours ago

GatorZoneChris

Chris Harry


Told forward Alex Murphy, transfer from Duke, can expect to go about 15 minutes in his #Gators debut today.
about 7 hours ago

GatorZoneScott

Scott Carter


"When the Gators were on top, they had the best players in the state of Florida. That's something we gotta come back and do." — McElwain
about 8 hours ago

GatorZoneScott

Scott Carter


"You've just got to take care of your own state, first … you've gotta be smart and wise and get the right fits.'' — McElwain on recruiting
about 8 hours ago

onlygators

OnlyGators.com


Gameday: Florida #Gators take on Wake Forest in Sunrise in the OBBC. Viewing info, status updates http://t.co/vjfDPBdb0L
about 8 hours ago

GatorZoneScott

Scott Carter


"It really takes patience. You only get one chance to get it right.'' — McElwain on filling out his coaching staff
about 8 hours ago

GatorZoneScott

Scott Carter


"No. 1, just getting a feel for the infrastructure, how it's built.'' — McElwain on toughest part of transition to new program
about 8 hours ago

GatorZoneScott

Scott Carter


"I've got to tell you, this may be the toughest thing I've ever done.'' — McElwain on watching Las Vegas Bowl on TV
about 8 hours ago

GatorZoneFB

GatorZone Football


Per Brent Musberger, @CoachMcElwain will be on air when ABC comes back from this commercial break.
about 8 hours ago

GatorZoneScott

Scott Carter


#bricks...RT @thebiglead: Kentucky 41, UCLA 7 at Halftime With the Bruins Shooting 3-37 From the Field http://t.co/7OqpO3LZUs
about 8 hours ago

GatorZoneFB

GatorZone Football


In about 5 minutes, @CoachMcElwain will join Brent Musberger and Jesse Palmer on ABC's telecast of the Las Vegas Bowl. Tune in!
about 8 hours ago

GatorZoneScott

Scott Carter


#Gators coach Jim McElwain scheduled to join Brent Musburger and Jesse Palmer on phone around 4:30 during Las Vegas Bowl.
about 8 hours ago

GatorZoneMBK

Gator M-Basketball


On the #Gators side, Alex Murphy will play and Eli Carter will not (illness).
about 9 hours ago

GatorZoneMBK

Gator M-Basketball


Wake Forest news. MT @TieDyeNation: Cornelius Hudson, Rondale Watson & Mitchell Wilbekin will sit out today's game: http://t.co/Rhvgioqndz
about 9 hours ago

GatorZoneFB

GatorZone Football


.@CoachMcElwain will join Brent Musberger and Jesse Palmer by phone on ABC around 4:30 ET during the Las Vegas Bowl.
about 9 hours ago

UFDeanJen

Jen Day Shaw


Surprise guest reader Morgan Freeman @UF Commencement celebrating our amazing new alumni #UFGrad http://t.co/k77wmxQHaZ
about 9 hours ago

GatorZoneMBK

Gator M-Basketball


Today's game is a neutral-site game for NCAA/RPI purposes. We are the designated home team & will wear our home whites.
about 9 hours ago

GatorZoneNews

Florida Gators


Our newest Gator grads will be hearing this song today during commencement... the Alma Mater! #ItsGreatUF #UFGrad http://t.co/Xs2mxmLdw4
about 9 hours ago

BoosieWhitlow

Boosie W. 4?9?


Thank God just earned a offer from Florida University! 🐊🐊🐊 #GoGators
about 9 hours ago

goldmedalmel

Mel Stewart


Congrats to Olympian Elizabeth Beisel for graduating from the University of Florida today http://t.co/eROR6i66Bo
about 10 hours ago

GatorVisionTV

GatorVision


Coming up at 5pm, @GatorZoneMBK plays Wake Forest in the Orange Bowl Classic. Live on @FOXSports1, more: http://t.co/Y4uuBeWMFB
about 10 hours ago

SEC

SEC Sports


VIDEO - @finebaum interview with Florida (@GatorZoneNews) athletics director Jeremy Foley: http://t.co/PjBXRgoOVC #SEC
about 11 hours ago

GatorZoneBB

Gator Baseball


Congrats to #Gators' Legend Brad Wilkerson!! #UFGrad #ItsGreatUF http://t.co/UAcU4ET9Tx
about 11 hours ago

MGarcia_76

Max G


It's about that time y'all !!! #ClassOf2014 #GatorNation http://t.co/tz9bBIq0Wr
about 11 hours ago

GatorZoneFB

GatorZone Football


Congrats to our student-athletes who participated in @UF Commencement this morning! #UFGrad #ItsGreatUF http://t.co/RZ0hDItbCE
about 11 hours ago

GatorZoneFB

GatorZone Football


Congratulations to Gator football alumnus Jeremy Brown for earning his Master's Degree! #ItsGreatUF #UFGrad http://t.co/rFztAoDAXR
about 11 hours ago

DaylonMack

THEE MACK TRUCK


My top two schools are LSU and TCU #NoOrder #GeauxTigers #GoFrogs
about 11 hours ago

GatorZoneScott

Scott Carter


This Louisville-Western Kentucky hoops spat is feisty.
about 11 hours ago

GatorZoneScott

Scott Carter


You can watch #Gators coach Jim McElwain's former team — Colorado State — today in Las Vegas Bowl against Utah: http://t.co/skHJzFXWFT
about 12 hours ago

GatorZoneScott

Scott Carter


RS junior, 2 years eligibility left...RT @IamTheMacrocosm: @GatorZoneScott so is he a red-shirt sophomore still or junior?
about 12 hours ago

GatorZoneMBK

Gator M-Basketball


Eli Carter will not play today vs. Wake Forest (illness).
about 12 hours ago

UFJSchool

UF J-School


Congratulations #UFGrad! Come join us in the Weimer Hall atrium for a reception with faculty, friends, family and food.
about 12 hours ago

GatorZoneAlbert

Albert


"May your hats fly as high as your dreams" - Michael Scott #UFGrad
about 13 hours ago

EmmittSmith22

Emmitt Smith


A family affair at #ChristmasinthePark with @SmithCharities @ESmithRealty helping SM Wright Foundation http://t.co/aLlyHIIjwF
about 13 hours ago

GatorZoneChris

Chris Harry


Transfer wait is over for #Gators forward @AlexMurphy5. He talked to me about his debut today vs Wake. http://t.co/D11FITqnjj
about 13 hours ago

GatorZoneChris

Chris Harry


Update: Guard Eli Carter, recovering from strep throat, is here in Sunrise but won't play for #Gators today vs Wake Forest in OB Classic.
about 13 hours ago

SmithCharities

Smith Charities


Our founders @TreasureYou and @EmmittSmith22 with @Mike_Rawlings at Christmas in the Park! http://t.co/XSELJy6yIR
about 14 hours ago

GatorZoneNews

Florida Gators


Congratulations, Gator grads! #UFGrad http://t.co/YLLb3nNHPJ
about 15 hours ago

GatorZoneScott

Scott Carter


ICYMI: Big day for former #Gators standout, major-leaguer Brad Wilkerson: http://t.co/JMUXSe3XJA
about 16 hours ago

GatorZoneScott

Scott Carter


New Gator Guy: Alex Murphy ready for #UF debut writes @GatorZoneChris: http://t.co/3eET7CeTd7
about 16 hours ago

GatorsNow

Florida Gators Now


New Gator Guy: Alex Murphy Ready for UF Debut: The Duke transfer and younger brother of former Gators standout... http://t.co/OKu4SHl8g1
about 16 hours ago

Gator_sports

Gatorsports.com


Gators square off with Wake Forest to open Orange Bowl Classic http://t.co/WkTwWcMXxQ
about 18 hours ago

GatorsNow

Florida Gators Now


Browns at Panthers Preview: Pete Prisco and Pat Kirwan preview the NFL Week 16 matchup between the Cleveland B... http://t.co/MqonND1WQQ
1 day ago

ScoutFlorida

Fightin' Gators


#Gators UF hoping to be full strength for Wake Forest - Just when the Gators expected to have their normal ... http://t.co/DlqtnLAHkx
1 day ago

ScoutFlorida

Fightin' Gators


#Gators The Scout Bowl Picks - The Scout team was asked for their bowl picks, and the consensus arrived for... http://t.co/fKYqm6m6J7
1 day ago

jakeganus_4

Jake Ganus


I'm so blessed and honored to be able to finish my college football career at The University of Georgia!! #DawgsOnTop
1 day ago

DerekTysonESPN

Derek Tyson


Recruits, if you're looking for pub, don't commit on Christmas Day. Exactly zero writers want to write on you & only a handful actually will
1 day ago

onlygators

OnlyGators.com


Stories up on http://t.co/fNBkx3GOPD today: #Gators in the NFL, basketball updates, $12.5M donation, Treon Harris charge.
1 day ago

onlygators

OnlyGators.com


Headed out on short vacation w exp Internet access. Sparse updates over next few days. Gameday up on site at 10am, post-game breakdown later
1 day ago

UF_SAAC

UF SAAC


Over the past 7 days 50 @GatorZoneNews student-athletes from 8 sports delivered 427 shoes w/ the GatorTracks program. http://t.co/e3PJOb6kNZ
1 day ago

onlygators

OnlyGators.com


#Gators coach Billy Donovan addresses Alex Murphy's eligibility, Eli Carter's health ahead of Wake Forest showdown - http://t.co/246pWaWHqb
1 day ago

GatorZoneNews

Florida Gators


Swing by #TheSwamp and check out our video boards! #UFGrad #HappyHolidays http://t.co/ORDd1eoJQN
1 day ago

GatorZoneScott

Scott Carter


Former Gator on move (again)…MT @WojYahooNBA: Minnesota Timberwolves trade Corey Brewer to Houston Rockets. http://t.co/hCKG3YhMHm
1 day ago

onlygators

OnlyGators.com


RT @WojYahooNBA: Minnesota has agreed to trade Corey Brewer to Houston, league source tells Yahoo Sports.
1 day ago

GatorZoneScott

Scott Carter


Blog: No change in bowl status for Harris, Tabor; Cox is out, plus more #Gators tidbits: http://t.co/eVZ5fLtGNO
1 day ago

onlygators

OnlyGators.com


Florida statement: Bowl status unchanged for #Gators QB Treon Harris and other players - http://t.co/LbDsV4UW9Q
1 day ago

GatorZoneScott

Scott Carter


"We are aware of the incident and are dealing with it internally and their bowl status hasn't changed."—UAA statement (re: Harris, Tabor)
1 day ago

ScoutFlorida

Fightin' Gators


Daylon Mack withdrew his commitment from the #Aggies and is back on the market! http://t.co/tYZCFWa3dW http://t.co/eSR79YEfS4
1 day ago

ScoutFlorida

Fightin' Gators


Scout Top 10 & 5-Star DT Daylon Mack has decommitted from Texas A&M. So where might he end up? http://t.co/ZEM7EAA2v9 http://t.co/E6dhdQa5LZ
1 day ago

DerekTysonESPN

Derek Tyson


#Gamecocks DE commit Quandeski Whitlow will take an OV to Florida on Jan. 16. Will also visit South Carolina, #Louisville & #Kentucky
1 day ago

GatorZoneFB

GatorZone Football


Nine Gators to Participate in Fall Commencement #ItsGreatUF http://t.co/MhWEHt2x0j
1 day ago

DaylonMack

THEE MACK TRUCK


I have decomitted from Texas A&M and I will be releasing my top two schools around noon Saturday!
1 day ago

GatorZoneScott

Scott Carter


So Rocco Baldelli now first-base coach for #Rays…good to see him back on field. At 33, youngest coach in team history.
1 day ago

onlygators

OnlyGators.com


Updated story on #Gators QB Treon Harris's misdemeanor & minor details on marijuana found in car http://t.co/LbDsV4UW9Q
1 day ago

ScoutFlorida

Fightin' Gators


#Gators Florida players talk McElwain - Jim McElwain hasn't had much time around his future team since taki... http://t.co/4xDfw3sMdg
1 day ago

GatorsNow

Florida Gators Now


Pre-Game Stuff: Florida vs Wake Forest, Orange Bowl Classic (Saturday, 5 p.m.): Since falling below .500 at Ka... http://t.co/P4QzZVSgUG
1 day ago

GatorZoneScott

Scott Carter


ha, I wish I had that kind of dough...RT @fish8992: @GatorZoneScott thanks Scott.
1 day ago

SEC_Chuck

Chuck Dunlap


Curious as to how officials are selected for the SEC Championship Game and bowl games? Steve Shaw explains here: http://t.co/eepH1KwB3I
1 day ago
SEC SCOREBOARD
Saturday, 12/20
Monday, 12/22
Tuesday, 12/23
Wednesday, 12/24
Friday, 12/26
Saturday, 12/27
Monday, 12/29
Tuesday, 12/30
Wednesday, 12/31
Thursday, 1/1
Friday, 1/2
Saturday, 1/3
Sunday, 1/4
Saturday, 1/10
Monday, 1/12
BLOG ARCHIVE:
CATEGORIES: