Get to know Kelvin Taylor
January, 19, 2013
1/19/13
3:19
PM ET
By
RecruitingNation
| ESPN.com
No. 1 running back recruit Kelvin Taylor discusses the goals for his freshman season at Florida in this RecruitingNation profile. Taylor shares the players to whom he draws the greatest comparison -- one of whom should come as no surprise.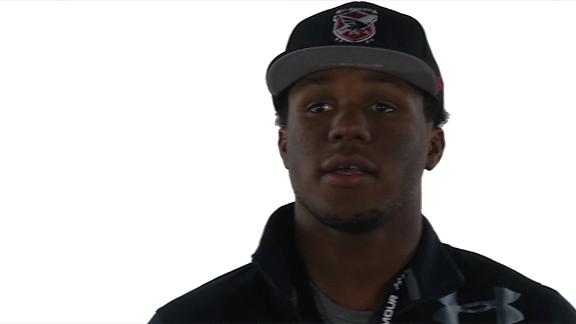 Scene and Heard: Top 10 Predictions
In a conversation with ESPN's Antonietta Collins, national recruiting reporter Gerry Hamilton breaks down the recruiting momentum building at Auburn and offers predictions for where the top 10 recruits will commit.
Tags:
Trenton Thompson
,
Kerryon Johnson
,
Jeffery Holland
,
Martez Ivey
,
Torrance Gibson
,
Cece Jefferson
,
ESPN 300
,
RecruitingNation
,
high school football recruiting
,
Gerry Hamilton
Scene and Heard: Top 10 Predictions
VIDEO PLAYLIST
Scene and Heard: Top 10 Predictions

Scene and Heard: Top 10 Predictions

In a conversation with ESPN's Antonietta Collins, national recruiting reporter Gerry Hamilton breaks down the recruiting momentum building at Auburn and offers predictions for where the top 10 recruits will commit.

Tags: Trenton Thompson

,

Kerryon Johnson

,

Jeffery Holland

,

Martez Ivey

,

Torrance Gibson

,

Cece Jefferson

,

ESPN 300

,

RecruitingNation

,

high school football recruiting

,

Gerry Hamilton

ESPN 300 Ranking Motivates Byron Cowart

ESPN 300 Ranking Motivates Byron Cowart

Scene and Heard: Sunshine State Targets

Scene and Heard: Sunshine State Targets

In a conversation with ESPN's Cary Chow, national recruiting reporter Gerry Hamilton breaks down the recruiting momentum built by Florida State and the most important prospects from Florida.

Tags: George Campbell

,

Da'Vante Phillips

,

Martez Ivey

,

Jeffery Holland

,

Chuma Edoga

,

Florida State Seminoles

,

Jimbo Fisher

,

Florida Gators

,

Tennessee Volunteers

,

ESPN Junior 300

,

RecruitingNation

,

high school football recruiting

,

Gerry Hamilton
GATORNATION RECRUITING NEWS
FLORIDA FB RECRUITING SCORECARD
Schutt Florida Gators Mini Authentic Football Helmet Shop »
Gator_sports

Gatorsports.com


Roundup: Gators sweep Aggies, give coach Walton win No. 600 http://t.co/7K7ykNOacX
about 4 hours ago

GatorsNow

Florida Gators Now


Gators Fall to Texas A&M in 2014 SEC Tournament Championship Match: http://t.co/90wJpN2zaA
about 6 hours ago

GatorZoneScott

Scott Carter


#Gators gymnastics trainer Kelly Bridges landed in Boston a little while ago to run in marathon tomorrow. Will post story in AM. Good luck!
about 7 hours ago

Gator_sports

Gatorsports.com


Sloan wins uneven parallel bars title http://t.co/ZY0un7ry2g
about 7 hours ago

TimTebow

Tim Tebow


RT @JaseDuckman: Working out with @TimTebow. #OperationBiceps http://t.co/VxVtENNo33
about 7 hours ago

DerekTysonESPN

Derek Tyson


RT @holland_jeffery: Aurburn was great this weekend they showed ya boy some love http://t.co/VtfoeTdeE2
about 8 hours ago

GatorZoneScott

Scott Carter


A little less drama tonight. Congrats again to @GatorZoneGym and @UFCoachRhonda for back-to-back national titles. Great group to deal with.
about 8 hours ago

GatorZoneScott

Scott Carter


"@BigBlake10: @GatorZoneScott the hats the UF baseball team is wearing today with the patch can it be purchased?" //any idea @GatorZoneBB ?
about 9 hours ago

GatorsNow

Florida Gators Now


Florida's Bridget Sloan is 2014 NCAA uneven bars champion: Another NCAA title returns with the University of F... http://t.co/WXaMUMrN1d
about 10 hours ago

Gator_sports

Gatorsports.com


Bader knocks in three as No. 9 Gators sweep Bulldogs http://t.co/m9M3XE07nC
about 10 hours ago

GatorZoneNews

Florida Gators


RT @GatorZoneChris: Nice job, "Mr. 600!" (aka #Gators softball coach Tim Walton). Blog: http://t.co/6ZfI55CfFX @GatorZoneSBall
about 10 hours ago

GatorsNow

Florida Gators Now


NFL Draft 2014 Team Needs – New York Jets: Peter Schrager breaks down what the Jets need from the 2014 NFL Draft.   http://t.co/TFrvhKOu9A
about 10 hours ago

GatorZoneNews

Florida Gators


RT @GatorZoneTennis: Our two seniors Florent Diep and Mike Alford were named to the SEC All-Tournament Team. What great #Gators! #SECMT14 h…
about 10 hours ago

GatorZoneNews

Florida Gators


RT @GatorZoneGym: Florida's Bridget Sloan is 2014 NCAA uneven bars champion http://t.co/xDSRYkVg2E
about 10 hours ago

GatorsNow

Florida Gators Now


Gators Tie for 10th at 2014 SEC Women's Golf Championship: http://t.co/b26c7RwXNb
about 11 hours ago

GatorZoneNews

Florida Gators


RT @GatorZoneTennis: There ya go, @MaxxLipman! #Gators RT @SECMTennis: Maxx Lipman wins his match at No. 3 to knot this match up at 2-all
about 11 hours ago

GatorZoneNews

Florida Gators


RT @GatorZoneGolf: #Gators Tie for 10th at 2014 SEC Women's Golf Championship http://t.co/ccepmRjfjw
about 11 hours ago

GatorsNow

Florida Gators Now


Walton Earns 600th Career Win as Gators Complete Sweep of Texas A&M with 8-0 Victory: The No. 5/7 Gator Softba... http://t.co/MpUkFOhmbr
about 11 hours ago

GatorZoneNews

Florida Gators


RT @GatorZoneGym: #NCAAWGym uneven bars title stays w/ the #Gators - congrats to @bridgetsloan who takes title at 9.9375. #ItsGreatUF http:…
about 12 hours ago

GatorsNow

Florida Gators Now


No. 18 Florida Baseball Starts Fast To Finish Sweep of Georgia, 10-3: Playing their third game in less than 24... http://t.co/hr6VR609av
about 12 hours ago

GatorZoneNews

Florida Gators


RT @GatorZoneSBall: Check out the final scoreboard totals from Sunday's win: http://t.co/5rAIvEv0KH
about 13 hours ago

GatorZoneNews

Florida Gators


RT @GatorZoneGym: See all the hugs & tears from last night's #NCAAWGym Championship - title #2 for the #Gatorshttps://t.co/gd0stGcCTA
about 13 hours ago

GatorZoneNews

Florida Gators


RT @GatorZoneTennis: The Aggies take the doubles point with wins on courts two and three. 1-0, TAMU heading to singles. #SECMT14
about 13 hours ago

GatorZoneNews

Florida Gators


Sweep! RT @GatorZoneBB: Inside the numbers as the #Gators won their sixth game in a row... http://t.co/iz75rY6h1c
about 13 hours ago

GatorZoneNews

Florida Gators


RT @GatorZoneBB: #Gators (27-13/12-6) complete sweep of Georgia (21-18-1/7-10-1), 10-3 - WP: Young (5-0), LP: Boling (3-4); Bader 3-for-3, …
about 13 hours ago

GatorZoneNews

Florida Gators


RT @GatorZoneBB: The #Gators carry a 10-3 lead into the 9th inning looking to sweep the series against Georgia
about 13 hours ago

GatorZoneNews

Florida Gators


RT @GatorZoneTennis: Follow the #Gators #SECMT14 title match here: http://t.co/RmZI9V1wE4
about 13 hours ago

GatorZoneNews

Florida Gators


RT @GatorVisionTV: VIDEO: @GatorZoneGym post meet celebrations after winning back-to-back NCAA Championships! #ItsGreatUF #Gators https://t…
about 13 hours ago

GatorZoneNews

Florida Gators


RT @GatorZoneSBall: Gators get the sweep, and it's the 600th career win for @_TimWalton! http://t.co/Ipt6kLIIrt
about 13 hours ago

GatorZoneNews

Florida Gators


Watch @GatorZoneGym compete in individual finals on @ESPN3 at 3pm ET: http://t.co/tWTDBtjwcB
about 13 hours ago

GatorZoneNews

Florida Gators


Watch a replay of our @GatorZoneGym national champions on @ESPN3 at 3pm ET: http://t.co/tWTDBtjwcB
about 14 hours ago

GatorZoneNews

Florida Gators


RT @GatorZoneTennis: The day is here! #Gators take on the Aggies in an hour for the #SECMT14 title. #ItsGreatUF http://t.co/AOv738K8PC
about 15 hours ago

EmmittSmith22

Emmitt Smith


Resurrection Sunday...Happy Easter!!! @bishopjakes http://t.co/SqG1waKr5u
about 15 hours ago

GatorZoneNews

Florida Gators


ICYMI - Men's @GatorZoneTennis Heads to 2014 SEC Tournament Championship Match, today at 2pm. http://t.co/8mRGiiaiHu
about 16 hours ago

GatorZoneNews

Florida Gators


RT @GatorZoneSBall: It's another #Gators Gameday! Florida goes for the series sweep of Texas A&M at 1 p.m. ET.
about 16 hours ago

GatorZoneNews

Florida Gators


RT @GatorVisionTV: Watch @GatorZoneBB vs. Georgia at 12pm ET on ESPNU and WatchESPN - http://t.co/ksNG1K6WVX. Listen on Gator Sports Networ…
about 16 hours ago

GatorZoneNews

Florida Gators


RT @GatorZoneAlbert: Find me at @GatorZoneBB today. Snap a cool picture and hashtag #CopyAlbert. I have hats for winners!
about 16 hours ago

GatorZoneNews

Florida Gators


Can @GatorZoneBB sweep UGA? Find out 2day @ noon! Track: http://t.co/yr4hotFvZKWatch: http://t.co/2nRDPDAivNListen: http://t.co/BKQ7duZedy
about 17 hours ago

GatorZoneScott

Scott Carter


If you missed this last night, worth a watch...NCAA: Florida Gymnastics Super Six Recap 4-19-14 http://t.co/DEvCRfwPli
about 17 hours ago

GatorZoneScott

Scott Carter


RT @RavensInsider: Source: Florida DT Dominique Easley to visit Patriots, Cowboys next week | National Football Post http://t.co/bJdfBNr5F2…
about 17 hours ago

GatorZoneScott

Scott Carter


RT @haas_matt: @GatorZoneScott I'm sure it's a good read but it has nothing on this - https://t.co/GKW830KrRh
about 17 hours ago

GatorZoneScott

Scott Carter


Fun read on a "haunted hotel" NBA teams stay at in Oklahoma City... http://t.co/VBoLU58ZQj
about 18 hours ago

GatorZoneScott

Scott Carter


Big night for #Gators and 'Bridgey' at #NCAA Championships... http://t.co/3KG47RJlAe
about 18 hours ago

Percy_Harvin

Percy Harvin


Happy Easter to everyone. have a blessed day
about 18 hours ago

GatorZoneNews

Florida Gators


Dress like a champion - pick up a @GatorZoneGym National Championship shirt! http://t.co/95Kl4paOkf #ItsGreatUF
about 19 hours ago

GatorZoneScott

Scott Carter


You know you're in Bama ... http://t.co/DxUr8r1Xo5
about 19 hours ago

GatorZoneNews

Florida Gators


In case you missed it, @GatorZoneGym won a back-to-back national championship, because they're terrific! http://t.co/5pGHq0OJ3A #ItsGreatUF
about 20 hours ago

Gator_sports

Gatorsports.com


Burning questions for Gators answered in spring http://t.co/M1J0m30yLE
about 22 hours ago

GatorZoneScott

Scott Carter


'Bridgey' Comes Through in Clutch, #Gators Repeat as National Champs: http://t.co/NrFGQsuXJS @GatorZoneGym
1 day ago

Gator_sports

Gatorsports.com


PHOTOS: Gators tie for NCAA title with Sooners http://t.co/gEJaWtjHV4
1 day ago

Gator_sports

Gatorsports.com


UF roundup: Gators rout Aggies in 5 innings http://t.co/IAXUsvB5Xv
1 day ago

DerekTysonESPN

Derek Tyson


ORRR winning and playing in the NFL is enticing RT "@Mwolverine78: @DerekTysonESPN @ESPNRNFball money talks"
1 day ago

DerekTysonESPN

Derek Tyson


.#Bama killing it again on the recruiting trail. Have they somehow figured out a way to have 15 starters on each side of the ball?
1 day ago

DerekTysonESPN

Derek Tyson


RT @Phil_Sports: Man ... Alabama could stop now and have an argument for the No. 1 class. One of the bigger non-signing-day recruiting days…
1 day ago

GatorsNow

Florida Gators Now


No. 18 Florida Sweeps Doubleheader, Clinches Series Over Georgia: A six-run fourth inning lifted No. 18 Florid... http://t.co/Po7lgZsRtH
1 day ago

GatorZoneNews

Florida Gators


RT @GatorZoneBB: Come out tomorrow at noon as the #Gators go for the sweep of Georgia! http://t.co/ocedkAMlB3
1 day ago

onlygators

OnlyGators.com


By @J_McPherson1126: Florida #Gators gymnastics wins 2nd-straight NCAA Championship, splitting title with Oklahoma http://t.co/5YeCToO0WM
1 day ago

Gator_sports

Gatorsports.com


RT @pat_dooley: Pretty good day for UF sports. Gym NC, lacrosse conf title, men tennis reaches SEC final, base sweeps Ga, soft clobbers A&M.
1 day ago

GatorZoneNews

Florida Gators


.@GatorZoneBB sweeps today's double header against UGA! #ItsGreatUF http://t.co/LNjJxPgFNb
1 day ago

GatorZoneNews

Florida Gators


RT @GatorZoneBB: No. 18 #Gators (26-13, 11-6) take game 2 over UGA 8-1, sweep the double header, clinch the series and lead the SEC East by…
1 day ago

Gator_sports

Gatorsports.com


UF baseball team sweeps a doubleheader from Georgia to take the weekend series. Gators go for series sweep starting at noon Sunday.
1 day ago

GatorsNow

Florida Gators Now


BACK-TO-BACK: Gators Win Second Consecutive National Title; Co-Champs with Oklahoma: BIRMINGHAM, Ala. -- The U... http://t.co/a0JmpVz3u0
1 day ago

Gator_sports

Gatorsports.com


Florida gymnastics ties Oklahoma to repeat as national champion http://t.co/HlhTs0OEWz
1 day ago

GatorZoneNews

Florida Gators


RT @GatorZoneSBall: #Gators Run-Rule Texas A&M, 17-4, to Win Series #ItsGreatUF http://t.co/pmQ84uJOGa
1 day ago

CoachWMuschamp

Will Muschamp


Congrats to UF teams that won titles today @GatorZoneLAX and @GatorZoneGym #ItsGreatUF
1 day ago

GatorZoneNews

Florida Gators


RT @GatorZoneGym: #NCAAWGym championship selfie! Go #Gators! http://t.co/9VIEsxG1Z6
1 day ago

GatorZoneNews

Florida Gators


.@GatorZoneGym becomes the seventh Gator team to win back to back titles #ItsGreatUF
1 day ago

GatorZoneScott

Scott Carter


The final scores... http://t.co/AoRGzG5Kt6
1 day ago

onlygators

OnlyGators.com


Second-straight year that Florida gymnastics has pulled something out in the last rotation. This #Gators team is clutch.
1 day ago

GatorZoneNews

Florida Gators


With @GatorZoneGym sharing National title tonight, #Gators have now won a National Championship in each of the last five years #ItsGreatUF
1 day ago

GatorZoneNews

Florida Gators


Congratulations to @GatorZoneGym - back-to-back national champions! #ItsGreatUF #GoGators http://t.co/HcZqmkIVLT
1 day ago

GatorZoneScott

Scott Carter


Well, we are in Alabama, where drama plays out regularly (last year's Iron Bowl anyone)…Bama's 2 falls on beam dropped Tide to fourth.
1 day ago

Gator_sports

Gatorsports.com


Then No. 2 UF defeated then No. 1 Oklahoma 197.875-197.225 at the O-Dome in January. The schools share title at a neutral site.
1 day ago

GatorZoneScott

Scott Carter


#Gators are back-to-back gymnastics national champions. A pretty good program going for head coach Rhonda Faehn.
1 day ago

Gator_sports

Gatorsports.com


Florida repeats as national champions in gymnastics, this time sharing title with Oklahoma.
1 day ago

GatorZoneScott

Scott Carter


So, props to Bridgette Caquatto for a performance of her lifetime…think I have a decent story tonight.
1 day ago

GatorZoneNews

Florida Gators


RT @GatorZoneGym: Final results - it's a tie for the title! Gators share win with Oklahoma http://t.co/9DMlc3qjvV
1 day ago

GatorZoneScott

Scott Carter


"Ladies and gentlemen, we have co-national champions.— PA guy
1 day ago

GatorZoneScott

Scott Carter


The head of the NCAA Gymnastics committee is currently checking to make sure there is no tiebreaker. Drama, drama...
1 day ago

onlygators

OnlyGators.com


Florida #Gators split 2014 NCAA Championship in gymnastics with Oklahoma. Back-to-back titles for UF.
1 day ago

onlygators

OnlyGators.com


Holy cow. Florida #Gators may have tied for NCAA title in gymnastics. Scores coming up.
1 day ago

GatorZoneScott

Scott Carter


Gymnastics is crazy….#Gators seem to know what's going on…crowd here cheering pretty good in stands
1 day ago

GatorZoneScott

Scott Carter


She did it…looks like a tie.
1 day ago

GatorZoneScott

Scott Carter


Caquatto had a nice routine…let's see her score...
1 day ago

GatorZoneScott

Scott Carter


Hunter got a 9.950…basically, Bridgette Caquatto needs a 9.950 on this floor to tie Oklahoma...
1 day ago

GatorZoneScott

Scott Carter


One of biggest surprises was Alabama's Kim Jacob fell on beam…she was all-around champ last night. This sport packs some pressure at end.
1 day ago

GatorZoneScott

Scott Carter


Kytra Hunter and Bridgette Caquatto need big scores on floor for #Gators to potentially tie Oklahoma…Bama just fell again on Beam
1 day ago

GatorZoneScott

Scott Carter


Sloan a 9.925 on her floor...
1 day ago

GatorZoneScott

Scott Carter


Alaina Johnson with a 9.900 on her floor…Bridget Sloan just finished...
1 day ago

GatorZoneScott

Scott Carter


Oklahoma has finished on vault, team score of 198.175…that's a tough score to beat…Bama and Florida finishing up...
1 day ago

GatorZoneScott

Scott Carter


Rachel Spicer hit a 9.900 on her floor routine.
1 day ago

GatorZoneScott

Scott Carter


Oklahoma has a pair of 9.900s and pair of 9.850s on vault so far…lots of numbers right now
1 day ago

GatorZoneScott

Scott Carter


Milliner, my bad...RT @GatorZoneScott: #Bama's Deandra Miller opens beam with a 9.300…#Gators get a 9.875 from Claire Boyce on floor.
1 day ago

GatorZoneScott

Scott Carter


#Bama's Deandra Miller opens beam with a 9.300…#Gators get a 9.875 from Claire Boyce on floor.
1 day ago

GatorZoneScott

Scott Carter


I'll be here a while, but well check…thanks man...RT @thejeffozer: @GatorZoneScott after party 5 point south ...
1 day ago

GatorZoneScott

Scott Carter


#Bama's first gymnast on beam just fell.
1 day ago

Gator_sports

Gatorsports.com


UF lacrosse holds off Northwestern to win ALC title http://t.co/vqLDJa5NWA
1 day ago

GatorZoneScott

Scott Carter


RT @AlligatorArmy: Florida was nation's No. 2 floor team in regular season. Oklahoma was No. 2 on vault. Alabama was No. 3 on beam. Crazy f…
1 day ago

GatorZoneNews

Florida Gators


RT @GZTrackField: Final #TomJones Memorial results: http://t.co/Njo3scprzF Recap to come! #GoGators
1 day ago

GatorZoneScott

Scott Carter


Three-way race at top after 3 rotations: #Bama (148.700), Oklahoma (148.625), #Gators 148.550. UF will need to nail floor.
1 day ago
SEC SCOREBOARD
Thursday, 8/28
Saturday, 8/30
Sunday, 8/31
BLOG ARCHIVE:
CATEGORIES: