Film study: Gators vs. Missouri Tigers
November, 5, 2012
11/05/12
8:00
AM ET
GAINESVILLE, Fla. -- Here's an analysis of three key plays in Florida's 14-7 victory over Georgia on Saturday.
Wildcat TD run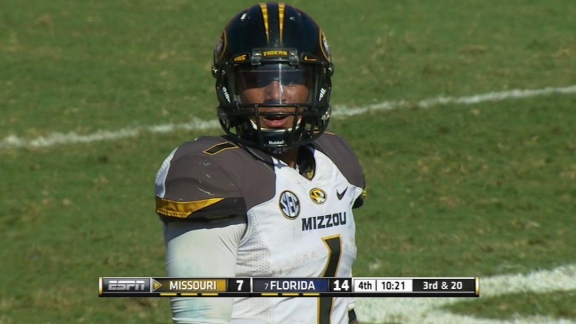 The score:
7-0, Missouri leading early in the third quarter.
The situation:
Second-and-6 at the Missouri 36-yard line.
To continue reading this article you must be an Insider
Welcome
!
We see that you are not an ESPN Insider. Upgrade today and gain access to our exclusive coverage.
ESPN The Magazine subscribers

Need more information?
Final Verdict: Hired And Fired
Final Verdict: Hired And Fired
VIDEO PLAYLIST
Final Verdict: Hired And Fired

Final Verdict: Hired And Fired

Weekend Recruiting Wrap: SEC - Dec. 2

Weekend Recruiting Wrap: SEC - Dec. 2

Derek Tyson discusses the latest SEC recruiting news, including a junior college addition at Texas A&M, recruit reaction of Auburn's miraculous win and what Florida's quarterback commit thinks of the Gators firing their offensive coordinator.

Tags: Avery Gennesy

,

Rashaan Evans

,

Derrell Scott

,

Kerryon Johnson

,

Texas A&M Aggies

,

Auburn Tigers

,

Florida Gators

,

RecruitingNation

,

ESPN 300

,

ESPN Juco 100

,

high school football recruiting

Florida Fires OC Brent Pease

Florida Fires OC Brent Pease
GATORNATION RECRUITING NEWS
FLORIDA FB RECRUITING SCORECARD
GatorZoneScott

Scott Carter


true RT @sbarruf: @GatorZoneScott And will be 6th straight year
about 3 hours ago

GatorZoneScott

Scott Carter


#FSU-#Auburn matchup means CFB national champ from Florida or Alabama for 16th time in 31 years: UM (5), Bama (4), UF (3), FSU (2), AU (1).
about 3 hours ago

EmmittSmith22

Emmitt Smith


Welcome back Kobe and good luck the rest of the season.
about 4 hours ago

APMarkLong

Mark Long


Gator Bowl just hosted the worst conference call ever. Pretty sure Richt and Pelini hung up
about 4 hours ago

DerekTysonESPN

Derek Tyson


Thought he looked so young! RT @KToliver96 @DerekTysonESPN Derek I just saw 8th grade pic of my son on ur ESPN profile as the header. Wow!😄
about 5 hours ago

onlygators

OnlyGators.com


Based on final BCS Standings, Florida #Gators played & lost to No. 1 (FSU), No. 8 (MIZ), No. 9 (USCe), No. 16 (LSU) & No. 22 (UGA) in 2013.
about 5 hours ago

GatorZoneNews

Florida Gators


RT @HershThe: @GatorZoneNews http://t.co/YtW73s8A4o
about 5 hours ago

GatorZoneNews

Florida Gators


RT @Amber_Rush07: In all kinds of weather. #MerryChristmas #GatorNation #FloridaGators @GatorZoneNews http://t.co/1mBdFSI7Bf
about 5 hours ago

GatorsNow

Florida Gators Now


RT @GatorZoneFB: The #Gators SEC Legend Wes Chandler being honored on the field prior to the SEC Championship. http://t.co/fqA7CxAcgG
about 6 hours ago

APMarkLong

Mark Long


LOL RT @Goldkamp247: Mark Richt has to be ecstatic about getting to play Will Muschamp twice in Jax this year
about 6 hours ago

APMarkLong

Mark Long


Nice rematch RT @BrentAS360: Just got word it's Georgia vs. Nebraska in Gator Bowl on January 1st. Should be a good one.
about 6 hours ago

GatorZoneNews

Florida Gators


RT @GZTrackField: #Gators honoring SEC Indoor champions now...@SeanMrNightmare Sean Obinwa up for 800m http://t.co/QsyqJLfyrW
about 6 hours ago

APMarkLong

Mark Long


Would mean UGA & Nebraska in Gator RT @KellisRobinett: Kansas State to Buffalo Wild Wings Bowl, will play Michigan, according to source
about 7 hours ago

GatorZoneNews

Florida Gators


Hard to top RT @GoneGator66: @GatorZoneNews Still the best #Christmas ornament. #GoGators http://t.co/cbCya6hMG8
about 8 hours ago

GatorZoneNews

Florida Gators


RT @ryanwyllys: @GatorZoneNews My second Christmas as a #gatordad. http://t.co/pkWvz83sIs
about 8 hours ago

GatorsNow

Florida Gators Now


http://t.co/EQAknREe34
about 8 hours ago

onlygators

OnlyGators.com


Speaking of really nice #Gators posts, check out mine on the OC search, PG health, Tebow & MUCH more http://t.co/H1SZDn4kMc
about 8 hours ago

onlygators

OnlyGators.com


Really nice month-by-month breakdown of #Gators injuries this season by @JeffBarlisESPN - http://t.co/rLaXlgl6jI
about 8 hours ago

DerekTysonESPN

Derek Tyson


Trinity Christian wins title with help from top juniors http://t.co/7YkUMFMUPt #LSU #Gators #Auburn #UCLA #Noles
about 9 hours ago

ESPNFlorida

ESPN Florida


Trinity Christian wins title with help from top juniors http://t.co/1e5kU9xtVz
about 9 hours ago

onlygators

OnlyGators.com


#Dolphins kicker Caleb Sturgis hits a 27-yard field goal with 1:08 left in the fourth quarter. #Gators
about 9 hours ago

GatorZoneNews

Florida Gators


RT @ozzfest87: @GatorZoneNews all the way in the UK! http://t.co/PKB6f4lb4v
about 10 hours ago

onlygators

OnlyGators.com


Two-point conversion reception for #Eagles WR Riley Cooper, whose breakout season continues. #Gators
about 10 hours ago

GatorZoneNews

Florida Gators


RT @KendricReyes: 🐊👌 @GatorZoneNews http://t.co/MWkbjD8wpt
about 10 hours ago

GatorZoneNews

Florida Gators


Feels about as far from the North Pole as you could imagine in GVille right now! RT @grantcastle_: @GatorZoneNews http://t.co/eJTU29ySCs
about 10 hours ago

GatorZoneNews

Florida Gators


RT @mamadee1121: @GatorZoneNews #MerryChristmas #gogators http://t.co/nCh3dJ6oR3
about 10 hours ago

GatorZoneNews

Florida Gators


RT @Avon_122: @GatorZoneNews http://t.co/wp7hl33lSn
about 10 hours ago

GatorZoneNews

Florida Gators


#GoGators RT @Tim_Yocum: Go Gators! @GatorZoneNews #itsGreatUF http://t.co/P2HVsgiZDs
about 10 hours ago

GatorZoneNews

Florida Gators


RT @flgtrgal84: @GatorZoneNews http://t.co/nYIaVBcYfr
about 11 hours ago

GatorZoneNews

Florida Gators


RT @HARVELL_C42: @GatorZoneNews http://t.co/LAPtdjoscl
about 11 hours ago

GatorZoneNews

Florida Gators


RT @Geek_Things: @GatorZoneNews In All kinds of Weather! Merry Christmas! #GoGators http://t.co/3usoWWLs0s
about 11 hours ago

DerekTysonESPN

Derek Tyson


#OleMiss RT @DrewWill_79 Coach Kiff & Harris just arrived! #HottyToddy
about 11 hours ago

onlygators

OnlyGators.com


Fantastic special teams tackle just now by #Dolphins RB Mike Gillislee. Had never seen snow until Saturday.
about 11 hours ago

GatorZoneNews

Florida Gators


RT @kevinjenniferb: @GatorZoneNews http://t.co/Ef2OkapbgL
about 11 hours ago

DerekTysonESPN

Derek Tyson


See RT @JDStandAlone Will not be deciding tonight. My team and state championship is more important right now!!!
about 11 hours ago

GatorZoneNews

Florida Gators


RT @nbaliva: @gatorzonenews four Gators ornaments on my tree! #GatorNation http://t.co/FZi7UbKFSG
about 11 hours ago

DerekTysonESPN

Derek Tyson


WR Johnnie Dixon was planning to make decision tonght, but will now announce sometime after state championship game next week #Canes #Bama
about 11 hours ago

GatorZoneNews

Florida Gators


RT @sai_ogletree: @GatorZoneNews http://t.co/nMLDzYzwfn
about 11 hours ago

GatorZoneNews

Florida Gators


RT @CPFro3: @GatorZoneNews http://t.co/dAv22PImG4
about 11 hours ago

GatorZoneNews

Florida Gators


Tis the season! RT @EdmondBrooks: Tis the season! @GatorZoneNews #InAllKindsOfWeather http://t.co/iPZU7WMSmo
about 11 hours ago

DerekTysonESPN

Derek Tyson


RT @jeremycrabtree: Battle between 2 future SEC foes DE Will Coleman (Miss State) and OT Dontavius Blair (Tennessee) has been fun to watch.…
about 11 hours ago

GatorZoneNews

Florida Gators


RT @BradBeiswanger: @GatorZoneNews #GatorNation http://t.co/yUa34FKZTA
about 11 hours ago

GatorZoneNews

Florida Gators


RT @ScooterMix: @GatorZoneNews http://t.co/9UWqUxzmtS
about 11 hours ago

onlygators

OnlyGators.com


#Dolphins K Caleb Sturgis misses a 52-yard FG to the open end at Heinz Field. Ninth-ever attempt of 50+ at that end of field.
about 11 hours ago

DerekTysonESPN

Derek Tyson


ESPN LB Dwight Williams RT @DW7_ #BigLz http://t.co/NUPzX1kXxC
about 11 hours ago

onlygators

OnlyGators.com


Updates on #Gators offensive coordinator, health of point guards, Tim Tebow to TV - http://t.co/qHaVzDy1st
about 12 hours ago

onlygators

OnlyGators.com


#Dolphins kicker Caleb Sturgis hits a 30-yard field goal in the snow. #Gators
about 12 hours ago

GatorZoneNews

Florida Gators


Big match up at the ODome on Tuesday night between @GatorZoneMBK and Kansas ... Limited number of tickets left http://t.co/oaBKsBAwu5
about 12 hours ago

GatorZoneNews

Florida Gators


RT @GatorZoneMBK: Thanks to Partnership for Strong Families for letting us come to your holiday party today! http://t.co/FpWTVHaKPd
about 12 hours ago

DerekTysonESPN

Derek Tyson


Meanwhile, where the Super Bowl should be played, it's 80 degrees and sunny today. #JustSayin
about 12 hours ago

GatorZoneNews

Florida Gators


RT @TkrotzPs: @GatorZoneNews http://t.co/G3bIA02eHp
about 13 hours ago

GatorZoneNews

Florida Gators


RT @DocBrownsLvLife: @GatorZoneNews Even in Puerto Rico, tis the season.#GoGators http://t.co/wUU3iipJJi
about 13 hours ago

GatorZoneNews

Florida Gators


RT @Gatorette21: Newest ornament @GatorZoneNews http://t.co/6tiyW2VVGC
about 13 hours ago

GatorZoneNews

Florida Gators


RT @JennaWPot: @GatorZoneNews http://t.co/Bt6oboe0CJ
about 13 hours ago

GatorZoneNews

Florida Gators


RT @CarleyClements: @GatorZoneNews #GoGators http://t.co/tZWqcZPt7o
about 13 hours ago

GatorZoneNews

Florida Gators


RT @exclusivejimmyc: @GatorZoneNews Go Gators! http://t.co/eB0yUwW50r
about 13 hours ago

GatorZoneNews

Florida Gators


RT @KaylaFerrenC: @GatorZoneNews my mini tree! #GoGators! http://t.co/pui0Yn6K9e
about 13 hours ago

GatorZoneNews

Florida Gators


RT @Lefthander7: @gatorzonenews http://t.co/TQcbdo2Cjn
about 13 hours ago

GatorZoneNews

Florida Gators


Thanks so much for sending in all of the #Gators Ornaments & trees! Blessed to have such an amazing and passionate fan base. #ItsGreatUF
about 14 hours ago

GatorZoneNews

Florida Gators


Love it! RT @shanpow: @GatorZoneNews Our Gator tree by the window for all to see. http://t.co/5kAwokWsrh
about 14 hours ago

GatorZoneNews

Florida Gators


RT @pmg1802: @GatorZoneNews http://t.co/2P7XG7Dzs7
about 14 hours ago

onlygators

OnlyGators.com


#Redskins TE Jordan Reed out for third-straight game due to concussion. Tough break for rookie standout.
about 14 hours ago

DerekTysonESPN

Derek Tyson


#Canes DE commit Thomas to take visits http://t.co/BHCTeonKbC #Bama #Noles #LSU #Louisville
about 14 hours ago

GatorZoneNews

Florida Gators


RT @tefink: @GatorZoneNews In all kinds of weather, including cold, foggy Alabama in the heart of enemy territory. #gogators http://t.co/PG…
about 14 hours ago

GatorZoneNews

Florida Gators


RT @BBoyd16: Our Gator Snowman @gatorzonenews http://t.co/WLAeWFjLBz
about 14 hours ago

GatorZoneNews

Florida Gators


RT @ChelseaJ_14: @GatorZoneNews Go G8rs!! 😊 http://t.co/6zMKiDSyMF
about 14 hours ago

GatorZoneNews

Florida Gators


RT @Kate_Hinman: @GatorZoneNews http://t.co/yrlb3lNTko
about 14 hours ago

GatorZoneNews

Florida Gators


RT @colbynoteric: @GatorZoneNews http://t.co/OqXijvfntu
about 14 hours ago

onlygators

OnlyGators.com


Shelley Meyer on Urban: "He's got perspective now. It's not life or death." Here's your expected Pete Thamel story: http://t.co/7wAz1Lr76d
about 15 hours ago

DerekTysonESPN

Derek Tyson


Commits shine in Florida state title games http://t.co/20HMUIA6I1 #UCLA #Canes #Louisville #Gators #LSU
about 15 hours ago

onlygators

OnlyGators.com


Check my timeline if you want to see how some #Gators reacted to OSU/Meyer losing last night. Not putting up a post on it.
about 15 hours ago

GatorZoneNews

Florida Gators


RT @Oniedog: @GatorZoneNews http://t.co/C7OrGXXvWv
about 15 hours ago

GatorZoneNews

Florida Gators


RT @MusChOMPer: @GatorZoneNews http://t.co/PsbVkBjA93
about 15 hours ago

GatorZoneNews

Florida Gators


RT @ElleMichels: @GatorZoneNews In all kinds of weather (including snow up in MD)... http://t.co/5X3hjc99Sb
about 15 hours ago

GatorZoneNews

Florida Gators


RT @lindseyj3: @GatorZoneNews Go Gators 🐊🎄 http://t.co/upHYRr60m1
about 16 hours ago

GatorZoneNews

Florida Gators


RT @pinoygator: It's not up yet this year, but this what I have in my room during Christmas season. @GatorZoneNews http://t.co/HiwlumdcEq
about 16 hours ago

GatorZoneScott

Scott Carter


RT @JasonLaCanfora: Percy Harvin is out this week, but don't write off his season just yet. Could still be a playoff factor: http://t.co/AN…
about 16 hours ago

GatorsNow

Florida Gators Now


RT @G8RB81431: @GatorZoneNews #GoGators! http://t.co/hYzdqFl3n3
about 16 hours ago

GatorZoneNews

Florida Gators


RT @G8RB81431: @GatorZoneNews #GoGators! http://t.co/hYzdqFl3n3
about 16 hours ago

GatorZoneNews

Florida Gators


RT @nener5: @Gatorzonenews we have a whole gator tree http://t.co/g02oaREEWk
about 16 hours ago

GatorZoneNews

Florida Gators


RT @mike_oney: @GatorZoneNews rocking the Gator tree... http://t.co/k3qvDQkTQG
about 16 hours ago

GatorZoneNews

Florida Gators


RT @DylanKidwell: @GatorZoneNews http://t.co/Rl8qYNKFMo
about 16 hours ago

GatorZoneNews

Florida Gators


RT @fiddy_wings: @GatorZoneNews Seen you guys were retweeting ornament pics! Here is my tree from last year. #Gators http://t.co/YFXMjgGpvU
about 16 hours ago

GatorZoneNews

Florida Gators


RT @TSergis: @GatorZoneNews http://t.co/d5q9WktLxB
about 16 hours ago

GatorZoneNews

Florida Gators


RT @thereal_bcox: @GatorZoneNews http://t.co/GDFENbdKO4
about 16 hours ago

GatorZoneNews

Florida Gators


RT @gnewburn: @GatorZoneNews Go Gators! http://t.co/FDrXYuHMKd
about 16 hours ago

GatorZoneNews

Florida Gators


RT @AJKenley: @GatorZoneNews Go Gators!! #Albert http://t.co/iqqyKX5ins
about 16 hours ago

GatorZoneNews

Florida Gators


You too Chris! Hope you're well! RT @c_watson: @GatorZoneNews Happy Holidays to you and yours Fred! #Gators http://t.co/wLdpfdBqYF
about 16 hours ago

GatorZoneNews

Florida Gators


RT @cdflett: @GatorZoneNews Here's the newest one on our tree. http://t.co/Kp6LSBKVgO
about 17 hours ago

GatorZoneNews

Florida Gators


RT @luckyharty: @GatorZoneNews painted by our Swiss exchange student http://t.co/CFLpkfZDHs
about 17 hours ago

GatorZoneNews

Florida Gators


RT @tailgator196: @GatorZoneNews Go Gators! http://t.co/MuuxBKVag8
about 17 hours ago

GatorZoneNews

Florida Gators


RT @MrsAnnyG: @GatorZoneNews not an ornament but still was a great gift to a friend ... 🐊🎄 http://t.co/nF3TFvHYBV
about 17 hours ago

GatorZoneNews

Florida Gators


RT @JemjulieJulie: @GatorZoneNews #GoGators #ItsGreatUF #Happyholidaysfrommiami http://t.co/Q1QqRmeEXK
about 17 hours ago

GatorZoneNews

Florida Gators


RT @RockstarToddler: @GatorZoneNews ...because the tree has to be balanced (what if Santa comes in from the left?) http://t.co/ZV2Ko4Y4yC
about 17 hours ago

GatorZoneNews

Florida Gators


RT @SJoiner1: @GatorZoneNews #GoGators http://t.co/FTydXmVRz3
about 17 hours ago

GatorZoneNews

Florida Gators


RT @MrsAnnyG: @GatorZoneNews http://t.co/v6VQwU45RX
about 17 hours ago

GatorZoneNews

Florida Gators


RT @RockstarToddler: @GatorZoneNews old school Albert ornament http://t.co/epDaPnrEEo
about 17 hours ago

GatorZoneNews

Florida Gators


RT @glamwow: @GatorZoneNews yes it is !! http://t.co/K7HuQCOp12
about 17 hours ago

GatorZoneNews

Florida Gators


RT @randal_wayne: @GatorZoneNews @JWFTheThird here's one of my Gator ornaments http://t.co/Bs5xVOMh0p
about 17 hours ago

GatorZoneNews

Florida Gators


RT @JWFTheThird: Bout that time of year @GatorZoneNews http://t.co/tzJimtaYOM
about 18 hours ago
BLOG ARCHIVE:
CATEGORIES: