Film study: Gators vs. Missouri Tigers
November, 5, 2012
11/05/12
8:00
AM ET
GAINESVILLE, Fla. -- Here's an analysis of three key plays in Florida's 14-7 victory over Georgia on Saturday.
Wildcat TD run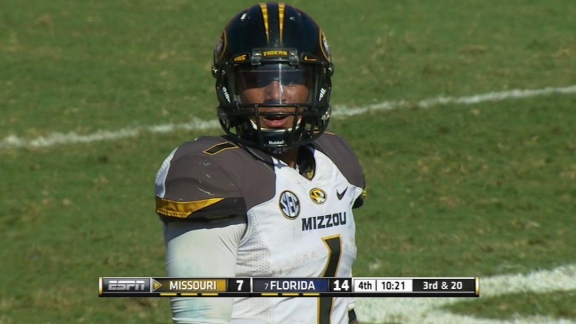 The score:
7-0, Missouri leading early in the third quarter.
The situation:
Second-and-6 at the Missouri 36-yard line.
To continue reading this article you must be an Insider
Insider
Improved UF offense expected vs. Idaho
Booger McFarland and Greg McElroy previewed Florida's offense going into season opener against Idaho.
Improved UF offense expected vs. Idaho
VIDEO PLAYLIST
FLORIDA FB RECRUITING SCORECARD
GatorZoneNews

Florida Gators


.@CoachWMuschamp: "...one of the most enthusiastic Gator Walks that we've had." http://t.co/Hz75cmoQYP #UFvsIDA http://t.co/WD9FwLjYxl
16 minutes ago

GatorZoneNews

Florida Gators


A few photos of some terrific (but soaked) Gator fans... http://t.co/typ1EorkzB #UFvsIDA #ItsGreatUF
29 minutes ago

_VH3

Vernon Hargreaves


tonight proved we have the best fans in the country !!!!
31 minutes ago

GatorZoneFB

GatorZone Football


Check out tonight's play of the game: Valdez #Showers 64-yd kickoff return. Ok, it was the only play… http://t.co/GnUtDf0dfY
34 minutes ago

GatorZoneScott

Scott Carter


It was a dark and stormy night … OK, I'll stop. Here is @GatorZoneChris' updated story: http://t.co/vm4WpsMTiE You guys have a good night.
about an hour ago

Gator_sports

Gatorsports.com


Notebook: 3 players suspended http://t.co/hec9m9EOt6
about an hour ago

GatorZoneScott

Scott Carter


A clarification concerning those 4 options I posted earlier. That is from NCAA's rule book, not the SEC's.
about an hour ago

GatorZoneFB

GatorZone Football


#AllKindsofWeather RT @_VH3: tonight proved we have the best fans in the country !!!!
about an hour ago

onlygators

OnlyGators.com


For Florida to resume this game with Idaho on Oct. 25, it would be giving up its important bye week before Georgia. Advantage UGA.
about an hour ago

onlygators

OnlyGators.com


Statement from Florida #Gators on suspension of Idaho game, 4 possible options - http://t.co/RrIht2UBdp
about an hour ago

GatorZoneFB

GatorZone Football


Here is where we left off tonight's game. Official statement: https://t.co/uDtfhmyNhX
about an hour ago

GatorZoneScott

Scott Carter


1. Resume the game at a later date;2. Terminate the game with a determined final score;3. Forfeit of the game; or4. Declare a no contest.
about an hour ago

GatorZoneScott

Scott Carter


According to SEC rule book, if a game is suspended before end of fourth period and cannot be resumed, there are four possible options:
about an hour ago

GatorZoneScott

Scott Carter


For those who asked, #Gators coach Will Muschamp's coaches show tomorrow has been cancelled.
about an hour ago

Gator_sports

Gatorsports.com


Idaho-UF game terminated http://t.co/BZqi9aP6NY
about an hour ago

GatorZoneScott

Scott Carter


As I tweeted, @GatorZoneChris wrote a story about tonight for GatorZone; here is info in one place: http://t.co/rJvWmDWEEX
about an hour ago

GatorZoneScott

Scott Carter


"that we've had since I've been here." — final part of Muschamp quote. #Gators
about an hour ago

GatorZoneScott

Scott Carter


"The Gator Nation showed why they're the best fans in the country, starting with one of the most enthusiastic Gator Walks" … (Cont.)
about an hour ago

GatorZoneScott

Scott Carter


"It was amazing the energy and passion shown in the stands all night." — Muschamp
about an hour ago

JeffBarlisESPN

Jeff Barlis


Idaho alum --> RT @markschlereth You scared Florida? Way to go Vandals!!!
about an hour ago

onlygators

OnlyGators.com


Statement from #Gators head coach Will Muschamp on the termination of Florida-Idaho tonight - http://t.co/RYpMDpcgi2
about an hour ago

GatorZoneScott

Scott Carter


"We appreciate the fans coming out and supporting us and sitting through several weather delays." — Muschamp
about an hour ago

GatorZoneScott

Scott Carter


#Gators coach Will Muschamp: "As everyone saw with that opening kickoff, I thought our guys were ready and fired up to play."
about an hour ago

onlygators

OnlyGators.com


Great stat by @osgators. #Gators last forced to cancel opener 10 years ago. Team they played in Week 2? EMU. http://t.co/RYpMDpcgi2
about an hour ago

APMarkLong

Mark Long


Muschamp: "After long discussions with the head referee, it was determined that the field conditions were too dangerous."
about an hour ago

GatorZoneScott

Scott Carter


"including ticket information." … OK, that's it.
about an hour ago

GatorZoneScott

Scott Carter


"If the game is rescheduled, then it would be restarted as a new game. That determination will be made and announced at a later time."
about an hour ago

JeffBarlisESPN

Jeff Barlis


All I know for sure is the #Gators play host to Eastern Michigan on Saturday, Sept. 6 at 4 p.m. ET on the @SECNetwork. New season opener.
about an hour ago

GatorZoneScott

Scott Carter


"has been terminated. This is due to weather, unsafe and unplayable field conditions at Ben Hill Griffin Stadium on Saturday night"…(more)
about an hour ago

GatorZoneScott

Scott Carter


"from both schools, in conjunction with the Southeastern Conference, have determined that the game between the Gators and Vandals…(more)
about an hour ago

GatorZoneScott

Scott Carter


Official statement on termination of #Gators-Idaho game: "Game officials for the Florida-Idaho game, as well as athletic directors … (more)
about an hour ago

NikiNoto

Niki Noto Palmer


And Florida and Idaho will revisit discussions next week.
about an hour ago

onlygators

OnlyGators.com


ESPNU sideline reporter for tonight's game --> RT @NikiNoto: And Florida and Idaho will revisit discussions next week.
about an hour ago

gatorhoops

Kevin Brockway


Correction, according to ESPNU, could be possibility of Florida-Idaho makeup.
about an hour ago

JeffBarlisESPN

Jeff Barlis


Great question! RT @CBrueyWFTV So does the magic number for Muschamp's job safety drop to 7 or is still 8?? #Gators
about an hour ago

onlygators

OnlyGators.com


Story on cancellation of the Florida #Gators-Idaho season opener & potential options going forward http://t.co/RYpMDpcgi2
about an hour ago

JeffBarlisESPN

Jeff Barlis


Hope Valdez Showers' 64-yard kickoff return was worth the price of admission to #Gators fans, because it won't count for anything.
about an hour ago

GatorZoneScott

Scott Carter


Ticket info and other details to be announced at a later date.
about an hour ago

GatorZoneScott

Scott Carter


Both schools share a common bye week, but they need time to decide if they will pursue a reschedule date.
about an hour ago

GatorZoneScott

Scott Carter


Both schools share a common bye week, but they need time to decide if they will pursue a reschedule date.
about an hour ago

GatorZoneNews

Florida Gators


Cont. - If game is rescheduled, it would be restarted as a new game. That decision will be made & announced later, including ticket info.
about an hour ago

GatorZoneScott

Scott Carter


#Gators-Idaho officials and SEC officials decided on termination of game. If rescheduled, to be restarted as a new game.
about an hour ago

GatorZoneNews

Florida Gators


Cont. - If game is rescheduled, it would be restarted as a new game. That decision will be made & announced later, including ticket info.
about an hour ago

APMarkLong

Mark Long


And if the game gets rescheduled, it would be a new game. Gators would NOT start at the 14-yard line
about an hour ago

APMarkLong

Mark Long


Idaho, Florida have two options: call the game for good or try to reschedule
about an hour ago

GatorZoneNews

Florida Gators


Continued - This is due to weather, unsafe and unplayable field conditions at Ben Hill Griffin Stadium on Saturday night.
about an hour ago

GatorZoneNews

Florida Gators


Game officials for the #UFvsIDA game, as well as ADs from both schools and with the SEC, have determined that the game has been terminated
about an hour ago

GatorZoneScott

Scott Carter


With that last name on a night like this, you bet...RT @stevehendley: @GatorZoneScott does this mean Showers gets a game ball tonight?
about an hour ago

GatorZoneScott

Scott Carter


Hey everyone, lots of questions about the termination of game. I'm told details are on way. Officials preparing a release with that info.
about an hour ago

gatorhoops

Kevin Brockway


Announcement comes at 10:38 p.m. that game is canceled which means no makeup, which means an 11-game #Gator season.
about an hour ago

onlygators

OnlyGators.com


Reason for game cancellation described as "unsafe field conditions." No further information at this time. Stay tuned.
about an hour ago

GatorZoneFB

GatorZone Football


Tonight's game has been terminated due to unsafe field conditions. #UFvsIDA
about an hour ago

GatorZoneScott

Scott Carter


The #Gators-Idaho game was terminated due to "unsafe field conditions." More info on way.
about an hour ago

GatorZoneNews

Florida Gators


Due to severe weather conditions, today's #UFvsIDA game has been terminated.
about an hour ago

JeffBarlisESPN

Jeff Barlis


#IDAHOvsUF has just been cancelled. Mother nature wins.
about an hour ago

RobbieAndreu

Robbie Andreu


Announcement just made that tonight's Florida-Idaho game has been terminated. Guessing it won't be made up later in the season.
about an hour ago

JeffBarlisESPN

Jeff Barlis


Game over, man.
about an hour ago

GatorZoneScott

Scott Carter


That was the official announcement and word used over the public-address system. More details to come. #Gators
about an hour ago

onlygators

OnlyGators.com


Florida-Idaho has been cancelled.
about 2 hours ago

APMarkLong

Mark Long


Idaho-Florida game canceled
about 2 hours ago

GatorZoneScott

Scott Carter


The game has been terminated.
about 2 hours ago

GatorZoneNews

Florida Gators


No update on the lightning / weather delay at this point. As soon as we get word, we'll post on Twitter. #UFvsIDA
about 2 hours ago

Gator_sports

Gatorsports.com


Hardcore tailgaters savor new start to season http://t.co/iJHB4cZ00Z
about 2 hours ago

GatorZoneScott

Scott Carter


Wish I had something, but I don't. Still no word. Still pouring rain. RT @Gatorfan0724: @GatorZoneScott it's been 30 minutes, any updates?
about 2 hours ago

JeffBarlisESPN

Jeff Barlis


They're replaying the 2012 Florida-FSU game. RT @HardyVision So has Mick Hubert just been talking and talking and talking this entire time?
about 2 hours ago

drdarsci

Darcy J Gentleman


I may not be getting good reception, and I may be wet, but I'm still charged up for my first Gators game @GatorZoneNews @thesilvia
about 2 hours ago

GatorZoneScott

Scott Carter


Even in pouring rain and more than 3 hours of delays, #Gators fans roar approval for that OK State TD on video screen vs. FSU.
about 2 hours ago

GatorZoneFB

GatorZone Football


No updates to report, other than it's raining again.
about 2 hours ago

GatorZoneScott

Scott Carter


I take back that last rain stopped tweet. Started to come down right after that.
about 2 hours ago

GatorZoneScott

Scott Carter


For those asking questions, still delayed. Nothing new to report. Rain has stopped though, so that's something.
about 2 hours ago

JeffBarlisESPN

Jeff Barlis


Welp, at least the play of the game won't be hard to determine. #IDAHOvsUF
about 2 hours ago

ZachAbolverdi

Zach Abolverdi


NCAA rule: Suspended game can't resume after midnight local time or 2 hours following the second suspension, whichever time is later #Gators
about 2 hours ago

APMarkLong

Mark Long


Cabanas, pools and @MissCarrieBaby2 surely would help get Florida fans through this latest lightning delay. Anyone? Jaguars?
about 2 hours ago

GatorZoneFB

GatorZone Football


What did you think of Valdez #Showers kickoff return? Pretty nice right?
about 2 hours ago

GatorZoneScott

Scott Carter


There will be a need for coffee by time this one ends.
about 2 hours ago

onlygators

OnlyGators.com


ESPNU reporting no more mandatory delays. Play resuming is all in the hands of the referees.
about 2 hours ago

JeffBarlisESPN

Jeff Barlis


Hey #SEC fans, I'll be handing out helmet stickers for Week 1. Send me your nominees right here on Twitter and tell me why.
about 2 hours ago

DaveJonesUFbeat

David Jones


This looks like should clear up after delay. Radar looks good. http://t.co/PBuDUevLJy
about 2 hours ago

GatorZoneNews

Florida Gators


Sorry folks, another lightning delay, starting at 9:53p. #UFvsIDA
about 2 hours ago

GatorZoneFB

GatorZone Football


You're not gonna like this #Gator fans, but we had a lightning strike at 9:52. Teams are off the field again.
about 2 hours ago

GatorZoneFB

GatorZone Football


Lightning in the area. 30 minute delay.
about 2 hours ago

GatorZoneScott

Scott Carter


RT @Matt_DeLancey: @GatorZoneScott how long? All I know is for at least 30 minutes due to lightning strike. Crazy
about 2 hours ago

onlygators

OnlyGators.com


Florida #Gators fans chanting: "We want football."
about 2 hours ago

RobbieAndreu

Robbie Andreu


Field has been cleared again. Lightning in the area. So they'll be gone for at least another 30 minutes.
about 2 hours ago

GatorZoneScott

Scott Carter


What a tease that was.
about 2 hours ago

onlygators

OnlyGators.com


Lightning in the area. Players are now clearing the field. One play - a kickoff. Incredible.
about 2 hours ago

APMarkLong

Mark Long


Lightning in the area for Idaho-Florida game. Players to locker room. Guessing it gets called now
about 2 hours ago

JeffBarlisESPN

Jeff Barlis


Lightning detected. Field being cleared to a hail of boos.
about 2 hours ago

GatorZoneScott

Scott Carter


Bad news: Lightning is in area, field is being cleared.
about 2 hours ago

ZachAbolverdi

Zach Abolverdi


#UF's 2014 season is underway. Valdez Showers returns kick to the 14. https://t.co/yHAnHVjraV
about 2 hours ago

GatorZoneFB

GatorZone Football


Valdez Showers with 64 yard return. UF gets the ball at Idaho 14. #UFvsIDA
about 2 hours ago

GatorZoneScott

Scott Carter


Official delay: 2 hours, 48 minutes due to weather.
about 2 hours ago

JeffBarlisESPN

Jeff Barlis


The appropriately named Valdez Showers gives these rain-soaked fans a treat right off the bat with a 64-yard kickoff return to the Idaho 14.
about 2 hours ago

GatorZoneScott

Scott Carter


UF's 2014 season is underway…Showers for 64 yards on that return.
about 2 hours ago

GatorZoneScott

Scott Carter


Valdez Showers with a huge KO return to Idaho's 14-yard line.
about 2 hours ago

onlygators

OnlyGators.com


The 108th season of Florida #Gators football is underway. Short kickoff returned to Idaho's 14-yard line by Valdez Showers. Wow.
about 2 hours ago

GatorZoneNews

Florida Gators


Rain delays don't dampen a Gator's spirit. #ItsGreatUF #UFvsIDA
about 2 hours ago

GatorZoneFB

GatorZone Football


The game is still slated to air on ESPNU. Tune in now! #UFvsIDA
about 2 hours ago

GatorZoneScott

Scott Carter


AC/DC's "Thunderstruck" is playing over stadium speakers…theme of night for sure.
about 2 hours ago

GatorZoneNews

Florida Gators


Rain delays don't dampen a Gator's spirit. #UFvsIDA #ItsGreatUF @ Ben Hill Griffin Stadium http://t.co/I8H0ZviLLn
about 2 hours ago
SEC SCOREBOARD
Saturday, 8/30
Thursday, 8/28
Sunday, 8/31
BLOG ARCHIVE:
CATEGORIES: