Film study: Gators vs. Missouri Tigers
November, 5, 2012
11/05/12
8:00
AM ET
GAINESVILLE, Fla. -- Here's an analysis of three key plays in Florida's 14-7 victory over Georgia on Saturday.
Wildcat TD run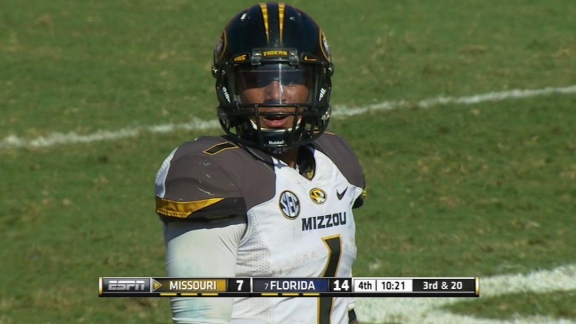 The score:
7-0, Missouri leading early in the third quarter.
The situation:
Second-and-6 at the Missouri 36-yard line.
To continue reading this article you must be an Insider
Insider
Recruiting Pitfall At Florida, Michigan
National recruiting analyst Craig Haubert compares the recruiting struggles at Florida and Michigan and takes his pick as to whether the Gators' or Wolverines' situation is more dire.
Recruiting Pitfall At Florida, Michigan
VIDEO PLAYLIST
FLORIDA FB RECRUITING SCORECARD
APMarkLong

Mark Long


Awesome RT @DWAZ73: Rex: "Ok, we're gonna go with that Bumgarner guy, I think" #Jets
5 minutes ago

GatorZoneTix

Gator Ticket Office


.@GatorzoneMBK tips off its season a week from today! Tickets available starting at $10 http://t.co/pX0umQOeWO
25 minutes ago

JeffBarlisESPN

Jeff Barlis


Talked to big Bernard Williams, great Georgia OT from 1990-93. His nephew is Eric Berry. "That's a lot of hatred for Florida in one family."
49 minutes ago

GatorZoneTix

Gator Ticket Office


Gator Basketball tips off it's season a week from today! Tickets available starting at $10 http://t.co/pX0umQOeWO
53 minutes ago

GatorZoneFB

GatorZone Football


Carlson's Gator Tales: Win vs. Georgia Preceded First Bowl Appearance http://t.co/sqNoHWYlQt
about an hour ago

ScoutFlorida

Fightin' Gators


#Gators UF seniors have one last chance against UGA - For the Florida seniors that haven't redshirted, Satu... http://t.co/MKaBw88QCB
about an hour ago

onlygators

OnlyGators.com


This entertainment-heavy Silver Lining also looks at Boardwalk Empire, The Judge, Avengers & ABC's TGIF block - http://t.co/bKNBq4QWnR
about an hour ago

onlygators

OnlyGators.com


NEW Silver Lining on #Gators confidence, debunking the "Jeremy Foley didn't hire Urban Meyer" myth http://t.co/bKNBq4QWnR
about an hour ago

DerekTysonESPN

Derek Tyson


Abdul Bello receives his #UAALLAMERICA jersey on the @amfam Selection Tour. https://t.co/rgEhhxbwl9
about an hour ago

DerekTysonESPN

Derek Tyson


#FSU commit Abdul Bello excited to be an Under Armour All-American. https://t.co/1BQGr4JuAU
about an hour ago

ABRLive

Americas Best Racing


Huge crowd on a beautiful morning at @santaanitapark's @ClockersCorner watching @BreedersCup horses train! http://t.co/LmJFvQc4NU
about 2 hours ago

GatorZoneFB

GatorZone Football


For more Halloween #TBT pics, check out our gallery: http://t.co/CHtT4a9d30
about 2 hours ago

onlygators

OnlyGators.com


#Gators focused on fixing the offense (http://t.co/dJoi5BCXW2) and stopping the run (http://t.co/muFuTwfFNb) against Georgia.
about 2 hours ago

GatorZoneFB

GatorZone Football


Too easy. Everyone got it right. It's the Burton brothers. #TBT @ClayBurton88 @TreyBurton8 http://t.co/czmqR9SiBX
about 2 hours ago

GatorZoneFB

GatorZone Football


Ok, last one for now. No extra clues. Who are these guys? #TBT http://t.co/XJGBMkEZ9d
about 2 hours ago

EmmittSmith22

Emmitt Smith


Had a great time today on @CBSSportsRadio w/ @TikiBarber, @BrandonTierney, @DanaJacobson, @cc660 & @7BoomerEsiason. http://t.co/oNix8KmL1h
about 3 hours ago

GatorZoneFB

GatorZone Football


First one! @_VH3 RT @hayleypriice: @GatorZoneFB Vernon Hargreaves http://t.co/X8fUWdQVCX
about 3 hours ago

GatorZoneFB

GatorZone Football


Although he's wearing the wrong colors here, we're glad he grew up to #Gator! Who is it? #TBT http://t.co/Hnx40GGeHo
about 3 hours ago

GatorsNow

Florida Gators Now


Gators Freshman Brasure Makes Instant Impact: GAINESVILLE, Fla. -- Records are meant to be broken. It may take... http://t.co/KMcv2hmxPp
about 3 hours ago

GatorZoneFB

GatorZone Football


That was quick! @JBullard90 RT @theshide: @GatorZoneFB Bullard http://t.co/m70B6htm3j
about 3 hours ago

GatorZoneFB

GatorZone Football


Alright, here's another one. Who's this young ninja? He's much bigger now. #TBT http://t.co/MfJihyu4qf
about 3 hours ago

GatorZoneFB

GatorZone Football


You got it! It's @theMiketaylor51 RT @mpaylor18: @GatorZoneFB mike taylor http://t.co/i471ZQqrsn
about 3 hours ago

GatorZoneFB

GatorZone Football


No one's guessed right yet, so another clue. Currently plays on the #Gator defense. #TBT http://t.co/UnEDYirmN3
about 3 hours ago

GatorZoneScott

Scott Carter


GatorZone intern @rjschaffer writes about Lauren Brasure's impact heading into #SEC cross country championships: http://t.co/W3eifAv7Zx
about 3 hours ago

GatorVisionTV

GatorVision


We have a special Halloween #TBT surprise for you later today! #Gators
about 3 hours ago

DerekTysonESPN

Derek Tyson


Seems safe. http://t.co/8YAxEV48Bh
about 3 hours ago

GatorZoneFB

GatorZone Football


With Halloween tomorrow, we have a few special #TBT. Can you guess who this young Batman is? http://t.co/hvVFQ4kfQg
about 3 hours ago

GatorZoneFB

GatorZone Football


Can't make it to the game Saturday? Here's where to watch/listen. #UFvsUGA http://t.co/owIRWZ6dgL
about 4 hours ago

GatorZoneFB

GatorZone Football


Check here for all your #UFvsUGA Game Day Informationhttp://t.co/JKP9Vux1vX
about 4 hours ago

GatorZoneFB

GatorZone Football


From @GatorZoneScott - Gators' Preparation Remains Same vs. Gurley-less Dawgs #UFvsUGA http://t.co/UhHdePfxyH
about 4 hours ago

GZStudents

Gator Students


Today is the LAST DAY to pick up your @GatorZoneFB vs Georgia student ticket! Gate 13 is now open & will close at 5PM. #UFvsUGA #ItsGreatUF
about 4 hours ago

GatorZoneScott

Scott Carter


Blog: #Gators OL D.J. Humphries recalls impact Mo Collins had on his development: http://t.co/apOEk33ZL1
about 5 hours ago

GatorZoneScott

Scott Carter


No Gurley, no change in preparation for #Gators thanks to Chubb: http://t.co/hTOEgSlB7e #UFvsUGA
about 5 hours ago

GatorZoneScott

Scott Carter


All the broadcast info you'll need for #Gators-#Dawgs (TV, Radio, Internet): http://t.co/FNAb37Dm0Q
about 5 hours ago

EmmittSmith22

Emmitt Smith


Talking to @7BOOMERESIASON on the @BoomerandCarton show. http://t.co/MMmXSaxajo
about 5 hours ago

GatorsNow

Florida Gators Now


Gators Set for SEC Championships: On Friday (Oct. 31), the Florida cross country teams will compete at the 201... http://t.co/BCuOpYMtcb
about 5 hours ago

EmmittSmith22

Emmitt Smith


At @TBDintheAM talking football and @Keurig #brewsomething. http://t.co/wnj0iRdlkO
about 5 hours ago

GatorZoneScott

Scott Carter


#Gators volleyball team continues to roll through #SEC, sweeping Georgia on road Wednesday night: http://t.co/dPn7WG2KBl
about 6 hours ago

APSE_sportmedia

APSE


Kansas City Star front page. #Royals http://t.co/EYJVyQuJoe
about 6 hours ago

APSE_sportmedia

APSE


San Francisco Chronicle front page. #Giants http://t.co/Irsle5Mb25
about 6 hours ago

Gator_sports

Gatorsports.com


Dooley: UF shows shades of '73 http://t.co/cb694B4VGV
about 7 hours ago

Gator_sports

Gatorsports.com


Five questions with Neiron Ball http://t.co/N5u2Z3qCGD
about 13 hours ago

EmmittSmith22

Emmitt Smith


Great dinner in #NYC tonight. http://t.co/1p2RvJd2ES
about 13 hours ago

GatorZoneBB

Gator Baseball


What an ending to the baseball season! Now 107 days until the #Gators kick off 2015 at McKethan Stadium...#ItsGreatUF
about 14 hours ago

JeffBarlisESPN

Jeff Barlis


I hope no one thinks Alex Gordon could've scored on his standup triple. Woulda been out by a mile.
about 14 hours ago

ScoutFlorida

Fightin' Gators


#Gators Gators don't need an attitude adjustment - Florida head coach Will Muschamp loves the effort of his... http://t.co/aOnxn7xz77
about 14 hours ago

Damien_D1Harris

Damien Harris


S/O to my boy @BlakeBarnett_8 best QB in the country! My QB over the summer and maybe for the next 4 years 😏 Go follow the boy! #RollTide
about 15 hours ago

Gator_sports

Gatorsports.com


Florida sweeps Georgia to stay undefeated in SEC play http://t.co/97sffcPX33
about 15 hours ago

ufalumni

UF Alumni


#BeatGeorgia #UFvsUGA #ItsGreatUF http://t.co/C0Vvy9gozC
about 16 hours ago

onlygators

OnlyGators.com


ICYMI: #Gators DC D.J. Durkin says Florida "ready to go" & will "come out swinging" vs. Georgia - http://t.co/muFuTwfFNb
about 16 hours ago

GatorZoneVB

Gator Volleyball


No. 8 #Gators Kick Off #UFvsUGA Week With 3-0 Sweep in Athens: http://t.co/l2JGgm5YqM http://t.co/dJKhxhXMix
about 16 hours ago

GatorZoneVB

Gator Volleyball


#Gators finish it off! Florida sweeps! UF moves to 17-3 overall, undefeated 11-0 in @sec play!
about 16 hours ago

GatorsNow

Florida Gators Now


No. 8 Gator Volleyball Kicks Off Florida-Georgia Week With 3-0 Sweep in Athens: Sophomore right side Alex Hols... http://t.co/D7MYFe3cry
about 16 hours ago

GatorZoneScott

Scott Carter


ICYMI: #Gators' preparation remains same vs. Gurley-less #Dawgs. Nick Chubb is reason why: http://t.co/gZQjmavxgg
about 17 hours ago

GatorZoneScott

Scott Carter


VIDEO: #Gators Jarrad Davis, D.J. Humphries, Ahmad Fulwood and Kelvin Taylor discuss Georgia and more: http://t.co/NZQvqZqoSD
about 18 hours ago

GatorZoneScott

Scott Carter


Billy Horschel Returns to Gainesville. Nice feature from @GatorVisionTV on #PGA standout: http://t.co/aEPsCDhIte
about 18 hours ago

inauta24

Isaac Nauta


When I move to Florida I will be attending IMG Academy
about 18 hours ago

APMarkLong

Mark Long


Well done "@_HollyCain: My story of hope and gratitude on http://t.co/nTyifDvr7M: http://t.co/ElMiBeVFaq#fightingon #NASCARfamily #blessed"
about 18 hours ago

EmmittSmith22

Emmitt Smith


Just met @peterfacinelli in #NYC. http://t.co/hgDKmBZBvh
about 19 hours ago

ScoutFlorida

Fightin' Gators


#Gators All eyes on Walker - The hype followed Chris Walker to Gainesville last December. http://t.co/pCtm6Z1DJP
about 19 hours ago

onlygators

OnlyGators.com


NEW: Gurley or not, #Gators focused on stopping the rush vs. #Bulldogs, DC D.J. Durkin says - http://t.co/muFuTwfFNb
about 20 hours ago

GatorZoneScott

Scott Carter


Blog: #Gators OL D.J. Humphries recalls how Mo Collins helped him develop as a young player: http://t.co/Vlz0je84Qk
about 20 hours ago

GatorsNow

Florida Gators Now


Gators' Preparation Remains Same vs. Gurley-less Dawgs: http://t.co/3J6O3SyUnB
about 20 hours ago

GatorZoneScott

Scott Carter


Cubs like ex-Rays managers I guess...RT @BillShaikin: That was quick. RT @JonHeymanCBS joe maddon to become cubs manager
about 20 hours ago

onlygators

OnlyGators.com


ICYMI: #Gators OC Kurt Roper on offense, quarterback position, mindset for Saturday - http://t.co/dJoi5BCXW2
about 20 hours ago

GatorZoneScott

Scott Carter


Sounds iffy...RT @sgorten: @GatorZoneScott Is freshman RB Sony Michel @Flyguy2stackz and @AH__Athletics alum gonna be healthy for #UGA?
about 20 hours ago

GatorZoneScott

Scott Carter


#Gators' plan remains same vs. Gurley-less #Dawgs. Nick Chubb is reason why: http://t.co/gZQjmavxgg
about 20 hours ago

GatorZoneFB

GatorZone Football


From @GatorZoneScott -- Gators' Preparation Remains Same vs. Gurley-less Dawgs http://t.co/A4Ymfg8d57
about 21 hours ago

APMarkLong

Mark Long


Really? Crab legs? RT @toferphotos: #JameisWinston and #FSU making a pit stop after practice in #Louisville. http://t.co/Jmg97GcGWZ
about 21 hours ago

Gator_sports

Gatorsports.com


UF defense getting stronger http://t.co/sW3i86zj3h
about 21 hours ago

GatorZoneFB

GatorZone Football


Cool look at the #UFvsUGA rivalry and history via @Winsipedia http://t.co/nlEWkcta3r
about 21 hours ago

APMarkLong

Mark Long


Jaguars CB Dwayne Gratz was limited with a groin injury, not the hip flexor that slowed him last week
about 22 hours ago

Gator_sports

Gatorsports.com


Gators know Chubb is also lethal weapon http://t.co/QyVrfg0ipO
about 22 hours ago

APMarkLong

Mark Long


Bradley says LT Luke Joeckel (concussion) could play this week. Can go without pads tomorrow
about 22 hours ago

APMarkLong

Mark Long


Jaguars coach Gus Bradley says LB Jeremiah George is making plays in practice
about 22 hours ago

APMarkLong

Mark Long


Jaguars CB Will Blackmon had surgery yesterday on broken finger
about 22 hours ago

ScoutFlorida

Fightin' Gators


Don't miss the #GeorgiaBulldogs v #Gators in a key #CFB matchup. Save 10% with your Scout Membership! http://t.co/sGJwdY246M
about 22 hours ago

GatorZoneScott

Scott Carter


VIDEO: #Gators defensive coordinator D.J. Durkin discusses #Dawgs without Gurley, Nick Chubb, team's mindset: http://t.co/USQjxAlyPB
about 22 hours ago

GatorVisionTV

GatorVision


VIDEO: Some @GatorZoneFB players (Davis, Humphries, Fulwood, K. Taylor) preview the #UFvsUGA matchup http://t.co/oPE1JiEHaI
about 22 hours ago

onlygators

OnlyGators.com


Interesting bc http://t.co/Wujx3Nhu14 (bottom)MT @CBSSportsNBA: RUMOR Ex-Griz CEO Levien interested in buying Hawks http://t.co/MkUuLmDqPt
about 23 hours ago

onlygators

OnlyGators.com


#Gators #Bucs RT @NFLSTROUD: Major Wright is working with the first-team defense at S and looks like he will replace Barron.
about 23 hours ago

onlygators

OnlyGators.com


@APMarkLong Oh geez. Can't imagine those on Saturday if winds are actually 22 mph as forecast.
1 day ago

APMarkLong

Mark Long


@onlygators these aren't the normal temps seats in south end zone. they're the new ones in the north end zone. even scarier
1 day ago

onlygators

OnlyGators.com


@APMarkLong I did as a student during game w/ heavy winds. Suffice to say, it was not pleasant. Wind proj. at 22mph Sat.
1 day ago

APMarkLong

Mark Long


Not sure I would sit in these end zone seats for Florida-Georgia game, especially if drinking http://t.co/TYt7jf1EX8
1 day ago

GatorZoneTix

Gator Ticket Office


Get your season tickets for @GatorzoneGYM today http://t.co/Ei51JVixs7
1 day ago

GZAlberta

Alberta


Just restocked the fan centers in the @OConnellCTR & @GatorZoneTix office. Pick up posters & schedule cards today! http://t.co/TY0ib8R3Ub
1 day ago

GatorVisionTV

GatorVision


VIDEO: @GatorZoneFB defensive coordinator @CoachDurkin previews the #UFvsUGA matchup http://t.co/RtycjnAKwd
1 day ago

DerekTysonESPN

Derek Tyson


Looks like the Citrus Bowl renovations are nearing completion. Field turf is going in now... http://t.co/bn6LcsIrI8
1 day ago

ScoutFlorida

Fightin' Gators


#Gators UGA Appeals 4-Game Suspension of Gurley - ATHENS - The NCAA says that Todd Gurley will have to sit ... http://t.co/Zjbx3F86zt
1 day ago

APMarkLong

Mark Long


Jaguars WRs coach Jerry Sullivan compares young team to recent Kansas City Royals squads: "it's dark, but there's some light out there."
1 day ago

APMarkLong

Mark Long


Jaguars WR Cecil Shorts to Brian Sexton: "you have a great voice for announcing." Sexton: "Too bad I'm not doing it right now." Ouch
1 day ago

APMarkLong

Mark Long


New Jaguars CB Tommie Campbell has been in the building for days. Had to fly to Miami to get passport. Had no birth certificate or 2nd ID
1 day ago

GatorZoneScott

Scott Carter


"It's not like anything else that I've been apart of. I think it's one of the great games in all of college football.'' — Durkin on #UFvsUGA
1 day ago

GatorZoneScott

Scott Carter


Durkin says despite struggles, mindset of defense has not changed. "Our guys are ready to go.''
1 day ago

Gator_sports

Gatorsports.com


Muschamp: Gators good to go http://t.co/40H9vzRvVU
1 day ago

GatorZoneScott

Scott Carter


"I see them doing the same things.'' — Durkin on Bulldogs without Gurley
1 day ago

GatorZoneScott

Scott Carter


#Gators DC D.J. Durkin says Georgia's offense hasn't changed with Gurley out. Says Chubb presents issues as well.
1 day ago

ScoutFlorida

Fightin' Gators


#Gators Hollywood Bob's Midday Matinee (10/28) - There are a ton of rumors going around about Gators footba... http://t.co/wWSGt029TS
1 day ago
BLOG ARCHIVE:
CATEGORIES: