December, 6, 2013
Dec 6
9:30
AM ET
GAINESVILLE, Fla. -- Much like the little black lovebugs that swarm these parts twice a year only to splatter across windshields like a plague, the
Florida Gators
' injury bug in 2013 was a nuisance. Then it reached epic proportions. Here's a complete breakdown:
August
[+] Enlarge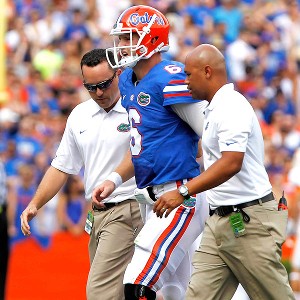 Kim Klement/USA TODAY SportsQuarterback Jeff Driskel's season ended in the third game, when he broke his leg vs. Tennessee.
Injuries:
Junior QB
Jeff Driskel
(appendectomy), sophomore RB
Matt Jones
(viral infection), senior WR
Andre Debose
(torn ACL), freshman LB
Matt Rolin
(torn ACL), junior OT
Chaz Green
(torn labrum)
Impact:
In hindsight, maybe we should have known something was a bit off when players started falling
before
preseason camp. The injury parade started with Driskel and Jones missing reps at a time when they were supposed to be two of the primary focal points in the UF offense. Days into camp, another offensive weapon was lost when Debose tore his ACL in a noncontact situation. "He just planted his foot and there was a tear," coach Will Muschamp said. Florida' O-line got its first big jolt later in camp when Green, the starting right tackle, was lost for the season. With 19 career starts, Green was expected to anchor the right side of the line. The OL already was without senior guard
Jon Halapio
, who missed all of camp with a partially torn pectoral muscle suffered in late July and missed the first two games of the season.
September
Injuries:
Freshman S
Nick Washington
(shoulder), Driskel (broken fibula), senior DT
Dominique Easley
(torn ACL)
Impact:
Coming off a shaky three-turnover performance in Week 2's loss at Miami, Driskel was hurt in the first quarter against Tennessee the following week. Because junior backup QB
Tyler Murphy
rallied the Gators and engineered wins in the next two games, it appeared Florida wouldn't be impaired by the transition from one mobile quarterback to another. Eventually, however, Murphy's limitations in the passing offense showed against tougher competition. The two biggest things Florida lost with Driskel were the read-option element of the offense and the ability to diagnose defenses and check out of bad plays. Losing your best quarterback can cripple any team's offensive season. Losing your best player overall? That hurts in many more ways. Easley's injury changed the course of Florida's season. On the field, the senior was Florida's most disruptive defender, an agitator an identity-maker. He provided the crucial push up the middle that many teams desire but few have. Off the field Easley was a vocal leader, a motivator and someone who could keep the team loose. "You don't replace Dominique Easley," Muschamp said later. "It's not just from a play-making standpoint, it's from a leadership standpoint. It's the heart of your team."
October
[+] Enlarge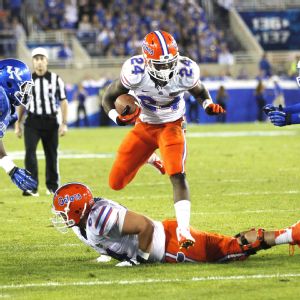 Mark Cornelison/Lexington Herald-Leader via Getty ImagesMatt Jones was Florida's leading rusher when he was lost for the season in the LSU game.
Injuries:
Jones (torn meniscus), Murphy (sprained shoulder), senior DT
Damien Jacobs
(concussion), junior LB
Ronald Powell
(ankle), senior LB
Darrin Kitchens
(shoulder), redshirt freshman LB
Jeremi Powell
(torn ACL), sophomore LT
D.J. Humphries
(sprained MCL)
Impact:
Florida's loss to LSU on Oct. 12 split the season in two. The Gators came into the game with a 4-1 record and ranked No. 17 in the nation. They left with the first of seven straight losses and two more injuries that would plague them the rest of the way. Jones, the starting tailback, saw just six plays against LSU. Florida lost its top blocker and biggest home-run threat at tailback and would have to break in a true freshman replacement. Murphy sprained the AC joint in his throwing shoulder against the Tigers and struggled with accuracy until his season ultimately ended a few weeks later. The following week in a crushing loss at Missouri, the Gators lost their eighth player for the season in special teams standout Jeremi Powell. But the month wasn't quite over, and UF lost Humphries, its starting left tackle, when he hurt his knee in practice. The offensive line was in disarray heading into the Georgia game.
November
Injuries:
Sophomore OT
Tyler Moore
(broken elbow), sophomore LB
Antonio Morrison
(torn meniscus), junior LB
Michael Taylor
(sprained MCL), freshman LB
Alex Anzalone
(shoulder), freshman DL
Joey Ivie
(heel), senior WR
Trey Burton
(shoulder)
Impact:
At this point in a season marred by injuries, it started to get ridiculous. Just when the offensive line had found itself against Georgia, Moore fell off his scooter when it slipped on a wet sidewalk and was lost for the rest of the year. Just before it faced Georgia Southern's dangerous triple-option offense, Muschamp announced that Morrison, the team's middle linebacker and top tackler, was out for the season. Casualties No. 9 and 10. To further drive home the point, Florida lost Morrison's replacement (Taylor) and then lost
his
replacement (Anzalone), as well as another linebacker (Kitchens) in the GSU game. At one point, the Gators turned to
David Campbell
, a senior walk-on who wasn't even on the game-day roster. Before the final game of the season, Florida suffered another scooter injury when Ivie sliced his heel and needed 25 stitches. The season ended, as you might imagine, with an injury ruining the Gators' game plan against Florida State. Burton was to run the wildcat for about 50 percent of the offensive plays and had early success with a 50-yard run. He hurt his shoulder and was knocked out of the game two plays later.
Conclusions
It would be hard for any offense to be effective without its top two QBs, starting tailback and three best offensive tackles. The running game that keyed an 11-win season in 2012 could not be relied upon in 2013. Similarly, the Gators' run defense fell apart by the end of the season. Florida's defense showed signs of being dominant with Easley, giving up just 55.3 yards a game on the ground, but then sprang leaks without their big man in the middle.
The upside? None of the injuries is believed to be career-threatening, and Florida developed some depth when it was forced to turn to younger players.
"There were a bunch of [important players] that didn't play for us," Muschamp said after the season's final game. "They were all on the sidelines in street clothes. We have good football players, and we have a good staff. We just got to get back healthy and continue to move forward. I'm not using excuses, it's real."
Real painful.
December, 5, 2013
Dec 5
3:13
PM ET
The seventh annual Under Armour All-America Game is less than a month away. The 2014 game, which is set for 4 p.m. ET Jan. 2 at Tropicana Field in St. Petersburg, Fla. on ESPN, features 90 of the top high school football prospects in the country. Practices begin Dec. 29.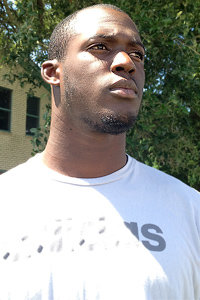 Alex Scarborough/ESPNNo. 1 Leonard Fournette is one of several five-star prospects who haven't made a commitment.
As is usually the case, the SEC will be well represented. Here are some of the storylines:
Year of dominance:
The top 15 prospects in the ESPN 300 are all scheduled to take part. That means that all 13 five-star prospects in the class will be competing, including No. 1
Leonard Fournette
(New Orleans/Saint Augustine). All told, 28 of the top 30 prospects in the ESPN 300 are on an UA All-America roster.
SE
C leads the way:
It comes without surprise that the SEC has the most committed prospects taking part, with 34. The Big Ten and ACC have 13 each, the Big 12 has three and the Pac-12 has two. Notre Dame has five commits in the game.
The SEC West alone has 25.
To continue reading this article you must be an Insider
December, 5, 2013
Dec 5
12:00
PM ET
Conference championship Saturday is almost upon us. Catch the fever!
December, 4, 2013
Dec 4
3:00
PM ET
GAINESVILLE, Fla. -- Ron Zook answers his cellphone on a bright and unseasonably warm autumn day in New York City. His car has almost reached the hotel when a reporter asks for his thoughts on Florida head coach Will Muschamp. Again.
He sighs deeply, painfully.
"What's the gist of the story about?" he asks warily and listens as the reporter says he wants some perspective on what Muschamp is going through now that Florida's season has gone south and fans are calling for his head.
[+] Enlarge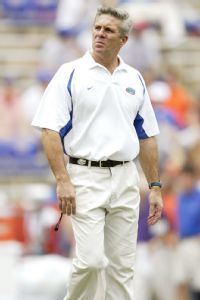 Jason Parkhurst/USA TODAY SportsRon Zook, who went 23-14 overall and 16-8 in the SEC from 2002 to 2004, can relate to what Will Muschamp went through this year.
As a former Florida head coach who experienced the exact same thing in his third season, Zook knows the drill.
He coughs a staccato burst of a laugh. "Heh, I don't know if you can call it an experience," he says and counts the number of times in the last week he's been asked this very same question.
He pauses to collect himself, then he answers.
"Let Will do his job," he says.
That's Zook's message nine years after he was fired by Florida athletic director Jeremy Foley, and he says it with a measure of exasperation, as though he has been given one more chance to speak directly to the fans who compose the proud Gator Nation.
Zook never got much of a chance to do his job. There was too much "noise in the system" as he called it. Many of those outspoken fans turned on him, just as they turned on Muschamp this season. Only for Zook, the honeymoon lasted a matter of hours.
Muschamp was given a mulligan in his first season after being handed a program that
Urban Meyer admitted was "broke a little bit
." What's followed has been more like a roller-coaster ride with the sugar-rush high of Muschamp's superlative second season followed by the sudden crash of 2013.
There are enough similarities between these two coaches that it's understandable how often they are compared. Both were defensive coordinators and recruiting whizzes with no head coaching experience who followed national championship-winning coaches at UF.
Zook went 23-14 with a 16-8 record in the SEC from 2002 to 2004. Muschamp has steered the Gators to a 22-16 record, 13-11 in the SEC over the last three seasons.
But the lows of 2013 are unlike anything Zook ever experienced: Florida's first losing season since 1979, the first loss to Vanderbilt since 1988 (first at home since 1945), the program's first loss to an FCS team, and the end of a 22-year bowl streak that dated back to 1991 when Steve Spurrier led the program out of the darkness of probation into an era of unprecedented heights.
"Obviously there's a lot of negativism going around right now," Zook said. "That's college football. That's part of it. That's one of the things that makes Florida a great place. It's is also one of the things that makes it tough. They want to win, and they want to win now."
Off the field, both coaches had some low moments in wrestling with the realities of their fans' expectations.
After losing this season to Georgia -- his alma mater -- for the third straight year, Muschamp got into a shouting match with a Florida fan as he walked off the field. A week later he acknowledged his emotions got the best of him.
"I made a real mistake over a very passionate, passionate Florida fan telling me his opinion of me," he said. "You know what, that's fine, that's fine. They pay their ticket, they can boo all they want."
A couple of weeks later, Muschamp boiled over again, saying, "there's a lot of negativity out there. Some of our fans need to get a grip."
In contrast, Zook took more heat from fans from the moment he was hired. He famously inspired a Florida fan to launch the website FireRonZook.com one day after he got the job. But nothing was worse than apologizing for
his role in a late-night verbal altercation
with an antagonistic fraternity on campus. Less than two weeks later, Zook was fired.
By the time Muschamp finished his third season, something Zook was unable to do, the pressure had risen to a feverish level. But let the record show that FireWillMuschamp.com is merely another placeholder website for sale.
With the benefit of hindsight, comparing Muschamp and Zook is on the minds of many irate fans. But is it fair?
Foley says it is not, and his opinion is the only one that matters.
"Zooker and I are friends, but it's just not apples-to-apples," he said last Saturday before Florida finished its season with an expected blowout loss to unbeaten archrival Florida State. "It's my job to evaluate and see where the program is headed. At that point in time, I didn't think it was headed where we wanted it to be. This time, I think it's headed where we want it to be. The proof is going to be in the pudding, but I don't think it's apples-to-apples.
"I'm like anybody else, I want to be successful for the University of Florida. The only thing that we want to do is to take care of the Gators. I've been doing that for 38 years. I've been doing it for 22 as athletic director. [It's not a matter of being] patient or impatient or wiser or older. I want to be successful. I'm very confident we're going to be successful moving in the direction we're moving in. That's where it's at."
[+] Enlarge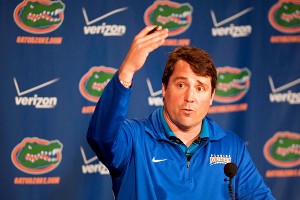 AP Photo/Phil SandlinWill Muschamp knows just how high the expectations are for the Gators and Florida officials say that despite this year's record he has things heading in the right direction.
Muschamp hasn't lost his players, either, despite suffering through an agonizing seven-game losing streak that ended the 2013 season. Many, like senior guard
Jon Halapio
, were upset and defiant about the criticism that bombarded their head coach.
"I strongly disagree with that," he said. "I'll go to battle with that coach any day, his whole coaching staff. I see the grind in his eyes every day. I see what he does every day, the passion he has for this team, and I'll go to war with him any day. He has our backs and I have his back, win or lose."
Senior center
Jonotthan Harrison
elaborated on why Muschamp won his enduring loyalty, why the players still believe in their coach.
"Because he is down to earth, as down to earth as it comes. He's as real as it comes," he said. "There's no sugar-coating anything. There's no BS. He's as black and white as it comes. He's going to tell you exactly how it is. He's going to treat you like you deserve to be treated. So if you're a hard worker -- no matter if you're a scholarship athlete, a third-string, no matter what your position is on the team, as long as you're a hard worker -- you have all of his respect. But if you go out there and you're a scumbag and you really don't want to work hard or whatever, then you're not going to have his support. That's just how it is. He's black and white. He's down to earth. He's a real guy."
The passion with which Muschamp's player support him is obvious. It's something Zook has seen and appreciated from afar.
"I think the fact that the players have circled the wagons for him, now they've got to come out and play for him," said Zook, who is two years removed from being fired as head coach at Illinois and is now a business development officer at Gateway Bank, back in Gator country, just 45 minutes south of Gainesville in Ocala. "I can tell ya he's on the right track. People say they've quit on him, but I do know that all of the negativism just zaps the energy out of your football team.
"Hopefully Will will get it turned around. I think he will."
In other words, let the man do his job.
December, 4, 2013
Dec 4
2:00
PM ET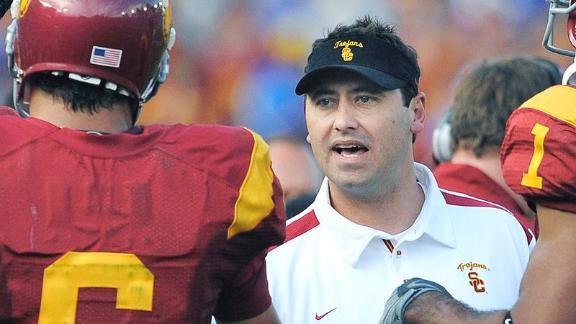 The latest update to the
RecruitingNation class rankings
features a number of moves due in large part to the release of the
ESPN Junior College 50 rankings
. Within the conference, Alabama still has a strong grasp on the top spot with all 14 schools in the top 35 classes nationally. Here's a look at the
conference's rankings

.

Trending up:
Both Texas A&M and Auburn are trending up thanks to the release of the ESPN JC 50. The Aggies jumped from No. 5 to No. 4 and into the top 3 in the conference rankings with junior college offensive linemen
Avery Gennesy
(Southhaven, Miss./East Mississippi Community College) and
Jermaine Eluemunor
(Rockaway, N.J./Lackawanna College) coming in at No. 13 and 15 in the ESPN JC 50. Auburn junior college commitment
D'haquille Williams
(Reserve, La./Mississippi Gulf Coast Community College) and
Dalvon Stuckey
(De Funiak Springs, Fla./Pearl River Community College) came in at No. 1 and 9 in the JC 50. Auburn jumped from No. 14 nationally to No. 12, and the Tigers are in striking position on several other highly-ranked prospects.
To continue reading this article you must be an Insider
December, 4, 2013
Dec 4
12:00
PM ET
Like Georgia QB Aaron Murray before him, it's tough to see a senior like LSU's
Zach Mettenberger get hurt
before he has a chance to play his final bowl game and ride off into the sunset. Here's to good health in the NFL.
December, 3, 2013
Dec 3
4:30
PM ET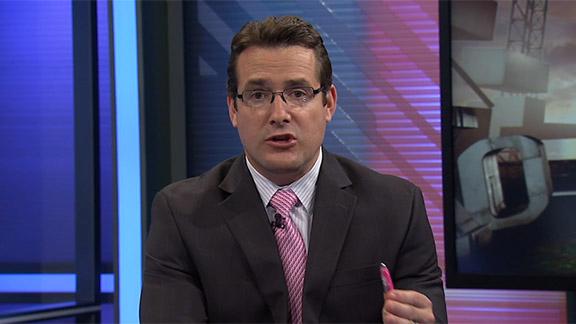 Looking over the newly released
ESPN JC 50
, there are several recruits on that list already committed to SEC schools. There are also many that still remain undecided. With signing day quickly approaching, here's a closer look at five prospects, who's destination is still unknown.
[+] Enlarge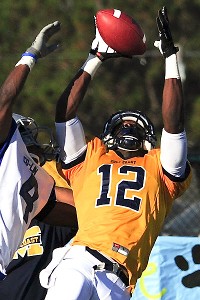 Courtesy of Mississippi Gulf Coast C.C.D'haquille Williams is an Auburn commit, but the No. 1 prospect in the ESPN JC 50 is also still strongly considering LSU.
1. WR D'haquille Williams (Laplace, La./Mississippi Gulf Coast CC):
The No. 1-ranked prospect in the ESPN JC 50 is already committed to Auburn and visited this past weekend for Auburn's miracle win over Alabama. This talented wide receiver, however, is still considering LSU and it appears to be a neck-and-neck battle. Williams' MGCCC teammate
Derrick Moncrief
is also committed to Auburn which could certainly play in the favor of the Tigers -- Auburn that is.
To continue reading this article you must be an Insider
December, 3, 2013
Dec 3
2:00
PM ET
GAINESVILLE, Fla. -- Florida need not look any further than Saturday's championship game to see how quickly fortunes can change in the SEC.
Auburn was winless in league play last year, and Missouri won all of two games in its first spin through the South. A year later, they're playing for a ring.
With 2013 mercifully over, the Gators must pick up the pieces of a 4-8 season and try to find some positives after a bleak seven-game losing streak ended the season with a thud.
"Honestly, I feel like we hit rock bottom this year," offensive lineman
Max Garcia
said. "I feel like the only way we can go is up."
[+] Enlarge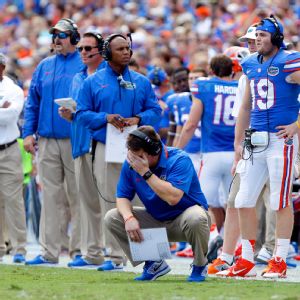 Kim Klement/USA TODAY SportsWill Muschamp is counting on his players using this year's humbling experience as motivation.
That's one way of looking at it. Another is to use the bitter sting of defeat as a motivating force during the offseason.
"It's a clean slate, but you still have to remember what happened," Garcia said. "And you want to not let that happen ever again. We don't want to feel that pain. We don't want to feel this pain ever again. I'm sick and tired of losing.
"Next year, we have that pain to sit in our hearts. We have to work through that, and we have to take that pain and make it into intensity, make it into effort, make it into want-to. We have to want to go out there and take the opposing will out of the [opponent]. That's what we have to work through."
Payback certainly can be a motivating force. After the season ended last Saturday, safety
Cody Riggs
spoke of exacting revenge upon the teams Florida will meet again in 2014.
The Gators should have a chip on their shoulder. In fact, head coach Will Muschamp is counting on it.
"It's a great lesson to be humbled in life a little bit sometimes -- as a coach, number one, as a staff and as players," he said. "Nothing wrong with that. That's good for us. ...
"You want to keep battling and keep playing if you're a competitor. Absolutely no relief at all [that the 2013 season is over]. You just want to be able to get out and continue to practice and improve. We've had a lot of young players continue to take a bunch of reps that have improved. A bunch of guys that we weren't really counting on this year that have come out and played. That will help our depth as we move forward."
There's another silver lining.
Florida's dizzying parade of injuries in 2013 sapped the team's strength physically and mentally. But the youth movement that resulted is a big positive for Florida. Several young players got invaluable experience as a result of injuries. True freshmen
Kelvin Taylor
,
Vernon Hargreaves III
,
Jarrad Davis
and
Chris Thompson
made starts at running back, cornerback, linebacker and wide receiver, respectively.
Florida also developed much-needed depth at the quarterback position after starter
Jeff Driskel
was lost in Week 3. Backup
Tyler Murphy
started six games before he was hurt. He ceded the job to redshirt freshman
Skyler Mornhinweg
, who made the final three starts of the season.
"I think the future is very bright," Mornhinweg said. "We've got some guys coming back. We can't make any excuses. We were a little dinged up, but you really can't make any excuses. We've got some guys coming back, and I think we're going to be a very strong team."
Injuries heal, and painful memories can fuel an entire offseason of work.
"We're going to be working hard in the offseason," Mornhinweg said. "I never want to feel like this again. This is a terrible feeling to have, and we're going to be on a mission next year."
Next year. When the season is upon them next fall, Florida will have an unblemished record. Time should heal the wounds of 2013's painful losing streak, and the memories of an incompetent offense will fade. Eventually, Florida will foster some optimism as it begins anew with a rebuilt offense.
Like the Gators hope to do next season, Auburn and Missouri bounced back this year with new offensive coordinators. Gus Malzahn brought Rhett Lashlee with him from Arkansas State to the Tigers, while Josh Henson replaced David Yost at Mizzou.
Fresh faces, a clean slate and a healthy roster count for a lot. But for Muschamp, the rebirth of the
Florida Gators
starts with one thing.
"Roll your sleeves up and go to work," he said. "That's the bottom line. That's all you can do. Be a great leader, great motivator for your team and organization. That's all we're going to do.
"We're going to be fine. We're going to have a good football team next year, I can assure you of that. Sitting in that locker room with those guys, we're going to be fine. And that's what's encouraging for me. It's damn encouraging."
December, 3, 2013
Dec 3
12:00
PM ET
You have to feel bad for old Ed Orgeron. The former Ole Miss head coach had a good run as interim coach at USC, but last week's loss to UCLA seemed to seal his fate. How long before he ends up back in the South as a head coach?
December, 2, 2013
Dec 2
8:03
PM ET
Despite not having an offensive coordinator the Florida Gators were able to get four-star wide receiver
Ryan Sousa
(Orlando, Fla./Lake Nona) to flip his commitment from Florida State to the Gators on Monday night. Sousa's commitment was first reported by 247sports.
Sousa camped at both schools over the summer but was only offered a scholarship by FSU, which he quickly jumped on and committed to the Noles in June.
After having a strong senior season, Florida decided to offer the 6-foot, 177-pound wideout a scholarship. Sousa took an official visit this weekend and decided to go ahead and flip his commitment.
After struggling mightily in the passing game this year, the Gators have been looking to add playmakers on offense. Sousa, who totaled 4,107 receiving yards and 53 receiving touchdowns on 246 receptions in his high school career, joins four-star wide receiver
Ermon Lane
(Homestead, Fla./Homestead) as Florida commitments.
For Florida, the Gators now have 16 commitments, including nine ranked in the ESPN 300. Twelve of Florida's commitments are ranked four-stars or higher.
Florida State, meanwhile, has 23 commitments including nine ranked in the ESPN 300.
December, 2, 2013
Dec 2
3:00
PM ET
GAINESVILLE, Fla. -- Now that offensive coordinator Brent Pease and offensive line coach Tim Davis have been sacrificed as a way to wash away the sins of Florida's 2013 offense, the spotlight shifts to head coach Will Muschamp.
For such a strong-willed leader, for such a defensive-minded coach, the obvious question in regards to his offensive philosophy is, "Can Muschamp change?"
[+] Enlarge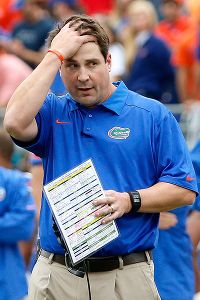 Sam Greenwood/Getty ImagesThe Gators' inability to score points became a weekly post-game complaint from Will Muschamp.
After his team was drubbed one last time last Saturday in a 37-7 loss to Florida State that saw his Gators generate just one score, eight first downs and 193 yards, Muschamp was quick to answer that question.
"Perception is not always reality," he said and then repeated himself for emphasis. "Perception is not always reality. So, I'm willing to do what we need to do to score points and win games."
It's doubtful that portends a complete shift to another style of offense, however. Since Muschamp arrived in December 2010, he has recruited for the pro-style offense. He installed it on the heels of Urban Meyer's spread-option, and it has taken years to usher in the personnel required for such a drastic change. It's extremely unlikely a head coach on a hot seat would scrap the base offense and start over.
What is more likely to change is the heavy emphasis on a downhill running game that was designed to shorten games by hogging time of possession.
That approach worked to perfection with Florida's stout defense and strong special teams in 2012. Even with one of the nation's worst passing games that averaged 146.31 yards and ranked 114th out of 123 FBS schools, the Gators won 11 games and defeated four top-1o teams on their way to a BCS bowl.
This year, injuries on defense and new faces on special teams conspired to spotlight the shortcomings of Muschamp's offensive philosophy. The Gators' margin of error had always been small, but without a reliable defense and kicking game, it shrunk to a level of absurdity.
By the end of the dismal 2013 season, one interception, one sack-fumble, one drive that ended in a missed field goal was enough to torpedo the entire team's fragile psyche. Muschamp started calling out his "inept" offense, saying it had "infected" the rest of the team.
The need to change was obvious to Muschamp, the players, the fans and most importantly to Muschamp's boss, athletic director Jeremy Foley.
"Will is going to figure those things out," Foley said to reporters in giving his embattled coach one more vote of confidence before the FSU game. "I do think in this league playing good defense is important, and that's why I hired Will. I think he's done that. But we do have to fix that side of the ball.
"No disrespect to anybody. That's just reality. You look at the stats and some of the scores that have caused us problems. We'll get that fixed. We're going to have to get that fixed, and I think we can."
An offense that was built to do more than run could have pivoted this season, taken on more of the burden to win games and help salvage a passable season instead of the 4-8 quagmire that resulted.
The final outcome -- 112th in the nation and last in the SEC in total offense, 107th in the nation in passing offense, last in the SEC in scoring -- forced Muschamp's hand.
"We need to take a look at ourselves schematically with what we're doing," Muschamp said. "There have been some things that have happened that are very difficult to overcome, but schematically, there's no question we need to take a look at ourselves."
Yes, the injuries were difficult to overcome. Any team that loses its top two quarterbacks, top running back and top three offensive tackles is in for a turbulent season. But this is Florida, where quality depth is more than just expected -- it's practically a birthright at a school surrounded by such fertile recruiting turf.
The offensive line was unable to pass-block in 2012 or before it suffered all those injuries this season. And when those injuries struck, there were no sophomores or redshirt freshmen ready to compete for starting jobs. It's no surprise Davis was fired.
The offense's inability to generate points became a weekly complaint from Muschamp in his recent post-game assessments. So much so that it was no surprise Pease was fired.
In replacing him, Florida will need an offensive mind that can devise multiple ways of attacking a defense, employ varying tempos and do a better job of developing skill-position talent.
It starts with Muschamp, who will hire his third offensive coordinator heading into his fourth season.
"I think obviously the first person you look at is yourself," he said. "That's what you've got to be able to do and see where we are. I think as a coach, you've got to do what your players can do. That's something I'm looking at."
No doubt the players will welcome a change. Even Muschamp's defensive players say they want the same thing.
"Right now, whatever they do hopefully is changed for the best," sophomore defensive end
Jonathan Bullard
said once the season was over. "Give us 21 [points] a game. If they can do that, then I would put the blame on us if they score 21 points or over. Hopefully change for the better, because what we're doing right now just ain't working."
December, 2, 2013
Dec 2
12:00
PM ET
The regular season is over, and 12 of the SEC's 14 teams are trying to figure out how to get to next year's SEC championship game. Ten teams are bowl eligible, which leaves four downtrodden SEC teams trying to pick up the pieces and figure out how to simply win games.
December, 2, 2013
Dec 2
9:00
AM ET
We have a new No. 1 in our Power Rankings, and there's a chance that either of the top two teams on this list could back its way into the BCS title game:

1. Auburn (11-1, 7-1 SEC; last week: 3):
Call it luck, but don't forget to call the Tigers good. Auburn won the Iron Bowl 34-28 over No. 1 Alabama on a last-second field goal return for a touchdown by
Chris Davis
. It was another improbable win for the Cardiac Cats, but Auburn also ran for 296 yards on the SEC's best rush defense. Back-to-back thrillers have Auburn No. 3 in the BCS standings and SEC Western Division champions.
2. Missouri (11-1, 7-1 SEC; LW: 2):
These Tigers will meet those Tigers in the SEC championship game on Saturday. After beating Texas A&M 28-21 at home, Mizzou completed its own improbable season in its second year in the league. Missouri now has five wins over opponents that were ranked when it played them. Like Auburn, Mizzou is very much in the national championship picture. The Tigers need help, but a win over Auburn would push a team that was left for dead last season a step closer to Pasadena, Calif.
3. Alabama (11-1, 7-1 SEC; LW: 1):
The three-peat is likely over after Alabama was bested by its archrival. Why Nick Saban would attempt a 57-yard field goal with a second left without any speedy athletes on the field is mind-blowing. Saban rarely makes mistakes, but this one will sting for a very long time. Alabama is still very much in the hunt for a BCS bowl game, but a return to the title game is a long shot.
4. South Carolina (10-2, 6-2 SEC; LW: 4):
Another year, another win over Clemson. That makes five in a row for Steve Spurrier and his Gamecocks after his guys walked over the Tigers 31-17. South Carolina forced six turnovers, and quarterback
Connor Shaw
impressed yet again with 246 yards of offense and two touchdowns. The BCS is out of reach for the Gamecocks, but they have a shot at three straight 11-win seasons.
5. LSU (9-3, 5-3 SEC; LW: 5):
This is easily the most confusing team to follow in 2013. The Tigers started hot, hit some bumps and then finished strong with an exciting 31-27 win over Arkansas. LSU was without starting quarterback
Zach Mettenberger
(knee) late, but it didn't matter, as freshman
Anthony Jennings
drove the Tigers 99 yards, with a 49-yard go-ahead touchdown pass with 1:15 left. This could be another double-digit-win season for the Tigers.
6. Texas A&M (8-4, 4-4 SEC; LW: 6):
Johnny Manziel
went from carving up defenses to being smothered in his last two outings. In Saturday's loss to Mizzou, Manziel was held to a season-low 216 total yards and a touchdown. The defense was gutted -- again -- allowing 225 rushing yards, including a 57-yard
Henry Josey
touchdown run with 3:34 remaining. It's been a long November in College Station, but at least Kevin Sumlin is locked up for the long haul.
7. Vanderbilt (8-4, 4-4 SEC; LW: 8):
Coach James Franklin might be near the top of USC's coaching list, but for now, he's doing a heck of a job as Vandy's coach. There's no wonder he's on the Trojans' radar. Vandy has won four straight, will make its third straight bowl game and is in line to win nine in back-to-back seasons. The Commodores didn't make it look easy against Wake Forest, but a
Carey Spear
field goal with 39 seconds left kept the Dores' winning streak alive.
8. Georgia (8-4, 5-3 SEC; LW: 9):
Another team that didn't want things to be easy over the weekend, Georgia needed double overtime to beat rival Georgia Tech. The Bulldogs' defense was pushed around for 495 yards, but the offense was there to bring the Dawgs back from deficits of 20-0 and 27-17. When you have a guy like
Todd Gurley
(158 total yards and four touchdowns), it doesn't matter who you have at quarterback.
9. Mississippi State (6-6, 3-5 SEC; LW: 10):
After being on the outside of the bowl picture just a couple of weeks ago, the Bulldogs rallied to win their last two, including an overtime victory against bitter rival Ole Miss on Thanksgiving. It wasn't the prettiest of games, but injured quarterback
Dak Prescott
came into the fourth quarter and threw for 115 yards, while running for 29, including the eventual winning 3-yard score. Dan Mullen has Mississippi State in the postseason for the fourth straight season.
10. Ole Miss (7-5, 3-5 SEC; LW: 7):
Oh, what could have been for this team. Not only have the Rebels lost two straight, but they allowed their archrivals to make it to the postseason. For a season that started 3-0, some poor play in the red zone -- especially near the goal line -- against Missouri and turnovers against Mississippi State cost Ole Miss in its final two games.
11. Tennessee (5-7, 2-6 SEC; LW: 11):
A long first year for Butch Jones ended with a nice 27-14 win over Kentucky. The Vols aren't going bowling, but now is the time when Jones has to ramp up the development phase and keep an already stellar recruiting class together. Remember, this team was a fake Vandy jump pass from a bowl berth.
12. Florida (4-8, 3-5 SEC; LW: 12):
The Gators' nightmare of a season ended with a 37-7 rout by rival Florida State inside the Swamp. Florida then fired embattled offensive coordinator Brent Pease and offensive line coach Tim Davis. Florida lost seven straight to end the season without scoring more than 20 points. And it isn't going bowling for the first time in 22 years and has its first losing season since 1979.
13. Arkansas (3-9, 0-8 SEC; LW: 13):
With that heartbreaking loss to LSU, the Razorbacks have dropped a school-record nine straight and went 0-8 in conference play for the first time. This team fought hard in its final act, but it's clear that development and recruiting need to amp up during the offseason if Bret Bielema is going to have a chance at really competing in this league.
14. Kentucky (2-10, 0-8 SEC; LW: 14):
The Wildcats have now gone 0-8 in SEC play in back-to-back seasons for the first time since 1941-42 and have lost 16 straight SEC games. Mark Stoops is building a pretty impressive recruiting class right now, but we all know it takes more than recruiting. The Wildcats need more than talent, as they took steps back on both sides of the ball late in the season.
December, 2, 2013
Dec 2
8:00
AM ET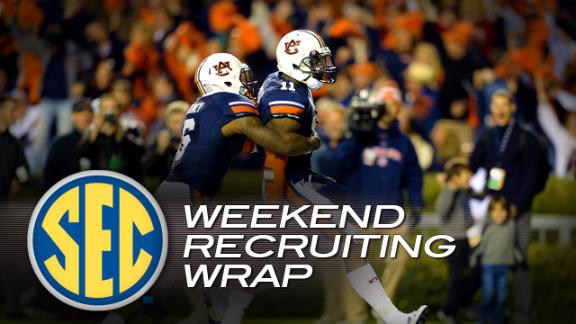 As the regular season winds down, there was a lot of news around the SEC over the weekend. Texas A&M received a big commitment on Thanksgiving at a position of need, and Auburn hosted several visitors for its incredible last-second victory over Alabama. Here's a closer look at some of the top storylines in the SEC this weekend.

Biggest commitment:
Though Texas A&M suffered a tough loss to Missouri on Saturday night, the Aggies did have something to be thankful for when junior college offensive tackle
Avery Gennesy
(Southhaven, Miss./East Mississippi CC) verbally committed to Texas A&M on Thursday.
The 6-foot-5, 315-pound tackle chose the Aggies over Ole Miss, Tennessee and Ohio State.
Texas A&M now has 18 commitments, including 10 from in the ESPN 300. The Aggies have the fifth-ranked recruiting class in the country.

Georgia, Tennessee lose commitments:
ESPN 300 defensive tackle
Dontavius Russell
(Carrollton, Ga./Carrollton), after visiting Auburn over the weekend, decided to open back up his recruitment. The four-star defensive lineman announced his decision on Twitter.
I'm reopening my Recruitment.

— Dontavius Russell (@Russ_Dont98) December 2, 2013
Auburn now appears to be the team to beat for Russell. Tennessee lost another wide receiver commit from ESPN 300 wideout Dominique Booth (Indianapolis/Pike) on Sunday. Booth is the third pass-catcher to decommit from the Vols this year. Junior college prospects Eric Lauderdale (Fayettville, Ga./Saddlebrook) and Kameel Jackson (Arlington, Texas/Blinn) also backed off their pledges to Tennessee earlier in the season.
To continue reading this article you must be an Insider
Final Verdict: Hired And Fired