April, 2, 2014
Apr 2
12:01
PM ET
April, 2, 2014
Apr 2
9:00
AM ET
AUBURN, Ala. -- There wasn't much fire in the voice of Gus Malzahn as he stood at the podium following Auburn's first scrimmage of the spring on Saturday. All told, it was a pretty boring scene. No injuries to report. No position changes to speak of. Only one turnover and a handful of big plays. His team had to move indoors because of the threat of rain, but as he said, "It didn't bother us a bit."
Watching Malzahn, you got the feeling he wasn't playing coy. This was the difference a year makes. Last spring was an anxious time for Auburn. There was no quarterback, no depth chart and no sense of expectations. Malzahn and Co. were simply trying to pick up the pieces left behind from the previous staff.
This spring has a much different tone. All one needed to do was look at the long-sleeve, collared shirt Malzahn wore after practice, the one with the SEC championship patch on its left shoulder. The building phase of Malzahn's tenure is over. The questions are much fewer this year than the last. And with that, the sense of urgency is far more diminished.
"We've got more information now, so we're not as urgent," Malzahn said. "We pretty much know a lot about the guys returning."
Not every coach in the SEC is in the same enviable position.
"You've also got to keep in mind next year," Malzahn said. "You want to get your guys as much reps as you can moving forward for next year, because that's what it's all about ... but I would say, probably, for the most part, that we've got guys in the position that we want them to be in."
Not every coach can afford to look ahead this spring. Not every coach has the time.
With that said, let's take a look at the programs with the most to accomplish this spring, ranking all 14 schools by the length of their to-do list.

Vanderbilt:
Any new coaching staff has the most work to do, from determining the roster to installing new schemes on both sides of the ball. Throw in a new starting quarterback and the
raid James Franklin put on the recruiting class
, and it adds up to an enormously important spring for Derek Mason.

Kentucky:
Mark Stoops has done a lot to turn around the culture at Kentucky. In fact, veteran defensive end
Alvin Dupree
said it feels like more of a football school now
. But the fact remains that Stoops has a very young group to deal with, so inexperienced that true freshman
Drew Barker
is in contention to start at quarterback.

Tennessee:
The Vols are facing many of the same
challenges in Year 2 under Butch Jones
. He has brought in a wealth of talent, including a remarkable 14 early enrollees. Considering the Vols lost all of their starters on both the offensive and defensive lines, there's a lot of work to do.

Florida:
The hot seat knows no reason. All is good in Gator Land right now as a new offense under a new coordinator is installed, injured players -- including starting quarterback
Jeff Driskel
-- return, and expectations creep upward. But a bad showing in the spring game could change the conversation quickly for Will Muschamp.

Arkansas:
There's
nowhere to go but up for Bret Bielema
after a 3-9 finish his first year with the program. The good news is he has young playmakers on offense (
Hunter Henry
,
Alex Collins
, etc.). The bad news is the quarterback position is unsettled and his defensive coaching staff is almost entirely overhauled from a year ago.

LSU:
A depth chart full of question marks is nothing new for Les Miles, who has
endured plenty of underclassmen leaving for the NFL
before. But missing almost every skill player on offense (
Zach Mettenberger
,
Jeremy Hill
,
Odell Beckham
,
Jarvis Landry
) hurts. He has to find replacements at several key positions, and we haven't even gotten into the defense.

Texas A&M:
Cedric Ogbuehi
can replace
Jake Matthews
at left tackle. The combination of
Ricky Seals-Jones
and
Speedy Noil
can replace
Mike Evans
at receiver. But
who replaces the legend of Johnny Football
? Determining a starter under center won't be easy, but neither will be overhauling a defense that was far and away the worst in the SEC last year.

Georgia:
Jeremy Pruitt
should breathe some new life
into a struggling Georgia defense. Having
Hutson Mason
to replace
Aaron Murray
helps as well. But
off-the-field problems continue
to plague Mark Richt's program. With stars such as
Todd Gurley
, the players are there. The pieces just need to come together.

Missouri:
After 13 seasons in Columbia, Gary Pinkel knows how to handle the spring.
Maty Mauk
appears ready to take over for James Franklin at quarterback, and even with the loss of
Henry Josey
, there are still plenty of weapons on offense. The real challenge will be on defense, where the Tigers must replace six starters, including cornerstones
E.J. Gaines
,
Kony Ealy
and
Michael Sam
.

Alabama:
The quarterback position won't be settled this spring, so we can hold off on that. But still, Nick Saban faces several challenges, including finding two new starters on the offensive line, replacing
C.J. Mosley
on defense and completely overhauling a secondary that includes
Landon Collins
and a series of question marks.

Ole Miss:
Hugh Freeze has his players. Now he just has to develop them. With emerging stars
Robert Nkemdiche
,
Tony Conner
,
Laremy Tunsil
,
Evan Engram
and
Laquon Treadwell
, there's plenty to build around. Include a veteran starting quarterback in
Bo Wallace
and there's a lot to feel good about in Oxford.

Mississippi State:
It's a new day in the state of Mississippi as
both state institutions have high expectations this spring
. Mississippi State returns a veteran defense, a solid offensive line and a quarterback in
Dak Prescott
who could turn into a Heisman Trophy contender. A few months after Dan Mullen was on the hot seat, he now appears to be riding high.

Auburn:
Losing
Tre Mason
and
Greg Robinson
hurts, but outside of those two stars, the roster remains fairly intact.
Nick Marshall
figures to
improve as a passer
, the running back corps is well off, and the receivers stand to improve with the addition of
D'haquille Williams
. The defense should get better as youngsters such as
Montravius Adams
and
Carl Lawson
gain experience.

South Carolina:
Steve Spurrier would like to remind everyone that
Dylan Thompson
was the only quarterback in the country to beat Central Florida last season. Sure, Thompson wasn't the full-time starter last year, but he has
plenty of experience and is ready to be the man
. Throw in a
healthy and eager
Mike Davis
and an improving set of skill players, and the offense should improve. The defense has some making up to do on the defensive line, but there's no reason to panic, considering the rotation they used last year.
April, 1, 2014
Apr 1
2:00
PM ET
GAINESVILLE, Fla. -- Thanks to a new offense, the
Florida Gators
are expecting some serious improvement this fall. Every player has hopes and dreams of better statistics.
The most realistic chances to double or even triple their production? That's easy.
Tight ends and fullbacks were an afterthought in 2013, used almost exclusively as blockers in UF's pro-style offense. Two tight ends combined for four catches. Two fullbacks had a total of six receptions and three carries.
[+] Enlarge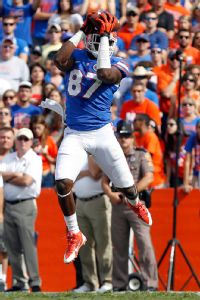 Kim Klement/USA TODAY SportsTevin Westbrook hopes to be a bigger part of Florida's offense this season.
But rather than file a class-action lawsuit for neglect, the four rising seniors are thrilled to learn an offense that promises much more involvement.
"It's really exciting," tight end
Tevin Westbrook
said. "It's more of a competition. Every day when you go out you know that you've to play to be able to catch the ball and block, to move from off the ball to a bigger role. It's exciting. We're catching balls and blocking from the backfield, blocking for the quarterback."
With so little to see of the tight ends and fullbacks on last year's game tape, offensive coordinator Kurt Roper has had to use the first part of spring practice to evaluate what he's got.
"The thing we're trying to figure out first and foremost is the tight end/H-back in our offense, who we call the 'B,' is who is that?" he said. "Who's the guy that's going to be the best in that situation? So it's a fun battle to watch between all those guys that we're repping at that position.
"I think that that B position, because it's so different from what they were doing in the past is probably the thing that we've got to watch the closest."
The change has been apparent.
Those four returning players -- Westbrook, tight end
Clay Burton
and fullbacks
Hunter Joyer
and
Gideon Ajagbe
-- have probably seen more targets this spring than all of their previous years combined. And true freshman tight end
DeAndre Goolsby
has seen as much action as any of the seniors.
Joyer, who has even gotten to show off his hands on intermediate routes, can't hide his smile when talking about the new opportunities available.
"Yeah, everybody's being used and used a lot," he said. "Everyone has a role in it and everyone determines our own roles. So as long as you're doing well, you'll have one."
It's all by design, says Roper. Last year at the reins of a Duke offense that averaged more than 409 yards a game, Roper gave significant roles to two quarterbacks, four running backs and six receivers.
"I think the biggest thing when you put together an offense is you want a defense to have to defend the field and defend all your skill players," Roper said. "Those guys [at the B position] are a big part of our offense. I think they're going to be put in position to make some plays.
"It's been fun to evaluate and we've had some big plays made by those guys. [Last Wednesday], we had two great catches by Gideon and Goolsby. So I think they're starting to get a feel for what we're asking them to do, and I think they're going to be capable of making some of those plays."
That's a huge development for an offense that got almost nothing there last year. Now there's potential and the promise of more to come.
Goolsby, a three-star prospect out of Derby, Kan., committed last November as Florida was in the midst of a seven-game losing streak. He chose the Gators over Ohio State, Oklahoma Arkansas and Kansas State and is now seeing the benefits of UF's new offense.
At 6-foot-4, 230 pounds, Goolsby still needs work in the weight room, but the education he is getting in spring practice should work wonders in getting on the field this fall.
"He's a really good athlete," head coach Will Muschamp said. "He's a guy that can do some things as far as what we're looking for at that position. He fits it extremely well. … I think he's done a really good job. I'm very pleased where he is. I think it's a little early right now to tell where he will contribute."
Florida also signed two more players in its 2014 class who profile as part of the 'B' team -- tight ends
C'yontai Lewis
and
Moral Stephens
, who arrive this summer.
It should make for a robust competition that carries over from spring practice into the fall and maybe even turns into some long-awaited offense.
For the previously invisible tight ends and fullbacks, the new offense means they can dare to dream.
"If we make plays and we come out and block and we catch the ball, they're going to have to put the tight end into the plays," Westbrook said. "As a unit, it's a chip on our shoulder. We need to step up and make more plays in practice and then there will be more action from the tight end."
April, 1, 2014
Apr 1
12:00
PM ET
College football's most high-profile head coach weighed in on the Northwestern players' bid to unionize yesterday. Nick Saban said after practice at Alabama that
players should be compensated and deserve a voice
in what happens. Are we seeing the beginning of a movement, the start of a never-ending legal process or both? Whatever it is, it's moving along as the
next step is Washington, D.C
.
April, 1, 2014
Apr 1
9:00
AM ET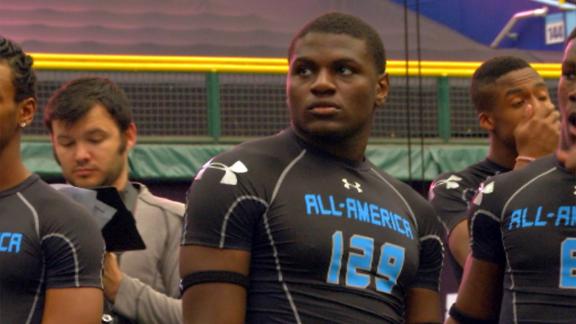 Throughout this recruiting cycle, RecruitingNation will profile a number of ESPN 300 prospects in the 2015 class, including an inside look at the prospect, his recruitment, a scouting report and what college program could benefit when he ultimately makes his decision
.
BRADENTON, Fla. -- On a team loaded with talented prospects, do-it-all athlete
Jeffery Holland
takes a back seat to no one. The 6-foot-2, 226-pound outside linebacker plays multiple positions for Jacksonville (Fla.) Trinity Christian, including running back, tight end, wide receiver and, of course, linebacker -- the position most schools recruiting him want him to play. Holland even lined up at cornerback for a game during the IMG 7v7 Southeast Regional championships in Bradenton, Fla., over the weekend.
The No. 8 player in the country, his athleticism is something that comes naturally, but it doesn't hurt that he has pretty good bloodlines too. Holland's uncle, Carey Holland, won an SEC basketball title at Auburn in 1985.
To continue reading this article you must be an Insider
March, 31, 2014
Mar 31
2:20
PM ET
We hope you're grabbing a late lunch and can catch up on the goings on around the SEC. Unfortunately we slept in a bit -- we blame the weekend's fantastic college basketball action -- and we're running just a touch behind. So without further delay, here's some reading material for your day.
March, 31, 2014
Mar 31
11:00
AM ET
GAINESVILLE, Fla. -- The Gators have completed seven of their 14 practices, and the spring game is less than two weeks away.
Before Florida opens another practice to its fans today, let's go over a few developments.
Fast-moving offense:
It's all anyone wants to talk about. The Gators are installing a new offense, and so far the key word is speed. The players have learned and adapted quickly. The tempo is much faster than at any time in the last three years. Players look fast again.
Give much of the credit to new coordinator Kurt Roper, who simplified everything and really made the most of his meeting time before practice began.
"You spend the time you're allowed in the meeting room trying to create that understanding and showing it to them on tape," he said. "You're trying to put your install together that makes sense for them to understand it. The biggest thing for us is we try to create lining up simpler than most people. I think because of that, that's part of what you see. We're able to get lined up in a hurry."
[+] Enlarge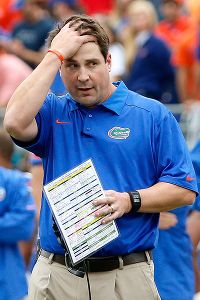 Sam Greenwood/Getty ImagesWill Muschamp's future probably rides on Florida's offensive improvement.
Head coach Will Muschamp, whose future probably rides on Florida's offensive improvement, has noticed the difference and says he's very pleased.
"[They're] really play fast, physical," he said. "We've really limited negative plays to this point. … Our guys have got a lot of confidence, playing real good tempo and having a lot of fun."
Driskel separates himself:
All three of Florida's top QBs -- junior
Jeff Driskel
, sophomore
Skyler Mornhinweg
and true freshman
Will Grier
-- have had their moments. They've shown a solid grasp of the offense in its early stages of installation, made solid decisions and delivered the ball to receivers in stride.
Muschamp has not yet named Driskel the starter but did say he has "distanced himself at this point" while the other two have split second-team reps.
Driskel, however, has a lot of work yet to do. While his arm strength has been on full display and he appears recovered from the broken leg that ended his 2013 season, Driskel is getting a crash course in quarterback fundamentals from Roper.
"Sometimes he's overstepping a little bit which causes him to sail the ball," Muschamp said. "That's been something that Kurt is really working on. Kurt is a really good fundamental quarterback coach."
D-line shuffle:
One of the players who has been singled out most often for praise is sophomore defensive end
Bryan Cox Jr
., son of the former Miami Dolphins Pro Bowl linebacker.
Muschamp said Cox has gotten stronger, put on a few pounds and has "made really remarkable improvement" in his technique. That has allowed the Gators to slide junior
Jonathan Bullard
inside to defensive tackle, where the coaching staff believes he can thrive as a pass rusher on obvious throwing downs.
Because senior defensive tackle
Leon Orr
is sidelined this spring with a broken wrist, it bears watching whether these plans stick in the fall.
Florida has a number of talented young linemen starting to make an impact. But it remains to be seen if redshirt freshmen
Caleb Brantley
,
Jay-nard Bostwick
,
Antonio Riles
and sophomore
Joey Ivie
are ready to do more than just provide quality backup minutes.
"I feel like the depth is there," Muschamp said. "We've got some good players."
Veteran line with one exception:
The makeup of Florida's first-team offensive line has been fairly consistent with junior
D.J. Humphries
at left tackle, junior
Trip Thurman
at left guard, senior
Max Garcia
at center, junior
Tyler Moore
at right guard, and senior
Chaz Green
at right tackle.
Thurman is the newcomer, the only player on that first unit who has never made a start.
"He hasn't played as much," Roper said, "but he's out there working hard to be a good player."
Starting would be quite a step forward for Thurman, who stands 6-foot-5 and 315 pounds. The fourth-year player has seen very limited playing time in just 15 career games as a reserve.
Overall, Muschamp and Roper have been pleased with the play of their O-line. There have been some issues with Garcia and backup center
Cameron Dillard
handling shotgun snaps, but the coaches expected some bumps in the road.
This is a unit that struggled mightily in pass protection last season but could benefit greatly from Roper's uptempo spread scheme.
Kickers still need work:
Before practice started, Muschamp identified the kicking game as one of his top two priorities of the spring. Florida's place-kickers were abysmal last season and likely cost the team a couple of wins, while starting punter
Kyle Christy
slumped badly enough to force the Gators to burn freshman
Johnny Townsend
's redshirt.
So far this spring, the two punters have been locked in a battle that has featured some colossal moonshots and no clear starter.
"We've got two guys that have Sunday legs," Muschamp said of their potential as pro prospects. "They both kick very well."
The Gators are still struggling with field goals, however, and it seems unlikely that sophomore
Austin Hardin
or senior walk-on
Francisco Velez
will do enough to win the job outright. Their competition could continue throughout the fall with other walk-ons getting chances as well.
"The kicking situation is still not what it needs to be," Muschamp said, "but Austin is hitting the ball more consistently the same way."
March, 31, 2014
Mar 31
10:30
AM ET
BRADENTON, Fla. -- South Florida has always been known for producing top talent and elite seven-on-seven teams but it was two teams from Jacksonville (Fla.) that battled in the finals of the IMG 7v7 Southeast Regional Championships on Sunday.
The Pro Impact team, led by LSU commit and the No. 3-ranked player in the ESPN Junior 300
Kevin Toliver II
and defensive back
Derwin James Jr
., a Florida State commit, upset River City, which featured FSU quarterback commit
De'Andre Johnson
and South Carolina commit
Sherrod Pittman
, 23-14.
To continue reading this article you must be an Insider
March, 28, 2014
Mar 28
2:00
PM ET
GAINESVILLE, Fla. -- Most high school seniors treat their final spring break as a sacred event.
Treon Harris
, however, is not like most.
Instead of relaxing on a beach, the Florida quarterback signee is taking the concept of gym rat to new extremes by spending nearly his entire spring break at UF to immerse himself in the Gators' new offense, get a jump on the playbook and ensure that he doesn't lose too much ground in the QB competition.
[+] Enlarge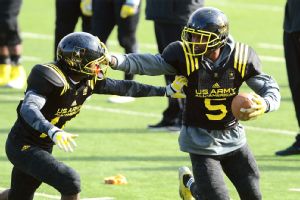 John Albright/Icon SMIFlorida dual-threat QB signee Treon Harris (5) is spending his spring break immersing himself in the Gators offense.
Harris, a four-star prospect out of Miami Booker T. Washington High, was one of the most important recruits in the Gators' 2014 class. A 5-foot-11, 186-pound dual-threat QB, Harris was the nation's No. 7 prospect at his position and No. 163 in the ESPN 300. He led his high school to a 14-0 record, a consensus No. 1 ranking and the national championship that goes with it.
It was easily the kind of senior year that most players would celebrate with some time off. Instead, Harris' last blast for spring break has been highlighted by shadowing Florida's quarterback group from Monday through Friday.
He spoke with ESPN.com earlier this week:
How important was it to drive up to campus and see the offense firsthand?
"It means a lot to me. I'm coming in in the summer to get my workouts in, so I wanted to see a peek at what I'm going to be doing. I can't wait, but you've got to be patient and learn from these guys who've been here. I've just been in the meeting today learning how the offense is going to work."
What were your impressions of the Gators' new offense, their new coordinator Kurt Roper and how you might fit in?
"Coach Roper, you know his style of coaching is the same thing I came out of high school doing -- spread offense, no-huddle, fast-paced. Let's play ball. I see myself fitting in perfectly, playing fast, playing smart, the same things Florida is doing."
Was it hard to flip from Florida State to Florida on signing day?
"No sir. You've got to do what's best for you. At the end everything came to me. FSU has a lot of quarterback depth, man. Their pro-style offense doesn't really fit me well. [Florida's] offense fit me the best. I knew [on his official visit on Jan. 17] and I told coach [Will] Muschamp. ... Before Coach Roper got here I was watching Duke play. I always hoped I could play in an offense like that. By God's work at the end of the season Coach Roper came to Florida. They called me and came to my house. I came up here and everything ended up playing out to get me here. We worked it out."
Did the presence of another top-rated QB prospect and early enrollee in Will Grier deter you at all?
"Once you're in college, you've got to compete to play the quarterback position, so it doesn't matter where you're at. Will Grier, he's a great athlete, but I'm coming up here to get a spot. I watched all the quarterbacks today. They were working on improving their timing and everything like that. I think I can run better. I can throw the ball just like those guys. I've just got to come in and learn my playbook and I'll be good to go."
Do you think you can win the backup job?
"I've got big confidence. I love to compete against good guys. Coach Roper says the best are going to play in this offense, and I'm coming here to learn things and pick it up fast because I'm behind. But that's why I'm up here in the spring. I'm in meetings, learning, taking my notes. So when fall comes I'm going to be on point and get that role. It's going to take hard work and dedication, coming up here and showing that I'm a leader and that I can lead my team and my offense to a national championship."
How often have you heard people talk about your size at the quarterback position?
"I hear it a lot, but like Coach Roper says, size doesn't mean nothing. Everybody saw what
Johnny Manziel
did, guys like him, mobile quarterbacks have proven that height doesn't really mean nothing. We just go, 'Let me show y'all what I can do.' (Laughs) …
Russell Wilson
,
Drew Brees
, they won [Super Bowls]. They're short guys but they throw like 6-5 guys. That doesn't really mean nothing. It's all about the heart and the passion that you've got for football. You've got to love this game to be a quarterback."
March, 28, 2014
Mar 28
12:00
PM ET
While college basketball teams are punching their tickets to the Elite Eight, the SEC's best quarterback of the last two seasons might have cemented his position as an elite talent in the NFL draft.
March, 28, 2014
Mar 28
10:00
AM ET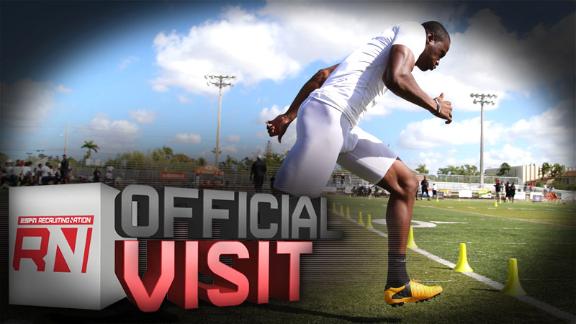 South Florida is arguably the most fertile area in the country for recruiting, and college football coaches annually flock to the talent-rich area to try to land a small piece of a very large pie. The large area located south of Lake Okeechobee that includes the football hotbeds of Broward, Palm Beach and Dade counties has produced 45 ESPN 300 members in the last two recruiting cycles and almost half (22) signed with out-of-state schools.
To continue reading this article you must be an Insider
March, 28, 2014
Mar 28
9:39
AM ET
March, 27, 2014
Mar 27
12:00
PM ET
The words "revolutionary" and "game-changing" are prominent in the aftermath of
Wednesday's ruling by a federal agency
that college athletes at Northwestern University are school employees and can form a union. The SEC had this to say:
"Notwithstanding today's decision, the SEC does not believe that full time students participating in intercollegiate athletics are employees of the universities they attend," commissioner Mike Slive said in a written statement.
Former South Carolina defensive tackle Kelcy Quarles came out
against the idea of college football players unions
.
Elsewhere in the South, spring practice and NFL scouting continued as if the earth had not spun off its axis.
March, 27, 2014
Mar 27
11:06
AM ET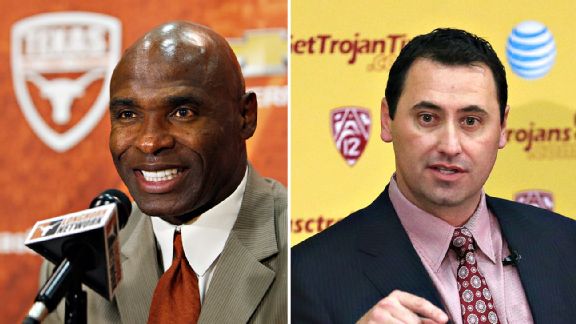 Getty ImagesBoth Charlie Strong and Steve Sarkisian have much to accomplish this spring.
Put mildly, spring ball can sometimes become a labor of love for coaches.
"We got them back from spring break and tried to work the 'fun' out of them, gassers and squats," one SEC assistant told me last week. "But that night was St. Patrick's Day. Tuesday was like starting all over again. They were worthless."
But there is value in the practices. For some, this particular spring is more important than it is elsewhere. At Texas and USC, for instance, new coaches are bringing their styles and systems to high-profile, visible college football hubs.
The Longhorns and Trojans lead our discussion of the five programs for which spring 2014 is the most critical (along with a handful of other programs facing critical springs).
1. Texas Longhorns, 2. USC Trojans
These two are inseparable because they're both big-name programs with new hires, ones that will be heavily analyzed and scrutinized in the coming months (and years). Though they share similarities, they are ultimately different cases.
To continue reading this article you must be an Insider
Scene and Heard: Top 10 Predictions
SEC SCOREBOARD
Thursday, 8/28
Saturday, 8/30
Sunday, 8/31