October, 15, 2014
Oct 15
12:07
PM ET
October, 15, 2014
Oct 15
10:00
AM ET
We're all about the running backs in this week's SEC Freshman Tracker -- namely Georgia's
Nick Chubb
and LSU's
Leonard Fournette
, who carried their respective offenses and led their teams to huge conference victories.
Here are five SEC true freshmen who stood out (and five more worth mentioning) from last Saturday:
RB Nick Chubb, Georgia

What he did:
With Heisman Trophy frontrunner
Todd Gurley
suspended indefinitely and
Keith Marshall
and
Sony Michel
injured, Georgia turned to Chubb to carry the load in the backfield, and he exceeded all reasonable expectations. Chubb carried the ball a whopping 38 times for 143 yards and a touchdown in the Bulldogs' 34-0 win over Missouri and also caught four passes for 31 yards.
What it means:
Gurley's status remains unclear and it doesn't look like Marshall or Michel will be available Saturday against Arkansas, so Chubb and
Brendan Douglas
need to be ready for another heavy workload. As good as they were against Mizzou, the Bulldogs will be much better off when their backfield depth gets back closer to normal.
RB Leonard Fournette, LSU

What he did:
Fournette had previously split carries pretty evenly with LSU's three other tailbacks, but he got by far the most touches while making his first college start against Florida. Fournette ran 27 times for 140 yards and two touchdowns against the Gators, the most rushing yards in a game by an LSU true freshman since 2003. He also had 85 yards on kickoff returns.
What it means:
We'll see whether this was a one-game thing or whether Fournette will now be LSU's feature back. This was easily his best game as a Tiger after a relatively quiet first half of the season – even if he has led LSU in rushing in six straight games and ranks third in the SEC in all-purpose yards at 136.9 ypg.
RB Stanley Williams, Kentucky

What he did:
Sure, the competition wasn't outstanding, but Williams was one of the stars of the Wildcats' 48-14 win against Louisiana-Monroe. He ran seven times for 104 yards, including a 58-yard touchdown run in the third quarter, and also returned a kickoff for a 75-yard gain.
What it means:
The exciting freshman showed once again how many ways he can affect a game. He has made big plays for the Wildcats already on the ground, in the passing game and as a return man, making him one of Kentucky's players to watch when it visits LSU for a key conference game on Saturday night.
P J.K. Scott, Alabama

What he did:
Scott punted a career-high eight times against Arkansas and landed seven inside the Razorbacks' 20-yard line -- all of which were downed inside the Arkansas 15. Scott netted 44.2 yards per punt to raise his season net punting average to 43.1, which ranks fourth nationally. Scott was named Ray Guy Award Player of the Week on Monday for his play against the Razorbacks.
What it means:
Specialists usually don't get enough attention on lists like this, but Scott has been outstanding all season for Alabama. He leads the SEC with an average of 46.7 ypp, with eight of his 19 punts going for 50-plus yards and 12 landing inside the 20. Alabama has had its problems on special teams, but Scott and the SEC's leading punt coverage team -- the Crimson Tide leads the league with a 43.1 net punting average -- have been outstanding.
WR Speedy Noil, Texas A&M

What he did:
There wasn't much for the Aggies to brag about in their home loss to Ole Miss, but Noil continues to impress with his playmaking ability. He caught 11 passes for 105 yards against the Rebels and also returned three kickoffs for 68 yards and two punts for 19 yards.
What it means:
Like Kentucky's Williams, Noil is quickly emerging as one of the SEC's top all-purpose performers. He ranks seventh in the league with 121.2 all-purpose ypg and has picked up his receiving production in recent weeks. The Aggies have plenty of strong options in the passing game, but Noil is becoming one of the best.
Other notables:
DE Myles Garrett, Texas A&M:
Recorded three tackles and a sack for a 12-yard loss in a loss to Ole Miss.
DE Marquis Haynes, Ole Miss:
Recorded two sacks for 26 yards in negative yardage in a win against Texas A&M.
RB Dallas Rivers, Vanderbilt:
Ran 11 times for 47 yards and a touchdown and returned two kickoffs for 30 yards in a win against Charleston Southern.
RB Derrell Scott, Tennessee:
Played for the first time this season and led Tennessee with 42 rushing yards on nine carries in a win over Chattanooga.
CB Jalen Tabor, Florida:
Posted seven tackles, including a sack for a seven-yard loss, and broke up a pass in a loss to LSU.
October, 15, 2014
Oct 15
8:00
AM ET
If you read this blog with any sort of regularity, you already know that SEC commissioner Mike Slive, 74, announced on Tuesday that he is
retiring next summer
. Let's devote this space to the man who transformed the SEC into college football's greatest juggernaut.
There's no doubt he will leave
some massive shoes to fill
, Slive also replaced a visionary leader. Roy Kramer, SEC commissioner from 1990 to 2002, expanded the conference to 12 teams, split it into two divisions and added the all-important conference championship game.
Slive took the league to new heights. Winning seven straight football national championships is
a weighty legacy
, but take a look at his track record in leading the SEC's business dealings: He negotiated a stunning
15-year, $2.25-billion TV rights deal
with ESPN, expanded to 14 teams,
launched the SEC network
and
more than tripled the total payout to member institutions
from $95.7 million when he took over in 2002 to $309.6 million this year.
Slive became one of the most powerful people in sports. Naturally the announcement of his retirement was met with
an outpouring of gratitude
,
admiration
and
exaltation
.
The question on deck is who replaces this monolithic figure. The SEC presidents will decide on whom to hire, and the speculation has already begun. The ideas range from the light-hearted (
Commissioner Steve Spurrier
, anyone?) to the downright silly (Commissioner Lane Kiffin?) to the expected favorite (Slive's No. 2 man is
SEC Chief Operating Officer Greg Sankey
).
Whoever it is will have all the resources imaginable, greater autonomy and nothing less than the weight of the college football world bearing down. Good luck!
Around the SEC
Tweet of the day
Spurrier on autograph signing: "I guess what happened with Manziel, these guys say, 'Well, the worst I am going to get is half a game.'"

— Josh Kendall (@JoshatTheState) October 14, 2014
October, 14, 2014
Oct 14
10:54
PM ET
Remember all the complaining we did in September about the drop-off in intrigue between the SEC's opening-week schedule and the bonanza of nonconference snoozers the following Saturday?
That won't be an issue in 2015, with the usual slate of SEC-versus-Power Five opponent openers -- including Alabama-Wisconsin, Auburn-Louisville, Texas A&M-Arizona State and the Thursday night opener between South Carolina and North Carolina -- followed by three conference games and Oklahoma-Tennessee in Week 2.
[+] Enlarge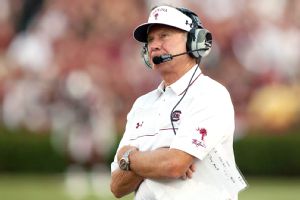 Jeremy Brevard/USA TODAY SportsSteve Spurrier and South Carolina will be test in 2015, as the Gamecocks play two Power-5 opponents along with eight SEC games.
The SEC released its full 2015 slate
on Tuesday night, and those are only a few of the interesting details that fans are sure to obsess over now that their teams' schedules are official.
After taking a quick glance at the schedules, here are a few more highlights and abnormalities:
Georgia's non-conference slate is nothing special (Louisiana-Monroe, Southern, Georgia Southern, at Georgia Tech), but Mark Richt's Bulldogs might have drawn the toughest cross-division slates with dates against Alabama and Auburn. Kentucky drawing a Thursday-night matchup against Auburn and a trip to Mississippi State isn't much of a favor to Mark Stoops, either.

UGA-Alabama is one of the most interesting cross-division games on the list. The two programs haven't met in the regular season since the Crimson Tide spoiled preseason No. 1 Georgia's 2008 "Blackout" game at Sanford Stadium by jumping out to a 31-0 halftime lead. A few others of interest are Florida-Ole Miss (Oct. 3), Florida-LSU (Oct. 17), Alabama-Tennessee (Oct. 24), Georgia-Auburn (Nov. 14) and a Thursday-night game between Missouri and Mississippi State (Nov. 5).

2015 SEC cross-divisional games: Alabama (Oct. 3 at Georgia, Oct. 24 vs. Tennessee), Arkansas (Oct. 3 at Tennessee, Nov. 28 vs. Missouri), Auburn (Thursday, Oct. 15 at Kentucky, Nov. 14 vs. Georgia), Florida (Oct. 3 vs. Ole Miss, Oct. 17 at LSU), Georgia (Oct. 3 vs. Alabama, Nov. 14 at Auburn), Kentucky (Thursday, Oct. 15 vs. Auburn, Oct. 24 at Mississippi State), LSU (Oct. 10 at South Carolina, Oct. 17 vs. Florida), Ole Miss (Sept. 26 vs. Vanderbilt, Oct. 3 at Florida), Mississippi State (Oct. 24 vs. Kentucky, Thursday, Nov. 5 at Missouri), Missouri (Thursday, Nov. 5 vs. Mississippi State, Nov. 28 at Arkansas), South Carolina (Oct. 10 vs. LSU, Oct. 31 at Texas A&M), Tennessee (Oct. 3 vs. Arkansas, Oct. 24 at Alabama), Texas A&M (Oct. 31 vs. South Carolina, Nov. 21 at Vanderbilt), Vanderbilt (Sept. 26 at Ole Miss, Nov. 21 vs. Texas A&M).

As usual, opening weekend is when most of the SEC-versus-Power Five games will occur, but there are others sprinkled throughout the schedule. Four SEC teams aren't scheduled to play a Power Five nonconference game, while South Carolina (North Carolina, Clemson) is the only SEC team set to play two.

We'll give Steve Spurrier's Gamecocks the early nod as the SEC team with the toughest nonconference schedule. In addition to the neutral-site game with UNC and home game against Clemson, South Carolina will host Central Florida and The Citadel.
2015 SEC-versus-Power Five: Alabama (Sept. 5 vs. Wisconsin in Dallas), Arkansas (Sept. 19 vs. Texas Tech), Auburn (Sept. 5 vs. Louisville in Atlanta), Florida (Nov. 28 vs. Florida State), Georgia (Nov. 28 at Georgia Tech), Kentucky (Nov. 28 vs. Louisville), LSU (Sept. 26 at Syracuse), Ole Miss (None), Mississippi State (None), Missouri (None), South Carolina (Thursday, Sept. 3 vs. North Carolina in Charlotte, Nov. 28 vs. Clemson), Tennessee (Sept. 12 vs. Oklahoma), Texas A&M (Sept. 5 vs. Arizona State in Houston), Vanderbilt (None).

Texas A&M will actually leave the state of Texas only once in the first 11 weeks of the season (Oct. 24 at Ole Miss). Prior to its Nov. 21 visit to Vanderbilt, A&M will play seven home games and neutral-site games against Arizona State (in Houston) and Arkansas (in Arlington). The Aggies close the season on Saturday, Nov. 28 at LSU, not on Thanksgiving like this season's finale with the Tigers.

With SEC teams getting just one open date apiece in 2015, Ole Miss' schedule looks like a considerable challenge. The Rebels will play for 10 straight weeks -- including road dates at Alabama, Florida and Auburn -- before taking the weekend off on Nov. 14. They will close the season with a Nov. 21 home game with LSU and the Nov. 28 Egg Bowl at Mississippi State.
Those are just a few of the details that jump out after taking a look at the SEC's 2015 schedule. Check out the SEC's official site to see
each team's individual schedule and a week-by-week slate for next fall
.
October, 14, 2014
Oct 14
3:16
PM ET
GAINESVILLE, Fla. -- From the irate fan base that brought you FireRonZook.com comes the latest plea from Florida Gators supporters: HireDanMullen.com.
That site and another, WeWantDan.com, have popped up recently as Florida has struggled to a 3-2 record (2-2 in the SEC).
The owner of WeWantDan.com identifies himself only as Ray. He says he doesn't want too much publicity. He lives in Florida and has been a passionate supporter of the Gators for 25 years.
He launched the site Sunday morning and claims 15,000 visitors in its first 24 hours.
To Ray, the path is clear: Florida must fire coach Will Muschamp and hire Mullen, the coach of No. 1 Mississippi State.
"He's got a relationship with Florida. He won two national championships while he was at Florida [as offensive coordinator]," Ray said of Mullen on Tuesday. "He's an SEC head coach. He has the experience. He knows the conference . . .
"He's obviously successful at Mississippi State. I mean, he's had one losing season. They're the No. 1 team in the country coming from nothing. They were even unranked coming into the season."
The case against Muschamp began to gather steam a year ago during a disastrous 4-8 season that included historic home losses to Vanderbilt and FCS opponent Georgia Southern.
Muschamp has gone 25-18 (15-13 in the SEC) in a little more than three seasons.
October, 14, 2014
Oct 14
11:00
AM ET
By
ESPN.com staff
| ESPN.com
The many members of the Greatest Show on Turf who were honored at halftime. OK, so maybe we weren't perfect with our preseason All-SEC team, but how can you blame us? There are always surprises, and at the midway point, this season has been no different. Just look at which teams are leading the conference. Who saw that coming?
So we at the SEC blog came together and updated our all-conference team. There were some carry-overs from the initial list, but there are also some new names, some names that might have gone under the radar before the season.
Without further ado, here's your midseason All-SEC team:
OFFENSE
QB: Dak Prescott, Mississippi State
No quarterback has been better in the SEC. Prescott has 2,089 total yards with 23 touchdowns and has taken down three straight top-10 opponents.
Preseason pick: Nick Marshall, Auburn
[+] Enlarge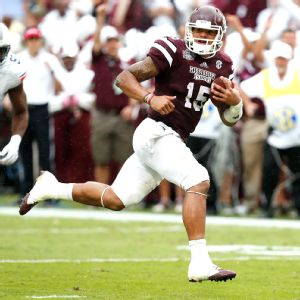 AP Photo/Rogelio V. SolisDak Prescott has passed for 1,478 yards with 14 touchdowns and just 4 interceptions for the top-ranked Bulldogs. He's rushed for 576 yards and 8 scores and also has 35 receiving yards with a TD.
RB: Todd Gurley, Georgia
Suspension aside, Gurley has been the nation's best player. He still leads the SEC in yards (773), yards per carry (8.2) and rushing touchdowns (eight).
Preseason pick: Gurley
RB: Josh Robinson, Mississippi State
Once known as the "Bowling Ball," he's a certified wrecking ball with his bruising style. He's second in the SEC with 689 rushing yards and eight touchdowns.
Preseason pick: Mike Davis, South Carolina
WR: Amari Cooper, Alabama
There's been no more dominant wideout in the SEC than Alabama's junior from South Florida. More than half of Tide QB
Blake Sims
' completions have ended up in Cooper's hands.
Preseason pick: Cooper
WR: D'haquille Williams, Auburn
We all knew he was going to be good, but this good? The junior college transfer leads Auburn in receptions (31), yards (493) and touchdowns (five).
Preseason pick: Laquon Treadwell, Ole Miss
TE: Evan Engram, Ole Miss
Engram didn't receive as much preseason publicity as some SEC tight ends, but has been the league's best so far with 18 receptions for 264 yards.
Preseason pick: O.J. Howard, Alabama
OT: Cedric Ogbuehi, Texas A&M
The senior has been solid, though not perfect, in his transition from right tackle to left tackle. He has done an overall fine job protecting
Kenny Hill
's blind side.
Preseason pick: Ogbuehi
OG: A.J. Cann, South Carolina
South Carolina's season hasn't gone as planned but Cann, a fifth-year senior, has been a consistent force from his left guard spot.
Preseason pick: Cann
C: Reese Dismukes, Auburn
There's been a lot of shuffling up front, but Dismukes has been the constant. The senior has started 43 of Auburn's last 44 games, including all six this season.
Preseason pick: Dismukes
OG: Ben Beckwith, Mississippi State
One of the driving forces in State's running game, the former walk-on has started 18 straight games and filled in for suspended center
Dillon Day
against Texas A&M.
Preseason pick: Vadal Alexander, LSU
OT: Laremy Tunsil, Ole Miss
Bo Wallace
has been Good Bo, not Bad Bo, because of his O-line. Tunsil has kept watch of Wallace's blind side and helped the Rebs to the second-best passing game in the SEC.
Preseason pick: La'el Collins, LSU
DEFENSE
DL: Preston Smith, Mississippi State
At one point, Smith was named the SEC's defensive lineman of the week for three straight weeks. He does it all for the Bulldogs' stout defensive front.
Preseason pick: Chris Jones, Mississippi State
[+] Enlarge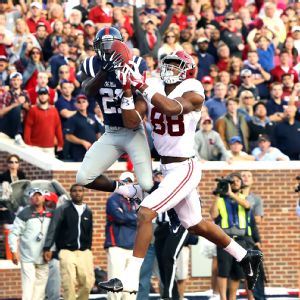 Joe Murphy/Getty ImagesSenquez Golson leads the SEC and is tied for second in the nation with five interceptions.
DL: Shane Ray, Missouri
Ranked second nationally in tackles for loss and third in sacks, Ray has been consistent. He has at least one TFL in every game and only one sackless game.
Preseason pick: Dante Fowler Jr., Florida
DL: Myles Garrett, Texas A&M
The true freshman is living up to the hype that defined his recruitment. His 7.5 sacks are a school freshman record and only a half-sack behind the SEC freshman record.
Preseason pick: A'Shawn Robinson, Alabama
DL: Robert Nkemdiche, Ole Miss
The statistics don't tell the story of the sophomore, who has been a disruptive force for the Rebels. Example: the pressure he put on Kenny Hill on Saturday to force a pick-six.
Preseason pick: Nkemdiche
LB: Benardrick McKinney, Mississippi State
Try to find a better linebacker who can blitz, clog the run, cover and play sideline-to-sideline as well as McKinney. He has a team-high 41 tackles with three sacks.
Preseason pick: McKinney
LB: Leonard Floyd, Georgia
With four sacks, the Bulldogs' chief pass-rusher hasn't had a truly dominant game yet, but he typically draws the most attention among UGA's pack of sack artists.
Preseason pick: Floyd
LB Xzavier Dickson, Alabama
It has taken him four years, but Dickson is finally having that breakthrough season. The senior leads Alabama with seven tackles for loss and five sacks.
Preseason pick: Ramik Wilson, Georgia
CB: Vernon Hargreaves III, Florida
Tied for second in the SEC with six pass breakups, Hargreaves is rarely tested due to his terrific instincts, great range and solid tackling ability.
Preseason pick: Hargreaves
CB: Senquez Golson, Ole Miss
One of the SEC's best cover corners with an SEC-leading five interceptions (second nationally). He's tied for first in the SEC with eight passes defended.
Preseason pick: Tre'Davious White, LSU
S: Landon Collins, Alabama
It's hard to imagine where Bama's defense would be without Collins, who sealed Saturday's win with an interception. The talented junior leads the Tide in tackles and passes defended.
Preseason pick: Collins
S: Cody Prewitt, Ole Miss
He may not lead his team in interceptions, but Prewitt is possibly the Rebs best defensive player. The veteran safety has 3.5 tackles for loss, two picks and 32 total tackles.
Preseason pick: Prewitt
SPECIAL TEAMS
K: Elliott Fry, South Carolina
Fry leads the SEC with 10 field goals made and a conversion rate over 90 percent. The sophomore has a long of 45 yards and is perfect on 25 PATs.
Preseason pick: Marshall Morgan, Georgia
P: JK Scott, Alabama
Looking for Alabama's first-half MVP? Look no further than Scott, a lanky true freshman with a big leg. Forget leading the SEC, Scott ranks sixth in the country in yards per punt (46.7).
Preseason pick: Drew Kaser, Texas A&M
KR/PR: Quan Bray, Auburn
The senior might not have lived up to his potential as a wide receiver, but he's making an impact in the return game. Bray leads the SEC, averaging 25 yards per punt return.
Preseason pick: Christion Jones, Alabama
October, 14, 2014
Oct 14
10:00
AM ET
October, 14, 2014
Oct 14
8:00
AM ET
1. This is what Alabama football has come to -- fans losing their minds over
a one-point win against Arkansas
last Saturday. ESPN analyst Joey Galloway stoked the flames with his take:
"Alabama is the most overrated team in college football" -@Joey_Galloway #CFBLIVE on @ESPNU pic.twitter.com/3HxrCK7yvK

— ESPN CollegeFootball (@ESPNCFB) September 1, 2014
Quick, someone check if
Phyllis from Mulga
is still breathing. Nick Saban isn't about to hear it from those crazed fans, though. He
blew his top in yet another press conference eruption
on Monday, saying, "It really sorta, if you want to know the truth about it, pisses me off when I talk to people that have this expectation like they're disappointed that we only won the game, 14-13, and in the way we played." The frustration Saban speaks of is obvious. But as Steve Spurrier found out when he built Florida into a powerhouse in the 1990s, out-of-control fan expectations come with the turf.
2. Speaking of crazed fans, a Tennessee supporter hoping to help his Volunteers in their game at No. 3 Ole Miss on Saturday posted a Snapchat photo taken in August of Rebels star defensive tackle
Robert Nkemdiche
smoking from a bong. What started as a
message board post on Sunday night
naturally spread to social media. Ole Miss coach
Hugh Freeze acknowledged it
during his Monday press conference, saying, "I'm very aware of the picture and also when it was taken and where it was taken." He also said he is "super confident" the school's drug policies are being enforced properly.
3. From the "It was bound to happen" file: Some Florida fans have created websites called
HireDanMullen.com
and
WeWantDan.com
in hopes of persuading athletic director Jeremy Foley to fire coach Will Muschamp and hire Mississippi State's Dan Mullen. One of the sites even
links to Foley's email address
. If Muschamp is truly on his way out, Mullen does make a lot of sense with his success at MSU and as the offensive coordinator at Florida under Urban Meyer before that. In fact, the Gators offense hasn't done much since Mullen left. These new sites aren't much to look at, but they are reminiscent of
the classic FireRonZook site
, which has morphed into an anti-Muschamp site, by the way.
Around the SEC
Tweet of the day



Miles: "My kind of game is any game the Tigers win. I'll take it sliced, diced and salad on the side."

— Ron Higgins (@RonHigg) October 13, 2014
October, 13, 2014
Oct 13
2:34
PM ET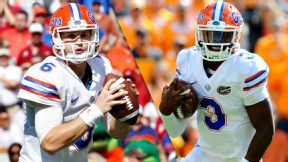 USA TODAY SportsBoth Jeff Driskel, left, and Treon Harris are expected to see time at quarterback for Florida this week against Missouri.
GAINESVILLE, Fla. -- Florida will take a two-quarterback approach into Saturday's home game against Missouri, coach Will Muschamp said Monday.
One week after being investigated for an accusation of sexual battery, true freshman Treon Harris will share snaps with junior Jeff Driskel.
"They both will play this week and we'll see how things go," Muschamp said. "Right now Jeff will probably start, but they're both going to play."
Driskel has struggled mightily this season with eight turnovers in his last 11 quarters. After throwing his third interception against Tennessee on Oct. 4, Driskel was pulled in favor of Harris, who rallied Florida to its only points in a 10-9 win.
Hours later, Harris was accused of sexual battery and suspended by the university and its athletic association. When the accuser withdrew her complaint last Friday, Harris was reinstated but did not play against LSU after missing the entire week of practice.
Harris sat in the coaches' booth with offensive coordinator Kurt Roper on Saturday. Florida (3-2, 2-2 SEC) lost 30-27 to LSU.
October, 13, 2014
Oct 13
2:00
PM ET
GAINESVILLE, Fla. -- A dramatic back-and-fourth game looked like it had come down to Florida getting the last shot in the final seconds of the fourth quarter.
[+] Enlarge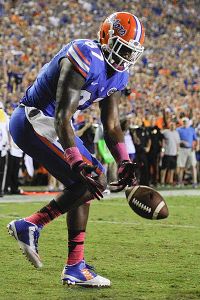 Phil Sandlin/AP PhotoDropping passes in the end zone, like this one by Tevin Westbrook, is one of many issues that has plagued Florida's offense.
Tied at 27, quarterback
Jeff Driskel
had his team on LSU's 45-yard line looking to get into range for a game-winning field goal. The goalposts were in sight, but Driskel forced a pass into double coverage and watched as LSU gathered a tipped ball and raced into field-goal range.
The Tigers and Gators did a 180, and 88,014 fans gasped as LSU kicked the
game-winner instead of Florida
.
"We had our opportunities," UF coach Will Muschamp said. "Countless."
The storyline coming into Muschamp's fourth season was that his offense was ready to do a 180 and play winning football.
This should have been the perfect season for the Gators and their fourth-year quarterback to re-establish themselves in an SEC East division that looks like a weak stepbrother compared to the powerhouse SEC West.
It hasn't happened, and Driskel's struggles have taken center stage.
"Obviously it didn't work out well," Driskel said of his final throw against LSU. "Interception to give them the ball on the plus side of the field? Yeah, I'd like to have that one back."
It was his second interception of the game and seventh in his last 11 quarters. Saturday also was Florida's third straight game with three turnovers.
More importantly, Florida lost for the ninth time in 12 games.
Despite a new offense and a hotshot coordinator calling plays, Florida is still stuck in the mud.
"We've got to continue to search for consistency throwing the football and catching the football," Muschamp said.
What else went wrong?
The offense converted two of 12 third downs. Despite facing the SEC's worst run defense (LSU came in giving up 300 yards a game), Florida running backs carried the ball just 10 times for 17 yards.
"Turnovers killed us, especially early in the game when we gave them a freebie," the coach said. "We didn't maintain drives offensively."
The Gators' defense has had its problems, too.
A team that already played with the narrowest of margins for error has now suffered numerous game-changing breakdowns on what used to be the reliable side of the ball.
Florida's defense limited LSU to 110 yards passing, but 41 of them came on a blown coverage on third-and-25 when Florida was leading by four points with 3:30 left in the game.
Muschamp called it a miscommunication.
"You cut a guy loose in that situation, you don't deserve to win," he said. "... We just can't have a mental error like we had."
Florida kept bouncing back.
"Our guys fought their butts off," Muschamp said.
But they kept falling on their faces.
After struggling with the deep ball all season, Driskel finally completed his first long throw of the year -- a 73-yard catch-and-run with
Demarcus Robinson
, who got to the 2-yard line with just over two minutes left in the game.
Two runs into the pile later, Driskel found tight end
Tevin Westbrook
open in the end zone and put the ball in his hands. It dropped to the ground.
"It was definitely an emotional wreck," kick returner
Andre Debose
said of the latest numbing loss. "... There is definitely an empty feeling."
Driskel's receivers aren't doing much to help him out, but he's also not executing simple passes, like unobstructed screens and dump-offs to running backs.
Still, these Gators are resilient. They intend to keep getting up and trying again.
"All of our goals are in front of us," Driskel said of winning the SEC East race.
But like so many errant passes, the quarterback is slightly off on that estimation as well. Florida no longer controls its own destiny. The Gators need help getting to Atlanta.
But first they have to help themselves off the ground. Again.
October, 13, 2014
Oct 13
8:00
AM ET
1. Mississippi State became the first team in the 78-year history of the Associated Press college football poll to go
from unranked to No. 1
in the span of five weeks. It's also the
first time in the Bulldogs' history
that they are ranked No. 1 in either the AP or the coaches poll. It's pretty much
pandemonium in Starkville
these days, but Heisman candidate (and
new frontrunner?
) Dak Prescott
wasn't all that impressed with his own performance
in upending Auburn, saying "It was one of my worst games." After beating three consecutive top-10 opponents, Mississippi State has more than earned a week off. The Bulldogs be back in Week 9 at Kentucky with a massive target on their backs. Every week is huge when you're No. 1.
2. After a promising three-game nonconference winning streak, Arkansas (3-3) has dropped consecutive SEC games and is riding a 15-game conference losing streak after
losing to Alabama 14-13
in the kind of game that is typically called a moral victory for a downtrodden program. The Razorbacks played well yet again, but came up short. Coach Bret Bielema called it
"a broken record
."
Quarterback Brandon Allen said, "We're so close." The Hogs get their third straight top-10 foe on Saturday in visiting Georgia, which
climbed the rankings
after crushing Missouri on the road. Wouldn't it just be so typical of the SEC East to see the division leader lose against the cellar-dweller of the West?
Georgia has been warned
.
3. Confusion reigned throughout the Swamp late in Saturday's
drama-filled 30-27 victory by LSU
over Florida. Was Les Miles, that notorious Mad Hatter, guilty of poor clock management again when his Tigers ran the ball with no timeouts? It appeared there was plenty of time to spike the ball and kick the game-winner, but the clock ticked down to three seconds when the referees intervened. The game clock was reset to 10 seconds because Florida players were deliberately sitting on the pile and shoving LSU players in a desperate attempt to get to overtime. After the game, Will Muschamp said he would
call the SEC head of officials
for an explanation. It appears
an explanation is not necessary
.
Around the SEC
Tweet of the day
Thanks to all the fans who supported us yesterday from the dawg walk to the final whistle. Great day to be a Bulldog pic.twitter.com/orLxl55a9R

— Dan Mullen" (@CoachDanMullen) October 12, 2014
October, 12, 2014
Oct 12
11:00
PM ET
Mississippi State's fast rise to No. 1 in the country will open even more doors for the Bulldogs in recruiting. Plus, even with all of Kentucky's success in Ohio, it couldn't stop the Buckeyes from taking away one of its commitments this weekend.
To continue reading this article you must be an Insider
College Football Minute: Oct. 20