December, 3, 2013
Dec 3
2:00
PM ET
GAINESVILLE, Fla. -- Florida need not look any further than Saturday's championship game to see how quickly fortunes can change in the SEC.
Auburn was winless in league play last year, and Missouri won all of two games in its first spin through the South. A year later, they're playing for a ring.
With 2013 mercifully over, the Gators must pick up the pieces of a 4-8 season and try to find some positives after a bleak seven-game losing streak ended the season with a thud.
"Honestly, I feel like we hit rock bottom this year," offensive lineman
Max Garcia
said. "I feel like the only way we can go is up."
[+] Enlarge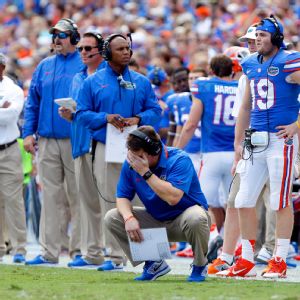 Kim Klement/USA TODAY SportsWill Muschamp is counting on his players using this year's humbling experience as motivation.
That's one way of looking at it. Another is to use the bitter sting of defeat as a motivating force during the offseason.
"It's a clean slate, but you still have to remember what happened," Garcia said. "And you want to not let that happen ever again. We don't want to feel that pain. We don't want to feel this pain ever again. I'm sick and tired of losing.
"Next year, we have that pain to sit in our hearts. We have to work through that, and we have to take that pain and make it into intensity, make it into effort, make it into want-to. We have to want to go out there and take the opposing will out of the [opponent]. That's what we have to work through."
Payback certainly can be a motivating force. After the season ended last Saturday, safety
Cody Riggs
spoke of exacting revenge upon the teams Florida will meet again in 2014.
The Gators should have a chip on their shoulder. In fact, head coach Will Muschamp is counting on it.
"It's a great lesson to be humbled in life a little bit sometimes -- as a coach, number one, as a staff and as players," he said. "Nothing wrong with that. That's good for us. ...
"You want to keep battling and keep playing if you're a competitor. Absolutely no relief at all [that the 2013 season is over]. You just want to be able to get out and continue to practice and improve. We've had a lot of young players continue to take a bunch of reps that have improved. A bunch of guys that we weren't really counting on this year that have come out and played. That will help our depth as we move forward."
There's another silver lining.
Florida's dizzying parade of injuries in 2013 sapped the team's strength physically and mentally. But the youth movement that resulted is a big positive for Florida. Several young players got invaluable experience as a result of injuries. True freshmen
Kelvin Taylor
,
Vernon Hargreaves III
,
Jarrad Davis
and
Chris Thompson
made starts at running back, cornerback, linebacker and wide receiver, respectively.
Florida also developed much-needed depth at the quarterback position after starter
Jeff Driskel
was lost in Week 3. Backup
Tyler Murphy
started six games before he was hurt. He ceded the job to redshirt freshman
Skyler Mornhinweg
, who made the final three starts of the season.
"I think the future is very bright," Mornhinweg said. "We've got some guys coming back. We can't make any excuses. We were a little dinged up, but you really can't make any excuses. We've got some guys coming back, and I think we're going to be a very strong team."
Injuries heal, and painful memories can fuel an entire offseason of work.
"We're going to be working hard in the offseason," Mornhinweg said. "I never want to feel like this again. This is a terrible feeling to have, and we're going to be on a mission next year."
Next year. When the season is upon them next fall, Florida will have an unblemished record. Time should heal the wounds of 2013's painful losing streak, and the memories of an incompetent offense will fade. Eventually, Florida will foster some optimism as it begins anew with a rebuilt offense.
Like the Gators hope to do next season, Auburn and Missouri bounced back this year with new offensive coordinators. Gus Malzahn brought Rhett Lashlee with him from Arkansas State to the Tigers, while Josh Henson replaced David Yost at Mizzou.
Fresh faces, a clean slate and a healthy roster count for a lot. But for Muschamp, the rebirth of the
Florida Gators
starts with one thing.
"Roll your sleeves up and go to work," he said. "That's the bottom line. That's all you can do. Be a great leader, great motivator for your team and organization. That's all we're going to do.
"We're going to be fine. We're going to have a good football team next year, I can assure you of that. Sitting in that locker room with those guys, we're going to be fine. And that's what's encouraging for me. It's damn encouraging."
December, 3, 2013
Dec 3
12:00
PM ET
You have to feel bad for old Ed Orgeron. The former Ole Miss head coach had a good run as interim coach at USC, but last week's loss to UCLA seemed to seal his fate. How long before he ends up back in the South as a head coach?
December, 2, 2013
Dec 2
8:03
PM ET
Despite not having an offensive coordinator the Florida Gators were able to get four-star wide receiver
Ryan Sousa
(Orlando, Fla./Lake Nona) to flip his commitment from Florida State to the Gators on Monday night. Sousa's commitment was first reported by 247sports.
Sousa camped at both schools over the summer but was only offered a scholarship by FSU, which he quickly jumped on and committed to the Noles in June.
After having a strong senior season, Florida decided to offer the 6-foot, 177-pound wideout a scholarship. Sousa took an official visit this weekend and decided to go ahead and flip his commitment.
After struggling mightily in the passing game this year, the Gators have been looking to add playmakers on offense. Sousa, who totaled 4,107 receiving yards and 53 receiving touchdowns on 246 receptions in his high school career, joins four-star wide receiver
Ermon Lane
(Homestead, Fla./Homestead) as Florida commitments.
For Florida, the Gators now have 16 commitments, including nine ranked in the ESPN 300. Twelve of Florida's commitments are ranked four-stars or higher.
Florida State, meanwhile, has 23 commitments including nine ranked in the ESPN 300.
December, 2, 2013
Dec 2
3:00
PM ET
GAINESVILLE, Fla. -- Now that offensive coordinator Brent Pease and offensive line coach Tim Davis have been sacrificed as a way to wash away the sins of Florida's 2013 offense, the spotlight shifts to head coach Will Muschamp.
For such a strong-willed leader, for such a defensive-minded coach, the obvious question in regards to his offensive philosophy is, "Can Muschamp change?"
[+] Enlarge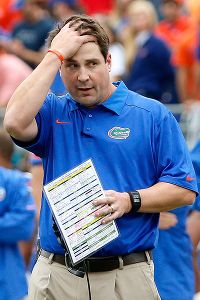 Sam Greenwood/Getty ImagesThe Gators' inability to score points became a weekly post-game complaint from Will Muschamp.
After his team was drubbed one last time last Saturday in a 37-7 loss to Florida State that saw his Gators generate just one score, eight first downs and 193 yards, Muschamp was quick to answer that question.
"Perception is not always reality," he said and then repeated himself for emphasis. "Perception is not always reality. So, I'm willing to do what we need to do to score points and win games."
It's doubtful that portends a complete shift to another style of offense, however. Since Muschamp arrived in December 2010, he has recruited for the pro-style offense. He installed it on the heels of Urban Meyer's spread-option, and it has taken years to usher in the personnel required for such a drastic change. It's extremely unlikely a head coach on a hot seat would scrap the base offense and start over.
What is more likely to change is the heavy emphasis on a downhill running game that was designed to shorten games by hogging time of possession.
That approach worked to perfection with Florida's stout defense and strong special teams in 2012. Even with one of the nation's worst passing games that averaged 146.31 yards and ranked 114th out of 123 FBS schools, the Gators won 11 games and defeated four top-1o teams on their way to a BCS bowl.
This year, injuries on defense and new faces on special teams conspired to spotlight the shortcomings of Muschamp's offensive philosophy. The Gators' margin of error had always been small, but without a reliable defense and kicking game, it shrunk to a level of absurdity.
By the end of the dismal 2013 season, one interception, one sack-fumble, one drive that ended in a missed field goal was enough to torpedo the entire team's fragile psyche. Muschamp started calling out his "inept" offense, saying it had "infected" the rest of the team.
The need to change was obvious to Muschamp, the players, the fans and most importantly to Muschamp's boss, athletic director Jeremy Foley.
"Will is going to figure those things out," Foley said to reporters in giving his embattled coach one more vote of confidence before the FSU game. "I do think in this league playing good defense is important, and that's why I hired Will. I think he's done that. But we do have to fix that side of the ball.
"No disrespect to anybody. That's just reality. You look at the stats and some of the scores that have caused us problems. We'll get that fixed. We're going to have to get that fixed, and I think we can."
An offense that was built to do more than run could have pivoted this season, taken on more of the burden to win games and help salvage a passable season instead of the 4-8 quagmire that resulted.
The final outcome -- 112th in the nation and last in the SEC in total offense, 107th in the nation in passing offense, last in the SEC in scoring -- forced Muschamp's hand.
"We need to take a look at ourselves schematically with what we're doing," Muschamp said. "There have been some things that have happened that are very difficult to overcome, but schematically, there's no question we need to take a look at ourselves."
Yes, the injuries were difficult to overcome. Any team that loses its top two quarterbacks, top running back and top three offensive tackles is in for a turbulent season. But this is Florida, where quality depth is more than just expected -- it's practically a birthright at a school surrounded by such fertile recruiting turf.
The offensive line was unable to pass-block in 2012 or before it suffered all those injuries this season. And when those injuries struck, there were no sophomores or redshirt freshmen ready to compete for starting jobs. It's no surprise Davis was fired.
The offense's inability to generate points became a weekly complaint from Muschamp in his recent post-game assessments. So much so that it was no surprise Pease was fired.
In replacing him, Florida will need an offensive mind that can devise multiple ways of attacking a defense, employ varying tempos and do a better job of developing skill-position talent.
It starts with Muschamp, who will hire his third offensive coordinator heading into his fourth season.
"I think obviously the first person you look at is yourself," he said. "That's what you've got to be able to do and see where we are. I think as a coach, you've got to do what your players can do. That's something I'm looking at."
No doubt the players will welcome a change. Even Muschamp's defensive players say they want the same thing.
"Right now, whatever they do hopefully is changed for the best," sophomore defensive end
Jonathan Bullard
said once the season was over. "Give us 21 [points] a game. If they can do that, then I would put the blame on us if they score 21 points or over. Hopefully change for the better, because what we're doing right now just ain't working."
December, 2, 2013
Dec 2
12:00
PM ET
The regular season is over, and 12 of the SEC's 14 teams are trying to figure out how to get to next year's SEC championship game. Ten teams are bowl eligible, which leaves four downtrodden SEC teams trying to pick up the pieces and figure out how to simply win games.
December, 2, 2013
Dec 2
9:00
AM ET
We have a new No. 1 in our Power Rankings, and there's a chance that either of the top two teams on this list could back its way into the BCS title game:

1. Auburn (11-1, 7-1 SEC; last week: 3):
Call it luck, but don't forget to call the Tigers good. Auburn won the Iron Bowl 34-28 over No. 1 Alabama on a last-second field goal return for a touchdown by
Chris Davis
. It was another improbable win for the Cardiac Cats, but Auburn also ran for 296 yards on the SEC's best rush defense. Back-to-back thrillers have Auburn No. 3 in the BCS standings and SEC Western Division champions.
2. Missouri (11-1, 7-1 SEC; LW: 2):
These Tigers will meet those Tigers in the SEC championship game on Saturday. After beating Texas A&M 28-21 at home, Mizzou completed its own improbable season in its second year in the league. Missouri now has five wins over opponents that were ranked when it played them. Like Auburn, Mizzou is very much in the national championship picture. The Tigers need help, but a win over Auburn would push a team that was left for dead last season a step closer to Pasadena, Calif.
3. Alabama (11-1, 7-1 SEC; LW: 1):
The three-peat is likely over after Alabama was bested by its archrival. Why Nick Saban would attempt a 57-yard field goal with a second left without any speedy athletes on the field is mind-blowing. Saban rarely makes mistakes, but this one will sting for a very long time. Alabama is still very much in the hunt for a BCS bowl game, but a return to the title game is a long shot.
4. South Carolina (10-2, 6-2 SEC; LW: 4):
Another year, another win over Clemson. That makes five in a row for Steve Spurrier and his Gamecocks after his guys walked over the Tigers 31-17. South Carolina forced six turnovers, and quarterback
Connor Shaw
impressed yet again with 246 yards of offense and two touchdowns. The BCS is out of reach for the Gamecocks, but they have a shot at three straight 11-win seasons.
5. LSU (9-3, 5-3 SEC; LW: 5):
This is easily the most confusing team to follow in 2013. The Tigers started hot, hit some bumps and then finished strong with an exciting 31-27 win over Arkansas. LSU was without starting quarterback
Zach Mettenberger
(knee) late, but it didn't matter, as freshman
Anthony Jennings
drove the Tigers 99 yards, with a 49-yard go-ahead touchdown pass with 1:15 left. This could be another double-digit-win season for the Tigers.
6. Texas A&M (8-4, 4-4 SEC; LW: 6):
Johnny Manziel
went from carving up defenses to being smothered in his last two outings. In Saturday's loss to Mizzou, Manziel was held to a season-low 216 total yards and a touchdown. The defense was gutted -- again -- allowing 225 rushing yards, including a 57-yard
Henry Josey
touchdown run with 3:34 remaining. It's been a long November in College Station, but at least Kevin Sumlin is locked up for the long haul.
7. Vanderbilt (8-4, 4-4 SEC; LW: 8):
Coach James Franklin might be near the top of USC's coaching list, but for now, he's doing a heck of a job as Vandy's coach. There's no wonder he's on the Trojans' radar. Vandy has won four straight, will make its third straight bowl game and is in line to win nine in back-to-back seasons. The Commodores didn't make it look easy against Wake Forest, but a
Carey Spear
field goal with 39 seconds left kept the Dores' winning streak alive.
8. Georgia (8-4, 5-3 SEC; LW: 9):
Another team that didn't want things to be easy over the weekend, Georgia needed double overtime to beat rival Georgia Tech. The Bulldogs' defense was pushed around for 495 yards, but the offense was there to bring the Dawgs back from deficits of 20-0 and 27-17. When you have a guy like
Todd Gurley
(158 total yards and four touchdowns), it doesn't matter who you have at quarterback.
9. Mississippi State (6-6, 3-5 SEC; LW: 10):
After being on the outside of the bowl picture just a couple of weeks ago, the Bulldogs rallied to win their last two, including an overtime victory against bitter rival Ole Miss on Thanksgiving. It wasn't the prettiest of games, but injured quarterback
Dak Prescott
came into the fourth quarter and threw for 115 yards, while running for 29, including the eventual winning 3-yard score. Dan Mullen has Mississippi State in the postseason for the fourth straight season.
10. Ole Miss (7-5, 3-5 SEC; LW: 7):
Oh, what could have been for this team. Not only have the Rebels lost two straight, but they allowed their archrivals to make it to the postseason. For a season that started 3-0, some poor play in the red zone -- especially near the goal line -- against Missouri and turnovers against Mississippi State cost Ole Miss in its final two games.
11. Tennessee (5-7, 2-6 SEC; LW: 11):
A long first year for Butch Jones ended with a nice 27-14 win over Kentucky. The Vols aren't going bowling, but now is the time when Jones has to ramp up the development phase and keep an already stellar recruiting class together. Remember, this team was a fake Vandy jump pass from a bowl berth.
12. Florida (4-8, 3-5 SEC; LW: 12):
The Gators' nightmare of a season ended with a 37-7 rout by rival Florida State inside the Swamp. Florida then fired embattled offensive coordinator Brent Pease and offensive line coach Tim Davis. Florida lost seven straight to end the season without scoring more than 20 points. And it isn't going bowling for the first time in 22 years and has its first losing season since 1979.
13. Arkansas (3-9, 0-8 SEC; LW: 13):
With that heartbreaking loss to LSU, the Razorbacks have dropped a school-record nine straight and went 0-8 in conference play for the first time. This team fought hard in its final act, but it's clear that development and recruiting need to amp up during the offseason if Bret Bielema is going to have a chance at really competing in this league.
14. Kentucky (2-10, 0-8 SEC; LW: 14):
The Wildcats have now gone 0-8 in SEC play in back-to-back seasons for the first time since 1941-42 and have lost 16 straight SEC games. Mark Stoops is building a pretty impressive recruiting class right now, but we all know it takes more than recruiting. The Wildcats need more than talent, as they took steps back on both sides of the ball late in the season.
December, 2, 2013
Dec 2
8:00
AM ET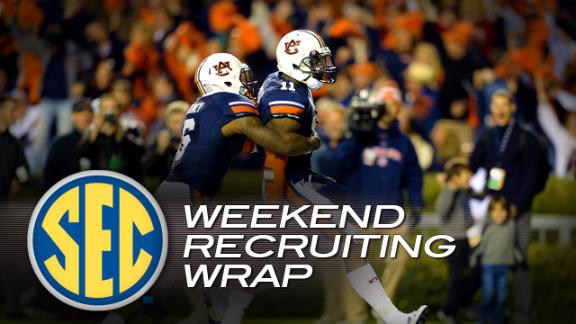 As the regular season winds down, there was a lot of news around the SEC over the weekend. Texas A&M received a big commitment on Thanksgiving at a position of need, and Auburn hosted several visitors for its incredible last-second victory over Alabama. Here's a closer look at some of the top storylines in the SEC this weekend.

Biggest commitment:
Though Texas A&M suffered a tough loss to Missouri on Saturday night, the Aggies did have something to be thankful for when junior college offensive tackle
Avery Gennesy
(Southhaven, Miss./East Mississippi CC) verbally committed to Texas A&M on Thursday.
The 6-foot-5, 315-pound tackle chose the Aggies over Ole Miss, Tennessee and Ohio State.
Texas A&M now has 18 commitments, including 10 from in the ESPN 300. The Aggies have the fifth-ranked recruiting class in the country.

Georgia, Tennessee lose commitments:
ESPN 300 defensive tackle
Dontavius Russell
(Carrollton, Ga./Carrollton), after visiting Auburn over the weekend, decided to open back up his recruitment. The four-star defensive lineman announced his decision on Twitter.
I'm reopening my Recruitment.

— Dontavius Russell (@Russ_Dont98) December 2, 2013
Auburn now appears to be the team to beat for Russell. Tennessee lost another wide receiver commit from ESPN 300 wideout Dominique Booth (Indianapolis/Pike) on Sunday. Booth is the third pass-catcher to decommit from the Vols this year. Junior college prospects Eric Lauderdale (Fayettville, Ga./Saddlebrook) and Kameel Jackson (Arlington, Texas/Blinn) also backed off their pledges to Tennessee earlier in the season.
To continue reading this article you must be an Insider
December, 1, 2013
Dec 1
3:30
PM ET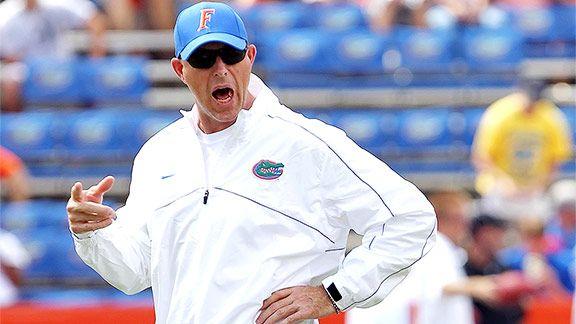 This is where we find out how good of a coach Will Muschamp is and how much pride and heart Florida's players have.
The
firing of offensive coordinator Brent Pease and offensive line coach Tim Davis
means that the Gators will move in a different direction with their offense in order to attempt to rebound from a disappointing 4-8 (3-5 SEC) season.
[+] Enlarge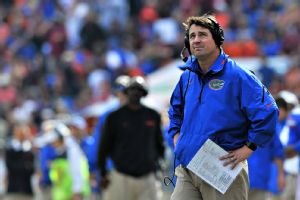 Steve Mitchell/USA TODAY SportsFlorida coach Will Muschamp won't be fired after going 4-8 this season. But he needs to have a great season in 2014 to stick around.
"I think we need to take a look at ourselves schematically,'' Muschamp said after Saturday's
37-7 home loss
to in-state rival Florida State. "There have been some things that have happened that are very difficult to overcome. But schematically there's no question we need to take a look at ourselves."
It's not like this should come as a surprise. Florida lost its last seven games of the season without scoring more than 20 points in any of those contests and finished the regular season with the SEC's worst offense, averaging just 316.7 yards per game and a league-low 4.8 yards per play. Florida also ranks 112th nationally in total offense.
The Gators suffered their first losing season since 1979 and will miss a bowl game for the first time since 1990.
Injuries on both sides of the football ravaged this team, especially on offense, but with Muschamp stating loud and clear that many things on offense have to change, this is where we will find out just how good he is, because there are no more excuses going forward.
While many in Gator Nation will say that Muschamp should have been a casualty as well today, athletic director Jeremy Foley made the right decision to stick with Muschamp. This season was a disaster, but Florida came off an 11-win season and a BCS appearance. Last season, Muschamp was the SEC Coach of the Year, and you'd be hard-pressed to find another staff that coached better in the second half of games. Also, most of 2013 was taken out of the hands of this staff at times because of devastating injuries.
Florida's injury count went into double digits, and lost four key offensive starters in
Jeff Driskel
,
Matt Jones
,
Chaz Green
and
Andre Debose
. Eventually, No. 2 quarterback
Tyler Murphy
, who never quite showed the potential and upside that Driskel possessed, was lost for the season with a shoulder injury, meaning Florida was down to third-stringer
Skyler Mornhinweg
, who was on the practice squad last year.
The offense certainly went through the wringer, but if Muschamp is going to right the ship in Gainesville, he had to make changes. He had to make changes to an offense that regressed each week and was even near the bottom of the SEC barrel last season (334 yards per game). He had to make changes to an offensive line that gave up 27 sacks on the season, injuries aside. He had to make changes to a staff that didn't develop players well enough.
But by making these moves, Muschamp now has to win big in 2014. Year 3 was unacceptable in Gainesville, so Year 4 likely means that it truly is Atlanta or bust for Muschamp. Foley stood by Muschamp this time, but another fall or stagnation in 2014 will force Foley to have to look in another direction.
It's time for Florida to get over the fact that Urban Meyer left this team with a nearly empty cupboard of talent. It's time to get a more functional offense on the field that can move the ball through the air and on the ground and can actually score points. And it's time to develop the guys on both sides of the ball.
The good thing about Florida's injuries is that they will heal. Driskel, Jones, Green and Debose will be back, but they have to be better, as well. Florida needs legitimate competition at every position, and that's where coaching and recruiting comes in.
There's no question that Florida had some offensive misses in its last couple of recruiting classes. That can't happen in the 2014 class, which also has to keep its ESPN 300 prospects, running back
Dalvin Cook
, quarterback
Will Grier
and receiver
Ermon Lane
, who could all make immediate impacts next season. Finding replacement coaches is the crucial first step; keeping this 2014 class together is the second.
The honeymoon with Muschamp faded this year, but there's still time to turn things around, even if it's going to be a toxic time in Gainesville until Florida wins again. At the first sign of failure, this fan base is going to spit fire at its fervent coach, and players could lose trust.
Muschamp has to guard himself and his team against that. He has to instill some pride back into this program and has to make sure that his players don't lose faith, even if the fans have.
It's not going to be easy for a team that will likely take another hit to its defense with the upcoming NFL draft and now has a trip to Alabama on next season's schedule. It won't be easy for a team that went all "woe is me" late in the year. It won't be easy with Florida State, Georgia, LSU, South Carolina and Tennessee still on the schedule, but improvements have to be made.
This team has to compete, and we're about to find out if Muschamp really is the right man for the job.
December, 1, 2013
Dec 1
3:07
PM ET
The Florida Gators
fired offensive coordinator Brent Pease
and offensive line coach Tim Davis on Sunday morning. After Florida's abysmal season -- including a 37-7 loss to in-state rival Florida State on Saturday -- the news didn't come as a shock to many.
To continue reading this article you must be an Insider
December, 1, 2013
Dec 1
1:23
PM ET
ESPN.com news services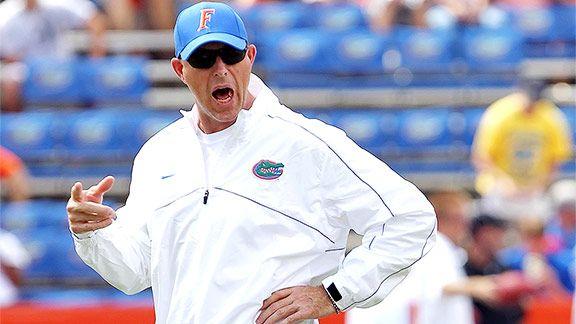 Florida has fired offensive coordinator Brent Pease after the program's first losing season since 1979, the school said Sunday.
Pease was let go one day after the Gators (4-8) ended the season with a 37-7 loss to rival Florida State. Offensive line coach Tim Davis was also fired.
"I have a lot of respect for Coach Pease and Coach Davis," coach Will Muschamp said in a statement. "They are both good football coaches and even better people. There have been a lot of unfortunate circumstances this year, but that is part of the game sometimes. I want to thank each of them for their contributions to the program both on and off the field."
The Pease move had been expected for weeks, as the losses mounted and it became clear Muschamp would make changes on the offensive side of the ball.
Pease was made the primary scapegoat for a dismal season that included a dreadful offense and the worst loss in school history. The Gators finished the season ranked 112th in total offense. Florida managed just 279 yards in a 26-20 loss to lower-division Georgia Southern on Nov. 23 and then 193 against the Seminoles.
Florida's offense was ravaged by injuries, losing quarterback Jeff Driskel, running back Matt Jones, receiver Andre Debose and three offensive tackles for the season. Backup quarterback Tyler Murphy also missed the final three games with a sprained throwing shoulder, leaving third-stringer Skyler Mornhinweg to start.
December, 1, 2013
Dec 1
10:00
AM ET
GAINESVILLE, Fla. -- Here's what we learned about the Gators after their
37-7 loss to FSU
on Saturday:

Muschamp is still safe:
That was the message (again) when athletic director Jeremy Foley gathered members of the media before the game to
reiterate his vote of confidence
for coach Will Muschamp. Foley originally gave the vote of confidence after Florida lost to Vanderbilt at home for the first time since 1945. He confirmed his stance had not changed after UF fell to Georgia Southern in the program's first loss to an FCS opponent. So in what has become almost a weekly occurrence, Foley continued to express his support on Saturday. Perhaps with FSU expected to manhandle his Gators, Foley felt it necessary to do so before the game so as to avoid the same question after it.
Florida fans still care:
The Swamp looked eerily empty just minutes before kickoff, but it filled up quickly. On an overcast day so soon after Thanksgiving, and with one of the worst teams in school history on display, Gators fans showed up and spoke up as if none of that were true. Yes, there was more garnet and gold in the stands than usual. And yes, the game was only technically a sell-out, with a few hundred seats empty. But the hat tip here is for the fans' passion. They were so loud for so long, one could have sworn it was a game of two evenly matched teams.
The philosophy must change:
After the game, Muschamp took responsibility for and promised to fix Florida's problems for the umpteenth time in the last few weeks. He renewed his promise to evaluate his staff and himself. But this time he took the latter vow a step further, saying that he will do whatever it takes to coach an offense that scores more points. This is important, because many observers and Florida fans didn't (or still don't) believe Muschamp is flexible in his overall philosophy of winning with defense and a dominant running game that intentionally shortens games by chewing up the clock. Clearly Muschamp sees the same mess his critics have been harping on -- that his philosophy leaves too little margin for error when his team is unable to execute properly. So stay tuned for 2014 to see whether Florida wins with a more daring offense or if it simply executes Muschamp's ball-control philosophy more successfully.
December, 1, 2013
Dec 1
10:00
AM ET
Here's a quick look back at five lessons learned in the ACC in the final week of the regular season, in no particular order:
1. Duke is the outright Coastal Division winner.
No tiebreaker scenarios needed. No back doors opened. Duke marched right into the ACC championship game with a thrilling 27-25 win at North Carolina, leaving no doubt it was the best team in the division and the most deserving to line up against Atlantic Division winner Florida State. Duke's fate was sealed when
DeVon Edwards
intercepted
Marquise Williams
with 13 seconds remaining. It was a fairytale ending to Duke's Cinderella season, which included eight straight wins to end the season and an undefeated season on the road. With its 10 wins, Duke broke the school record for wins in a season. Duke's six ACC wins were the program's most since 1989 -- also the same year that Duke last won an ACC title.
[+] Enlarge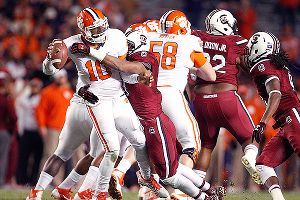 Gerry Melendez/The State/Getty ImagesTajh Boyd and Clemson again struggled in their rivalry game with South Carolina.
2. The ACC couldn't get it done against the SEC (again).
Six turnovers for Clemson. Six. It was déjà vu for the Tigers in their fifth straight loss to South Carolina. The turnovers continued to haunt Clemson in the series and be the difference in the game, just as they had in their past four losses to the Gamecocks. This looked like a prime year for the ACC to come out on the winning end against the SEC -- especially with Georgia veteran quarterback
Aaron Murray
done for the season with a torn ACL. Instead, Wake lost to Vandy, and Georgia Tech lost to Georgia. Florida State beat Florida, but you knew that was coming. And considering the state of the Gators, it wasn't much worth bragging about. Georgia Tech squandered a 20-point lead and the defense came up short in the second overtime, losing a 41-34 heartbreaker. The ACC went 1-3 against the SEC this week, losing yet another chance to close the gap with its neighboring rival.
3. Syracuse is bowl eligible.
In what was another one of the ACC's most thrilling and entertaining down-to-the-wire games, Syracuse ended the season with a 34-31 home win over Boston College to reach bowl eligibility in its final chance to do so. With six seconds remaining,
Terrel Hunt
threw an 8-yard touchdown pass to tight end
Josh Parris
to win the game. It snapped BC's four-game winning streak and was one of the best offensive performances of the season for the Orange. Unfortunately for BC, Heisman hopeful running back
Andre Williams
was injured in the third quarter and didn't return. BC quarterback
Chase Rettig
accounted for three touchdowns, but it wasn't enough, as Syracuse racked up 480 yards and won the turnover battle.
4. Maryland leaves the ACC on a winning note.
The Terps won their final regular-season game as members of the ACC, a convincing 41-21 drubbing of an inept NC State team, to finish 7-5. It was a significant -- and much-needed -- turnaround for Maryland and coach Randy Edsall before heading to the Big Ten next season. It was also a terrific sendoff for quarterback
C.J. Brown
, who ran for three touchdowns and threw for two more in the win. It was Maryland's first seven-win season since 2010. Maryland is likely bound for the Military Bowl, but as the Terps finish their season, they do so with the ACC's lawsuit still hanging over their heads.
5. The Hokies still own the state.
As much as Virginia Tech's offense has struggled this season, rival Virginia's offense was even worse on Saturday in a 16-6 loss. The Hokies' defense held Virginia without a touchdown on its home field, and both quarterbacks -- starter
David Watford
and his backup,
Greyson Lambert
-- were ineffective. It was the 10th straight win against UVa for the Hokies, who have won 18 of the past 22 games in the series. Much has been made about Virginia's strong recruiting class, but it has yet to add up in this rivalry or in the win column under coach Mike London. UVa ended the season on a 10-game losing streak and winless in the ACC for the first time since 1981.
December, 1, 2013
Dec 1
9:00
AM ET
GAINESVILLE, Fla. -- Here are the Gators' top performances from their 37-7 loss to the No. 2 Seminoles on Saturday:

Loucheiz Purifoy, CB:
The junior had a standout day before telling ESPN's Joe Schad that he plans to leave school early and
declare for the NFL draft
. In the first quarter, Purifoy broke up a
Jameis Winston
pass with his back to the ball and managed to corral his own deflection for a crowd-pleasing interception. In the second quarter, Purifoy showed off why he has been one of Florida's best special teams gunners in recent memory when he downed a punt at the FSU 4-yard line. At 6-foot and 185 pounds, Purifoy is the No. 5 defensive back eligible for the draft, according to ESPNs Todd McShay. Purifoy finished the season with 24 tackles, two interceptions, seven pass breakups and two sacks. He also had 82 yards on four kickoff returns, 35 yards on three punt returns and 15 yards rushing on one carry.
Quinton Dunbar, WR:
With just two catches for 17 yards, the junior did not have a sticker-worthy game overall. But Dunbar continued a very special streak on Saturday and therefore deserves recognition. Dunbar caught a pass in his 28th game in a row. Two weeks ago he surpassed Gators great Carlos Alvarez's mark of a catch in 25 straight games (1969-71). Alvarez, who once held nearly every receiving record at Florida, also happened to be on hand for Saturday's game and led the crowd in the traditional two-bits cheer before the opening kickoff.
Tim Tebow:
How about a helmet sticker for old time's sake? The legendary Gator returned to Florida Field to root for a team that bore little resemblance to the dominant UF teams of Tebow's 2006-09 run when he helped lead the Gators to a 26-2 record at the Swamp. He gave a stirring speech to his 2013 brethren before the game, and it appeared to have the desired effect. Tebow preached about overcoming adversity by finding the strength and courage to change yourself. And for nearly two quarters, the Gators were a changed team in one important respect -- they played harder than they had in weeks. Unfortunately, in a 37-7 loss that was marred by so few performances worthy of a helmet sticker, this one goes to Tebow by default.
David Sharpe commits to Florida