October, 21, 2014
Oct 21
10:00
AM ET
October, 21, 2014
Oct 21
8:00
AM ET
1. You knew a statement was coming. On Monday, Florida athletic director Jeremy Foley delivered a
short message
about the status of head coach Will Muschamp: "Our sole focus right now is supporting our coaching staff and players as they prepare for Georgia." There's not much reading between the lines to be done there, especially when you consider the brevity of the statement. But to give in and make a statement in the first place is a sure sign of where things stand. There are six more weeks left in the season. Are you going to issue one release per game the rest of the way? Maybe they'll grow in length as they "evaluate the season as it plays out," as Foley wrote. Maybe they'll become increasingly cryptic or employ a well-placed emoticon to lighten the mood. If you use a decoder, will it spell out the name of each week's leading candidate? Now that would be something. For now, though, we're left with a few throwaway sentences about what appears to be a lame duck coach.
2. I'll admit it, I wasn't very high on Georgia's prospects post-
Todd Gurley
. In fact, I didn't like the Bulldogs' chances before he was suspended indefinitely. But Mark Richt's squad has shown me something, and it's more than the uber-talented
Nick Chubb
that's impressed me. Instead, it's how
the rest of the team has picked up their play
.
Hutson Mason
has thrown three touchdowns and no interceptions in his last two games. And the defense has found a way to create turnovers in bunches, picking off Missouri's
Maty Mauk
four times and Arkansas'
Brandon Allen
a pair of times.
Leonard Floyd
has been a beast rushing the passer and the rest of that front seven showed me something as it held down the Razorbacks' vaunted rushing game. Post-Gurley, Georgia's become a much more complete football team. If and/or when he comes back, he'll only make it better.
3. If there's been one area of Ole Miss' game that's concerned me, it's the offensive line. Though they've played much better than expected, the fact remains that there wasn't a lot of returning experience there from a season ago.
Laremy Tunsil
was someone you knew you could count on, but the rest was iffy. It turns out offensive coordinator Dan Werner found a good starting five after all, but now his depth will be put to the test as it looks like starting center
Ben Still
is
questionable for the LSU game
. As we all know, playing the Tigers in Baton Rouge is most often a battle in the trenches. Without his starting center, will
Bo Wallace
be as comfortable under center? And will an already limp running game take a step back? It's hard to say exactly, but the timing isn't ideal, that's for sure.
Tweet of the day
These two former Vols have thrown a combined 510 NFL touchdown passes: pic.twitter.com/mMA2tRkpJb

— SI Vault (@si_vault) October 20, 2014
October, 20, 2014
Oct 20
11:00
PM ET
A lot of talent has already come off the board, but there's still quality at the top of the ESPN 300 that could give at least 10 teams a shot at the second-best class. Plus, Penn State's James Franklin continues to be the most talked about coach in the Washington D.C. metro area.
To continue reading this article you must be an Insider
October, 20, 2014
Oct 20
3:54
PM ET
Florida athletic director Jeremy Foley said Monday that he would continue to evaluate the status of football coach Will Muschamp "as it plays out" over the season.
"At the beginning of the season, we said we would evaluate the season as it plays out," Foley said in a statement. "We will continue to do so. Our sole focus right now is supporting our coaching staff and players as they prepare for Georgia."
The statement comes on the heels of the Gators' embarrassing 42-13 homecoming loss to Missouri on Saturday.
The Gators have lost their past two games -- both home losses -- and fan discontent is at an all-time high under Muschamp, who is in his fourth season and was 4-8 a year ago.
Against Missouri, Florida committed six turnovers, including two that were returned for touchdowns, and allowed two special teams scores. Chants of "Fire Muschamp" started in the third quarter and could be heard throughout an emptying Florida Field the rest of the night.
The defeat was Florida's second straight on homecoming, the first time that's happened in Gainesville since 1947.
It dropped Muschamp's record to 25-19, including 15-14 in conference play.
The Gators (3-3) are off this week before facing Georgia on Nov. 1 in Jacksonville.
The Associated Press contributed to this report.
October, 20, 2014
Oct 20
1:00
PM ET
GAINESVILLE, Fla. -- In his most recent postgame news conference, Will Muschamp spoke as quickly as ever, but this time his words were hushed.
There's a pall over his Florida football program, and at this point it doesn't matter if words are screamed or whispered.
All that matters are results. The ones Muschamp has not delivered.
[+] Enlarge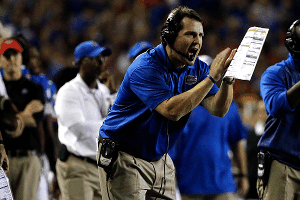 Kim Klement/USA TODAY SportsWith a 2-8 mark in his past 10 SEC games, one has to wonder how much longer Will Muschamp can survive as Florida's coach.
This past Saturday at the Swamp, with everyone in attendance aware that the coach's job was on the line, the Gators played like his fate was already sealed.
What could have been a stepping-stone game against Missouri to set up an SEC East showdown with Georgia in two weeks was instead a laugher. The Tigers returned the opening kickoff for a touchdown and then stepped out of the way as Florida self-destructed.
When it was over Muschamp sounded like a coach out of answers.
"I told them anytime you go have one like this, you look in the mirror and figure what we need to do to improve," he said. "... We've just got to nail it down to some things that we do well, which right now is not that much."
Florida has lost 10 of its past 13 games. In the past two seasons, the Gators' only wins have come against Toledo, Eastern Michigan, Kentucky, Tennessee and Arkansas.
In four seasons, Muschamp has a 25-19 record. He's 15-14 against SEC competition, including a 2-8 record in his past 10 conference games.
What few supporters were left on Saturday night gave up on their coach in the third quarter. Boos echoed throughout the Swamp, and loud chants of "Fire Muschamp" rained down on the field as fans left in droves.
As usual, the coach took full responsibility and swore to address the issues that are plaguing his team -- a starting quarterback who has had an astonishing 12 turnovers in his past 14 quarters, leaky pass protection, and a corps of receivers who drop balls with frightening regularity.
Reinforcements don't appear to be coming, though, as a lack of player development has compounded Florida's offensive ineptitude.
"It's on me" or something to that effect is what Muschamp has said after every ugly loss, but it's cold comfort to Gators fans who have grown restless and irate as the program has sunk to bottom-tier status in the league it dominated just a few years ago.
Muschamp claimed he did not hear the fans chanting for his ouster, and he vowed to stay focused on his team.
"I'm not going to get concerned about those things I don't have any control of other than this team," he said, "and I think that's the most important thing right now."
What's next for Florida is a tense bye week sure to be filled and fueled by speculation.
Athletic director Jeremy Foley said early in September he would give Muschamp the entire season to show progress before rendering judgement. After last Saturday's loss,
Foley reiterated that stance
when asked if he would fire his coach midseason.
"C'mon, I'm not going to answer that question," he told Greg Stoda of the Palm Beach Post. "It's irrelevant. Any evaluations on this team will be made on the season."
After Saturday's ugly display on the field and in the stands, it's hard to imagine this coach and this team turning this ship around. Like last Saturday's game, the momentum has spiraled out of control.
It's also hard to argue that progress has been made, although one player insisted it has.
"We've improved drastically even if the numbers don't say it," senior center
Max Garcia
said. "We have. I feel it just as a team chemistry-wise. We're a team this year."
At this point in Muschamp's tenure, progress in the locker room likely won't be enough without the results to back it up.
Whether he coaches Florida against Georgia in two weeks or not, the fans chanting "Fire Muschamp" seem certain to get their wish.
October, 20, 2014
Oct 20
12:00
PM ET
Well, here we are once again after an entire Saturday of lopsided games. What did we learn that we didn't already know? If anything the league revealed itself to be more firmly divided between contenders and pretenders.
We'll just have to look forward to Week 9 for some better SEC entertainment.
Game of the week: No. 3 Ole Miss at No. 24 LSU
Now this should be fun. Night games at Tiger Stadium usually are. Two straight wins have LSU feeling good and back in the rankings. The Tigers are also back on the fringes of the SEC West race and could throw a giant wrench into the Magnolia State love-fest by upsetting the Rebels. The jury is still out on LSU quarterback
Anthony Jennings
, who didn't have to do much to beat Florida (110 yards passing) or Kentucky (120 yards passing). The Ole Miss defense, however, promises to give the Tigers their toughest test of the season. This unit is operating at peak performance at just the right time for a visit to Baton Rouge. The Rebs allowed zero rushing yards -- ZERO! -- to Tennessee last Saturday and have given up just six touchdowns in seven games this season. It should be a brawl in the Bayou.
Player under pressure: Maty Mauk, Missouri
The Tigers' gunslinging quarterback has been humbled and harnessed in his last two games -- a disastrous 34-0 home loss to Georgia in which he had five turnovers, and a goofy 42-13 win at Florida in which he was 6-of-18 passing for 20 yards and an interception. Mauk's and Missouri's seasons are nearing a crossroads. After playing what he called the worst game of his life against UGA, Mauk overcame a shaky start at Florida and played in control while the Gators self-destructed. The good news for the Tigers offense is that Mauk & Co. will have a solid chance to work out their issues against Vanderbilt, which will bring one of the worst defenses in the SEC (allowing 415.9 yards a game) to Columbia, Mo.
Coach under the microscope: Lane Kiffin, Alabama
The Tide's offensive coordinator might not have circled the third Saturday in October on his calendar, but you can bet 100,000 ticket-holding Volunteers fans sure did. In 2009 Kiffin coached his one and only season at Tennessee. He was full of promises, bravado and hot air. Other than some solid recruiting, the highlights of his 7-6 season were wins over Georgia and South Carolina and a near-miss at Alabama. Who can forget Bama's Terrance "Mount" Cody swatting away two Tennessee field goals in a 12-10 victory? Well, other than Kiffin? Now that he's back in the SEC, patrolling the Alabama sideline and steering its inconsistent offense, the vitriol is sure to reach a fever pitch on Saturday. Hundreds of students rioted when news broke of Kiffin's sudden departure in 2009. How are they going to treat his return?
Storyline to watch: Division dominance
The SEC West is a powerhouse. The East is a house of cards. So the story goes, and it doesn't seem likely to deviate with No. 1 Mississippi State visiting Kentucky and South Carolina traveling to No. 5 Auburn. The East has lost six of seven cross-division games so far this season, most of them with lopsided results. The much-improved Wildcats were riding high at 5-1 before being thrashed by LSU. Now they'll have to contend with
Dak Prescott
and his steamrolling MSU offense. South Carolina has the worst defense in the SEC and might need a miracle on the Plains to keep up with Auburn's offense. Don't look for the division script to flip this week.
Intriguing matchup: LSU offense vs. Ole Miss defense
As previously described in our game of the week entry, LSU can't expect much from its quarterback in Saturday's matchup against the fearsome Rebels defense. It gives Ole Miss a tremendous advantage to be able to stack the box against the run, but LSU has the horses to give the Rebel defense its toughest test of the season. Tigers senior RB Terrance Magee is coming off a career game with 220 all-purpose yards and two touchdowns. He makes a fine pairing with freshman stud
Leonard Fournette
, LSU's leading rusher with 544 yards (5.0 yards per carry) and seven touchdowns. If the Tigers can establish the run against Ole Miss it could open up some play-action passing or at least give Jennings a chance to take some shots with the very capable
Travin Dural
, a sophomore wide receiver with 26 catches, 665 yards and seven touchdowns. It all starts in the trenches.
October, 20, 2014
Oct 20
8:00
AM ET
1. Credit goes to Dan Mullen and his coaching staff for turning Mississippi State into a player on the national stage of college football. It was a slow build, which made for a sturdy foundation. But if you're looking at the program's success today, you ought to look at the program before Mullen arrived.
You ought to remember Sylvester Croom
. No, he never got Mississippi State near the heights it's experiencing today, but he did a standup job during his five seasons as head coach there. Everyone marveled at the eight-win campaign he engineered in 2007 and the day on Nov. 10 when the
Bulldogs finally beat Alabama
, Croom's alma mater. It's good to know how gratifying it is for him today to watch where Mississippi State has come since his departure. In his own way, he was a part of it.
2. Bye weeks are a great opportunity for most teams to reboot and recharge. Florida, however, is not one of those teams. What's
said to be good timing
probably couldn't be any worse. There's no game to distract us. There's no opponent to focus on. The only stat to know is 38.9. That's UF's winning percentage since the start of the 2013 season. For the next week-plus, that's all we're going to hear about. We'll see tape of Jeff Driskel's mistakes and the reaction to Saturday's embarrassing loss to Missouri. Sure, a bye week means Florida can't lose another game, but it won't stop the bleeding. It won't stop the steady chorus of boos directed at Will Muschamp. It won't stop websites like HireDanMullen.com from popping up. Nothing about a week away will keep the wolves at bay. If anything, it will make their howls amplified.
3. It was a small nugget. In fact, it didn't even lead the story. But the fact that Korliss Marshall is suspended is news. As Bret Bielema said,
he's out three to four weeks
for unspecified reasons. But that's not the kicker. What should take you aback is what else Bielema said of the situation: "He's only got one more opportunity to get it right. If he doesn't get it right, it will probably be one of the saddest stories in my coaching career because he's got a lot of talent, he's got a great heart." Wow. That's sending a message. It sounds like whatever Marshall's done, it's not minor. Or at the very least it's the latest in a string of events. But either way, Bielema's right; if Marshall doesn't get back on the field for the Razorbacks, it's a shame. He has the potential to be an outstanding running back. The fact that we're already questioning the long-term viability of the sophomore's career is troubling to say the least.
Tweet of the day
We have a grand total of two players singing the alma mater. pic.twitter.com/7uBIEtQEnc

— Sam Dakota (@thesamdakota) October 19, 2014
October, 19, 2014
Oct 19
2:00
PM ET
By
ESPN.com staff
| ESPN.com
Well, that wasn't a very competitive weekend, was it? Not a single close game, highlighted by the weekend's marquee Alabama-Texas A&M matchup turning into a 59-0 rout for the Crimson Tide. Ole Miss shook off a slow start to run past Tennessee, Georgia kept rolling without
Todd Gurley
and Missouri put Will Muschamp on the hottest of hot seats. How did it all affect this week's Power Rankings? Let's find out.
Edward Aschoff, Jeff Barlis, David Ching, Sam Khan Jr., Chris Low, Greg Ostendorf and Alex Scarborough contributed to these rankings.
October, 18, 2014
Oct 18
11:58
PM ET
It wasn't as exciting a Saturday as we hoped for, in terms of competitiveness. Every SEC game was decided by double digits. Still, there is plenty to glean from Week 8. Here are the things we learned from the weekend's action:
[+] Enlarge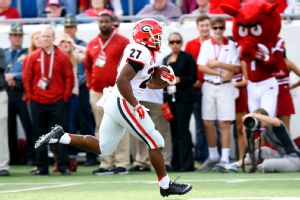 Nelson Chenault/USA TODAY SportsNick Chubb helped keep Georgia rolling with 202 rushing yards on Saturday.
Georgia is a great team, with or without its biggest star:
Even without running back
Todd Gurley
, this is your SEC East Division favorite. Some, including me, thought the Bulldogs could be stepping into a minefield in going on the road to face an Arkansas team that seemed to be knocking on the door of an SEC win. Well, No. 10 Georgia (6-1) is carrying the flag proudly for the SEC East after they cruised to a
45-32
win, a victory that included 38 first-half points. Running back
Nick Chubb
(30 carries, 202 yards, two touchdowns) was fantastic, quarterback
Hutson Mason
was sharp, and the defense came up with four turnovers. There's no doubt this is one of the best one-loss teams in the country.
Alabama silenced its critics, for now:
Nick Saban was a little irritated earlier this week by his fan base's outsized expectations, which had many disappointed the Crimson Tide "only" beat Arkansas 14-13 (a week after Alabama lost to Ole Miss). Well, there's nothing to criticize this week. Alabama played about as close to a perfect game as a team can. The Crimson Tide (6-1) had 602 offensive yards, converted 60 percent of their third downs, held Texas A&M to a meager 172 yards, had
zero
penalties and won the time of possession battle (36:31 to 23:29). Hard to be upset with
59-0
. Although two undefeated teams are ahead of Bama in the standings, you never know what might happen. The No. 7 Crimson Tide's playoff hopes are alive and well at the moment.
Texas A&M has serious soul-searching to do:
It's one thing to lose and quite another to be destroyed the way the Aggies were Saturday by the Crimson Tide. Kevin Sumlin used the words "embarrassing" and "unacceptable" in his postgame news conference, and those are pretty accurate. Alabama controlled the game in every phase while shutting out a Sumlin team for the first time in his seven-year coaching career. The Aggies (5-3) don't have a game next week, and it's a good time for them to reevaluate everything about their team, from top to bottom, to figure out why they've been dominated by three SEC West foes in the past three weeks.
Kentucky might be on the rise, but there's still a long way to go:
The Wildcats have been one of the surprise teams in the SEC this year, with their 5-1 start and talk of making a bowl game. The progress the program continues to make is admirable, and coach Mark Stoops should be commended for the job done so far, but after a
41-3
loss to LSU, it's clear there still is a lot of progress to be made. LSU handled its business and showed it's in a different class than the Wildcats (5-2), at least this weekend. This should serve as a good learning experience for a young Kentucky team that still has a bright long-term future.
It's not getting better in Gainesville anytime soon:
There has been a lot of discussion about Will Muschamp's job, and that isn't going to die down after Florida's performance against Missouri. The Gators were hammered
42-13
in their own backyard. What makes it even worse is the Tigers didn't do it with offense -- Missouri quarterback
Maty Mauk
threw for only 20 yards and no touchdowns, and Missouri finished with a minuscule 119 offensive yards. The Tigers did their damage with a kickoff return and punt return for touchdowns (both courtesy of
Marcus Murphy
), as well as an interception return (
Darvin Ruise
) and fumble return (
Markus Golden
) for touchdowns. That's ugly for Florida, who is 3-3 (2-3 in the SEC) with Georgia coming up in two weeks. It looks like it will only get worse before it gets better for the Gators.
Ole Miss' offense doesn't have to be great -- just good enough:
The No. 3 Rebels (7-0) took some time to get started offensively, as they went scoreless in the first quarter against Tennessee and were down 3-0 in the second quarter. No worries when you "Landshark D." The 27-yard
Aaron Medley
field goal was the only points the Vols would get, quarterback
Bo Wallace
started making some plays, and Ole Miss cruised to a
34-3
victory. The offensive numbers weren't great (383 total yards for the Rebels), but more importantly, they committed zero turnovers and won time of possession. With the type of defense Ole Miss has (it held Tennessee to zero yards rushing and 3-of-16 on third-down conversion attempts), that's a recipe for success.
October, 18, 2014
Oct 18
10:47
PM ET
ESPN.com news services
GAINESVILLE, Fla. -- Marcus Murphy scored three touchdowns, including two on special teams, and Missouri embarrassed Florida 42-13 Saturday night.
The Tigers (5-2, 2-1 Southeastern Conference) scored on a kickoff return, a punt return, a fumble return and an interception return. They managed just seven first downs and 119 yards of offense, including 20 passing, and essentially let the Gators self-destruct in nearly every way imaginable.
And they did.
Mizzou bounced back from a shutout loss at home to Georgia, remained in the hunt in the muddled Eastern Division and extended their road winning streak to eight.
The Gators (3-3, 2-3) lost for the second time in eight days, fueling speculation that Will Muschamp has coached his final game in Gainesville. "Fire Muschamp" chants broke out in third quarter and could be heard throughout an emptying Florida Field.
Florida has dropped 12 of its last 19 games.
October, 18, 2014
Oct 18
10:39
PM ET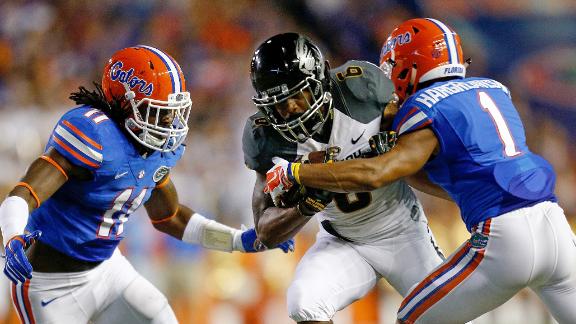 GAINESVILLE, Fla. -- In a battle of two SEC East teams coming off painful home losses last week, only Missouri showed up. The Tigers beat the
Florida Gators
soundly,
42-13
, on Saturday night.
How the game was won:
Florida just couldn't get out of its own way in a dysfunctional performance reminiscent of the 2013 team that went 4-8 and lost its last seven games. The Gators played two quarterbacks, starting junior QB
Jeff Driskel
, who had four turnovers (11 in his past 14 quarters) before being benched for true freshman
Treon Harris
, who had two turnovers of his own. Missouri wisely went into an offensive shell with just 119 total yards and didn't give Florida a chance to get back into the game.
Game ball goes to:
The Missouri defense didn't have to do much more than let Florida self-destruct, but give credit to the Tigers for pressuring both Florida quarterbacks into enough sacks and turnovers to turn the game into a laugher and send the home fans to the exits early in the third quarter.
What it means:
Despite their ugly shutout loss to Georgia, the Tigers still have life in the SEC East race. The same cannot be said for the lifeless Gators, who could have set up a showdown with Georgia but laid an egg. It was Florida's second straight homecoming loss -- the Gators were beaten by Vanderbilt last season -- and the natives are restless. There were loud boos for Driskel and chants of "Fire Muschamp."
Best play:
There was so little offense and so little point to this game after the first quarter that the play of the game might as well go to the special teams.
Marcus Murphy
took the opening kickoff and ran untouched up the middle for a 95-yard touchdown. It accurately set the tone for the game. Murphy's return gave him six career TD returns, breaking a tie with
Jeremy Maclin
for the Missouri record. Murphy went on to score on an 82-yard punt return in the third quarter.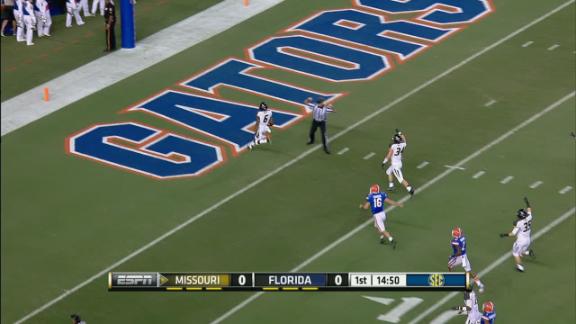 What's next:
Missouri (5-2, 2-1 in the SEC) hosts Vanderbilt next Saturday. Florida (3-3, 2-3) might spend its bye week dealing with intense questions about its head coach's job security.
Recruiting Pitfall At Florida, Michigan