September, 20, 2014
Sep 20
11:47
PM ET
Well, that was an interesting day in the SEC. Here's what we learned:
1. The SEC West is clearly the best ... again:
It's the same story in the SEC: The West is the best. None of these teams are perfect, but they are the best of the bunch in the SEC. Alabama throttled Florida at home, Auburn went on the road and gutted out a tough win over No. 20 Kansas State, Texas A&M just continues to roll over everyone, Arkansas can run on anyone, Ole Miss is a top-10 team, and Mississippi State walked into Death Valley at night and beat No. 8 LSU team in what turned into a late thriller. We know this LSU team has issues with its passing game and young defense, but give Mississippi State a lot of credit for that performance. There's a reason the West entered the weekend with five ranked teams -- all in the top 10. On the other side of the conference, everyone in the East has issues. The thing about the West is no team is really sticking out as the dominant team in the division, and every one of them is a work in progress, but they've all had really good moments. This is easily the toughest division in all of college football. Whoever comes out of this division might have an automatic ticket to the playoff on principle alone.
[+] Enlarge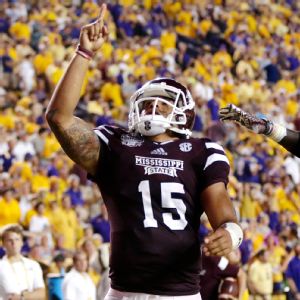 AP Photo/Gerald HerbertDak Prescott had 373 yards of offense and three touchdowns in a return to his home state.
2. Florida's offense and defense have issues:
Where do you even start with Florida's performance in that
42-21 loss
to third-ranked Alabama? Despite plenty of opportunities afforded to the offense, the Gators continuously stalled with the ball. Quarterback
Jeff Driskel
struggled with the same issues that have plagued him his entire career. He was off with his deep throws and had trouble with his reads and threw for just 93 yards with a touchdown and two interceptions on 9-of-28 passing. Even with decent protection for most of the day, Driskel never got into a rhythm and couldn't take advantage of an Alabama secondary trying to find its identity. The defense gave up some big plays in the passing game, especially when the ball went to
Amari Cooper
(10 catches, 201 yards and three touchdowns).
Blake Sims
torched Florida's secondary, which struggled with coverage issues all day, for 445 passing yards and four touchdowns, including one of 87 and 79 yards. Yes, Florida's defense was on the field for a very long team, but the Gators allowed 645 total yards ... the most allowed in school history.
3. Mississippi State will challenge for the West title:
I wondered why this team wasn't ranked in the Top 25 to begin the season, and then the defense fell asleep in Week 2 and I started to wonder if Mississippi State was for real. Now, after a
34-29 win
over LSU in Baton Rouge, you can't sleep on Dan Mullen and his Bulldogs. Sure, this was a rout that got pretty tight late in the fourth quarter, but this is a win the Bulldogs should be ecstatic about. And how about quarterback
Dak Prescott
? He had his best performance to date in his home state with 373 yards of offense and three touchdowns. Fellow Louisiana native
Josh Robinson
wasn't too shabby either, as he rushed for 197 yards and a score. Take the Bulldogs lightly at your own risk.
4. The East race is a total crapshoot:
Besides a dominating performance from Georgia over Troy, the SEC East didn't have a great day. Florida was blown out by Alabama, Missouri was stunned at home by unranked Big Ten representative Indiana
31-27
, and South Carolina slogged through a
48-34 win
at Vanderbilt. We saw that Florida's offense still has major issues and Missouri's interior defensive linemen need a lot of work, as Indiana ran for 241 yards on the Tigers. South Carolina still controls its own destiny when it comes to going to Atlanta for the SEC title game, but no one would be shocked to see the Gamecocks drop another one. Will Georgia's defense get better? Will Florida have an offense? Was this a fluke loss for Mizzou? Is Tennessee a real sleeper? A two-loss SEC East champ is not out of the question with so many uncertainties.
5. Will Muschamp's seat is hotter than ever:
I have a feeling
Bill from Gainesville
won't be calling into many radio shows this week. With a loss in which the Gators faded quickly in the second half, Muschamp's seat is roasting in Gainesville. Last year's injury-riddled, 4-8 season was one thing, but Florida has regressed in the past two games this season, which means the Gators have to show vast improvement in two weeks at Tennessee in order to perk an already downtrodden and disheartened fan base. You have to let the season play out, but this was a bad loss for Muschamp's squad, even if Alabama was the No. 3 team in the country. Florida should be competitive in games such as this, and the Gators just weren't after Alabama cleaned up its mistakes in the second half. There were plenty of opportunities for Florida in this one, but the Gators just didn't execute. Florida fans are frustrated with their coach and their quarterback, who are both in their fourth years at UF.
September, 20, 2014
Sep 20
10:31
PM ET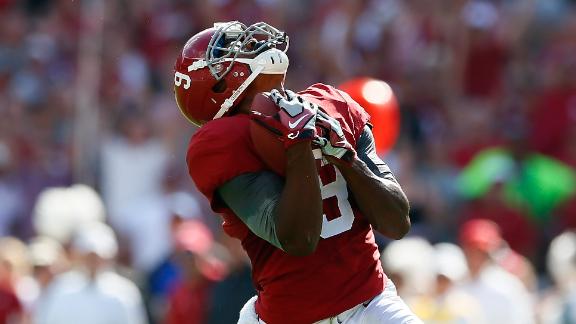 TUSCALOOSA, Ala. -- No. 3 Alabama gained 645 total yards Saturday, the fourth highest total in 123 years of Crimson Tide football, and limited Florida to 200 yards, and Nick Saban tried to be happy about it.
Blake Sims, the senior quarterback who has surprised everyone outside of the Alabama program and no one inside it, threw for 445 yards and four touchdowns, and his head coach praised that.
But Alabama coughed up the ball four times and allowed a team with a listless offense to score three touchdowns. The Crimson Tide committed 11 penalties for 80 yards, an uncharacteristic display of mistakes. That's why a game that had no business being close remained in doubt late into the third quarter, before Alabama pulled away to a 42-21 victory at Bryant-Denny Stadium.
In other words, people, Alabama won the game but lost "the process."
The process is shorthand for Saban's coaching. It combines outlandish physical talent with a watchmaker's precision. The Crimson Tide had a lot of the former and not enough of the latter, which led to Saban debating himself throughout his postgame press conference.
"Obviously, everybody that watched the game could tell that there were some things that we did extremely well and some things were pretty sloppy," Saban said.
Saban regards sloppiness as the devil's playground, somewhere between a character deficiency and leprosy. Particularly in the first half, Alabama couldn't have looked less like a Saban-coached team if it had come out in the single-wing. Or leather helmets. Or orange and blue.
"I felt we could have had 900 yards," Alabama offensive tackle Austin Shepherd said. "Just minor things that we've got to fix, uncharacteristic things of us."
Take the penalties. Alabama had three false starts and two snap infractions.
"All of it is game management and execution." Saban said, "We're second-and-1 at the 1, and the quarterback calls the wrong cadence. Everybody might think that, 'Hey, the offensive line messed up.' That's the kind of stuff that we have to be consistent and trust in and believe in and do the right way. It's attention to detail. We've had far too many of those this year, and we've got to get it corrected."
Saban stopped and moved to the other podium in his internal debate.
"But there's also been a tremendous amount of production offensively this year ..."
Saban hired Lane Kiffin because he believed in the controversial coach's ability to run an offense. On Alabama's first play from scrimmage at the Tide's 13-yard line, Kiffin shifted tailback Kenyan Drake
September, 20, 2014
Sep 20
8:27
PM ET
By
ESPN Stats & Information
| ESPN.com
AP Photo/Brynn AndersonAmari Cooper's three touchdowns gave him 20 receiving TDs in his career, a school record.
Alabama beat Florida 42-21 Saturday in its SEC opener and did so with an uncharacteristically dominant passing attack. We tell you what you need to know about Alabama's awesome offense and some ignominious Florida records.
Alabama piles up yards
Alabama had 645 yards of total offense, its second-most under Nick Saban behind last season's 668 yards against Duke in a 48-7 win. It's also the most ever allowed by Florida in a single game, topping the 629 allowed to Nebraska in the 1996 Fiesta Bowl.
Blake Sims' rare Tide QB performance
Alabama quarterback Blake Sims threw for 445 yards, the second Alabama quarterback to ever top 400 yards in a game. The school record is held by Scott Hunter, who threw for 484 against Auburn in 1969. It's also the third-most by an opponent against the Gators and most since
Peyton Manning
threw for 492 yards in 1996. Sims threw four touchdown passes, the fifth Alabama quarterback to do so.
Amari Cooper sets school record
Amari Cooper's three receiving touchdowns helped him set the school record for most career touchdown receptions with 20. Cooper became just the fourth Alabama player to have 200 receiving yards in a single game. This leaves him just 532 yards shy of tying DJ Hall's school record for most receiving yards in a career (2,923). Cooper has 655 yards receiving this season, more than halfway to the school single-season record of 1,133 set by Hall in 2010.
Is Cooper the next Julio Jones?
Cooper has more receptions, receiving yards, 100-yard receiving games and touchdowns through the first 29 games of his career at Alabama than Julio Jones. Jones would finish his Alabama career with 179 catches, 2,653 yards and 15 TD.
September, 20, 2014
Sep 20
7:30
PM ET
Associated Press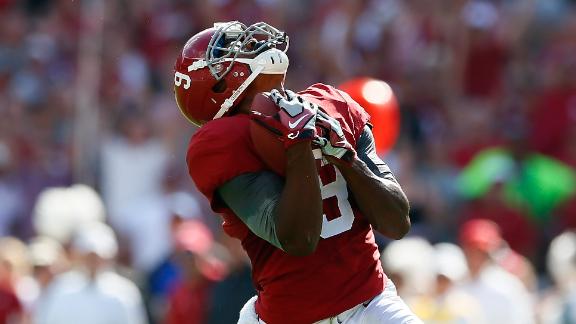 TUSCALOOSA, Ala. -- Blake Sims recorded Alabama's second-best passing day with 445 yards and the third-ranked Crimson Tide overcame a sloppy performance to beat Florida 42-21 on Saturday.
The Tide (4-0, 1-0 Southeastern Conference) committed four turnovers that turned into 21 points for the Gators (2-1, 1-1), who still couldn't handle the Sims-to-Amari Cooper connection.
Sims threw touchdown passes of 87 yards to Kenyan Drake on the opening play and 79 to Cooper later in the first quarter. Cooper, who came in leading the nation in receptions, caught 10 passes for 201 yards and three touchdowns.
The Tide's turnovers and other miscues kept the game close into the fourth quarter. Alabama's 645 total yards was the most the Gators have allowed.
Florida's Jeff Driskel was harassed and ineffective passing. He was 9-of-28 passing for 93 yards and was intercepted twice while the offense produced just 200 yards.
September, 20, 2014
Sep 20
7:25
PM ET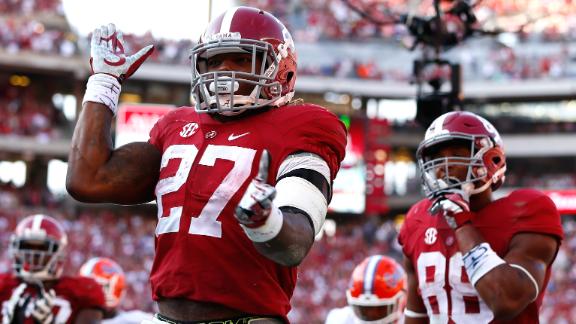 TUSCALOOSA, Ala. -- Florida took its best shot at No. 3 Alabama on Saturday, but between near-perfect quarterback play, a Heisman-esque performance from
Amari Cooper
and a solid effort from the defense, the Crimson Tide proved to be too much. Nick Saban's bunch overpowered the Gators in the second half en route to a
42-21
home victory.
It was over when:
The Gators had no answer for Alabama offensive coordinator Lane Kiffin's offense in the second half, and the clincher came early in the fourth quarter when Tide safety
Landon Collins
intercepted
Jeff Driskel
on third and long. It was Driskel's second pick of the game, and Alabama turned it into seven points on a TD pass to Cooper, extending the lead to 21 points.
Game ball goes to:
It's not hard not to give it to
Blake Sims
, who answered the critics with Saturday's performance, but Cooper was simply uncoverable. The junior finished with 10 catches for 201 yards and three touchdowns. It didn't matter which Alabama quarterback was throwing him the ball. If Cooper wasn't at or near the top of the Heisman Trophy watch before this week, he will be now.
Stat of the game:
Think Sims was good? How about this stat? Sims accounted for 457 total yards, second-most in Alabama history, and the most since Scott Hunter's 484 yards in 1969. The Tide quarterback finished 23-of-33 for 445 yards and four touchdowns through the air, and he added 12 yards on the ground. He wasn't perfect, fumbling once and throwing an interception on a tipped pass, but he was darn near close.
What it means:
After the first three games, nobody really knew how good Sims and this offense could be. How would they fare against a historically strong SEC defense? That question was answered and then some Saturday. The Tide finished with 648 yards of offense, and Sims put an end to any quarterback controversy in Tuscaloosa. For Florida, the defense just ran out of gas in the second half, but the bigger concern is with Driskel, who finished 7-of-25 for 80 yards with one touchdown and two interceptions. If the Gators expect to compete in the SEC East, they must have better quarterback play.
September, 20, 2014
Sep 20
5:57
PM ET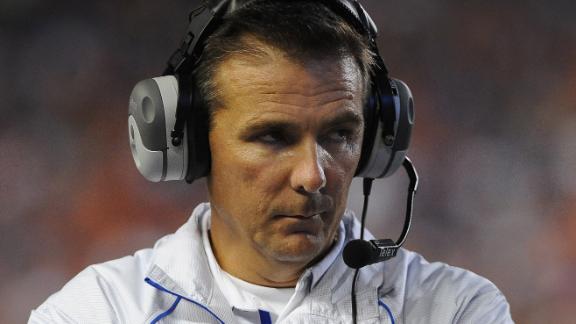 Ohio State coach Urban Meyer told HBO's "Real Sports with Bryant Gumbel" he was depressed while coaching at Florida in 2009, lost 37 pounds and was "mentally broke."
Meyer was suffering from chest pains and self-medicating for his stress.
"Now I'm taking two Ambiens," Meyer told the HBO show. "I would drink a beer on top of it, just to get some sleep. Not many people know that.
"And I go from 217 pounds to 180 pounds. I lose 37 pounds."
That all occurred when the Gators were undefeated in 2009 -- until losing to Alabama in the SEC title game.
After the loss to the Crimson Tide, Meyer was admitted into a hospital with chest pains.
"They said, 'We don't believe it was a heart attack.' " Meyer said. "So, OK, 'Well, what is it?' 'We don't know.'
"And then you start thinking, 'There's something wrong with me mentally, you know? What is going on here?' "
Meyer said he was depressed.
"I thought I was dying," Meyer said. "Mentally, I was broke."
Meyer said after Florida won the national title after the 2008 season he didn't -- and couldn't -- enjoy the victory. He began recruiting literally minutes after the 24-14 win over Oklahoma in the BCS title game in Miami ended.
"I was in a panic situation," Meyer said. "We just won it. We got to do it again. I close the door. And I started just recruiting. One of my friends came and said, 'What are you doing?' He said, 'Enjoy, what's wrong with you, man? Enjoy this.' I tried."
September, 20, 2014
Sep 20
3:50
PM ET
By
Brett Edgerton
| ESPN.com
September, 20, 2014
Sep 20
8:00
AM ET
Noon ET
Troy at No. 13 Georgia, SEC Network
: Georgia is coming off a 38-35 loss at South Carolina and is looking for a resounding victory here. The last time these teams met (2007), Georgia won 44-34. This Troy team, however, is 0-3 and allowing 40 points per game while averaging only 20.7. Look for the Bulldogs to jump out early in this one.
3:30 p.m. ET
No. 6 Texas A&M at SMU, ABC/ESPN2
: The Aggies come in at 3-0 and they've been rolling so far this season. SMU has been a mess, 0-2 and with a new coach: June Jones resigned last week; Tom Mason is serving as the interim head coach and is making his debut. Perhaps the Mustangs are fired up and have a renewed energy, but even if they do, the Aggies are in position for a convincing victory. These teams' past three meetings, dating to 2011, have resulted in a 35.3-point average margin of victory for A&M.
[+] Enlarge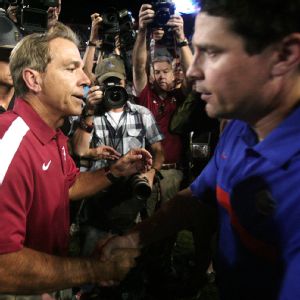 Gary W. Green/Getty ImagesNick Saban and Alabama own a three-game winning streak over Florida. The teams haven't played since 2011, Will Muschamp's first season.
Florida at No. 3 Alabama, CBS
: Few are likely giving the Gators much of a shot here because they were pushed to their limits by Kentucky. How well they operate their no-huddle, up-tempo offense will go a long way in determining how well they fare. Meanwhile, eyes continue to focus on the Alabama quarterback situation with
Blake Sims
and
Jacob Coker
, and it will be worth watching to see what develops. The Crimson Tide own a three-game winning streak over Florida.
4 p.m. ET
Indiana at No. 18 Missouri, SEC Network
: The Tigers are quietly getting it done and look to close out their nonconference schedule 4-0. If they do, it would be the eighth 4-0 start under Gary Pinkel and seventh in nine seasons.
Maty Mauk
is coming off a four-touchdown-pass performance and
Shane Ray
is coming off a two-sack, four-tackles-for-loss performance.
7 p.m. ET
Northern Illinois at Arkansas, ESPNU
: A victory would give the Razorbacks as many wins this season (three) as they had in all of 2013. That would be a big step forward for Bret Bielema's crew. Northern Illinois is a quality road team, having won 17 in a row in opponents' home stadiums, including one at Northwestern on Sept. 6. Arkansas brings in a second-best-in-the-nation 362 rushing yards per game.
Mississippi State at No. 8 LSU, ESPN
: Saturday nights in Death Valley are always fun -- typically for the Tigers. They're 43-2 under Les Miles in Saturday night games at Tiger Stadium. This is a big "prove-it" game for Mississippi State, a team that's 3-0 and trying to take a big step into SEC West contention. Last year's meeting between these two was competitive until a 28-point fourth quarter by LSU.
7:30 p.m. ET
No. 14 South Carolina at Vanderbilt, SEC Network
: The Gamecocks got a huge win versus Georgia and are looking to go to 2-1 in league play with a victory here. South Carolina jumped out to a big lead over Vandy the last time these teams met and it's likely to happen again if the Commodores don't get on track quickly. They've struggled mightily out of the gate and had to rally to beat UMass last week.
Patton Robinette
will start at QB; will coach Derek Mason stick with him this time?
QB Driskel will make Gator nation proud