November, 30, 2013
Nov 30
12:44
PM ET
Associated Press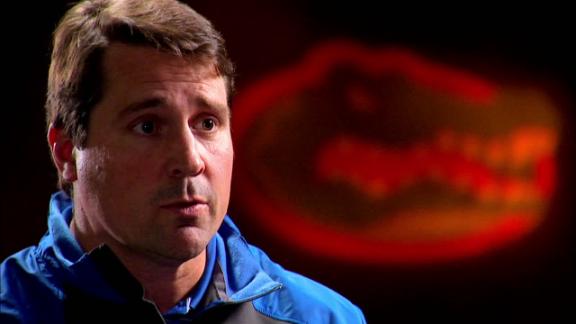 GAINESVILLE, Fla. -- Florida athletic director Jeremy Foley refuses to panic.
Not after the worst loss in school history. Not after the first losing season since 1979. Not after missing a bowl game for the first time in 23 years. And not after a humbling loss to rival Florida State.
Foley held an impromptu news conference before Florida's season finale -- a 37-7 loss to No. 2 Florida State on Saturday -- and reiterated "total confidence" in coach Will Muschamp.
"Obviously, it's been a difficult year," Foley said. "We haven't made an excuse all year and we're not going to make them now. We know what this program is all about. I have total confidence in coach Muschamp and have made that clear. We've got to fix some things. When you have seasons like this, that's what you do: you evaluate, you analyze and you fix things. You don't panic. You don't put orange and blue glasses on.
"It's not acceptable. It's not who we are, and it's not what we're about. Confident we can fix it. I've heard that it's my ego speaking. No, it's my belief."
Foley made it clear staff changes are coming. Offensive coordinator Brent Pease and offensive line coach Tim Davis are likely gone, scapegoats after a dismal offensive season. The Gators entered Saturday's game ranked 111th in total offense. They managed 193 yards against FSU -- and that included a 50-yard run on the team's second series.
"We need to take a look at ourselves schematically with what we're doing," Muschamp said after the game. "There have been some things that have happened that are very difficult to overcome, but schematically there's no question we need to take a look at ourselves. ... I'm willing to do what we need to do to score points and win games."
Final Verdict: Hired And Fired