March, 13, 2015
Mar 13
3:15
PM ET
Florida coach Jim McElwain understands that he's way behind with his new team. He hasn't coached a second of football with his Gators so he really has no idea what to fully expect until spring practice finally begins next week.
He can look at film and talk with guys to get a feel for what he can kind of expect early on, but without real hands-on experience, the Gators are as much of a mystery to him as they are to everyone on the outside.
However, there is one position that he knows more than any other has to be better, and that's quarterback.
[+] Enlarge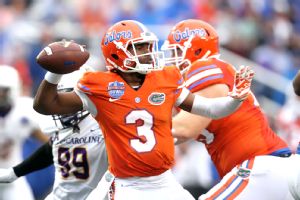 Scott Donaldson/Icon SportswireTreon Harris showed off his arm and his legs in Florida's Birmingham Bowl victory.
Florida has been on shaky ground at quarterback since Heisman Trophy winner Tim Tebow left after the 2009 season. Yes, it was going to be hard to replace one of college football's greatest players, but to still be trying to replace him is unacceptable. Even with ultra-hyped recruits such as John Brantley and Jeff Driskel making their way to Gainesville, the Gators have been incredibly inconsistent under center.
In fact, since Tebow's departure, the Gators have had just two individual 300-yard passing performances in the last five years. Brantley threw for 329 yards against Furman in 2011, and
Tyler Murphy
threw for 305 yards in a home loss to Vanderbilt in 2013.
So here the Gators are -- trying to figure things out with a two-man quarterback battle between sophomore
Treon Harris
and redshirt freshman
Will Grier
. Harris replaced the one-time supposed savior Driskel as Florida's starter during the last month of the season, but never truly developed as a complete or consistent passer. Grier took last season to learn and bulk up after being named the
Parade
National Player of the Year and the Maxwell Player of the Year after his high school senior season.
There's so much on the line with this battle. For starters, McElwain's success in his first year in Gainesville rests heavily on what the offense can do, and that will be greatly determined by the guy at quarterback. Secondly -- and believe me, this is not hyperbole -- the future of offensive recruiting also hinges on the success at the quarterback position. This doesn't mean that Florida's next starter has to be an All-SEC performer, but he has to move the football more consistently. He has to make plays and score points. There needs to be continuity and some sort of passing threat.
There's a reason Florida hasn't succeeded in bringing high-quality offensive recruits to Gainesville since Tebow's departure. The offense just hasn't been attractive and that starts with instability at quarterback.
Wide receivers need to feel confident in the guy getting them the ball. No one has done that. Brantley, Driskel, Murphy and little-used
Jacoby Brissett
never took complete command of Florida's offense. It's telling that the most prolific individual passing day during the Will Muschamp era took place when Murphy threw three interceptions in a loss to Vandy in the Swamp.
Recruits aren't attracted to that, and Florida's mostly down play at quarterback has resulted in the Gators signing just four top-15 high school receiver prospects since 2010, according to ESPN recruiting services. An offense that has done no better than average 367.6 total yards (2014) and 185.7 passing yards in that span doesn't intrigue top-notch receivers, and if the Gators continue that trend, recruits are going to push further and further away from this program.
What confidence in the future will they have if an offensive-minded coach can't even muster some production out of this unit?
Of course, people will point to Muschamp's more conservative, run-first-and-often philosophy, but unfortunately for McElwain, he'll have to dig the Gators out of that offensive rut, despite not being the cause of its failures.
And if he's going to do that, the QB guru is going to have to work his magic because as unfair as this might sound for the first-year coach, this program can't afford more of this offensive free fall.
March, 13, 2015
Mar 13
9:00
AM ET
The SEC has a new commissioner. On Thursday, the conference announced that Greg Sankey will replace Mike Slive beginning Aug. 1. Sankey has been Slive's right-hand man for the past 12 years, so the decision didn't come as a huge surprise, but for those who don't know the new SEC commissioner,
this article is for you
.
More on Sankey
Around the SEC
Tweet of the day
Read this quote a long time ago in John Wooden's book They Call Me Coach: "I will prepare myself and then, perhaps, my chance will come."

— Greg Sankey (@gscantweet) March 12, 2015
March, 11, 2015
Mar 11
9:00
AM ET
It was 70 degrees in Atlanta on Tuesday. Happy days certainly are here again!
Not a tweet of the day, but colleague David Ching's Instagram video of LSU's receivers showing off their fancy footwork is impressive:
March, 10, 2015
Mar 10
10:50
AM ET
By
ESPN.com staff
| ESPN.com
Competition is the running theme in every spring practice, but it will be especially so for SEC quarterbacks over the next several weeks.
Today our SEC writers take a look at some of the most intriguing quarterback battles that will take place within the conference this spring and beyond.
Alex Scarborough: Georgia
Call me crazy, but who wins the job is irrelevant. What matters is that either
Jacob Park
or
Brice Ramsey
secures the position early and sets the tone for the rest of the season, because the last thing Georgia needs is a QB controversy. There's so much going for the offense already. There's
Nick Chubb
, the only running back in college football that could make you forget
Todd Gurley
. There's
Malcolm Mitchell
, a top talent at receiver if he can stay healthy. And there's the O-line, which could be the best in the SEC with four starters back. So whoever starts under center will have plenty to work with. Now it's only a matter of settling on the best option.
Chris Low: Texas A&M
There's not much drama this spring in the Texas A&M quarterback camp. It's sophomore
Kyle Allen
and ... well, that's it.
Kenny Hill
transferred after being all the rage in Aggieland to start last season, but Allen was the one who finished the season at quarterback, going 3-2 as the starter. He's got a big arm and showed uncanny presence in the pocket for a true freshman. But it would be premature to pencil in the 6-foot-3, 205-pound Allen as Texas A&M's starter in 2015.
Kyler Murray
is slated to be on campus this summer, and he arrives as the No. 1 dual-threat quarterback prospect in the country -- assuming he doesn't opt for pro baseball. There's some thought that Murray could be a first-round selection in June's baseball draft. If so, he's got another big decision to make after picking Texas A&M over Texas in a fierce recruiting battle. Stay tuned because the real drama surrounding the Aggies' quarterback job will heat up this summer.
David Ching: Ole Miss
Ole Miss is intriguing not so much because of the on-field competition, but because of
Chad Kelly
's presence in the position battle. I suppose it's the tabloid element of the story that interests me. Prior to his arrest following a bar fight late last year, Kelly was already viewed as a wild card because of his unceremonious exit from Clemson. Hugh Freeze stood by the junior college transfer -- Kelly led East Mississippi Community College to the NJCAA title last year, passing for 3,906 yards, 47 touchdowns and eight interceptions -- saying Kelly deserves a second chance. But can Kelly keep his act together and also outperform
Ryan Buchanan
and
DeVante Kincade
? It will be fascinating to watch it play out.
Edward Aschoff: LSU
The Tigers are in desperate need of competent play at quarterback, and just about everyone will be keeping a close eye on
Anthony Jennings
vs.
Brandon Harris
. No one has any clue which way this one will go. You have Jennings, who basically limped his way through 2014, and Harris, who arrived as a star recruit but couldn't stay on the field. Both have shown flashes -- maybe Harris a bit more -- but both were wildly inconsistent and have a long way to go with their development. However, if one can stand out and transform into a legitimate passing threat, LSU's offense -- and entire team -- could be dangerous in 2015.
Greg Ostendorf: Florida
Don't underestimate this battle. This could be a career-defining decision for Jim McElwain in just his first year at Florida. Fans are tired of subpar quarterback play, and that's part of the reason McElwain was hired in the first place. On one side,
Treon Harris
came in and gave the Gators a spark last season. He's a true dual-threat guy who has more game experience. On the other side, there's
Will Grier
, the former ESPN 300 signal-caller who better fits what McElwain wants to do on offense. Both will be given an equal shot at the job, and I don't expect a starter to be named until the fall. But what makes it so intriguing and why I think it's the most intriguing battle in the SEC is McElwain. He has a proven track record with quarterbacks, and both Harris and Grier will benefit from his arrival. Who will benefit the most?
Sam Khan Jr.: Alabama
Alabama's quarterback battle fascinates me in large part because of how it played out a season ago.
Jake Coker
transferred into the program during the offseason and before he even stepped foot on campus, there seemed to be widespread speculation that he was the successor to
AJ McCarron
. Then an interesting thing happened -- the battle played out,
Blake Sims
eventually won the job and had an impressive season. Nick Saban and Lane Kiffin were methodical in that process, so I expect that to be the case again. Coker's certainly the favorite again this year and has the experience edge, being a senior and the only one out of the group that includes himself,
Blake Barnett
,
Cooper Bateman
,
David Cornwell
and
Alec Morris
to have thrown a collegiate pass. That said, he has thrown only 10 more passes against SEC competition than his competitors, so while he has an experience edge, it's not an overwhelming one.
March, 10, 2015
Mar 10
10:00
AM ET
By
ESPN.com staff
| ESPN.com
There is a lot of uncertainty at the most important position in the SEC. At least half of the quarterback jobs are at least somewhat up for grabs heading into 2015, and how those battles are resolved will go a long way toward determining the success of the league.
We'll break down seven of those battles and predict who will come out on top.
Alabama
Edward Aschoff:
This is Jake Coker's last chance to prove he's up to playing at Bama, and with a year to sit and learn under his belt, he'll be more prepared to tackle Lane Kiffin's offense. He'll go from unprepared to the man this spring. Honestly, we can't take much from what he did in very limited duty last season, so we're having to go off hype still -- which is true about all of Bama's quarterbacks. However, he is the only QB with a collegiate pass attempt on the roster. We've heard about Coker's arm talent, and he'll finally show it off in 2015.
Alex Scarborough:
There are no frontrunners. There are no favorites. Not this time, at least. Because if we learned anything from last year's QB battle, it's that nothing can be taken for granted. So rather than going all in on
Jake Coker
again, I'm taking the field. And it's not that Coker isn't talented enough, because he is. But I'm not sure he's got the "it" factor. I'm not sure he can read the field and sense the pressure well enough to thwart SEC defenses. Besides, there are a number of other contenders to choose from, three of whom were top QB prospects coming out of high school.
Florida
Edward Aschoff:
This is one of the league's most intriguing battles, and I'm going with
Will Grier
. The redshirt freshman had to get bigger and wiser than he was as a frosh but will be front and center this spring along with
Treon Harris
. All we know about Grier is he had a fantastic high school career, but there are some who think he's more suited than Harris to run Jim McElwain's offense. Grier has a big arm, is athletic enough to make plays with his feet, and will be the more polished passer and playmaker this spring.
Sam Khan Jr.:
Having experience is beneficial. Treon Harris has that with nine games and six starts under his belt. Getting thrown into the fire midseason is tough for any backup quarterback, much less a true freshman in the SEC. The grit Harris showed while stepping in for Jeff Driskel was admirable. Yes, he was far from perfect, and the stat sheet wasn't always pretty, but he showed promise. His dual-threat ability is useful for an offense trying to find its footing.
Georgia
Edward Aschoff:
This one should be fun to watch for a team that could be a quarterback away from winning more than just the SEC East.
Jacob Park
was a big-time prospect last year, and with a year to sit and learn -- coupled with his athleticism -- I smell an upset.
Brice Ramsey
is talented and more experienced, but Park's footwork and playmaking ability will give him a couple of advantages going forward. Park not only gives the Bulldogs another running option, but he has good poise both under center and in the shotgun and adds an impressive arm.
Chris Low:
Mark Richt is on record as saying there will be an open competition at quarterback, and while the Bulldogs might not have their answer overnight, Brice Ramsey will separate himself as the clear No. 1. A redshirt sophomore, Ramsey has the edge in experience, having played in eight games last season. We've seen enough of Ramsey to know he has incredible arm strength and the confidence in that arm to use the entire field. He was up and down at times last season, but that's to be expected from a first-year backup. Ramsey fits the Dawgs' preferred mold of a pro-style passer and should be especially effective in the play-action game with defenses being so leery of
Nick Chubb
.
LSU
David Ching:
Honestly, I have no idea who will win this competition. I was sure it would eventually be
Brandon Harris
last fall and was incorrect. Harris is the more intriguing player because we haven't seen enough of him.
Anthony Jennings
started 12 of 13 games last season, so we have a better idea of his capabilities and shortcomings. He's sharp, mature, and seems like the kind of guy you want in your huddle, but Jennings is not as talented as his competitor. LSU's offense would be more dangerous with Harris under center -- assuming he proves he is mature enough for that responsibility.
Greg Ostendorf:
LSU fans are hoping and praying Harris starts next season, but what has he proven? He had a couple good games early against Sam Houston State and New Mexico State last season, but when he got his chance to start an SEC game on the road, he was dreadful. Jennings isn't spectacular. He probably never will be. But he's played in big games, made big throws and knows this offense better than any other quarterback on the roster. Les Miles has a tendency to go with experience, and there's no reason that will change this fall.
Ole Miss
Greg Ostendorf:
This is
Chad Kelly
's job to lose. He followed a similar path as the recently departed
Bo Wallace
, coming over from East Mississippi Community College after running into trouble at his first stop. And just like Wallace, he has the talent to win the job from Day 1. The only thing standing in his way is him. If he can stay out of trouble, there's no reason he won't be starting come September. Kelly, the nephew of Hall of Fame quarterback Jim Kelly, threw for 3,906 yards and 47 touchdowns last year.
Alex Scarborough:
It's not that I don't trust Chad Kelly. I could bury that gut feeling if I had to. The problem is his coach seems to hold the same concern. Just take Hugh Freeze's comments on signing day: "I'm sure hoping and pray like heck that he doesn't embarrass our team, our university and myself. But that is a possibility." That, my friends, is the opposite of a ringing endorsement. Besides, I'm not sold on his ability. Sure, he lit up junior college, but that's not enough to make a career. He has a grand total of 17 career pass attempts at the FBS level. Give me
DeVante Kincade
and
Ryan Buchanan
. They might not have the hype, but they might have the substance.
South Carolina
David Ching:
He's hardly a lock, but
Connor Mitch
looks like the early favorite. The former ESPN 300 prospect was
Dylan Thompson
's backup last season but threw just six passes. Steve Spurrier was adamant that Thompson had to stay healthy for the offense to be successful, so he was clearly not sold on his alternatives. That means Mitch will have to fight for this job, but he seems like the best option over competitors
Perry Orth
,
Michael Scarnecchia
and freshman
Lorenzo Nunez
, who won't arrive until the summer.
Chris Low:
Spurrier has never been predictable when it choosing his trigger man. That's why incoming freshman Lorenzo Nunez has a real chance to be the starter in 2015. He won't be on campus until this summer and needs to develop as a passer, but Spurrier loves Nunez's athletic ability and believes a quarterback who can run and extend the play is a huge advantage. The Gamecocks sold Nunez on being the next Connor Shaw. If Nunez can come in and learn the playbook pretty quickly, he'll be front and center in the South Carolina quarterback battle.
Vanderbilt
Edward Aschoff:
It's anyone's guess who will come win this race, but I'm going with
Johnny McCrary
. He started the final five games of the season. Vandy won two of its last six games with McCrary playing. He led the team with 985 passing yards and nine passing touchdowns, but also threw eight interceptions. He was far from perfect and has a long way to go, but if he can develop as a passer, his ability to make plays with his legs will help give him an advantage.
Alex Scarborough:
Ah, a rare QB race with no true favorite. It's sort of refreshing. But at the same time, it's troubling. Because at the end of the day, six quarterbacks took snaps for Vanderbilt in 2014 and none of them had anything remotely described as success. So with such dire circumstances, I'll do what I'd advise against nine times out of 10: Take the newbie. Give me
Kyle Shurmur
, the No. 7 pocket passer in the 2015 class. He looks the part, too, with ideal size and a strong arm. There will be some growing pains, of course, but for a program that's building for the future, why not let him learn on the job?
March, 6, 2015
Mar 6
10:35
AM ET
March, 5, 2015
Mar 5
10:00
AM ET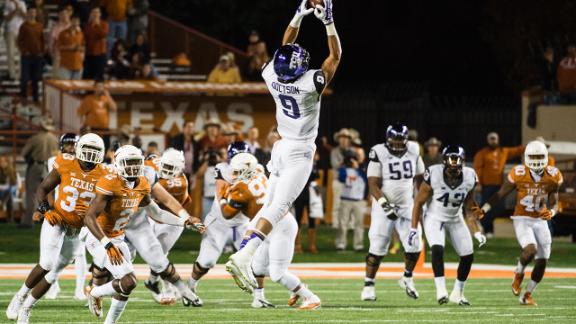 Junior days are underway, and the spring evaluation period is quickly approaching. While a number of programs are off to a fast start and in need of keeping impressive commitments in the fold, there also are programs in need of creating momentum and battling archrivals on the trail this spring and headed into the summer.
Here is a look at 10 programs that need a big spring, for various reasons (listed alphabetically):
Florida
The Gators saved the 2015 class in the days leading up to national signing day creating some momentum heading into the spring and summer. The time to capitalize is now for Jim McElwain and staff, and Florida simply must continue to gain steam with archrival Florida State swinging a big recruiting stick in state, and Miami on a run headed into the spring evaluation period. Florida currently has three verbals, all outside the ESPN Junior 300.
March, 4, 2015
Mar 4
11:17
AM ET
Redshirting is not a popular term among the nation's top football prospects, but a quick look at the recent Heisman Trophy winners shows the importance of that extra year of development. The list below may not include the next Jameis Winston or Johnny Manziel, but we feel these players, once prominent recruits in the 2014 class, are in position to make big debuts in the 2015 college football season.
1. Marlon Humphrey (Alabama) -- A youth movement is going to be underway on the perimeter for Alabama this fall and while 2014 classmate Tony Brown saw some time last year, Humphrey will be joining the fray in 2015. Humphrey fits the physical dimensions coach Nick Saban wants at corner. The former five-star is big, can run and is savvy when it comes to playing different schemes.
To continue reading this article you must be an Insider
March, 4, 2015
Mar 4
10:30
AM ET
We'll finally end our
pre-spring position rankings
in the SEC by taking a look at special teams. Kickers and punters rejoice!
1. Georgia:
Kicker
Marshall Morgan
wasn't at his best last season, but everyone knows the talent is there for him to rebound in 2015 from his 16 of 21 (.762) performance kicking field goals last season. Punter
Collin Barber
is certainly serviceable, even if he didn't have to punt too much last year. But return man
Isaiah McKenzie
might have been the league's best last season, registering two touchdowns on kickoff returns and one on a punt return.

2. LSU:
Leonard Fournette is so dangerous as a return man, and capped his season with a 100-yard return for a touchdown. Tre'Davious White wasn't so bad returning punts either, averaging 10.9 yards per return and taking one back for a touchdown. As for kicking, LSU has a solid duo in place-kicker
Colby Delahoussaye
(11 of 15) and
Jamie Keehn
, who averaged 44.9 yards per punt, downed 27 inside the 20-yard line, and blasted 17 kicks 50 yards or more.
3.Texas A&M:
The Aggies have to replace incredibly reliable kicker
Josh Lambo
, but
Taylor Bertolet
tallied 106 points off kicks in 2012, as a freshman, before getting benched for Lambo in 2013.
Drew Kaser
proved to be one of the SEC's best punters last year, downing 22 punts inside the 20 and booming 18 50 yards or more.
Speedy Noil
is a dynamic returner on both kickoffs and punts.

4. Tennessee:
The Vols were excellent at defending returns and will bring back kicker
Aaron Medley
, who made 20 of 26 field goals last year, but went 1-of-6 from 40-plus.
Cameron Sutton
returned a punt for a touchdown, while
Evan Berry
is a big-play threat on kickoffs after he averaged 29.3 yards per return last season.
Matt Darr
is gone so the Vols have to find a punter.
5. Vanderbilt:
Tommy Openshaw connected on 8 of 11 field goals, but went 2-of-5 on kicks between 40 and 49 yards.
Colby Cooke
averaged 42.7 yards per punt and downed 19 kicks inside the 20.
Darrius Sims
, who can return kickoffs and punts, is one of the league's best returners and took two kickoffs back for touchdowns and averaged 24.5 yards per return. Vandy has to do better than allowing two returns for touchdowns.
6. Alabama:
One thing's for sure: Alabama can punt. More specifically,
JK Scott
can punt. He brings back the SEC's best leg, which knocked 31 punts inside the 20 launched 23 kicks 50 yards or more. He also led the nation in punt average (48.0) However, placekicking is still a concern, as
Adam Griffith
hit 12 of 19 field goals (.632) last season.
Christion Jones
is gone, but
Cyrus Jones
and others should pick up the slack in the return game.
7. Mississippi State:
The Bulldogs bring back
Devon Bell
, who averaged 43.2 yards per punt. Word out of Starkville is that both returner positions are up for grabs, but the Bulldogs have a litter to pick from. Juco transfer Donald Gray could be the favorite, but
Will Redmond
,
Fred Ross
and
Brandon Holloway
will also be involved. The Bulldogs were also one of the best at defending kicks last season.
8. Ole Miss:
Jaylen Walton is still a mainstay at returning kickoffs, but the Rebels need to be more consistent returning punts, where
Markell Pack
, who averaged just 5.3 yards per return last year, will compete with two players coaches are excited to see return kicks: JUCO transfer Tony Bridges and freshman Jalen Julius. Will Gleesen was solid punting (24 downed inside the 20) alongside
Gary Wunderlich
, who also hit 6 of 8 field goals last season. Ole Miss also ranked in the top half of the league in defending punts and kickoffs.
9. Auburn:
Daniel Carson pulled double duty for the Tigers, hitting 18 of 24 field goals (.750) and averaging 42 yards per punt. The Tigers said goodbye to
Quan Bray
(two touchdowns) and
Corey Grant
so
Ricardo Louis
is the most experienced return man (eight returns last year).
Roc Thomas
and
Stanton Truitt
, who redshirted last year, could also get looks in the return game. Auburn ranked in the bottom half of the league in defending punts and kickoffs.
10. Arkansas:
Adam McFain was Arkansas' top kicker last year, hitting 7 of 10 (.700) field goals, but punter
Sam Irwin-Hill
is gone so his spot will need to be filled in the coming months.
Korliss Marshall
is gone, but
Keon Hatcher
and
D.J. Dean
return. Hatcher averaged 23.2 yards per kick return (six) and Dean returned 11 punts for 121 yards.
11. South Carolina:
Elliott Fry is back after hitting 18 of 25 field goals (.720) last year. No punters return so the Gamecocks will have to figure that one out starting with spring practice.
Pharoh Cooper
was a decent punt returner for the Gamecocks, while
Shon Carson
should enter spring as the front-runner to head up kick returns after recording 633 return yards last year. Also, might want to cut down on the two kickoff touchdowns allowed.
12. Florida:
Austin Hardin eventually took over placekicking duties later in the season and finished the year making 7 of 10 field goals, including the game-winner against Tennessee. Incredibly valuable punter
Kyle Christy
is gone, but
Johnny Townsend
is back and he actually forced Christy to the bench in 2013. Record-breaker
Andre Debose
is gone, meaning the Gators are holding tryouts for returners, and this team has to improve on allowing two returns for touchdowns last year.
13. Missouri:
The Tigers must find someone to replace one of the league's best returners in
Marcus Murphy
. Right now, that task is totally up in the air. Because Murphy was so good, no one on the roster really has much experience returning kicks.
Andrew Baggett
mad 18 of 25 field goals (.720) and might have to handle punting duties as well, but that isn't 100 percent yet.
14. Kentucky:
The Wildcats' kick coverage was just bad last year. They gave up four touchdowns on returns last season, which cannot happen again. Kicker
Austin MacGinnis
led the SEC with 21 made field goals on 27 attempts (.778) and punter
Landon Foster
brings back 27 punts downed inside the 20. Kentucky must replace
Demarco Robinson
at punt returner, but
Stanley Williams
is back after averaging 26.9 yards on kickoffs.
March, 4, 2015
Mar 4
10:00
AM ET
Spring practice is always a good time for players to make their cases for a move up the depth chart and much can be gleaned from position battles that occur this time of year. Given that, we take a look at some of the top position battles worth watching this spring in the SEC:
Alabama: Cornerback and quarterback

The Alabama secondary left much to be desired last fall, allowing 226 passing yards per game (11th in the SEC).
Cyrus Jones
serves as a returning starter but the spot opposite him is open for competition. There are plenty of contenders, such as sophomore
Tony Brown
, junior
Eddie Jackson
, redshirt freshman
Marlon Humphrey
, senior
Bradley Sylve
and sophomore
Maurice Smith
. Alabama's cornerback recruits,
Kendall Sheffield
and
Minkah Fitzpatrick
, aren't on campus yet but when they arrive in the summer, they'll join the fray. As for the quarterback battle, if last season taught us anything, it's not to assume what Nick Saban will do. Many felt
Jake Coker
being the starter was a foregone conclusion only for
Blake Sims
to emerge as the guy. This year, it's Coker,
Cooper Bateman
,
David Cornwell
and
Blake Barnett
. Who will emerge from that battle?
[+] Enlarge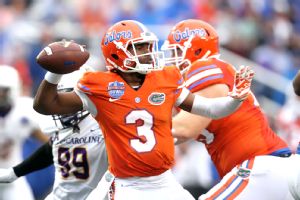 Scott Donaldson/Icon SportswireThroughout spring practice, Treon Harris will be competing for Florida's starting QB job.
Auburn: Running back

Cameron Artis-Payne
and
Corey Grant
graduated.
Roc Thomas
and
Peyton Barber
are next in line, but junior college transfer
Jovon Robinson
, the No. 1 running back in the ESPN JC 50, is one to watch here. He's enrolled early, so he will participate in spring football. Auburn coach Gus Malzahn has had a 1,000-yard rusher every year he's been at Auburn going back to his coordinator days, so whoever wins the job will likely be one of the top backs in the SEC.
Florida: Quarterback and offensive line

With a new head coach in Jim McElwain, this situation is intriguing.
Treon Harris
showed some promise when given the chance to play as a true freshman last season but
Will Grier
, who redshirted, looks like he'll get an opportunity to compete for the job, too. And there should be battles across the offensive line, because the Gators have to replace virtually every spot up front. Those are just as important as the quarterback battle, because good protection is a must.
Georgia: Quarterback

There's a three-man battle for the right to succeed
Hutson Mason
and it's a wide-open battle. There's redshirt sophomore
Brice Ramsey
, redshirt junior
Faton Bauta
and redshirt freshman
Jacob Park
. Georgia coach Mark Richt called the race wide-open; Ramsey is the most experienced of the bunch, and Park is the only one who hasn't taken a collegiate snap yet. It should be compelling to follow.
LSU: Quarterback

It's just a little bit of history repeating -- same candidates, same position, new season.
Anthony Jennings
and
Brandon Harris
square off once again for the right to start for the Tigers. Jennings emerged victorious last season and held on to the job for most of the year (Harris started at Auburn and it didn't go well), but that didn't stop the fans calls for a longer look at Harris. Jennings finished the season with 11 touchdowns and seven interceptions while completing only 48.9 percent of his passes; Harris completed 55.6 percent with six touchdowns and two picks.
Missouri: Defensive end

The tradition of defensive line talent at Mizzou is rich but the latest two greats have departed to pursue the NFL:
Shane Ray
(as an early entrant) and
Markus Golden
(who was a senior). So who's next in line to replace them? At one end, sophomore
Charles Harris
is a potential option after appearing in 14 games, starting one, last season. At the other end, junior
Rickey Hatley
and sophomore
Marcus Loud
are the returning candidates with game experience and could battle it out for a spot. There's also a host of youngsters behind these three.
Ole Miss: Quarterback

Bo Wallace
is gone so the signal-caller spot is up for grabs. Who will it be? Junior college transfer
Chad Kelly
?
DeVante Kincade
?
Ryan Buchanan
? Kelly appears to be the early favorite, though Kincade and Buchanan got a little bit of game action last season.
South Carolina: Quarterback

The Head Ball Coach has to replace a graduating senior quarterback for the second straight season -- first Connor Shaw, now
Dylan Thompson
. This spring, it will be sophomore
Connor Mitch
, junior
Perry Orth
and freshman
Michael Scarnecchia
competing. Quarterback recruit
Lorenzo Nunez
doesn't join the fray until the summer. Mitch appears to be the early favorite.
Texas A&M: Left tackle

This has been a money position for the Aggies in the Kevin Sumlin era. He had the good fortune of having Luke Joeckel man the position in 2012 (he went on to be selected second overall in the NFL draft); then Jake Matthews succeeded Joeckel (Matthews was also a top-10 pick) and last season
Cedric Ogbuehi
took over. With Ogbuehi gone, the spot is up for grabs; look for
Avery Gennesy
and
Germain Ifedi
to compete for it. Gennesy, a 2014 ESPN JC 50 signee, redshirted last year but has the ability needed for the position. Ifedi had a good year as the Aggies' starting right tackle in 2014, and Sumlin said Ifedi has "earned the right" to at least compete for the job.
Vanderbilt: Quarterback

This position was a mess for the Commodores last season. They started four different quarterbacks, the most of any FBS team (only Utah State started as many quarterbacks as Vanderbilt). This spring there are four competing, three of which are returnees --
Wade Freebeck
,
Johnny McCrary
and
Patton Robinette
. Stephen Rivers, who was with the Commodores last year, transferred, but redshirt freshman
Shawn Stankavage
joined the competition. New offensive coordinator Andy Ludwig was blunt early in spring practice, saying simply
"We've got a lot of work to do."
March, 4, 2015
Mar 4
9:30
AM ET
We continue our series
looking at the position groups around the SEC
by looking at the defensive backs Wednesday.

1. LSU:
The Tigers were the best in the SEC in 2014 against opposing pass defenses and there's plenty of talent still in LSU's defensive backfield to keep the good times going.
Jamal Adams
really came into his own late last season and is poised to be a star.
Tre'Davious White
is the only starting corner returning but he is a big-time player. Safety
Jalen Mills
returns, too. The Tigers need to find a corner opposite White but have plenty of talented players to compete for that spot.
2. Georgia:
After LSU, this unit was the SEC's best in limiting opponents through the air (170.3 passing yards allowed per game). The good news for Jeremy Pruitt is that not only does he have quite a few options in the secondary, most of them have experience.
Dominick Sanders
, who shined as a freshman, returns; so does fellow safeties
Quincy Mauger
, who started seven games. All the cornerbacks on the two-deep return. With Damian Swann's departure, a new leader needs to be established, but overall, this is a good group.
3. Florida:
The Gators still have the conference's best cornerback,
Vernon Hargreaves III
, and that's worth a lot. Fortunately for them, the rest of the young secondary is back -- cornerback
Jalen Tabor
, safeties
Keanu Neal
and
Marcus Maye
, nickel
Brian Poole
, and new secondary coach Kirk Callahan will try to help them take the next step this year, improving on last year's finish (seventh in the SEC in pass defense). The talent is there.
4. Ole Miss:
Replacing players such as
Senquez Golson
and
Cody Prewitt
is a tall task but the Rebels have talent on the back end.
Tony Conner
was a second-team All-SEC pick last year and is back. So is
Trae Elston
, the starting "rover," who is a three-year starter. Senior
Mike Hilton
, who led the team in tackles, returns and the team welcomes the No. 1 cornerback in the ESPN JC 50,
Tony Bridges
. Look for a bigger role for
C.J. Hampton
. There is some good depth in this group as well.
5. Arkansas:
Razorbacks' secondary coach Clay Jennings returns for his second year in Fayetteville and his unit showed significant growth in 2014. Elder statesmen
Alan Turner
and
Tevin Mitchel
are gone, but the Hogs had a mostly young secondary last year and bring back plenty of experience, including cornerbacks
Jared Collins
,
D.J. Dean
and
Henre' Toliver
, all of whom saw starts at the position. Three of the four safeties on the end-of-season two-deep --
De'Andre Coley
,
Josh Liddell
and
Davyon McKinney
, also return to a unit that was fifth in the league in pass defense in 2014.

6. Tennessee:
The Vols have a player with All-SEC potential in cornerback
Cameron Sutton
and a tremendous amount of experience at the back in senior safeties
Brian Randolph
and
LaDarrell McNeil
. The other cornerback will be the spot to watch where there will be a battle.
Emmanuel Moseley
,
Rashaan Gaulden
,
Malik Foreman
and highly-touted junior college signee
Justin Martin
are among the contenders.
7. Missouri:
The Tigers are set at cornerback with
Kenya Dennis
and
Aarion Penton
returning. Losing the experience of a
Braylon Webb
at safety is tough but
Ian Simon
is a seasoned veteran himself and returns at the position. The unit finished sixth in SEC pass defense last season (212.7) but benefited from the league's best pass rush. The experience in the secondary is helpful but more consistency is needed from this group.
8. Alabama:
The Crimson Tide had a rough year on the back end in 2014, finishing 11th in the SEC in passing yards allowed per game (226). The group has a new secondary coach (Mel Tucker) but a lot of attrition, with
Landon Collins
,
Nick Perry
and
Jarrick Williams
gone.
Cyrus Jones
, who led the team with 13 pass breakups, and
Eddie Jackson
, who started 11 games, are back at cornerback as are
Tony Brown
and
Maurice Smith
.
Geno Smith
, who started six games at the Star position, is also back. ESPN 300 safety
Deionte Thompson
and four-star safety
Ronnie Harrison
arrived in January so they'll participate in spring practice.
9. Auburn:
The Tigers yielded a lot to opposing passing games last year (230.08 yards per game; 12th in the SEC), but were also opportunistic, intercepting 22 passes. Returning Auburn defensive backs accounted for 12 of those interceptions --
Jonathan Jones
(six),
Johnathan Ford
(three) and
Trovon Reed
(three). Auburn also welcomes a new secondary coach, Travaris Robinson, who was key in the Tigers' landing four defensive back recruits from Florida on signing day. Numbers are there in terms of options to choose from, now it's just a matter of making on-field progress.
10. South Carolina:
This is a young group that played a lot of freshmen and sophomores last season but will be a year older and should show progress, especially with the addition of new co-defensive coordinator Jon Hoke, who has a long history of coaching defensive backs in the NFL.
Chris Lammons
and
Rico McWilliams
are penciled in as the starting cornerbacks.
Brison Williams
is gone but
T.J. Gurley
, who was second on the team with 80 tackles last season, returns. Corners
Al Harris Jr
. and
D.J. Smith
as well as safeties
Chris Moody
and
Chaz Elder
also return. Look for this group to make strides this season after finishing 10th in pass defense last season.
10. Mississippi State:
There's a lot of room for improvement for the Bulldogs, who allowed the most passing yards per game in the SEC last season and allowed many big plays. They do have a nice talent in
Taveze Calhoun
at cornerback; who starts opposite him is to be determined. (Look for
Will Redmond
and
Cedric Jiles
, who missed all last season with an injury, to compete.) The Bulldogs will be young at safety but did bring in the nation's No. 2 player at the position, ESPN 300 prospect
Jamal Peters
.
12. Kentucky:
The Wildcats return both starting cornerbacks from 2014,
Fred Tiller
and
Cody Quinn
. Starting safety
A.J. Stamps
, a standout junior college transfer, returns after leading the team with four interceptions and safety
Marcus McWilson
, who started the season finale against Louisville, also returns. Kentucky, which was eighth in the SEC in pass defense last year, secured a safety as its top-rated recruit in February, ESPN 300 prospect
Marcus Walker
.
13. Vanderbilt:
The Commodores fielded a young, unproven secondary last season but finished just a hair behind the middle of the pack in the conference, allowing 218.3 passing yards per game. With virtually the entire group back, led by cornerbacks
Torren McGaster
and
Taurean Ferguson
and safeties
Jahmel McIntosh
,
Andrew Williamson
and
Oren Burks
, there's some promise on the back end for Vandy, especially considering the fact that Derek Mason will be simplifying the defense.
14. Texas A&M:
The Aggies were second-to-last in pass defense and last in interceptions a year ago. Gone are veterans
Deshazor Everett
and
Howard Matthews
but senior cornerback
De'Vante Harris
remains. The group surrounding Harris is young, but has a potential star in safety
Armani Watts
. The other cornerback spot is up for grabs this spring but look for
Nick Harvey
to challenge for it. The safety next to Watts could be veteran
Devonta Burns
(last year's nickel),
Donovan Wilson
, or possibly junior college transfer
Justin Evans
.
March, 3, 2015
Mar 3
3:00
PM ET
Naples High has enjoyed tremendous success under head coach Bill Kramer. With two state titles and numerous deep playoff runs, the Southwest Florida 6A power has become a must stop for college coaches having produced a number of national recruited prospects over the past decade.
In the 2016 class, there are a trio of prospects who rank among the best in the area, state and country.
Fils-aime hot on the trail despite injury in 2014
Headed into the 2014 season, ESPNJr300 running back
Carlin Fils-aime
was a name known to college coaches, and had a handful of offers. After injuring his ankle in Game 4 caused him to miss the rest of the season, the quick and powerful back was unsure what would come of his recruitment.
That question was answered in February with offers from Ohio State, Alabama, Auburn, and Florida.
"After I got injured, I didn't really expect to get any more offers," Said Fils-aime. "When those schools offered me I was pretty shocked because of my injury."
The Gators are one of several schools the 5-foot-10, 175-pounder plans to visit in the coming weeks.
"For now, we are trying to go up to Florida during spring break, but if not will get up there in the summer. We also want to visit Georgia, North Carolina, N.C. State if we can this summer. I'll probably fly up to Ohio State, too. I was just at Miami, and had a great time. I was impressed with how they rotated their backs in practice, and the basketball game against North Carolina was fun."
If there is one program yet to offer that could be a game-changer in the physical back's recruitment, it would be Stanford.
"I'm a big Stanford fan. I have always liked them because they have a great law program, and if football doesn't work out for me, I want to go into law. That is one of the schools that I do love."
Naples High head coach Bill Kramer has had some really good backs through the years, including former Ohio State star Carlos Hyde. In Fils-aime, Kramer has a talented athlete who brings a lunch-pail mentality.
"I love his competitive DNA," Said Kramer. "He works in the classroom, and is already qualified. He's a guy that you can count on, and it matters to him every day. Our defensive players say hitting him is like hitting a light pole. He's can make plays in really small spaces, understands leverage, and is really explosive."
Byrd one of the nation's best
The Miami Hurricanes' 2016 class is the best in the nation in the early going. One of the 10 ESPNJr 300 verbals is former Florida pledge
Tyler Byrd
. The 5-foot-11, 195-pound versatile prospect is blessed with rare talent according to Kramer.
"I think he's a Top 50 wide receiver and Top 10 corner. He's really strong physically, he's almost 6-feet even, you are not going to outleap him, and if he gets his hands on you, you are negated. He'll do something about every day that is just spectacular."
Though Byrd is solid with his commitment to the Hurricanes due to the love that Al Golden and staff showed throughout the entire process, programs such as Florida, Georgia, Michigan, and others remain under consideration. On Monday, Byrd said he planned to make all five of his official visits.
Riley the best on defense at Naples High
While Fils-aime and Byrd are names known both regionally and nationally on the recruiting radar, Naples High is home to one of the top sleepers in the Sunshine State in safety
Chris Riley
.
According to Kramer, the 6-foot-3, 180-pound talented all-around athlete is the team's best defensive player, which is saying something considering Byrd is on that same unit.
"Our best defensive player, and that's saying something because we have some really good players. He was Southwest Florida Defensive Player of the Year for good reason. He has tremendous length, he's physical, knows all of his run fits, and is a great tackler. We can't count how many one-on-one tackles he's made in space against really good players. He can also cover man, is terrific in zone, and understands how it all works and fits together."
Riley is receiving interest from North Carolina, Boston College, and a growing list of others.
"I've heard from North Carolina, Boston College, Purdue, Georgia Tech, Harvard and Yale," Said Riley. "North Carolina and Boston College are two I really want [offers]."
Riley had 103 tackles and two interceptions as a junior, taking home area Defensive Player of the Year honors, as well as being an all-area punter. Riley's father, Chris Riley, played quarterback at Connecticut.
Defensive tackle Colton Strickland and kicker Jerry Nunez are also expected to receive offers in the 2016 class.
March, 2, 2015
Mar 2
12:34
PM ET
KISSIMMEE, Fla. —
Nate Craig-Myers
, the top-ranked receiver in the 2016 class, was in attendance at the Nike Football The Opening Orlando Regional on Sunday. Because of a leg injury suffered during his senior season, the 6-foot-2, 202-pound athlete did not participate. Craig-Myers did, however, take a few minutes to give an update on his recruitment.
Craig-Myers, the 10th-ranked player overall in the ESPN Junior 300, has been committed to Auburn since last July, but it is no secret that he continues to look at other programs. The talented pass-catcher took a visit to FSU on Saturday and came away impressed with his time in Tallahassee.
To continue reading this article you must be an Insider
March, 2, 2015
Mar 2
10:30
AM ET
e SEC lost some playmakers at linebacker this past year, but the position still looks strong heading into 2015 thanks to a handful of players that turned down the NFL to return to school. The league also signed five of the top 10 linebackers in the 2015 recruiting class.
It's only March and spring practice has yet to begin for the majority of the SEC, but here's an early look at how the teams stacks up at linebacker as part of our
pre-spring rankings
:
1. Georgia:
Despite losing their two leading tacklers, the Bulldogs still take the top spot heading into 2015. That's because they return
Leonard Floyd
,
Jordan Jenkins
and
Lorenzo Carter
, three dynamic pass-rushers on the outside who all have a future in the NFL. In the middle,
Tim Kimbrough
should emerge given more opportunity, and
Jake Ganus
comes over from UAB where he led the Blazers with 70 tackles and 16.5 tackles for loss.
2. Alabama:
The Crimson Tide also lost a couple key names from last year, but there's still plenty of talent to go around. The star is
Reggie Ragland
, an All-SEC selection who flirted with the NFL before opting to come back for his senior year. He heads a group that lacks in experience but not in talent.
Denzel Devall
should be healthy;
Ryan Anderson
is primed for a breakout season; and
Reuben Foster
might finally become more than just a special teams ace.
3. Missouri:
We might need to change the name from "D-Line Zou" to "Linebacker Zou" in 2015. That's not to take anything away from Missouri's defensive line. It's simply a testament to the linebackers. The Tigers return two of the SEC's leading tacklers from a year ago in
Kentrell Brothers
(122) and
Michael Scherer
(114), and when you throw in the likes of
Donavin Newsom
,
Eric Beisel
and
Clarence Green
, it's also one of the deeper groups in the conference.
4. Auburn:
The defense was bad last year, but let's not blame the linebackers.
Cassanova McKinzy
and
Kris Frost
actually played well for most of the season and both are returning this fall. They should benefit from the arrival of new defensive coordinator Will Muschamp whose new scheme will also provide more opportunities for sophomore-to-be Tre Williams and the quartet of ESPN 300 linebackers that signed in February.

5. Tennessee:
Losing
A.J. Johnson
hurts, but the Volunteers played without him the final three games last year and didn't miss a beat. They return leading tackler
Jalen Reeves-Maybin
, as well as
Curt Maggitt
, an All-SEC selection who bounced back after missing all of 2013 due to injury. Sophomore-to-be
Jakob Johnson
filled in admirably for A.J. Johnson down the stretch, but he's no lock to win the job. Incoming freshman Darren Kirkland Jr. will be in the mix once healthy.

6. LSU:
This could've been a top-3 group had
Kwon Alexander
not left early, but don't be fooled by the lack of household names. It's still a solid unit.
Kendell Beckwith
is back. He was second on the team in tackles (77) and tackles for loss (7.5).
Lamar Louis
and
Deion Jones
both have game experience. And look for
Clifton Garrett
to play an expanded role as a sophomore.
7. Vanderbilt:
Too high considering Vanderbilt's record last year? If anything, it's too low. Derek Mason is building his defense around the linebackers, and it shows. Between
Stephen Weatherly
,
Nigel Bowden
and
Zach Cunningham
, this has the potential to be one of the better units in the SEC. The addition of junior college transfer Nehemiah Mitchell only makes it better.
8. South Carolina:
Skai Moore
and
Jonathan Walton
form one of the better linebacker tandems in the SEC. They finished among the team leaders in tackles a year ago, and are primed to take another step in 2015. Moore and Walton highlight a deep group that got even deeper in January when the Gamecocks added three early enrollees at the linebacker spot.
9. Mississippi State:
Richie Brown
became best known for his beard last year, but he quietly put together a solid season on the field. And to think, he's not even the best Brown in the group. That title goes to
Beniquez Brown
, the team's second-leading tackler. The Bulldogs will miss
Benardrick McKinney
, but the addition of ESPN 300 star Leo Lewis will help ease the pain.
10. Florida:
The Gators are one of the SEC's bigger unknowns when it comes to linebackers. We don't know how healthy
Antonio Morrison
will be after his injury in the bowl game. When healthy, he's one of the league's best. We don't know who the new coaching staff will favor, but
Jarrad Davis
and
Daniel McMillian
are both candidates for increased playing time.
11. Kentucky:
Alvin "Bud" Dupree was the star of this defense a year ago, but linebacker
Josh Forrest
quietly shined with 110 tackles, fifth most in the SEC. He's back along with
Ryan Flannigan
, a junior college transfer who eventually took over the job at weakside linebacker. The Wildcats are hoping Nebraska transfer
Courtney Love
is eligible to play right away.
12. Arkansas:
Gone is
Martrell Spaight
, a first-team All-SEC player who led the conference with 128 tackles last year. Who is going to step up and replace that production for the Razorbacks this fall? The most likely candidate is
Brooks Ellis
. The junior-to-be finished second on the team in tackles and will be asked to take on more of a leadership role this coming season.
13. Ole Miss:
The only linebacker with any experience returning is
Denzel Nkemdiche
, and he's still not 100 percent after breaking his leg in the fall, though the videos of him running recently bode well for the Rebels going forward.
Christian Russell
, who got his feet wet last year, is the early favorite to take over in the middle.
14. Texas A&M:
This was the Achilles' heel for a defense that struggled mightily last year. Will the unit improve? It can't get much worse, but don't expect a huge turnaround overnight. There's still work to be done. The key will be rising sophomore Otaro Alaka who has the potential to become a star in the SEC.
McElwain discusses new Florida football
SEC SCOREBOARD
Thursday, 9/3
Saturday, 9/5