January, 22, 2015
Jan 22
3:00
PM ET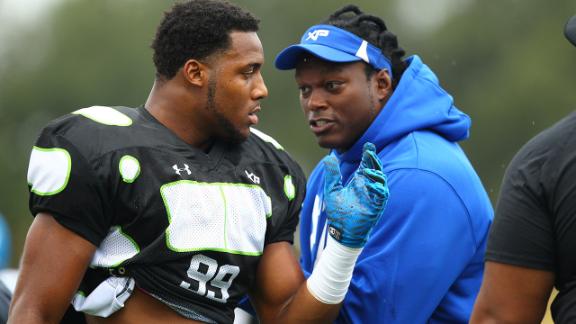 There are less than two weeks until national signing day, and five-star defensive end
Byron Cowart
is closing on his college decision. The No. 1-ranked player in the ESPN 300 had a top three of Auburn, Florida, and Florida State just last week, and now the 6-foot-3, 258-pound defensive end has dwindled his choices to two.
"I would have to say, just to be honest, Auburn and Florida are my top two schools," Cowart said. "I have to keep it professional -- I have to. Who knows, you see coaches and they go into the league, and when it's time for you to get drafted you don't want to have a bad name.
"A lot of guys say things that they back away from, and yeah I probably said 'yeah I like this school and I might end up coming here' but that's probably how I was feeling at the time, but a lot of things happen and I just want people to know that I'm man enough to say 'thank you for recruiting me, but I might not go to your school.' But right now, truly, it will come down to Auburn and Florida. That's just being honest."
That is somewhat of a surprise considering FSU coaches visited Cowart at his school on Wednesday afternoon and Cowart was scheduled to take his last visit to Florida State next weekend.
"The visit was good. It was different," Cowart said. "I haven't had the heat put to me like that before. It's crunch time, so they want me to come up for this last visit, but it's like I already know what they can bring to the table, I already know what I can I get from Florida State the school. It's just crazy, I just want to relax and get away, think and get my thoughts together, and that's why I was like 'I don't know if I'm going to do my last visit -- I don't know if I'm going to go anywhere on my last visit.'
"I don't want to make a mistake. Like my mom said, when you are rushing and you're moving too fast sometimes you can make a mistake and go somewhere that you never even thought you would go. So I want to be in the right mind and be focused, and to know that this is the school I want to go to."
January, 22, 2015
Jan 22
11:10
AM ET
The SEC took some flak in 2014 for not having enough elite quarterback play.
Expect some of that flak to return this season, as the SEC once again deals with a handful of young and relatively inexperienced quarterbacks running amok through the league. Seven of the top 14 SEC passers from 2014 won't be returning in 2015, giving some offensive coordinators extra work to do this year.
But fear not OCs and QBs, the league is still stocked with running back talent that should be able to carry some of those offenses still looking for stability at quarterback.
It sounds redundant, but 2015 really could be the "Year of the Running Back." And this group of running backs is on the younger side, but that shouldn't matter. Freshmen running backs took the league by storm last season, and unfortunately for SEC defenses, those kids are only going to get better.
[+] Enlarge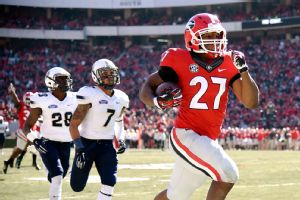 Dale Zanine/USA TODAY SportsNick Chubb rushed for 1,547 yards and 14 TDs last season, despite making just eight starts.
Six of the top-10 statistical running backs return in 2015, and all of them have the capability of making up for some quarterback deficiencies their teams might have.
The four schools that immediately come to mind are Alabama, Arkansas, Georgia, and LSU.
T.J. Yeldon
might be gone at Alabama, but the Crimson Tide will be in very good hands with rising junior
Derrick Henry
taking over as the lead back. Henry and Yeldon shared the carries in 2014, with Henry leading the way with 990 rushing yards. The return of
Kenyan Drake
will add another dimension to Alabama's running game, but Henry is a special talent, and with Alabama breaking in a new quarterback, a restructured offensive line and a young group of receivers, Henry will have plenty of opportunities to shine.
Leading the charge of the running back revolution is rising sophomore
Nick Chubb
, who will be the center of attention in Georgia's offense while the Bulldogs look for a quarterback. You think that's an issue for Chubb? All he did was rank second in the SEC in rushing (1,547 yards and 14 touchdowns) after making just eight starts last season. He was thrust into the starting role after star running back
Todd Gurley
was suspended by the NCAA for four games and then tore his ACL in his late-season return.
That led to Chubb running over, around and through so many unfortunate defenders. In those eight starts, he never dipped below 100 rushing yards and averaged 165.4 per game. Like Gurley, Chubb just runs on another level and appears to either be from another planet or constructed in a lab hidden in the Mojave Desert. The Bulldogs bring back solid talent around Chubb, but let's face it, if new offensive coordinator Brian Schottenheimer isn't routinely handing the rock to Chubb, something just isn't right.
About 600 miles southwest of Chubb is his position rival for the next two years: LSU's
Leonard Fournette
. Another manchild who roughed up plenty of defenders this past season (
so, so sorry Aggies
), Fournette will have to carry the load for the Tigers in 2015, because we just don't know what to expect from the quarterback position. He needed some time to feel comfortable, but when he did, he made his opponents suffer, finishing the season with 1,034 and 10 touchdowns.
Then, there is Arkansas, which has the SEC's best running back duo in
Jonathan Williams
and
Alex Collins
. Both rushed for more than 1,000 yards last season, and with
Brandon Allen
still needing to find his way at quarterback, those two will be relied upon again in 2015. And why not? Coach Bret Bielema wants to pound his opponents into submission anyway, and those two have done it well for the past two seasons.
And just for the heck of it, Tennessee's
Jalen Hurd
will rush for 1,000 yards, even with talented quarterback
Joshua Dobbs
under center.
Here are some other running backs who might have to push their quarterbacks:
Kelvin Taylor/Adam Lane Jr., Florida:
With new coach Jim McElwain installing yet another offense in Gainesville, the Gators have yet another quarterback battle on their hands. The good news is that Taylor and Lane have the potential to be a solid duo. Taylor rushed for 565 and six touchdowns as a backup last season, and Lane broke out in Florida's bowl game, rushing for 109 yards and touchdown.
Brandon Wilds, South Carolina:
The Gamecocks lose
Dylan Thompson
at quarterback, and there is a bit of a battle brewing for his replacement. Wilds, who has 1,277 career rushing yards, has been very solid, and should have no trouble taking over as the starter for
Mike Davis
.
Ralph Webb, Vanderbilt:
Another freshman standout in 2014, Webb will have to continue to be Vandy's top offensive weapon in 2015. The quarterback situation was up-and-down last season, and who knows what it will look like this year. Webb rushed for 907 yards and four touchdowns last season.
Russell Hansbrough, Missouri:
But the Tigers have veteran
Maty Mauk
at quarterback! Well, he wasn't exactly consistent last season, and proved to be a liability at times for Mizzou's offense. Hansbrough, on the other hand, rushed for 1,084 yards and 10 touchdowns in a breakout year. With
Marcus Murphy
gone, Hansbrough should grab the majority of carries and improve on a very solid first year as a starter.
January, 22, 2015
Jan 22
10:00
AM ET
We're almost done with our ranking of the SEC's Top 25 players for the 2014 season, and today we take a look at Nos. 6-10:
6. Dante Fowler Jr., DE/LB, Florida

He entered the season with a chance to put his name among the SEC's best pass-rushers, and he didn't disappoint. The hybrid defensive end/linebacker played the Buck position excellently all season. He led the Gators in sacks (8.5), tackles for loss (15) and quarterback hurries (17). Fowler has always been a physical specimen during his time in Gainesville, but his in-game evolution really shined in 2014. He played smarter and was much more disruptive on the outside. He was able to cover a lot of ground from the Buck position, finishing with 60 tackles and two forced fumbles. He was a major energy source for Florida's defense and was able to disrupt plays without recording stats. He played himself into possibly being a top-10 pick in this year's NFL draft.
7. La'el Collins, OT, LSU
The second-team All-American was one of the SEC's best linemen this season after a solid year in 2013. Collins anchored LSU's line from that left tackle position and led the team in both offensive snaps (843) and knockdowns (88). The first-team All-SEC member also received the Jacobs Blocking Trophy, which is presented annually to the top offensive lineman in the SEC, as voted on by the league's coaches. Collins really excelled as a run-blocker for the Tigers in '14 and could land himself in the first round of this year's NFL draft. He could play either left or right tackle at the next level.
8. Senquez Golson, CB, Ole Miss
Talk about a major turnaround. Golson went from just an OK athlete running around Ole Miss' secondary to the league's top statistical cornerback in 2014. The 5-foot-9, 176-pound defensive spark plug was the ultimate ball hawk on the outside for the Rebels; he led the SEC in 2014 with a school record-tying 10 interceptions and tied for first in the league with 18 defended passes. The first-team All-American essentially took one side of the field away from opposing quarterbacks, while his speed and athleticism helped him cover plenty of ground in the defensive backfield. Golson totaled 43 tackles (33 solo) and averaged 1.4 passes defended per game.
9. Reese Dismukes, C, Auburn
I know, how was he still in college last season? The old man on the Plains played with the style of a polished veteran but had the energy of a young pup for the Tigers. Dismukes wasn't just the SEC's best center this year, he was officially named the nation's best center, winning the Rimington Trophy in December. For the past two seasons, Dismukes has been a team captain for the Tigers, and he has consistently been one of the toughest linemen to beat across the country.
10. Todd Gurley, RB, Georgia
Even though a four-game suspension and an eventual ACL injury cut his 2014 season short, a healthy Todd Gurley was arguably the nation's best player, regardless of position. Gurley went from an injury-riddled 2013 season to being in the best football shape of his Bulldog life at the beginning of the 2014 season. In the five games prior to his suspension, Gurley rushed for an SEC-high 773 yards and had eight rushing touchdowns. He also returned a kick 100 yards for a touchdown. After he returned, Gurley rushed for 138 yards and a touchdown before going down with that ACL injury. In six games, Gurley rushed for 911 yards (151.8 yards per game) and nine touchdowns, averaging 7.4 yards per carry. He also rushed for at least 131 yards in five of those six games.
January, 22, 2015
Jan 22
9:00
AM ET
In the 100 days leading up to signing day 2015, RecruitingNation will be looking back at our ESPN recruiting rankings from 2006 to the present and count down the best player of the past 10 years at each ranking position, No. 100 to No. 1.
Tim Tebow, No. 15 in 2006 class
Tebow made official visits coming out of Nease High in Ponte Vedra, Florida, but was considered a near-lock for the
Florida Gators
-- who won out
Tebow
Tebow earned the backup job as a true freshman in 2006 playing behind senior Chris Leak on the Gators' BCS national championship team, finishing second on the team in rushing yards. He accounted for two touchdowns in the title-game win over Ohio State.
As a sophomore, Tebow took over as the starting signal caller and quickly became one of the most dominant players in college football. He won the Heisman Trophy, AP Player of the Year and Davey O'Brien Award to go with All-SEC honors. He set SEC season records with 23 rushing touchdowns and 55 total touchdowns accounted for. In 13 games, Tebow threw for 3,286 yards and 32 touchdowns while rushing for 895 yards.
In 2008, Tebow's numbers would dip but he led the Gators to a second national championship in three seasons, throwing for 2,747 yards and 30 TDs. He also rushed for 673 yards and 12 scores. He was selected first-team All-American, was the SEC Offensive Player of the Year, won a second straight Maxwell Award, took home the Manning Award and finished third in the Heisman Trophy voting following the season.
Tebow capped one of the best careers in college football history in 2009 throwing for 2,895 yards and 21 scores and rushing for 910 yards and 14 TD's in 14 games. Following the season, Tebow was awarded first-team All-SEC designation for a third consecutive year and was a Heisman Trophy finalst for a third straight year.
Tebow closed out his Florida career with a 35-6 record as the starting quarterback, including 2-0 in BCS bowl games. He threw for 9,286 yards and 88 TDs to go with 2,947 rushing yards and 57 scores in four seasons. He was inducted into the University of Florida Hall of Fame in April 2009.
Tebow was selected No. 25 overall in the 2010 NFL draft by the
Denver Broncos
, where he started 14 games in two seasons before being traded to the
New York Jets
.
Honorable mention:
A number of prospects ranked No. 15 have gone on to terrific college and/or NFL careers.
Carlos Dunlap
, No. 15 in 2007 class, played at Florida and was drafted in the second round (No. 54 overall) in 2010. Greg Reid, No. 15 in 2009 class, was a standout at Florida State before off-the-field issues cut short his time in Tallahassee. That also hurt his NFL draft stock.
Ahmad Dixon
, No. 15 in 2010, was a seventh round draft selection in the 2014 draft after a standout career at Baylor.
Aaron Lynch
, No. 15 in 2011 class, played at Notre Dame and South Florida before being selected in the fifth round of the 2014 draft by the
San Francisco 49ers
where he is projected to start in 2015. Christian Hackenberg, No. 15 in 2013 class, is a projected NFL draft selection in 2016 or 2017.
January, 21, 2015
Jan 21
2:30
PM ET
Uniforms don't win games, and indoor facilities don't instantly make players faster or help quarterbacks throw farther.
But they are things that are aesthetically pleasing in recruiting, and they are things that certainly help teams in the never-ending college football arms race.
On Wednesday, Florida announced its long overdue plan to
finally build an indoor football practice facility
. The facility, which will be completed in early September and will house a full 120-yard,
synthetic turf football field, is something that any powerhouse program should have, especially in a weather-ravaged state like Florida. The days of having to move practices to the Stephen C. O'Connell Center, which is about to undergo its own major renovation, or Florida Gym will soon be over. The days of having to cancel practices all together or having to practice under the (un)comforts of a parking garage will soon be a thing of the past.
In a release on Wednesday, the school estimated 30 practices were affected by weather during the 2014 season. That's all time lost for development. That's lost practice time, and if you saw Florida's 2014 season, you know that was valuable time.
Florida, which has needed facility upgrades for some time now, took a great step forward by getting with the times. And while it will help ease the stresses of practicing in a state that can have an unplanned monsoon hit at any second, an indoor practice facility will be a very attractive new feature for the Gators to use in recruiting.
Yes, part of this $15 million project is for enticing high school athletes, but that's the world we live in. They want the glitter. They want the flashy new toys. You have to go the extra mile more and more to attract the top players in the county, and a new indoor facility will go a long way with recruits. With the state of the program, Florida couldn't risk taking any extra recruiting hits, and this is a way to combat that.
"This is something we have talked about internally for some time," Florida athletic director Jeremy Foley said.
It has been something discussed for years internally and externally, and there's no question that Florida's facilities have lagged behind a lot of other SEC programs. Every other team in the SEC either has some sort of indoor practice facility or is in the process of getting one, and Florida waiting until 2015 to get one has always been perplexing. Georgia has a 30-yard indoor field, but is working out plans to construct one in the near future.
Every program undergoes changes, and Florida is adding to and building up its brand with this indoor facility. During Will Muschamp's farewell news conference in November, Foley was asked if he felt Florida's facilities needed an upgrade after much was made about the Gators falling behind in that area.
Here's some of what he said:
"I wear orange and blue goggles a lot and I'm certainly willing to have wideopen eyes but I don't agree with that assessment that our facilities have fallen behind. We judge our facilities based on can they help our programs be successful. Do they make an impact on their ability to be successful, whether that's a weight room for football, gymnastics practice studio, what have you. As you look around our facilities, we're not into bells and whistles ... We're always looking to upgrade our facilities but we're not getting into an arms race and our facilities are not any issue in my opinion, affecting our success."
While I don't believe that not having an indoor practice field or a nicer locker room is the reason Florida has struggled over the last five years, not having the bells and whistles does turn off some kids. We are in an age of materialistic recruiting, and regardless of what Foley says, every team is in an arms race, and that won't stop ... especially in the SEC.
January, 21, 2015
Jan 21
11:17
AM ET
Associated Press
[+] Enlarge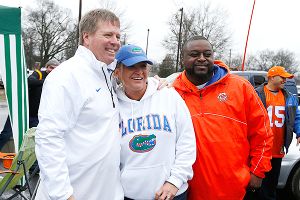 Tim Casey/UAA CommunicationsNew Florida coach Jim McElwain, left, will soon have the option of having the Gators practice indoors.
GAINESVILLE, Fla. -- Florida announced plans for a $15 million indoor practice facility for football on Wednesday, becoming one of the last Southeastern Conference teams to build one.
Vanderbilt unveiled its full-size facility in November 2013. South Carolina is building one that is expected to open later this year.
Georgia has a 30-yard indoor field that's used for warm-ups and some drills, but far from ideal for full practices. Last September, the Bulldogs approved $400,000 for initial research into the construction of a full-size indoor facility.
The Florida project is expected to be completed in early September. It's one of the first steps in getting the football program back on par with some of the league's -- and nation's -- elite.
January, 21, 2015
Jan 21
10:30
AM ET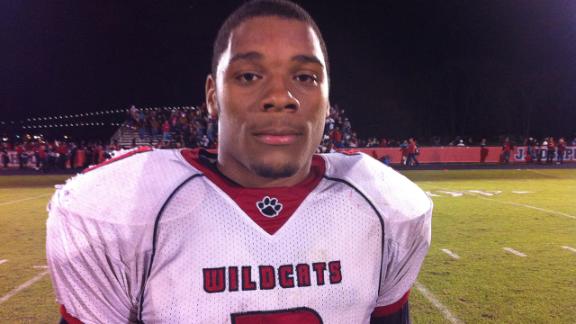 GLEN ST. MARY, Fla. -- Five-star defensive end
CeCe Jefferson
is nearing the time to make his college decision and the No. 9-ranked player in the ESPN 300 is starting to narrow his choices.
To continue reading this article you must be an Insider
January, 21, 2015
Jan 21
9:00
AM ET
1. Here's another kind of story that we occasionally see this time of year -- of the much more pleasant variety than those about transfers and dismissals. Florida tight end
Jake McGee
tweeted Tuesday that the
NCAA granted him a sixth season of eligibility
after he broke his leg in the first game of the Gators' 2014 season. Georgia offensive lineman
Kolton Houston
received
similar news about a month ago
, less than two years removed from a years-long eligibility case that prevented him from playing during his first three seasons on campus. It's always nice to see the NCAA side with the athletes and give them the opportunity to make full use of their college experience when possible.
2. So maybe
Nick Marshall
is a defensive back, after all. Since it seemed likely that he would shift from quarterback -- where he starred at Auburn -- to cornerback during the run-up to the NFL draft, it seemed surprising when initial stories had
Marshall coming to the Senior Bowl as a quarterback
. Marshall cleared things up on Tuesday, however, saying he
expects to be a defensive back in the pros
after practicing at corner and as a gunner on special teams. When Southeastern Louisiana's Bryan Bennett joined the South team's roster Tuesday, it
enabled Marshall to shift to cornerback full-time for this week's practices
.
3. He's been rumored to be a front-runner for the
San Francisco 49ers
' offensive coordinator opening, but
Lane Kiffin continues to recruit for Alabama
. Crimson Tide coach Nick Saban said Tuesday at Senior Bowl practice that he couldn't say with certainty that Kiffin would return to his staff next season, but he's "hopeful that will continue." Kiffin certainly provided a jolt for Alabama's offense last season, helping
Blake Sims
become one of the nation's most efficient passers and funneling the ball to receiver
Amari Cooper
enough to solidify his status one of the
most coveted prospects in the upcoming NFL draft
.

. Kiffin
predicted during Sugar Bowl week
that he would return to Alabama in 2015, but an NFL coordinator job would have to be tempting for the former NFL coach.
Around the SEC
Age is just a number to Steve Spurrier
, 69, who said he feels "really good" physically and has dedicated himself to improving South Carolina's performance from its disappointing 2014 campaign.
Former Missouri football player Phil Pitts reportedly stepped down from his position as head coach at Helias High School in Jefferson City, Missouri,
to accept a coaching position at Mizzou
. Pitts played at Missouri under Gary Pinkel, who is still recruiting Helias' star tight end
Hale Hentges
, a 2015 Alabama commit.
Tennessee will play its annual
Orange and White spring game
on April 25.
Louisiana athlete
Donte Jackson
will
announce his pick
between LSU and Georgia on Wednesday at 11:30 a.m. ET.
Alabama defensive end prospect Prince Tega Wanagho Jr., whose "Coming to America" story we mentioned in Monday's morning links,
suffered a serious left leg injury
during a basketball game Tuesday night. Wanagho recently emerged as one of the nation's hottest football prospects by flashing a rare combination of size and athleticism in his first year playing football after moving to the U.S. from Nigeria.
Tweet of the day
Lets try this college thing one more time! thanks @ncaa = = see you in the fall!

— Jake McGee (@JakeOvaTheWorld) January 20, 2015
January, 21, 2015
Jan 21
9:00
AM ET
Tuesday was a busy day on the recruiting trail with head coaches and assistants earning frequent flyer miles with national signing day only 15 days away. The headliner on Tuesday was No. 2-ranked
Terry Beckner Jr.
and a visit from Florida State.
To continue reading this article you must be an Insider
January, 20, 2015
Jan 20
10:00
AM ET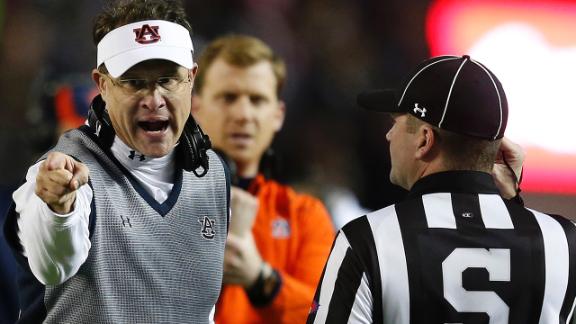 National signing day is less than three weeks away and it's coming down to crunch time. This past weekend was one of three remaining weekends for recruits to take official visits before signing day and some of the top prospects took full advantage of the available weekend. Auburn had a monster recruiting weekend and, though not to the same extent, so did Alabama, Texas A&M, Florida, Tennessee, Vanderbilt and others. Here's a closer look at the top news from this past weekend.
To continue reading this article you must be an Insider
January, 20, 2015
Jan 20
10:00
AM ET
Now that you've seen our first round of the SEC's best 25 players from the 2014 season, it's time to see who made the next cut in our countdown:

16. Trey Flowers, DE, Arkansas
Flowers left Arkansas on a very high note after a very productive 2014 season. One of the league's best defensive linemen, Flowers ranked fourth in the SEC with 15.5 tackles for loss and led the Hogs with six sacks. Flowers finished his Arkansas career with 18 career sacks. Last season, he ranked third on the team in total tackles (68) and solo stops (34). Flowers also led the team with nine quarterback hurries, and he defended six passes. Another aspect of Flowers' game that made him so successful was how he could create plays for other teammates. Flowers was such a disruptive player that he was able to direct plays away from himself and right into the hands of his teammates.

17. Vernon Hargreaves III, CB, Florida
Yet again, Hargreaves was one of the SEC's best cover corners. Scratch that, he was yet again one of the nation's best cover corners. For the second straight year, Hargreaves was named All-SEC, and for the second straight year he grabbed three interceptions. In 2014, he ranked second in the SEC with 16 passes defended and averaged 1.33 passes defended per game. Hargreaves wasn't always perfect (see the Alabama game against
Amari Cooper
), but quarterbacks always took a risk throwing to his side of the field. Hargreaves lined up outside and inside throughout the season, and with his speed and strength, he was able to make play after play while draping the guys he was covering. He had 50 tackles, including two for loss, and recovered two fumbles.

18. Bud Dupree, DE, Kentucky
Dupree might be the best player no one has really talked about enough over the last three years. His sack totals have increased every year, and after registering 7.5 sacks in 2014, Dupree finished his Kentucky career with 23.5 sacks. Dupree can play both defensive end and linebacker, and has during his career. In 2014, he recorded 12.5 tackles for loss and forced two fumbles. He also snagged an interception. The All-SEC selection recorded at least three tackles in all 12 games he played in this season, and was second on the team with 60 total tackles, including having 45 solo stops. Dupree is a physical freak who has been productive every year at Kentucky, and he has possibly played himself into being a first-round pick in this year's NFL draft.

19. Derek Barnett, DE, Tennessee
Somehow, this kid was a freshman in 2014, yet he became one of the SEC's best pass-rushers after finishing second in the league with 20.5 tackles for loss and tying for fourth with 10 sacks. Both numbers were records for a true freshman at Tennessee. Barnett also tied for first in the SEC and tied for sixth nationally in tackles for loss per game (1.6). He notched 72 tackles, including 47 solo stops. Barnett, who started 10 games for the Vols in 2014, recorded at least a half-tackle for loss in 11 games. He also had three multisack games, including two games with three sacks (the three sacks are a school record). All of Barnett's sacks came in SEC play, while 18 of his tackles for loss occurred in league play and led the SEC. Let me repeat that Barnett did all this -- and was named an All-SEC second-teamer by both the Associated Press and league coaches -- as a true freshman.

20. Martrell Spaight, LB, Arkansas

Spaight was a lightning rod for production in 2014. The 6-foot-2, 231-pound All-SEC first-teamer led the league with 128 tackles and led the Razorbacks with 63 solo tackles. He became the first player in Arkansas history to lead the SEC in tackles. Spaight had no problem flying around the field to make plays in the middle and side to side, but he was also third on Arkansas' team with 10.5 tackles for loss and also had a sack. He defended four passes with an interception and forced two fumbles, and he was credited with four quarterback hurries. Spaight recorded at least five tackles in every game this season and started all 13 games.
January, 18, 2015
Jan 18
1:45
PM ET
Auburn hosted an incredible seven five-star prospects over the weekend, while Alabama, Tennessee, Florida, Texas A&M and other SEC schools also had big recruiting weekends. Here's a closer look at some of the top sights and sounds from the weekend visitors.
Three-star linebacker Dwaine Thomas flipped his commitment from Louisiana-Lafayette to Texas A&M on Saturday afternoon. Thomas tweeted out a photo of himself wearing an Aggies jersey and helmet.
GigEm< pic.twitter.com/qp5TMUQjTT

— Dweezy (@_dweezy15) January 17, 2015
Auburn had a huge recruiting weekend. Here are several photos prospects tweeted out over the course of the weekend:
Georgia commit
Terry Godwin
posing with Auburn head coach Gus Malzahn.
Me and coach Malzahn on my Official Visit ....=/=/ #4sUp pic.twitter.com/kJJ6bivmM0

— DreamTeam_Austin (@TerryGodwin_4) January 18, 2015
Five-star defensive end
CeCe Jefferson
posing with a young fan after Auburn's basketball game Saturday night.
@cecejeferson7 thank you for the picture with my son #WarEagle pic.twitter.com/qOMGPbMnnY

— Jay (@AUJay17) January 18, 2015
Byron Cowart
posted an Instagram photo of himself along with Jefferson and four-star linebacker
Jeffery Holland
on Auburn's field.
Auburn commit
Jordan Colbert
posted several pictures of other targets wearing Auburn jerseys in the Tigers locker room.
in da locker room wit da homies = look at my face wit the head man son = WAR EAGLE pic.twitter.com/JL0Y96nidB

— Hollywood (@Og_smxx) January 18, 2015
ESPN 300 defensive end
Arden Key
took an official visit to LSU with his family. Here are a few photos of his time in Baton Rouge.
LSU Visit == pic.twitter.com/3jxEopHeSG

— Ronald & Aden (@Loveyourangel_) January 17, 2015
Alabama also had a big recruiting weekend. Here is a photo of Arkansas wide receiver commit
K.J. Hill
, Miami receiver commit
Lawrence Cager
and Alabama safety commit
Rico McGraw
.
#Alabama visit @LawrenceCager3 @KayJayHill @LoveHateRico pic.twitter.com/S1IvnWi2S3

— InsideBamaRecruiting (@RTRnews) January 18, 2015
Here's Alabama commit
Adonis Thomas
in a Crimson Tide uniform.
It's really gonna be a honor and privilege wearing that Crimson&White #RollTide #BuiltByBama pic.twitter.com/yJqy4BQIxP

— Adonis Thomas (@_SimplyThatGuy5) January 18, 2015
Tennessee commit
Kyle Phillips
tweeted a photo of several Tennessee commits goofing around.
Kahlil said just wait on it but I can't wait any longer #GBO #VFL pic.twitter.com/BDHqovL3ys

— kyle phillips#5 (@K5_Phillips) January 17, 2015
Mississippi State wide receiver commit Farrod Green tweeted a photo of himself in a Bulldogs uniform.
Home is wherever the authentic , unconditional love is - THIS IS HOME =6= pic.twitter.com/7p7VanIXZF

— Farrod Green (@iamfarrodgreen) January 18, 2015
Virginia Tech commit
Houshun Gaines
poses for a picture with Vanderbilt head coach Derek Mason.
Quick selfie with the head man.. #AnchorDown pic.twitter.com/bhyYsYgfDd

— Houshun Gaines (@HZGduoUno) January 17, 2015
Kentucky commit
Jeremiah Dinson
poses with uncommitted cornerback
Rashad Fenton
at the University of Florida.
"@_sleepp: @New_EraJD3 TV TIME= pic.twitter.com/2trSfzvanN"===

— 3" The Hard Way " (@New_EraJD3) January 17, 2015
Florida commit
Tyler Jordan
and South Carolina commit
Christian Pellage
pose for a picture while at Florida.
Wit the big bois pic.twitter.com/ALfbEV8Lde

— Daniel Imatorbhebhe (@_bhex2) January 18, 2015
Another Florida commit,
Mike Horton
, tweeted out a photo of him in a Gators jersey.
We bringing that Orange on Orange back! pic.twitter.com/dUCSaB0xLv

— Mike Horton7"9" (@big_mike247) January 18, 2015
January, 18, 2015
Jan 18
11:17
AM ET
We're wrapping up the 2014 season by ranking the top 100 players in college football, just as we did before the season. As the rankings are announced, you can also find them here on the pages of ESPN.com.
What is #CFBrank?
#CFBrank is the Twitter hashtag to use if you want to get involved in the discussion or just follow along.
How did we rank the players?
We asked 32 of ESPN's college football writers and editors to rate players on a 0-10 scale based on their performance during the 2014 season.
January, 17, 2015
Jan 17
12:38
AM ET
We're wrapping up the 2014 season by ranking the top 100 players in college football, just like we did before the season. As the rankings are announced, you can also find them here on the pages of ESPN.com.
What is #CFBrank?
#CFBrank is the Twitter hashtag to use if you want to get involved in the discussion or just follow along.
How did we rank the players?
We asked 32 of ESPN's college football writers and editors to rate players on a scale of 0-10 based on their performance during the 2014 season.
Best recruiting classes in the past 10 years