February, 17, 2015
Feb 17
10:00
AM ET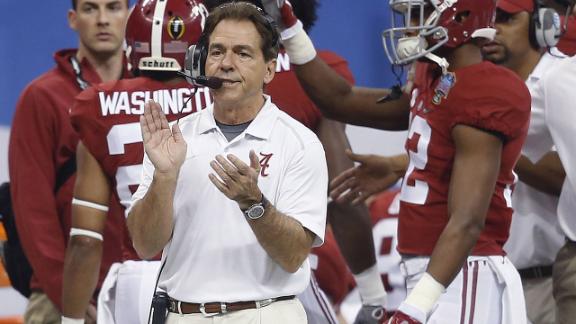 When the
Ultimate ESPN 300
was released on Monday, there were some noticeable surprises. Some players shot to near the top of the list early on in their careers, while other players weren't ranked high coming out of college but now appear on this prestigious list. Here's a closer look at some of the top surprises in the SEC.
February, 16, 2015
Feb 16
4:00
PM ET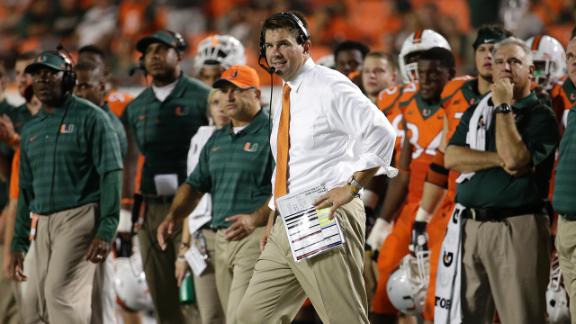 COCOA BEACH, Fla. -- When the top prospects get together at an even such as the Pylon 7-on-7, there are always a number of interesting topics on the recruiting front to be discussed. In particular, last weekend's 7-on-7 featured many of the top skill prospects in Broward, Dade and Palm Beach counties and that meant the Miami Hurricanes were a topic of discussion.
When talking about Miami in it's current state, the main question is when or if The U will be back among the nation's elite.
After a 9-4 season in 2013, the Hurricanes took a step back in 2014, finishing 6-7, albeit with a talented freshman quarterback in Brad Kaaya who certainly provides Miami fans hope for 2015 and beyond. That means the 2015 season is a make-or-break one for Al Golden and staff with the rival
Florida State Seminoles
winning and recruiting at a very high level and the
Florida Gators
sure to get the recruiting bounce in 2016 after a coaching change and the ability to sell a vision for the future to top prospects in the Sunshine State.
To continue reading this article you must be an Insider
February, 16, 2015
Feb 16
10:00
AM ET
The
Ultimate ESPN 300
is RecruitingNation's ranking of the best prospects since we began evaluating high school athletes in 2006. That means there are many names on the list known to college football and recruiting fans since coming out of high school. The list can also provide glimpses of which states have been top producers since 2006 and which teams have done the best and worst jobs of evaluating prospects and producing players.
Here are 15 things to know about the Ultimate ESPN 300:
15.
Some classes turn out better than others, and that is true of the 2009 class. There are 45 players from the class in the Ultimate ESPN 300, the most of any class, including 15 that became first-round NFL draft selections. That includes four who signed with Alabama:
Trent Richardson
,
Dre Kirkpatrick
,
D.J. Fluker
and
Chance Warmack
.
14.
Bob Stoops recruited and coached 13 players on the list. Of the 13, four were first-round NFL draft selections led by Pro Bowl defensive tackle
Gerald McCoy
and 2008 Heisman Trophy winner
Sam Bradford
. Nine of the 13 were also members of the Sooners team that lost to Florida for the 2009 BCS National Championship.
13.
The teams that played for the 2012 BCS National Championship, Alabama and LSU, were supremely talented. There are 22 players from those rosters in the Ultimate ESPN 300, including 14 for the Crimson Tide.
12.
Quite possibly the most important part of the recruiting process for coaches is keeping the best at home. Well, only 137 of the Ultimate ESPN 300 stayed in state to play college football. One important aspect of this stat is that not every player on the list had the option to stay in state.
11.
The teams from the 2014 BCS title game are well represented on the list. Twenty-three players from Florida State and Auburn make the list, with the Seminoles accounting for 18.
10.
NCAA FBS single-game-rushing record holder
Samaje Perine
enters the list after a freshman season of 1,713 yards and 21 touchdowns for the
Oklahoma Sooners
. His 427 yards against Kansas in 2014 broke the record a week after
Melvin Gordon
had set a new mark.
9.
The 2011 class is special. That class has 41 players in the Ultimate ESPN 300, including 12 first-round NFL draft picks with more possible, including
Marcus Mariota
,
La'El Collins
and
Shane Ray
. The Sunshine State led the way in the 2011 class with first-round picks:
Sammy Watkins
,
Teddy Bridgewater
,
Ryan Shazier
,
Ha Ha Clinton-Dix
and
Kelvin Benjamin
with more possible to be added to the list.
8.
As expected, the state of Florida leads the way with 52 players on the list. Texas is second with 35, and California third with 28. Georgia follows with 18. Only 23 of the 52 from the Sunshine State stayed in state for college, but 19 of those players left college with national championship rings.
7.
There are 15 players who signed with USC on the list, including
Jarvis Jones
, who would later transfer to Georgia. That's the most from a school on the list that hasn't won a national championship since 2006. Notre Dame is second on that list with 12.
6.
There are six quarterbacks from the state of Texas in the Ultimate ESPN 300, and only one was recruited heavily and offered early by the University of Texas:
Matthew Stafford
. The five who weren't offered or recruited as quarterbacks by the Longhorns:
Andrew Luck
,
Robert Griffin III
,
Johnny Manziel
,
Ryan Mallett
and
J.T. Barrett
.
5.
There are 17 players on the list recruited by Urban Meyer. The impressive list includes Tim Tebow and
Percy Harvin
, along with
Joey Bosa
,
Ezekiel Elliott
and
J.T. Barrett
from 2015 national champion Ohio State.
4.
St. Thomas Aquinas in Fort Lauderdale, Florida, is the high school with the most players on the list with six. That includes NFL running backs
Gionvani Bernard
and
James White
, who were members of the same backfield.
3.
Nick Saban has recruited 25 players to Alabama on the prestigious list. Of those 25, 11 have been first-round NFL draft selections, with that number to hit 13 in a couple of months with
Amari Cooper
and
Landon Collins
projected to be 2015 first-rounders.
2.
South Florida's Dade and Broward counties are the two most talented counties in the country that neighbor each other. To illustrate that fact, 22 members of the Ultimate ESPN 300 are from the otherworldly talented counties, including five NFL first-round draft picks, with that number expected to jump to seven or eight in April. Add in Palm Beach County, which neighbors Broward, and that number jumps to 29 of the 300, including seven first-round picks, with that number sure to hit double digits in two months. If one is a Miami (Fla.) fan, time to turn away, as only four of the 22 from Dade and Broward counties played for the Hurricanes.
1.
How do you win three national championships in six years? Jimmys and Joes are where it must begin, and Alabama has the most of any school on the list with 27. More than half of the 27 have been or will be first-round draft selections after this year's draft. Both Florida and Florida State have 18 apiece on the list.
February, 15, 2015
Feb 15
11:45
AM ET
COCOA BEACH, Fla. -- The 2015 Pylon 7-on-7 tournament at Cocoa Beach High drew many of the top prospects in Florida in the 2016 class Saturday. More than 15 skill players in the
ESPN Junior 300
competed throughout the day, including nationally recruited juniors such as
Trayvon Mullen
,
Darnell Salomon
and quarterback
Ervin "Woody" Barrett
.
Here are notes on some of the top players in attendance:
To continue reading this article you must be an Insider
February, 14, 2015
Feb 14
9:30
PM ET
COCOA BEACH, Fla. -- The Pylon 7-on-7 2015 tournament at Cocoa Beach High drew many of the top prospects in Florida and beyond in the 2016, 2017 and even 2018 classes Saturday. More than 15 skill players in the ESPN Junior 300 competed throughout the day, including nationally-recruited juniors such as
Trayvon Mullen
,
Dredrick Snelson
and quarterback
Ervin "Woody" Barrett
.
Here is the latest on several Sunshine State prospects.
Eli Stove, WR
ESPN Junior 300 ranking:
No. 80
To continue reading this article you must be an Insider
February, 13, 2015
Feb 13
11:19
AM ET
By
Brian Fremeau
| ESPN Insider
Success on the field in college football generally goes hand-in-hand with success on the recruiting trail. For the fourth consecutive season, the Alabama Crimson Tide signed the No. 1 class, according to ESPN RecruitingNation rankings. In fact, coach Nick Saban has brought in a top-3 class for eight straight seasons, and those elite recruits have led the Tide to three national championships and a berth in the inaugural College Football Playoff in that span.
The best players don't always guarantee success, of course, and many programs struggle on the field despite the fact their rosters are loaded with talent. We calculated program profiles for each team based on multiple years of recruiting rankings and compared those rankings with every FBS game result of the past five seasons. In total, the team that fielded a more talented roster beat the less talented opponent 65 percent of the time.
On Thursday, we chronicled the overachievers who routinely do more with less.
The five teams on today's list of underachievers have not been able to consistently translate prospective talent into wins on the field. Each school signed a number of new potential stars last week, but each still needs to prove that it can consistently win games against less-loaded rosters.

Five-year record as more talented team: 36-28 (.563)
2015 RecruitingNation class rank: 9
From 2009 to 2012, the Longhorns signed four consecutive classes ranked in the top 5 in ESPN's RecruitingNation ratings. Those classes did not meet expectations, however, as they posted two losing seasons in the past five years and never lost fewer than four games in a season in that stretch. In the same span, the Longhorns plummeted from the No. 2 overall team in our program ratings to outside the top 40.
To continue reading this article you must be an Insider
February, 13, 2015
Feb 13
10:00
AM ET
By
ESPN.com staff
| ESPN.com
Wrapping up our weeklong, post-signing day series, we look at which coaches signed the most important -- not necessarily the best -- classes of 2015. For some, such as Mississippi State, that meant building on the momentum of a big year. For others, such as Florida, it meant closing strong in the first year under a new coach.
Click here for the rest of the series:
Key storyline
|
Coach under pressure
|
Instant-impact recruit
|
Under-the radar talent
Edward Aschoff: Mississippi State
It took Dan Mullen five years to get to this point and it isn't exactly easy to recruit to Mississippi State. But Mullen and his coaches did a tremendous job in signing the nation's No. 16 recruiting class, equipped with seven ESPN 300 members. When you're at a program like Mississippi State, you can't get caught behind, ever, if you want to build off any sort of positive momentum. Mullen signed the No. 2 safety (
Jamal Peters
), No. 2 inside linebacker (
Leo Lewis
), No. 2 juco receiver (
Donald Gray
) and No. 1 juco offensive tackle (
Martinas Rankin
). He hit needs with top talent and signed five of the state of Mississippi's top six players. That's called reloading, and its exactly what Mississippi State needed to continue to trend upward.
David Ching: Missouri
Missouri has never been known as a national recruiting juggernaut, but Gary Pinkel's staff has earned a well-deserved reputation for developing talent as effectively as any group of coaches in the country. Now what might the Tigers accomplish after landing their first top-20 recruiting class since ESPN began compiling team rankings in 2006? The star of Mizzou's class is obviously
Terry Beckner Jr
., the No. 2 overall prospect in the ESPN 300 and top defensive tackle. But the Tigers also landed perhaps their next star quarterback in
Drew Lock
, addressed a glaring need at wide receiver after losing their top four pass-catchers (Bud Sasser, Jimmie Hunt, Darius White and running back Marcus Murphy) and added a couple of instant-impact junior college transfers in defensive end
Marcell Frazier
and running back
Chase Abbington
. Seven SEC teams finished higher in the class rankings than Missouri, but that's nothing new. If Pinkel's crew does its usual solid work with this crop of signees, the Tigers should be able to remain among the top SEC East contenders.

Sam Khan Jr.: Tennessee
Butch Jones is trying to bring back the winning tradition to Rocky Top and he and his staff have done a wonderful job of recruiting so far. Adding a top-five class for a second consecutive year is huge – and necessary – to build the depth of talent needed to compete with the best of the best in the SEC. When it comes to the Vols' highest-rated recruits, this class was heavy on the line of scrimmage, with five of their seven top prospects playing on the defensive or offensive lines. That's the way to build a winner.
Chris Low: Auburn
When the final recruiting rankings were tallied, Auburn wound up third in the SEC behind Alabama and Tennessee, but few classes anywhere in the country were more important than the one the Tigers put together this year. For one, they were coming off a disappointing finish to the 2014 season and needed some momentum, especially with Alabama reeling in its fourth straight No. 1 class. They desperately needed pass-rushers, too, and got them in
Byron Cowart
and
Jeffery Holland
. What's more, the Tigers were confident that new defensive coordinator Will Muschamp would make a big impact on the recruiting trail, and it's safe to say he delivered in his first year on the Plains with the way he helped land several players late.
Greg Ostendorf: Mississippi State
Mullen just signed his best class ever at Mississippi State, and it couldn't have come at a better time. The Bulldogs lost 14 starters from last year's team, and several signees from the 2015 class will be asked to contribute early. For Mullen to compete year in and year out in the SEC, he needed a class like this. Without it, there's a chance Mississippi State would have fallen off next season and maybe more so the following year, when
Dak Prescott
is gone. Now, there's a foundation to build upon. The future is bright.
Alex Scarborough: Auburn
No team met it needs more on signing day than Auburn, which closed strong and finished with the nation's No. 7 class. After watching his defense implode during the second half of the season and subsequently firing its coordinator, coach Gus Malzahn clearly focused on improving personnel. Including the nation's No. 1 player in DE Cowart, four of Auburn's top five signees will play defense. There's even a chance that the fifth, athlete
Kerryon Johnson
, spends time at safety. With so much talent coming in and Muschamp now leading the charge, there are no more excuses why defense should be Auburn's weakest link.
Derek Tyson: Florida
It has to be Jim McElwain's new team. A week-and-a-half before signing day, the Gators had only 10 verbal commitments but finished with 21. Florida landed two five-star prospects in offensive tackle
Martez Ivey
and
CeCe Jefferson
, two other ESPN 300 prospects
D'Anfernee McGriff
and
Antonio Callaway
and four-star running back
Jordan Cronkite
— all on signing day. The Gators needed offensive line help desperately and landed five linemen, led by Ivey and ESPN 300 center
Tyler Jordan
.
February, 13, 2015
Feb 13
9:00
AM ET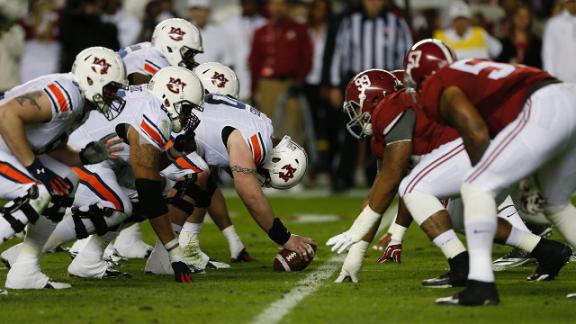 It was another incredible year of recruiting in the SEC. More than one-third (117 prospects) of the ESPN 300 signed with SEC schools. The conference also signed 12 of the 20 five-star prospects, and 218 four-star prospects. All but two of the 14 SEC schools finished in the top 40 of the final ESPN class rankings. Here is a closer look at the 2015 recruiting cycle in review.
To continue reading this article you must be an Insider
February, 12, 2015
Feb 12
10:00
AM ET
By
ESPN.com staff
| ESPN.com
There are plenty of five-star, blue-chip recruits who will find themselves playing key roles as freshmen in the SEC this coming fall. It's easy to project big things for Auburn's
Byron Cowart
, Alabama's
Kendall Sheffield
or Florida's
CeCe Jefferson
. But what about all those other players filling out their classes? Odds are, a few will sneak up and surprise people.
Here are a few guesses as to who those players will be:
Edward Aschoff: DT Jabari Zuniga, Florida
Talk about flying way under the radar. Most Florida fans probably don't even know who this kid is, but Zuniga has a chance to help the Gators up front this fall, and Florida's staff was very excited about flipping him from NC State. Just take a look at his film and you can't help but be impressed. He's incredibly quick off the line, has great burst in the backfield and showcases a lot of power. He was reclassified from the 2016 class to 2015, which contributed to his low ranking (No. 45 DT), but he has the potential to be a real steal for the Gators, who need help along the defensive line.
David Ching: RB David Ducre, LSU
LSU's coaches think they got a steal in running back David Ducre. He didn't get the national attention that fellow backfield signees
Derrius Guice
and
Nick Brossette
did – probably because he's a bit of a tweener. But Ducre is a perfect fit at LSU, and he fills an immediate need since the Tigers don't currently have a scholarship fullback on the roster. Ducre is a power back who is fast enough to play tailback, but expect to see him lining up in front of
Leonard Fournette
,
Darrel Williams
and his two fellow 2015 signees more often. Since he's an early enrollee, he seems likely to make an immediate impact.
Sam Khan Jr.: OL Zach Rogers, Arkansas
Arkansas coach Bret Bielema knows his offensive linemen well and that's why I think four-star guard Zach Rogers has a really bright future in Fayetteville. Rogers, though not in the ESPN 300, is a big (6-foot-1, 318 pounds), physical, tough player who I could see mauling opponents down the road and thriving for the Hogs. If we're talking three-star prospects, I'm a huge fan of outside linebacker
Richard Moore
. The Texas A&M signee is undersized (6-1, 210) but turn on his
highlights
and it's easy to see why he had two dozen offers. He's aggressive, hits like a truck and is fast.
Chris Low: TE Austin Cantrell, Arkansas
Tight ends have always been an integral part of Bret Bielema's offense, and that's only going to be reinforced now that Dan Enos is calling the plays. Arkansas signed three H-backs/tight ends in this class, and all three are a little bit different. Of the three, Austin Cantrell of Roland, Oklahoma, is the lowest rated, but he might also be the most versatile. The 6-4, 248-pound Cantrell played tight end, running back, defensive end and linebacker in high school. Oklahoma got on him late after he had a big senior season, but Cantrell stuck to his commitment to the Hogs. The initial plan is for Cantrell to work with the Arkansas H-backs, but he's the kind of football player who could make an impact a couple of different places.
Greg Ostendorf: TE Chandler Cox, Auburn
When Jay Prosch graduated a year ago, it left a huge void at Auburn's H-back position. He wasn't always the sexiest player, but he got the job done and the running game was better for it. There's a reason Prosch beat out the longtime starter in his first training camp with the Houston Texans. The coaches believe Chandler Cox can be that same type of player. He needs to bulk up some, but he might already be a better pass-catcher than Prosch. The three-star prospect enrolled early at Auburn, giving him an even better shot at early playing time.
Alex Scarborough: QB Kyle Shurmur, Vanderbilt
Signing day came and went without much being said about Vanderbilt, and judging by its 18 total signees and No. 44 class ranking that makes sense. But if we're looking for an under-the-radar signee, look no further than Kyle Shurmur, the Commodores' newest quarterback and most highly-rated recruit. The nation's No. 7 QB-PP has everything you look for at the position, with good height (6-4), ideal weight (220 pounds) and a strong throwing arm. And unlike many freshmen quarterbacks in the SEC, he doesn't have much competition in front of him. Considering the fact that six players took snaps at QB for Vanderbilt last season, combining for 13 touchdowns and 19 interceptions, it's not a stretch to imagine Shurmur starting from Day 1.
Derek Tyson: LB Jordan Griffin, Vanderbilt
Defensive end Byron Cowart, the No. 1-ranked player in the country, might get all the attention at Seffner (Florida) Armwood High School. But it's his teammate, Jordan Griffin, that might have a bigger impact next season. The three-star linebacker, who flipped his commitment from Wisconsin to Vanderbilt on signing day, is a tackling machine. Having seen Griffin play on multiple occasions I feel confident in saying he will make an impact at Vanderbilt early in his career. In the state championship game against nationally ranked Miami Central, Griffin totaled 19 tackles, four for loss, and two forced fumbles.
February, 11, 2015
Feb 11
3:08
PM ET
When looking at the top prospects in the Ultimate ESPN 300, it became clear that a top-10 class doesn't guarantee success on the field. Consistently signing top-rated classes, though, can increase the chances for consistent success.
Below is a look at the 10 programs that assembled the "ultimate" classes from 2006 to 2014. These teams have not only been able to ink highly rated classes, but have also consistently developed top players while winning big. During this span these programs have accounted for eight top-rated classes and six BCS championships, as well as all four participants of the first College Football Playoff.
1. Alabama Crimson Tide
Alabama has signed seven straight top-three recruiting classes and 2014 marked its third straight top-ranked class. That success on the recruiting trail has helped produce consistent success on the field over this span, including three BCS titles and a spot in the inaugural College Football Playoff. The Crimson Tide's recruiting haul during this period included a Heisman Trophy winner in RB Mark Ingram as well as three other finalists in QB AJ McCarron and RB Trent Richardson, who signed in 2009, and most recently WR Amari Cooper from the 2012 class. Alabama's recruiting success also resulted in numerous All-Americans and All-SEC players. While the Tide have consistently recruited well under Nick Saban, their 2008 and 2009 classes were the most impactful. The 2008 class included Ingram, WR Julio Jones and several key defensive players like Marcel Dareus and Dont'a Hightower. McCarron, Richardson, Dre Kirkpatrick and outstanding OLs Chance Warmack and D.J. Fluker were members of the 2009 class. The 2014 class delivered No. 1 OT Cameron Robinson, who became the first true freshman to start at left tackle for Alabama since Andre Smith in 2006.
To continue reading this article you must be an Insider
February, 11, 2015
Feb 11
9:30
AM ET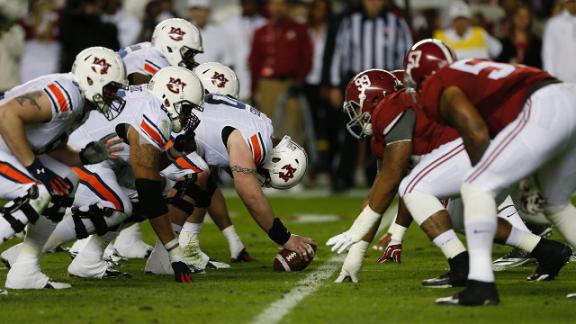 Across the SEC and the Power 5 conferences as a whole, there were several coaching changes made after national signing day.
Once a recruit has signed his letter of intent, he is bound to the school he signed with. It seems unfair to the recruits, who have built relationships with coaches over the past two years just to see them leave for another job as soon as the player signs.
Every high school football recruit, at one time or another, has been told by a coach, parent or mentor to "choose a school not a coach."
To continue reading this article you must be an Insider
February, 10, 2015
Feb 10
2:00
PM ET
SEC players featured on Kiper's Big Board
SEC SCOREBOARD
Thursday, 9/3
Saturday, 9/5