September, 16, 2014
Sep 16
3:00
PM ET
Jeff Driskel
's baptism into the SEC probably couldn't have gone any worse in 2011.
The stud freshman quarterback anointed to be Florida's next Tim Tebow was fresh off relief duty in a blowout win over Kentucky when he was unexpectedly thrust into playing No. 3 Alabama after starter John Brantley went down late in the second quarter with a leg injury.
Not even the Swamp's friendly confines could save Driskel from the Crimson Tide's frightening defense, creating unpleasant memories of that early October night.
[+] Enlarge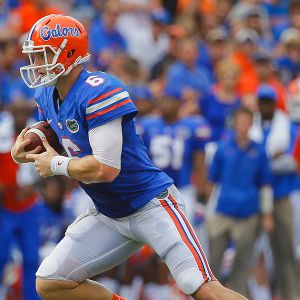 AP Photo/John RaouxJeff Driskel gets another crack at Alabama four years after a difficult debut.
"They weren't good," Driskel said Monday. "Definitely underprepared. Didn't know how to prepare at that time to play anybody, especially Alabama as good as they were. Just going in not knowing what you're doing is not a good situation."
Honestly, with how historically good Alabama's eventual national-championship defense was and how unprepared Driskel was, he never stood a chance. The constant bombardment from Alabama's defense left Driskel completing 2 of 6 passes for 14 yards, rushing for 18 yards and getting sacked twice.
He also suffered an ankle injury during his already painful performance, causing him to finish the game hobbled against an already ravenous defense.
"If I remember correctly, I think I fumbled the snap and I tried to pick it up and got rolled up on," Driskel said of how he was injured. "That's how freshmen get hurt when they're not ready right there, dropping the snap, don't remember what the play was."
Three years ago, Driskel introduced himself to the SEC. Now, things have come full circle, as he tries to resurrect Florida's program and redefine his legacy with No. 3 Alabama yet again waiting.
So much has happened to Driskel and Florida since these two crossed paths with Alabama in 2011. While Alabama has won two BCS titles, Florida went from just missing out on a national championship berth to last year's 4-8 disaster.
Driskel awkwardly maneuvered his way through Florida's 11-win 2012 season, only for a bone to snap in his leg months later in the third game of his 2013 season. He's currently on his third offensive coordinator, and while reviews out of preseason camp were that he's much more comfortable in Kurt Roper's spread, uptempo offense, he went from incredibly efficient in a Week 1 thrashing of Eastern Michigan to Jekyll and Hyde in Saturday's triple-overtime win over Kentucky.
Driskel won't call Saturday's showdown with Alabama a statement game, but it has that feel for a quarterback who has ventured into enigma territory and has a chance to steer Florida's program back in the right direction. With an offense that actually suits his skill set, Driskel has no choice but to play better.
On Driskel's new path to improvement and success, he must once again face the very team that served him his first bitter taste of collegiate defeat and misery. This is a chance to prove himself and
really
challenge one of the best teams in the nation in search of a renaissance for himself and Florida.
For all the skepticism still surrounding Driskel, there's no doubt he's more confident about his trip to Tuscaloosa than he was three years ago as that jittery freshman who was terrorized by the Tide.
"Going in as the starting quarterback, you know what you've got to prepare for, you know what you're getting into," Driskel said. "At that time, I didn't know how close I was to playing. You don't realize you're one snap away from playing. That's where I went wrong as a freshman."
Three years ago, Florida fans were eager just to see Driskel play, hostile conditions or not. He was pegged as the next great thing in orange and blue after arriving in Gainesville as the nation's No. 1 high school quarterback in the 2011 class.
Now, the Gator Nation has mixed feelings about its starting quarterback, who heads into Saturday with less than 3,000 career passing yards and 18 touchdown passes to 11 interceptions.
People have been quick to pounce on any of Driskel's shortcomings -- win or lose. So despite the fact he is averaging 271.5 passing yards through two games and has four touchdowns to one interception, last week's wash of a first half against Kentucky carries more weight than his clutch third quarter and overtime performances.
It doesn't matter if there were communication issues or protection breakdowns, Driskel is the quarterback at the University of Florida, a program fighting to return to SEC -- and national -- relevancy. He has to be better and he's going to face the harshest criticism not reserved for head coach Will Muschamp, who his fighting for his job this year.
And while few are giving the Gators a chance this weekend, this is a game that could change Driskel's legacy. Underwhelm, and it's the same ol' Driskel. Win or even impress and keep things close, and some hope will be renewed for Driskel and his Gators.
"I'm going to be prepared this time around," he said.
"I'm not going to let that happen again. I'm going to do whatever I can this week to prepare and be as ready as I can. I know that's best for the football team."
Inside The Drive: Saban On Matchup Against Florida
SEC SCOREBOARD
Saturday, 9/20
Thursday, 9/18