January, 16, 2015
Jan 16
10:00
AM ET
The deadline to declare for the NFL draft has come and gone.
The SEC, as usual, saw its fair share of early entrants. At last count, the conference led the nation in underclassmen turning pro.
While those who have declared for the draft have another 72 hours to go back on their decisions and return to school, for today's purposes we'll assume everything holds and declare three teams winners and three losers when it came to retaining talent.
Three up
Alabama -- Yes, the losses of T.J. Yeldon, Landon Collins and Amari Cooper are huge. But no one expected them to stay. Instead, Nick Saban welcoming three defenders back into the fold on defense was the big takeaway. Cyrus Jones is someone to build around in the secondary, Reggie Ragland provides continuity at linebacker, and Jarran Reed bolsters a defensive line that could be among the best in college football in 2015.
Auburn -- QB Jeremy Johnson received a pleasant surprise when it was learned that star wideout Duke Williams would return for his senior year. But Johnson, the Tigers' expected starter, should be happy for the other side of the ball, too, as new defensive coordinator Will Muschamp gets Kris Frost and Cassanova McKinzy back at linebacker.
Georgia -- Todd Gurley turning pro was a given, but for Mark Richt to keep John Theus, Malcolm Mitchell, Jordan Jenkins and Leonard Floyd in school was a coup. Theus gives Georgia four returning starters on the offensive line, which will be a boon for whoever wins the starting job at QB. Floyd gives defensive coordinator Jeremy Pruitt one of the best pass-rushers in the country.
Three down
Florida -- Jim McElwain's hands are full as he attempts to rebuild Florida's offense, and that job wasn't made any easier with the decisions of Matt Jones, D.J. Humphries and Tyler Moore to enter the draft. That's two starting offensive linemen from a group that was already depth-challenged. Throw in the loss of pass-rush specialist Dante Fowler Jr. and you're looking at a depleted roster all the way around.
LSU -- Les Miles needed Travin Dural and Jerald Hawkins back on offense, but his defense could have used help, too. Kevin Steele, who takes over as defensive coordinator after the departure of John Chavis, will be without three key starters: linebacker Kwon Alexander, cornerback Jalen Collins and defensive end Danielle Hunter.
South Carolina -- With Mike Davis and Shaq Roland off to the NFL, the Gamecocks are without two of their most talented players on offense. Granted, consistency was a constant battle for Roland at receiver, but good luck replacing Davis' 2,000 rushing yards over the past two seasons.
January, 16, 2015
Jan 16
9:00
AM ET
1. Weird things always happen in the offseason. And while a player isn't exactly directly involved with this story, it is still weird. A Baton Rouge, Louisiana, shoe store employee recently told police
he would rather go to jail than help police with an investigation
dealing with some official, game-worn LSU football equipment that recently had sold on eBay. So the police arrested Fletcher Sanders after an investigation showed that he sold of a pair of LSU cleats and gloves that were worn during LSU's upset win over Ole Miss. According to the police report, Sanders decided not to cooperate with police because he didn't want to be "responsible for ruining someone's career." Police believe this is just an isolated incident, and LSU isn't commenting since the investigation is ongoing.
2. While everyone huddled around their TV sets to watch a once third-string quarterback who started three games this season have a press conference to announce he's returning to school, there actually were others around the country decided to make their football decisions as well. Alabama got some good news with linebacker
Reggie Ragland
and defensive
Jarran Reed
deciding
to return to school
instead of jumping to the NFL early.
I've decided to come back for my senior season! Roll Tide!!!

— ReggieRagland(bama) (@reggieragland) January 15, 2015
You can read Alabama's full release on the two,
here
.
Of course, Arkansas wasn't as lucky with star defensive tackle
Darius Philon
deciding
to make that early jump to the pros
.
Around the SEC:
I am officially an Blue Raider!!! It's great to come home and play ball for my community. I get to... http://t.co/8yzHCjImxF

— I'Tavius Mathers (@I_Train5) January 15, 2015
January, 16, 2015
Jan 16
9:00
AM ET
With national signing day less than three weeks away, it is officially crunch time. There are only three recruiting weekends left for visits, and most schools plan to take full advantage of those available weekends. Here are a closer look at some of the top visits around the SEC this weekend.

Auburn


January, 15, 2015
Jan 15
5:12
PM ET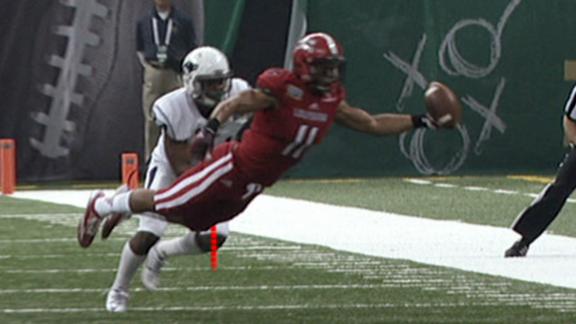 Ohio State became the first team to win the College Football Playoff after running over Alabama in the semifinal and then Oregon in the championship game.
It should be no surprise that the Buckeyes are well represented on ESPN.com's All-Bowl team with four selections. Leading the way is tailback Ezekiel Elliott, who ran for a combined 476 yards with six touchdowns against the Crimson Tide and Ducks.
Quarterback Cardale Jones, linebacker Darron Lee and safety Tyvis Powell also made the team.
Elliott was one of four running backs to make the squad, along with Georgia's Nick Chubb, Wisconsin's Melvin Gordon and LSU's Leonard Fournette, who was an all-purpose selection.
Here's the ESPN.com All-Bowl team:
OFFENSE
Quarterback
Cardale Jones, Ohio State
January, 15, 2015
Jan 15
11:30
AM ET
Mel Kiper's
first NFL Mock Draft for 2015 is out
. Among the 32 first-round projections are nine players who played in the Under Armour All-America Game, as well as four former five-star ranked prospects by ESPN RecruitingNation as well as 16 four-stars and 12 former ESPN 300 prospects.
An asterisk denotes a junior for the 2014 season; two asterisks denote a redshirt sophomore.
To continue reading this article you must be an Insider
January, 15, 2015
Jan 15
11:05
AM ET
Associated Press
GAINESVILLE, Fla. -- Florida quarterback Treon Harris is no longer facing a misdemeanor charge of driving without a license.
The charge was dropped Wednesday, a day before his scheduled arraignment, and Alachua County records show the case closed.
Harris' attorney, Huntley Johnson, says his client recently got his driver's license, which led to the dismissal.
Campus police stopped Harris last month for speeding. Two other Florida players, defensive backs Jalen Tabor and J.C. Jackson, were in the car.
According to police, an odor of marijuana emanated from the car and two plastic bags were found inside that appeared to hold a small amount of marijuana. Because the car did not belong to Harris, Tabor or Jackson, police did not charge any of them with possession.
Harris was cited for not having a license.
January, 15, 2015
Jan 15
11:00
AM ET
It's maddening, but not all schedules are created equal.
Some SEC teams have an easier path through the regular season, snacking on nonconference cupcakes while enjoying easy divisional draws, while others must slog through ranked opponent after ranked opponent.
With that said, here's an early look at three teams with easy paths to the conference championship game in Atlanta and three with hard journeys ahead.
Three easiest
Mississippi State: Just like it was this past year, one loss could mean the difference for the Bulldogs. Why? Because the nonconference schedule is that bad: Southern Miss, Northwestern State, Troy and Louisiana Tech. With Kentucky and Missouri from the East, the non-West portion of the schedule isn't exactly daunting either.
Missouri: OK, so their nonconference portion of the schedule is better than last year. But while we give credit for scheduling BYU, who thinks the Tigers are going to struggle with Southeast Missouri State, Arkansas State or Connecticut? Throw into the equation that Missouri doesn't have to face Alabama, Auburn, LSU or Ole Miss from the West, and you're looking at a manageable lineup.
Texas A&M: The opener against Arizona State will be difficult, but even so the Aggies don't leave the state of Texas until late October. With that, their East draws are manageable (South Carolina, Vanderbilt), the rest of the nonconference is a breeze (Ball State, Nevada, Western Carolina) and the week before playing Alabama they get a bye.
Three hardest
Florida: Rebuilding could have its growing pains for Jim McElwain and his staff. Week 1 against New Mexico State shouldn't be an issue, but East Carolina and Kentucky won't be gimmes. Throw in Ole Miss and LSU from the West and Florida State at the end of the regular season, and you're looking at a schedule most any coach would run away from.
LSU: Opening with McNeese State will be a welcome reprieve from last season, but it doesn't get much easier from there. Week 2 LSU has to go to Mississippi State, Week 3 it hosts Auburn and two weeks later it travels to Syracuse. Then, to end the regular season, it plays Alabama, Arkansas, Ole Miss and Texas A&M in consecutive weeks.
Ole Miss: Rest up, ye Rebels. You're going to need your strength because you don't get your bye until mid-November. Before that, you'll face Fresno State and Memphis from out of the conference, along with West rivals Alabama, Texas A&M, Auburn and Arkansas.
January, 15, 2015
Jan 15
10:51
AM ET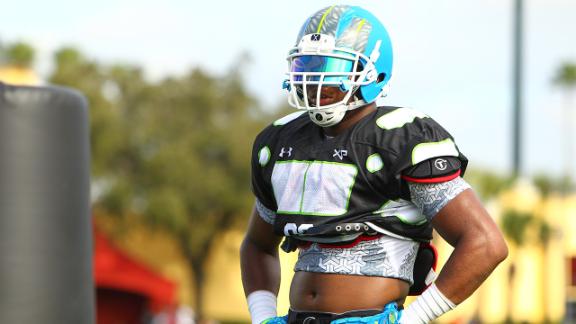 SEFFNER, Fla. -- The new No. 1-ranked player in the
ESPN 300
,
Byron Cowart
, has had twists and turns throughout his recruitment. But with national signing day less than three weeks away, the five-star defensive end has narrowed his choices to three -- Auburn, Florida and Florida State -- and says he already has a destination in mind, but is not revealing it.
"Yes, sir, I just came up with it," he said. "Me and my mom discussed it and we are good with our decision, so we know where we are going to go."
To continue reading this article you must be an Insider
January, 15, 2015
Jan 15
10:33
AM ET
More than a third of the players in the final
2015 ESPN 300 rankings
are committed to SEC schools. As for distribution of those 102 conference commitments, Alabama leads the way with 20, followed by Georgia with 10. Here is a closer look at five things to know in the SEC from the new recruiting rankings.
To continue reading this article you must be an Insider
January, 15, 2015
Jan 15
10:30
AM ET
Our world is full of overreactions. The slightest flap of a butterfly's wings has us all in a tizzy.
That's why we were so quick to jump on Texas A&M as a title contender after Week 1. That's why the SEC was thrashed after going 7-5 in bowl season. It's a never-ending cycle of instant hyperbole, and it usually comes back to haunt us.
The 2014 SEC season certainly didn't lack overreaction during an exciting year, and here are some of the major ones we got wrong:
The Magnolia State takeover
[+] Enlarge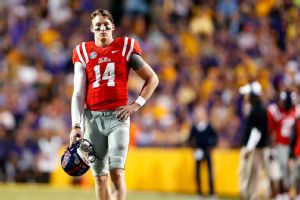 AP Photo/Jonathan BachmanA promising start for Bo Wallace and Ole Miss fell apart with consecutive losses to LSU and Auburn.
After Mississippi State and Ole Miss beat Texas A&M and Alabama, respectively, at home on the same day, the state of college football resided in the 20th state admitted to the Union. The Bulldogs thrashed A&M 48-31, and Ole Miss topped Alabama 23-17 at home and watched the Grove overflow onto the field inside Vaught-Hemmingway Stadium. The schools then tied for third in the Associated Press Poll, and Mississippi State would eventually rank No. 1 in the College Football Playoff Rankings.
All was good in Mississippi until Ole Miss lost an ugly one at LSU and a heartbreaker at home to Auburn in consecutive weeks. Two weeks later, the Bulldogs suffered their first loss of the season at Alabama. The regular season culminated with neither Mississippi team in the SEC title game after the Rebels were blown out at Arkansas 30-0, then eliminated Mississippi State from the race with a 31-17 win at home.
Bowl season erased any remnants of that magical Magnolia run, as Ole Miss was demolished 42-3 by TCU in the Chick-fil-A Peach Bowl, and Mississippi State surrendered 452 rushing yards in a 49-34 loss to Georgia Tech in the Capital One Orange Bowl.
Kenny Thrill for Heisman
After a record-setting 511-yard passing debut by
Kenny Hill
in Texas A&M's 52-28 drubbing of South Carolina
in
Columbia, we all thought we were seeing another College Station Heisman winner. And he just kept bringing us back in with more jaw-dropping performances. By the start of October, Hill had thrown for 1,745 yards and 17 touchdowns with just two interceptions. He also had a QBR that didn't dip below 91.5 at any point during the Aggies' 5-0 start, which pushed them to No. 6 in the country -- another thing that caused us to overreact.
Then the meat of the SEC season arrived, and the Thrill was gone. During three straight blowout losses, Hill turned it over seven times with just six touchdowns. After a disastrous 59-0 loss at Alabama, Hill was benched for freshman
Kyle Allen
and would never see the field again. He dealt with a suspension and decided to transfer from A&M after the season.
South Carolina's East run
We in the media picked South Carolina and Steve Spurrier to represent the SEC East in the conference championship. After opening night, that prediction imploded. Despite sporting a record-setting offense, the defense was atrocious, ranking 13th in the SEC (432.7 yards allowed per game). South Carolina surrendered 36.8 points per game in SEC play; made choking in the fourth quarter with double-digit leads an art; and finished the season 7-6 (3-5, SEC). Not exactly title-worthy.
The SEC West
The SEC West took a lot of heat for its embarrassing 2-5 bowl record. Arkansas and Texas A&M -- the only winners -- were ashamed of their division mates, and the 5-0 SEC East was left smiling after being lambasted for most of the season. Chants of "overrated" rained down around the SEC, especially after No. 1 Alabama was left out of the national title game after losing to Ohio State -- the eventual champion -- in the Allstate Sugar Bowl. All that talk of how great the West was during the season went out the window because of its bowl showing. Is the SEC still the deepest conference? Yes, but when your star attraction (the West) fails to show up against everyone else, it's hard to call it the best division ever. It's hard not to at least listen to some of those "overrated" chants. It puts a damper on such an exciting regular season from that side of the conference. And I don't buy the excuse that the division was beaten up from the regular season.
Save it. A few teams played better opponents, and others just fell flat at the worst time.
The conference certainly isn't in ruins now, but the gap between the SEC and the rest of the nation is closing.
Some early overreactions for 2015
Alabama's run of dominance is over
You never quite got the feeling that you were looking at a dominant Alabama team in 2014, and Ohio State's 42-35 College Football Playoff Semifinal win against the Crimson Tide supported those feelings. The Tide was the No. 1 team in the country, but couldn't make it to the final game. Now, Alabama loses a lot of what pushed the team to a No. 1 ranking. Only two starters -- left tackle
Cam Robinson
and center
Ryan Kelly
-- return on offense, and four very valuable defensive starters are gone, including safety
Landon Collins
and linebacker
Trey DePriest
. Plus, two defensive coaches left.
Are we seeing the demise of the Tide? Heck, no! Don't throw dirt on Nick Saban and his squad just yet. The Tide will rebuild on offense, still has some young talent to work with, and running back
Derrick Henry
might as well have been a starter last season. The defense has some work to do, yes, but if you think Saban is going to let his program leave the realm of relevance, you are greatly mistaken.
Steve Spurrier is done
From three straight 11-win seasons to a disappointing 7-6, the Head Ball Coach has seen better days. Rumors swirled about his possible retirement, but Spurrier will return in 2015, and like Saban, he is not one to just let his program fall apart. The defense will be older in 2015, and you better believe that Spurrier will be coaching with a chip on his shoulder this fall. Will the Gamecocks win the East? Not gonna put money on it, but Spurrier will make his squad much more competitive in 2015.
Will Muschamp will turn Auburn's defense around
Regardless of what you think of Will Muschamp's head-coaching job at Florida, he's an excellent defensive mind. And his hiring as Auburn's defensive coordinator has the Plains all abuzz with the thought of an SEC and playoff run with only three starters departing on the defensive side. But not so fast, Auburn fans. Can Muschamp have the same sort of success Lane Kiffin did in his first year at Alabama? Kiffin wasn't exactly working with an inept offense when he arrived. Muschamp must turn around one of the SEC's worst defensive units. I'm not saying Auburn won't challenge for the West, but let's be careful immediately crowning the Tigers this early.
Nick Chubb for Heisman
Yeah, he's the best running back returning in the SEC and should be one of the nation's best ... again ... but come on, this a quarterback award.
January, 14, 2015
Jan 14
10:00
PM ET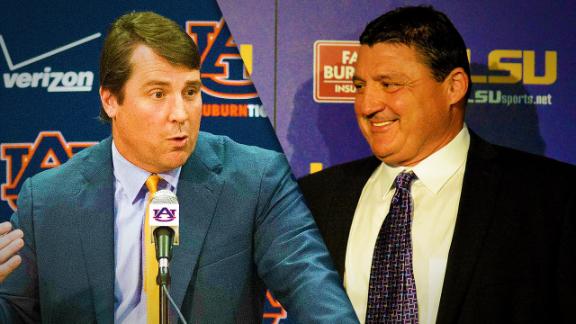 No. 1 ranked inside linebacker
Leo Lewis
of Brookhaven (Mississippi) High School changed his commitment once from Alabama to Ole Miss and all indications are the four-star linebacker is about to have another change of heart.
To continue reading this article you must be an Insider
January, 14, 2015
Jan 14
2:15
PM ET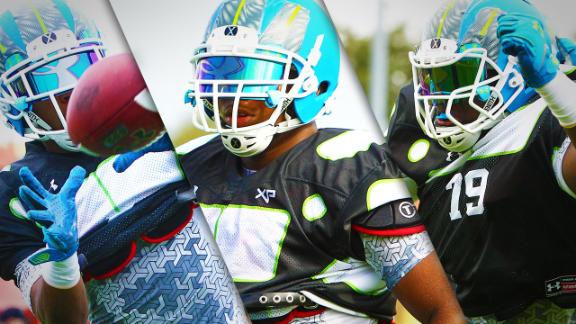 As Urban Meyer and his
Ohio State Buckeyes
, drenched in black-and-gold confetti, lifted that golden College Football National Championship trophy Monday night, some in Gator Nation no doubt felt a bitter, piercing sting shiver up their spines.
And who could blame them? It was just January 2009 that Meyer was celebrating the same thing with Florida writing his checks.
But as we sit here just a couple of days removed from the Buckeyes' exhilarating run through the first College Football Playoff, there's a feeling of what could have been in Gainesville coupled with the unsavory reality of where Florida's football program is.
[+] Enlarge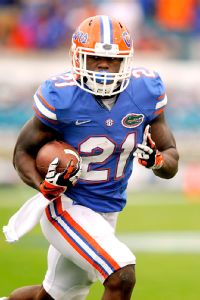 AP Photo/Stephen MortonRunning back Kelvin Taylor is a solid building block for new coach Jim McElwain.
Meyer's disintegration at Florida was showing in his final year (2010), and he needed to step away from the game. But since Meyer's national championship run in 2008 and a 13-1 season in 2009, Florida's program hasn't found much stable footing. Meyer's final team stalled internally and offensively, while the Will Muschamp regime was filled with too many losses and no sort of offensive pulse.
Change was needed and the new man given the keys to a very proud football program has quite the challenge ahead, as he looks to rebuild one of the country's premier programs.
That man is former Colorado State coach Jim McElwain, whose quick success with the Rams had him pegged as one of the sport's up-and-coming stars. There are parallels between Meyer and McElwain, including their Mountain West backgrounds, but it's unfair to expect the same immediate success for McElwain.
Muschamp's farewell news conference mentioned how the next guy had good talent to work with and for him not to use that as an excuse. Muschamp was right and wrong about this. Defensively, the Gators have a nice collection of pieces returning. Offensively, it's littered with unknowns.
There's a brewing quarterback battle without a definitive leader, very little depth along the offensive line and one truly productive and proven receiver returning. Florida's running duo of
Kelvin Taylor
and
Adam Lane
Jr. could be the brightest area, but no one is sure if both, let alone one, can carry an entire offense.
Currently, Florida returns 58 scholarship players – which is 27 less than the maximum allowed by the NCAA (85). In other words, McElwain will definitely be fighting numbers early on.
And McElwain, yet another member of the Nick Saban coaching tree, knows that. Here's what he said during a sit down with local media last week:
"I'm not real patient by nature, as you will find out over time, but at the same time I also understand that there's a lot of things that need to be taken care of before we are successful on an everyday basis."
McElwain is realistic, but he knows that at a place like Florida you have to get back to winning and competing for championships each year. We've seen powerhouses fall, and in order for McElwain to avoid a Tennessee-like spiral – something the Vols are just now hoping to get out of – McElwain needs to get an early jump on success.
The more Florida falters, the more the conference is growing around it. Missouri has won back-to-back East titles, Georgia should be an SEC favorite this fall, Tennessee seems primed for a breakout season, and the West is as strong as ever.
Florida has an entire conference to worry about, as McElwain tries to fix things in Gainesville.
While we have no clue what the product on the field will look like, McElwain has wasted no time impressing off it. From tailgating with fans to making some splashes with his staff (Geoff Collins as defensive coordinator and Randy Shannon as linebackers coach), McElwain is building buzz.
Where McElwain immediately needs that buzz to translate is in recruiting, where the Gators are way behind. Florida has only eight verbal commitments (three ESPN 300 members) and isn't ranked inside the top 40 of ESPN RecruitingNation's class rankings.
Florida needs offensive linemen, linebackers, a big-name wide receiver, an every-down running back, and a quarterback who fits McElwain's offensive vision. The Gators need bodies all around to get closer to 85, but with McElwain requiring immediate help, taking quality over quantity isn't a bad thing.
And that quality could start with three five-star recruits in DE
Byron Cowart
, OT
Martez Ivey
and DE
CeCe Jefferson
, who all have high interest in the Gators and are top priorities for McElwain.
The problem McElwain understands with recruiting is that a new staff takes time to warm up to. This class isn't going to be a home run, but it's a very important building block for McElwain, and just taking guys to take them isn't the best course of action in Year 1.
"We're trying to catch up a little bit from behind. I get it," McElwain said. "I didn't fall off the turnip truck yesterday. I've been doing this for a while. We've got a lot of ground to make up … But you know what, when we took the job we knew that there would be some [challenges]. It's going to take a while."
How long? Who knows? But for a school like Florida, the last four years have to be erased from the narrative sooner rather than later.
Florida's Ability To Close 2015 Recruiting